Pumpkin Puff Pastry Braid
This post may contain affiliate links. Please read my privacy policy.
Pumpkin puff pastry braid is made simply for a delicious breakfast. Make it as a dessert for potlucks or Thanksgiving. Great for the holidays as an after dinner dessert or breakfast with coffee.
What I love about this puff pastry braid is that it is so simple to make. Just one can of pumpkin puree, a sheet of puff pastry, cream cheese, cinnamon, sugar, and egg.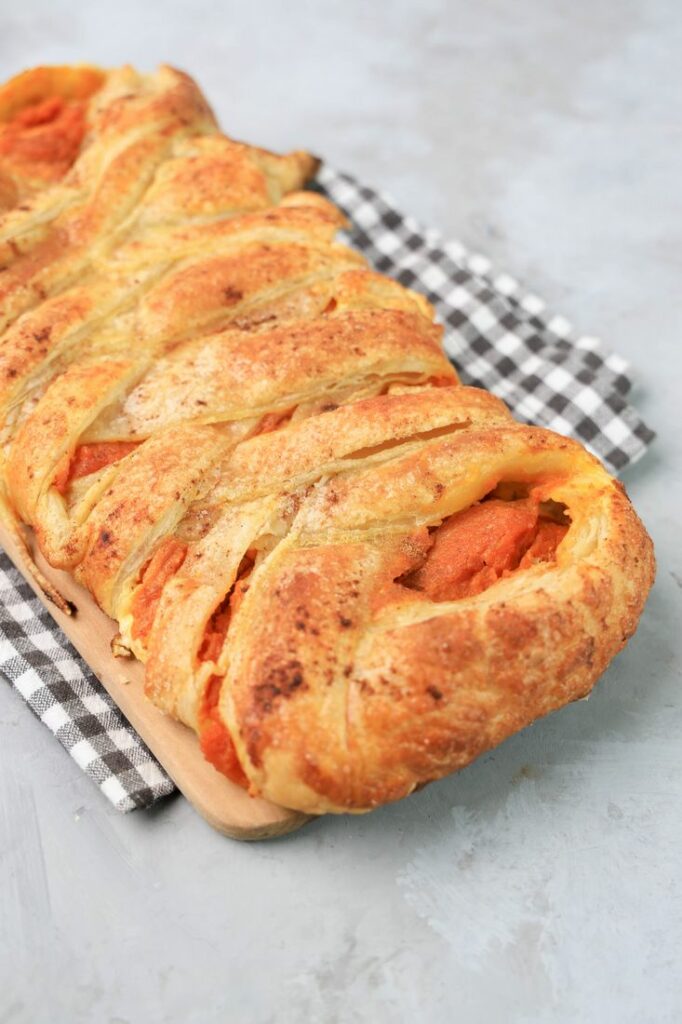 Start with bringing the puff pastry to room temperature. This helps the puff pastry become flakey when it cooks. It also helps roll out the lines in the dough.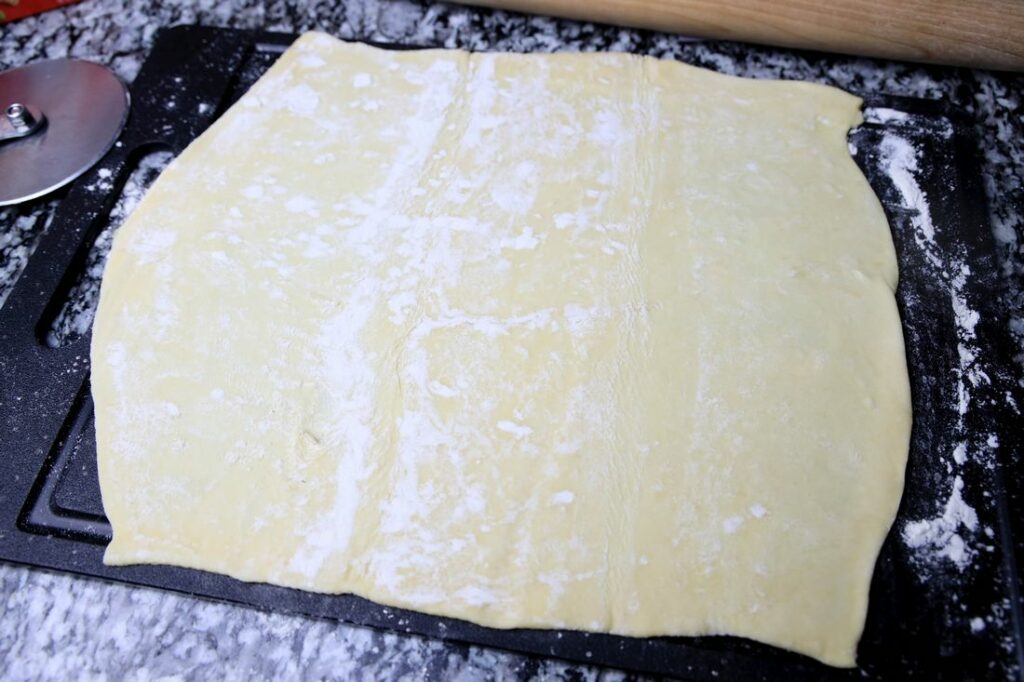 After rolling the dough out cut diagonal lines into each side of the dough for braiding. I try to keep the cuts about the same size as I cut up the puff pastry.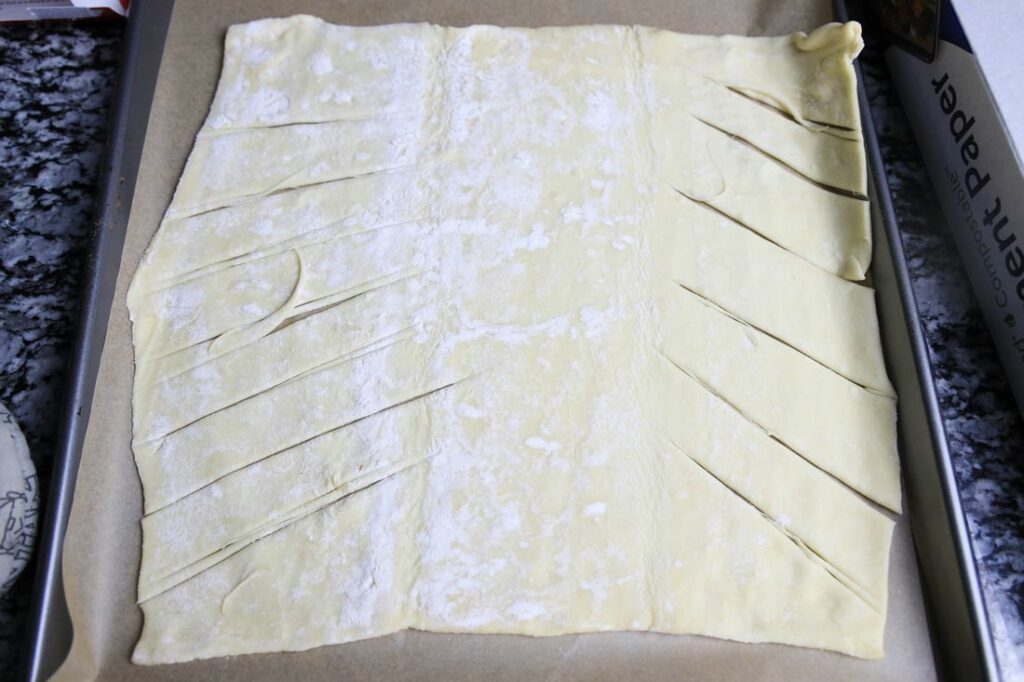 Once the cream cheese is spread into the center of the dough it's time to add the pumpkin.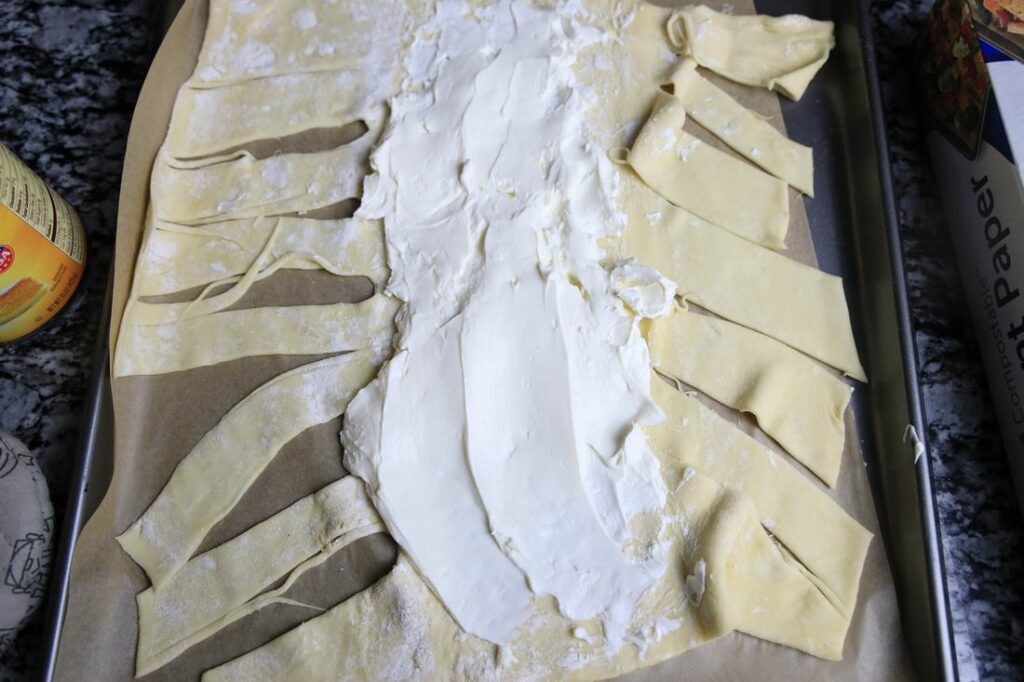 Add a half can of pumpkin puree into the center over the top of the cream cheese.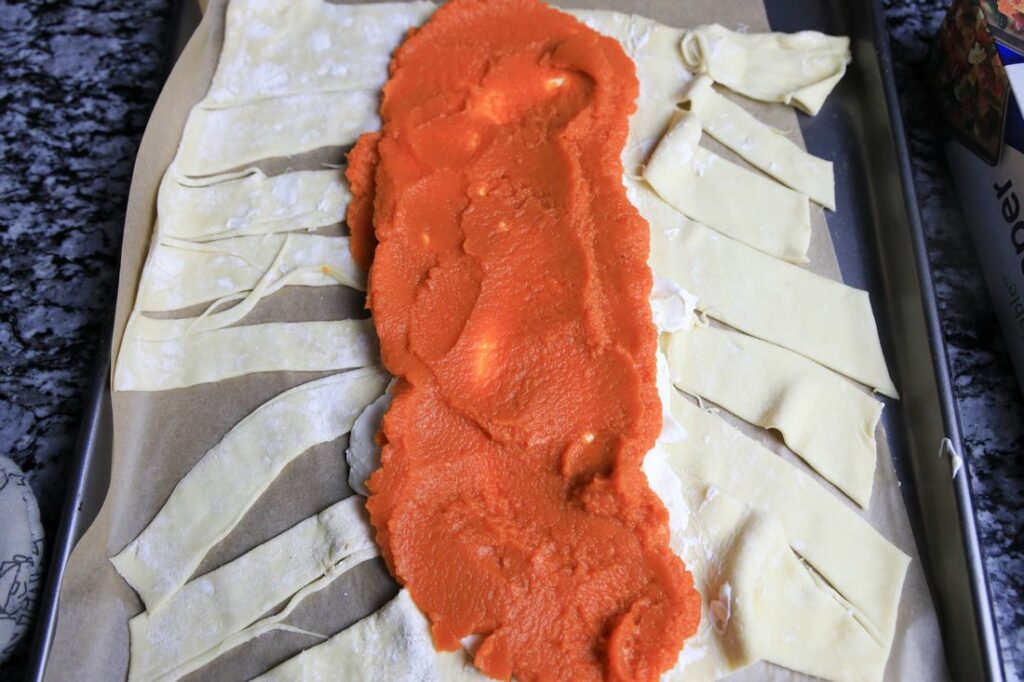 Now criss cross the dough over each other going from top to bottom. Fold in the bottom. I like to make sure it's snug then I leave the end open.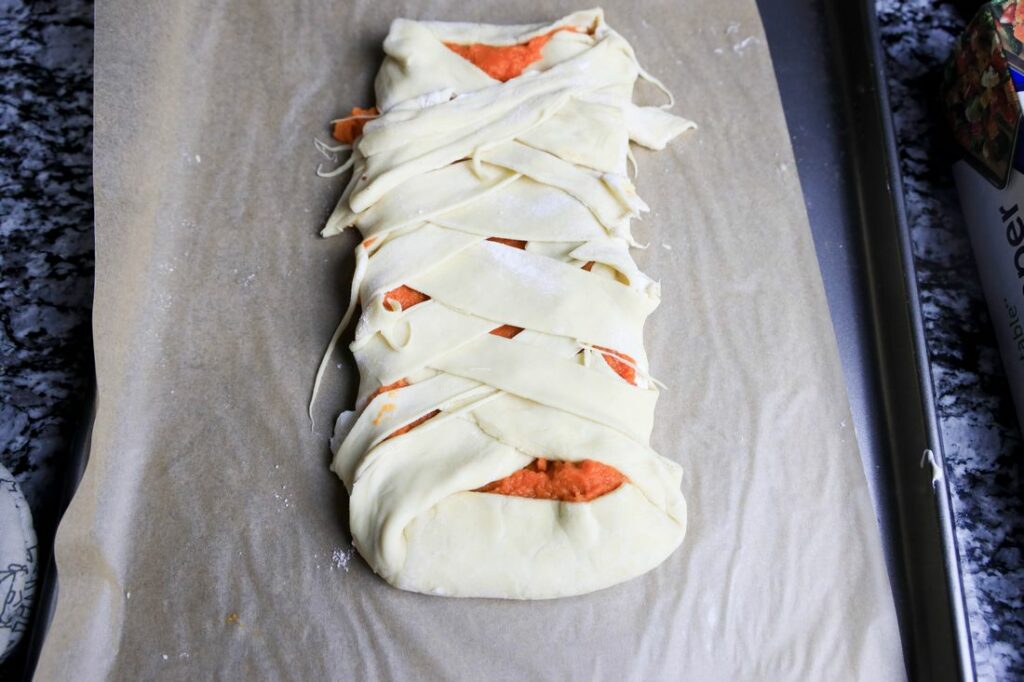 Take an egg and whisk it well. Then with a pastry brush, brush the outside of the puff pastry dough well. This will allow it to brown and crisp up more. It adds a nice color to the pastry.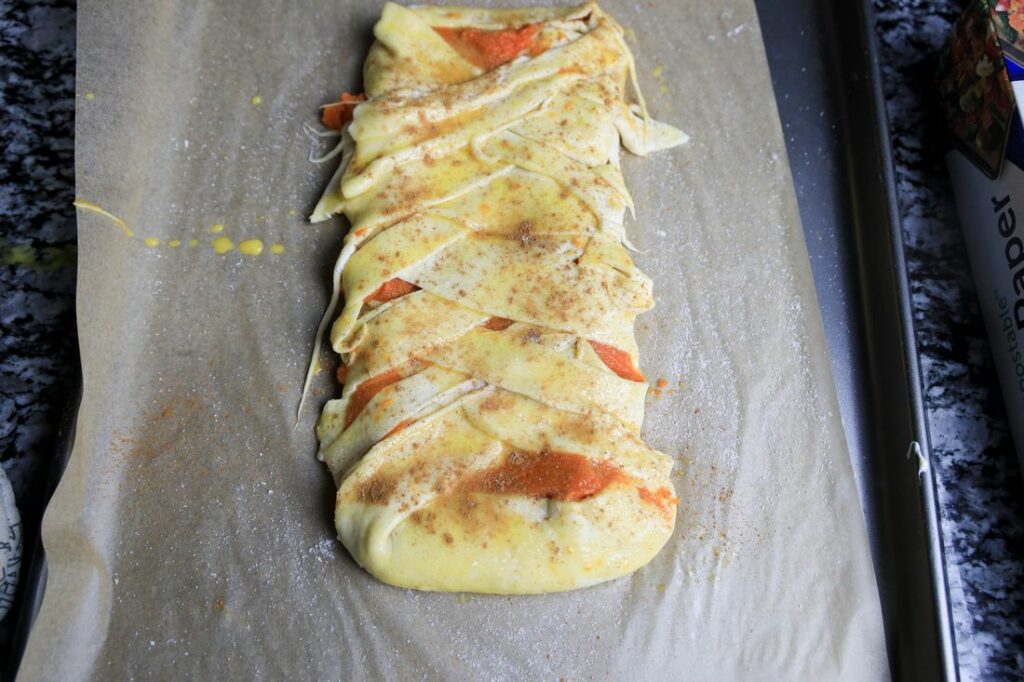 Top with cinnamon and sugar. Bake the puff pastry until a golden color. Then pull it out and serve it warm.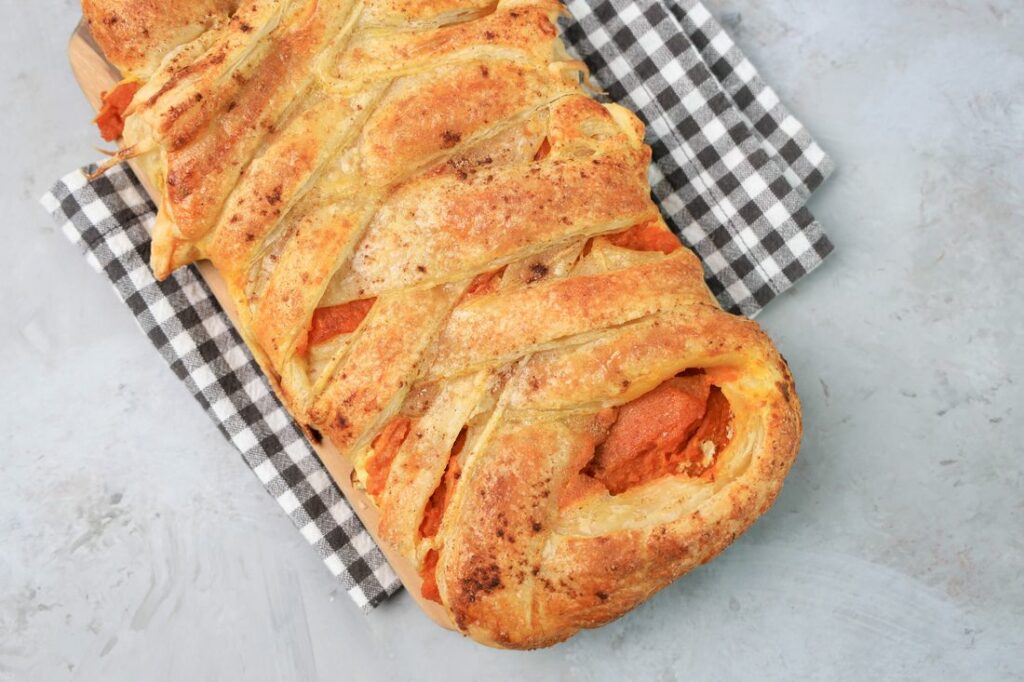 I like to do this with a side of hot tea. This pumpkin puff pastry braid is fantastic for Fall. Universal as a dessert or breakfast it's a good one for any occasion.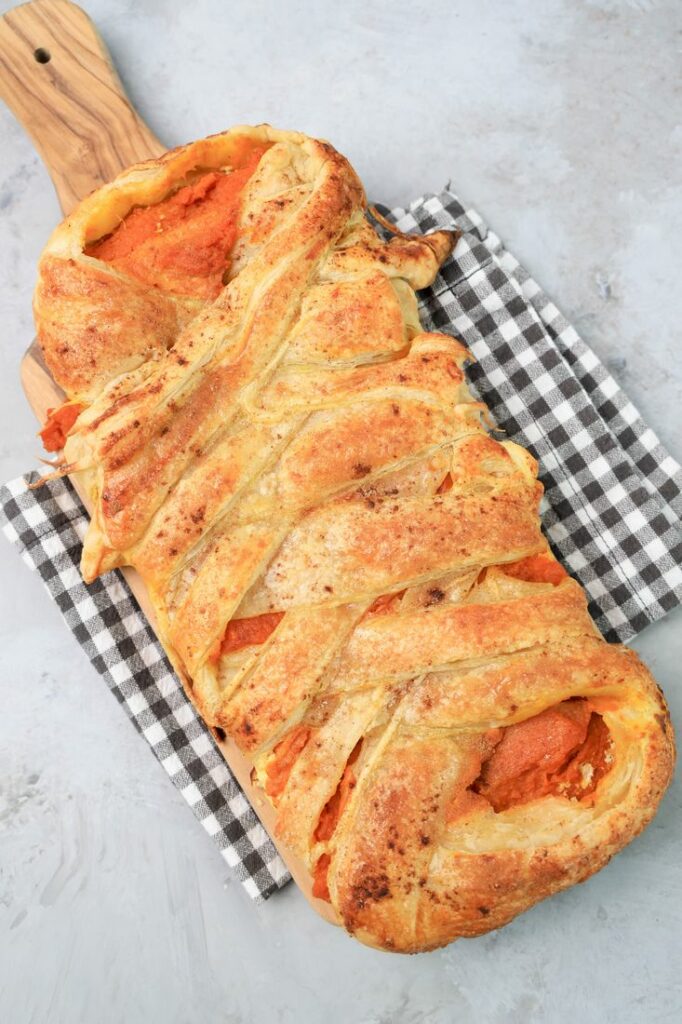 This pumpkin puff pastry is wonderful for Thanksgiving or Christmas breakfast. Comes out lovely for dessert or tea time with friends. Serve it up with some hot apple cider in the winter.
Delicious Pumpkin Recipes: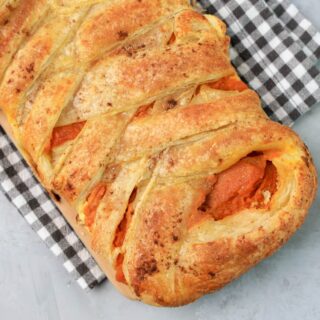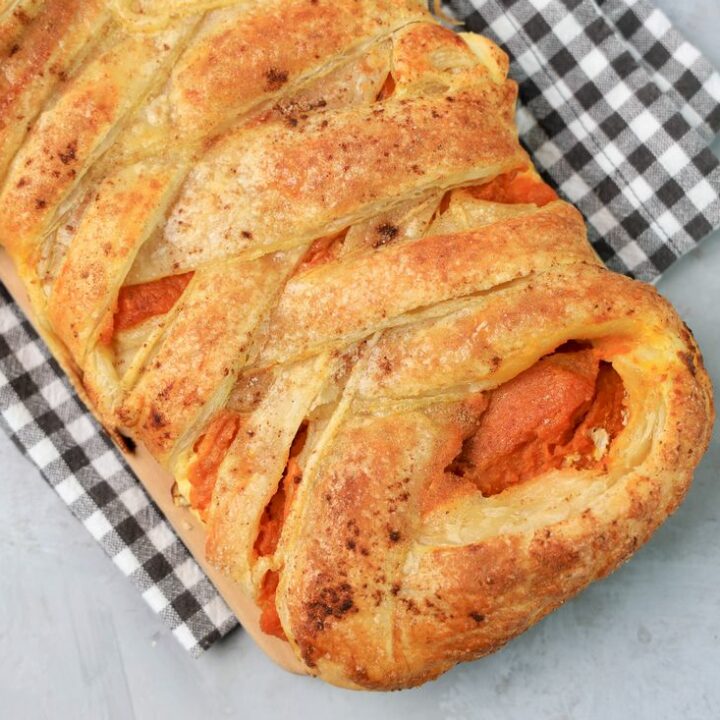 Pumpkin Puff Pastry Braid
Puff pastry filled with pumpkin and cream cheese.
Ingredients
1

puff pastry sheet

7.5

oz.

pumpkin puree

4

oz.

cream cheese

1

egg

2

tablespoons

flour

1

tablespoon

sugar

1

teaspoon

cinnamon
Instructions
Let puff pastry come to room temperature. Preheat oven to 400 degrees F.

On a cutting board or pastry board add flour. Roll the puff pastry sheet out to get the lines out.

Place on a parchment lined baking sheet. With a knife or pizza cutter cut lines on each side of the dough.

Spread cream cheese down the middle. Fill with pumpkin puree. Criss cross the dough over the filling.

Whisk an egg and brush over the top of the dough. Sprinkle with cinnamon and sugar.

Bake for 25 minutes until golden light brown.
Pin Pumpkin Puff Pastry Braid