This post may contain affiliate links. Please read my privacy policy.
These are the perfect make ahead cookie for Thanksgiving! Make them for Thanksgiving, Friendsgiving, or just as a neighborly thank you gift. These Pumpkin Whoopie Pies are spiced and sweet!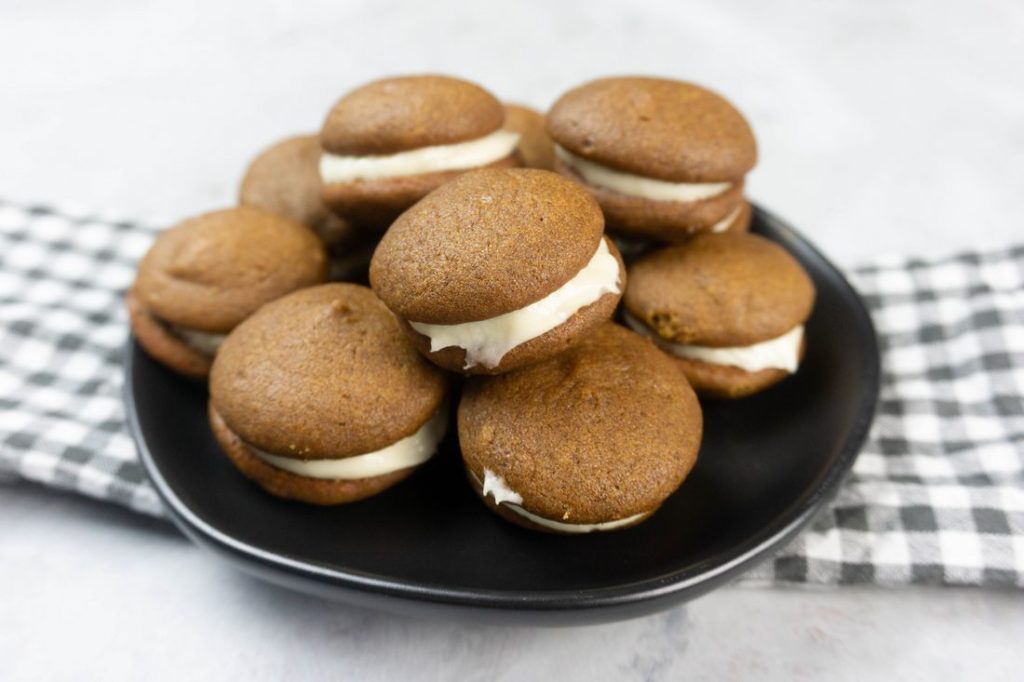 Whoopie pies can have any center filling that you would like. Here I added a cream cheese filling for the centers. A simple icing or white chocolate ganache can also work with the pumpkin pie cookies.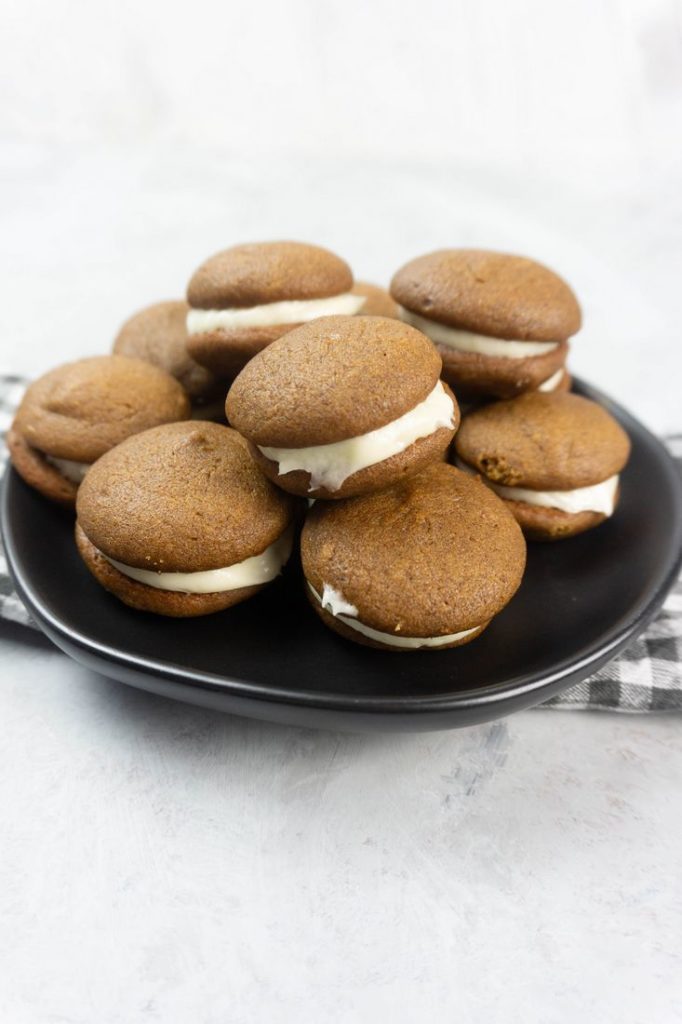 I love cookies that look pretty when gifting. These whoopie pies are the perfect gifting cookie. Easy to make and then just box it or place them in a pretty fall tin with fall leaves.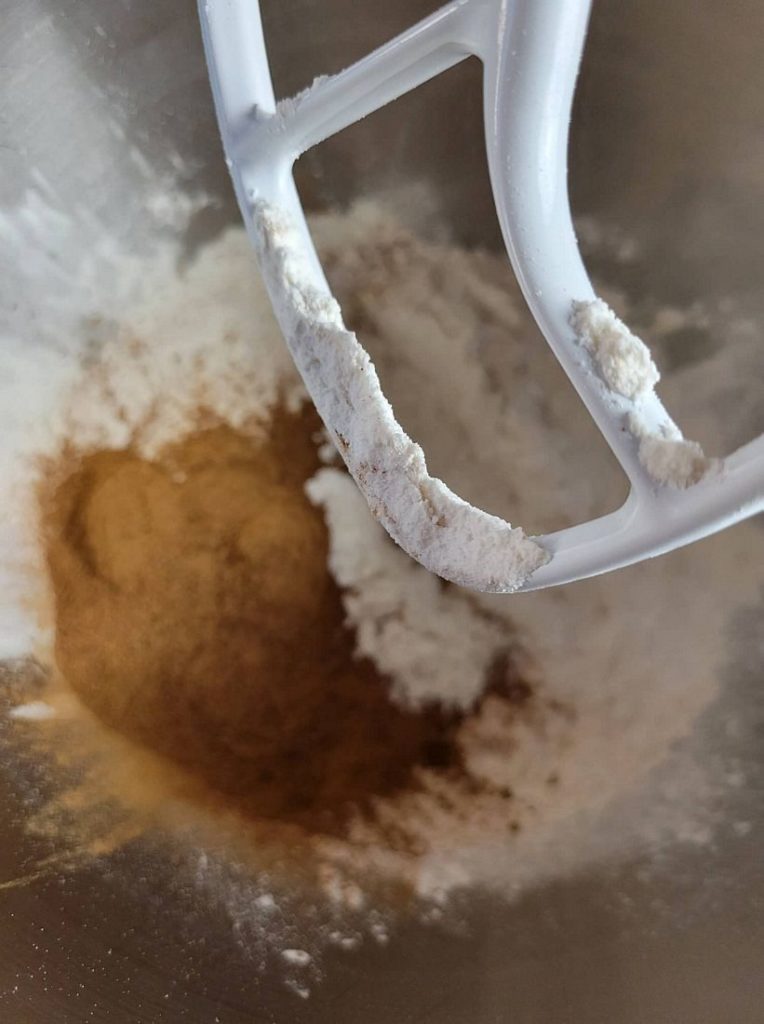 First, we mix together the flour and spices. Mixing dry before wet is always a good idea when baking. Next up we add the wet ingredients.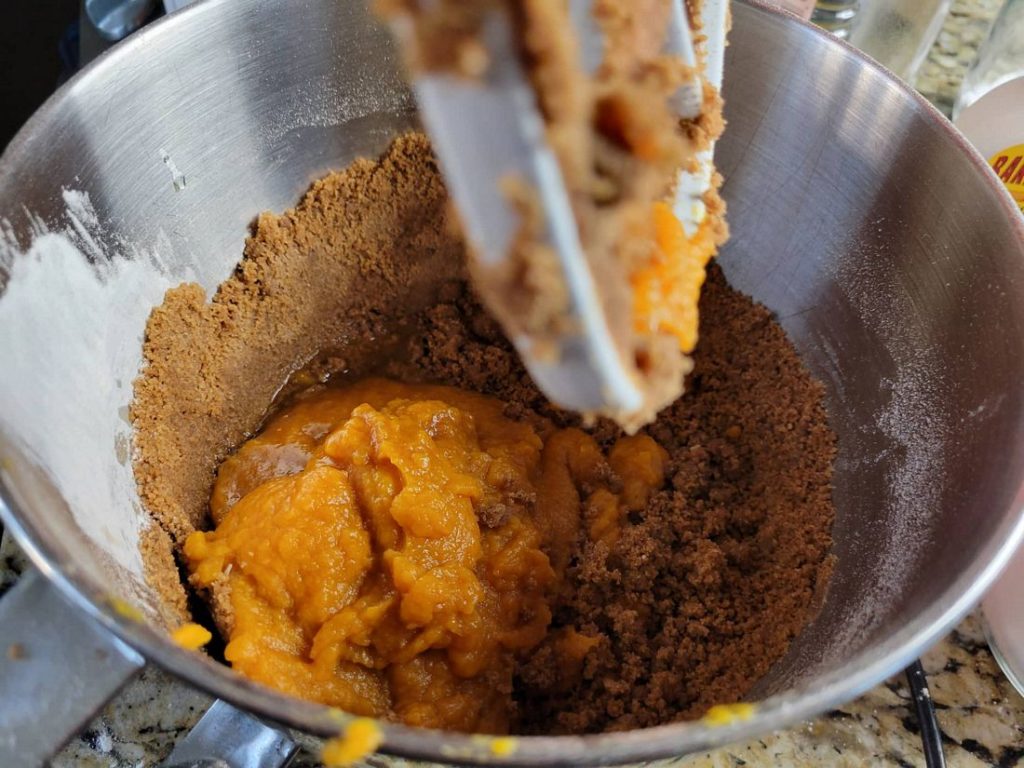 Making Pumpkin Puree
Add in the pumpkin puree to the mixer. You must use pumpkin puree and not pumpkin pie filling. If you cannot find pumpkin puree here is how you can make it. Oven baked pumpkin puree or instant pot version to make your own puree.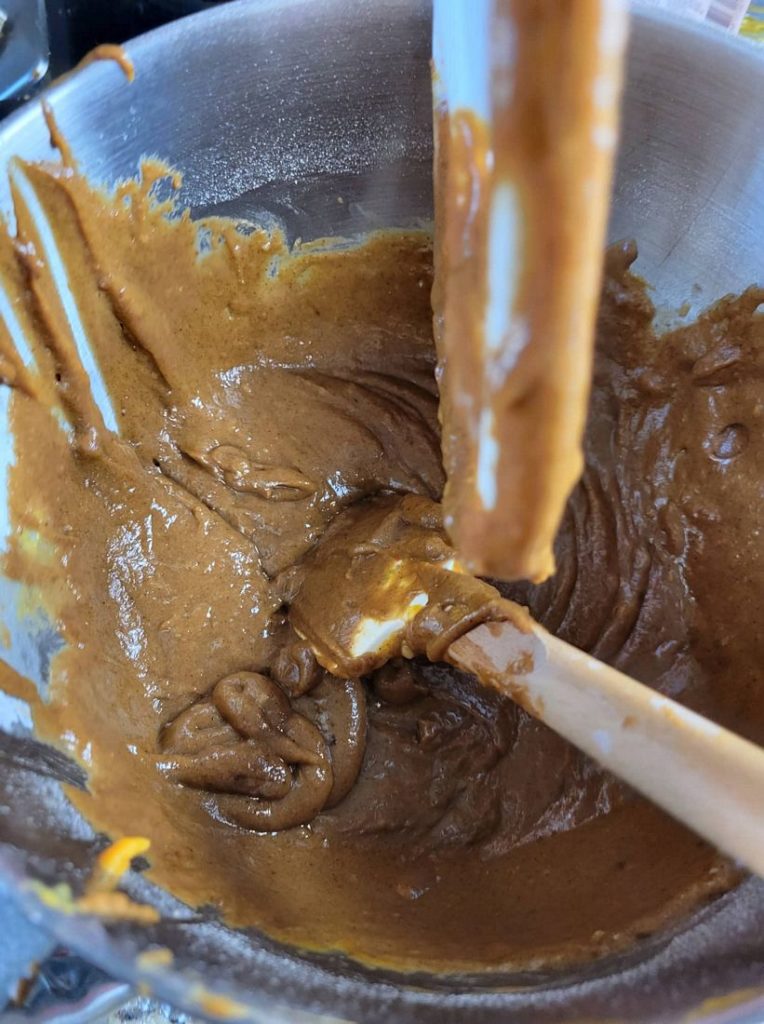 After whisking all the ingredients it's time to make your cookie part of the whoopie pies. Place the batter in a piping bag with large round tip. Pipe onto parchment paper but for an easy guide use a macaron cookie template.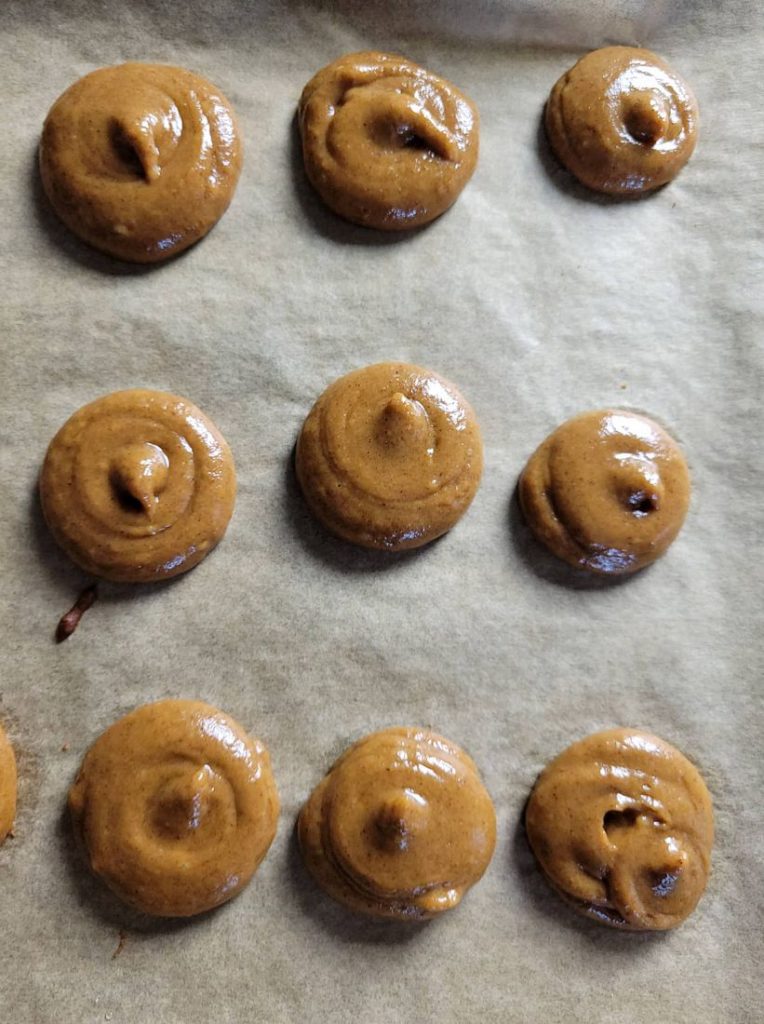 Now it's time to bake the whoopie cookie part. Bake for 10 minutes. When ready the pumpkin pies will spring back to the touch on top.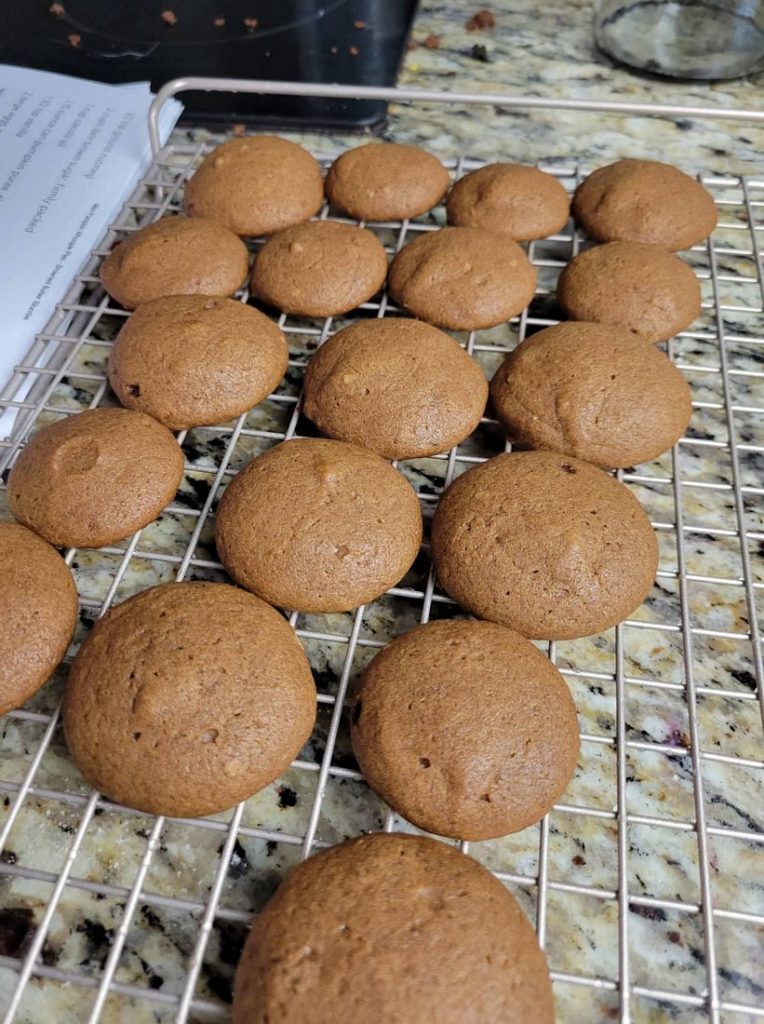 Once removing from the oven use a cookie spatula and move to a cooling rack. Let cool completely while making the filling.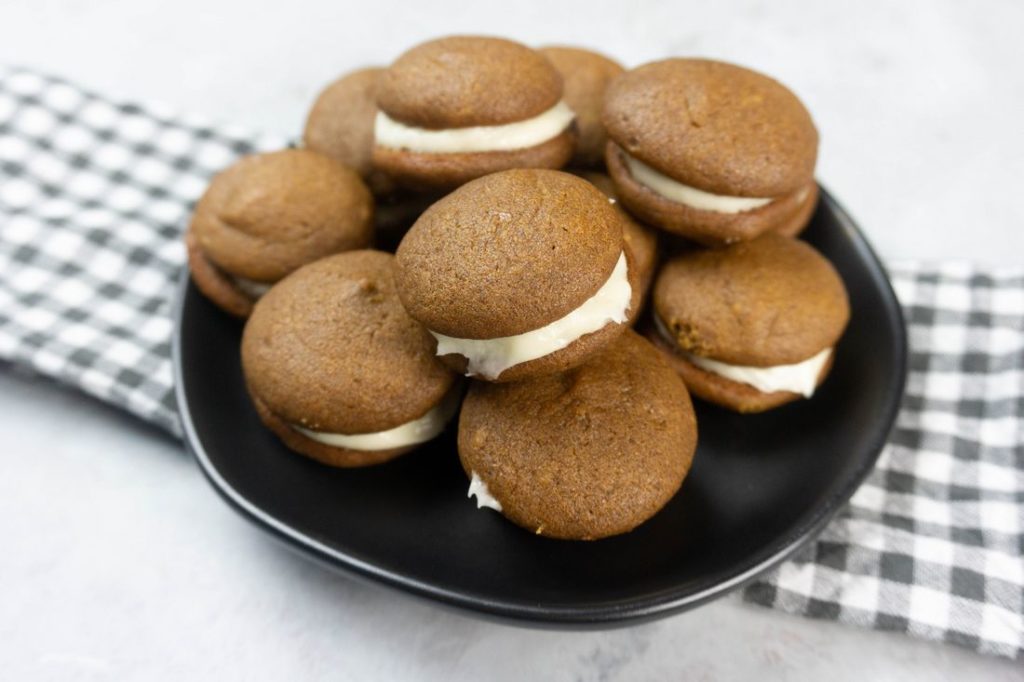 Make the maple cream cheese frosting for the centers. The pies usually cool in the time the frosting is being made. Just top some on one side of the pie and then press together.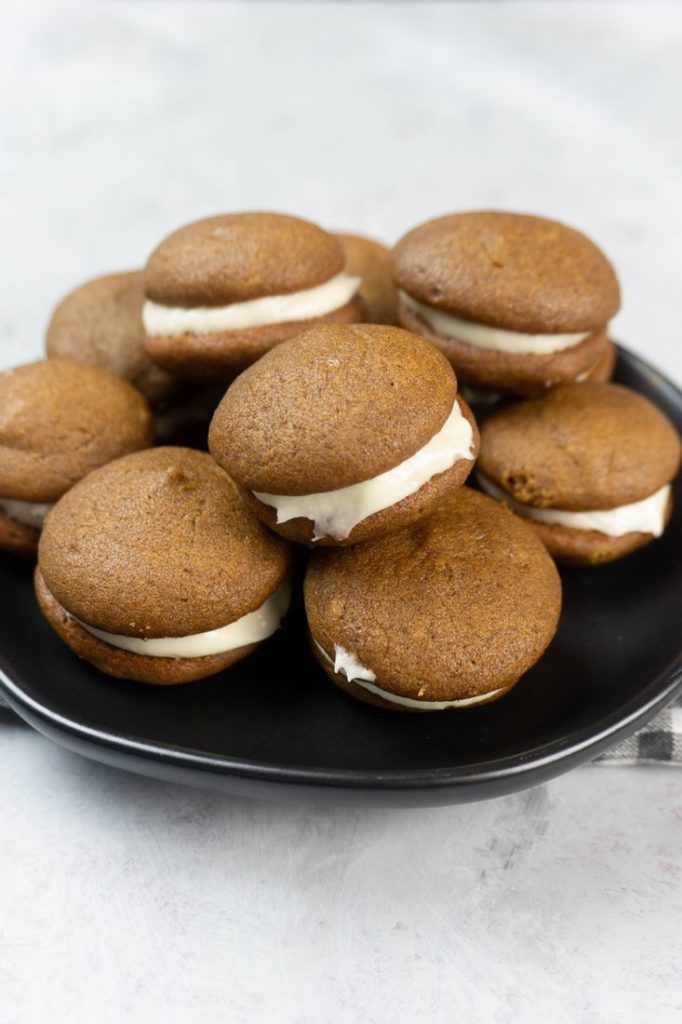 Make these amazing pumpkin whoopie pies for a finger food at your next Thanksgiving Feast. Easy to make ahead so no work the day of. Store in an air tight container.
More Delicious Pumpkin Recipes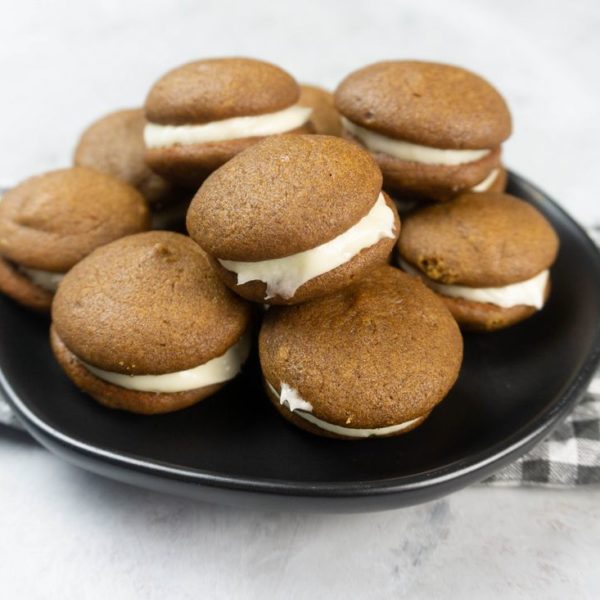 Pumpkin Whoopie Pies
Spiced and sweet pumpkin whoopie pies.
Ingredients
3

cups

all purpose flour; spooned and leveled

1

teaspoon

baking soda

3/4

teaspoon

baking powder

1

teaspoon

salt

2

tablespoons

cinnamon

1

teaspoon

ground ginger

1

teaspoon

all spice

1/2

teaspoon

ground nutmeg

2

cups

dark brown sugar; firmly packed

1

cup

olive oil

1 – 15

ounce

can pumpkin puree

not pumpkin pie filling

1 1/2

teaspoon

vanilla

2

large eggs; room temperature

1/2

cup

1 stick unsalted butter, room temperature

1 – 8

oz.

block cream cheese

2 1/2

cups

confectioner's sugar

2

tablespoons

maple syrup

1

tablespoon

vanilla extract
Instructions
Pumpkin Whoopie Pies

1. Preheat oven to 350 degrees. Line a baking sheet with parchment paper.

2. In a bowl of a stand mixer with paddle attachment, whisk together flour, baking soda, baking powder, salt, and spices.

3. Add in the oil and brown sugar on medium speed until well combined. Add the pumpkin and vanilla and mix on medium low until well incorporated. Add eggs, one at a time, mixing on medium low and be careful not to over mix.

4. Spoon the batter into a large piping bag fitted with a large round tip.

5. Pipe the batter into 3/4 to 1 inch rounds on the parchment paper lined cookie sheets or use the macaron template as a guide. Leave a little room between cookies as batter does spread a little. Rap the sheet on the counter to flatten a little.

6. Bake the whoopie pies for 10 minutes. Once fully baked, the pies should spring back when touched and a toothpick inserted in the center should come out clean.

7. Remove the pan from the oven and place on a cooling rack for 10 minutes. Carefully remove the whoopie pies from the pan and transfer to a wire rack to cool completely before filling.

8. To assemble the whoopie pies, place a dollop or swirl of maple cream cheese frosting on the flat side of one pie and then top with the flat side of another whoopie pie. Gently press together to create a sandwich. Place the assembled whoopie pies in the refrigerator for 30 minutes to an hour to chill, allowing the frosting to set.

Maple Cream Cheese Frosting

1. Place the softened butter and cream cheese in the bowl of a stand mixer fitted with the whisk attachment. Mix on medium high speed for 2 minutes.

2. Add the confectioner's sugar, 1/2 cup at a time, mixing on low speed until incorporated. Once all the sugar has been added, increase the speed to medium high and mix for two minutes until smooth. Scrape down the sides of the bowl as needed.

3. Add the maple syrup and vanilla. Mix on medium high speed until incorporated.

4. Place frosting in a large piping bag fitted with a large round tip. If frosting becomes too soft and warm, place it in the refrigerator for 10-15 minutes and then resume filling the whoopie pies.
Pin Pumpkin Whoopie Pies