The recipes on my blog come from my own experiments in the kitchen, family recipes, and some passed along from friends too. When I started this blog it was a way to document the recipes I created for my two sons and my daughter.
Soon after, the feedback that was received from people who would stumble past the blog gave me the inspiration to take it a step further. Mooshu Jenne is now one of my main focuses and I get to enjoy my love for food, crafting, and photography with all of you!
About Me:
My name is Jenne and I live near the Dallas area. Yes, that's in Texas. Although Dallas may have its charms my dream has always been to move somewhere seaside on the Pacific Northwest. It stems from my childhood in California. My love of food comes from my grandparents. They had me try new cuisines and never were they limited. My grandmother, coming from a long line of Italians, cooked Italian food almost nightly.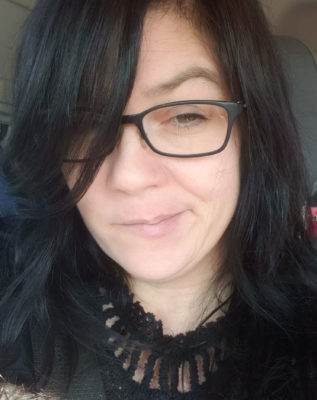 She was great friends with an Asian lady that owned a Chinese joint (Chuck's Chinese) around the corner from our house in California. I spent quite a bit of time in that restaurant kitchen as a my grandmother learned to cook Asian food and she taught Ann how to make Italian food. I was always beckoned as the sous chef!
I've worked as a bartender, server, florist, and cake decorator. These are just a few of the trades I've explored. My love for writing took me back to college. After a few years in college I realized the place I needed to be was writing about my lifestyle and enjoying my love for photography. Most of my time is spent with with my two half husky dogs, my husband, and two adult sons.
Photography on the site and equipment used:
I shoot with Canon EOS R. Depending on what I shoot I use a light set up or natural light. Paint Shop Pro X8 and Adobe Lightroom is what I use to edit photos. It's what I've used for over a decade and cost friendly.
Posting recipes from this blog to your own blog/website:
Please do not come here and take the pictures and copy content. If it's cut/pasted and placed on your site, you may think you're paying a compliment but really you're just violating copyright laws. Here's is a better solution. It is okay to use one photograph from the blog (you may not claim copyrights of the picture) and write about your experience with that recipe, and then just post a link directing your readers to the original recipe. Do not post the full recipe to your site. if found you will be asked according to remove it. Please do not post any pictures from Mooshu Jenne as your own. This content is copyright of Jenne Kopalek and Mooshu Jenne.
Sampling of Blog Press, Interviews, & Other Mentions:
Smithsonian Magazine – Bramborový Salát
Buzzfeed – Havarti Chicken Fajita Grilled Cheese Sandwich
Keep in Touch:
There is plenty of ways to keep in touch with me! You can also join me on Facebook, Twitter, Instagram, and Pinterest.
Feel free to comment on my blog posts adding to the conversation or email me with any questions. I reserve the right to remove promotional links, abusive comments, hurtful comments, and anything I deem unsuitable for my viewers or myself. To contact me regarding freelance work, food photography, or sponsorships please visit the press request page.