Spinach Artichoke Dip Beef Pasta
This post may contain affiliate links. Please read my privacy policy.
Why not take one of the best dips on the planet and turn it into a delicious dinner. Spinach artichoke dip beef pasta is loaded with spinach, ground beef, cheeses, and artichokes. It's a simple dinner with complex flavor.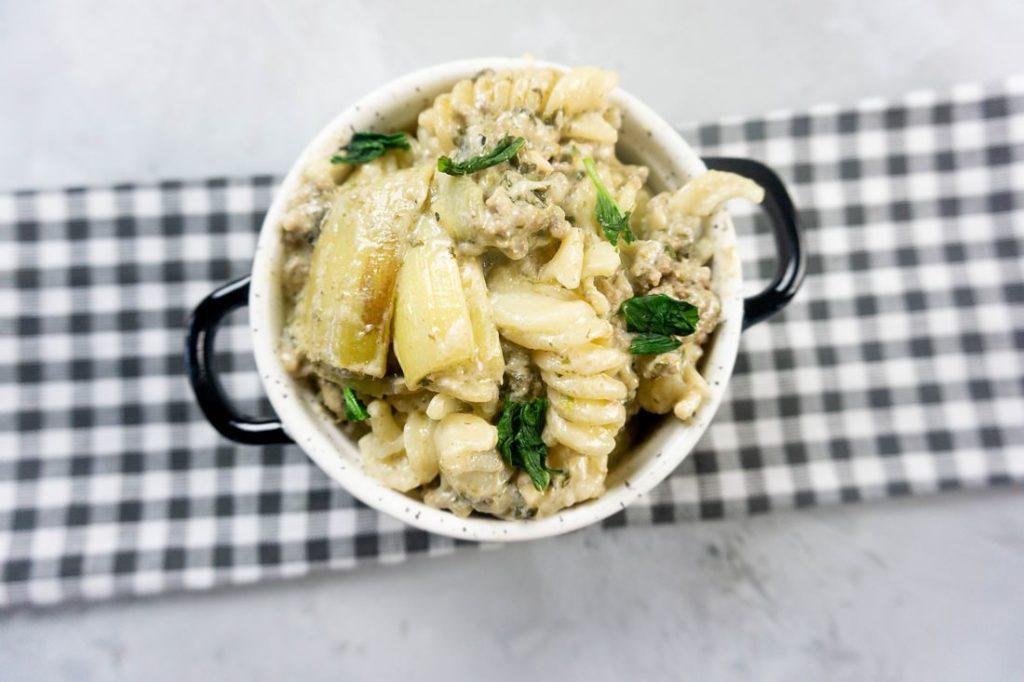 I love easy pasta dinners. But I love even more when that pasta dinner is something a bit different. Not the typical spaghetti dinner. The spinach artichoke dip turned pasta dinner was simply amazing.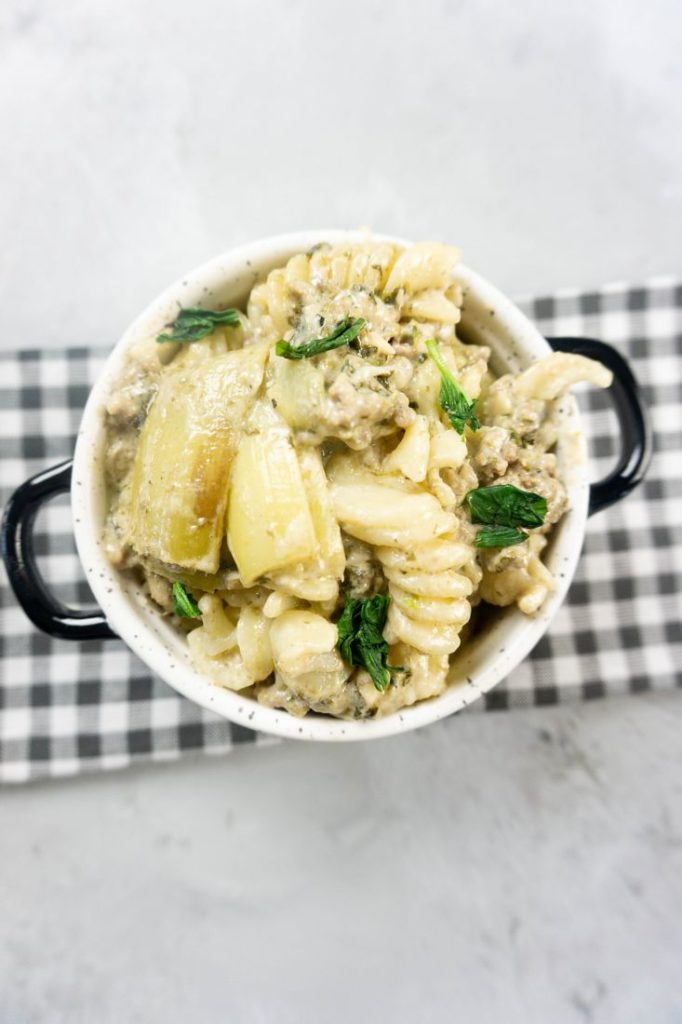 The base of the recipe is ground beef and then layers in the cream cheese and parmesan cheese to bring all the flavors of the dip to life. I use a rotini pasta however, any pasta could be used with this sauce.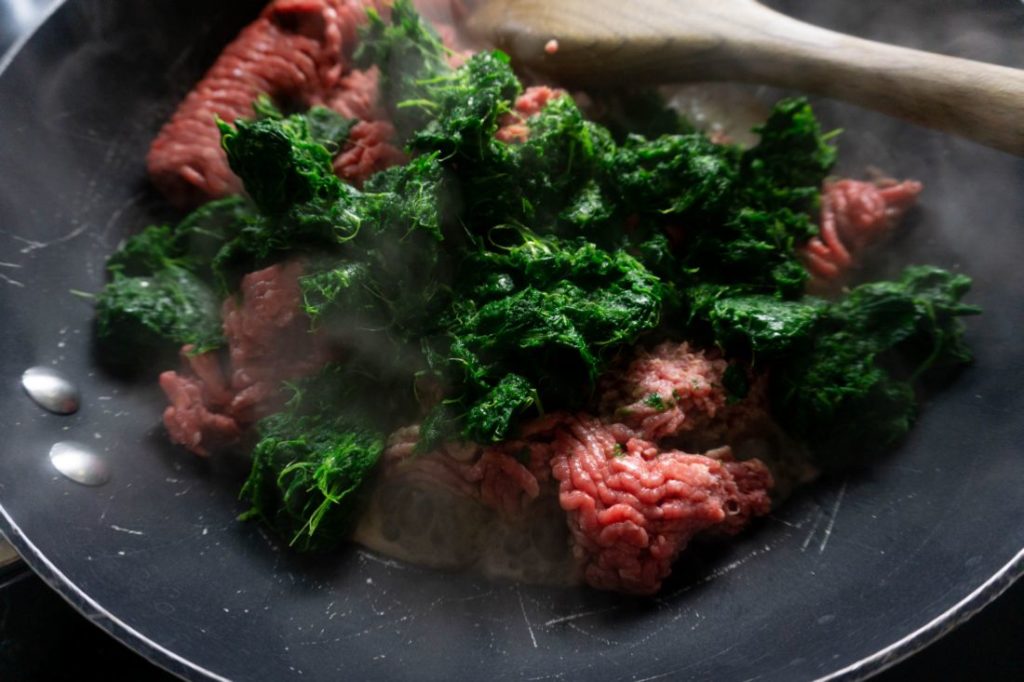 Cook the ground beef and thawed spinach together in a sauté pan. I have used fresh spinach before. However, I find that the frozen thawed spinach is easier to work with.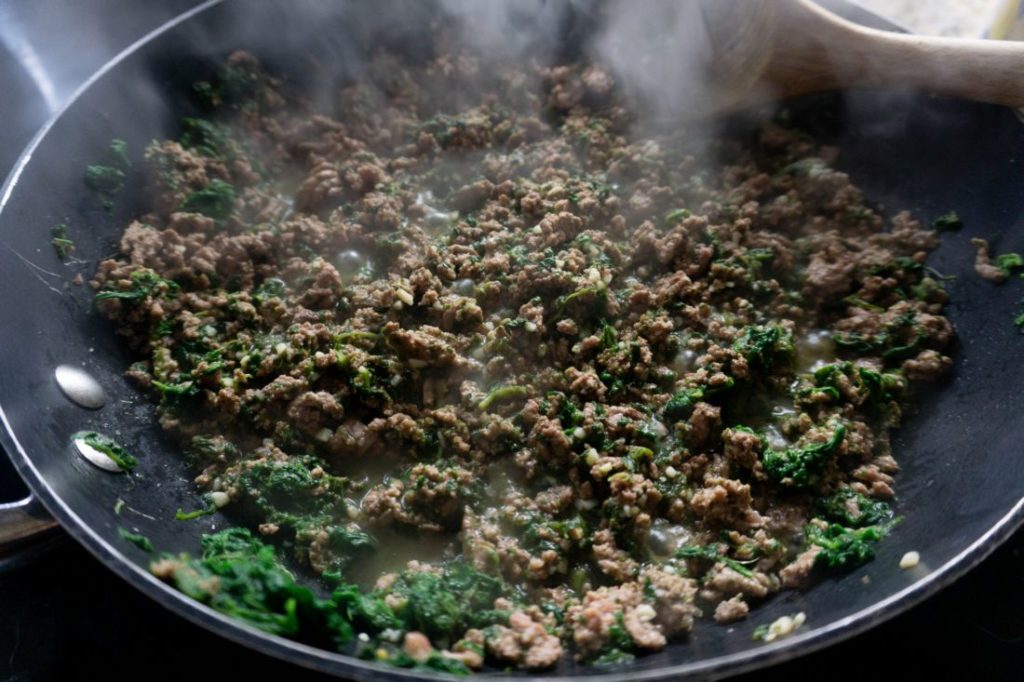 Brown the ground beef with the spinach and the garlic. This base will be the start of the spinach pasta. Next layer in the cream cheese and mayo. The cream cheese will melt down. Stir often.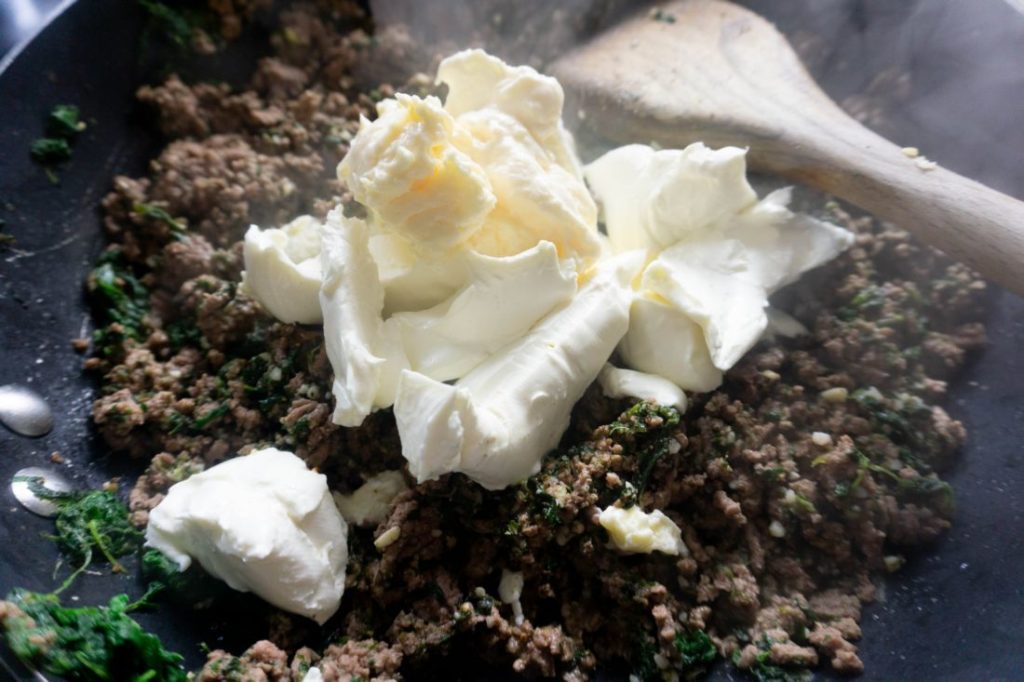 After adding the mayo and cream cheese this is when the artichoke hearts are layered into the artichoke pasta. I drain the artichoke hearts before adding them to the pasta.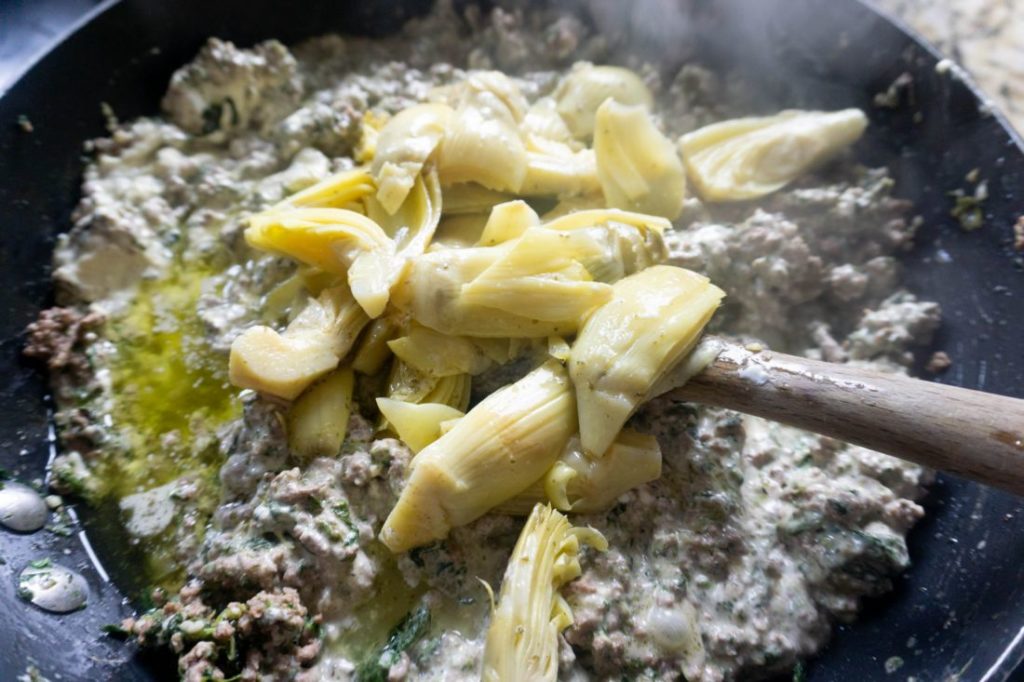 Now add in some heavy whipping cream to create a nice sauce that will stick to the rotini pasta. Hence I use the parmesan and mozzarella cheese to thicken the sauce.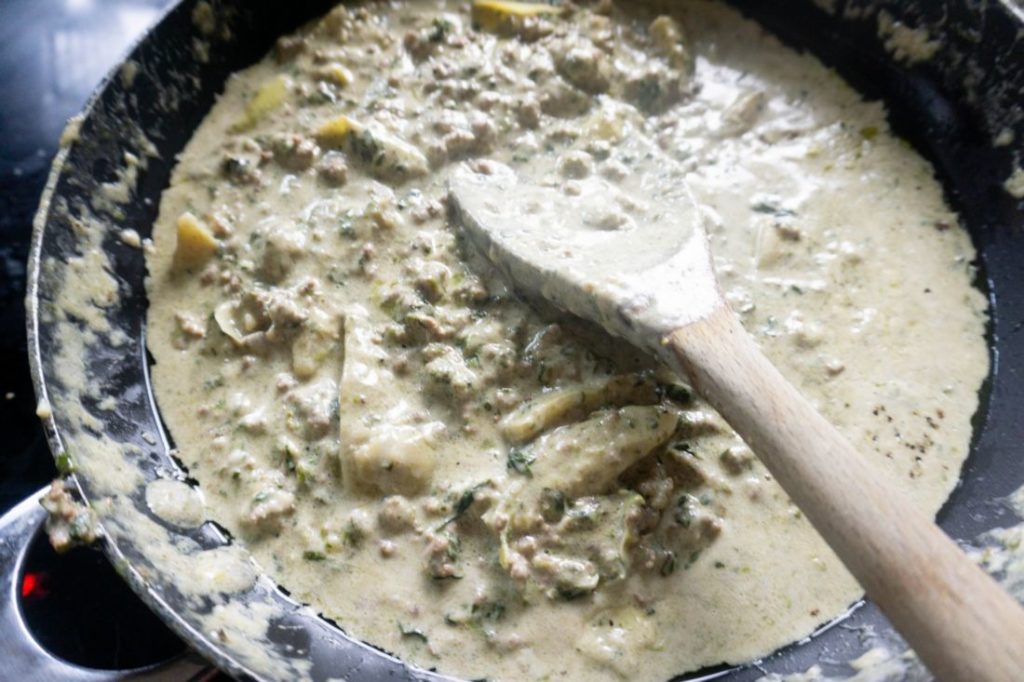 Make It Gluten Free:
I used gluten free rotini pasta with this recipe. Then toss it with the spinach artichoke dip beef pasta sauce. This is a pasta meal that is so easy to make and great the next day for lunches too.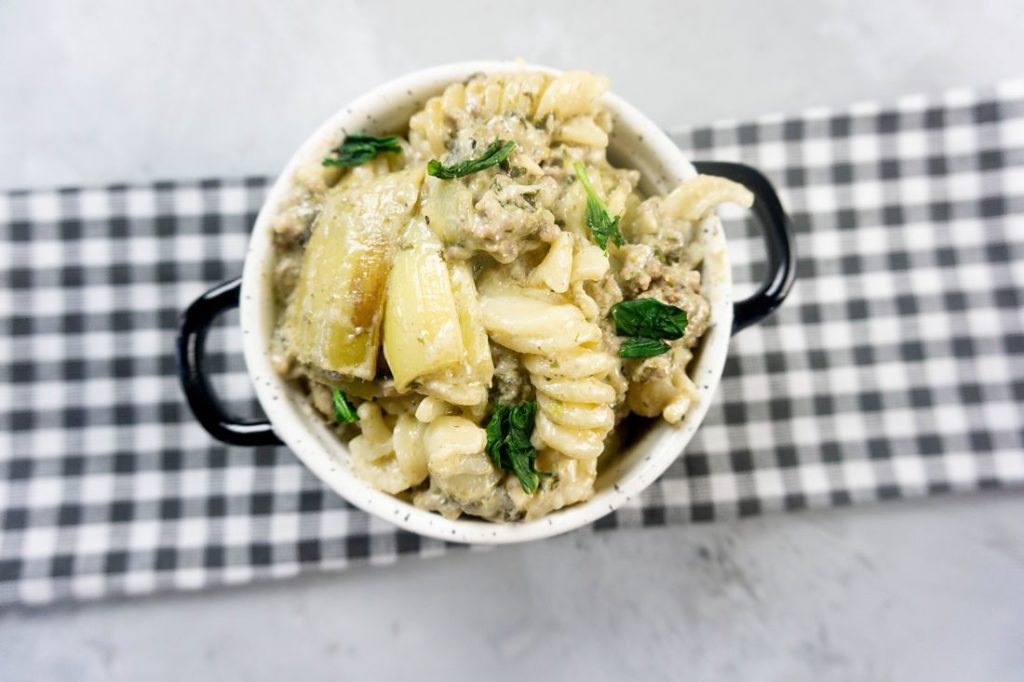 Spinach artichoke dip beef pasta is a easy meal the entire family will love. I like traditional pastas. However, I like to make pasta dinners that are a little different. Check out a few other pasta dinners we love below.
Delicious Pasta Dinners: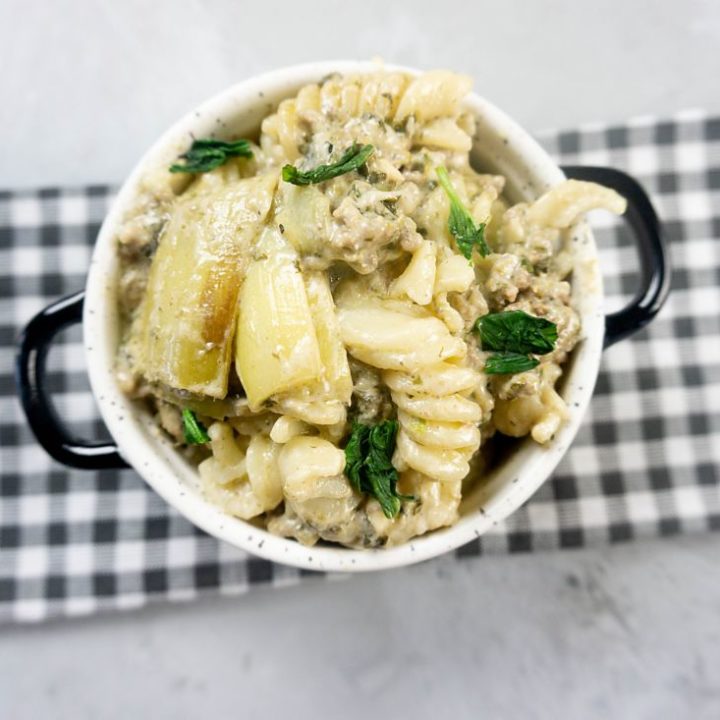 Spinach Artichoke Dip Beef Pasta
Spinach artichoke dip beef pasta is loaded with spinach, ground beef, cheeses, and artichokes.
Ingredients
1 lb. ground beef 90/10
16 oz. rotini pasta; use gluten free if needed
10 oz. package frozen spinach
9.8 oz. small jar artichoke hearts
8 oz. cream cheese block
1/2 cup mayo
2 1/2 cups heavy whipping cream
1 cup parmesan cheese
1 cup mozzarella cheese
1 tablespoon minced garlic
1 teaspoon pepper
Instructions
Place ground beef, thawed spinach, and minced garlic into a sauté pan. Cook until ground beef is browned.
Cook pasta as directed on box and drain. Set aside.
Add cream cheese and mayo to the sauté pan with the ground beef mixture. Stir well. Add in artichoke hearts. Fold them into the ground beef mixture.
Pour in heavy whipping cream while stirring. Bring to a boil and then turn to low and simmer till heavy cream thickens. Once thickened fold in mozzarella and parmesan. Stir well to make sure all cheeses are melted.
Top with pepper and toss with pasta. Serve warm!
Pin Spinach Artichoke Dip Beef Pasta: