New Year's Eve Pretzel Rods
This post may contain affiliate links. Please read my privacy policy.
New Year's Eve pretzel rods are fun to make while adding pretty color to a charcuterie board. These white chocolate dipped pretzels are great for snack boards alike.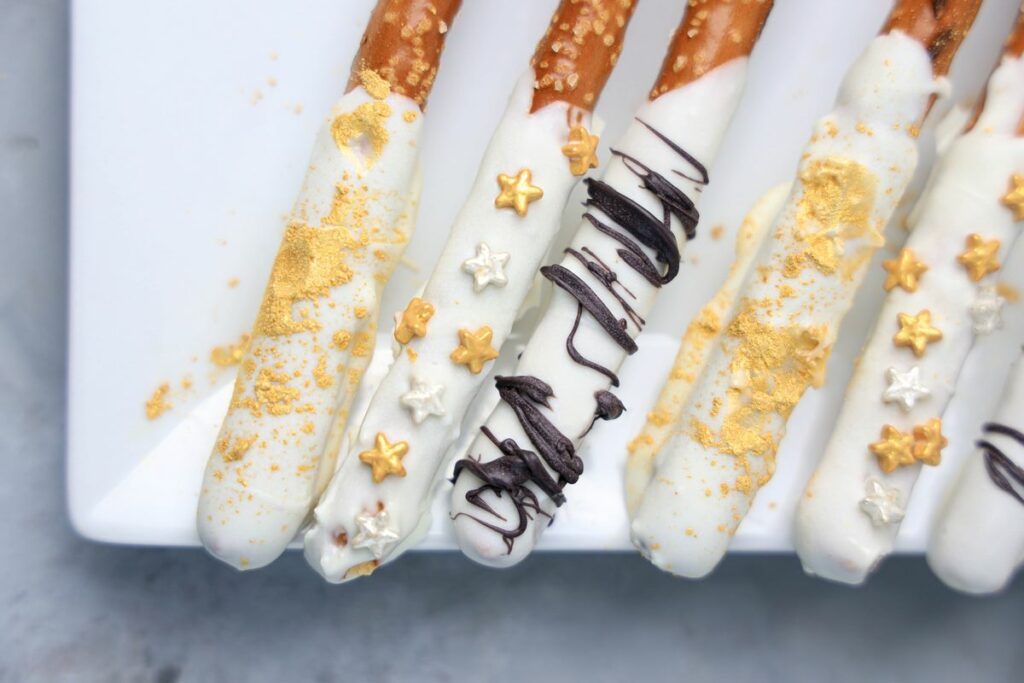 Pretzel rods are so easy to decorate and display for the holidays. These New Year's Eve pretzels are perfect for charcuterie boards or even displaying in a mason jar with ribbon.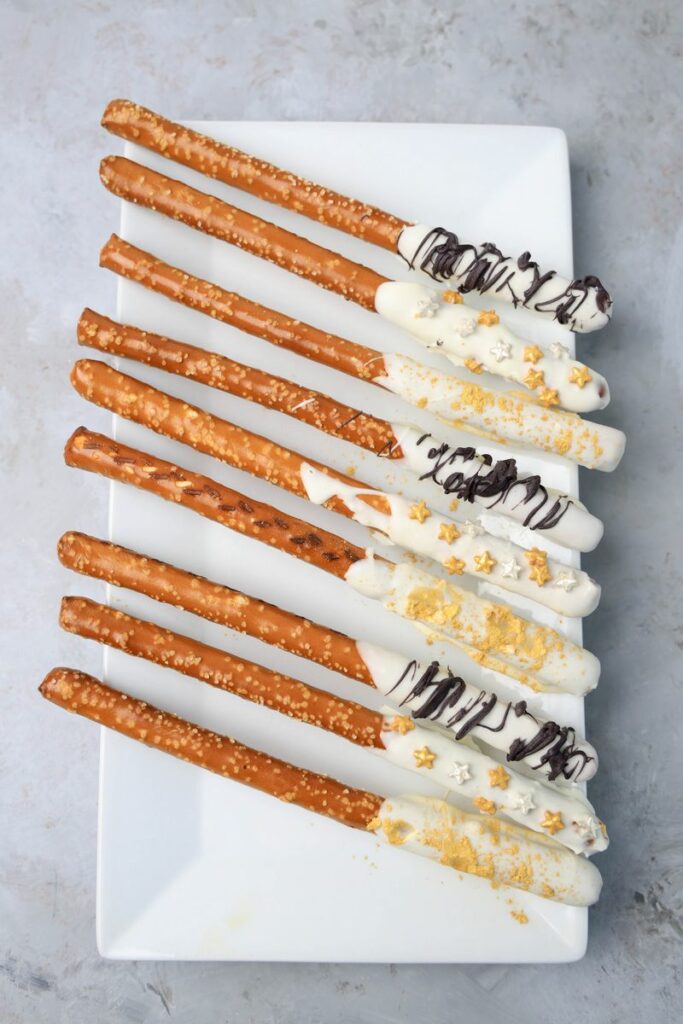 For the pretzel recipe a few microwave safe bowls are needed. No need for a melting pot. A melting pot can be used if you feel like it works better for you. I just use a microwave.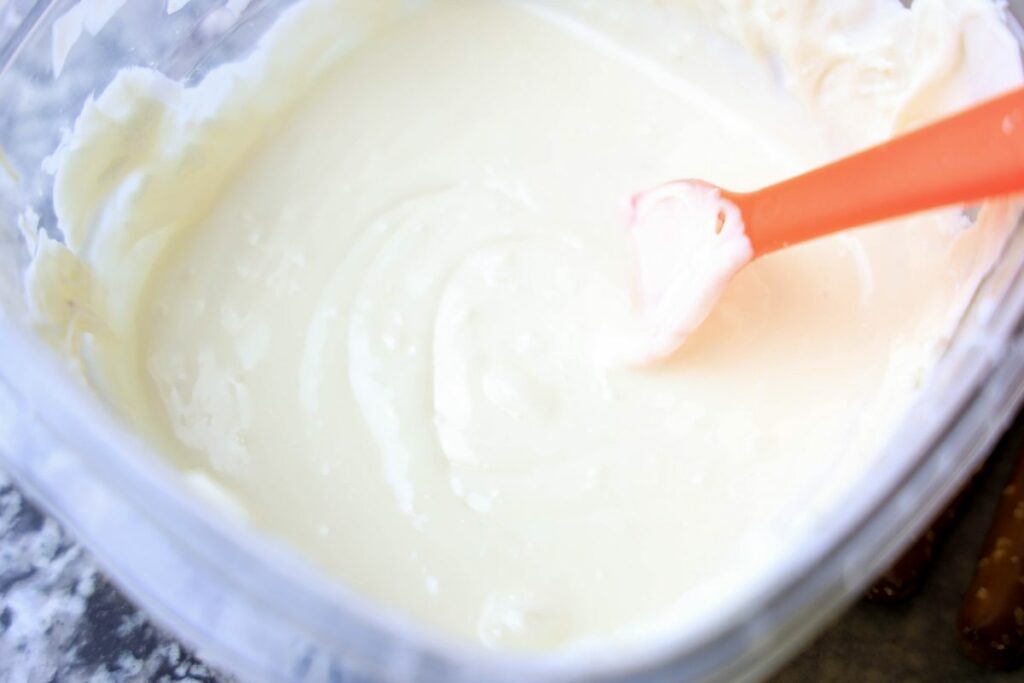 Melt the Ghirardelli's white chocolate melting wafers in a microwave safe bowl. Use the directions on the package to melt them at 50 percent power or use defrost mode.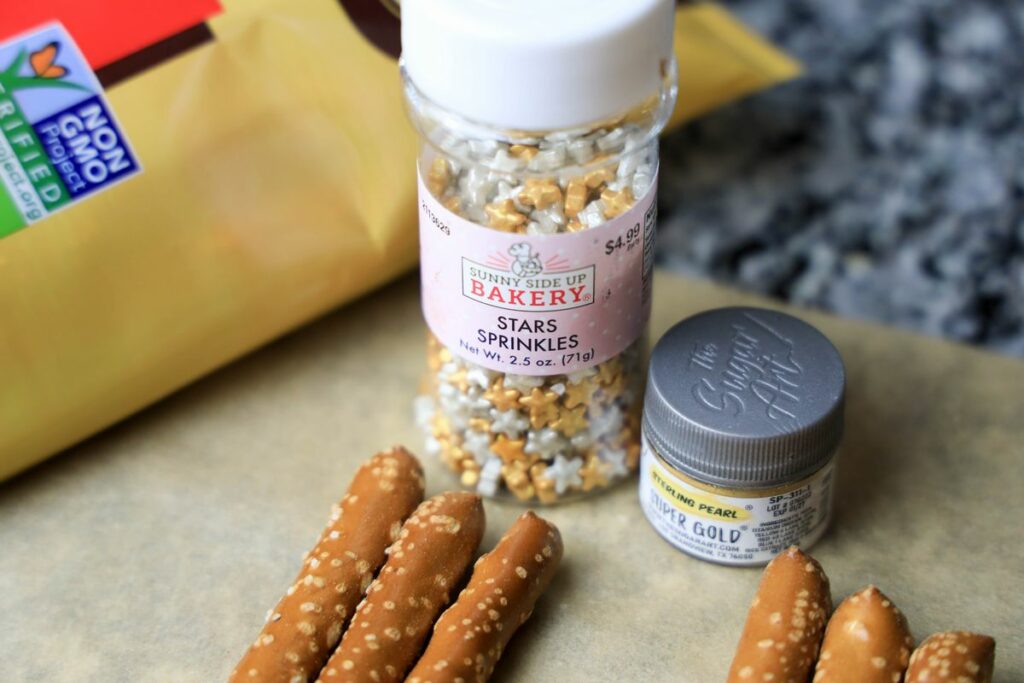 Secondly, prep the area with parchment paper. Get the sprinkles and edible gold glitter ready. Use a spoon to scoop white chocolate over the pretzel.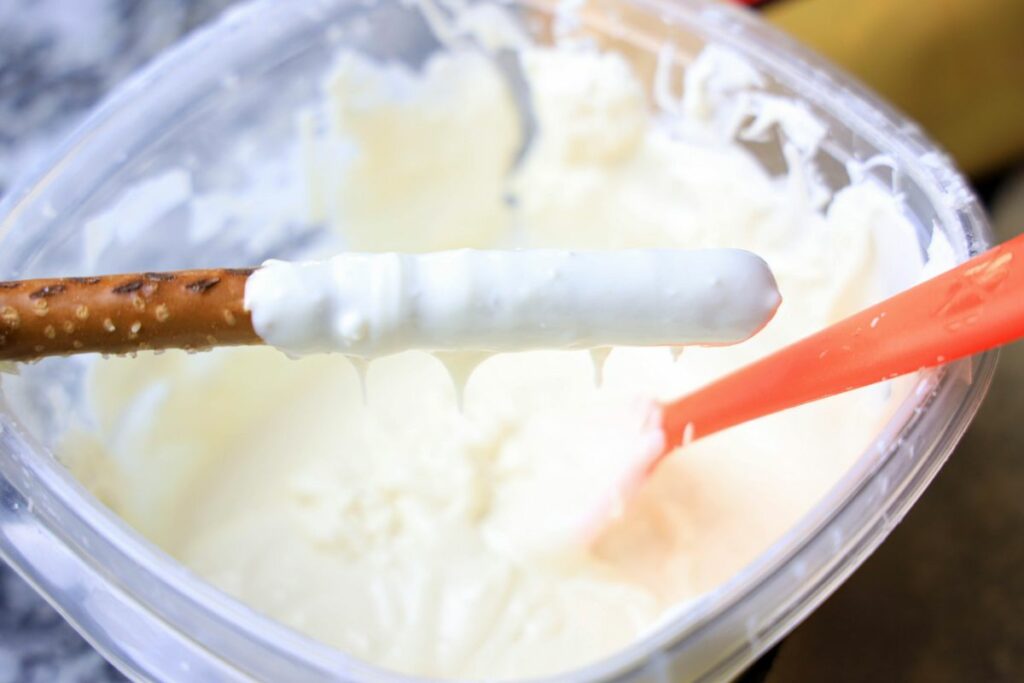 Dipping The Pretzels
Do this while rotating the pretzel until the tip is covered. Tap lightly against the plastic bowl to get excess white chocolate off the pretzel. Place on parchment paper.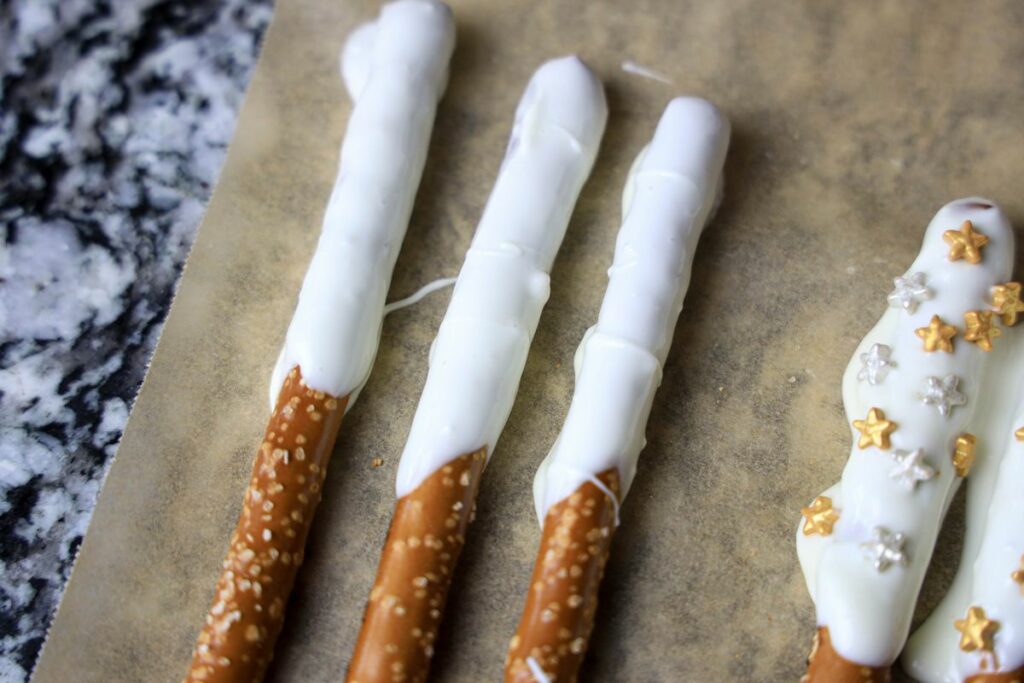 Decorate the pretzels while the chocolate is still hot and wet. Once dry nothing will stick. Drizzle with gold edible glitter and star sprinkles.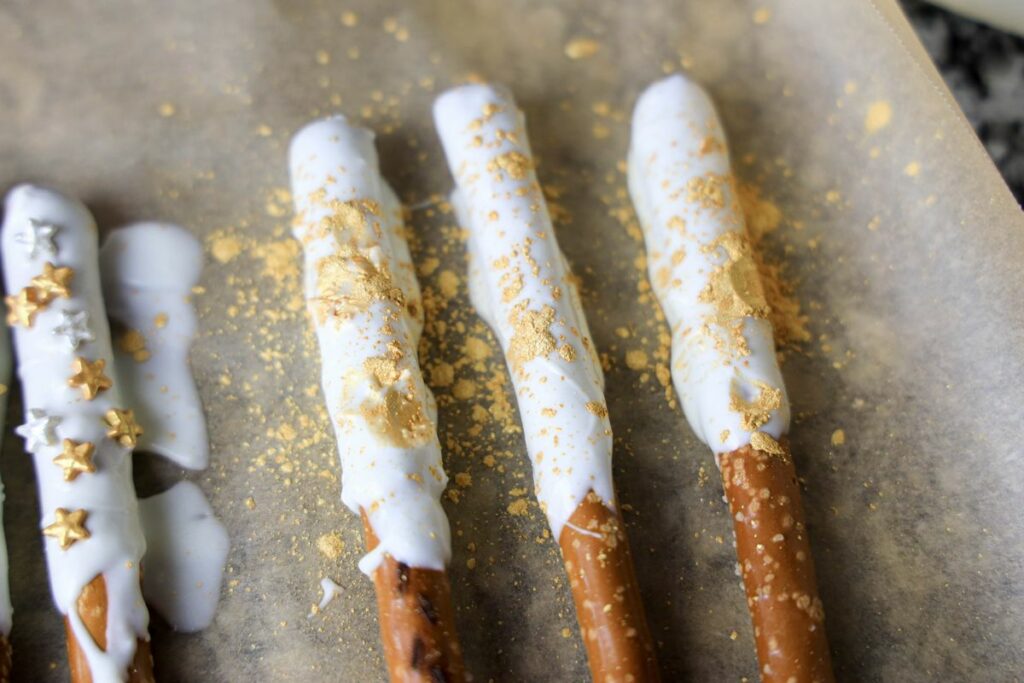 Melt the black candy melts and drizzle with a knife over the dried white chocolate pretzel rods. Let all of the pretzel rods dry before serving.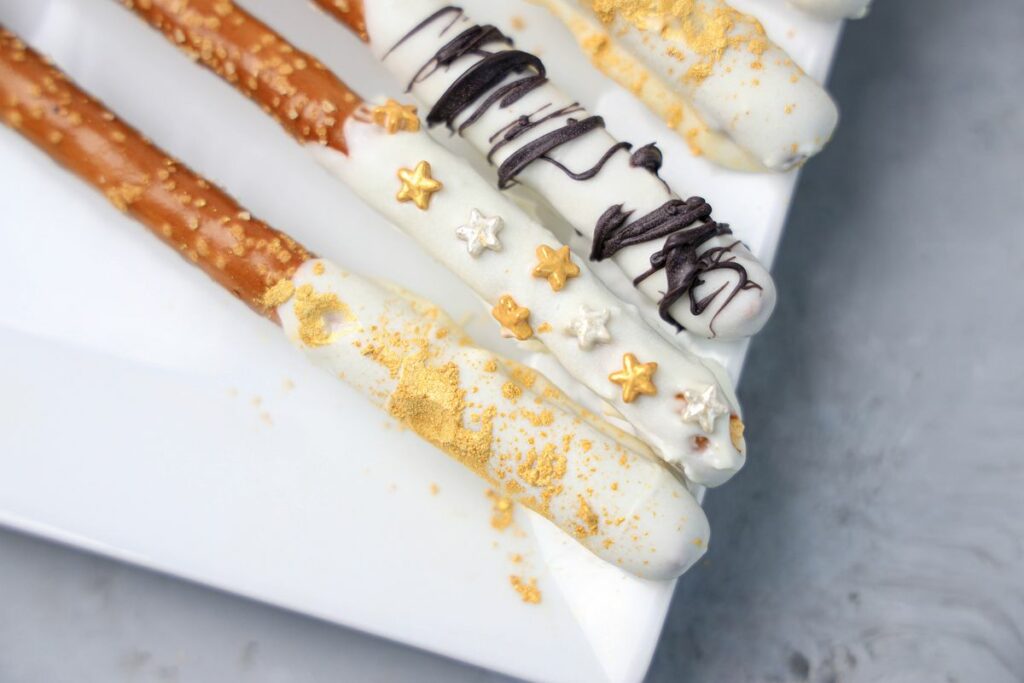 Make Pretzels Same Day
The decorated pretzels are best made the same day. Pretzel rods don't take long at all to make and to keep the freshness of the pretzel then it's best to eat them the same day.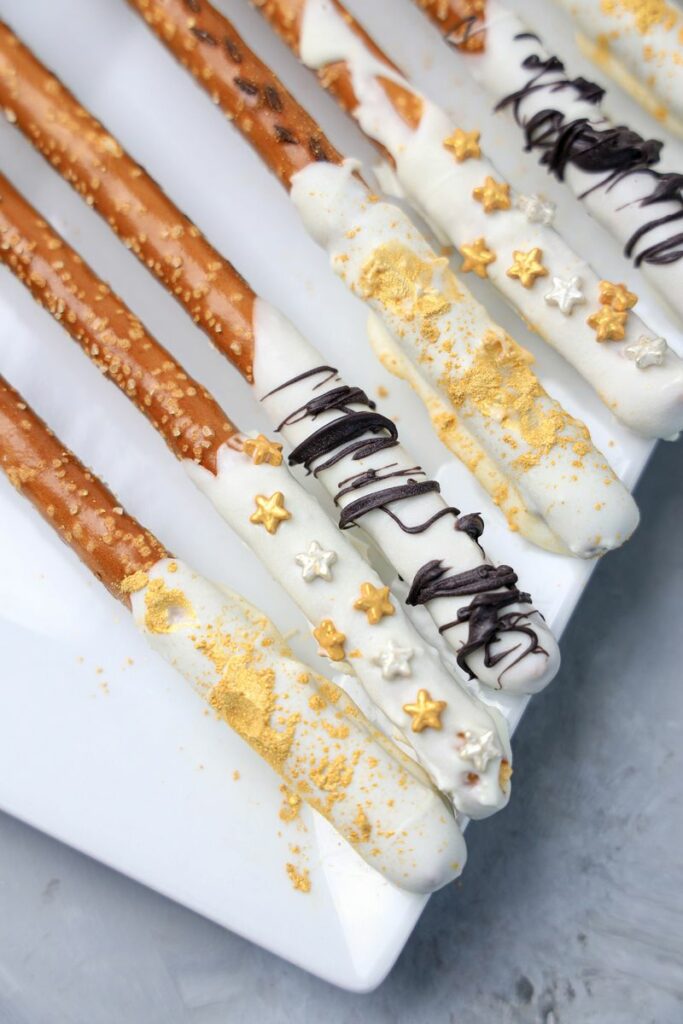 Pretzel Variations
These pretzels can be dipped in so many colors. Make for Valentine's Day, Mardi Gras, St. Patrick's Day and even Easter pretzel rods. So many ways to switch the sticks up for holidays or parties.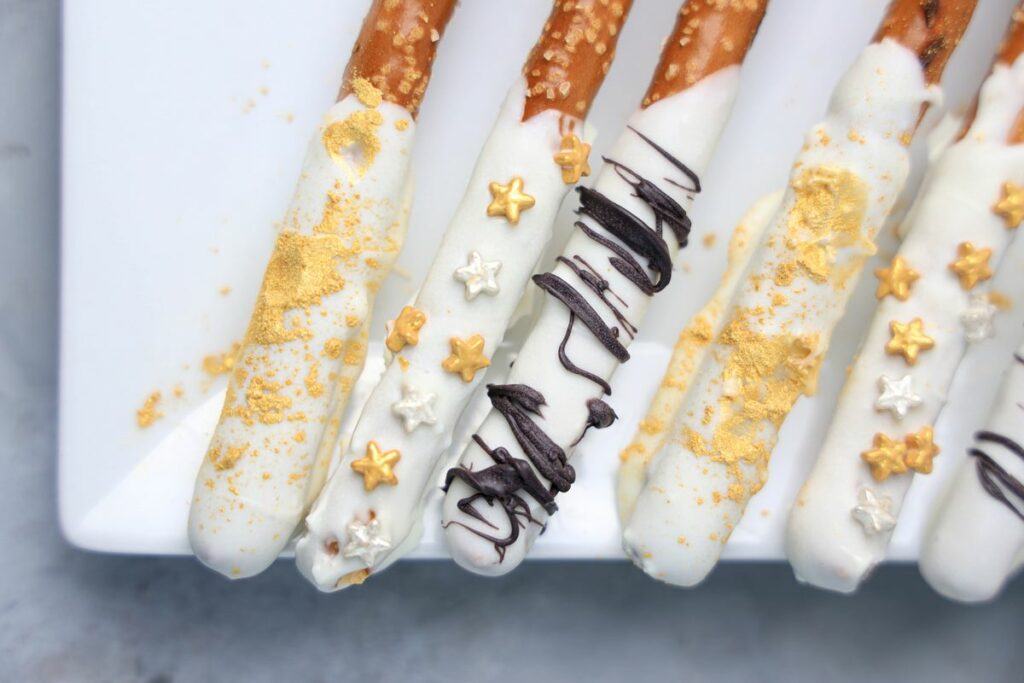 Make a New Year's Eve charcuterie board with the New Year's Eve pretzel rods added in. Add some gold Rolo candies along with silver Hershey's kisses for some color to a fun board.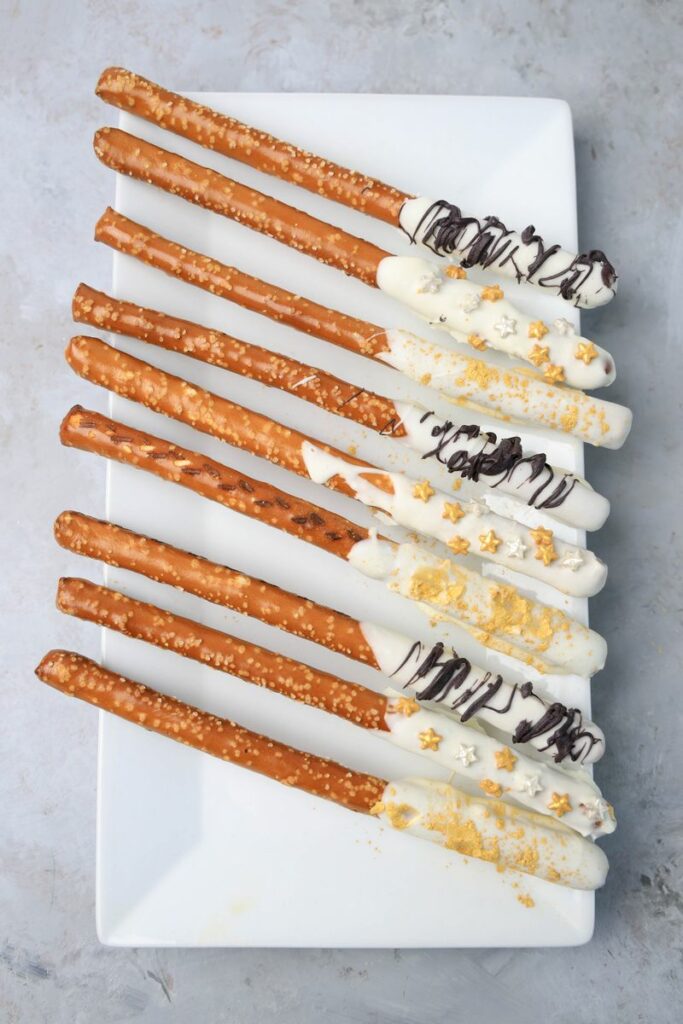 Dip some Oreo cookies into the white chocolate and add some gold dust. These are all fun sweets to add to a board with meats and cheeses. Check out a few other New Year's Eve treats.
New Year's Eve Treats: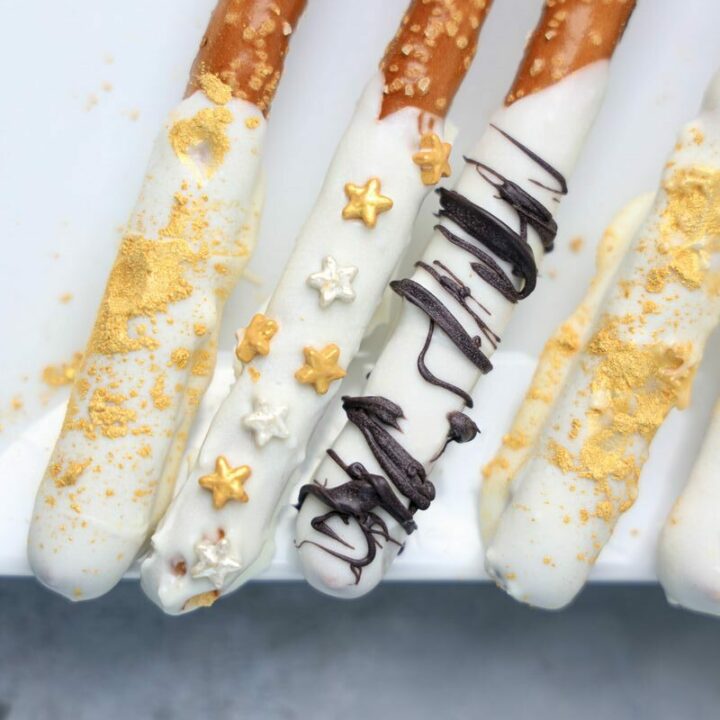 New Year's Eve Pretzel Rods
Pretzel rods dipped in white chocolate and decorated.
Ingredients
10

oz.

Ghirardelli's white chocolate melting wafers

1/3

cup

black candy melts

sweet tooth fairy

9

Snyder's pretzel rods

1

teaspoon

gold and silver star sprinkles

1/2

teaspoon

edible gold glitter
Instructions
Melt the white chocolate melting wafers as directed on the bag. Cover the end of the pretzel with white chocolate by scooping some over with a spoon and rolling the pretzel rod.

Lightly tap the side of pretzel rod to get the excess chocolate off. Place on parchment paper.

Quickly add gold and silver star sprinkles and gold dust over three pretzels each.

Melt the black candy melts as directed. Drizzle over three more pretzels. Let dry.

Serve for a fun treat on New Year's Eve.
Pin New Year's Eve Pretzel Rods