Hocus Pocus Candied Apples
This post may contain affiliate links. Please read my privacy policy.
Just days away from the premiere of Hocus Pocus 2. Enjoy some Hocus Pocus candied apples with spooky eyes. Great to devour while watching the new Hocus Pocus 2 movie.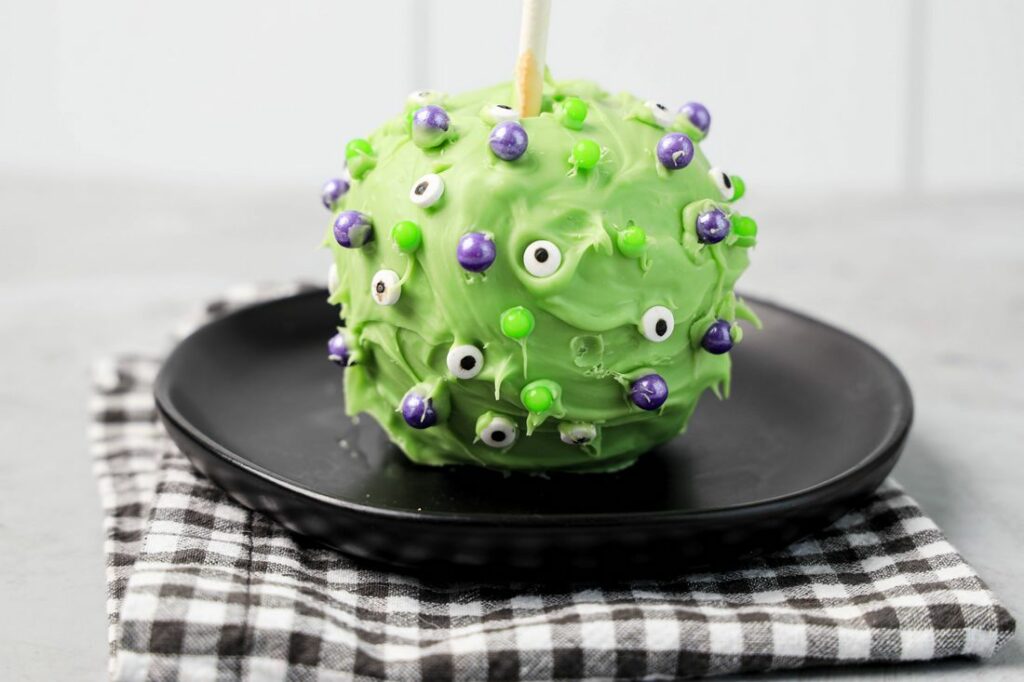 Covered with green candy melts, eye candy sprinkles, and purple and green pearl sprinkles. These candied apples are super easy to make.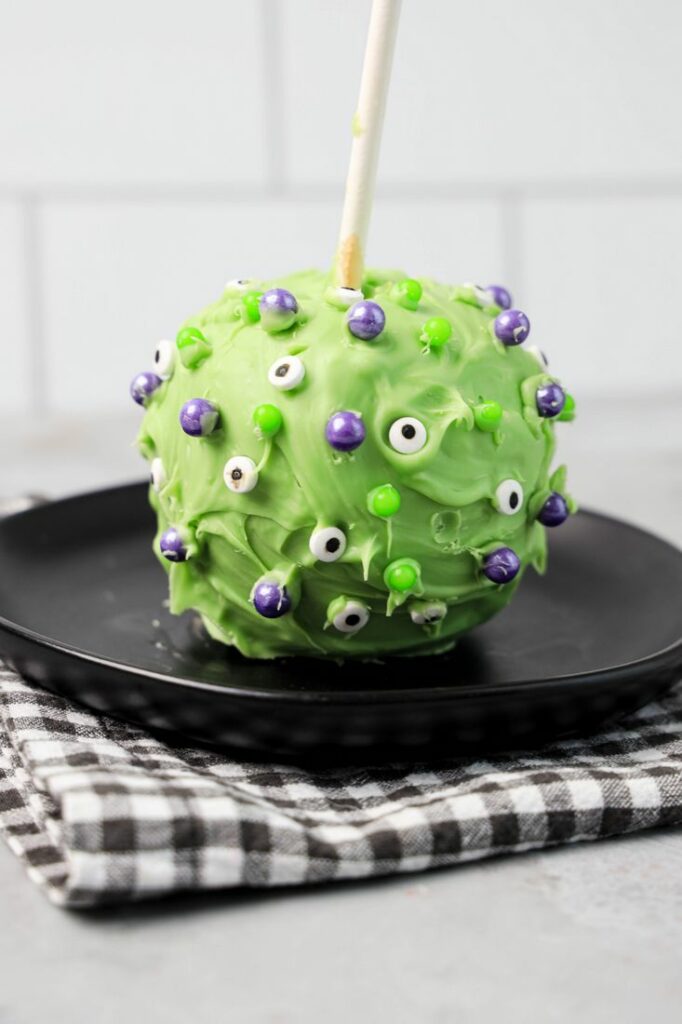 Items Needed For Candied Apples:
You will need apples, sweet tooth fairy light green candy melts, candy eye sprinkles, purple pearl sprinkles, and green mini pearl sprinkles. Parchment paper or freezer paper shiny side up is great for drying the apples on.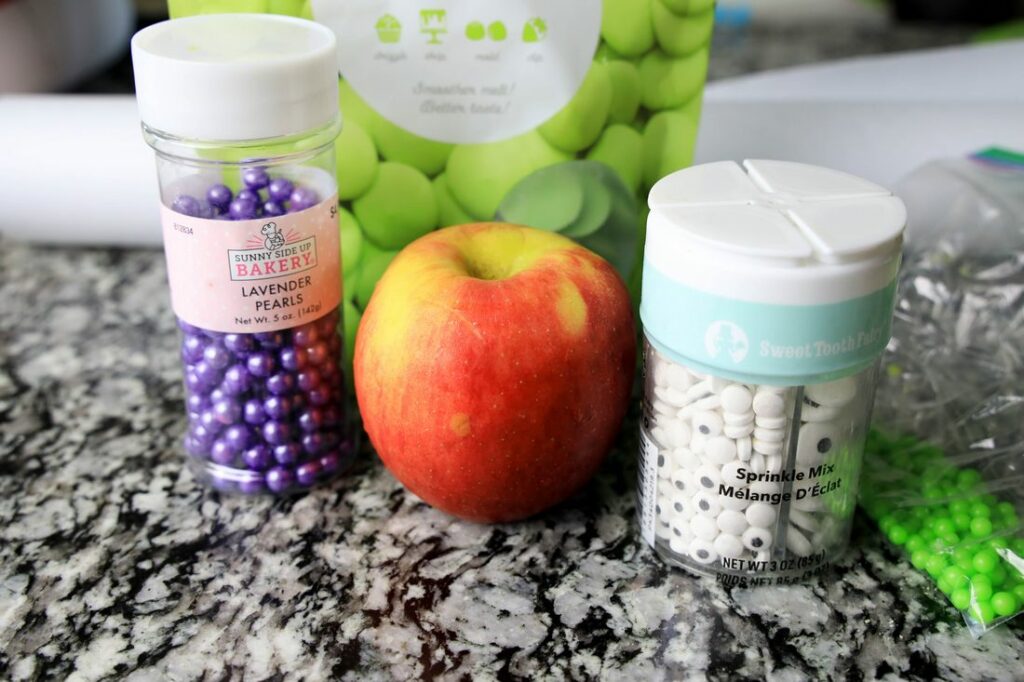 Microwave on defrost mode the candy melts. I do this in a microwave safe bowl and one I can store extra left over candy melts in. Just check out the directions on the bag.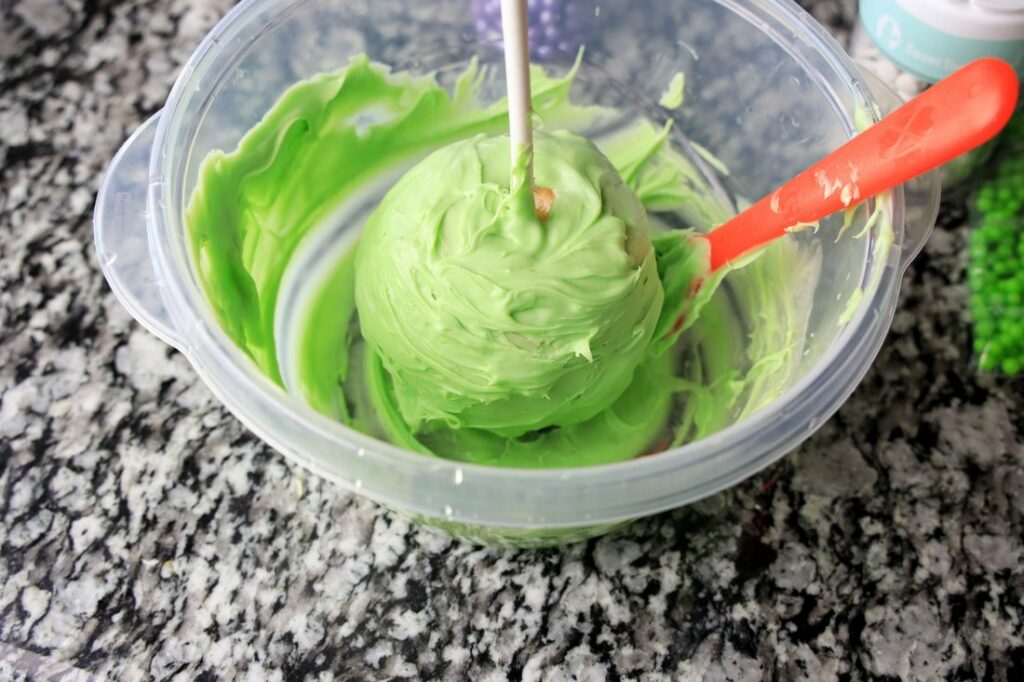 Place a lollipop stick into the candied apple. I use thick sticks. Then dip the apple into the light green candy melts. Pull out and set on parchment or freezer paper shiny side up.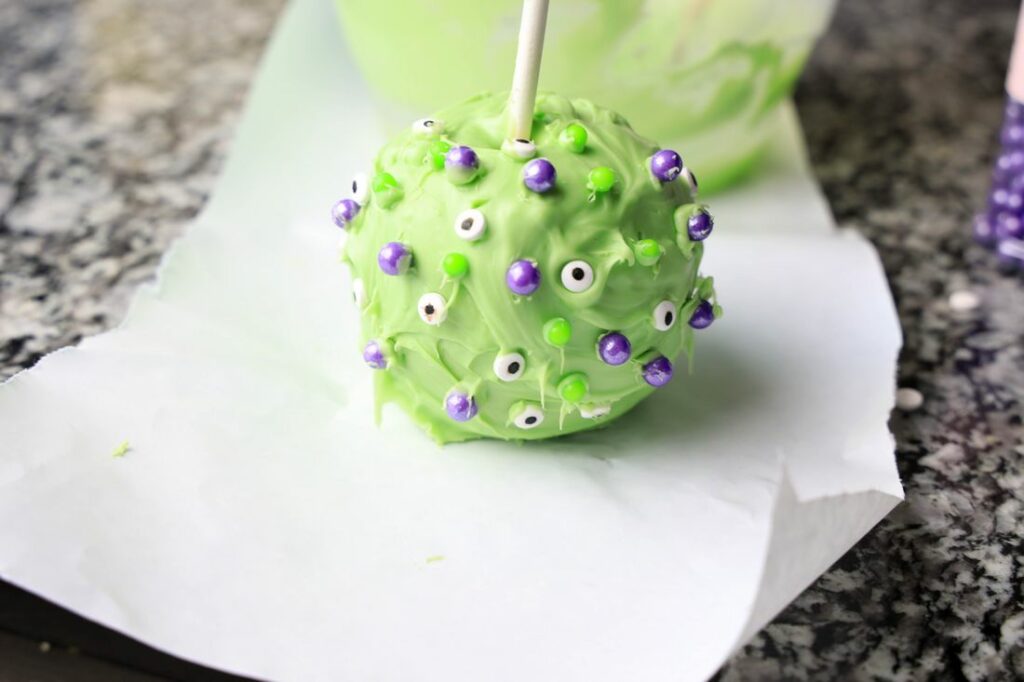 Add the candy eyes with green and purple pearl sprinkles to the apple before the candy melts dry. Let the apple dry before eating. If planning to eat at a later time store in the fridge.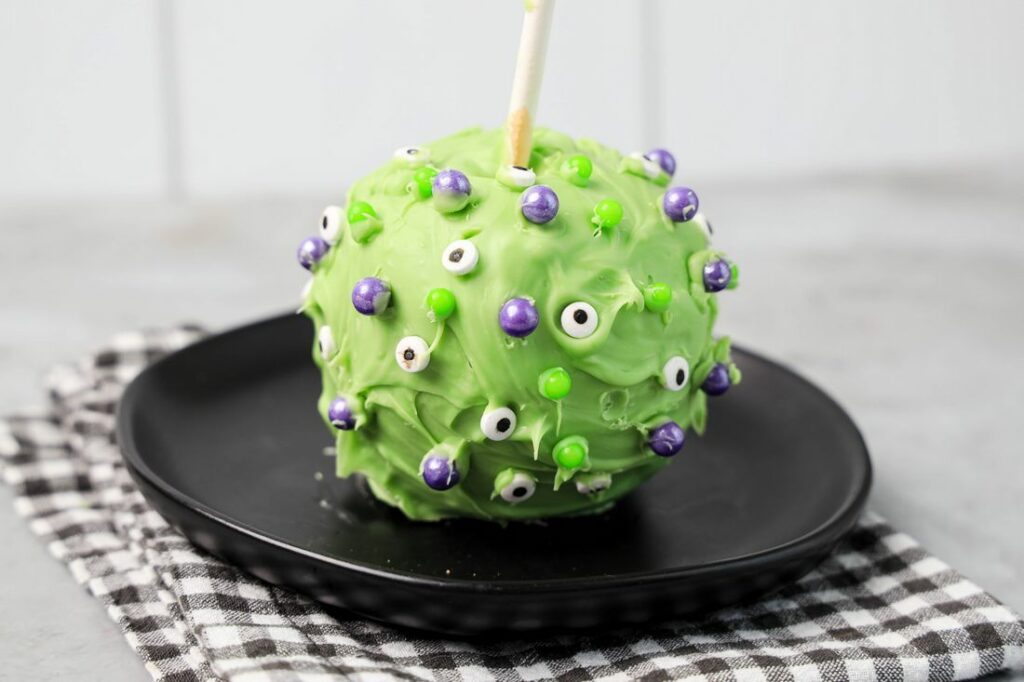 Great For Parties!
Hocus Pocus candied apples are great for Halloween parties. Additionally, fun for pumpkin carving parties or caramel and candied apple parties. I mean who doesn't love Hocus Pocus!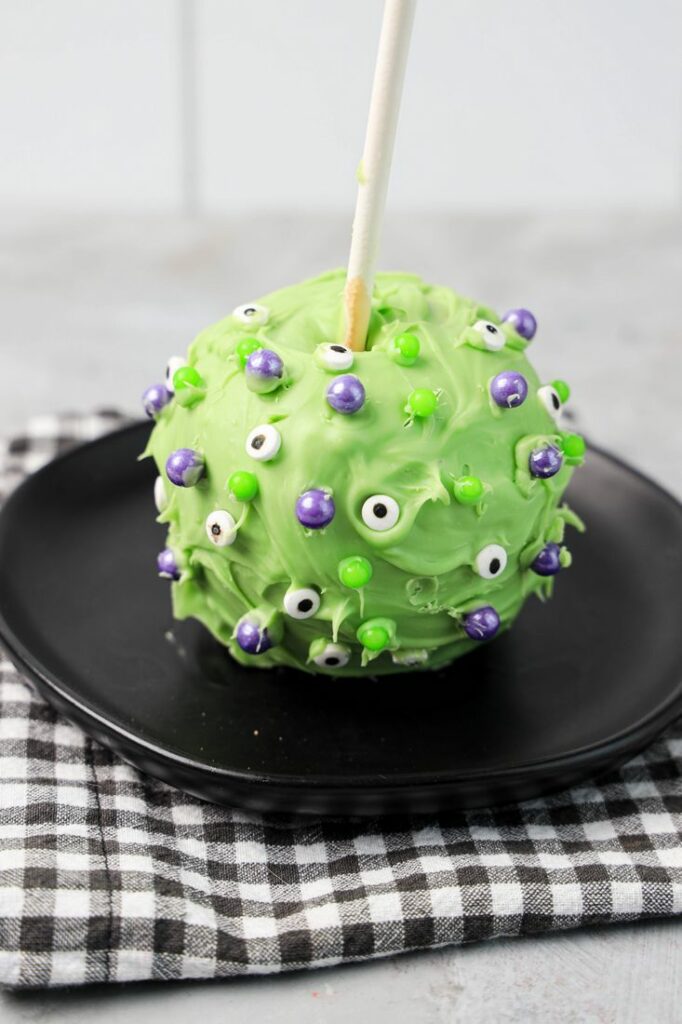 Are you planning to watch Hocus Pocus 2? I'm excited to see it this Friday. If you would like more Hocus Pocus crafts and recipe check out the list below.
Hocus Pocus Recipes and Crafts: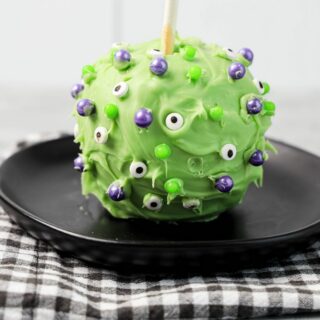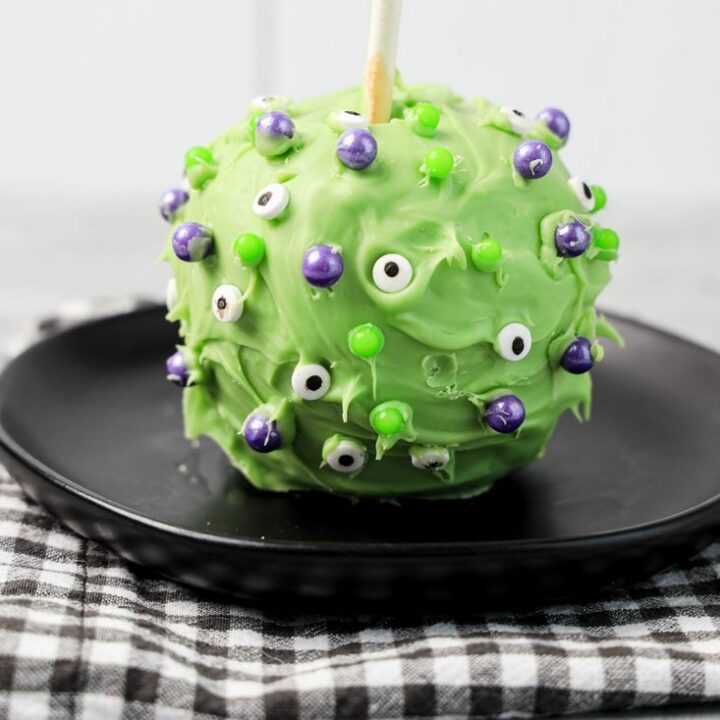 Hocus Pocus Candied Apples
Candied apples with eye sprinkles and pearl sprinkles for Hocus Pocus.
Ingredients
1

bag light green candy melts

purple pearl sprinkles

small green pearl sprinkles

small candy eyeballs sprinkles

3

large pop sticks

3

apples
Instructions
Melt the green candy melts in a bowl as directed on the package.


Place the stick into the apple. It's best to go a little sideways as the core of the apple is tough.


Dip the apples in the bowl of light green candy melts and set them on freezer, wax, or parchment paper to dry.


Before they dry add on the candy eyeballs and sprinkles. If it does dry too fast you can dip the sprinkles and candy eyeballs in the candy melts with clean tweezers and place on the apple.


Place in the fridge until ready to serve.
Pin Hocus Pocus Candied Apples