This post may contain affiliate links. Please read my privacy policy.
Fall is creeping in the air and it's time for treats we love camp side. Gooey S'mores Dip is a chocolate and marshmallow dip that is super easy to make. No oven or campfire needed.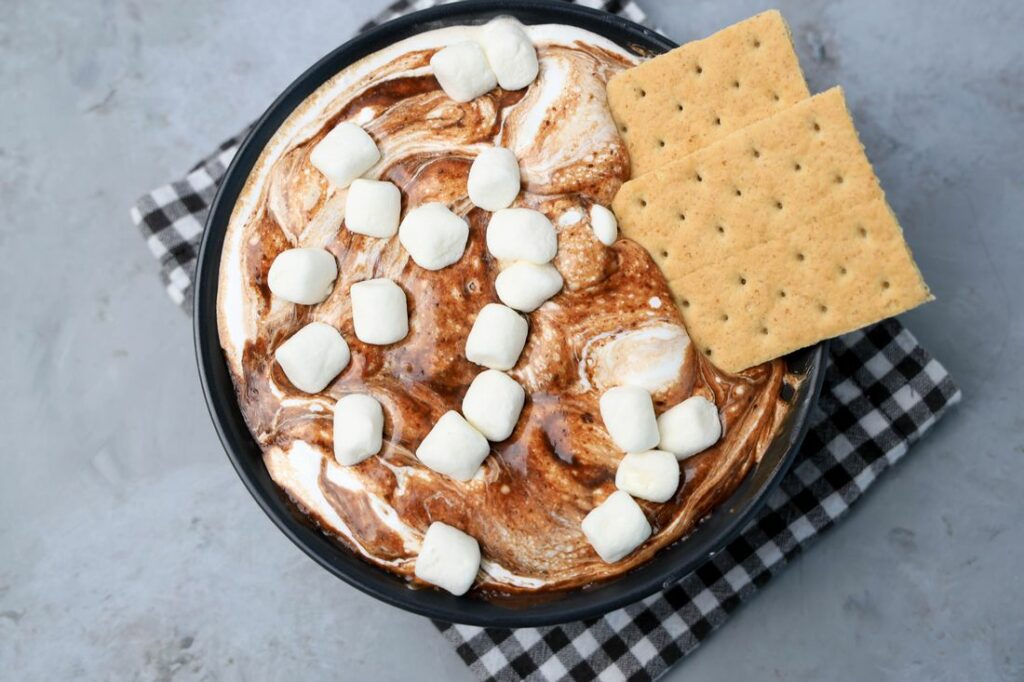 It's time to watch something spooky or campy, I love to make some sweet and savory dips. Gooey s'mores dip is a sweet dip made with melted chocolate, sweetened condensed milk, and marshmallow creme.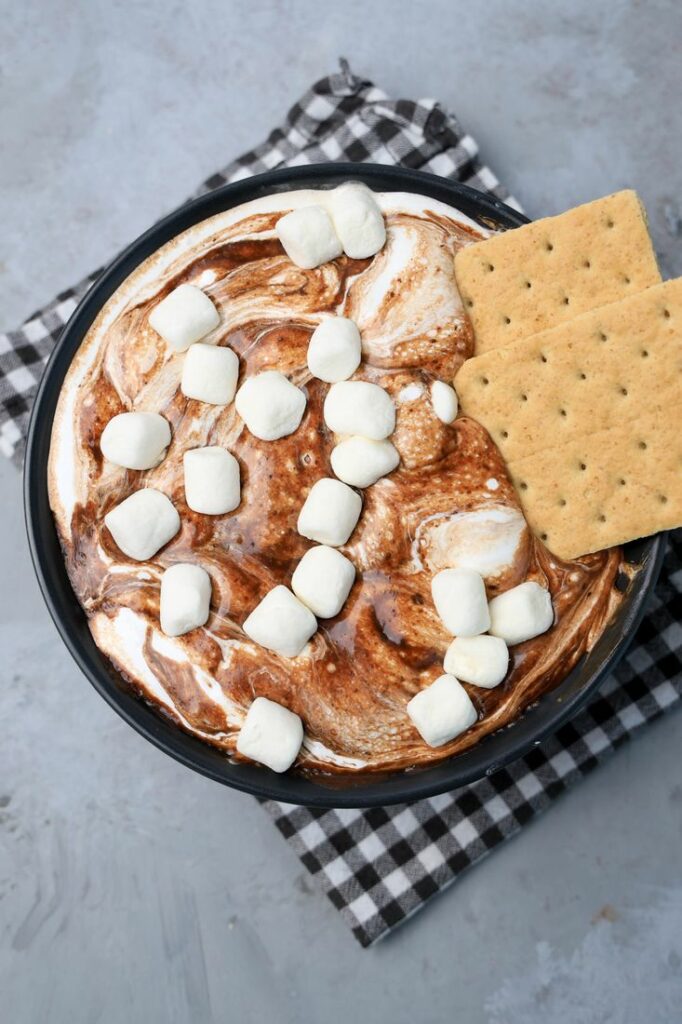 This gooey marshmallow dip is great to serve up at parties and can be made with a few variations. Firstly, different chocolates are used as a variation for flavor. Secondly, flavored chocolates such as butterfinger or cinnamon chips are used to spice up the dip from traditional s'mores.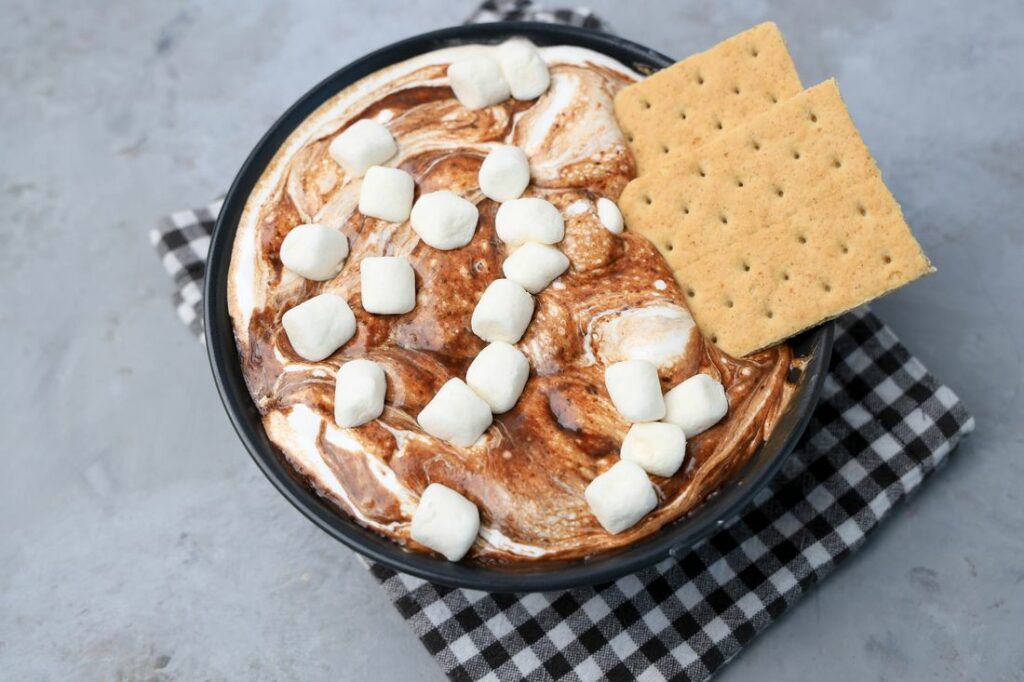 Dip Variations
Peanut butter, semi sweet, dark chocolate, and white chocolate are all variations that can be used to make this chocolatey dip. If it comes in a chocolate chip it can be used with the condensed milk to make the dip.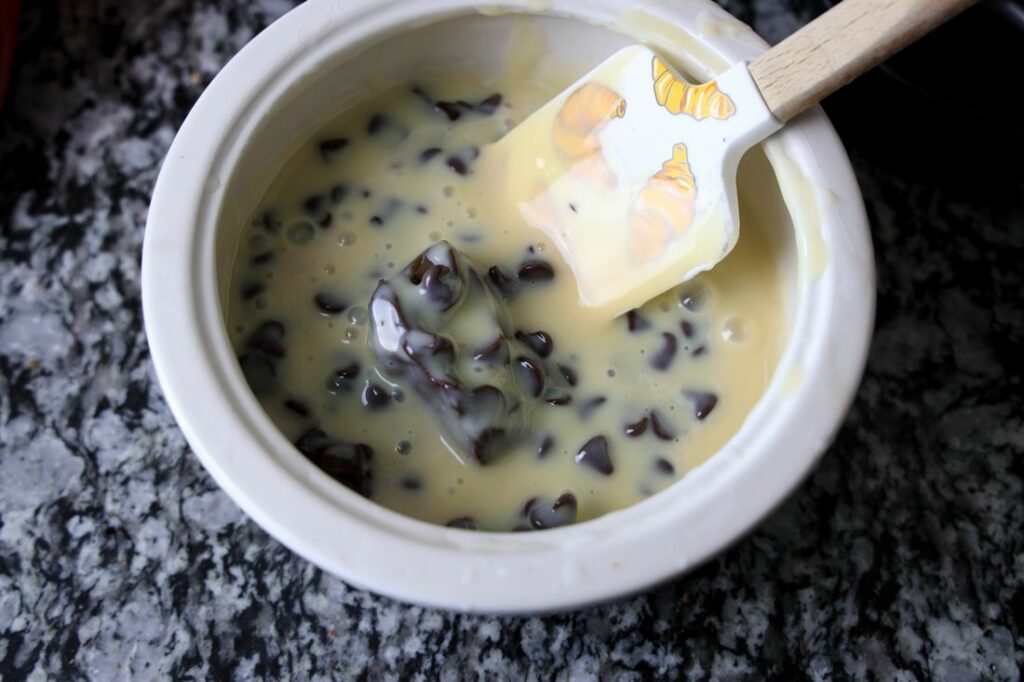 Just melt the chocolate chips of your choice with the sweetened condensed milk in the microwave. Therefore, no oven or campfire is needed to enjoy this delicious dip. Hence, making the marshmallow dip recipe easy to make.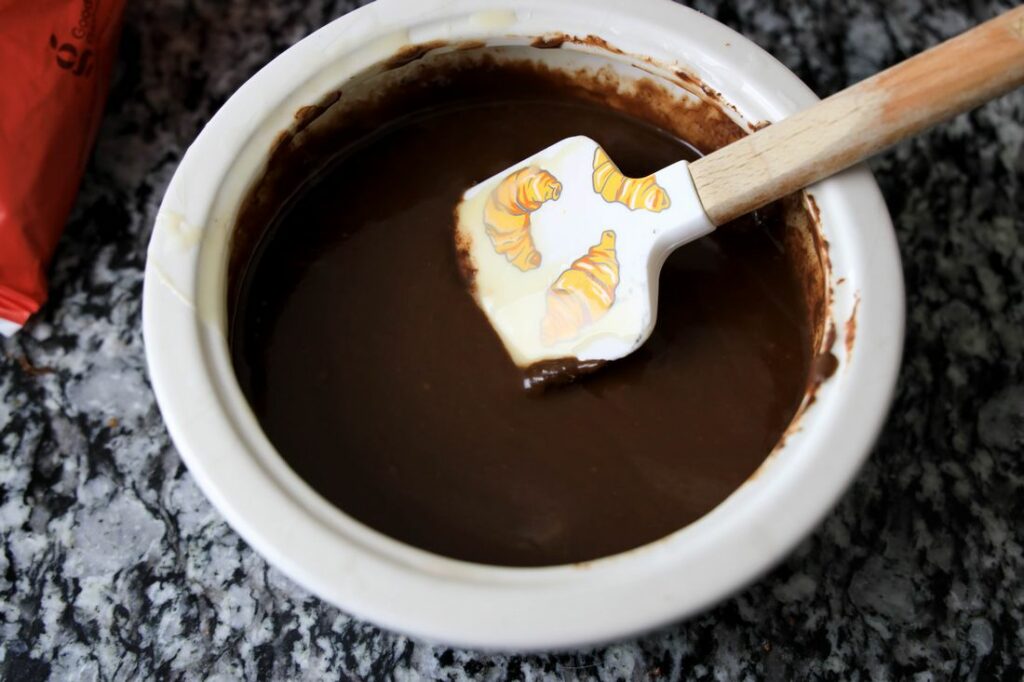 First, melt the chocolate with the sweetened condensed milk. Break down all the bits of chocolate chips to a liquid. Now add a few lumps of marshmallow crème to the top. Microwave the dip for 20 seconds to melt the marshmallow crème.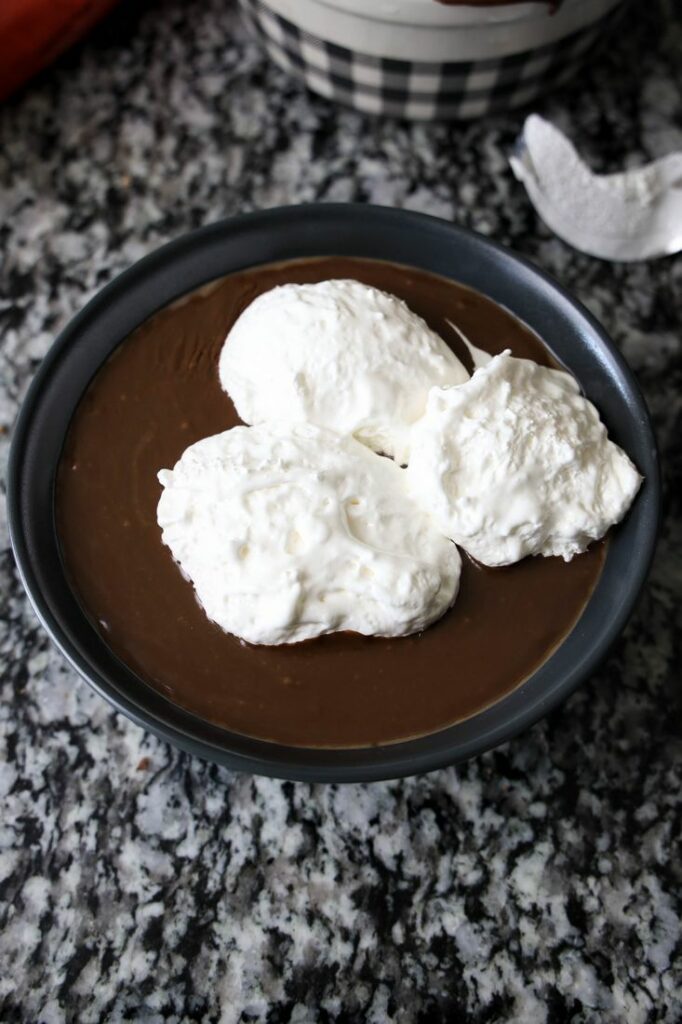 Swirl in the marshmallow crème with a butter knife. Next, top with a few small marshmallows. Lastly, serve with graham crackers or your favorite fruit. There is other options to serve this dip with as well.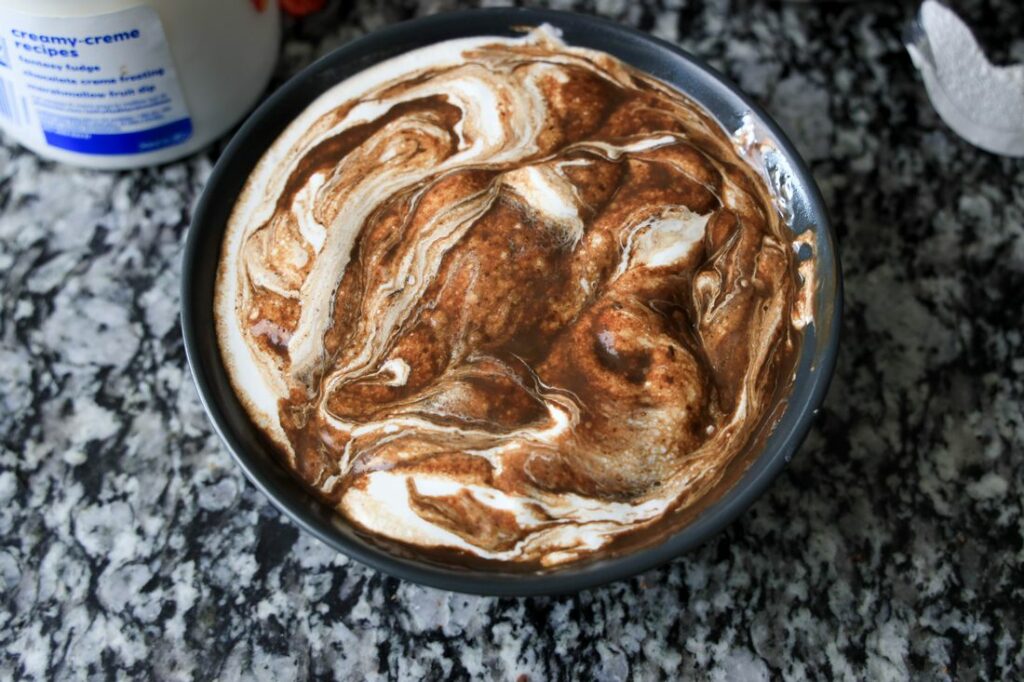 Serving Options
Serve the Gooey S'mores dip with strawberries, apple slices, and banana slices. Secondly, serve the dip with nilla wafers, shortbread cookies, oreos, and even lady fingers. For a salty take serve with pretzels, chips, or ritz crackers.
Gluten Free Dip
Lastly, serve up this dip with graham crackers or any of the options above. To make it gluten free just get some gluten free graham crackers.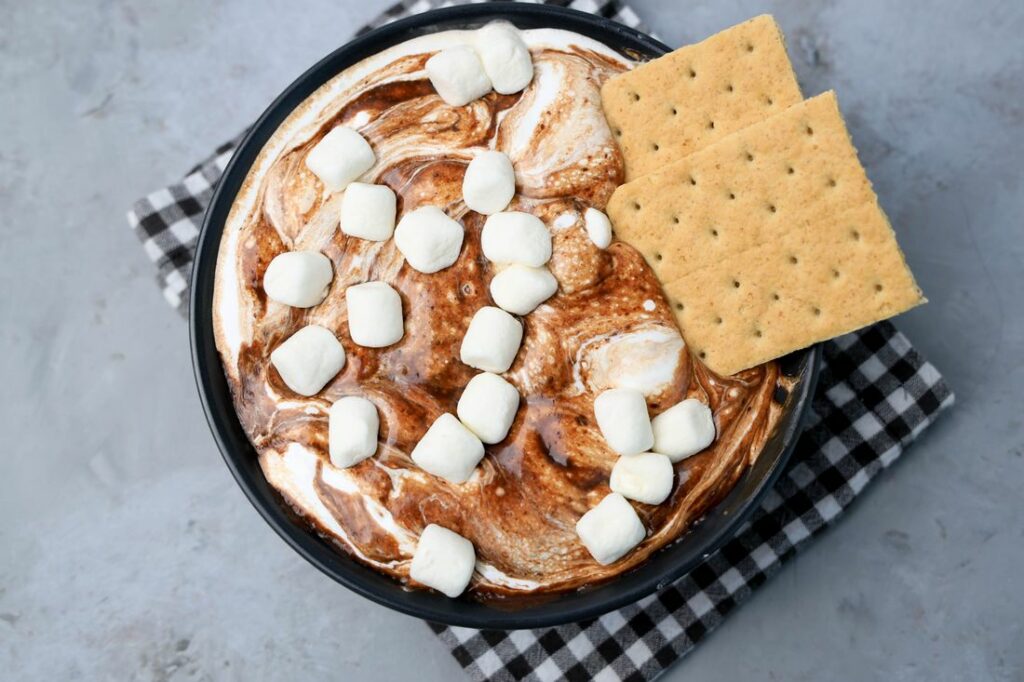 If this dip sets over a period of time the dip will become hard. To avoid being hard make sure to keep the dip warm or serve it fresh. Serving the dip as people arrive is the best plan. I like to make this dip for movie nights.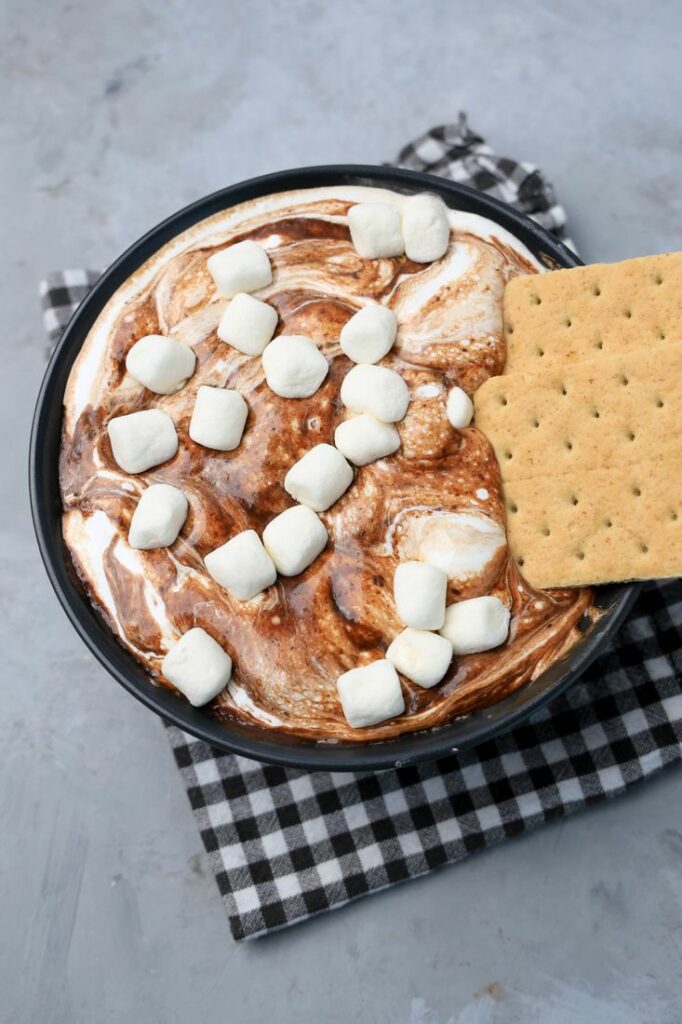 My absolute favorite way to serve this is with hot apple cider. Of course, next to a fire in the fireplace. Cue in a scary movie with some cozy socks and a fuzzy blanket. This is a night of Autumn fun that should be on your bucket list.
Campy Scary Movies To Watch
Meanwhile, pick up a campy movie and don't forget to get the gooey dip going for a fun movie night at home. I mean who could resist some s'mores.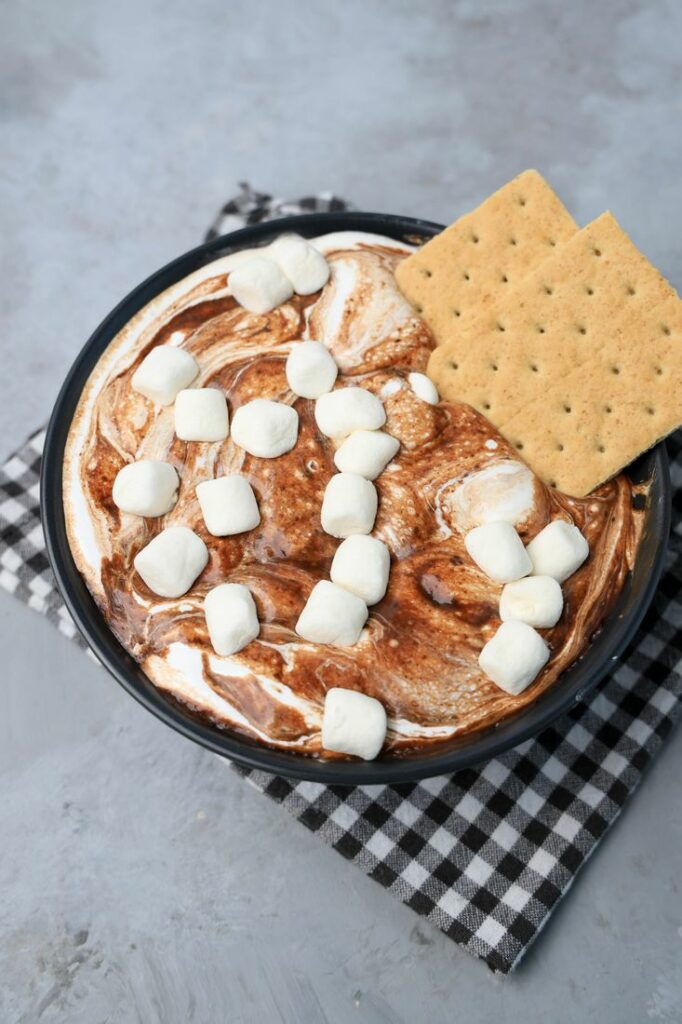 Easy Movie Night Dips: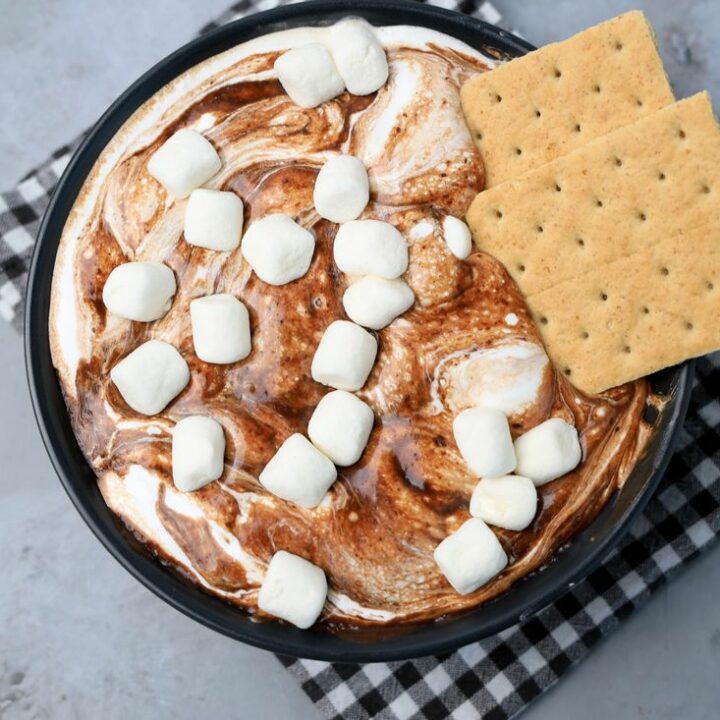 Gooey S'mores Dip
Chocolate and marshmallows creme to make a tasty s'mores dip.
Ingredients
1 1/2 cups chocolate chips
14 oz. can sweetened condensed milk
1/2 cup marshmallow crème
graham crackers for serving
small marshmallows for topping
Instructions
Add sweetened condensed milk and chocolate chips to a microwave safe bowl. Mix well.
Microwave for 30 seconds and stir. Microwave 15 second and stir till all chocolate chips are melted.

Add lumps of marshmallow crème on top. Microwave 15 seconds and then swirl on top with a knife.

Top with marshmallows and serve with graham crackers.
Nutrition Information:
Yield:

4
Serving Size:

1
Amount Per Serving:
Calories:

803
Total Fat:

32g
Saturated Fat:

19g
Trans Fat:

0g
Unsaturated Fat:

11g
Cholesterol:

45mg
Sodium:

205mg
Carbohydrates:

129g
Fiber:

4g
Sugar:

117g
Protein:

14g
For more on our nutrition disclaimer https://www.mooshujenne.com/nutrition-disclaimer/
Pin Gooey S'mores Dip