USS ButterScotch Ice Cream Stranger Things
This post may contain affiliate links. Please read my privacy policy.
Last season we saw Robin and Steve working at Scoops Ahoy in Starcourt mall which featured a USS Butterscotch Ice Cream. USS Butterscotch ice cream is delectable and easy to make.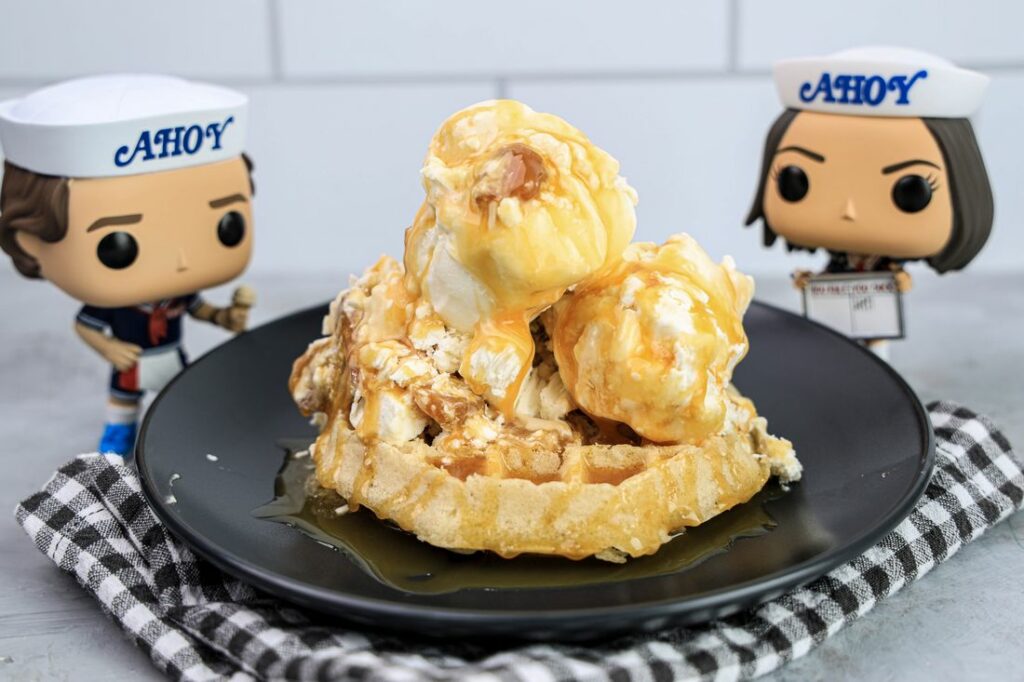 Stranger Things season 4 volume 1 is now streaming on Netflix. It's the perfect time to make some butterscotch no churn ice cream. Of course we need to serve it up on a waffle just the way Eleven would like it.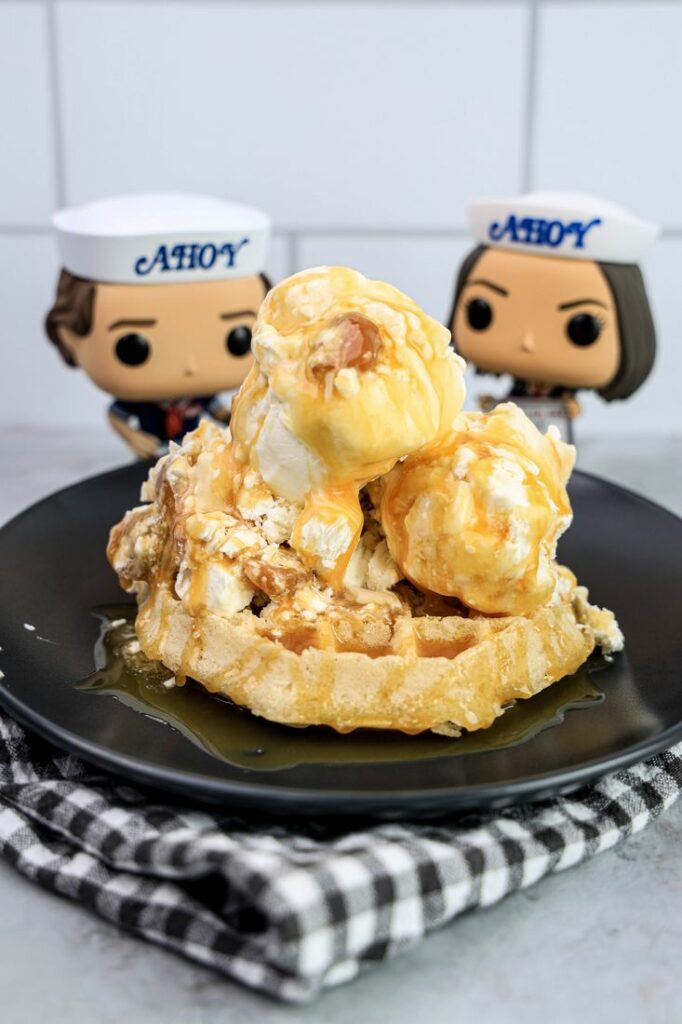 Made with heavy whipping cream, sweetened condensed milk (if you want it super sweet), and butterscotch syrup. I used Smucker's butterscotch syrup and some delicious sea salted caramels.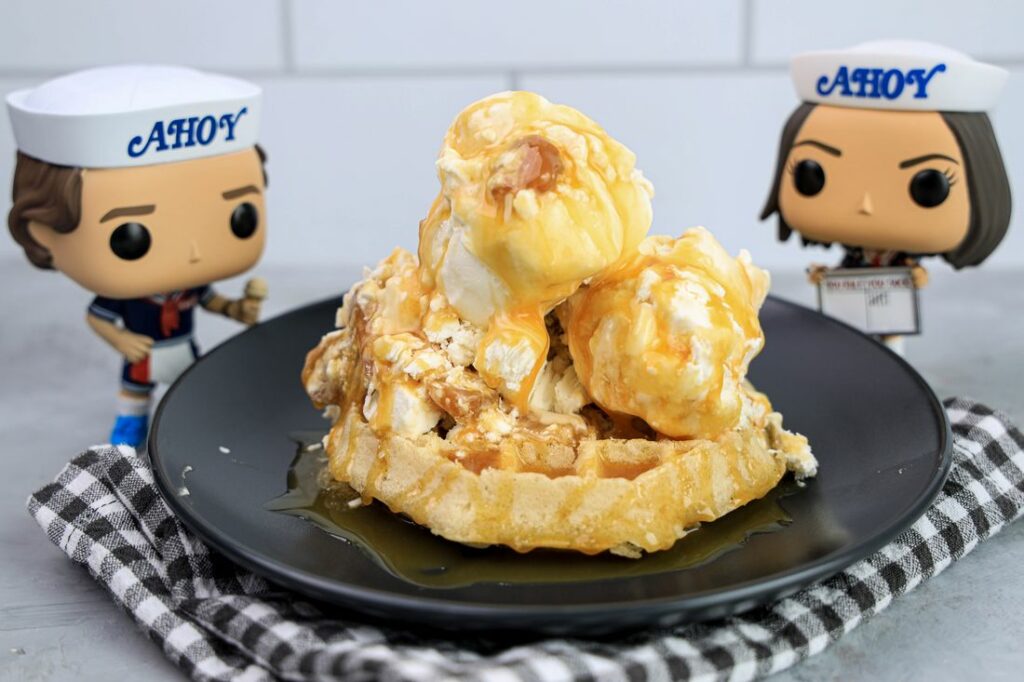 First, whip up the heavy whipping cream until it resembles whipped topping. We do this in a kitchen aid mixer. Although a hand mixer can be used but will take longer.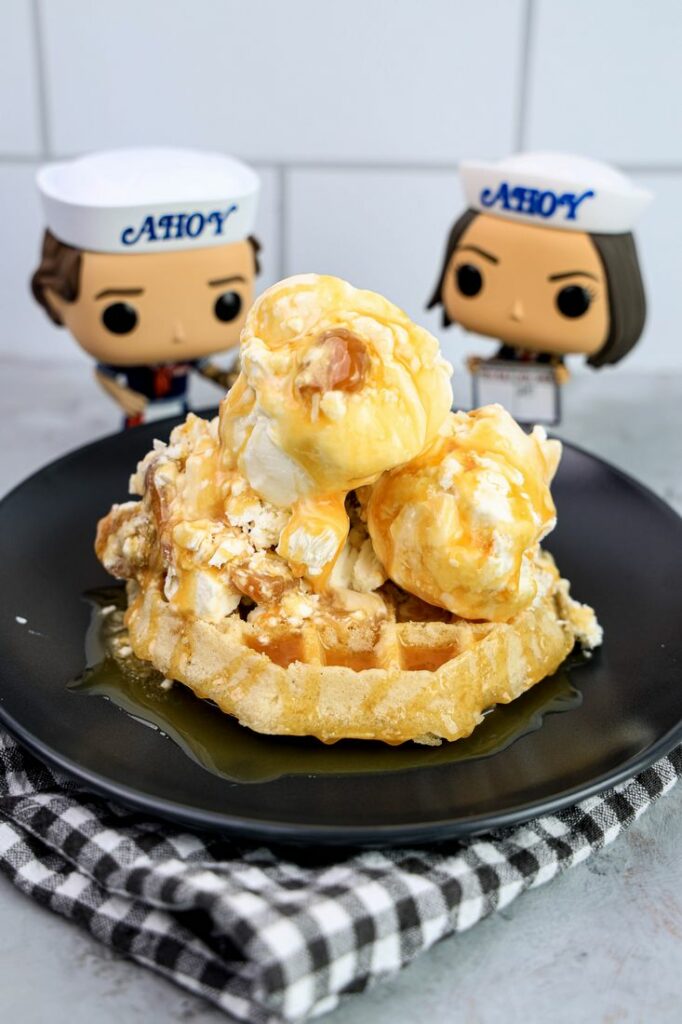 Sweet or Buttery
Then if you want it sweet fold in sweetened condensed milk. I didn't add it to mine as I wanted the buttery and less sweet milky flavor. But if you like sweet add in the sweetened condensed milk.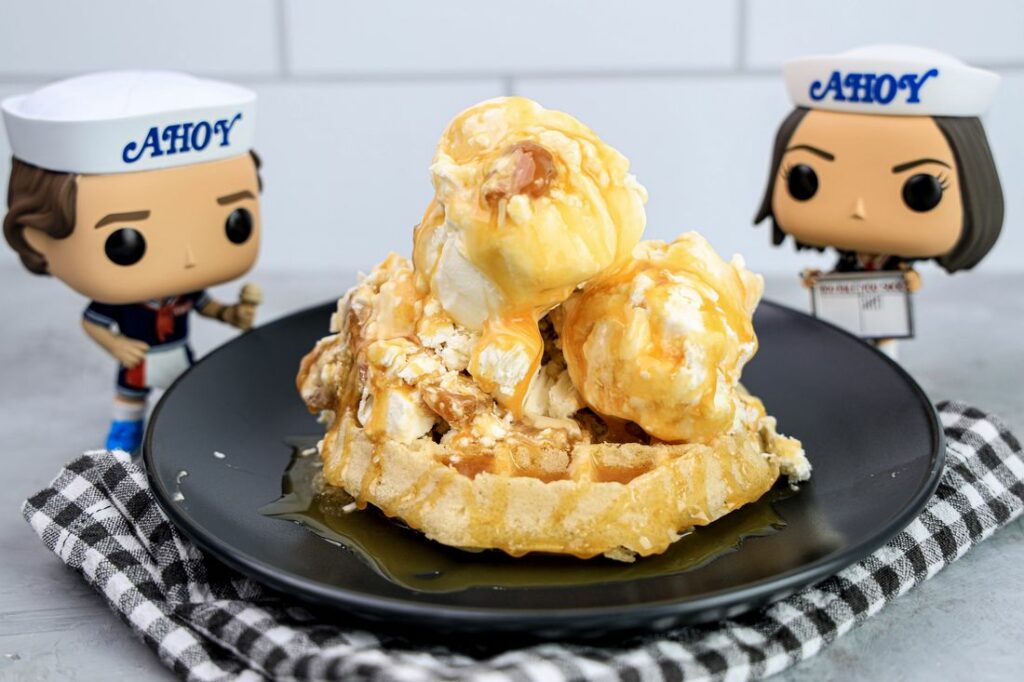 Drizzle in the butterscotch syrup in between layers of the mixture. I also add sea salt caramels between the layers so you get little chunks of sweet goodness.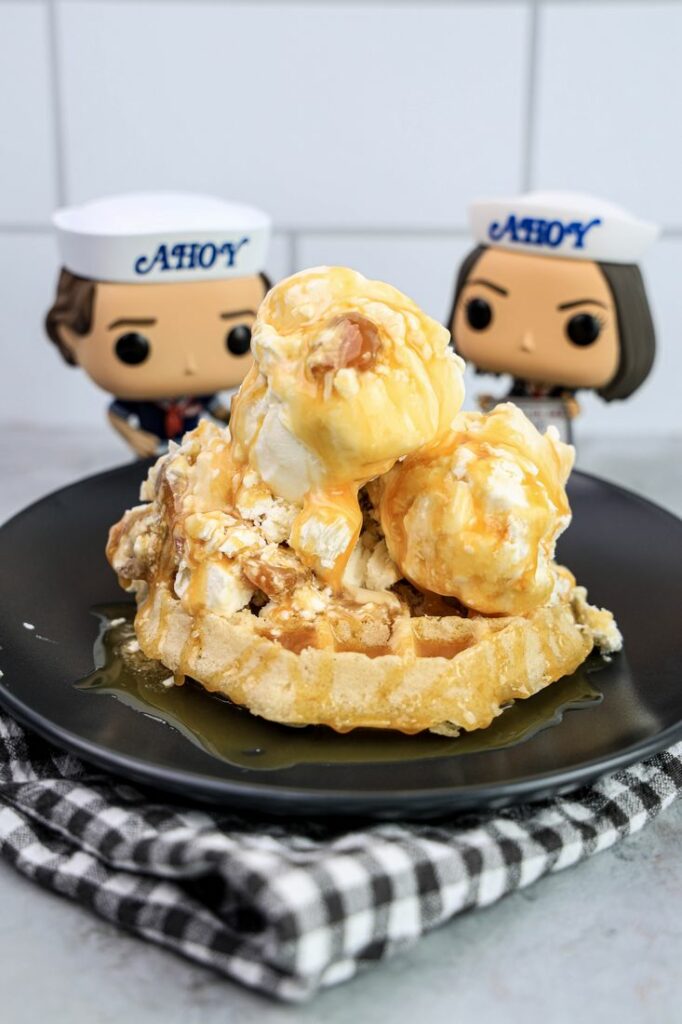 Pop the ice cream mixture in the freezer and freeze overnight. Once the ice cream is frozen scoop it out onto a toasted waffle. Drizzle with butterscotch syrup.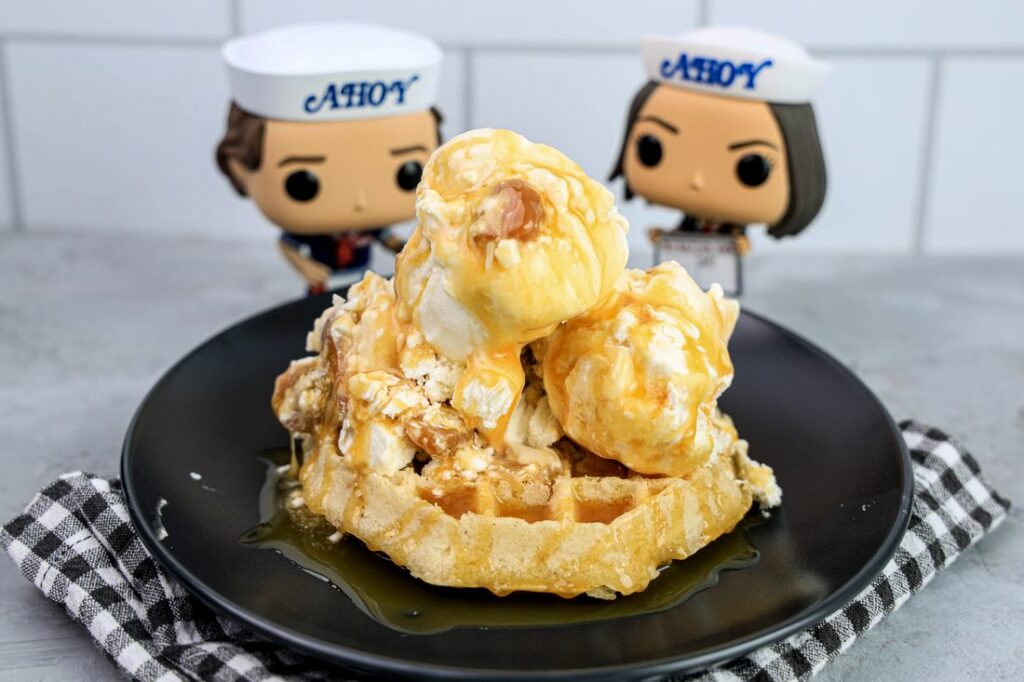 I made a batch of this to eat with each episode of Stranger Things. I've decided to watch one episode a night. Did you binge watch it or are you devouring the series episode by episode?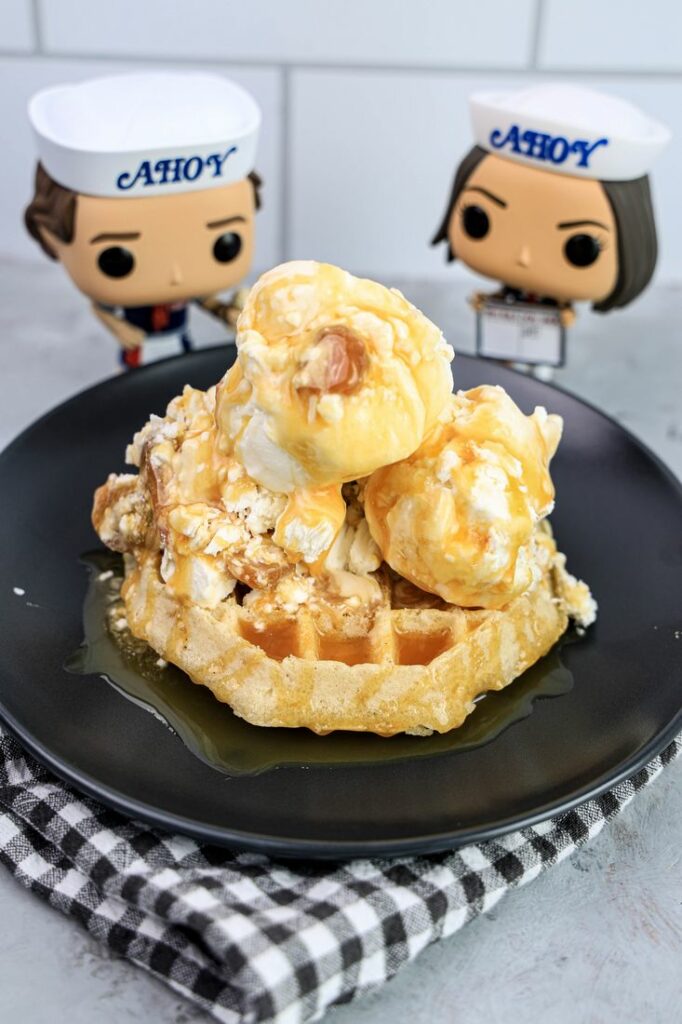 Let us know below if your enjoying the new season. No spoilers please! Try a few of our other fun ice cream recipes below.
Crazy fun Ice Cream Recipes: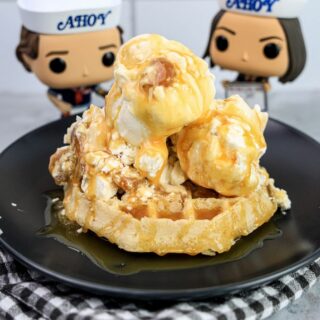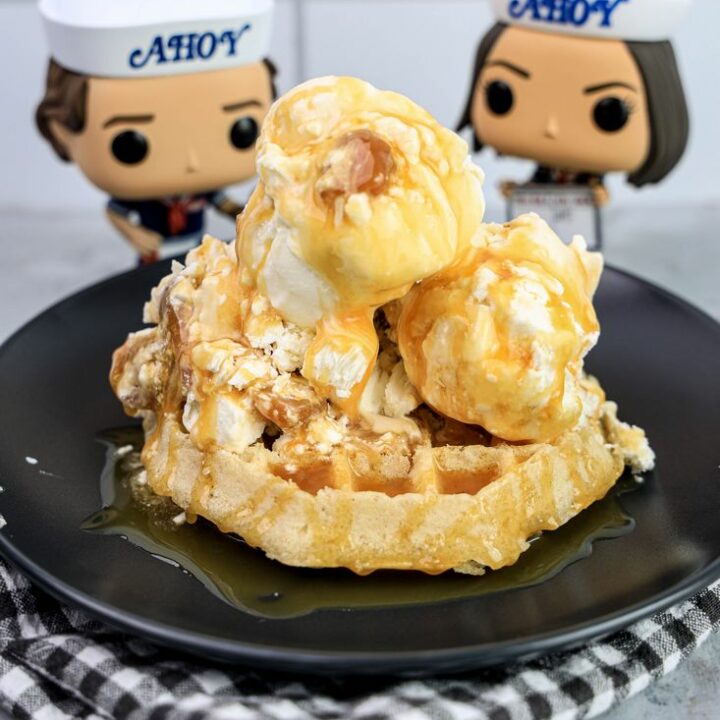 USS Butterscotch Ice Cream
Sweet vanilla ice cream with butterscotch and sea salt caramels.
Ingredients
4

cups

heavy cream

14

oz.

can sweetened condensed milk

optional

4

eggo waffles

6

sea salt candies

1

cup

butterscotch syrup
Instructions
In a stand mixer, add in heavy whipping cream. Whip on a 2 for five minutes and move to a 4. Once it resembles whipped topping your ready for the next step.

If you would like the ice cream sweet fold in a can of sweetened condensed milk. If not leave it out.

Line a baking pan or load pan with plastic wrap. Layer in mixture, butterscotch syrup, and then candies. Repeat until the loaf pan is full.

Freeze overnight. Scoop onto a toasted eggo waffle and drizzle with butterscotch syrup.
Pin USS Butterscotch Ice Cream