This post may contain affiliate links. Please read my privacy policy.
Easy no churn blue shark ice cream is so fun for the upcoming Shark Week. Such a sweet treat to feed the kids while watching all those interesting shark shows. Shark ice cream is just as fun as cold summer treat.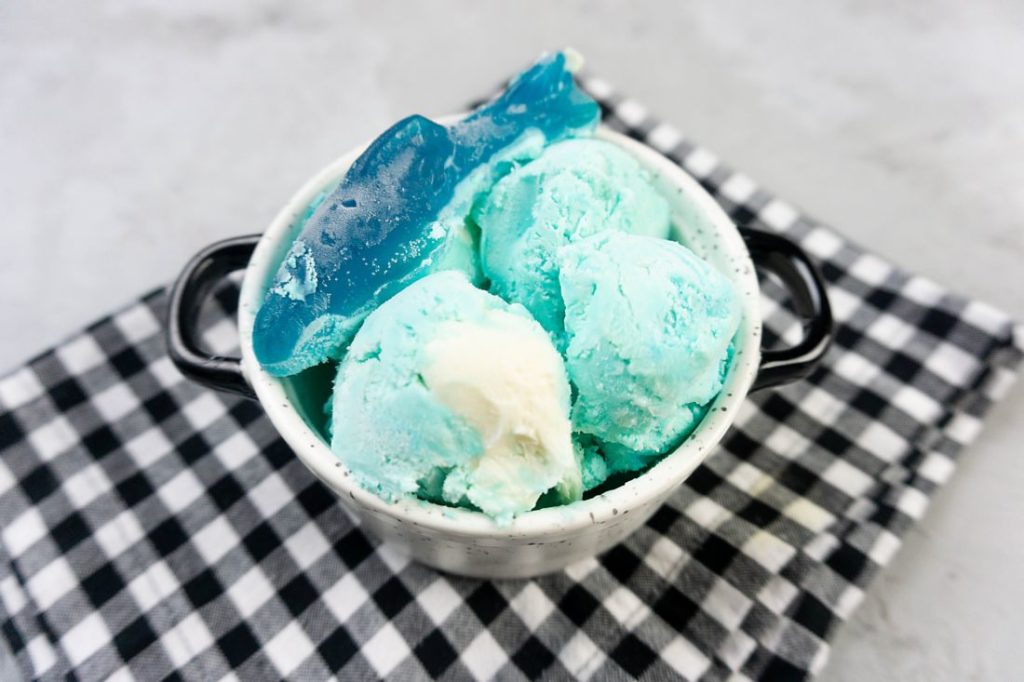 Having a shark party? Make this ice cream up ahead of time to serve on sugar cones or waffles cones. I like to keep extra gummies to top off the ice cream with even though the shark gummies are through out the no churn ice cream.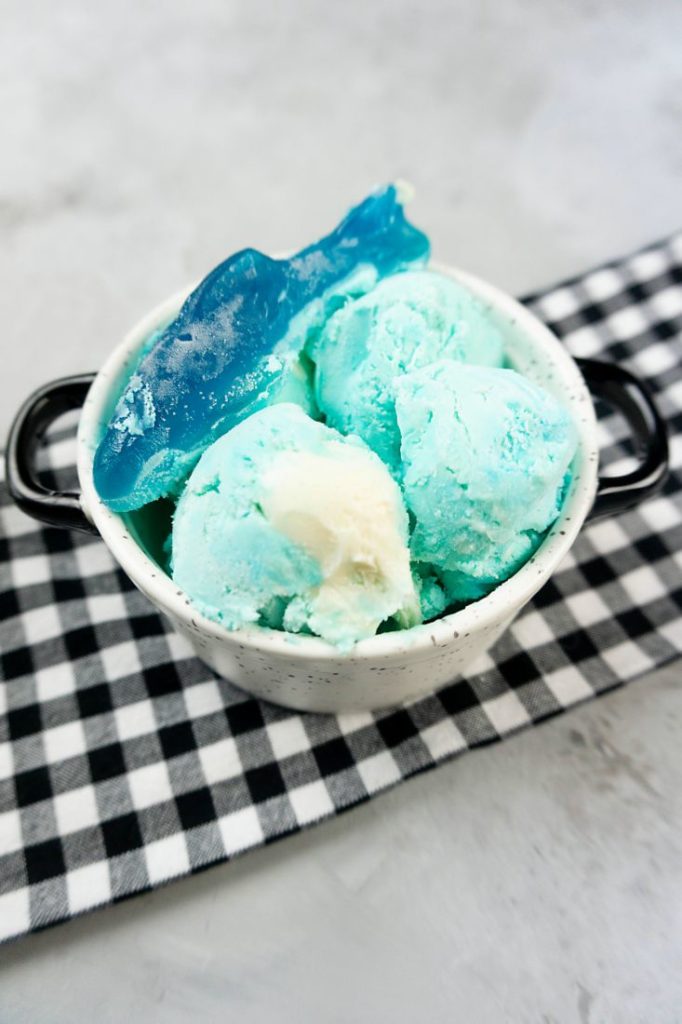 Flavor The Ice Cream
On top of the cool colors that are made simple with food gels. This ice cream can be made in just about any flavor that an extract can be bought. For this ice cream I used coconut extract but orange or lemon extract can be used too.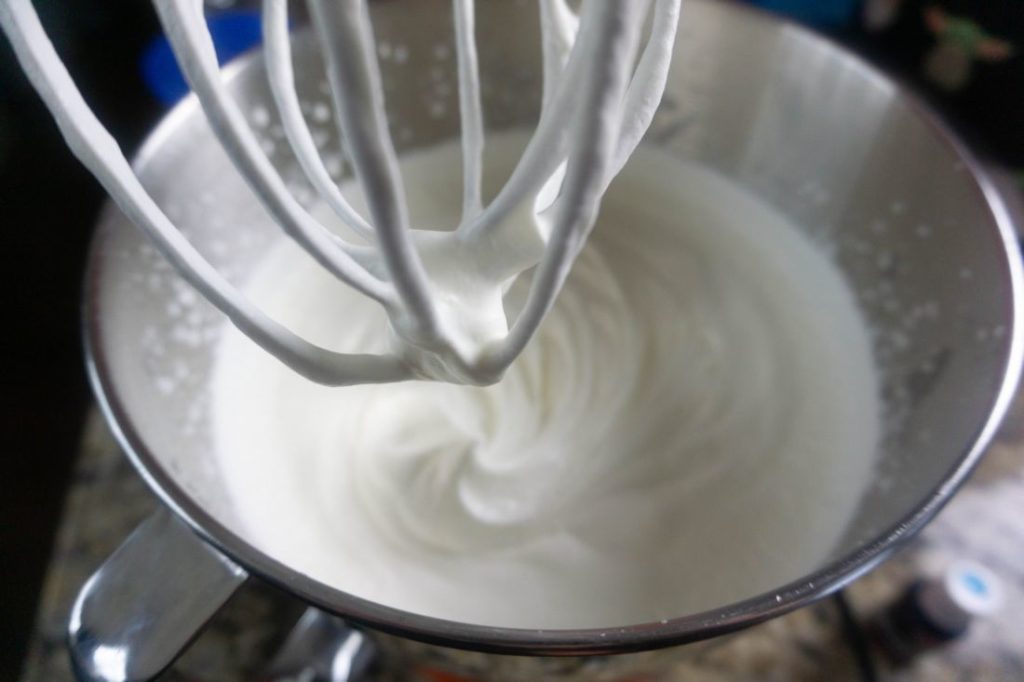 This is a no churn ice cream so a ice cream machine is not needed to make this ice cream. A stand mixer is best but it is possible to achieve the whipped topping from the heavy cream with a hand mixer. It will just take a little longer. For this a whisk attachment is best for the stand mixer or hand mixer.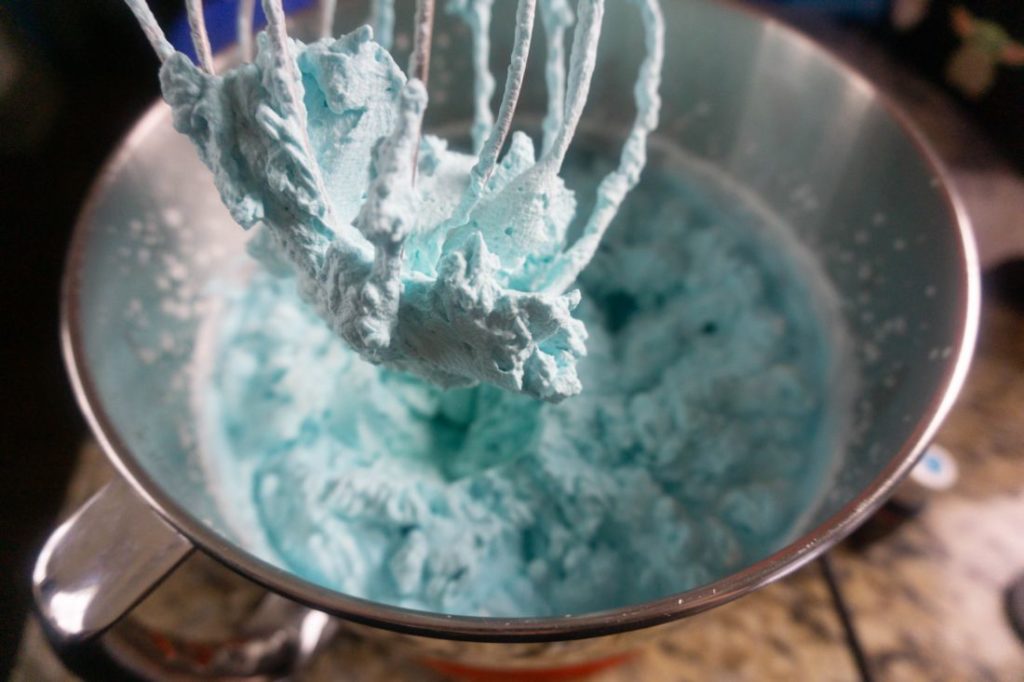 Food Gel
After all that whisking fun it's time to dye the ice cream. Always use food gel not food coloring. The color difference is amazing with the gels. Here I used a light blue food gel when whipping up the heavy cream which is the main ice cream part.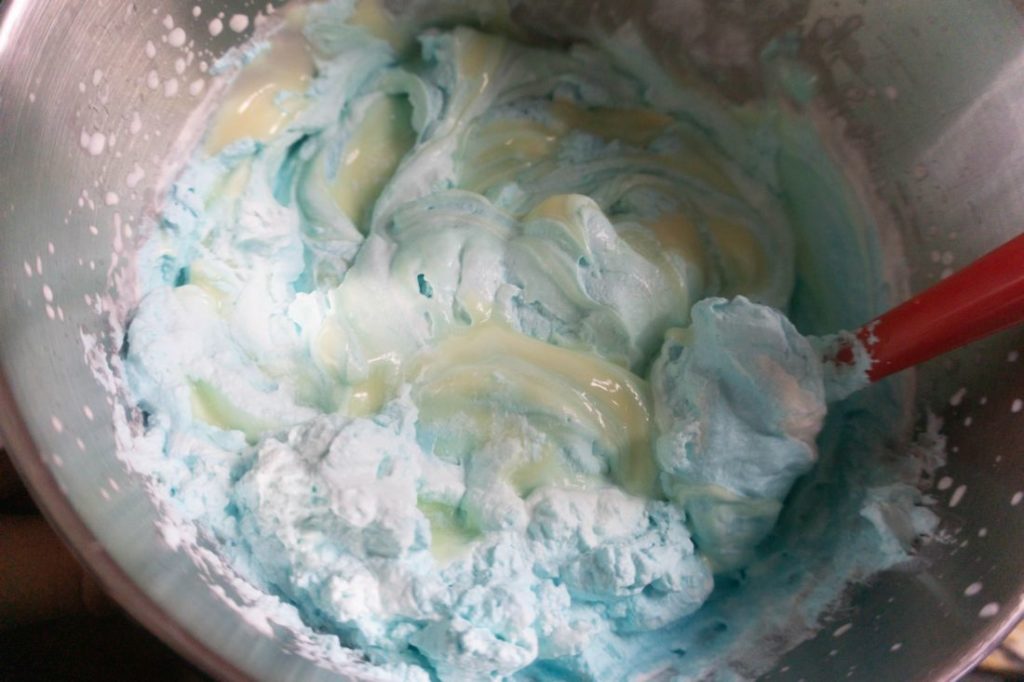 After mixing in the blue in to the whipped heavy cream. Then it's time to drop the white icing into the ice cream mixture. This is what will give us that pretty marbled effect that looks like ocean. Be sure not to stir as it will loose the effect.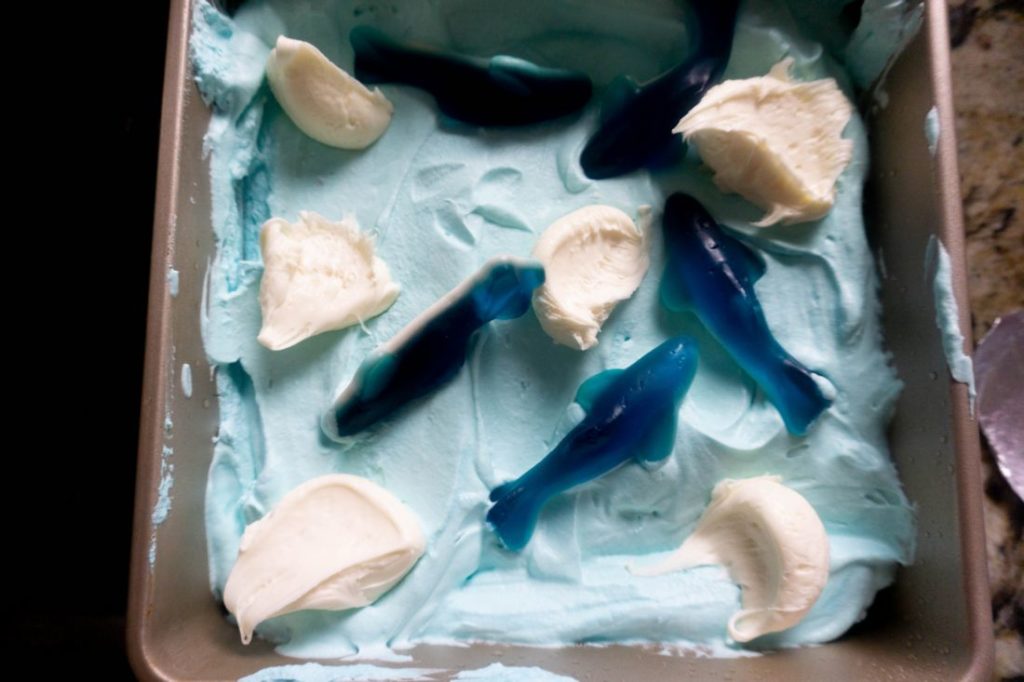 As you can see above just add some shark gummies to each layer of whipped heavy cream and icing. I usually do two layers. One layer of ice cream, gummies, and icing. Then top with another layer then icing and gummies.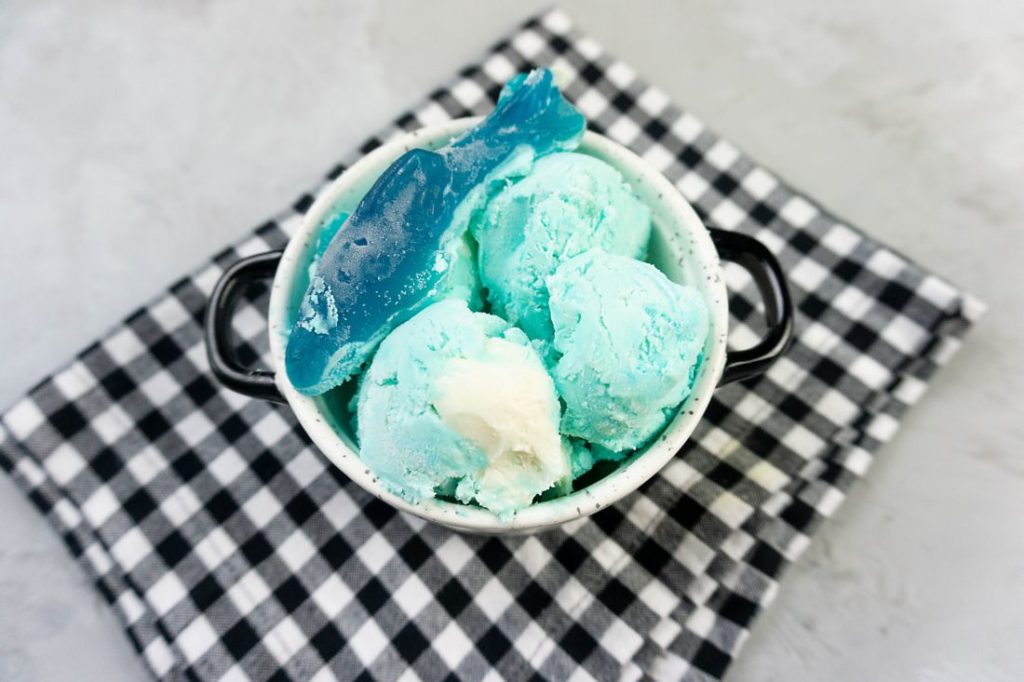 I find it best to freeze the blue shark ice cream overnight. This always for it to be nice and solid. With no churn ice creams I find they melt a little faster so serve it cold and eat away! It's great on cones for kids as a fun backyard dessert.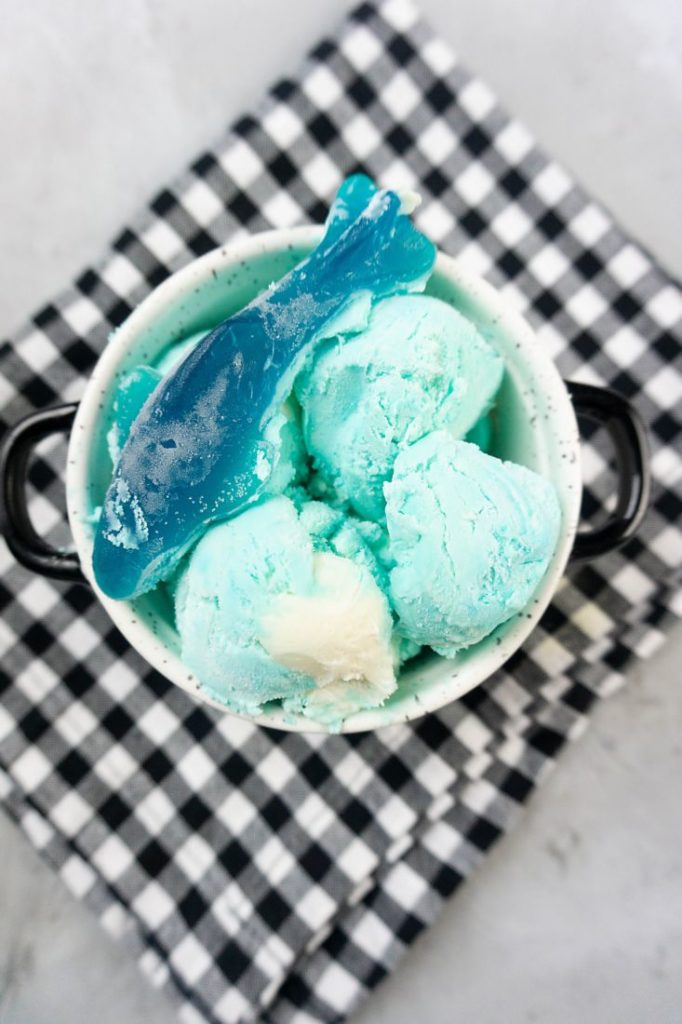 We have a few more shark recipes on the blog that would be perfect for shark week. Check out the list below to find more summer recipes to make while watching shark week as it airs. Also, stay tuned into the blog as we will have some more fun shark recipes on the way.
Summer Recipes: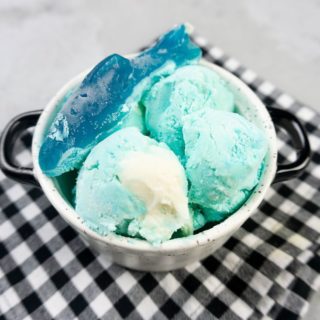 Blue Shark Ice Cream
No churn blue shark ice cream.
Ingredients
4

cups

heavy whipping cream

1 – 14

oz

can sweetened condensed milk

1

small tub of white icing

1

drop light blue gel food

10

shark gummies

3

tablespoons

coconut extract
Instructions
Place heavy whipping cream in a stand mixer with the whisk attachment. Add coconut extract. This can also be done with a hand blender with whisk attachment but will take much longer. Blend for 4 minutes on low speed and adjust speed going up to 6 as it thickens. Once it resembles whipped topping then it's ready.


Fold in the can of sweetened condensed milk and 1 drop of light blue food gel Then pour half into a 9 inch square pan.


Drop some of the white icing in different places into the light blue mix. Do not stir. Just drop it in and then top with more light blue and shark gummies. When if freezes and the ice cream is scooped the marbled effect will happen.


Once the ice cream is all in the pan. Place in the freeze for at least 6 hours but best if froze overnight.
Pin Blue Shark Ice Cream: