This post may contain affiliate links. Please read my privacy policy.
Segedínský Guláš is a Czech goulash that is made with pork, sauerkraut, and plenty of paprika. Heavy cream and chicken broth help to create a savory gravy.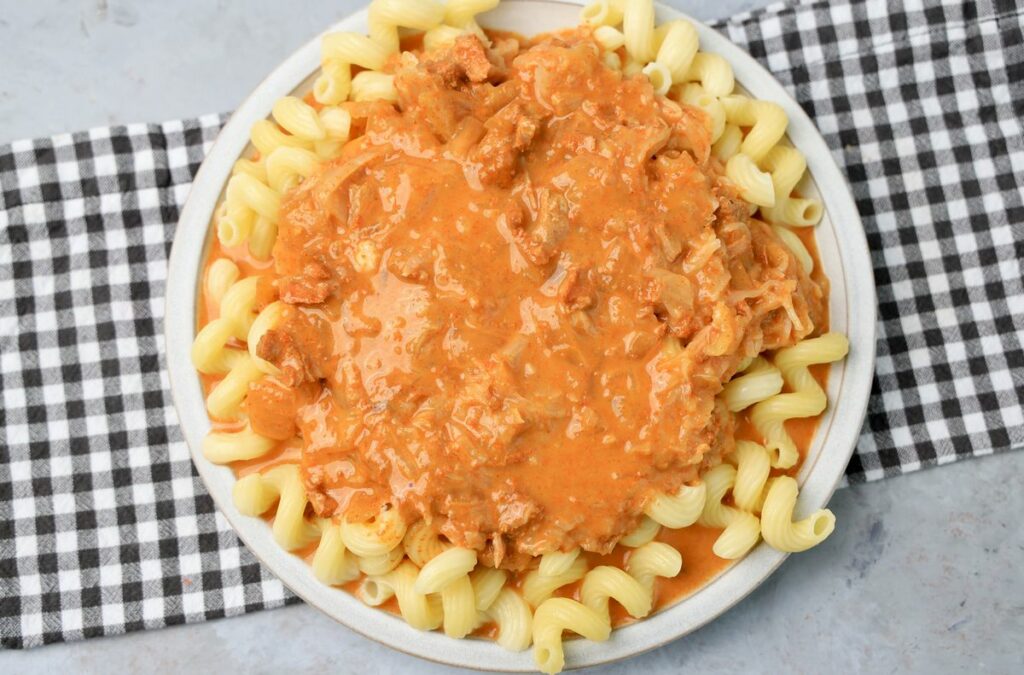 This goulash is best served with dumplings. However, it can be served with a pasta that holds sauce well like rotini or cavatappi. Rice or mashed potatoes can also accompany this Czech goulash.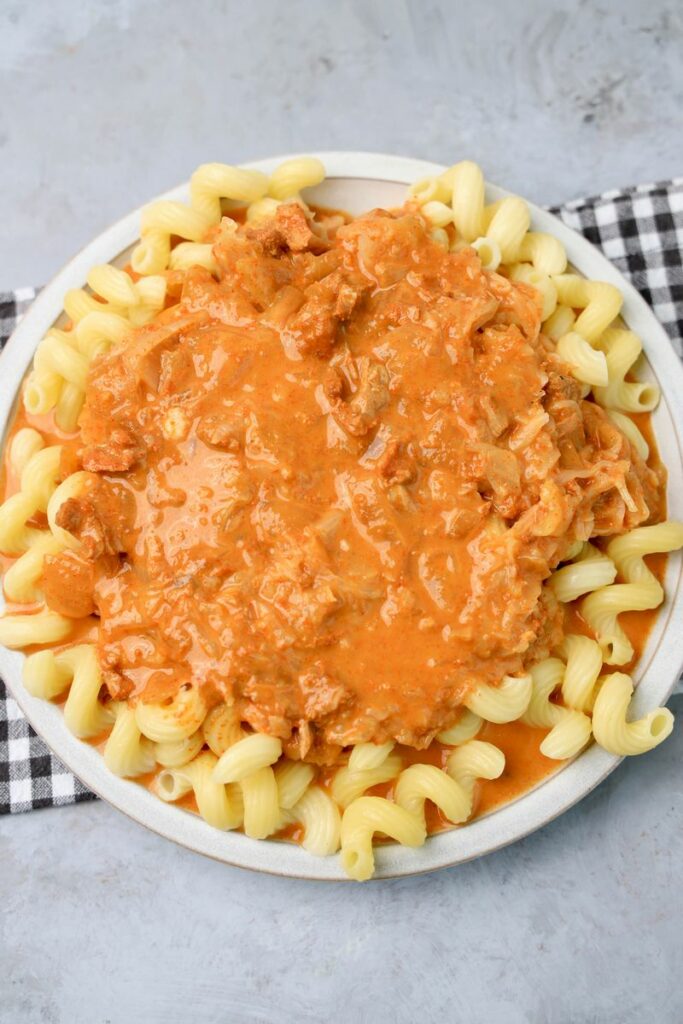 In the Czech, goulash (guláš) is usually made with beef, although pork varieties like this one do exist, and are served with bread dumplings. Hence, in Czech bars it is often garnished with slices of fresh onion and is typically accompanied by beer.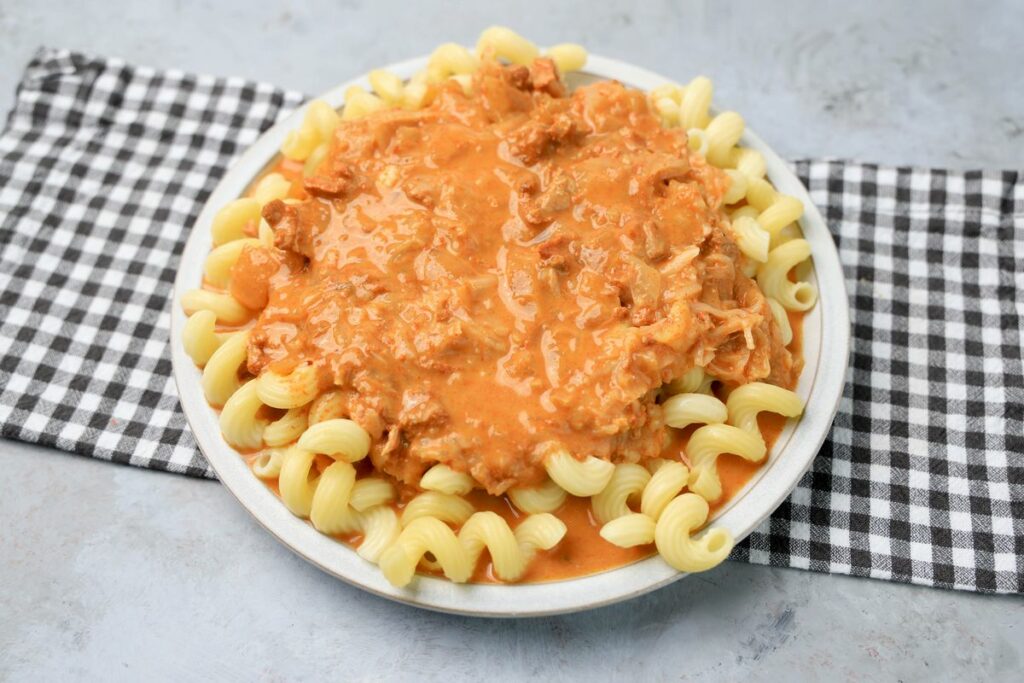 A popular variant of guláš is segedínský guláš, with sauerkraut. Additionally, we always drink beer with it. Usually pilsner is served with it as it's a Czech native beer.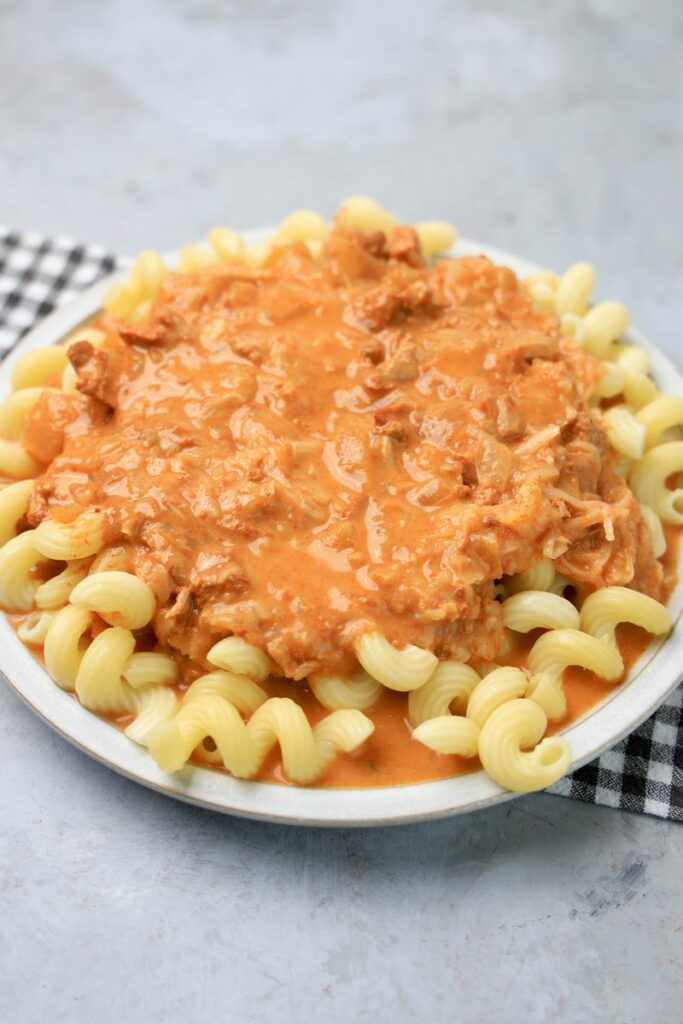 Gluten Free
This gulas dish is easily gluten free. Just replace the pasta with gluten free pasta or rice. If you want this dairy free leave out the heavy cream but still thicken with cornstarch.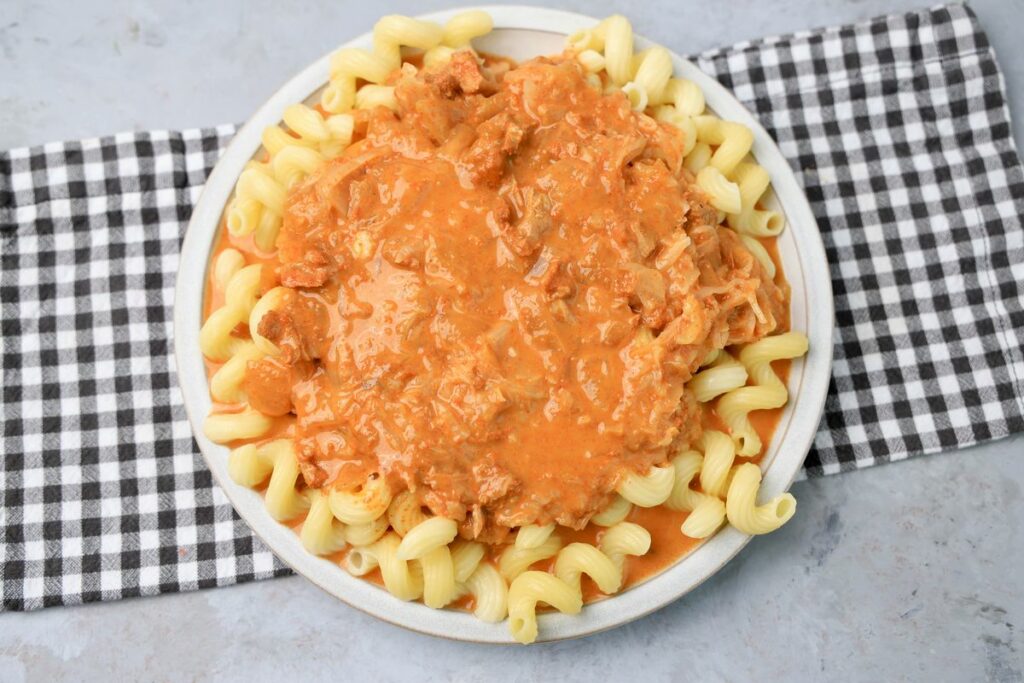 This recipe is from the kitchen of my mother in law who was born and raised in Prague. This is a family recipe that has been passed down to her. That being said family recipes vary from home to home.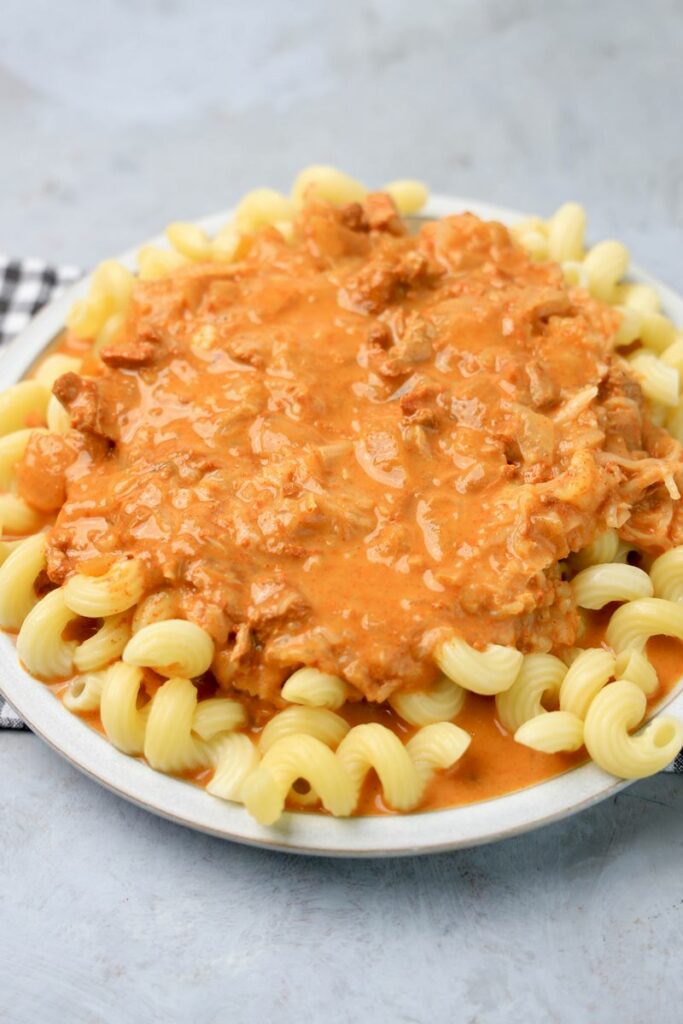 Lastly, the flavor of the sauerkraut really marries well with the paprika and pork. The pork becomes extremely tender and full of flavor. Sauerkraut doesn't have that strong vinegar taste in this dish.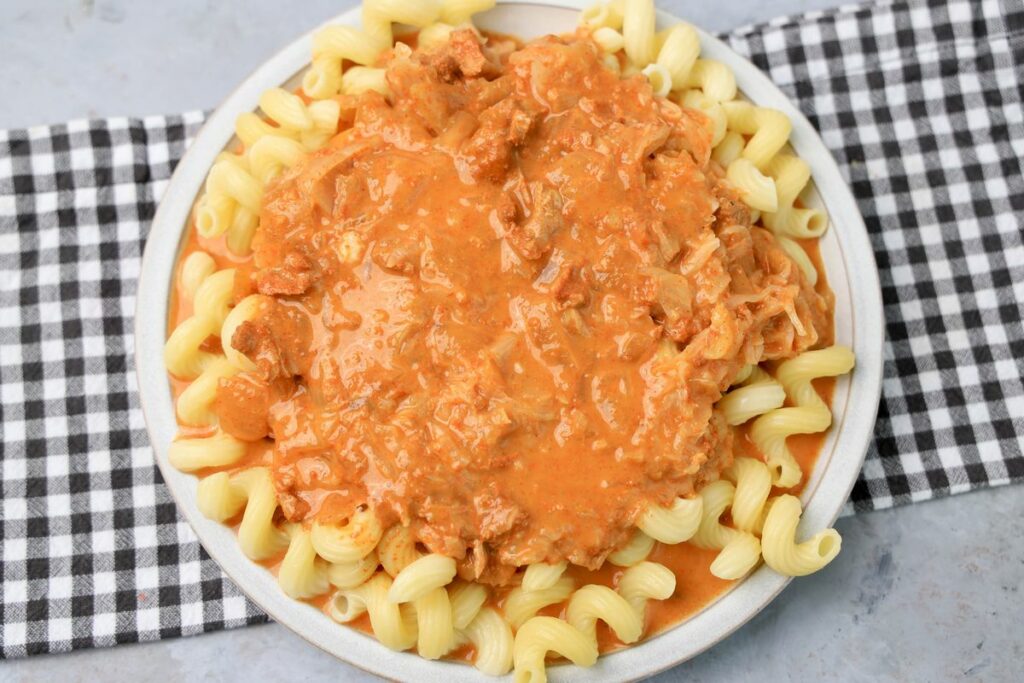 I know it has a funny color from the paprika and heavy cream. However, this dish is one that I would request ever year on my birthday. Total comfort food dinner recipe.
Czech Dinner Recipes: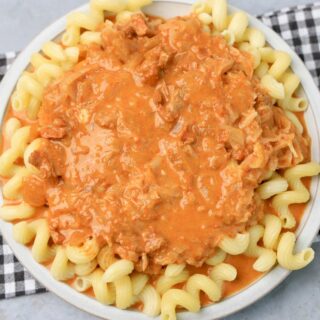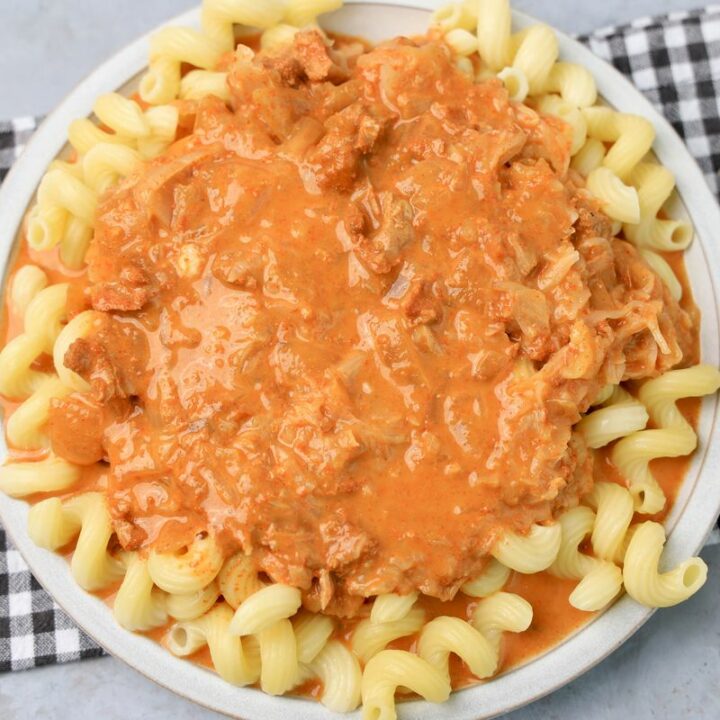 Segedínský Guláš
A slow roasted pork in a paprika gravy stewed with sauerkraut and heavy cream.
Ingredients
2

lbs.

cubed pork stew meat

1

tablespoon

olive oil

2

tablespoons

garlic

2

white onions; chopped

6

tablespoons

paprika

32

oz.

container chicken broth

4

tablespoons

cornstarch

1 1/3

cup

heavy cream

14.5

oz

can sauerkraut

1

teaspoon

salt

1

teaspoon

pepper
Instructions
In a deep large pan, add in pork, onions, garlic, and one tablespoon olive oil. Sauté until pork is seared on outside. Add in paprika and stir well.

Pour in chicken broth. Stir well and lower heat to a 2 or low heat. Add salt and pepper. Simmer for an hour and a half until pork is tender.

Dump sauerkraut into a strainer. Squeeze all juice out of the sauerkraut. You wash it for a less vinegar taste. Set aside.

Mix together cornstarch and heavy cream. Slowly stir in heavy whipping cream and cornstarch mixture. Cook on low until the sauce thickens like a gravy. Stir in sauerkraut. Cook on low another 5 minutes.

Serve over pasta, gluten free pasta, rice, or dumplings.
Pin Segedínský Guláš: