This post may contain affiliate links. Please read my privacy policy.
Okay, okay not just kids are completely obsessed with Harry Potter. You know plenty of us adults are completely addict to the books, movies, and fantasy world of Potter. That being said, you should know just how much I love creating recipes inspired by the films or books. Hence, this Butterbeer shot was a huge work in progress to get it perfect for all those lovely Potterheads.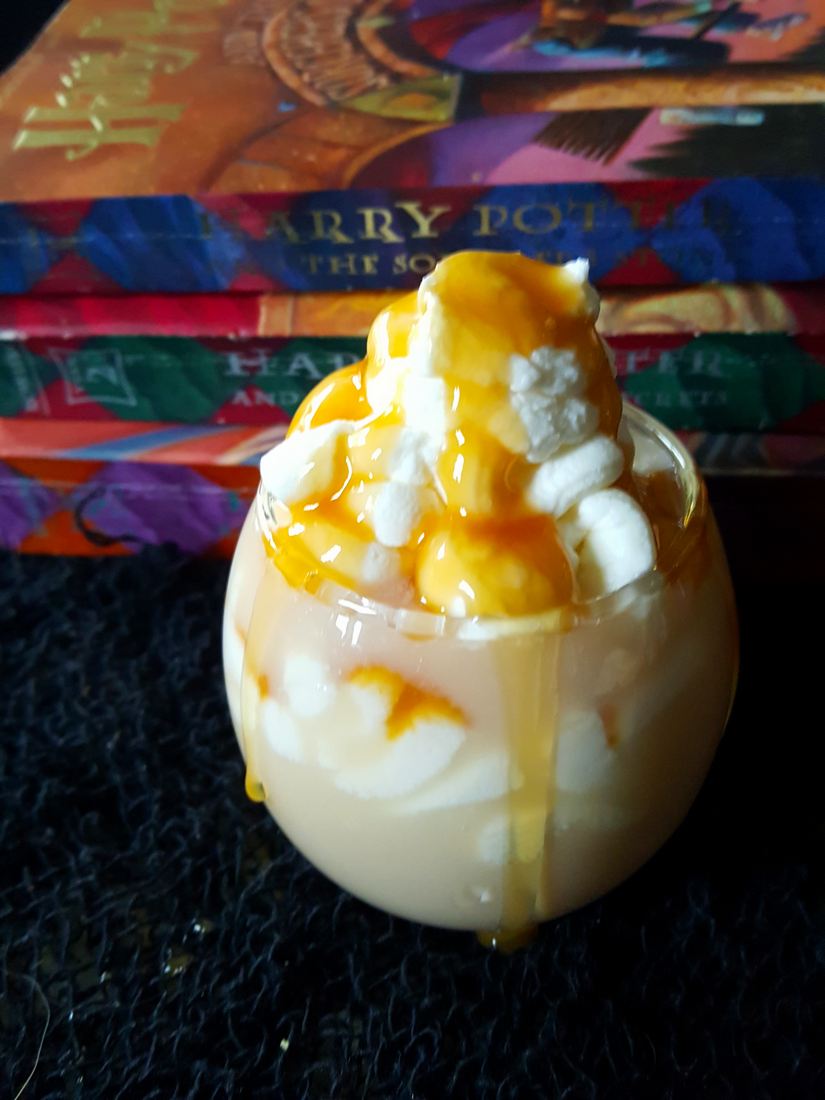 Additionally, the key point to a good Butterbeer is that butterscotch flavor. Furthermore, here I tried to accompany that with butterscotch schnapps. For the cream taste I used a cinnamon horchata which works really well. Lastly, we use caramel and whipped topping for that height and look of Butterbeer.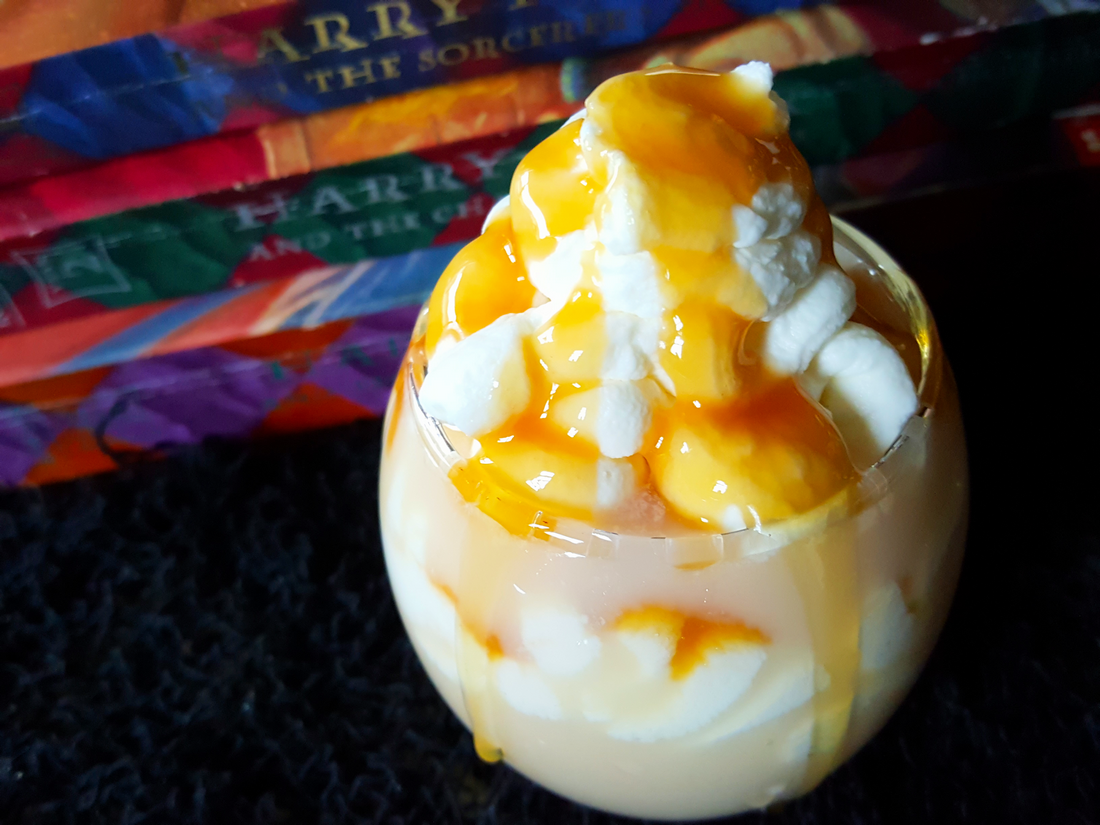 Butterbeer was served cold in bottles and hot in "foaming tankards" in Hogsmeade. Additionally, it's sold at The Three Broomsticks and The Hog's Head. Although the fact that the latter pub's stock was described as "very dusty" suggested that it was not sold there very often. In Diagon Alley, the drink had been known to be sold at the Leaky Cauldron. It was made out of butter, sugar and water. (source Harry Potter Wiki)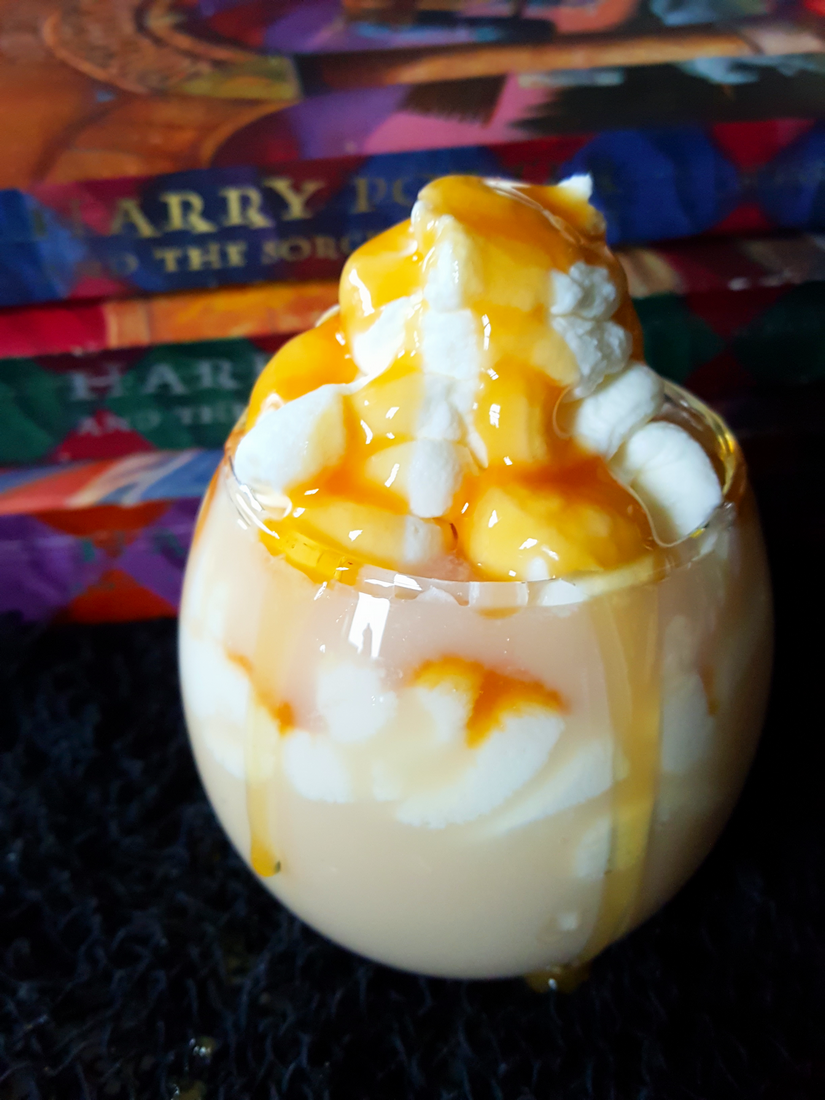 Hence, the release of Harry Potter and the Cursed Child, both the play and the written screenplay has just come out. Additionally, we are patiently awaiting the Fantastic Beast and Where To Find Them that comes out in just another month and half in November.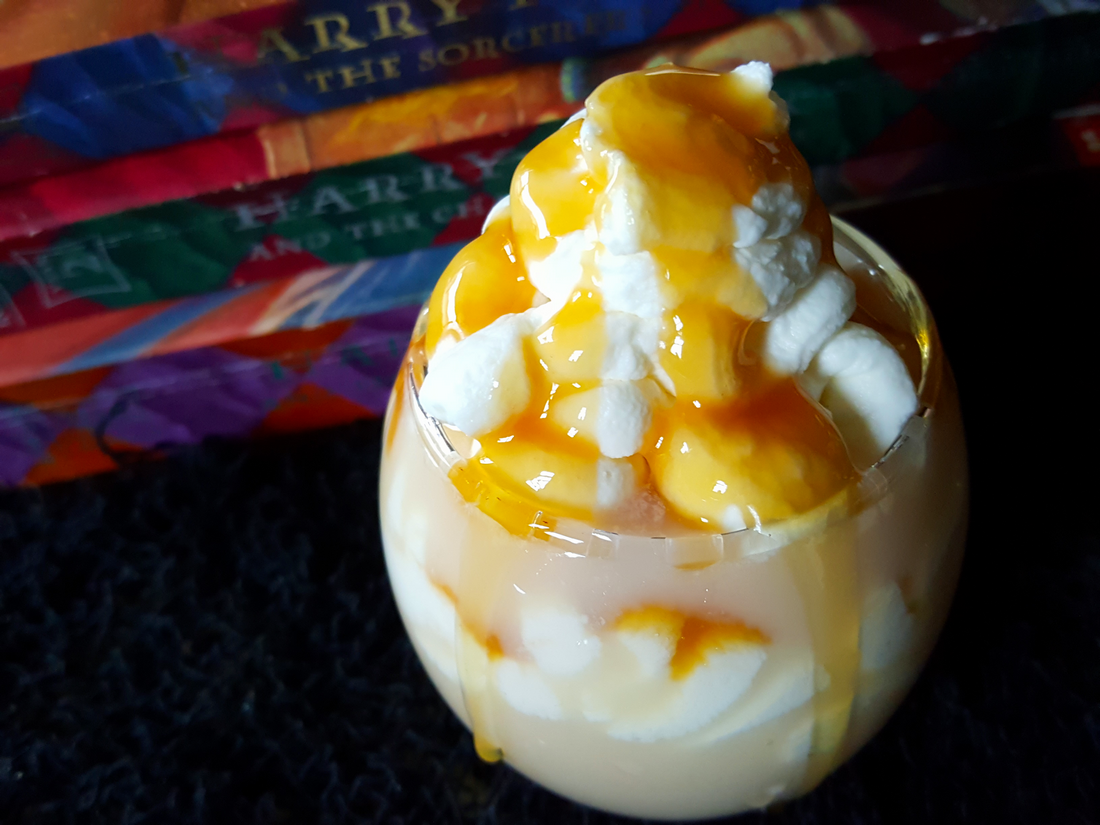 As a matter of fact, I cannot wait to have the chance to revisit that world in theatre's. Therefore I know I will probably see it over and over again. Above all I just wish I could get a Butterbeer or Butterbeer shot while I am there watching the film. Maybe I can sneak in some chocolate frogs.
Favorite Harry Potter Treat?
After all, what is your favorite Harry Potter treat? Is it chocolate frogs, pumpkin pasties, butterbeer, or something I haven't mentioned here? Furthermore, I'd love to be able to bring you more Potter recipes.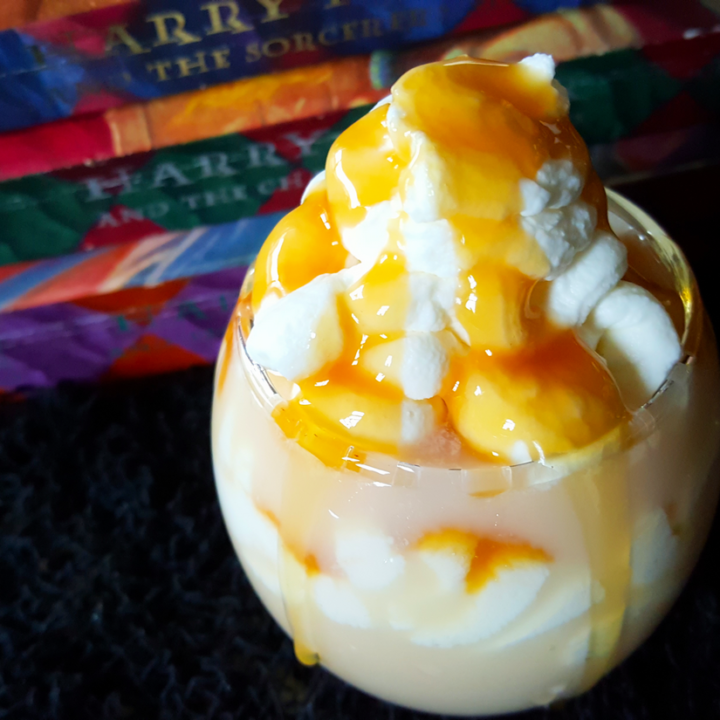 Butterbeer Shot
Butterbeer shot with cinnamon horchata and butterscotch schnapps.
Ingredients
1 part butterscotch schnapps
1 part cinnamon horchata
whipped topping
caramel drizzle
Instructions
Pour in butterscotch schnapps. Add in cinnamon horchata.
Top with whipped topping and caramel drizzle.
Nutrition Information:
Yield:

1
Serving Size:

1
Amount Per Serving:
Calories:

303
Total Fat:

4g
Saturated Fat:

2g
Trans Fat:

0g
Unsaturated Fat:

0g
Cholesterol:

0mg
Sodium:

175mg
Carbohydrates:

62g
Fiber:

1g
Sugar:

55g
Protein:

2g
For more on our nutrition disclaimer https://mooshujenne.com/nutrition-disclaimer/
Pin Butterbeer Shot: