Michael Myers Halloween Jello Shots
This post may contain affiliate links. Please read my privacy policy.
It's Halloween! What are you dressed up as? Do you have plans to go trick or treating or to a haunted house? We are thinking of throwing a Halloween Party slash Anniversary party to serve these Michael Myers Halloween Jello Shots up. Five years ago this year, on Halloween, we were married!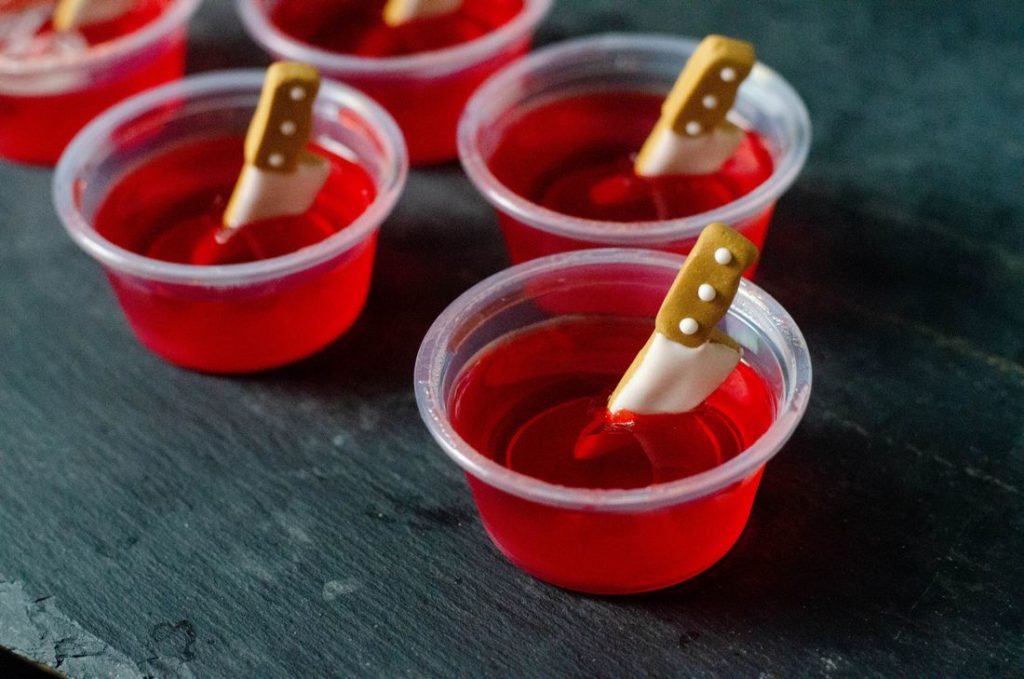 We will officially be married five years however, we've been together for 16 years. For our anniversary we wanted to show our love for Halloween in these Michael Myers Jello Shots.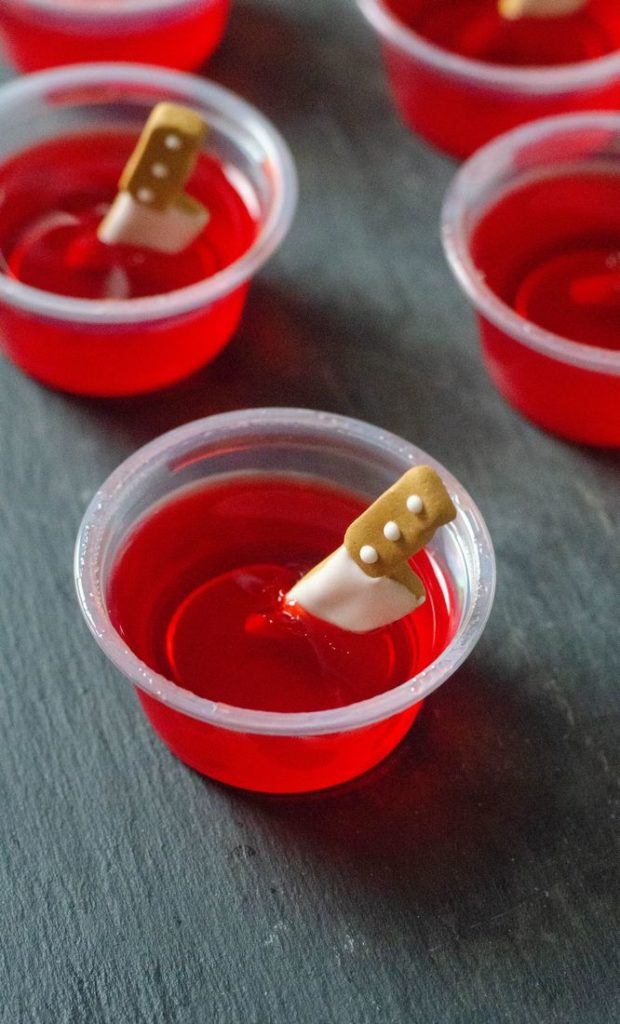 We picked Halloween to get married on because we both share such a love for Halloween. We miss the days when the streets were filled with kids trick or treating. Every other house was decorated and just about ever block had a homemade haunted house or cemetery in the front yard. Where did it all disappear to?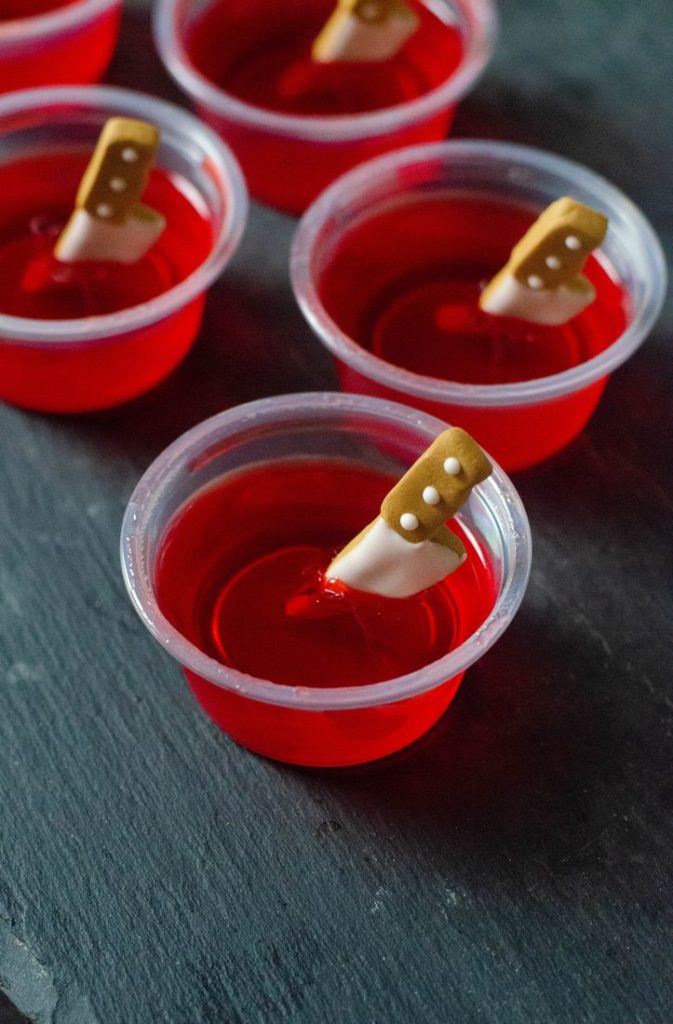 Halloween Jello Shots
Having our anniversary on Halloween just gave both of us an extra excuse to throw a party or vacation somewhere cool and maybe even haunted! This year we have yet to get all the details of what we plan to do since it's year 5. We made bloody cupcakes and ordered pizza last year along with making these Michael Myers Halloween Jello Shots.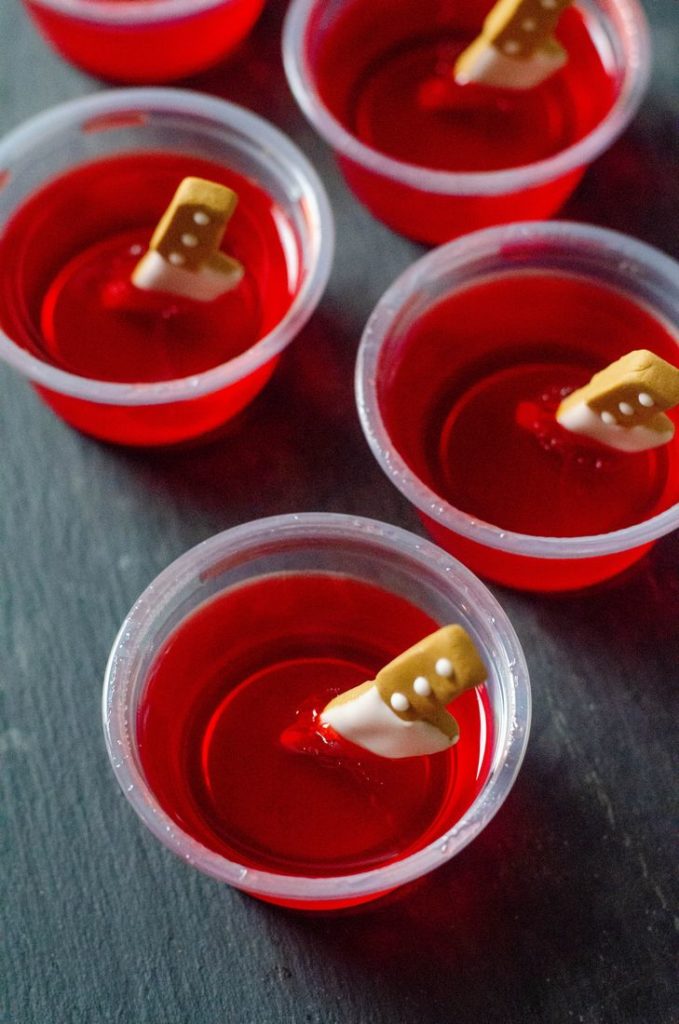 Why Michael Myers you may asks? Because the movie Halloween came in 1978 when I was born. Last year the final edition of Halloween came out and how fitting these jello shots are. The best slasher of all time is Michael Myers in my book.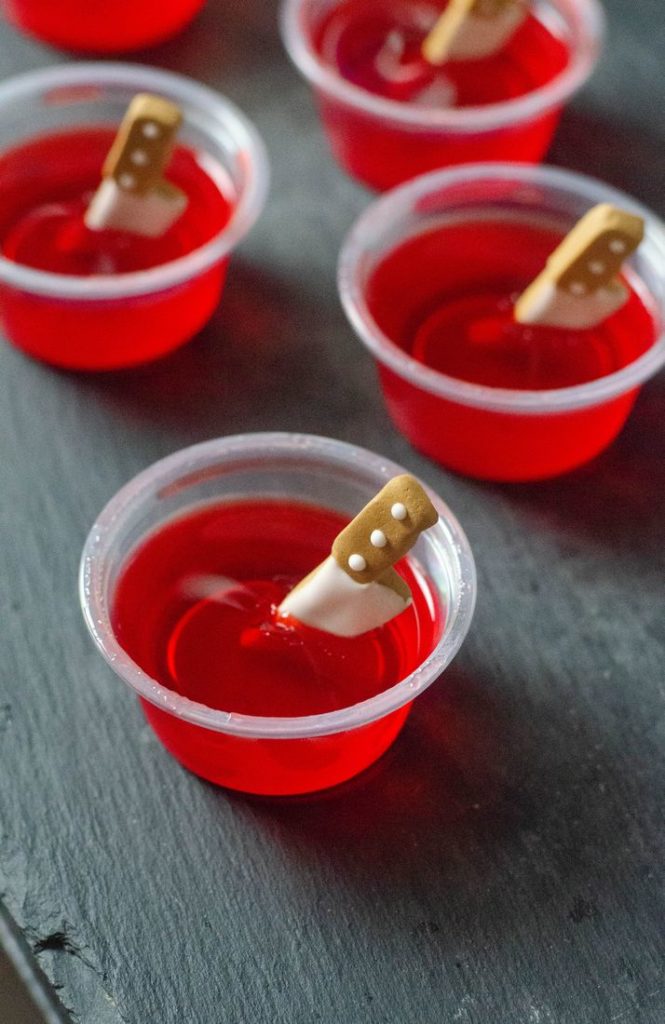 Additionally, when it comes to a party you have to have jello shots. It's like a grown ups trick or treat. Show up dressed up and get jello shots! Who doesn't love that idea. Oh and you can make this Halloween Michael Myers Wreath too!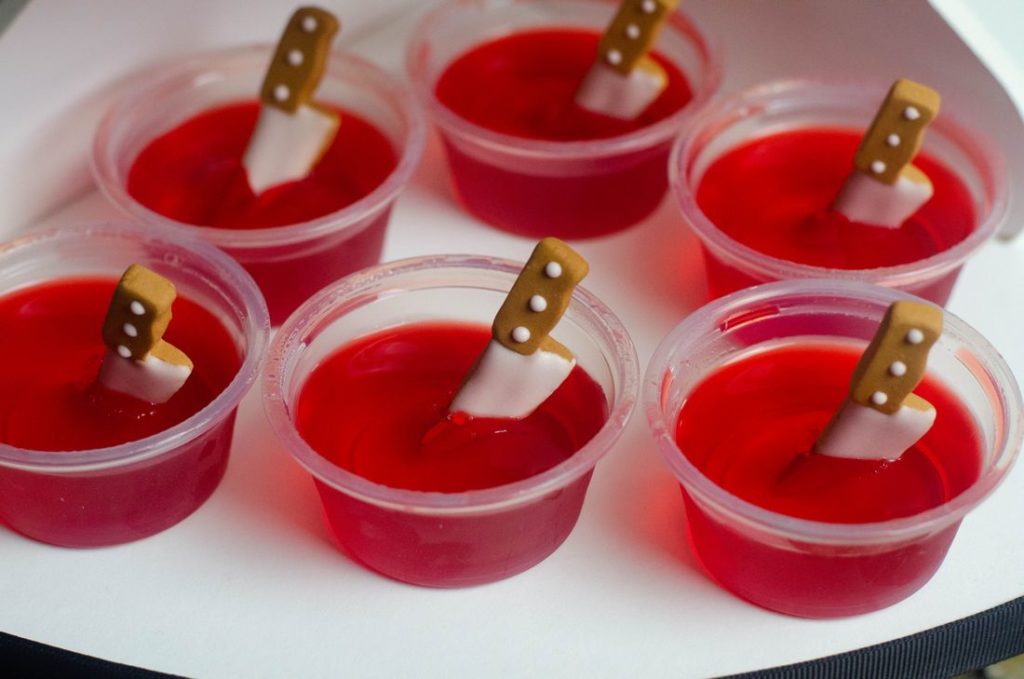 We hope you enjoy our simple take on Michael Myers jello shots. The recipe below will be made with rum however, you can easily replace this with vodka or ever-clear. This is up to you but we like rum as it goes well with the flavor of the jello. Lastly, it also isn't as strong as ever-clear or vodka. We want our guests to enjoy their time not puke! Please drink responsibly.
Other Michael Myers Goodies: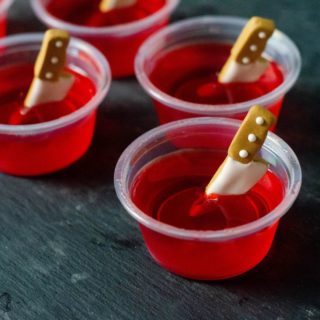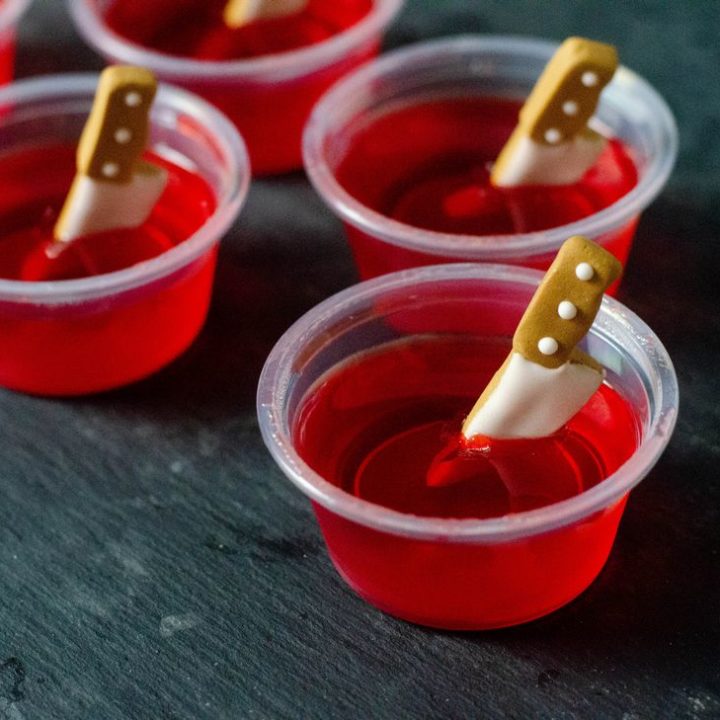 Michael Myers Halloween Jello Shots
Strawberry jello shots with candy knives for Michael Myers Halloween Jello Shots.
Ingredients
1/2

cup

rum

1/2

cup

water; cold

1 – 3-

ounce

package gelatin; Strawberry

1

cup

water; boiling

candy sprinkle knives wilton or mold

jello shot cups
Instructions
In a small bowl, combine the liquor and cold water. Whisk well. 

In a separate bowl, add the strawberry jello, then the boiling water. Stir until the gelatin is completely dissolved.

Stir in the chilled liquor and cold water mix. Pour into jello shot cups.

Refrigerate until the liquid sets. It will take at least 2 hours, but overnight is definitely recommended.

Top off with candy knives. Serve cold and enjoy!
Pin Me: