This post may contain affiliate links. Please read my privacy policy.
Lucky Leprechaun Bark is a sweet candy bark with rainbow Airhead candy and Lucky Charms marshmallows. Decorated with pearl glitter sprinkles and gold sanding sugar. Perfect for a St. Patrick's Day treat.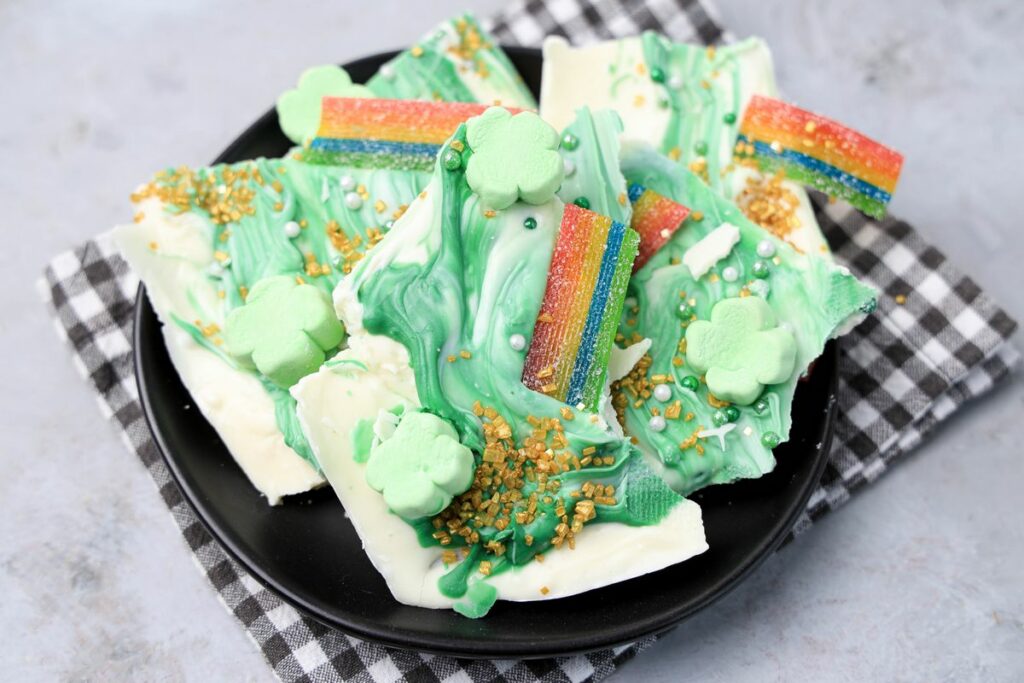 Sweet from the green candy melts and white chocolate wafers. However a little tart with the sour rainbow Airhead strips. Get the green clovers from Lucky Charms marshmallows.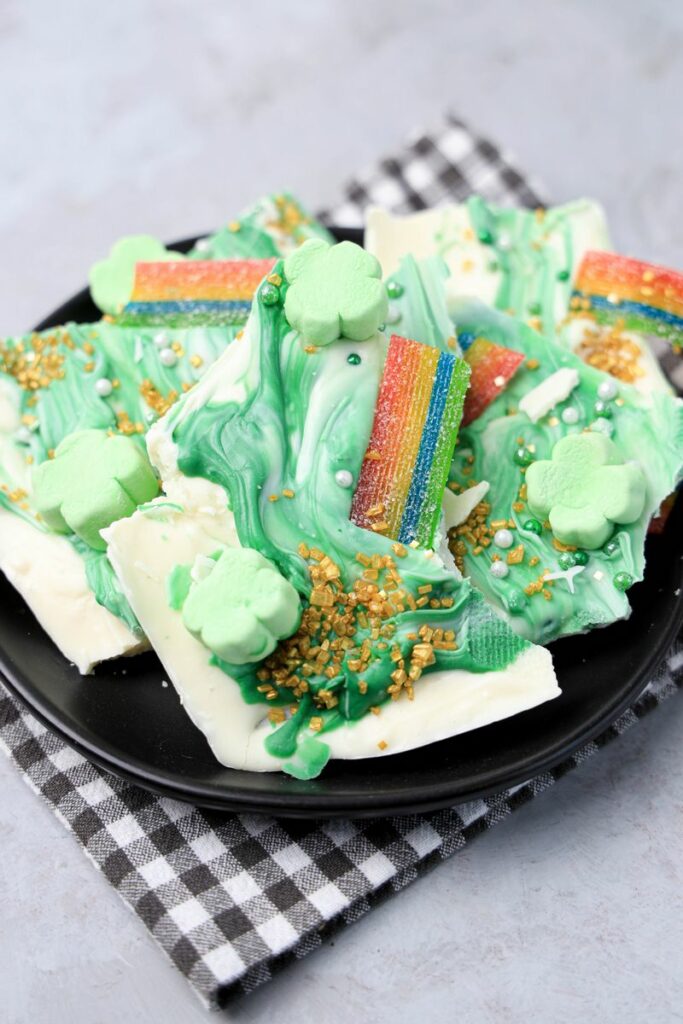 Melting Candy Wafers
Firstly, melt both the white chocolate wafers and green candy melts. I do this in the microwave with microwave safe bowls. However, a melting pot can be used instead. Either way both the green and white candy will need to be melted at the same time.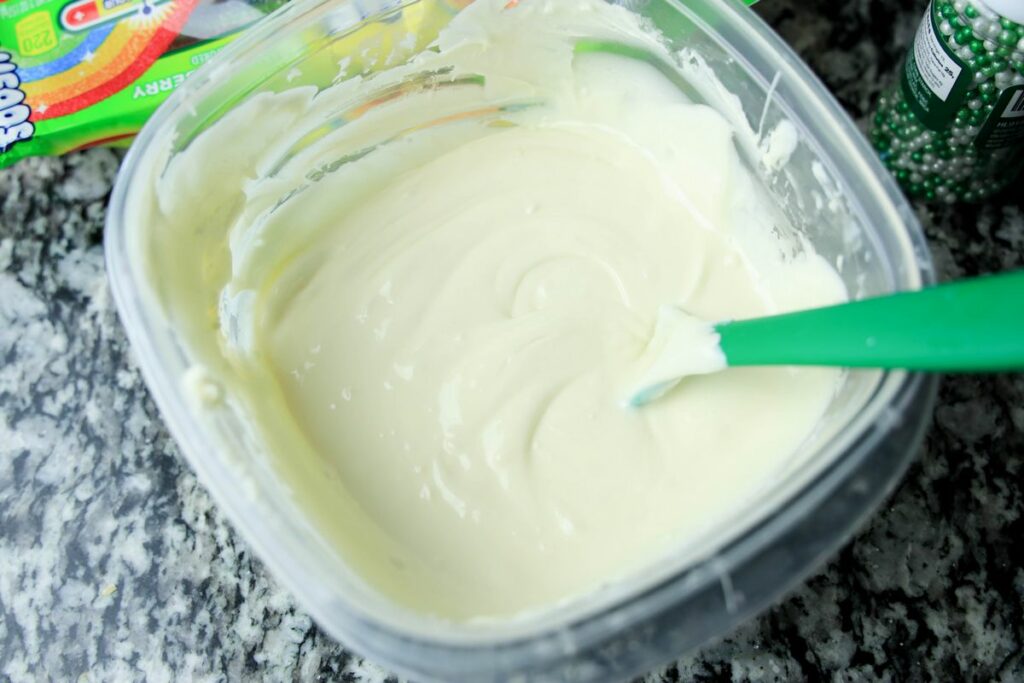 Pour out the white candy melts onto parchment paper. This will allow the bark to easily be lifted to break later. Swirl in melted green candy melts into the white chocolate with the back of a spoon.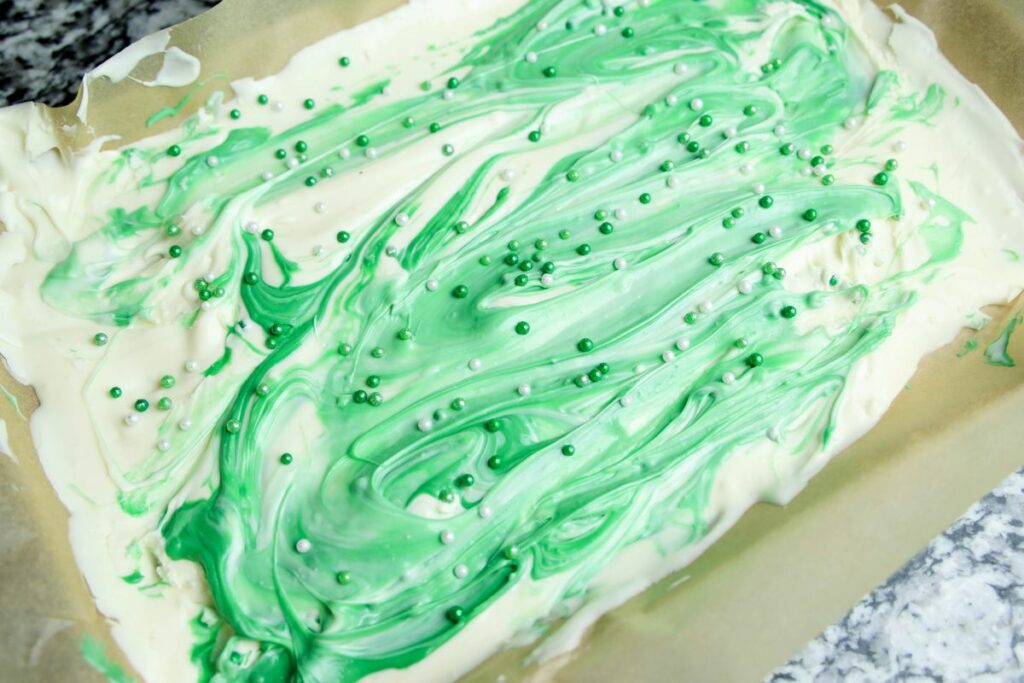 Add St. Patrick's Day pearl glitter sprinkles to the top of the bark while it is still melted. Add in pieces of rainbow Airhead strips. Stick the four leaf clover marshmallows onto the bark.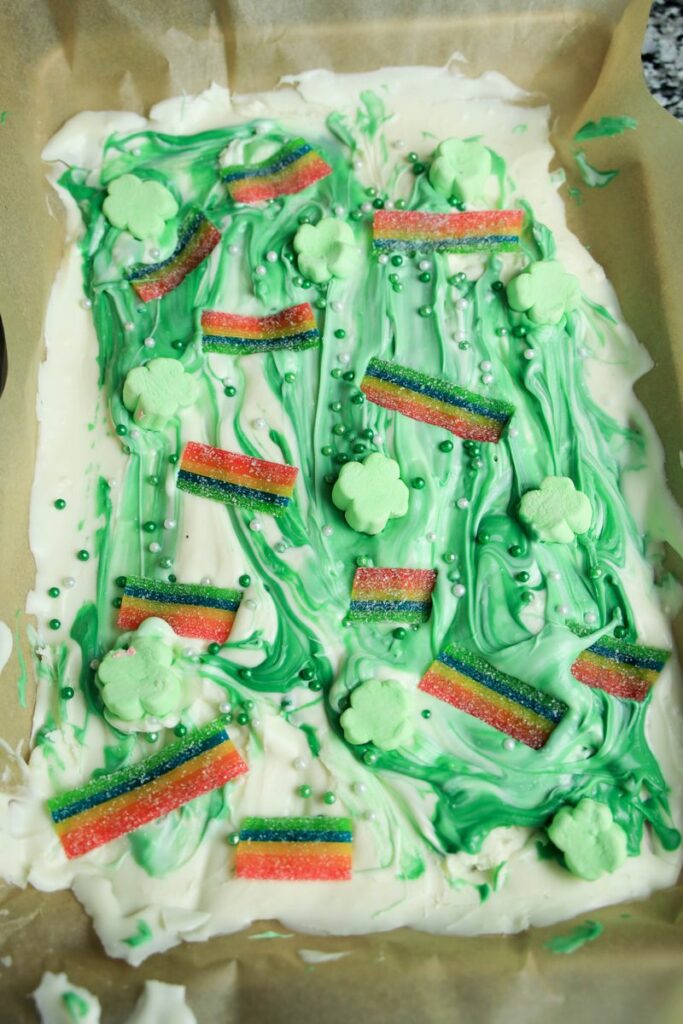 Lastly, shake gold sanding sugar in small piles onto the bark before the bark dries. Let the candy bark dry and then pull up from the parchment paper. Break into pieces for serving.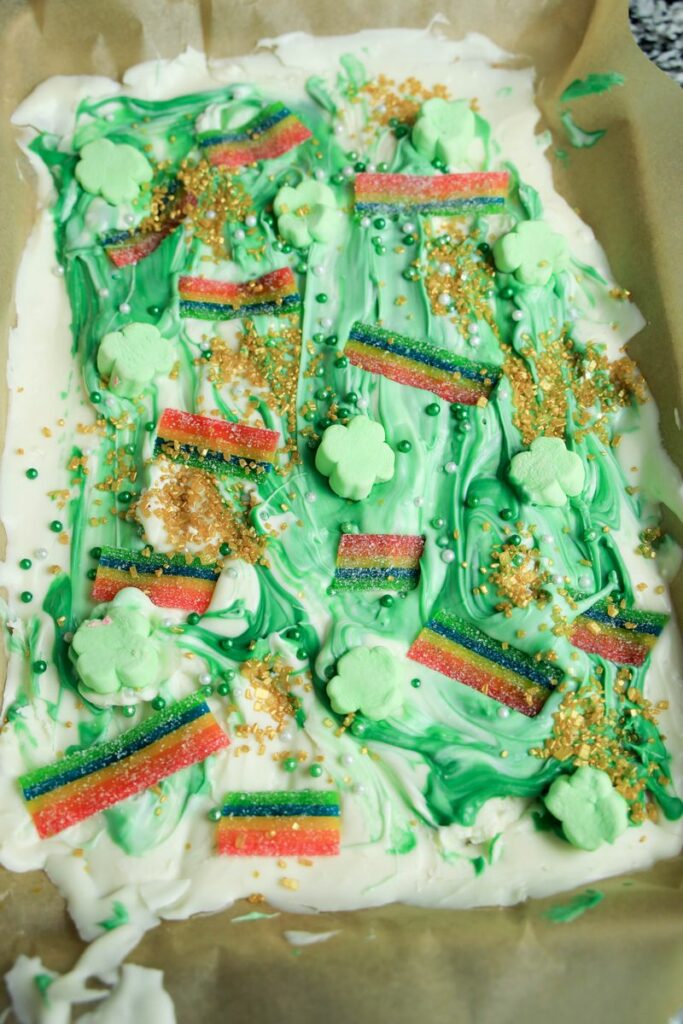 Make Ahead and Storage
Candy melts can be made up to a week in advance. It also keeps for as long as the toppings that are added to it. This should keep at least a week in the pantry.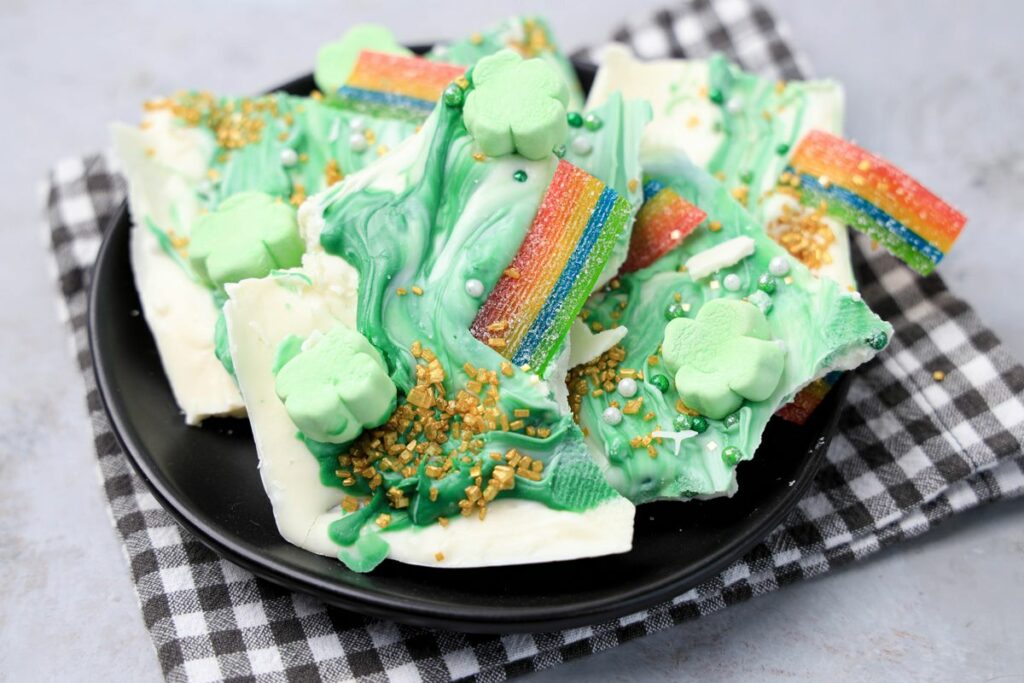 Variations
This lucky leprechaun bark can easily be changed up. Add some gold candy or lucky charms cereal instead. Make it fun with any kind of rainbow candy as well.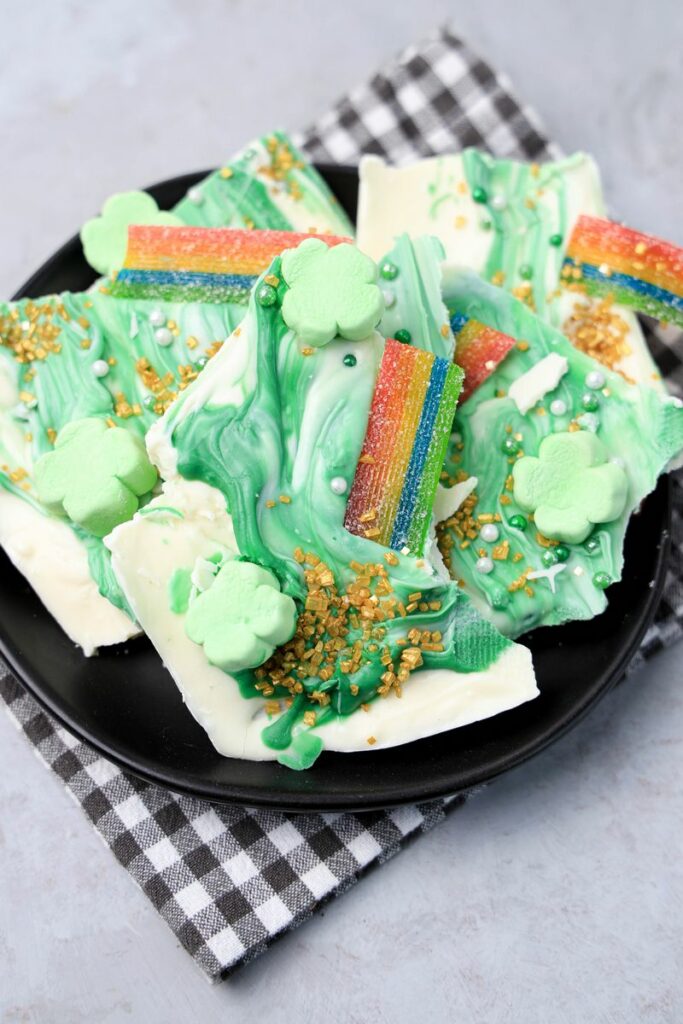 Lucky leprechaun bark is a fun treat for the family on St. Patrick's Day. Celebrate with greens, golds, and rainbows in the edible form. Break apart and place into bags for gifting to friends.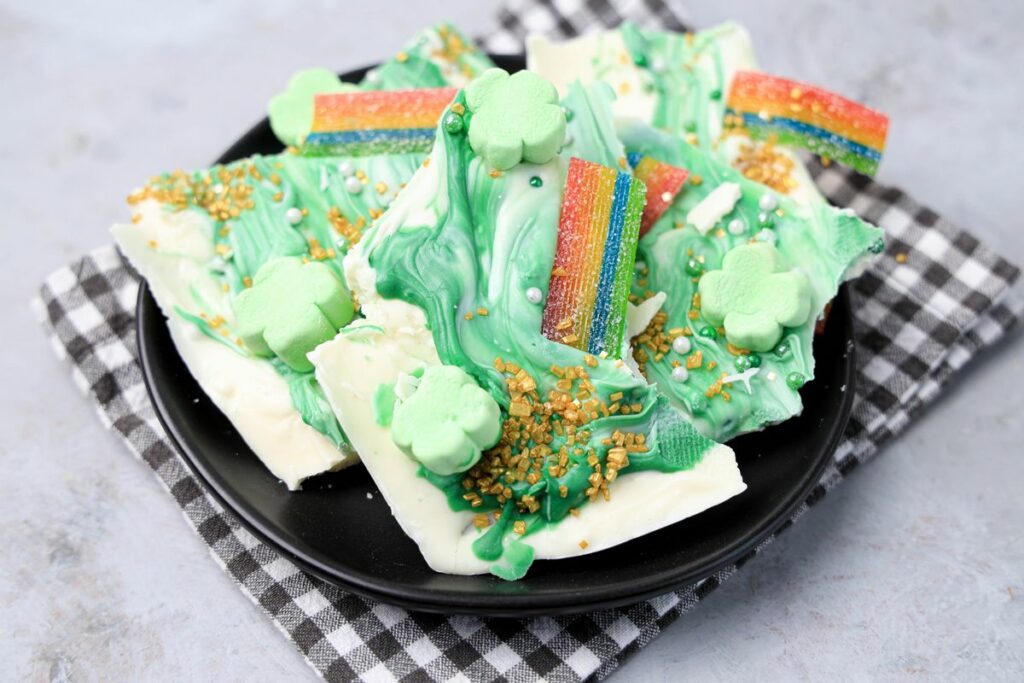 Just like a pot of gold at the end of the rainbow your family and friends will enjoy this sweet treat. Great for class parties as well. Check out our other St. Patrick's Day recipes below.
St. Patrick's Day Recipes: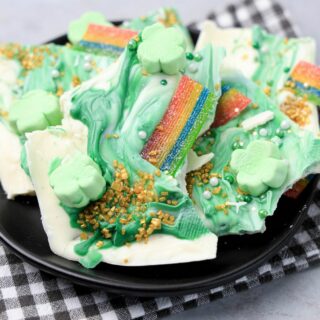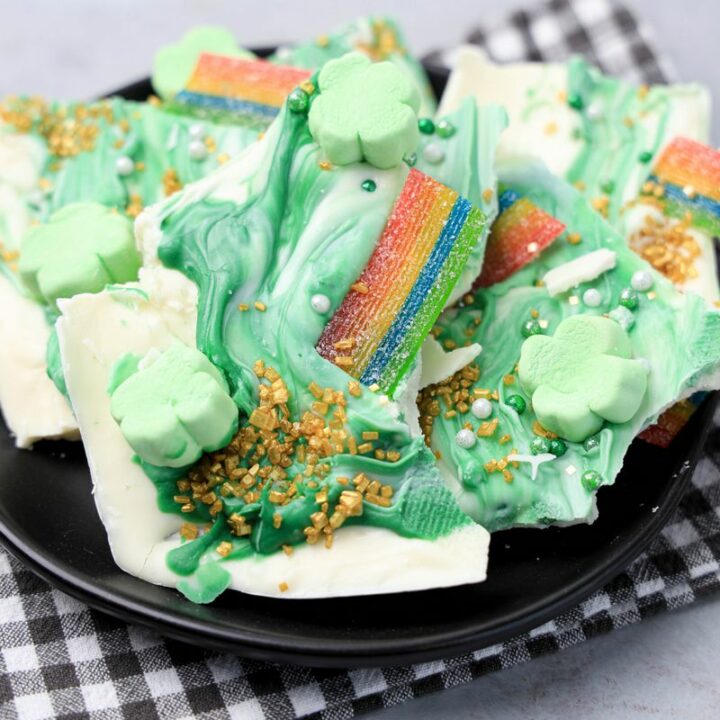 Lucky Leprechaun Bark
Candy bark with green and white with rainbow airheads and four leaf clover marshmallows.
Ingredients
12

oz.

bag Ghirardelli's white chocolate wafers

6

oz.

bag Sweet Tooth Fairy green candy melts

1

tablespoon

St. Patrick's Day Glitter Pearl Sprinkles

1

tablespoon

gold sanding sugar

1

package Airheads Xtremes Sour Candy

Rainbow Berry

10

Lucky Charms Marshmallows four leaf clovers
Instructions
Melt green candy melts and white chocolate wafers. Pour the white onto a smaller baking sheet lined with parchment paper.

Add green candy melts into different places and swirl with a knife. Smooth out carefully with a spatula.

Quickly before the candy melts and chocolate dries add the green sprinkles, airheads rainbows (cut), gold sanding sugar, and four leaf clovers marshmallows.

Let the bark dry then break into sections for serving. Store in a bag in the fridge.
Pin Lucky Leprechaun Bark