July 4th Watermelon Salad
This post may contain affiliate links. Please read my privacy policy.
July 4th doesn't have to be all about meats on the grill. Fresh fruit salads can be just as tasty and colorful for for the 4th of July. This July 4th Watermelon salad is perfect to serve up for any patriotic holiday. Colorful and healthy!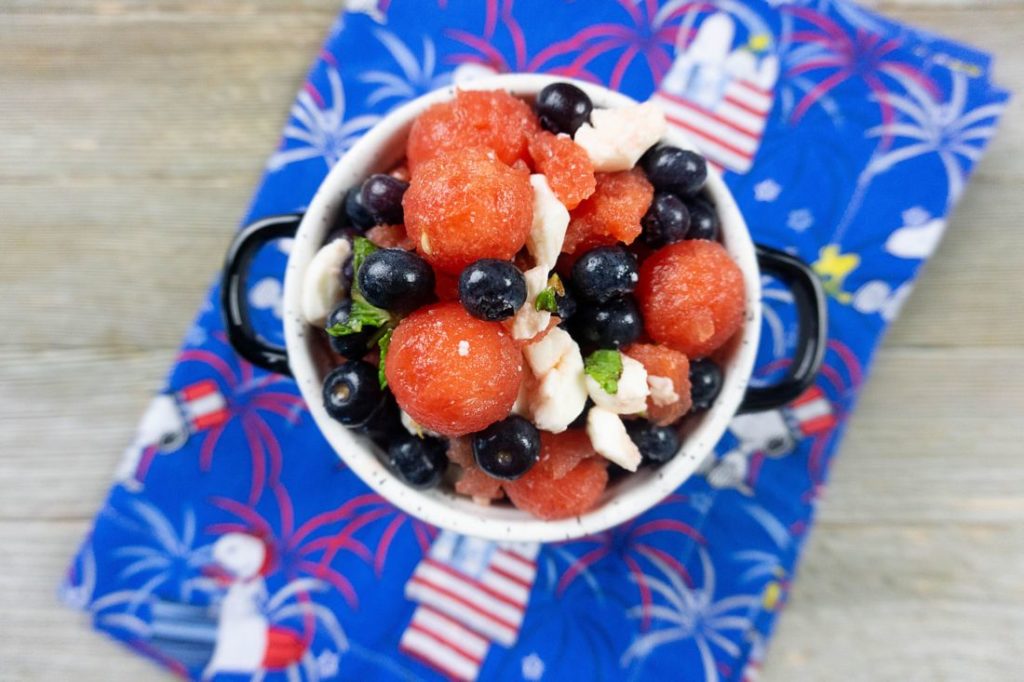 I love that this watermelon salad is easy to make. A melon baller will be needed in order to make the watermelon into balls. However, you don't have to make the watermelon into balls.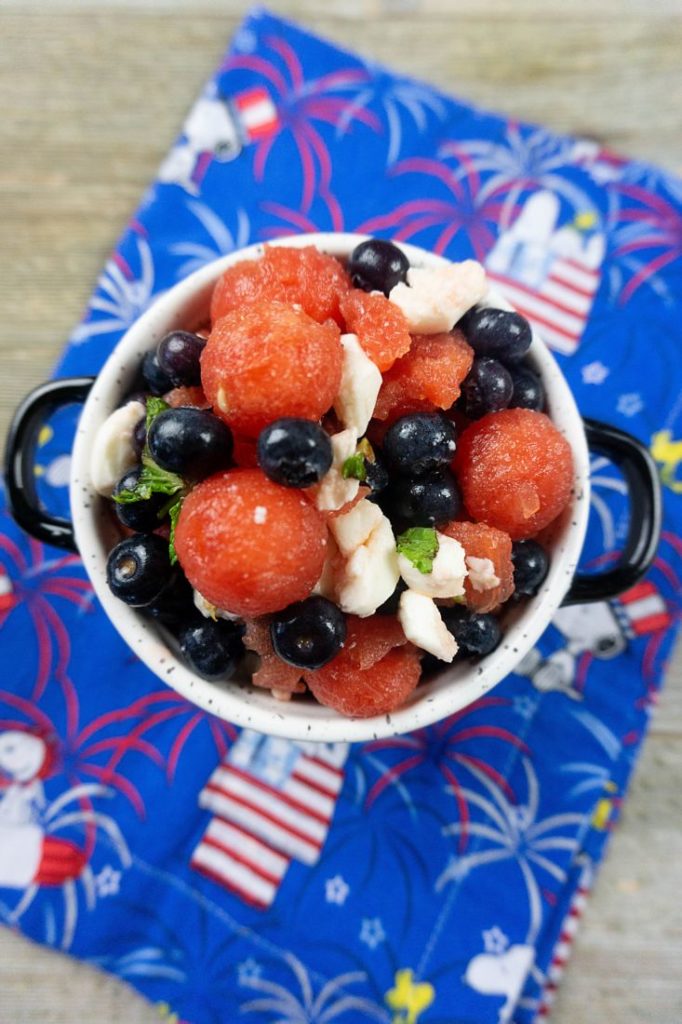 Just cut the watermelon into chunks if you don't want to take the time to make melon balls. It makes no difference on taste. The melon balls are just for a pretty display of the salad. No need to go fancy.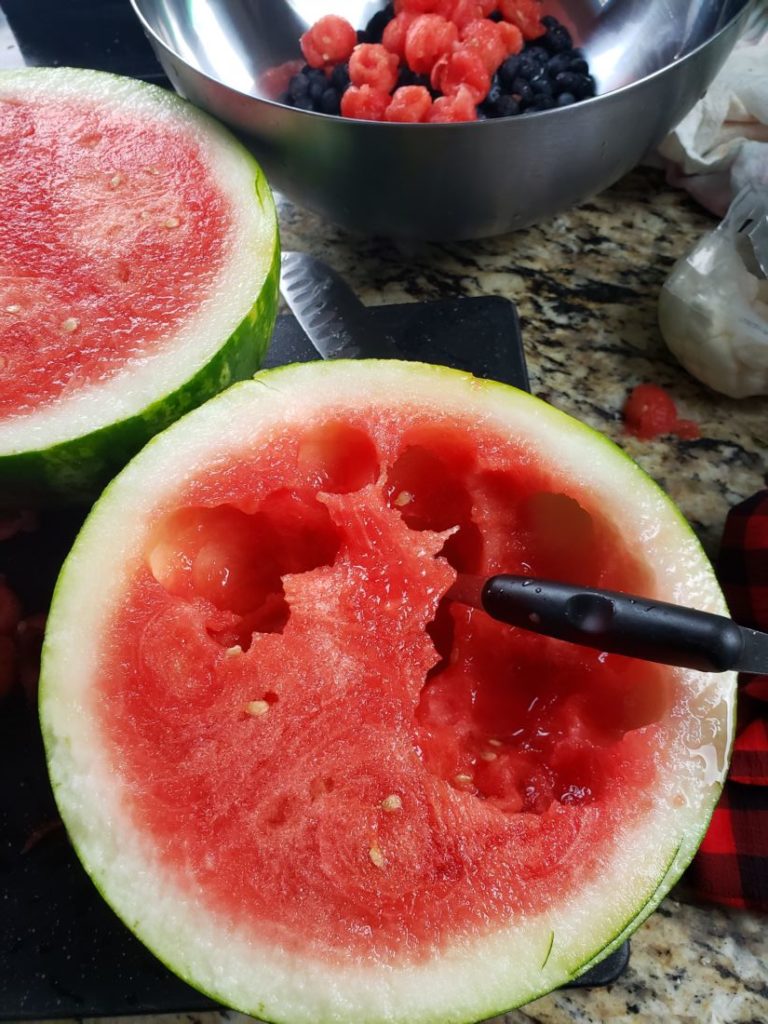 Start by cutting the watermelon in half. Dig in to get the best balls you can with melon baller. Press in and rotate. Not every ball will be perfect so don't worry. Place the watermelon into bowls.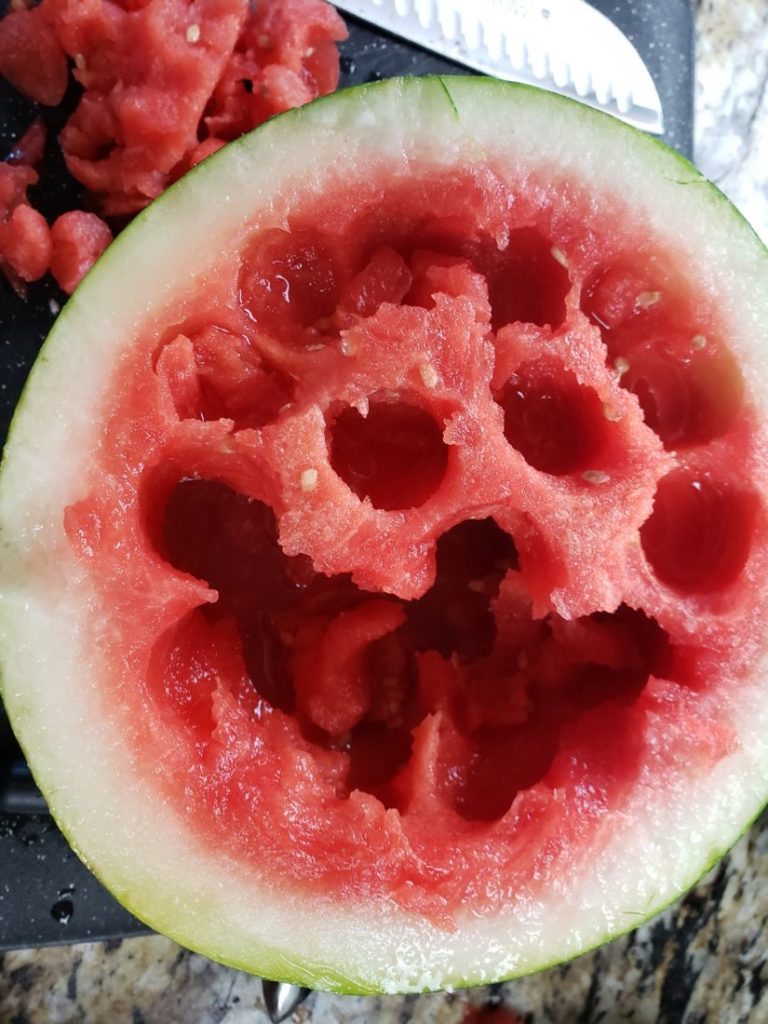 I find the further down into the watermelon you get the better the balls tend to work. Work the melon baller in a circle motion almost like scooping ice cream. I get as much as I can without getting the rind.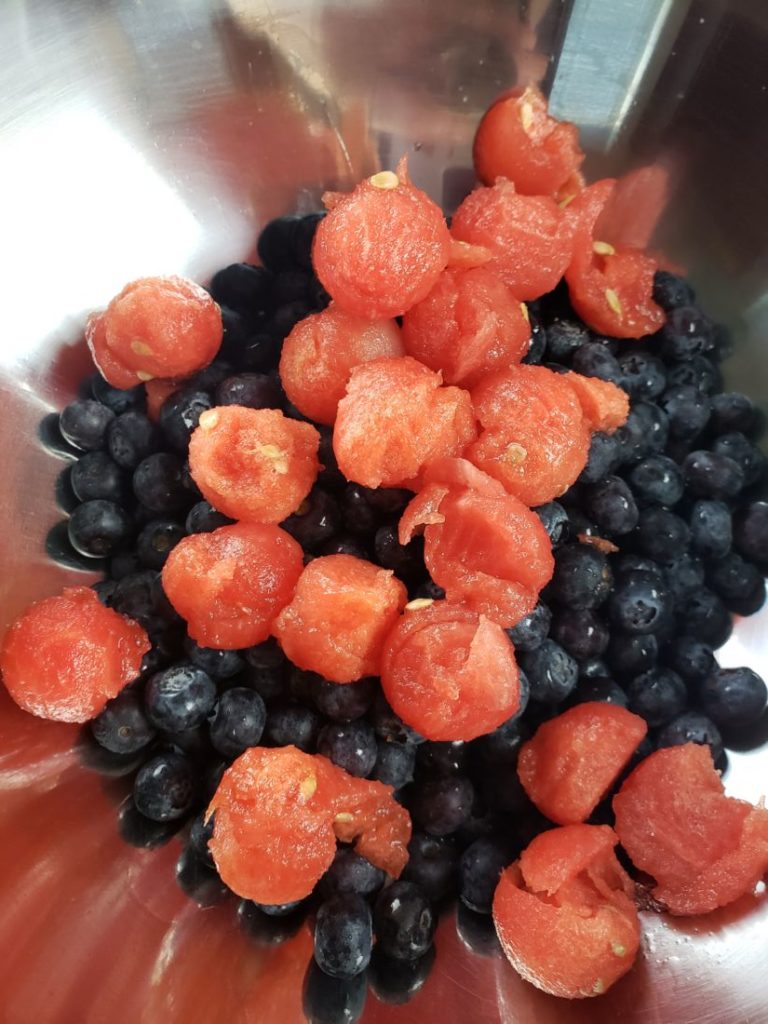 Wash up the blueberries and place them into a bowl with the watermelon. If you like to you can add a dressing over the top. I don't add dressing. I like to add mint for coolness.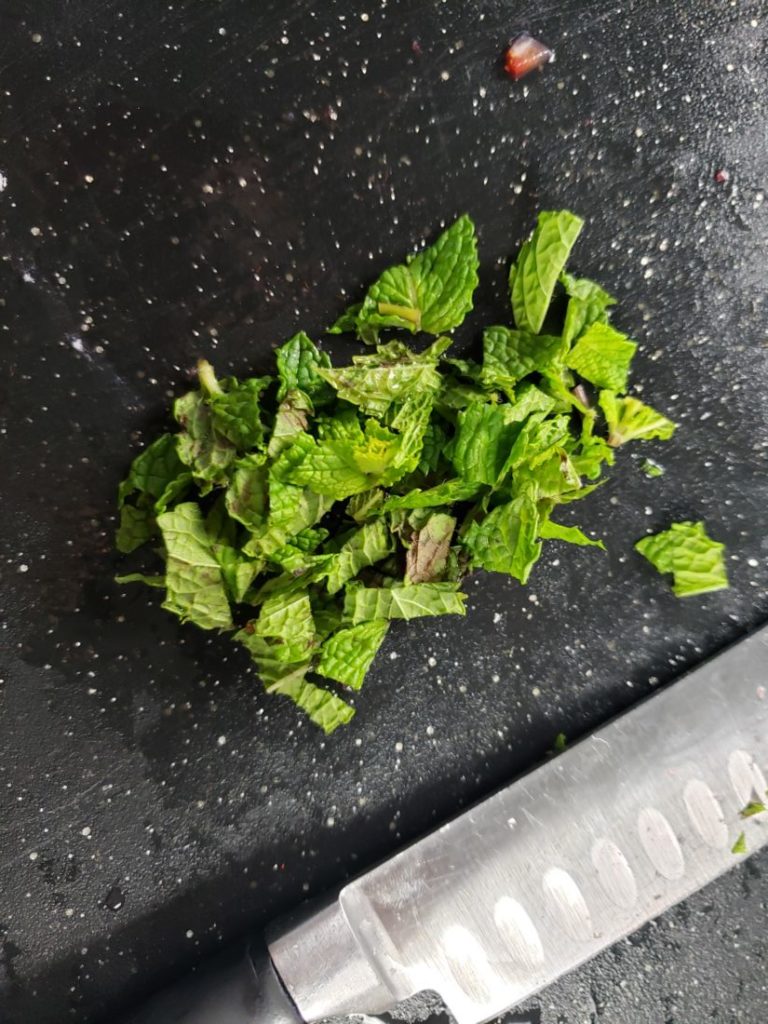 About The Cheese:
I add the mint to the bowl and then the pearl mozzarella. This mozzarella takes on the flavor of the watermelon and blueberries. It pairs nicely and doesn't have a over powering flavor. You might want to use a different cheese and feel free to.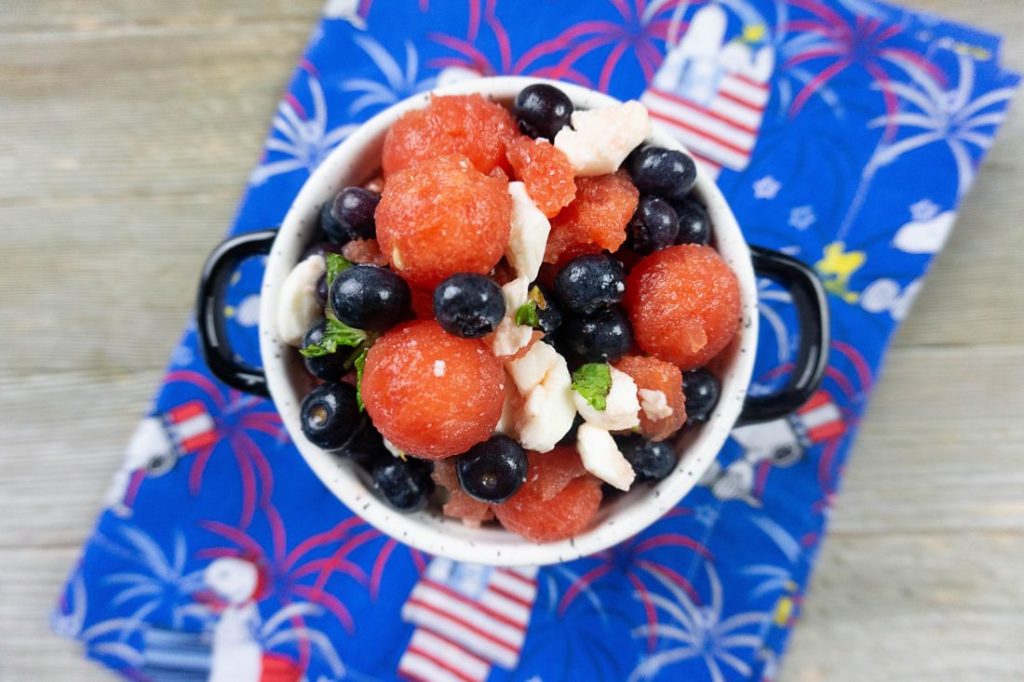 Just make sure the cheese doesn't over power the taste of the watermelon and blueberries. The cheese should compliment it well. This is why I use a fresh pearl mozzarella as it is pretty bland.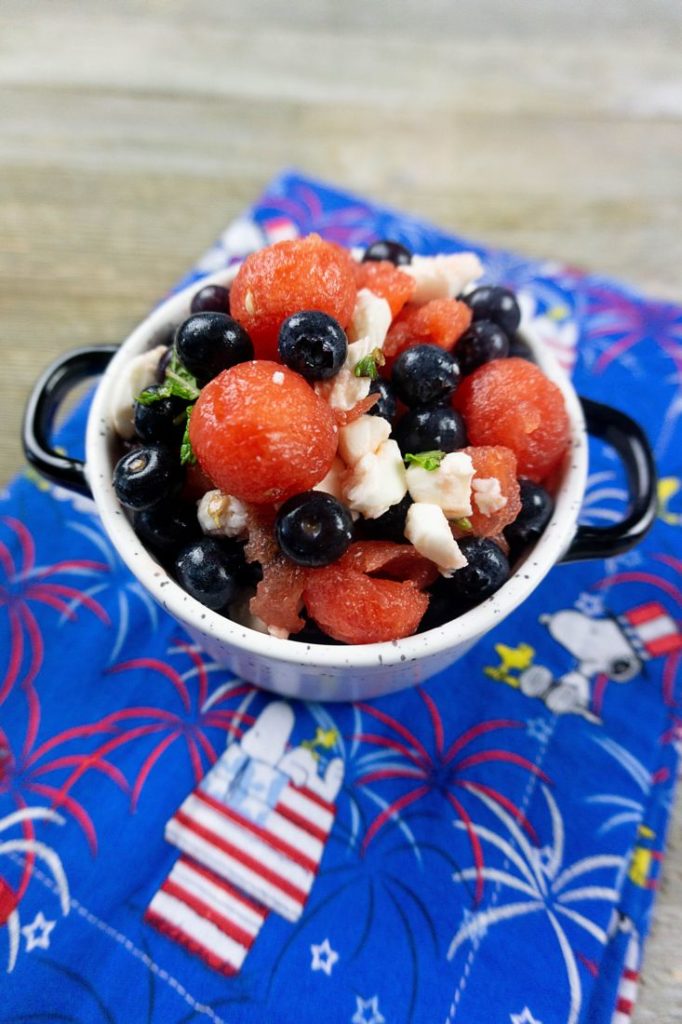 Make this fresh July 4th Watermelon Salad for your family and friends on the 4th of July! I promise it will be a nice bowl of fresh cold fruit to cool down with in the warm summer sun.
July 4th Recipes To Try:
July 4th Watermelon Salad
Watermelon, blueberries, mint, and mozzarella pearls for a fun colorful July 4th salad.
Ingredients
1

small watermelon

2

cups

blueberries

1

package of pearl mozzarella cheese

2

sprigs of mint
Instructions
Slice watermelon in half. Use a watermelon baller to make balls and place into a large bowl. Do this for the entire watermelon.


Wash the blueberries and add it to the large bowl. Break up the mozzarella pearls by hand and add to the large bowl. Add in diced mint. Mix well.


Keep in fridge until ready to serve.
Pin July 4th Watermelon Salad