Grinch Hot Chocolate Bombs
This post may contain affiliate links. Please read my privacy policy.
It's the merriest time of the year when hot chocolate warms the soul. Add a little Grinch to your hot chocolate fun this year. Grinch hot chocolate bombs made with green candy melts and a little red heart.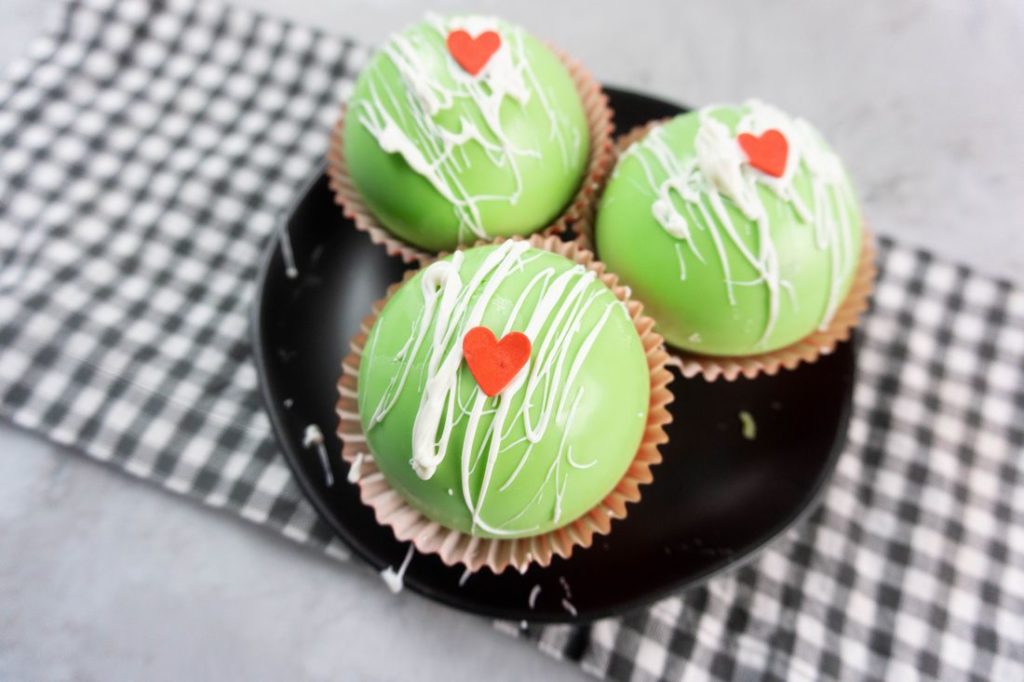 Just like the Grinch's heart grows so will anyone who has one of these hot chocolate bombs. Made with a green candy melt that is flavored vanilla. I like to use sweet tooth fairy candy melts.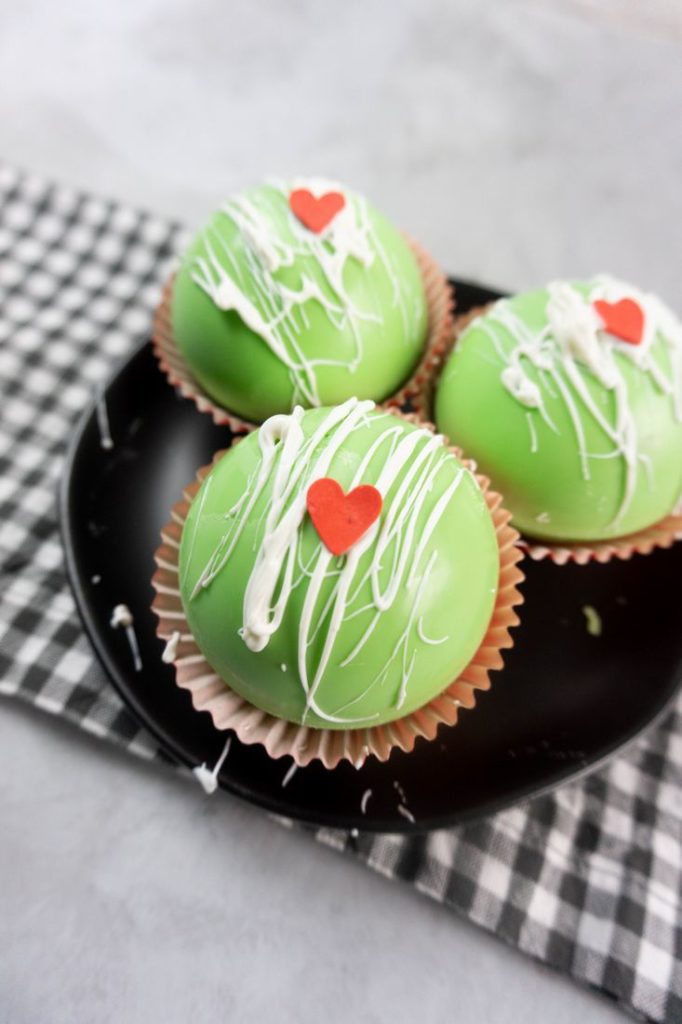 For added extra fun add some green edible glitter to the bombs and when it busts open it will make the milk a glittery glowing green. How fun is that when you have Grinch hot chocolate?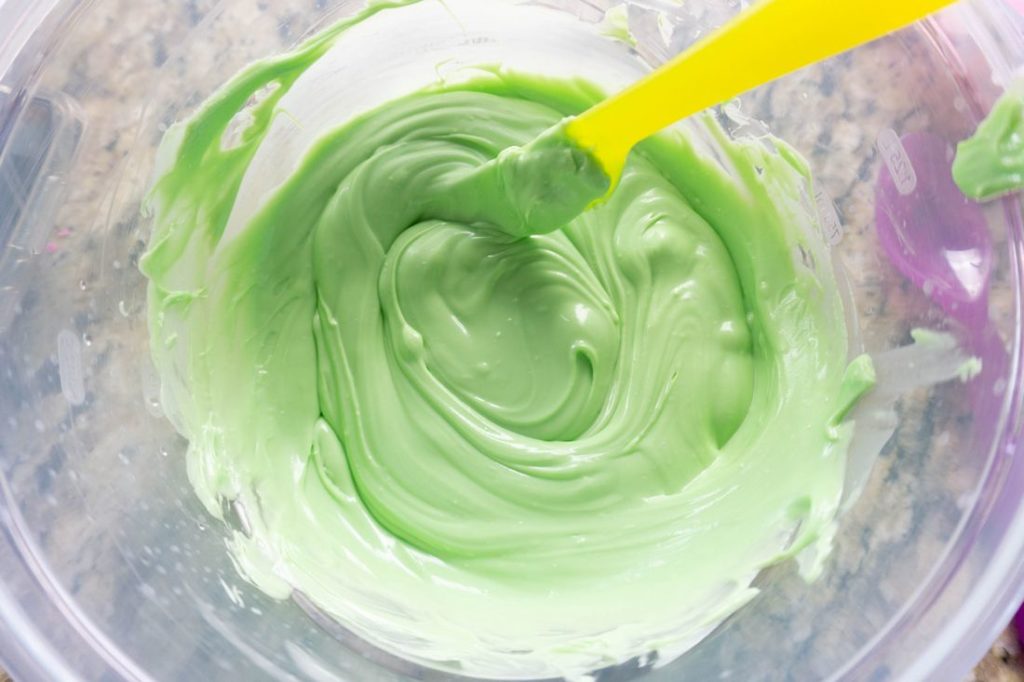 First, melt the candy melts as directed on the package. I like the sweet tooth fairy candy melts cause I find they melt the best. Means working with a mold is easier when it melted correctly.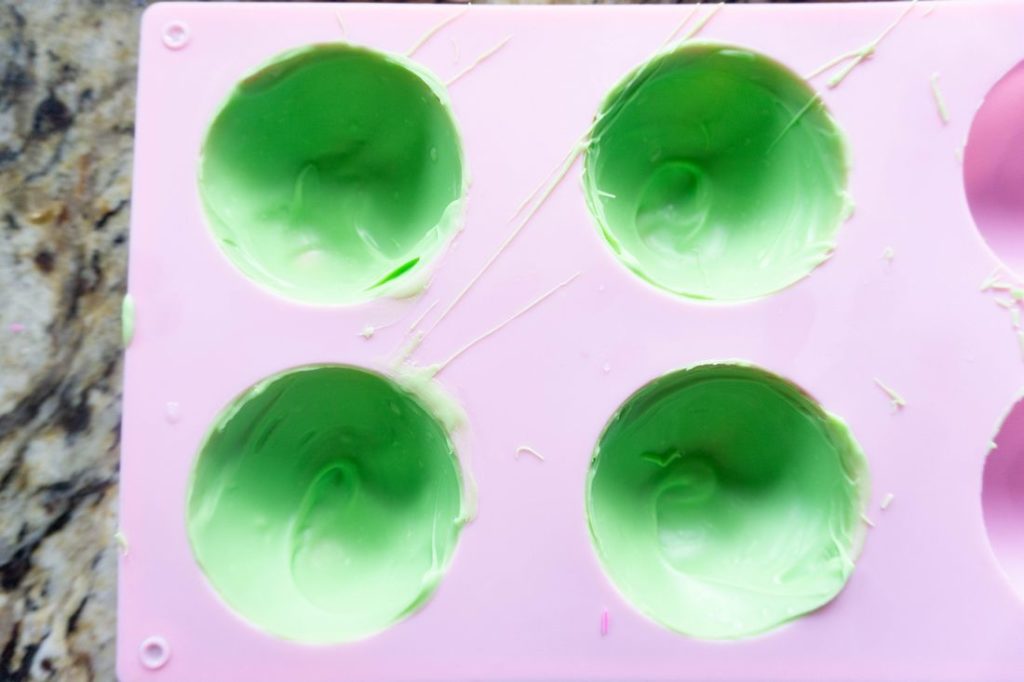 Dome Mold Tips and Tricks
I put a layer of the candy melts into the dome mold. I prefer silicones molds as they are easier to work with when popping out the domes. Make sure when coating the mold that you do it with a back of a spoon and don't see any mold through the candy melts.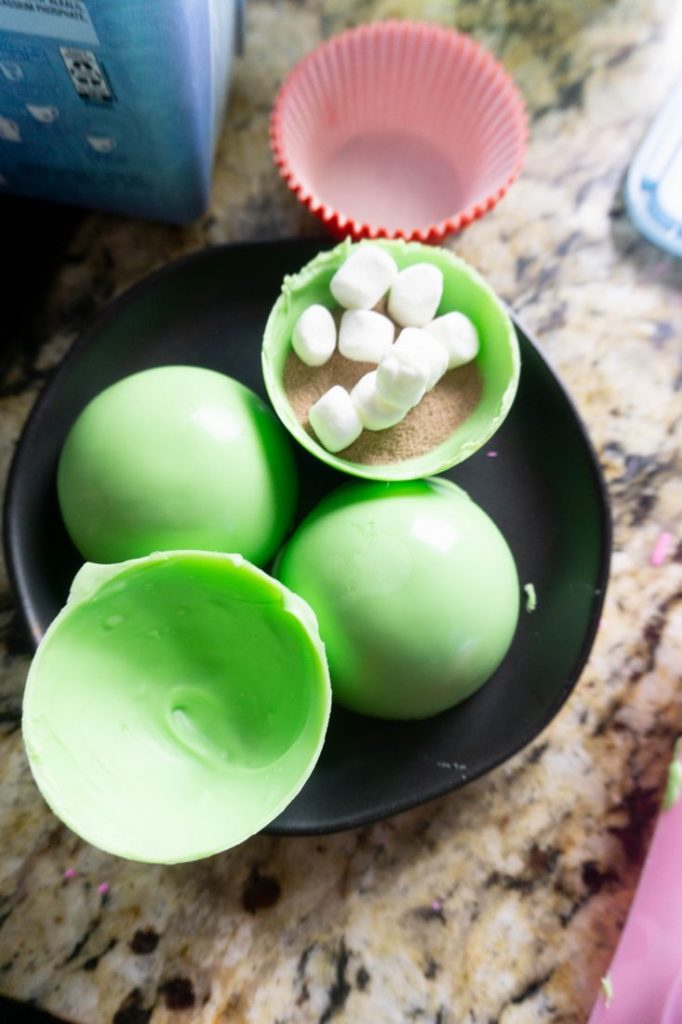 After the mold has been in the freezer for 10 minutes it's time to slowly pop the domes out. Set them on a plate open side up. Get ready to fill the domes with hot chocolate mix, edible glitter, marshmallows, and more.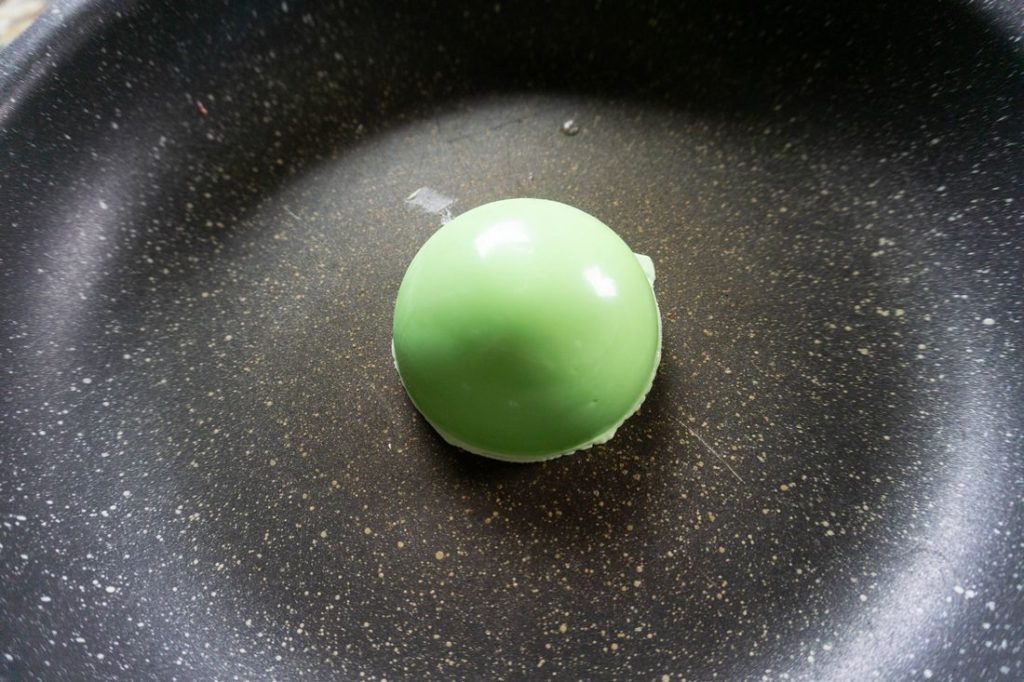 In a pan on low heat, place the dome open side down and melt just till the edges are even. Fill quickly and melt another dome. Align and place on top of each other evenly. The hot candy melt will seal itself.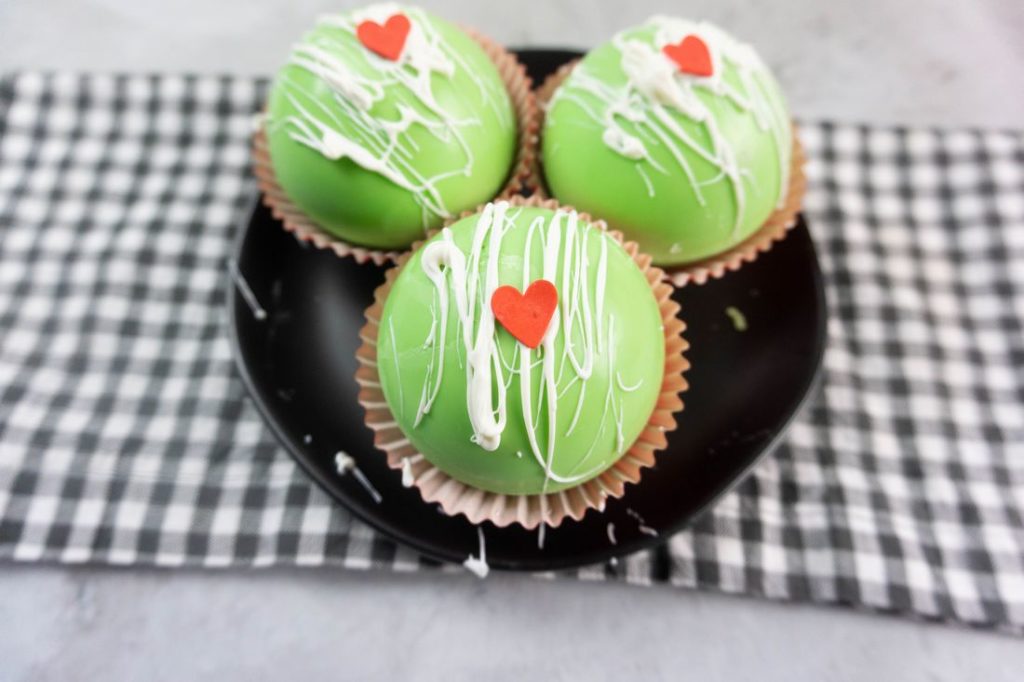 Next drizzle with some white chocolate wafers or white candy melts. I like to use Ghirardelli's white chocolate wafers then place a red confetti heart sprinkle on top.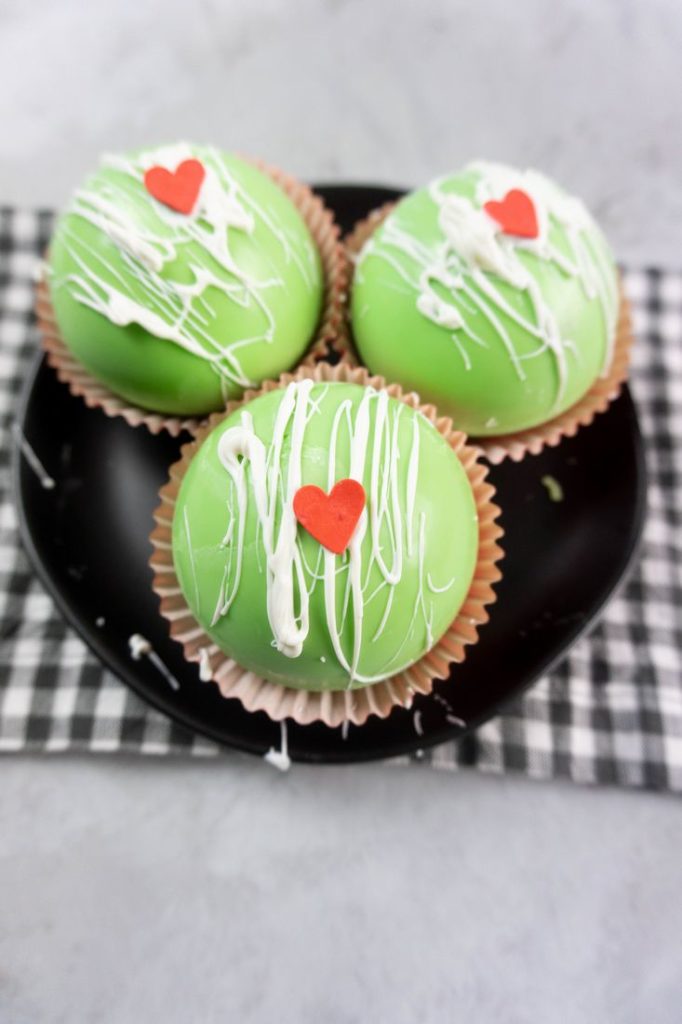 These Grinch hot chocolate bombs remind me of when we would watch the Grinch movie with Jim Carrey every year and my oldest would mimic him. Don't miss out on watching that movie with these Grinch bombs.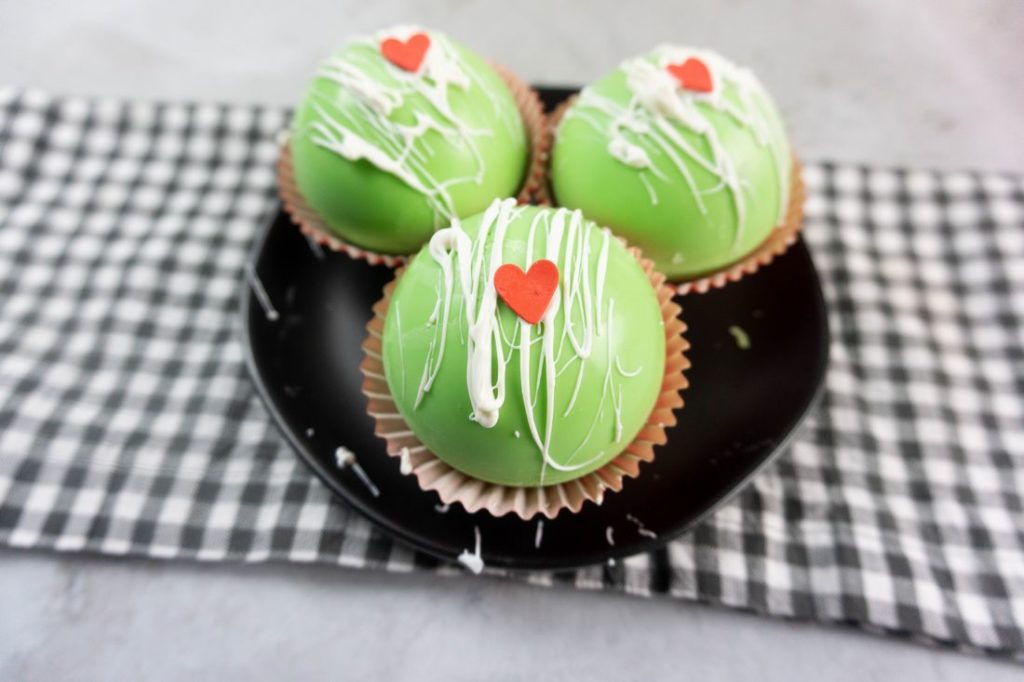 Make some other goodies to pair with the hot chocolate. Check out a few recipes below.
Sweet Treats: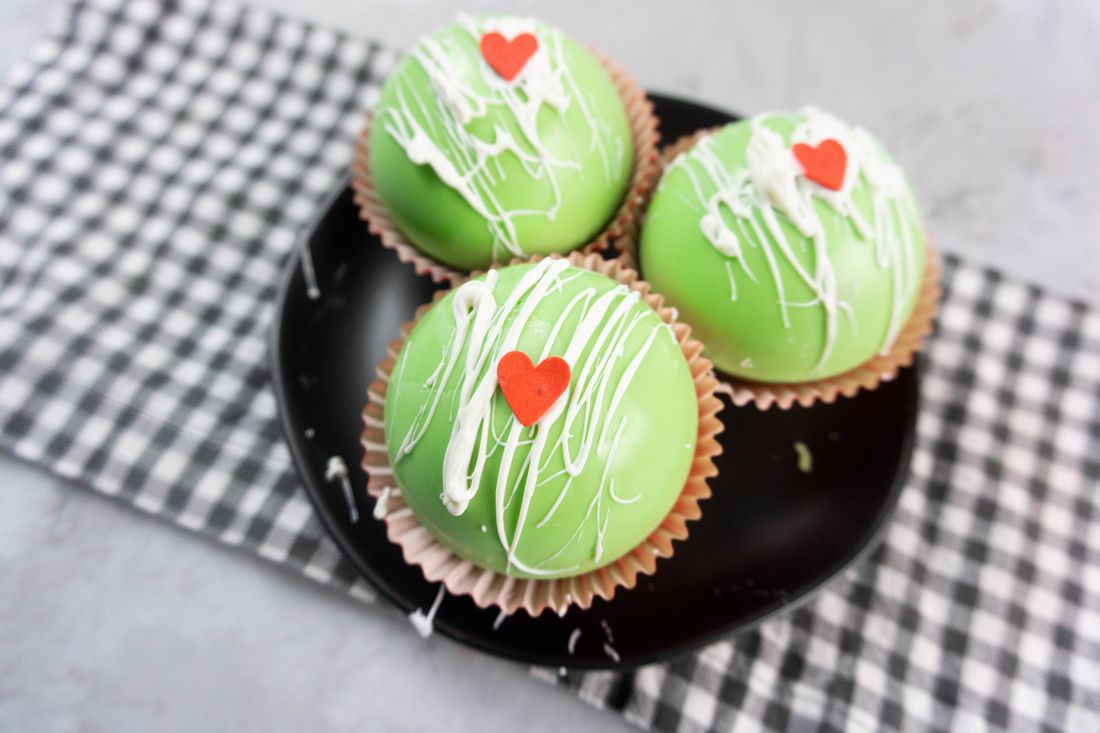 Grinch Hot Chocolate Bombs
Yield:
3 Hot Chocolate Bombs
Additional Time:
10 minutes
Green hot chocolate bombs with a red heart inspired by the Grinch
Ingredients
1 bag green candy melts ( I used sweet tooth fairy )
1/3 cup Ghirardelli's white chocolate wafers
6 tablespoons swiss miss hot chocolate mix
15 marshmallows
Instructions
Melt green candy melts to the package directions in the microwave.

Add green candy melts to the dome mold and spread with the back of a spoon. Do this in one thin layer to coat then place in freezer for 10 minutes. Take it back out and coat only where you can see through the mold. If you cannot see through the mold you do not need to add more. You want the bomb to stay together but not be too thick.

If you add more to the see through spots then place back in the freezer for another 10 minutes. Remove and slowly pop out the each side of the bombs. Place on a plate.

Heat a frying pan to low heat. Place one side of the bomb rim open side down onto the frying pan. This will lightly melt and even out the edges. Quickly add about 2 tablespoons cocoa mix to the bomb and marshmallows. Melt the other side of the bombs rim and then place evenly with the other side.

This will seal them together evenly. Do not add hot chocolate to the outside as it will just melt the bomb. If you have a hole then add cooled chocolate to the outside or re-melt the candy melts and try again.

Melt the white chocolate wafers and drizzle over the top of the green bomb. Add a heart to each bomb while the white chocolate is still wet so it sticks.

Serve in about 3 cups hot milk.
Nutrition Information:
Yield:

3
Serving Size:

1
Amount Per Serving:
Calories:

318
Total Fat:

9g
Saturated Fat:

5g
Trans Fat:

0g
Unsaturated Fat:

4g
Cholesterol:

2mg
Sodium:

115mg
Carbohydrates:

57g
Fiber:

2g
Sugar:

41g
Protein:

3g
For more on our nutrition disclaimer https://mooshujenne.com/nutrition-disclaimer/
Pin Grinch Hot Chocolate Bombs