This post may contain affiliate links. Please read my privacy policy.
German apple coffee cake is a light and delicious cake that's not too sweet. This coffee cake can be served with whipped topping, powdered sugar, and cinnamon. We love this apple coffee cake which is perfect for Fall.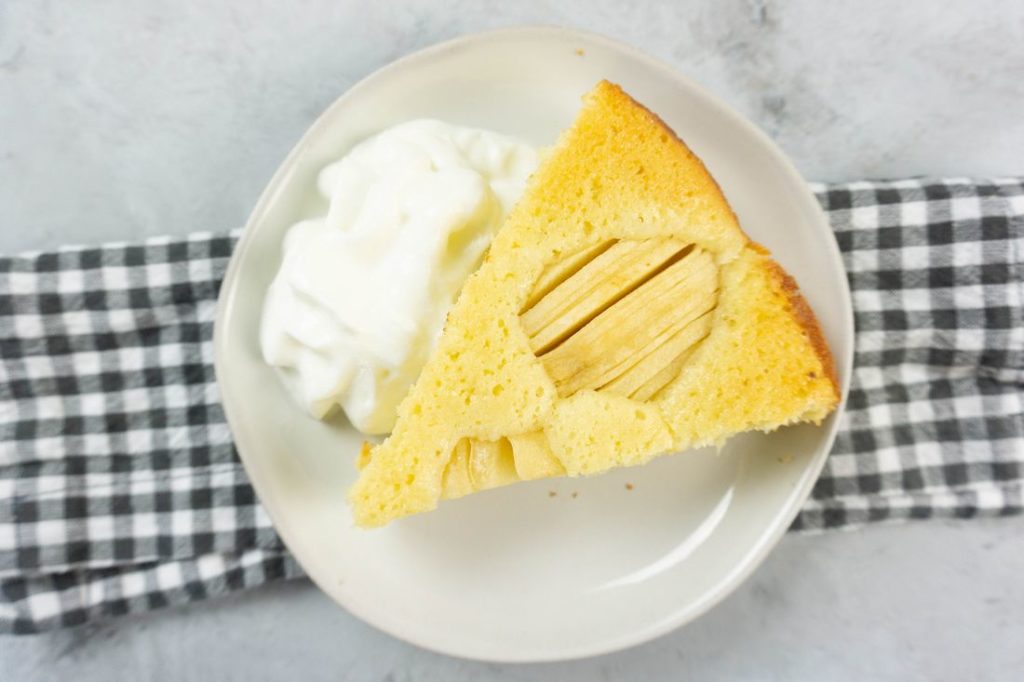 Serve it up as breakfast for guests or share it as a passing plate. This time of year it is great to make a nice coffee cake and pass it on to someone you care for or a neighbor. To me fall is all about sharing.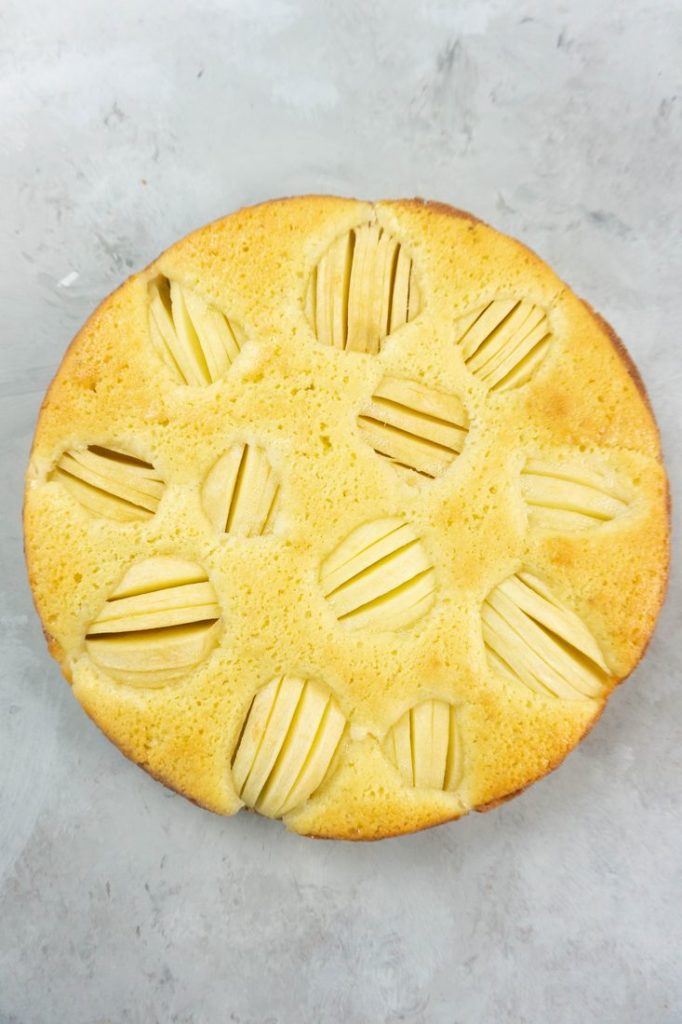 We shared our cake with my in laws. It's very similar to a Czech cake that they make with cherries. Looks like I might have to make that and share it here as well.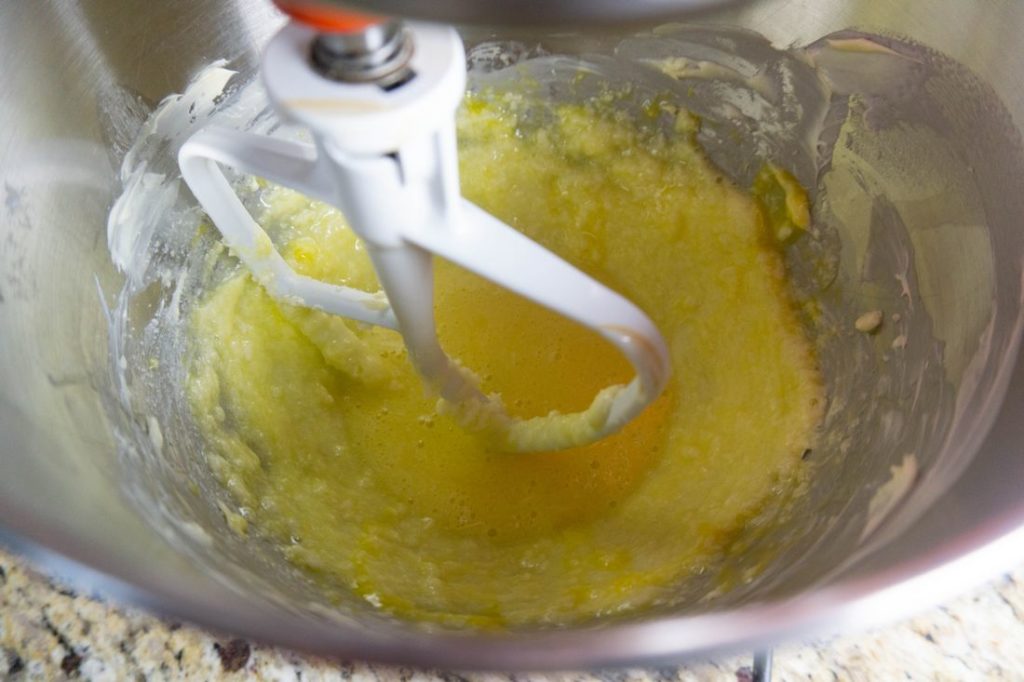 Topping the German Apple Coffee Cake
I love a good coffee cake. I serve it up with either a good coffee or some chai tea. This German apple coffee cake is very pretty when served. I like to add cinnamon and powdered sugar sifted over the top of the cake.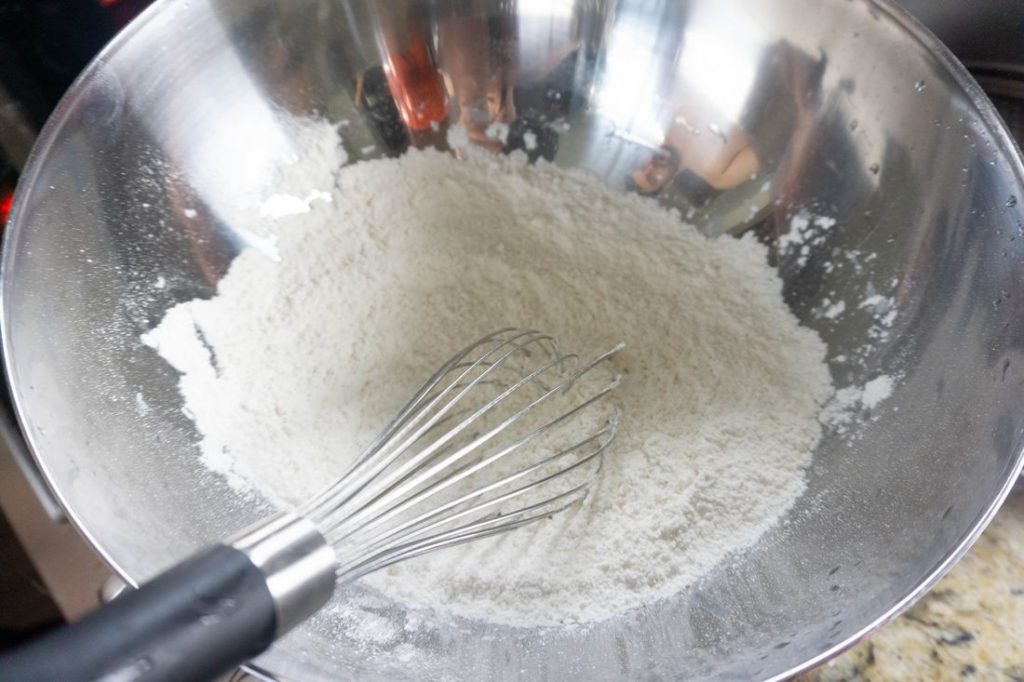 When making this apple cake be sure to mix the wet ingredients with wet ingredients and dry ingredients with dry ingredients. This is a key tip in how well the cake will come out.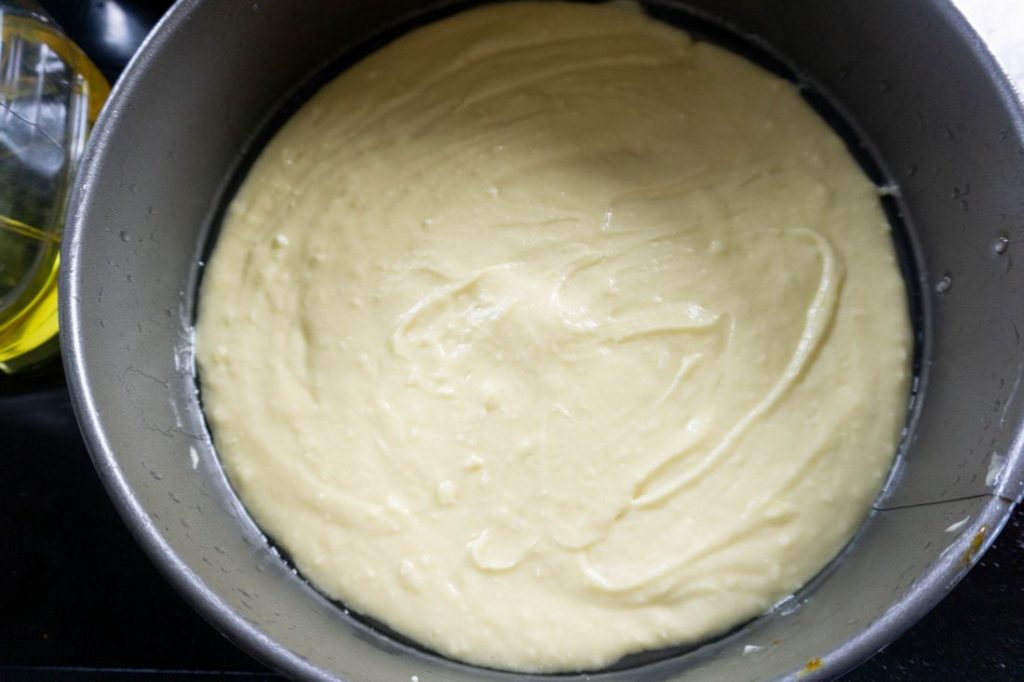 Slicing The Apples
When slicing the apples I don't cut all the way through the apple. I peel and quarter the apples. Then I slice them hasselback style but I do not cut all the way through to the bottom. The apples will separate some when baking the cake as you can see in the pictures.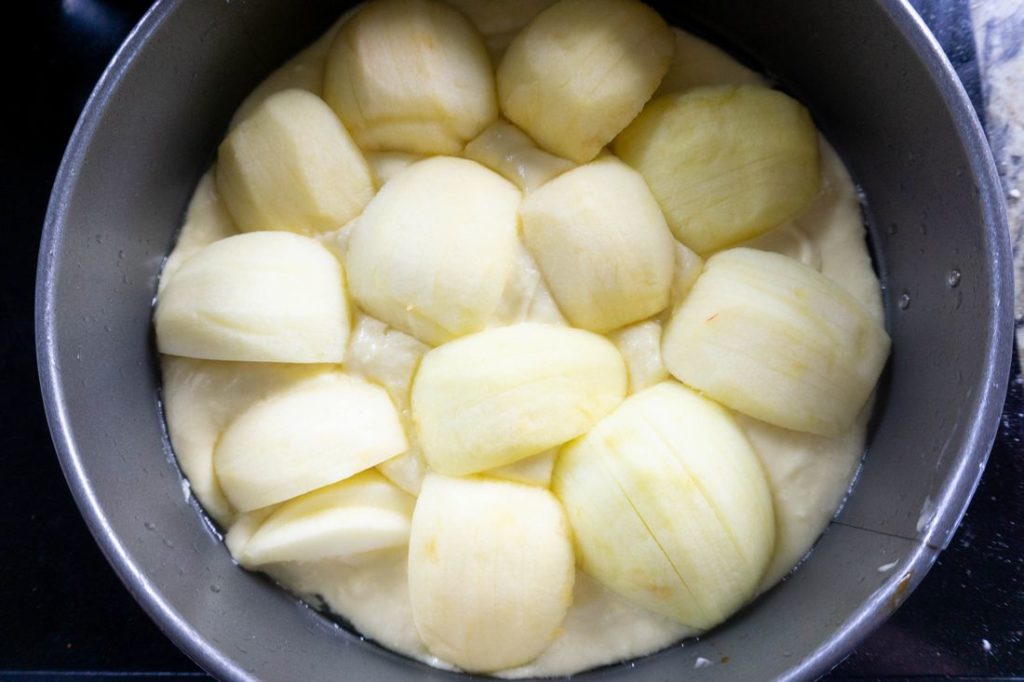 Using Other Fruits
Can I use other fruits? Yes, definitely. This recipe is very similar to one that my mother in law makes with cherries. Just slice the cherries in half and toss in a little flour. This keeps them from sinking into the dough. Rainier cherries would be amazing in this!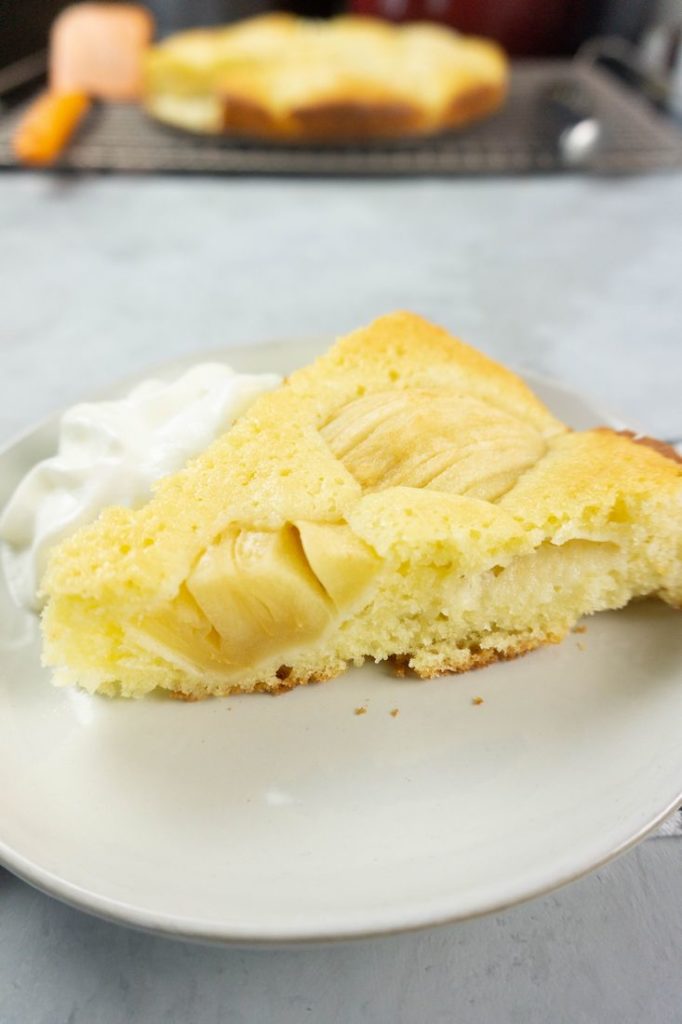 I just love a good cake in the morning. I do want to try and make this with gluten free one to one flour if anyone would be interested in this recipe let me know in the comments below. This is springform pan I use as well.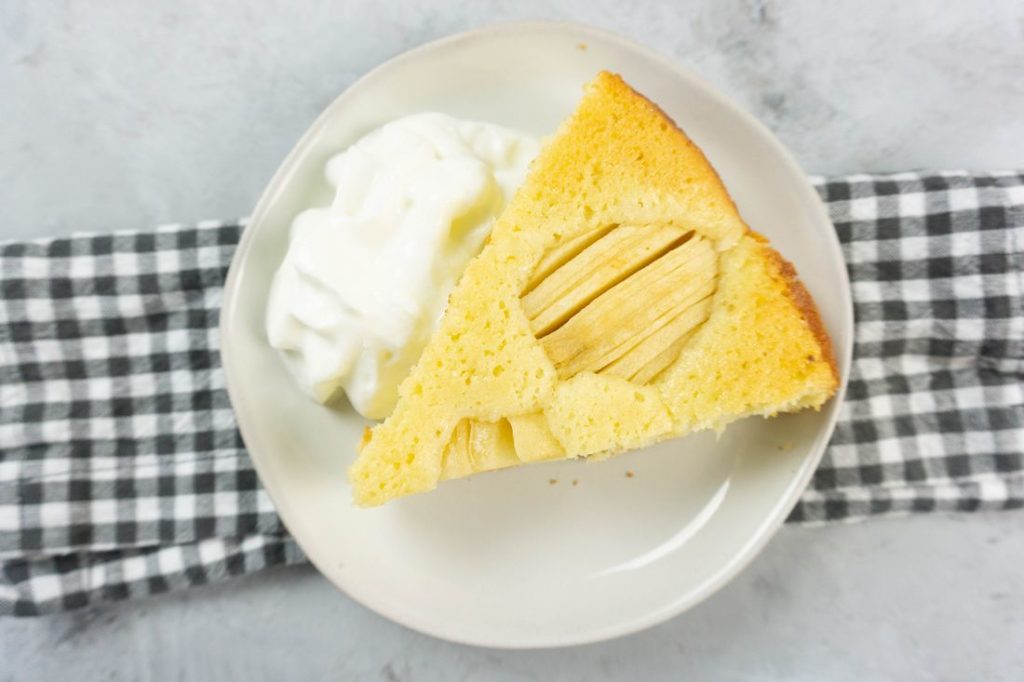 Serving this for breakfast with coffee or at night for a dessert after a nice dinner make this cake perfect for any setting. Check out a few other great desserts for breakfast and after dinner below.
Tasty Desserts: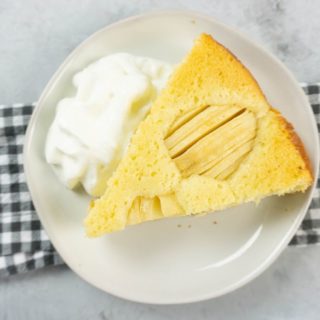 German Apple Coffee Cake
Lightly sweet apple coffee cake.
Ingredients
4

honey crisp apples; peeled and quartered

1/2

cup

unsalted butter room temperature

1/2

cup

granulated sugar

2

teaspoons

vanilla extract

2

teaspoons

fresh lemon juice

3

large eggs

1 1/2

cups

cake flour

2

teaspoons

baking powder

1/4

teaspoon

salt

2

tablespoon

milk

Optional For Topping:

Powdered sugar

Cinnamon

Whipped Topping
Instructions
Preheat oven to 350 degrees F. Grease the bottom of a 10 inch springform pan.


Peel, quarter, and remove the core of the apples. Slice thin lines into the tops of each apple without cutting through the apple. Do it hasselback style.


In the bowl of a stand mixer fitted with the paddle attachment, beat butter until creamy, about 1 minute. Add sugar and mix until light and fluffy, about 2 minutes.


Add eggs one at a time and beat for 30 seconds on high speed after each addition. Add vanilla extract and lemon juice. Beat until combined.


Combine cake flour, baking powder, and salt. With the mixer running on low speed add half of the flour, then 1 tablespoon milk, followed by the remaining flour, and then the remaining milk. Beat until just combined. Be careful not to over mix the dough as then it will not cook correctly.


Transfer batter into prepared pan and smooth the top with a spatula. Rap the pan on the counter to make the dough even out. Distribute the apples with the sliced side up on top of the batter around the edges and then in the center.


Bake in the lower third part of the oven for 40 to 45 minutes, until lightly browned and a skewer comes out clean.


Transfer to a cooling rack and remove the springform ring. Let cake cool on the bottom of the springform pan to room temperature.
Pin German Apple Coffee Cake