Cajun Blackened Shrimp Po' Boy
This post may contain affiliate links. Please read my privacy policy.
Cajun blackened shrimp po' boy is a quick dinner sandwich made on the Blackstone flat top. Baguette bread topped with blackened shrimp, lettuce, tomatoes, pickles with a remoulade sauce.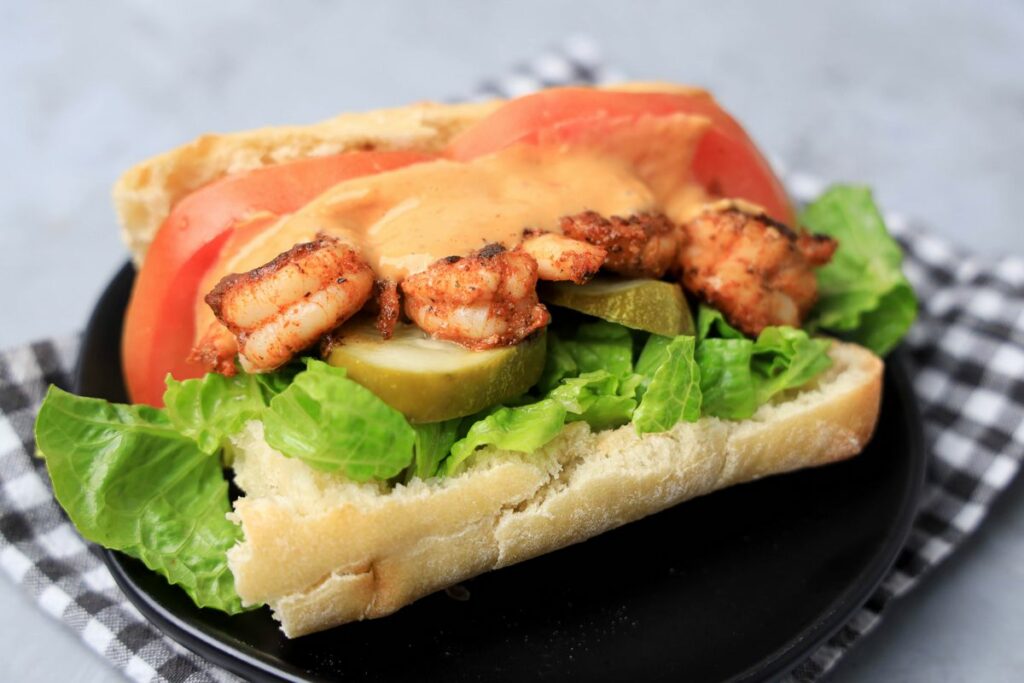 These blackened shrimp po' boy sandwiches are relatively easy to make. If you don't have a Blackstone or flat top grill, a regular grill or cast iron skillet can be used instead.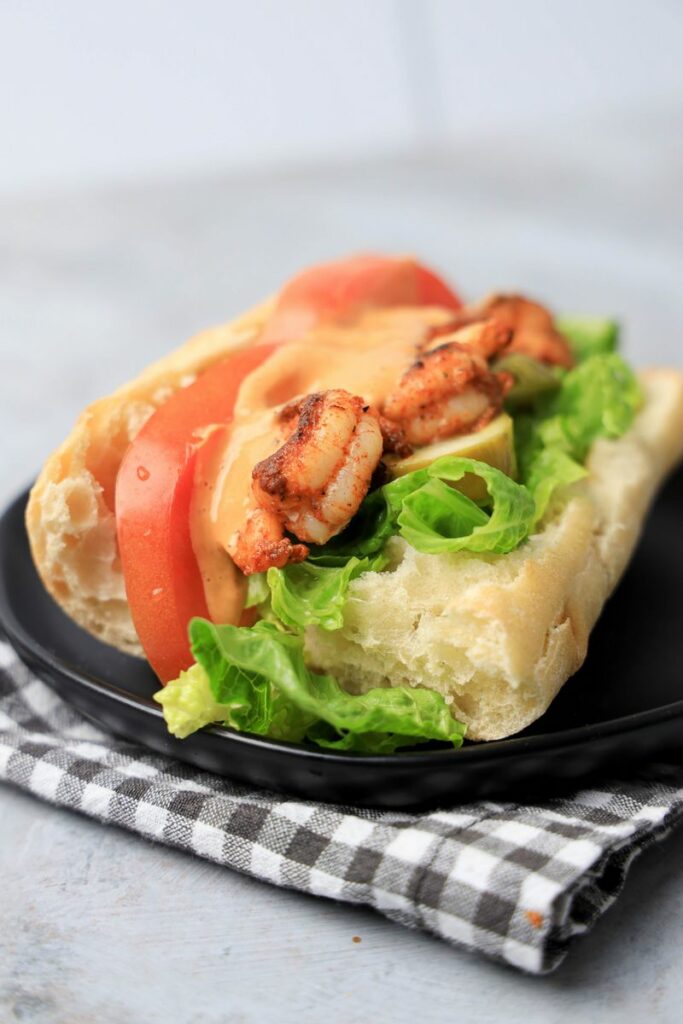 History Of The Po' Boy Sandwich
In 1929, the "poor boy" was created by the Martin brothers, who came up with the simple but hearty sandwich when the Amalgamated Association of Electric Street Railway Employees went on strike, sending over a thousand unionized streetcar drivers and motormen off the job and onto the picket line.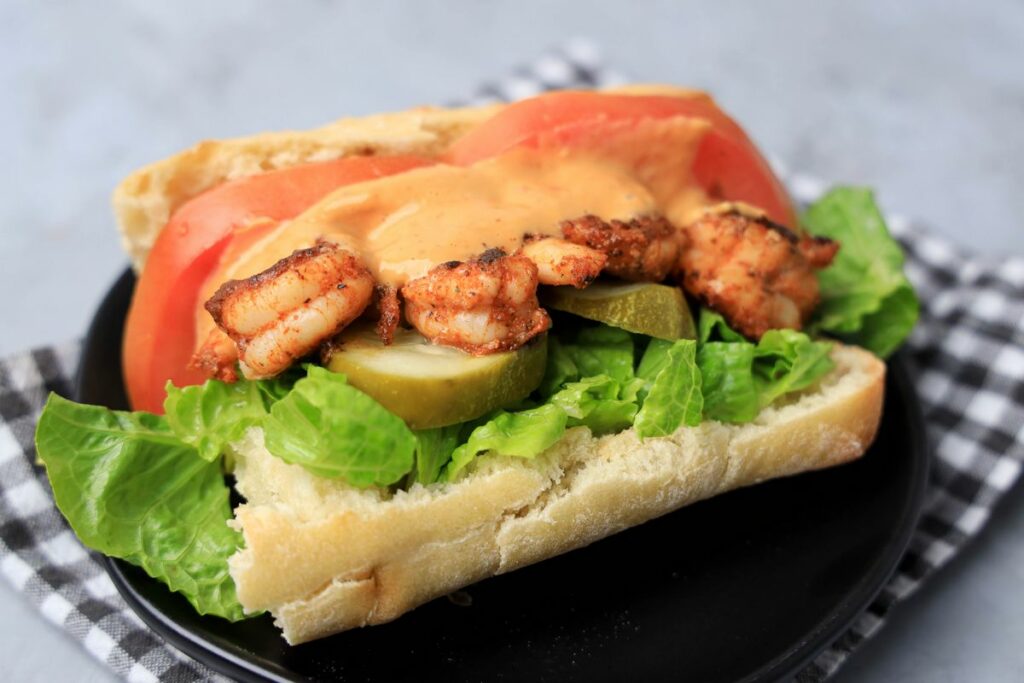 Gluten Free
This sandwich is easily gluten free if you use gluten free baguette bread. Several stores carry gluten free baguette bread. Remoulade sauce can also be made gluten free.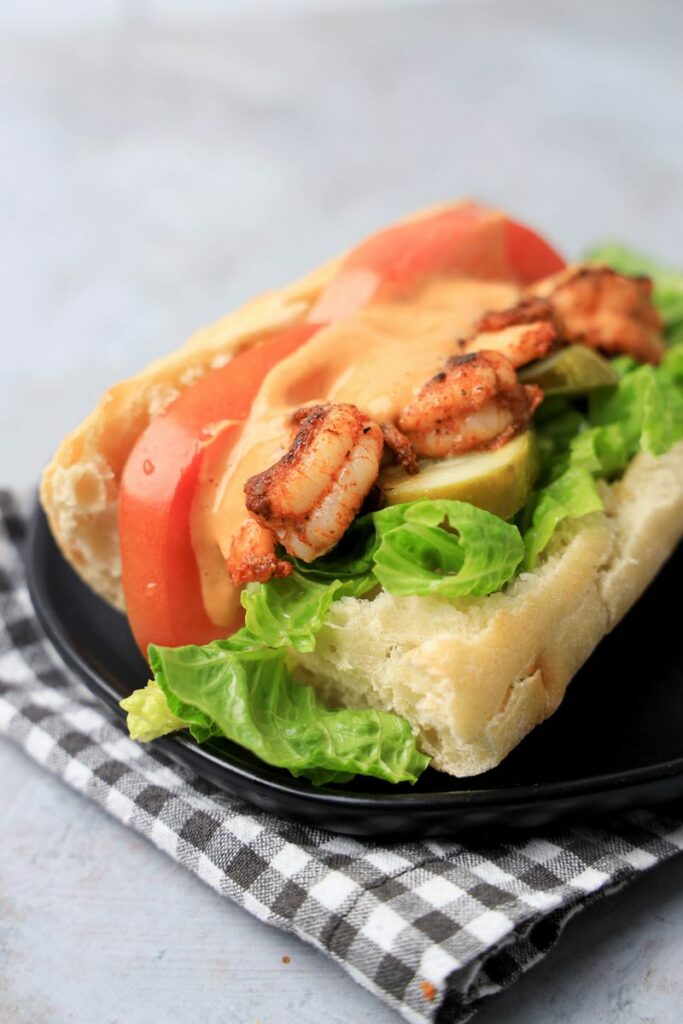 For this recipe we used the Blackstone flat top grill. You can make the shrimp on whatever cooktop you choose. It's perfect on a flat top that's why we use it.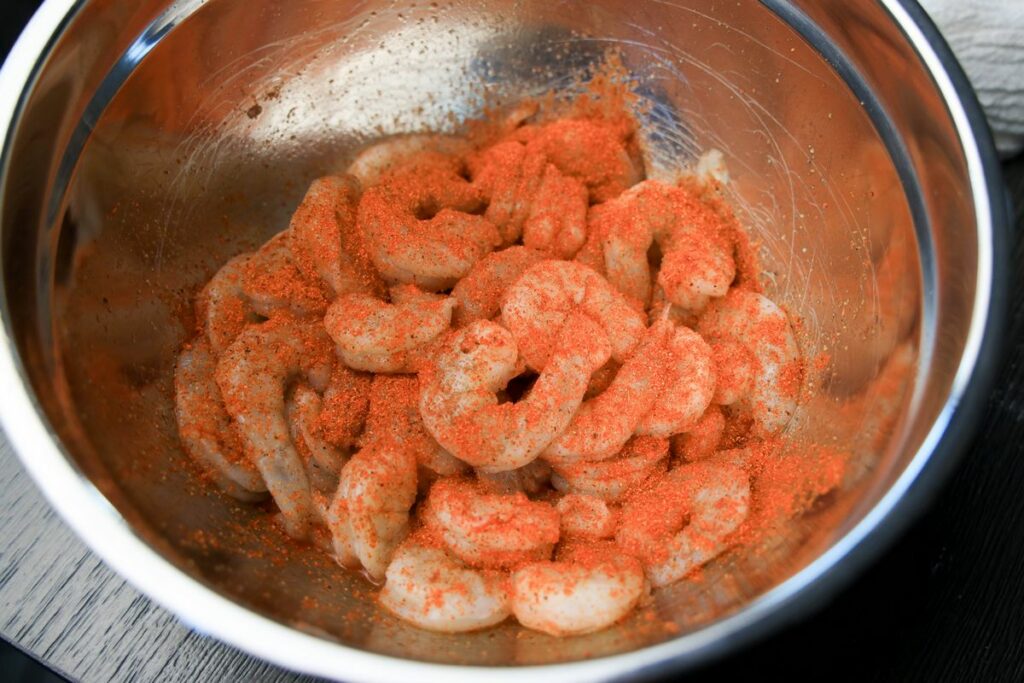 Wash the shrimp and make sure the shrimp are peeled and deveined. Toss them in blackened seasoning. While the grill is warming up it's time to slice the vegetables.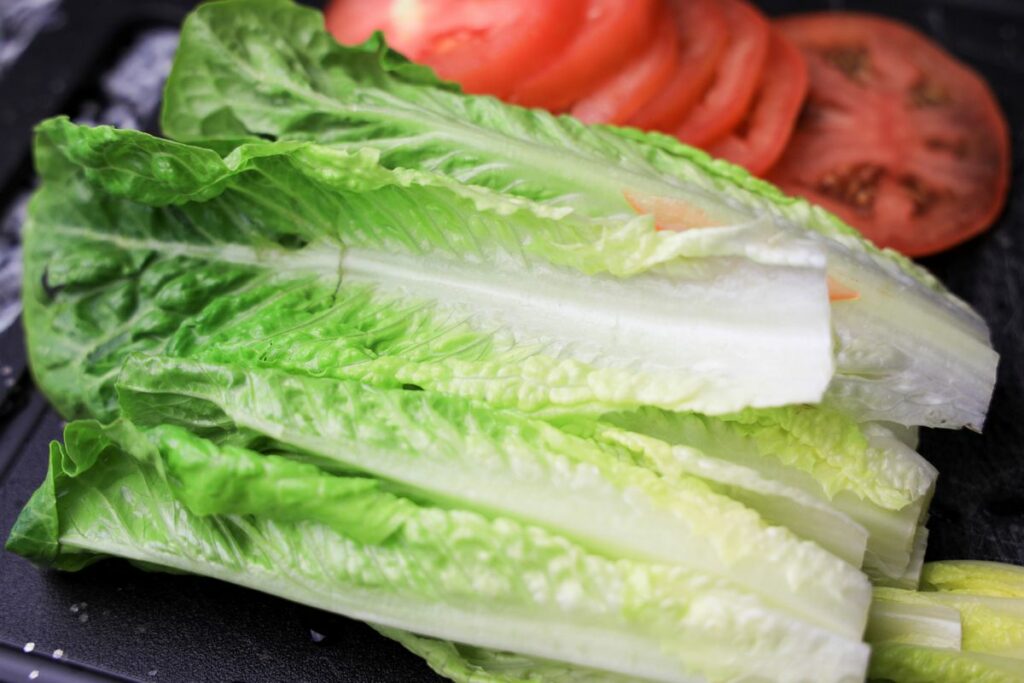 Wash and ready the romaine lettuce. We use it whole or it can be chopped as well. Thinly slice the hot house tomatoes. Set this aside as it's time to warm the bread.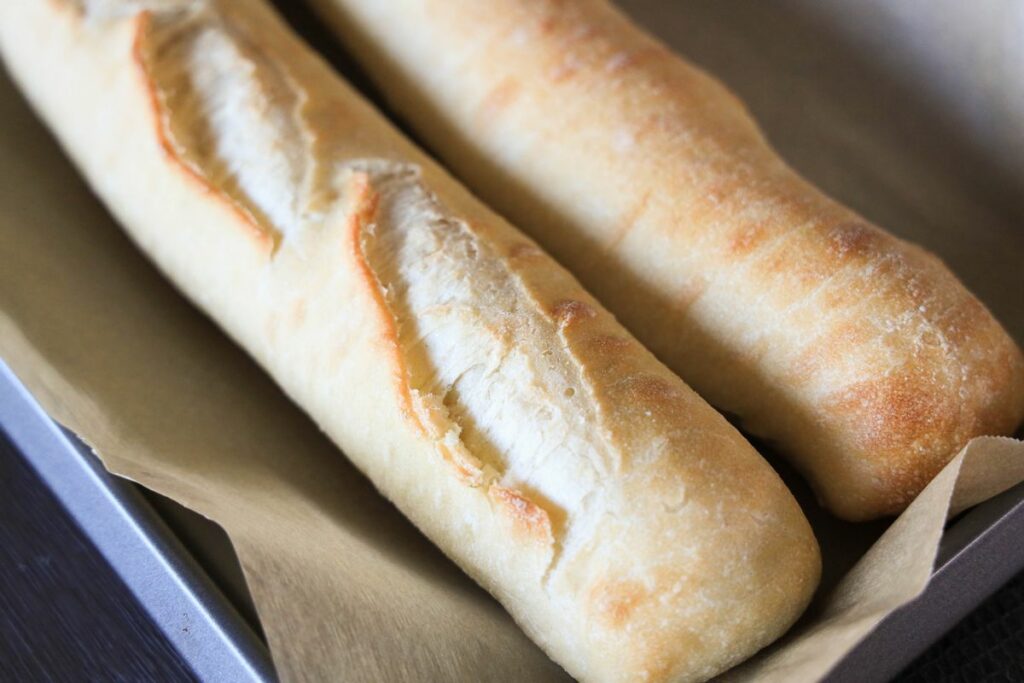 Warm the baguette bread as instructed on the side of the bag. I buy the baguette bread pre-cooked. So this mean you just need to brown it. Do this before cooking the shrimp.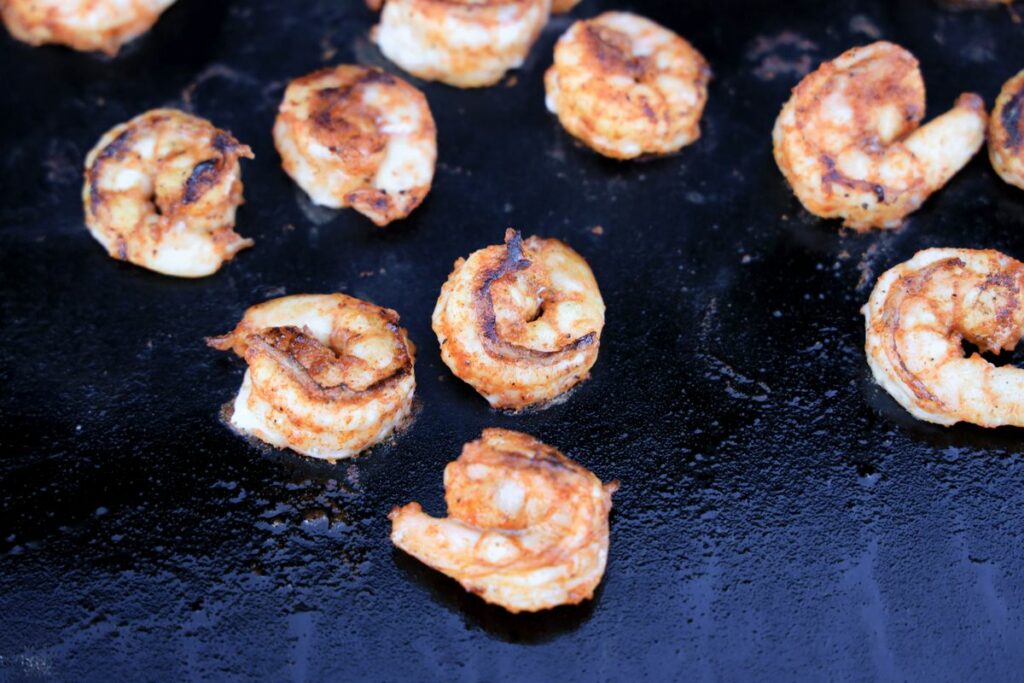 Place the shrimp on a medium heat flat top Blackstone grill and cook for 2 minutes each side. The shrimp will sizzle when they hit the flat top. Look for a nice blackened edge on them then remove from the grill.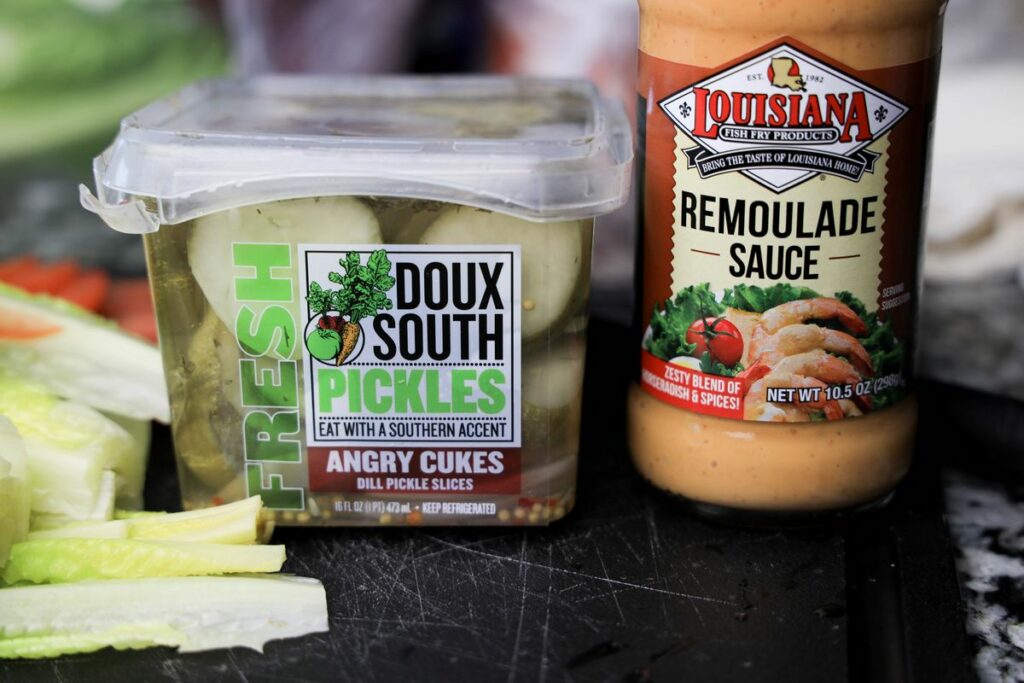 Slice the baguette bread then add lettuce, tomato, pickles, and shrimp. Top the shrimp with remoulade sauce. Cajun blackened shrimp po' boy sandwiches pair well with fries or fried okra.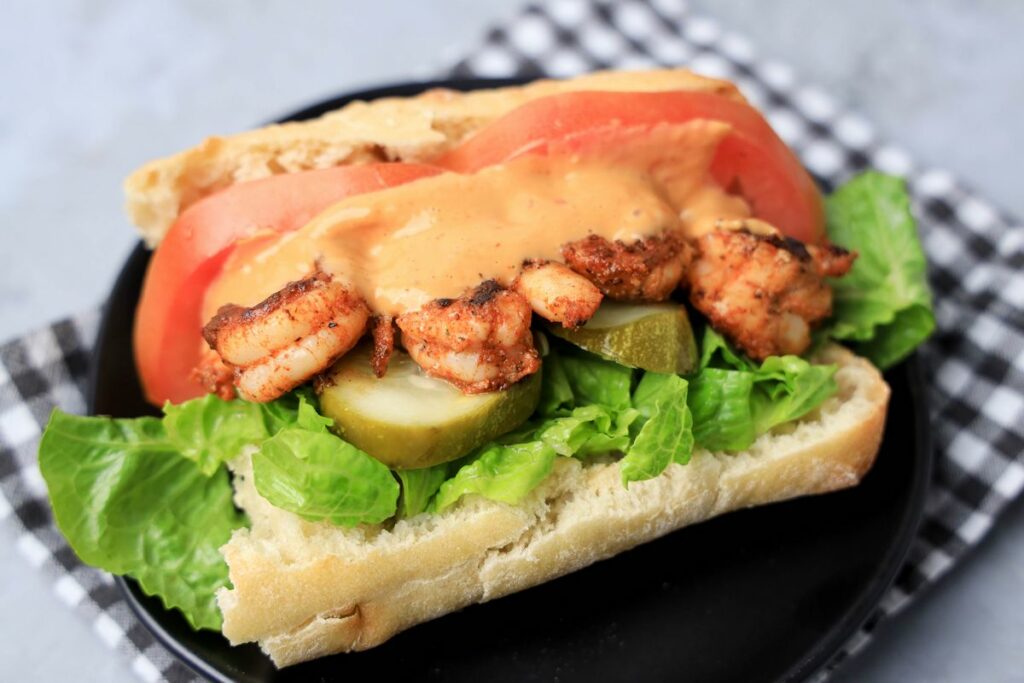 Cajun shrimp po' boys usually have fried shrimp. Sometimes it's nice to step away from fried foods. These sandwiches are easy and great to serve up for Mardi Gras Fat Tuesday.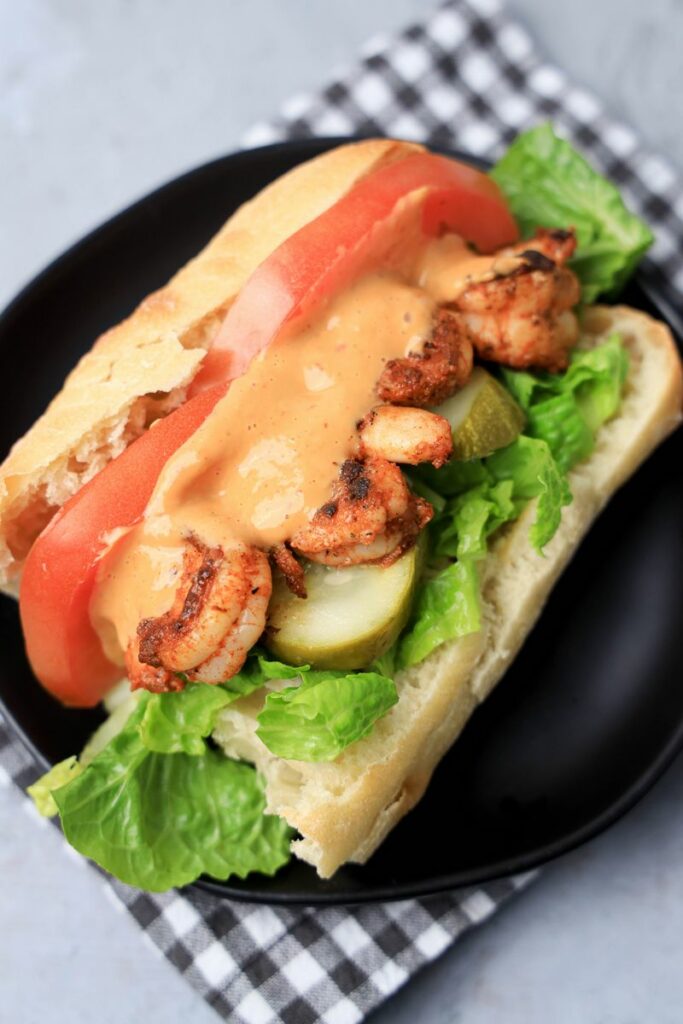 Lastly, this shrimp sandwich is great for those in Lent. Wonderful seafood sandwich that makes an easy weeknight meal as well.
Cajun Food Recipes: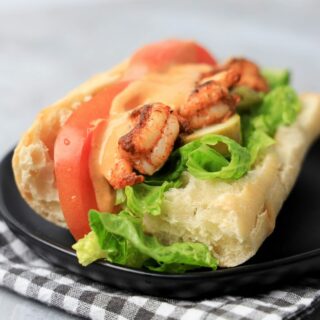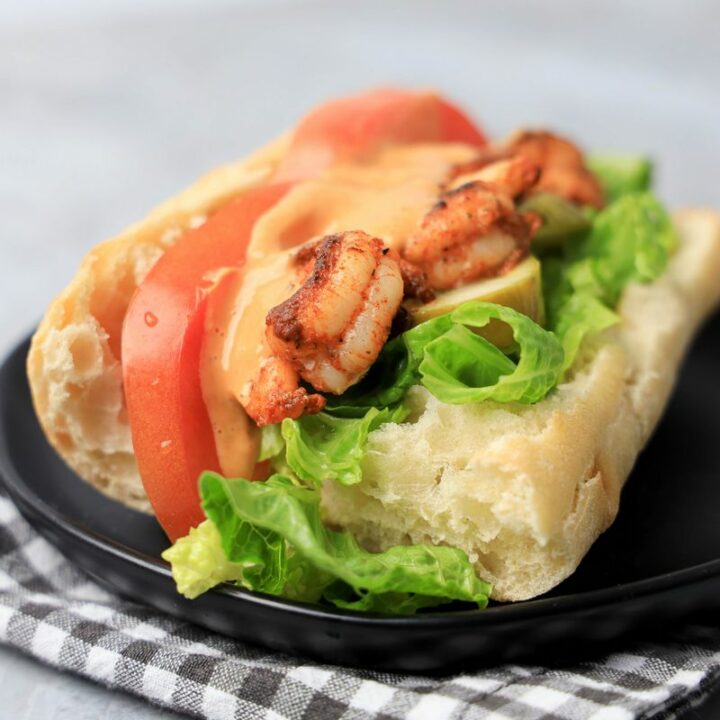 Cajun Blackened Shrimp Po' Boy
Baguette bread topped with lettuce, tomatoes, pickles, blackened shrimp, and remoulade sauce.
Ingredients
1

lb.

36/40 shrimp; peeled and deveined

2

tablespoons

blackened seasoning

1

hot house tomato; sliced

1

small bundle romaine lettuce; washed

12

doux south pickles angry chukes

2

tablespoon

remoulade sauce

2

loaves baguette bread; cut into sandwich hoagies

Olive oil – for flat top

Blackstone
Instructions
Warm baguette bread as directed on package.

Wash deveined and peeled shrimp. Strain and toss in two tablespoons blackened seasoning.

Slice tomatoes and wash and separate romaine lettuce. Set aside.

Heat flat top to medium heat and oil with olive oil. Once the grill is ready place the shrimp onto the blackstone or flat top. You will hear a sizzle this is how you know the grill is ready. Cook for 2 minutes each side until shrimp have a lightly blackened edge on them. Remove from grill.

Slice baguette and place lettuce, tomatoes, pickles, shrimp, and drizzle with remoulade sauce. Serve!
Pin Cajun Blackened Shrimp Po' Boy