This post may contain affiliate links. Please read my privacy policy.
Beignets are a lovely treat great for Fat Tuesday and during Mardi Gras season. As you may know the parades have started and Mardi Gras season is in full swing. We wanted to share with you how we make homemade beignets.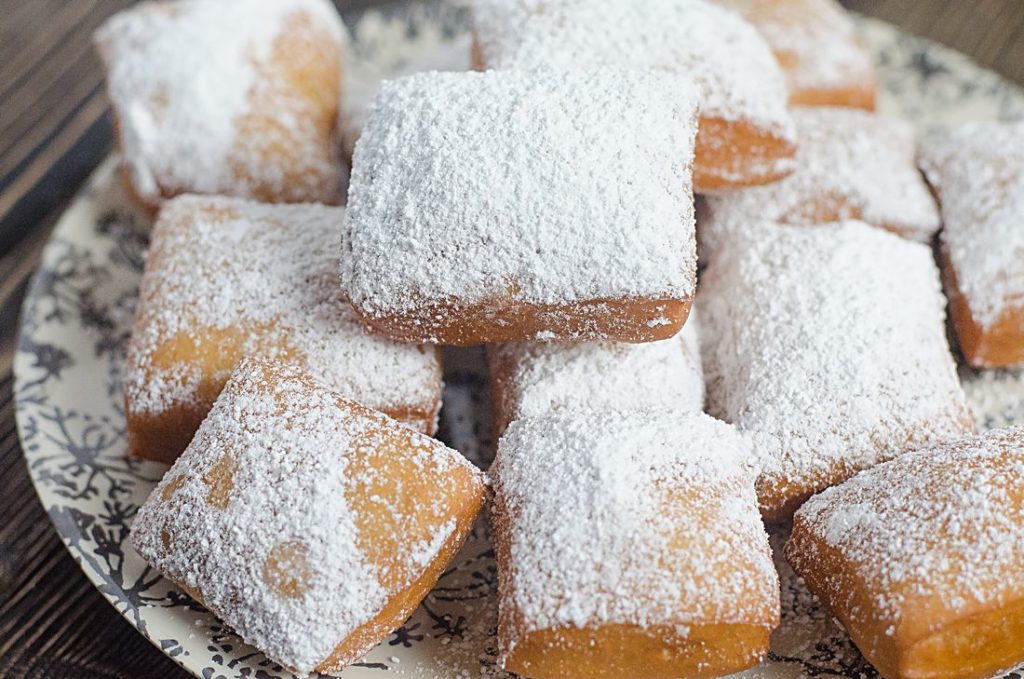 Covered in powdered sugar these are a nice dessert to pair with crawfish or crab boil. Beignets also pair nice after a big bowl of gumbo. If your having a Mardi Gras or Fat Tuesday party serve these up along side some Mardi Gras cupcakes.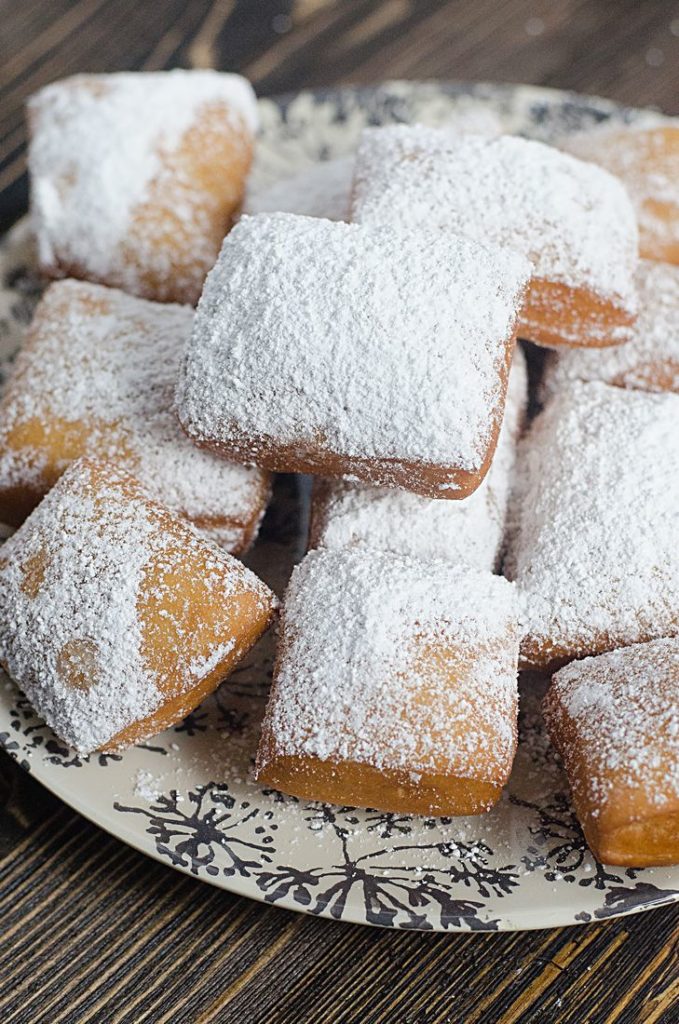 Sometimes we serve them up with raspberry sauce or some chocolate sauce. The raspberry is generally our favorite. Although, this is not something traditional done in the French Quarter.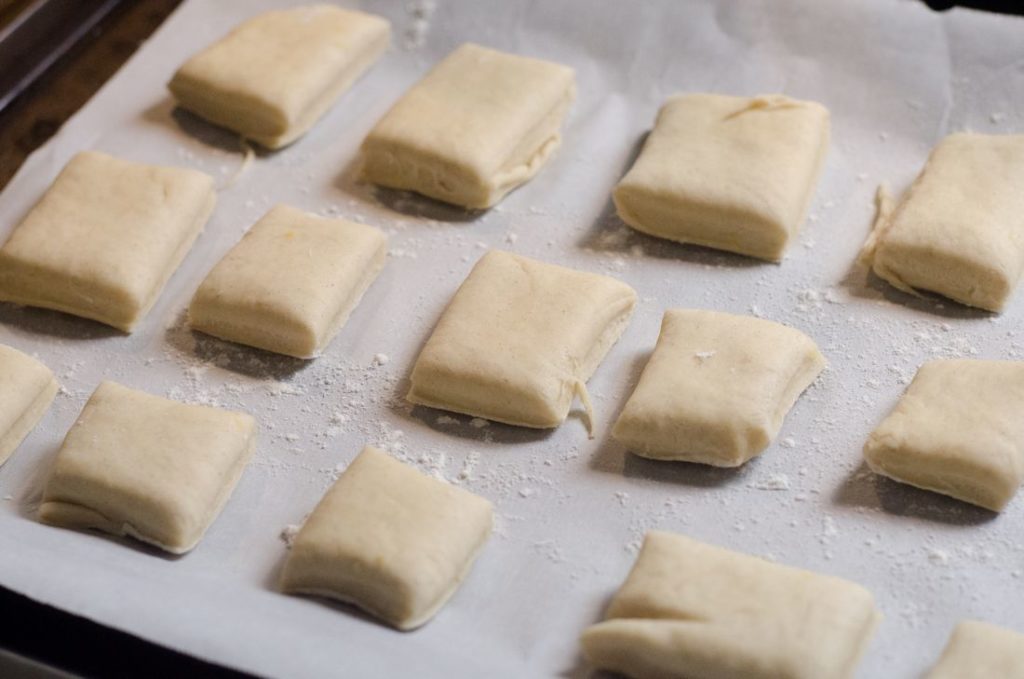 To get the right shape we used a pizza cutter to cut them into rectangles like you see above. However, a square cookie cutter can also be used to get easy shape. Beignets are a process and should be made on a weekend day when you have time to devote to it.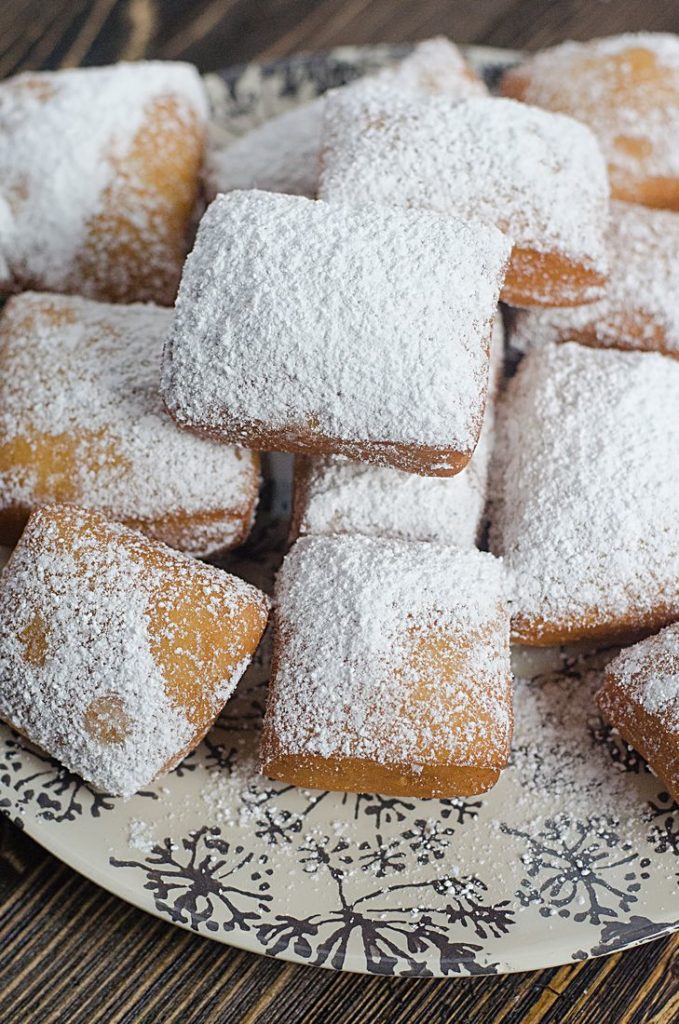 The Process:
The process takes about an hour rise time. Additionally the dough will be cut then set to rise again. That process is about another 30 minutes. Once the dough has risen again then they can be fried. Let cool and coat with powdered sugar.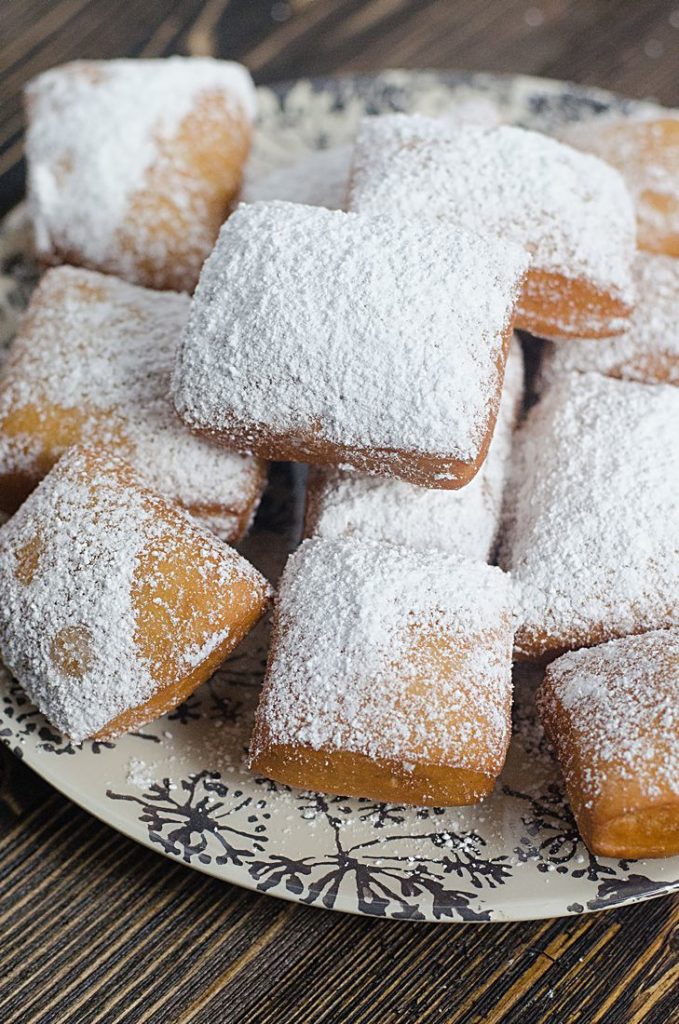 We hope you enjoy making these with your family. Join in the fun of Mardi Gras and Fat Tuesday! Working with yeast isn't always easy. My suggestion here is to also get a deep fry thermometer when making these. It's a must have to keep the oil temperature correct.
Beignets
Beignets are a nice doughy dessert topped with powdered sugar after being fried.
Ingredients
1 1/4-

ounce

envelope active dry yeast

3/4

cup

warm water

1/4

cup

granulated sugar

3/4

teaspoon

salt

1

teaspoon

finely grated lemon zest

1/2

teaspoon

freshly grated cinnamon

1

large egg

1/2

cup

whole milk

3 1/2

cups

all-purpose flour

divided

2

tablespoons

unsalted butter

softened

2

quarts

vegetable oil

1

tablespoon

olive oil

powdered sugar; for dusting
Instructions
Mix the yeast, water, and sugar in a mixer bowl fitted with a dough hook. Let stand until foamy, about 5 minutes. Add the salt, lemon zest, cinnamon, egg, milk, and 1 1/2 cups flour; mix on medium speed until combined. Add the butter; mix until incorporated. Add 1 3/4 cups flour, and mix until the dough comes together. Turn the dough onto a lightly floured surface. Knead in the remaining 1/4 cup flour by hand until the dough is smooth, about 5 minutes.

Place the dough in a lightly olive oiled bowl, cover loosely with plastic wrap, and let stand in a warm, draft-free spot until doubled in size, about one hour. Remove the dough from the bowl. Roll out the dough on a lightly floured surface to 1/2-inch thickness. Cut out with a pizza cutter rectangles. Place on parchment lined baking sheet. Let rise in a warm, draft-free spot for 30 minutes.

Heat the oil in a medium pot or deep fryer until it registers 350ºF on a deep-fry thermometer between a 2 and a 3 on the dial. Fry the beignets in batches, rolling them around constantly with a slotted spoon, until golden brown all over, 1 to 2 minutes. Transfer the beignets with the slotted spoon to a cooling rack that's set over a baking pan and dust with powdered sugar.
Pin Me: