Slow Cooker Spinach Artichoke Dip
This post may contain affiliate links. Please read my privacy policy.
Slow cooker spinach artichoke dip is a creamy, delicious dip for a simple appetizer. Serve up spinach artichoke dip for game day, family gatherings, or movie night. Made with fresh spinach, parmesan, and artichokes.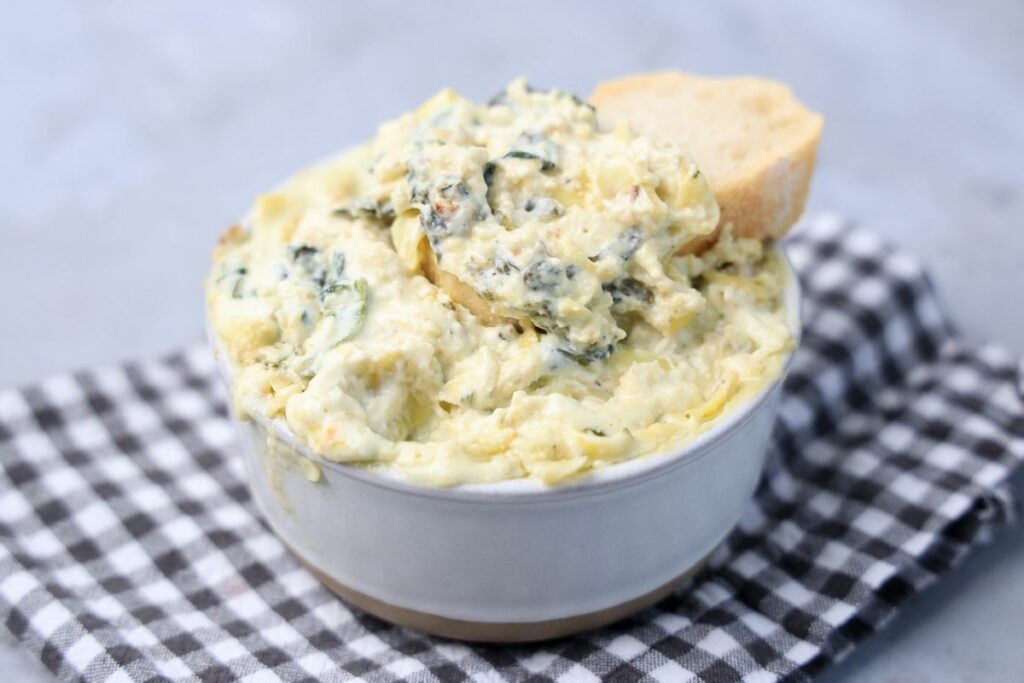 You'll love this dip with all the creamy and cheesy goodness. Made with mayo, sour cream, mozzarella cheese, and parmesan cheese. Fresh spinach is used in this dip.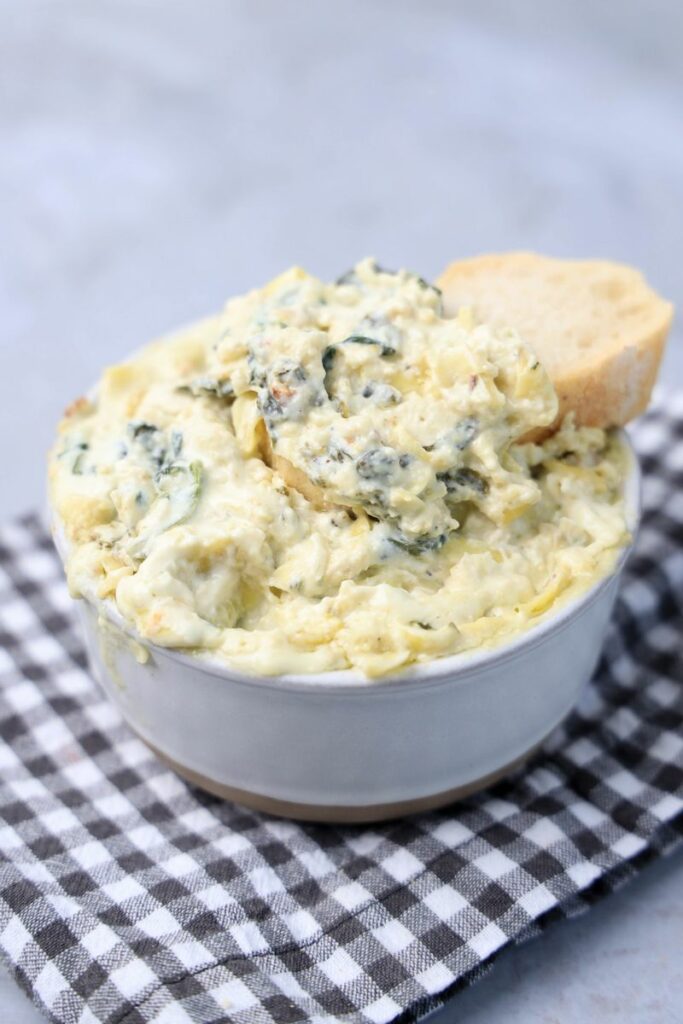 Gluten Free
This dip is ultimately gluten free. Replace regular baguette bread with gluten free baguette bread. Gluten free corn chips can be used to serve with the dip.
Chop a bundle of fresh spinach and place it into the slow cooker or crockpot. If using frozen spinach make sure to defrost and press out all the water. Fresh spinach is much easier to use.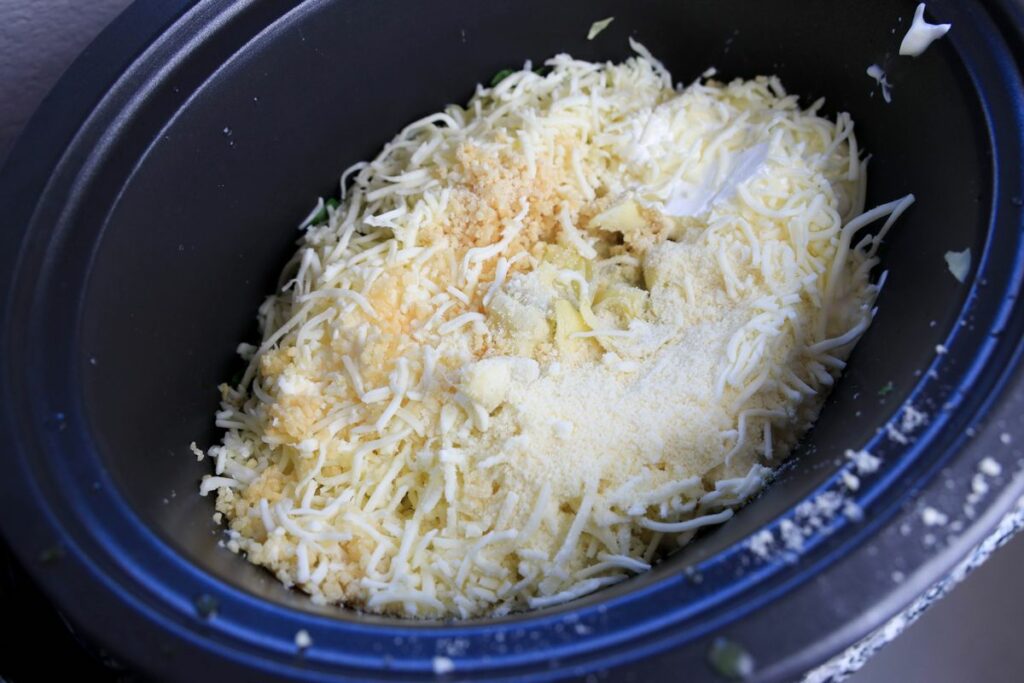 Top the spinach with artichokes, mozzarella cheese, parmesan cheese, mayo, and sour cream. Add in garlic, salt, and pepper. Toss well.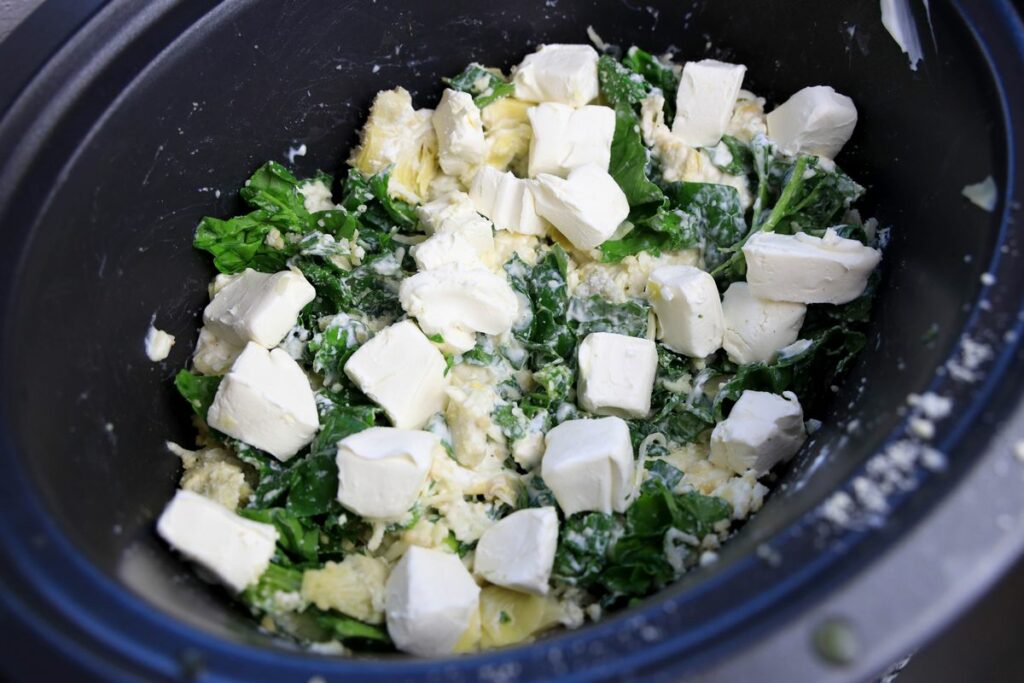 Cut the cream cheese into chunks and place on top. Set the slow cooker or crockpot to high setting. Be sure to stir every 15 minutes. This allows the cream cheese to melt and the dip not to burn to the sides.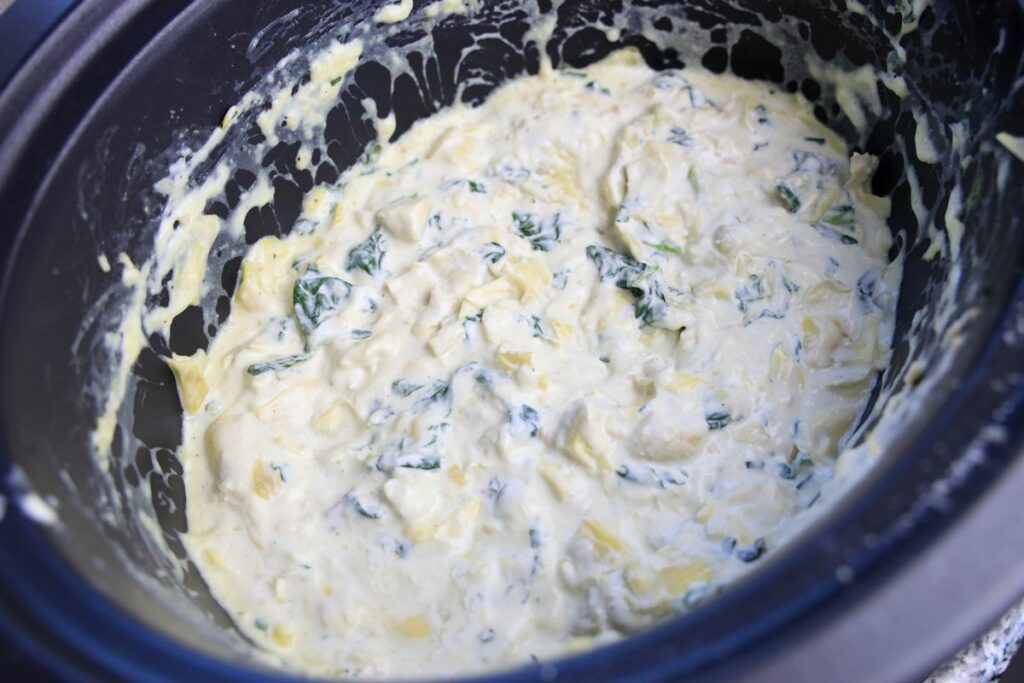 Stir often until the spinach looks cooked. Basically heat until all the cheeses are melted. Make sure to turn the pot off as this dip will burn on keep warm. Crockpots have different temperature, some pots get hotter than others.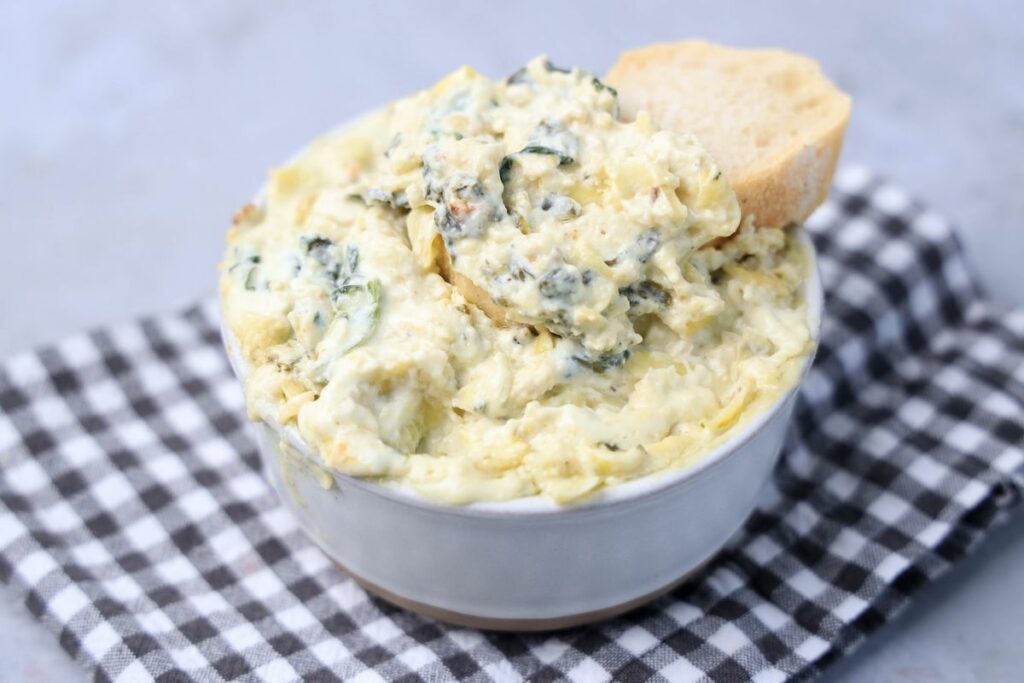 Reheat Spinach Artichoke Dip
Reheat it by turning the slow cooker on keep warm setting. If needed most certainly the spinach artichoke dip will reheat in the microwave.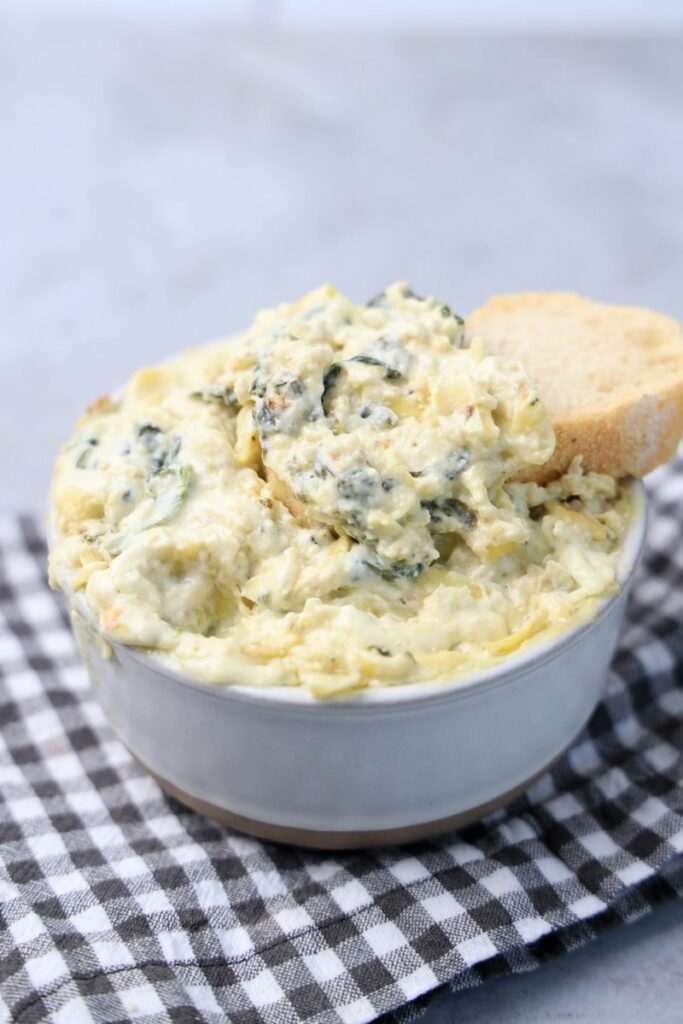 Slow cooker dips are just fantastic for parties or football games. This spinach dip is one of my all time favorites to serve up along side charcuterie boards.
Game Day Dips: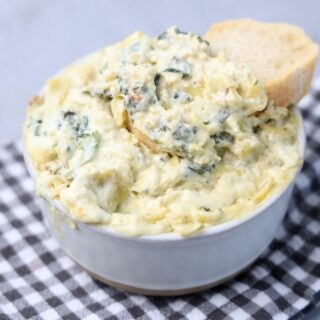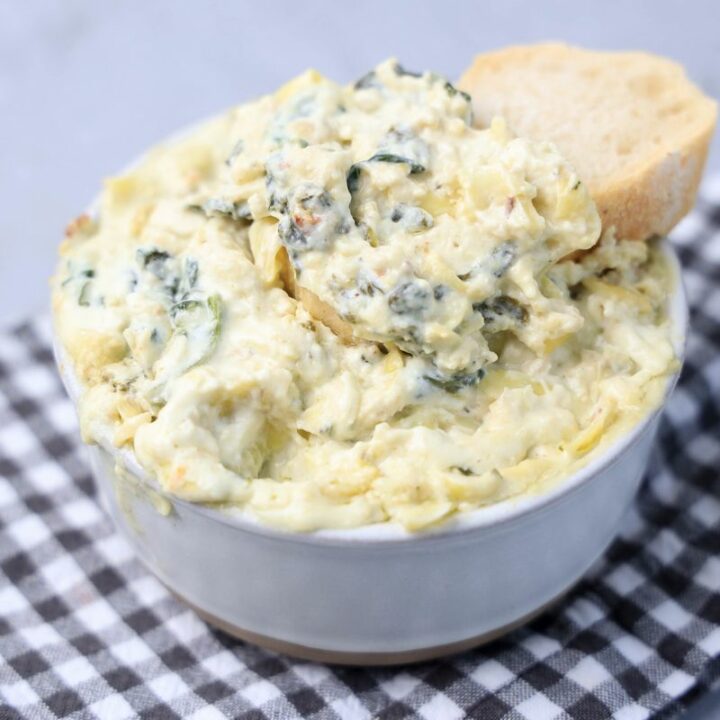 Slow Cooker Spinach Artichoke Dip
Cheesy, spinach artichoke dip with garlic, mayo, and sour cream.
Ingredients
1

bundle fresh spinach; chopped

2 – 14

oz.

cans artichoke hearts; chopped and drained

1

cup

sour cream

1/2

cup

mayo

3

tablespoons

minced garlic

1

cup

parmesan cheese

2

cups

shredded mozzarella cheese

8

oz.

cream cheese; diced

1/4

teaspoon

salt

1/4

teaspoon

pepper

sourdough or baguette bread for serving
Instructions
Chop spinach and place into the slow cooker. Add in two cans chopped and drained artichoke hearts. Stir.

Add in one cup sour cream, half cup mayo, and three tablespoon minced garlic. Stir well.

Add in one cup parmesan cheese and two cups mozzarella cheese. Stir well.

Cut cream cheese into cubes and place along the top of the mixture. Add in salt and pepper.

Place the lid on the slow cooker and set to the high setting. Once the pot has warmed up come back and stir. Do this every 15 minutes until the cheese is melted and the spinach is merried into the dip. Serve with baguette bread, sourdough bread, or tortilla chips.

Turn off pot. Keep warm setting is too hot and will burn this to the sides of the pot.
Pin Slow Cooker Spinach Artichoke