This post may contain affiliate links. Please read my privacy policy.
Baja chicken soup is a great weeknight soup. Fairly easy to make with plenty of flavor from the spices and fire roasted tomatoes.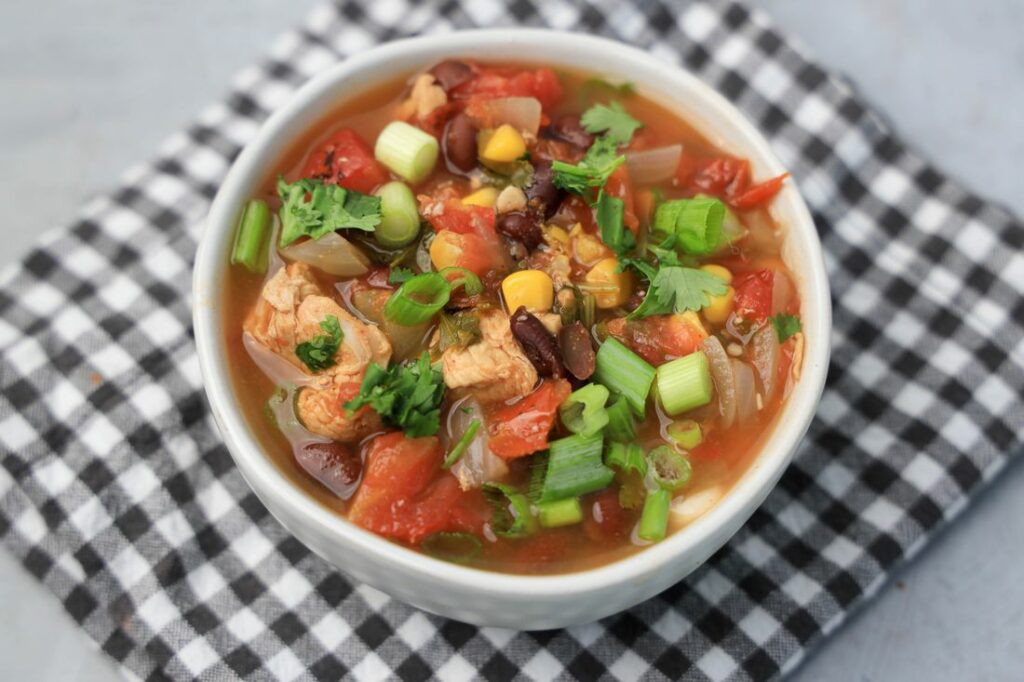 This chicken soup is full of flavor from the cumin, paprika, cayenne pepper, and garlic. A splash of lime just for spunk. I really love this soup on a rainy day.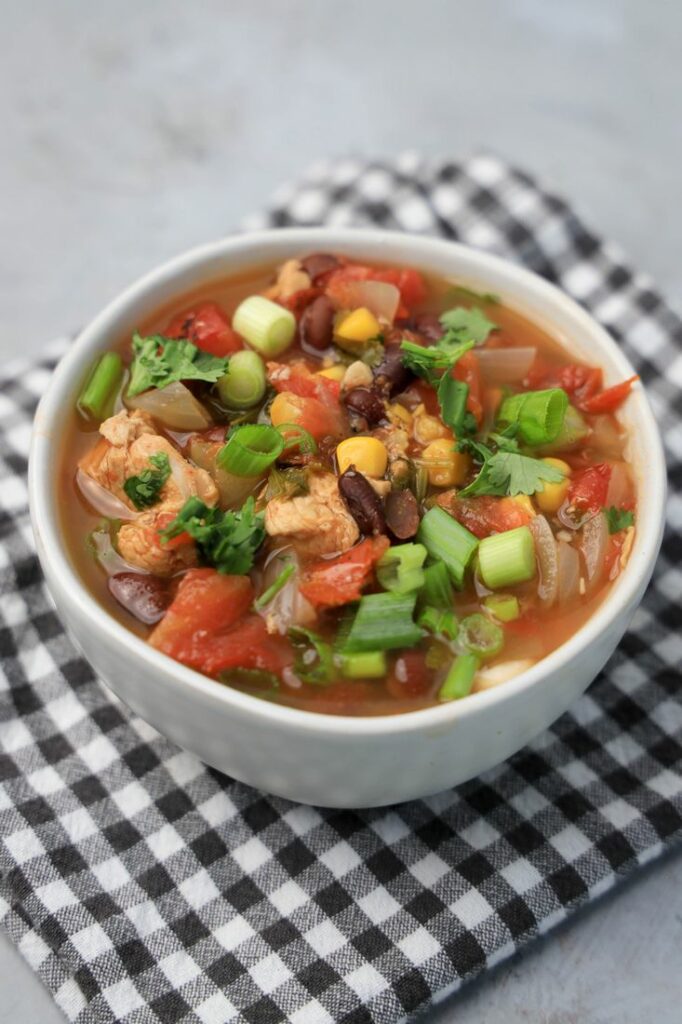 Firstly, sauté the chicken with garlic and onion in a stock pot. Just need to brown the chicken on the outside. The chicken will cook the rest of the way in the 10 minutes simmer time.
Secondly, once the chicken is browned add the cayenne, paprika, and cumin. Stir well as it will create a paste around the chicken. This really allows the spices to adhere to the chicken.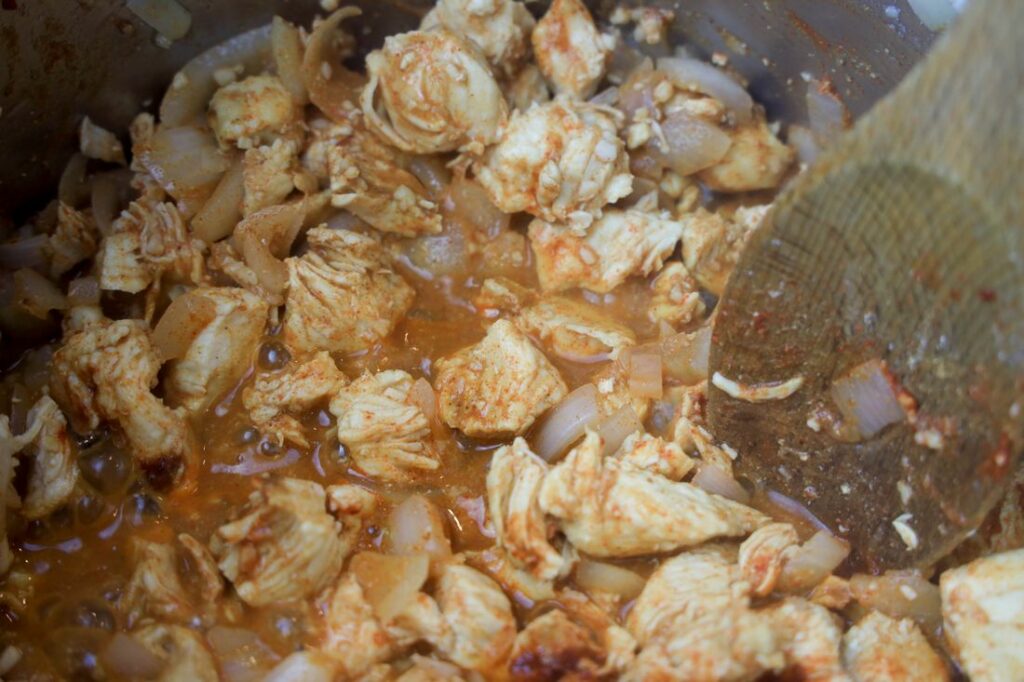 Thirdly, add in the fire roasted tomatoes, corn, and black beans. Regular canned tomatoes can be used but the fire roasted really adds flavor. Feel free to use any bean that you prefer.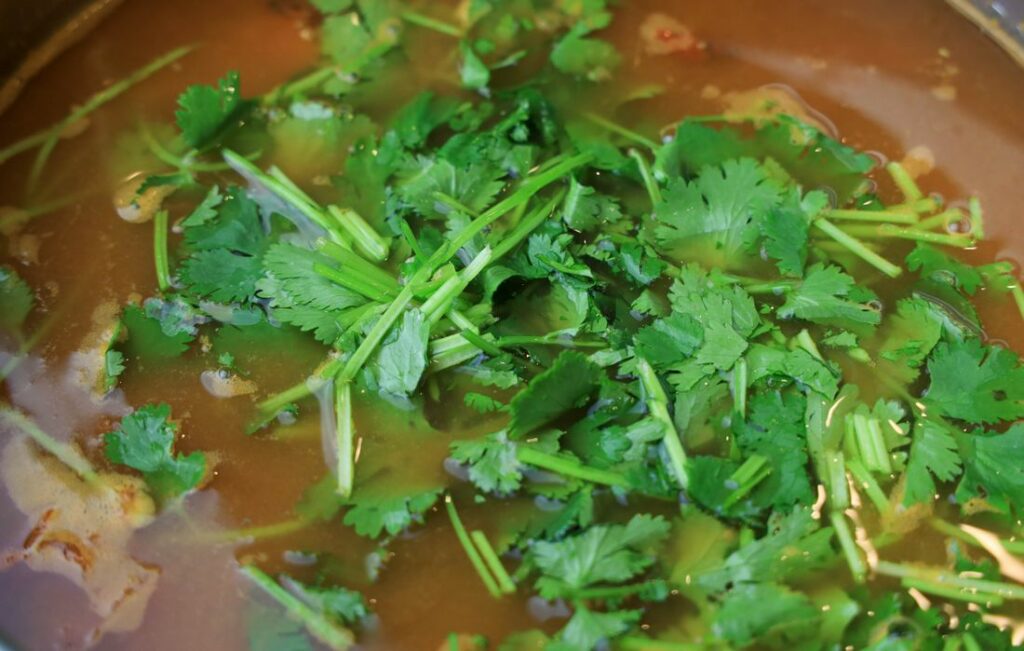 Lastly, pour in chicken broth and water. Add extra water if there is not enough broth to the soup. Top with cilantro and bring to simmer for 10 minutes. The chicken will fully cook in this time frame.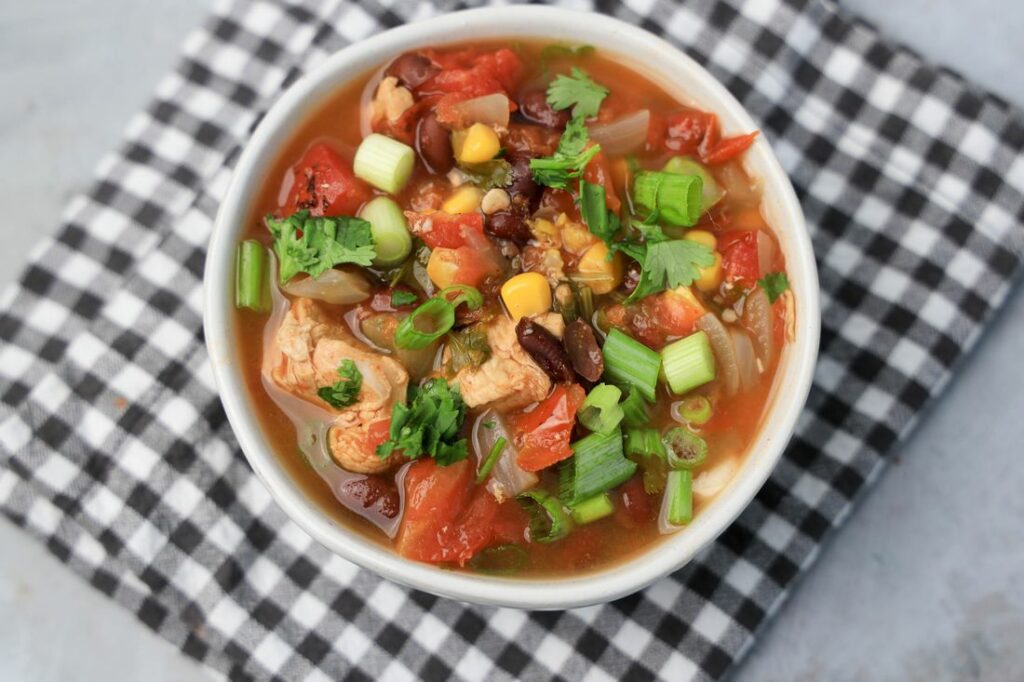 Once the chicken soup is done simmering. Salt and pepper to taste. Serve in a bowl topped with spring onions and fresh chopped cilantro. Other toppings like cotija cheese, avocado, or sour cream go great as well.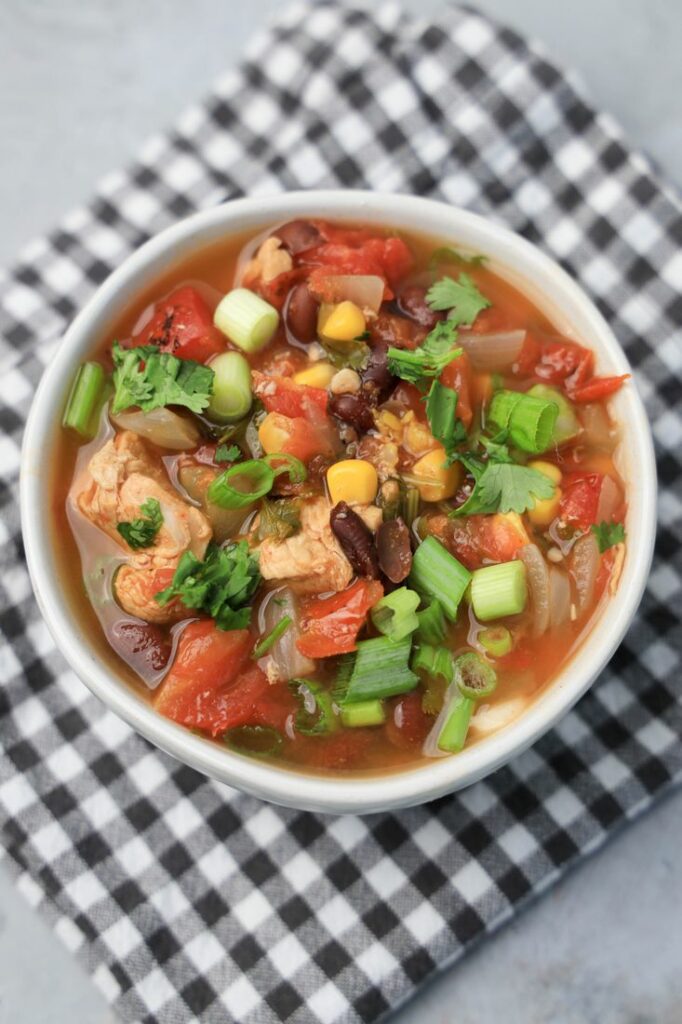 Soups are great for raining days. I love to make this one to warm the soul. Allergy friendly soup that is gluten free and dairy free. Check out a few more fantastic soups in the list below.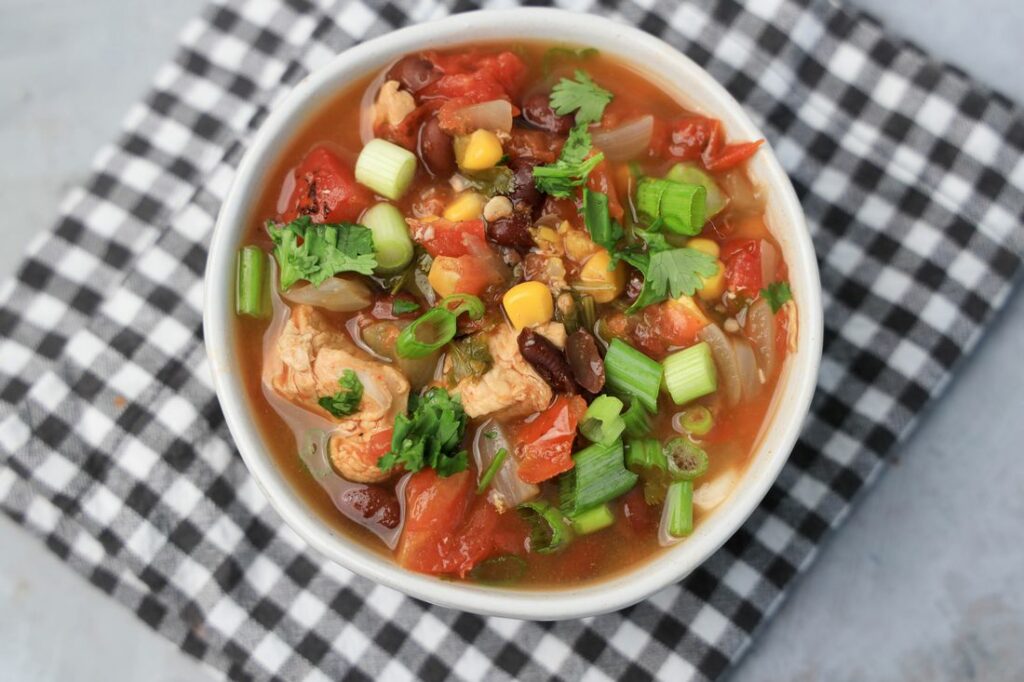 Make this chicken tomato style soup in the instant pot. I love making this in the instant pot as well to be able to keep warm.
Soup Recipes: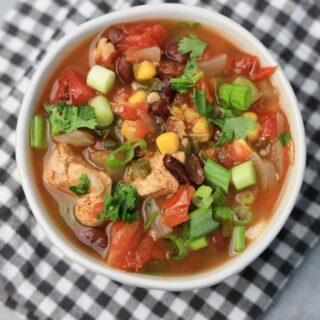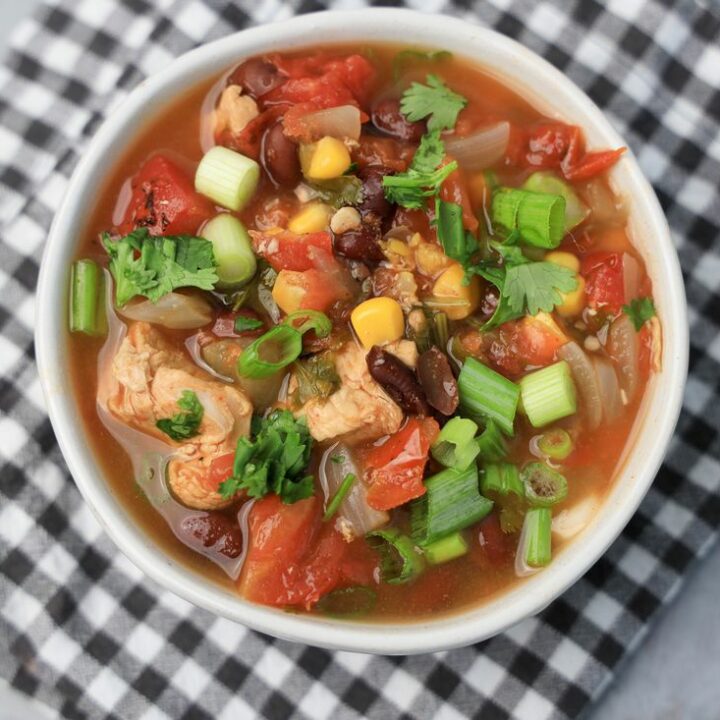 Baja Chicken Soup
A chicken soup with a spicy base with chicken, corn, black beans, and tomatoes. Topped with avocado and spring onions.
Ingredients
2

large boneless

skinless chicken breast; diced

1

small white onion; diced

3

cloves

of garlic; minced

1

tablespoon

olive oil

1

tablespoon

cumin

1

tablespoon

paprika

1

teaspoon

cayenne pepper

1

can black beans; drained

3

cans fire roasted tomatoes

1

can whole sweet corn; drained

48

oz.

chicken stock

1/2

lime; juiced

1

bundle of cilantro; chopped

2

spring onions; sliced

1/4

teaspoon

salt

1/4

teaspoon

pepper

2

cups

water
Instructions
In a large pot, add in garlic and white onion with one tablespoon olive oil and cook over medium high heat. Sauté for about 3 minutes. Add in chicken and cook till chicken is browned. Add in cumin, paprika, and cayenne pepper. Stir well.

Add in corn, black beans, and fire roasted tomatoes. Stir well combining all ingredients. Pour in chicken broth. Add 2 cups water (more water if you need more broth). Add in cilantro but reserve some for garnish. Pour in juice of half a lime. Bring to a boil and simmer for 10 minutes. Add in salt and pepper and stir.

Serve topped with fresh chopped cilantro and spring onions.
Notes
You may use rotisserie chicken in the place of baked chicken to shorten time.
Pin Baja Chicken Soup: