Strawberry Shortcake Bark
This post may contain affiliate links. Please read my privacy policy.
Valentine's Day is around the corner and who doesn't love a good bark for a gift. Strawberry shortcake bark is easy to make with dried strawberries and shortbread. Sweet and tart gift this bark to your sweetheart.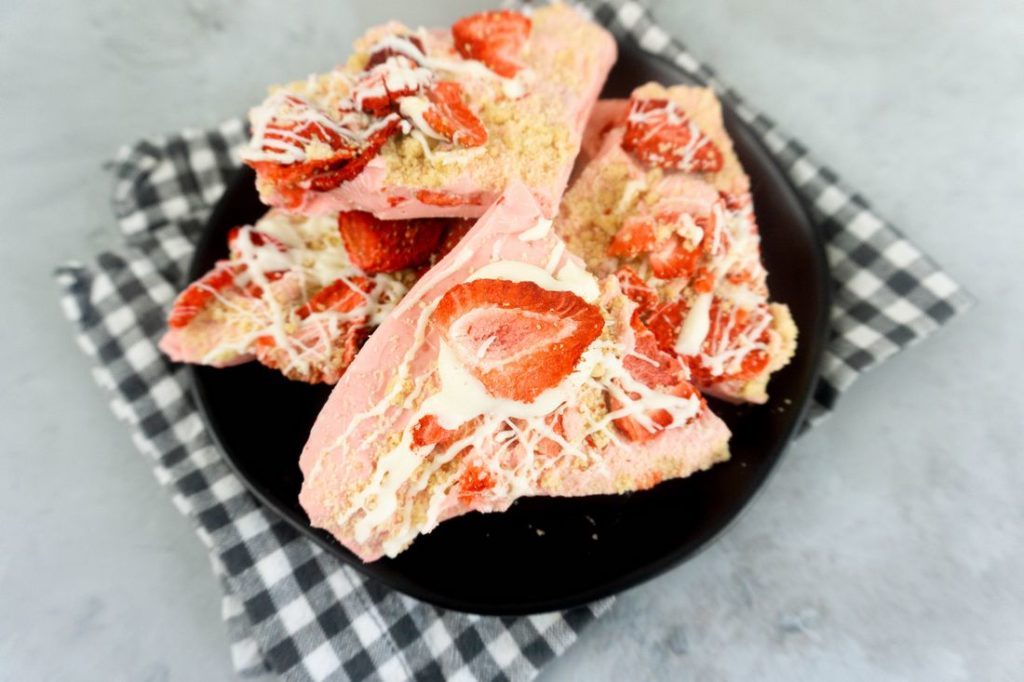 Candy Melts and Wafers:
For this bark I used Sweet Tooth Fairy candy melts in light pink. I used Sweet Tooth Fairy brand because I find they melt the best for colored candy melts. It's easy to work with.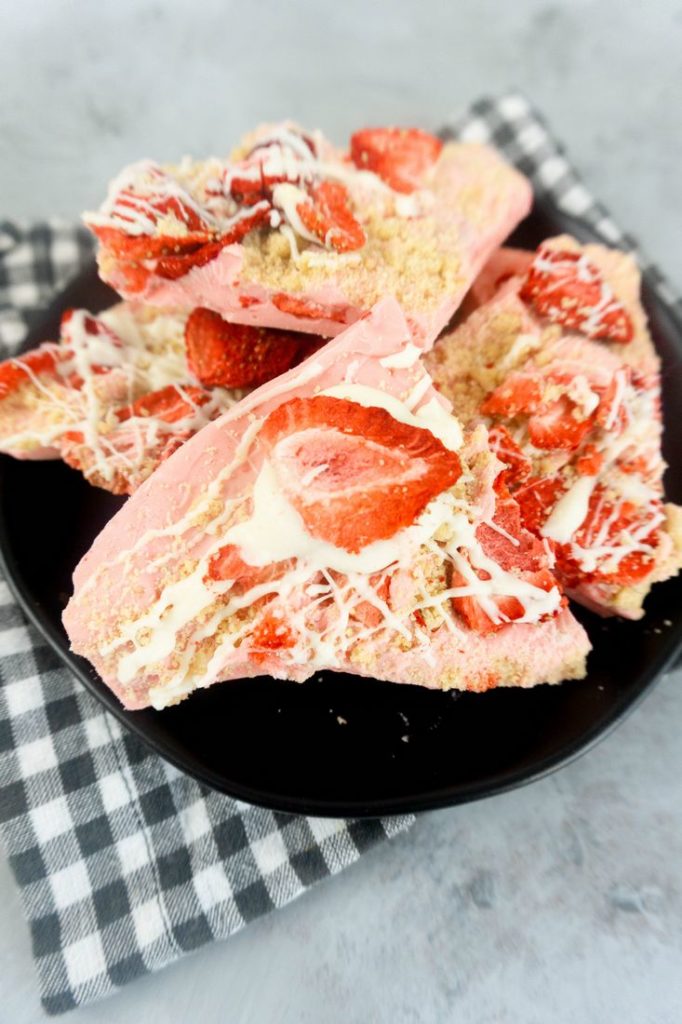 For the white drizzle I used Ghirardelli's white chocolate wafers. I prefer these over all when working with melting chocolate but if I need colors then I resort to Sweet Tooth Fairy.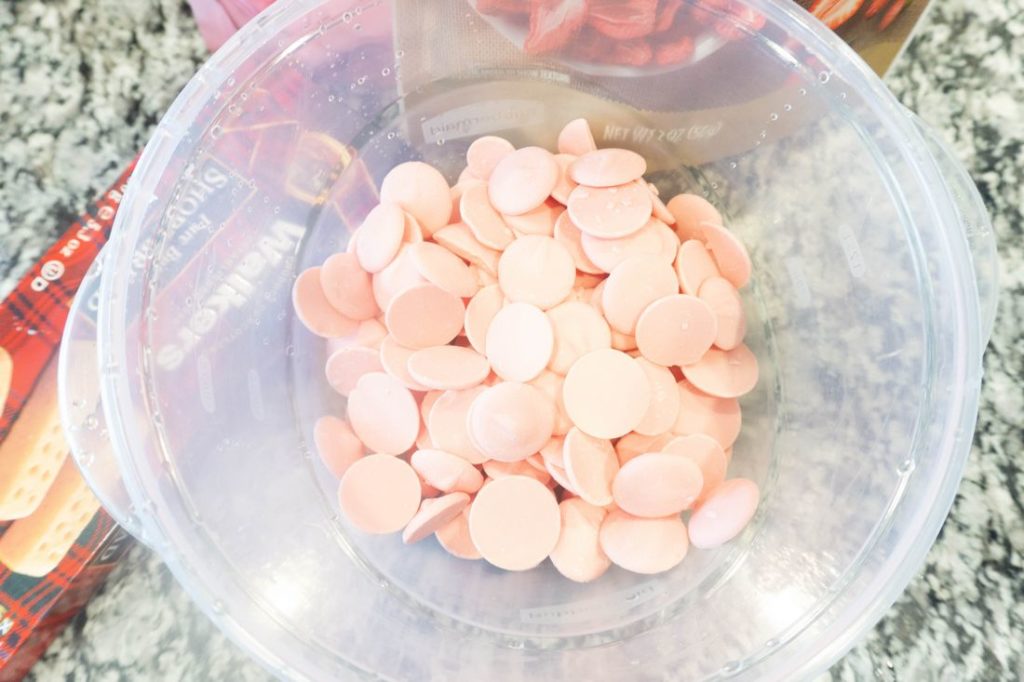 Working with Melting Chocolates
A few tips when working with melting chocolates. First, microwaves work wonderful for this at half power or defrost mode. Each microwave is different so it may not melt on the first or second round if your half power or defrost mode is not as warm.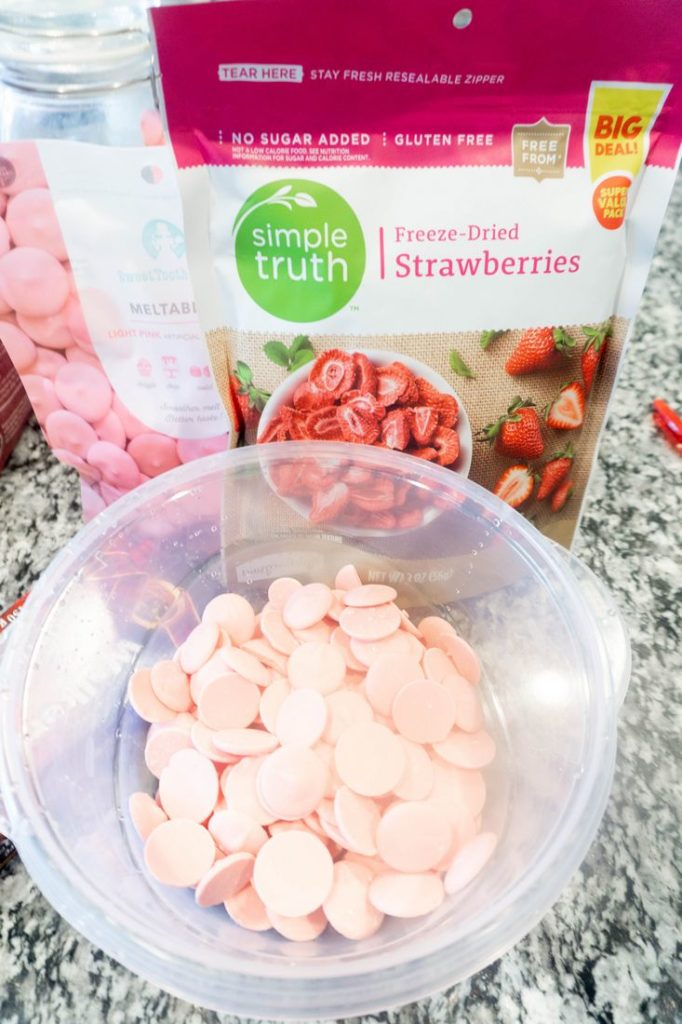 When I changed microwaves I could see the difference. There is also a difference when you have a confection microwave. So be sure to do as the instructions on the bag say and if it doesn't melt then add the 30 seconds in increments.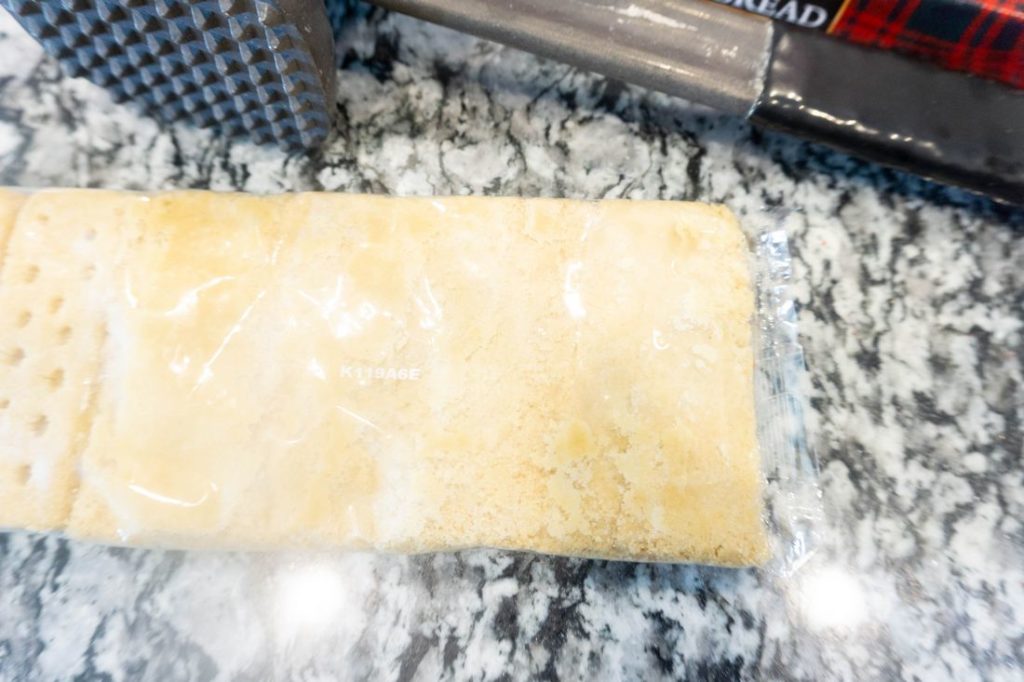 Don't put hot candy or hot chocolate wafers to solid chocolate it will melt. Let it cool before it's solid you can use it to patch holes. Just don't use it hot right out of the microwave. I use pastry brushes to patch any holes when working with this on hot chocolate bombs.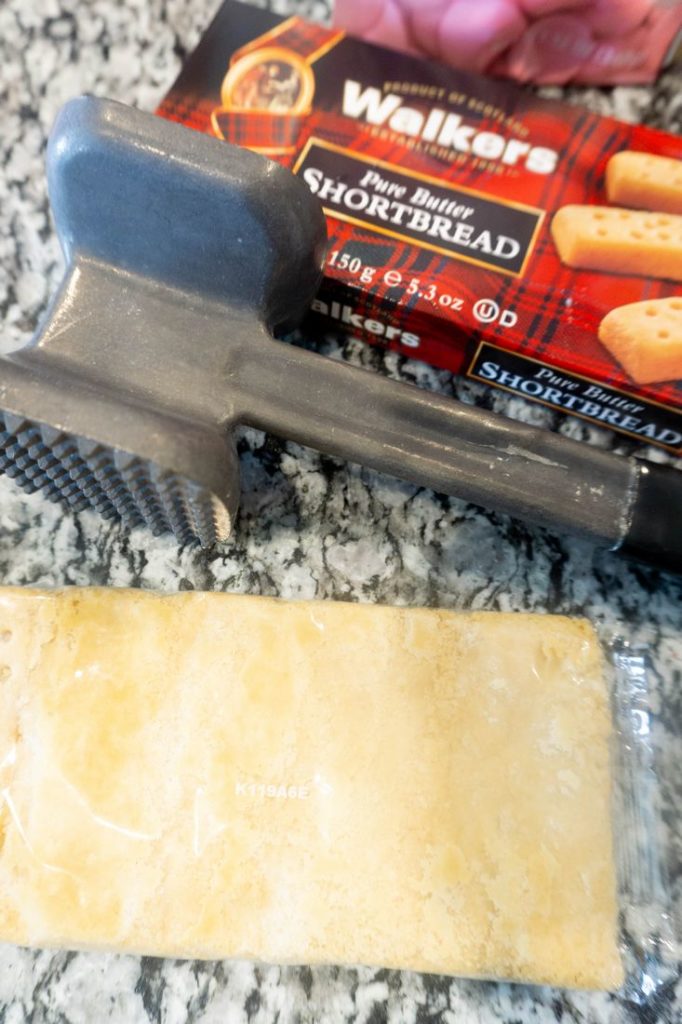 You can use shortcake in this recipe but I used shortbread instead as it crumbles and has the same flavor as shortcake. I just use a kitchen mallet with the flat side to break up the shortbread.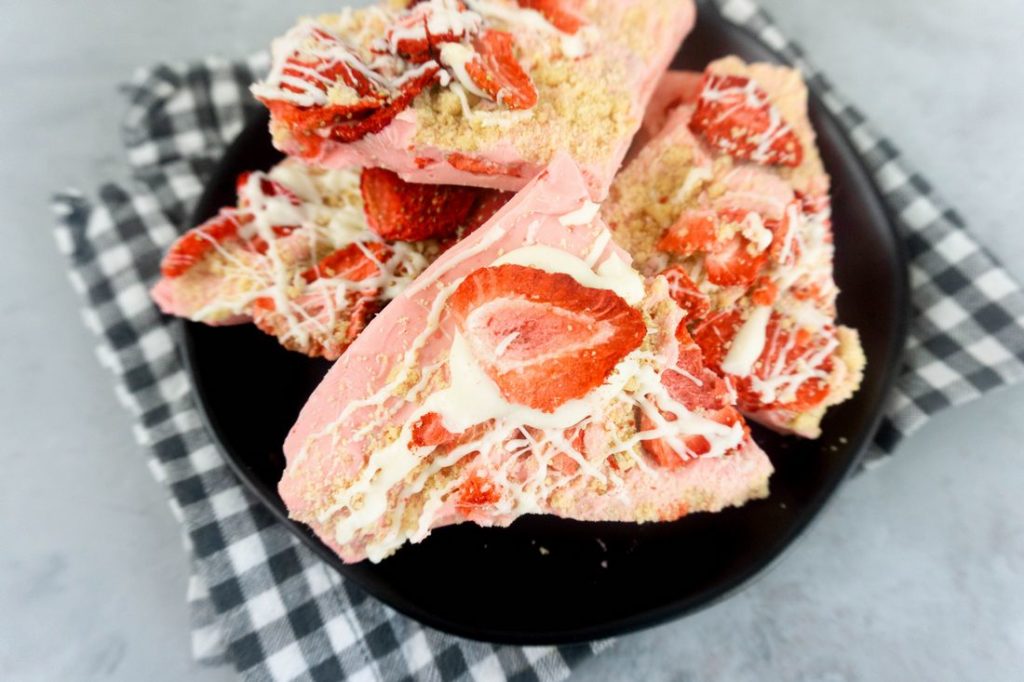 Always use parchment paper when making bark. It saves the clean up process and it breaks away easily from it. I just pull it up and break the bark into pieces. Save it in an airtight container in the fridge.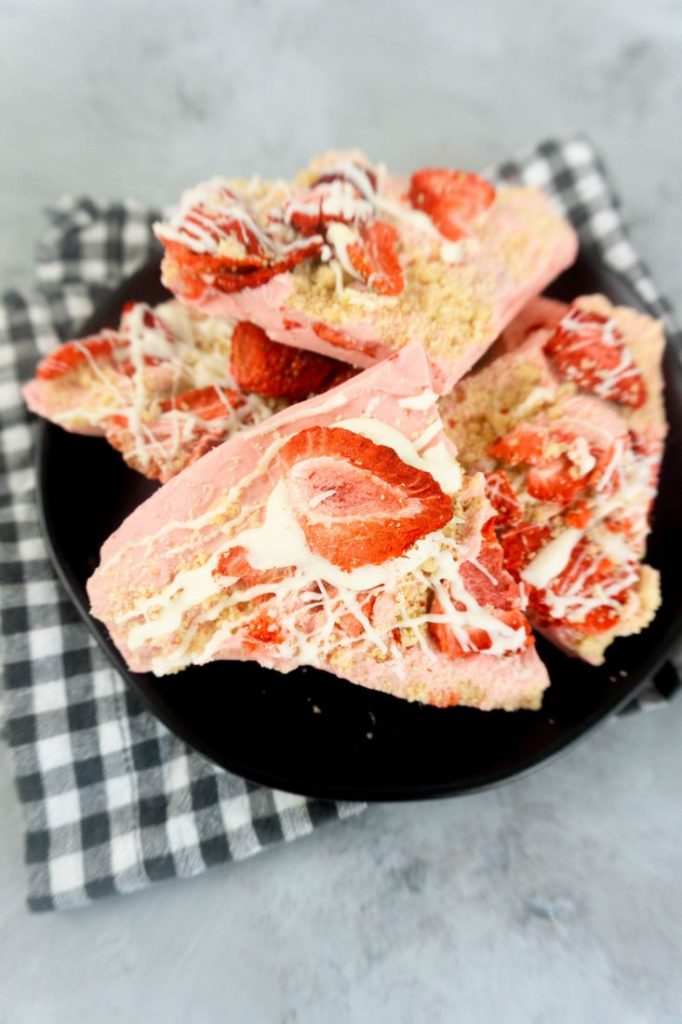 I just love making these for a Valentine's gift for family and for a special someone. The strawberry shortcake bark is easy to make in just under 20 minutes and 10 minutes in the freezer to become solid. Check out these other Valentine's recipes to make for the one you love.
Valentine's Recipes:
Strawberry Shortcake Bark
Dried strawberries, pink candy melts, and shortbread make up this delicious strawberry shortcake bark.
Ingredients
2

bags sweet tooth fairy light pink candy melts

1/2

bag white chocolate Ghirardelli wafers

1

bag freeze dried strawberries

1/2

package

5.3 oz,Walker's pure butter shortbread
Instructions
Melt the light pink candy melts as directed on bag.


Line a small size baking sheet with parchment paper. Pour out the light pink candy melts on to the parchment paper and spread to a nice medium layer.


Crush about 1 cup of the freeze dried strawberries and add to the melted candy melts. Crush half the package of shortbread and sprinkle. Place in freezer for 10 minutes.


Remove from freezer. Melt white chocolate wafers and drizzle on top. Add on freeze dried strawberries to the white chocolate so they stick. Do not crush these. Place in the freeze another 10 minutes. Once frozen break into pieces.
Pin Strawberry Shortcake Bark