Strawberry Banana Yogurt Delight
This post may contain affiliate links. Please read my privacy policy.
As the world starts to slowly resumes back to some kind of normal people will start having small gatherings and parties. When it comes to a potluck dessert this Strawberry Banana Yogurt Delight is perfect to bring along!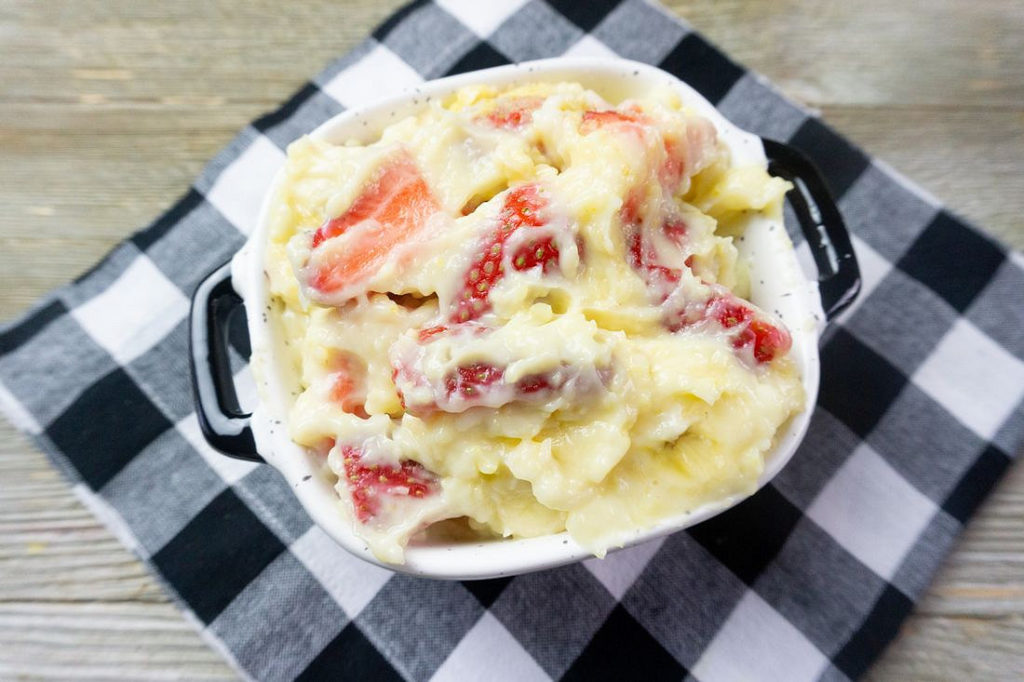 We all know what it's like to be told hey bring a dessert. No one and I mean no one wants to bake for hours before attending a party or gathering. So, if that's you then this potluck style dessert is for you.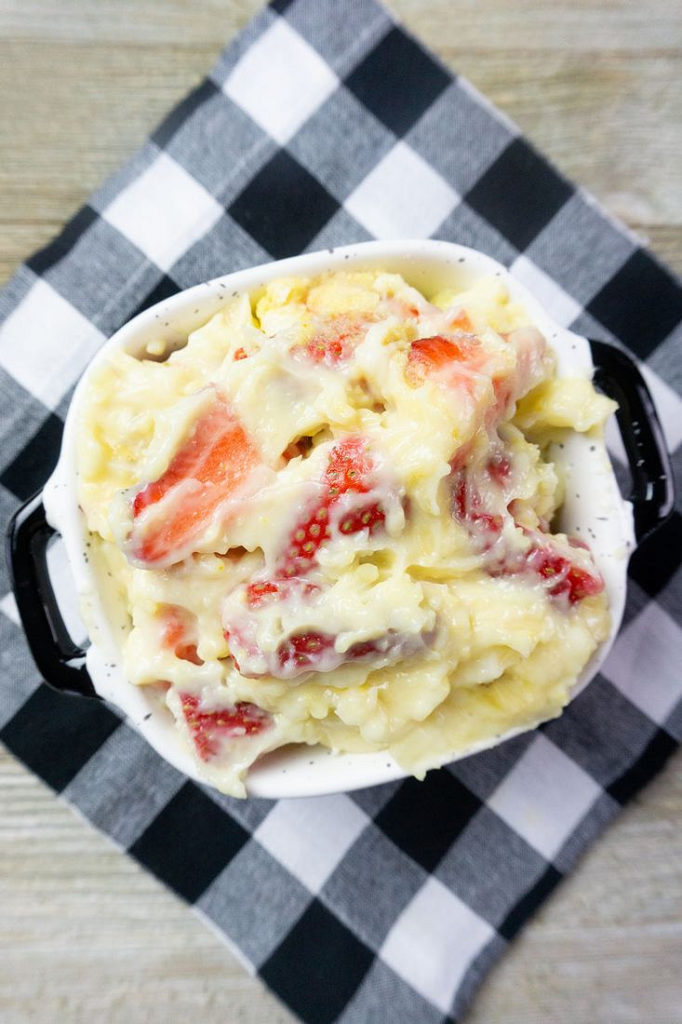 The reason this dessert with strawberries and bananas is perfect is because it's so darn easy to make. I mean like 10 to 15 minutes in the kitchen and the dessert is done. Pop it in the fridge to keep cold and easily serve.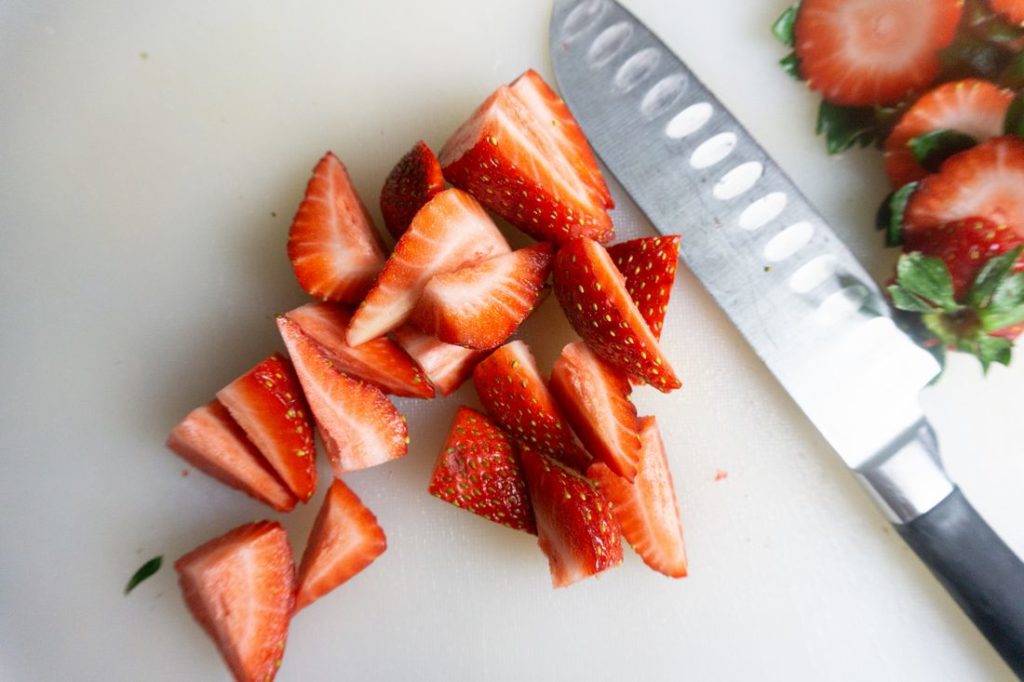 Wash and slice the strawberries. I like to cut the strawberries into quarters. However, the strawberries can be cut smaller or larger. Just depends on the size per mouthful that you prefer.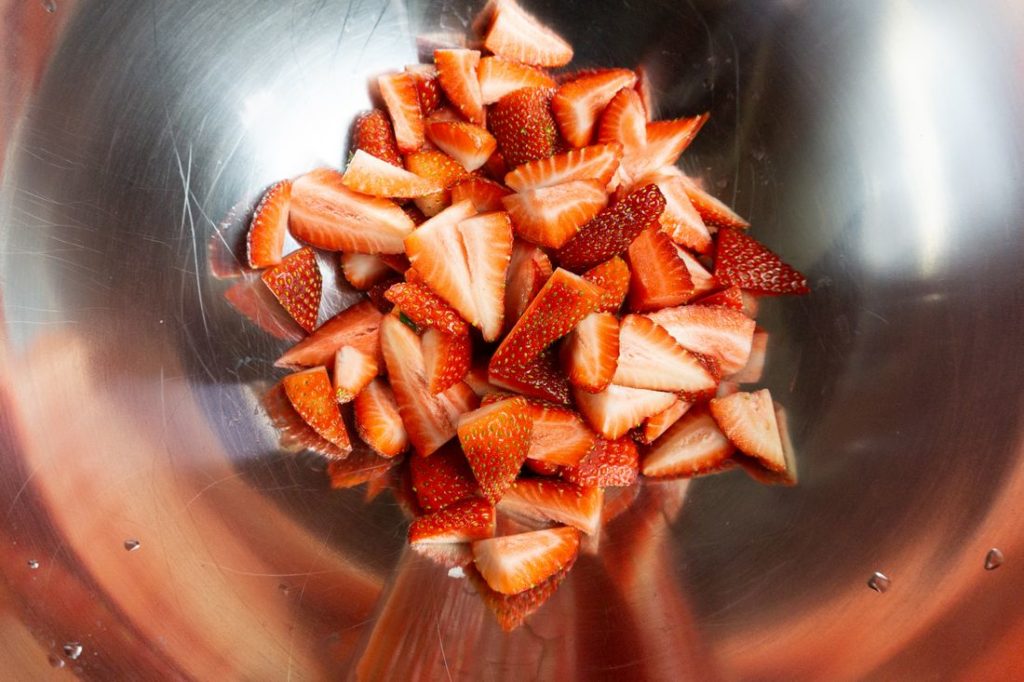 Place the strawberries in a large bowl. Slice the bananas into rounds and place in the bowl with the strawberries. I often get asked is this sweet; I say yes but not overly sweet. Definitely think it's the perfect dessert for picnics too.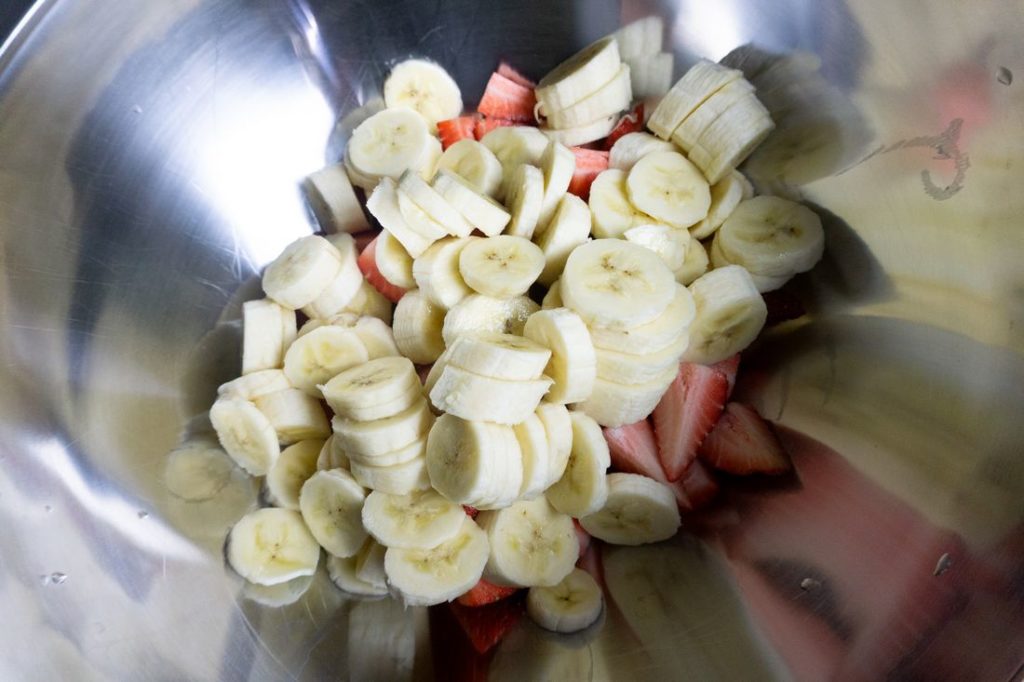 What Pudding Mix?
Next comes the pudding mix. I like to use the banana pudding mix that is instant pudding. I definitely suggest instant pudding mix. However, the flavor could be strawberry or vanilla. The pudding doesn't have to be banana. It's just the flavor we like most.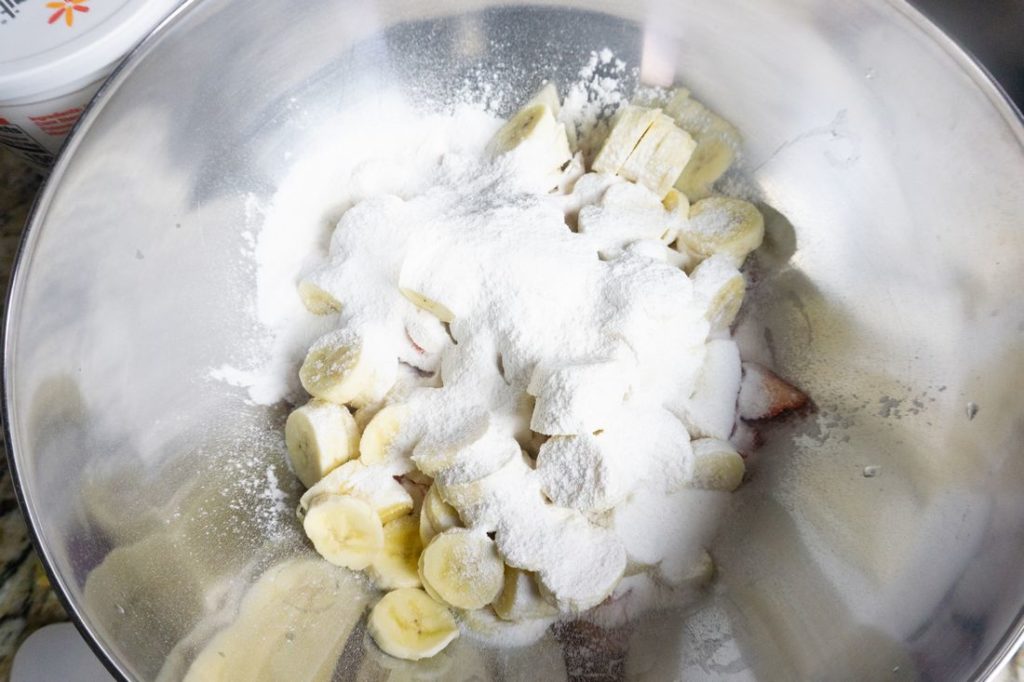 After adding the strawberries, bananas, and pudding mix add in the yogurt. At this point I like to fold the mix using a silicone spatula. I don't like to stir as it breaks up the bananas and strawberries.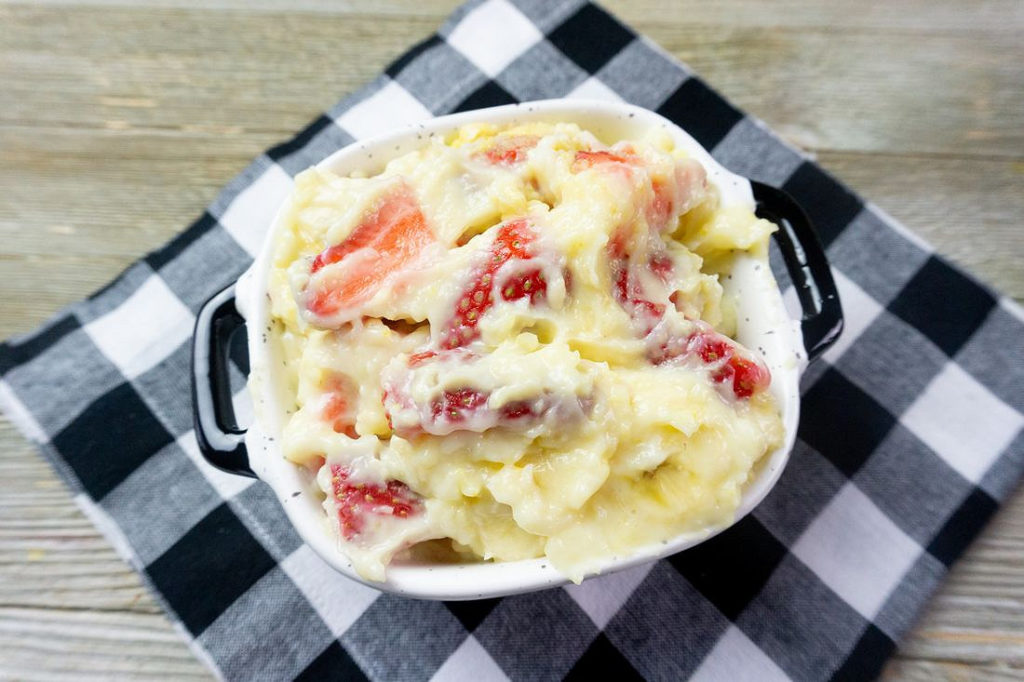 I keep it cold in a covered bowl before serving it. If you want to make it look fancy serve it in small plastic parfait cups. Great for a party setting with small serving spoons.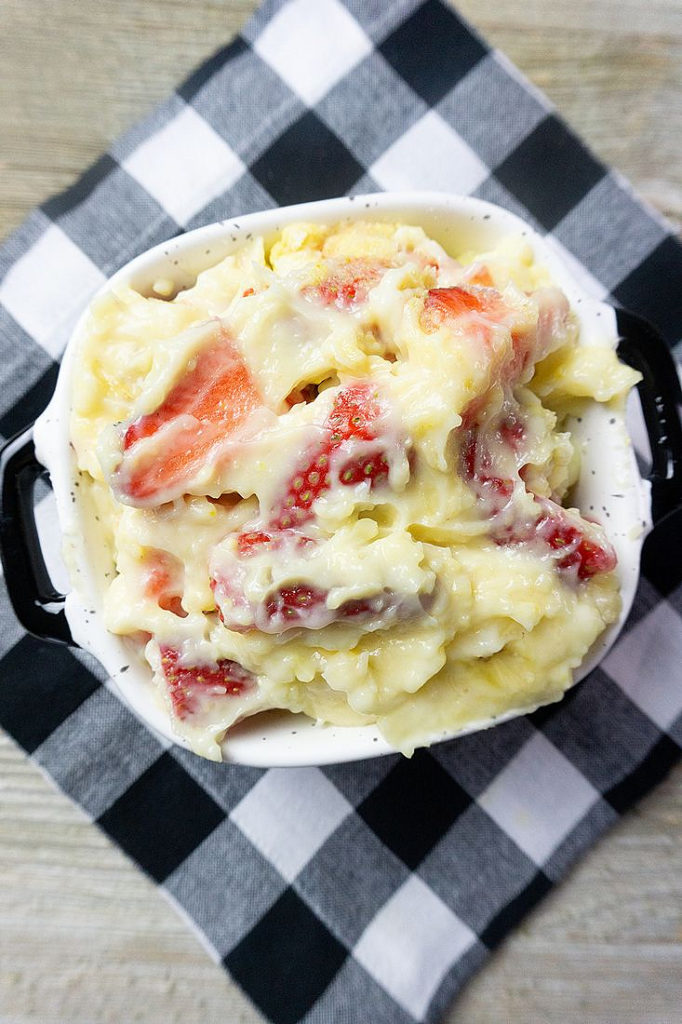 Hope you enjoy this party dessert! Let us know below what dessert you like to take to a potluck or party!
Other Tasty Desserts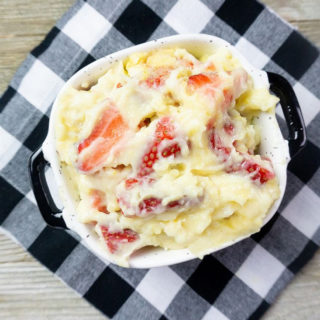 Strawberry Banana Yogurt Delight
Strawberries, bananas, pudding mix, and yogurt to make a delicious dessert.
Ingredients
1

package of Strawberries; sliced

3

bananas; sliced

1

box banana pudding instant mix

2

cups

plain yogurt
Instructions
Placed sliced bananas and strawberries in a medium bowl. 

Shake in the instant banana pudding mix. Add in 2 cups of yogurt. 

Stir well together. The pudding mix will thicken the yogurt. 

Place in fridge and serve cold.
Pin Strawberry Banana Yogurt Delight