Southwestern Chicken Pasta
This post may contain affiliate links. Please read my privacy policy.
Southwestern Chicken pasta is bowtie pasta with chili beans, avocado, tomato, red onions, and taco seasoning. Super simple meal with mostly pantry foods. Great for a week night dinner or a dish at a potluck.
Loaded with flavor this southwestern chicken pasta comes with avocado and chili beans. This pasta dinner recipe is quite simple to make on a weeknight. Grill up the chicken or cook it in a cast iron skillet.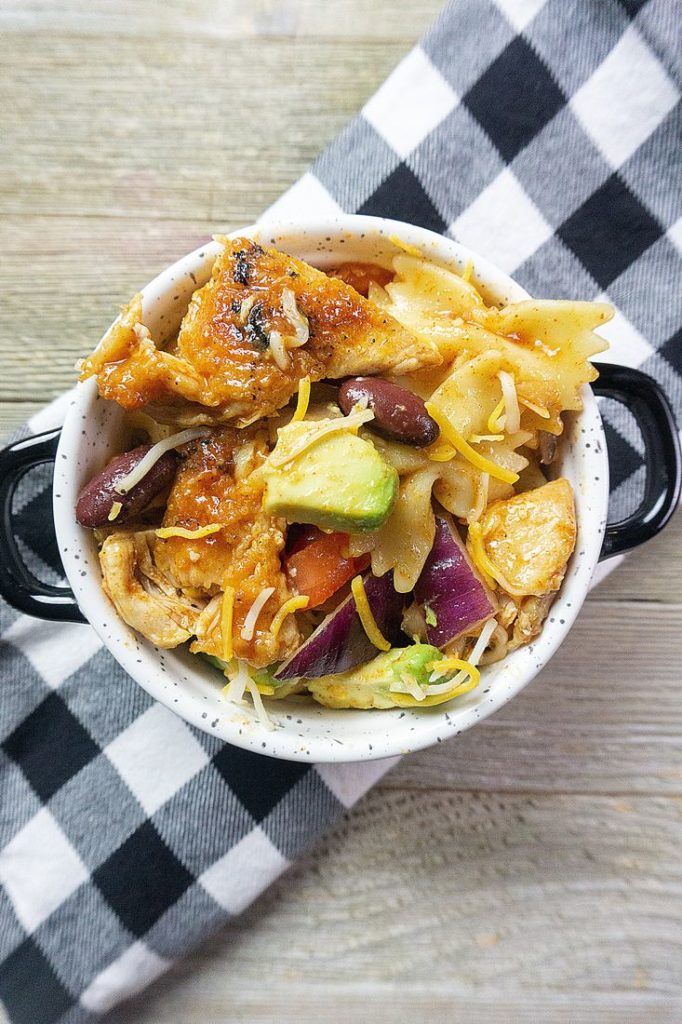 Don't feel like cooking the chicken then just use rotisserie chicken from the store. Here, I cooked the chicken in a lodge cast iron grill skillet. I didn't season the chicken as that comes later when you toss it with taco seasoning.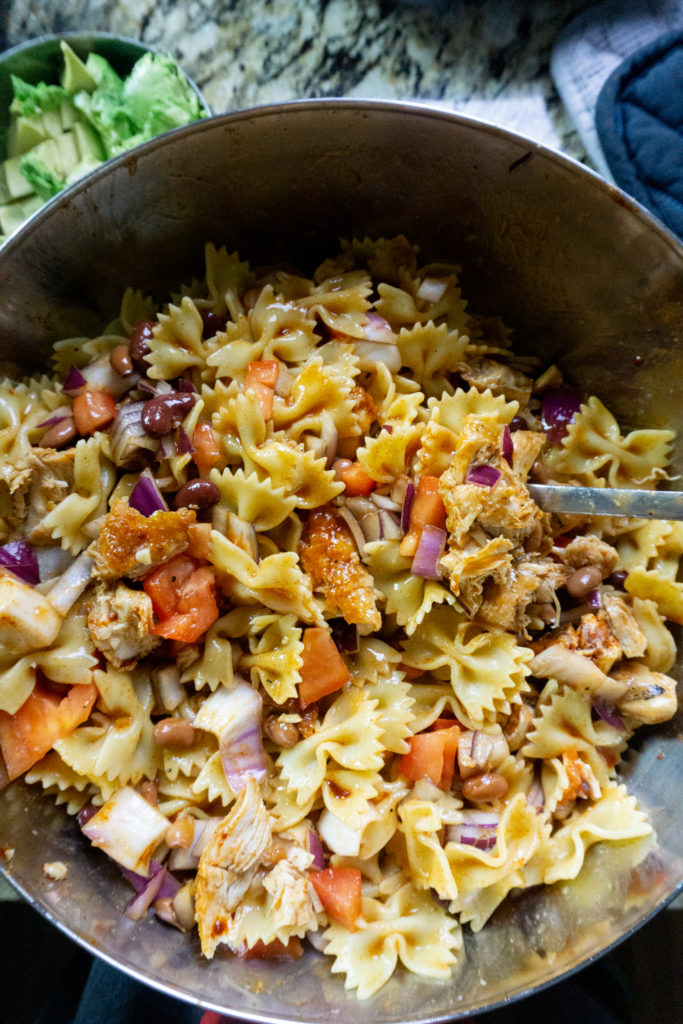 Have Fun With Southwestern Chicken Pasta
Cook the bowtie pasta as directed on the box. Then it's just all about tossing the ingredients together. We use just a few ingredients like avocado, chili beans, tomatoes, and red onion. However, it's easy to change up ingredients. Swap out chili beans for black beans. Add a can of corn.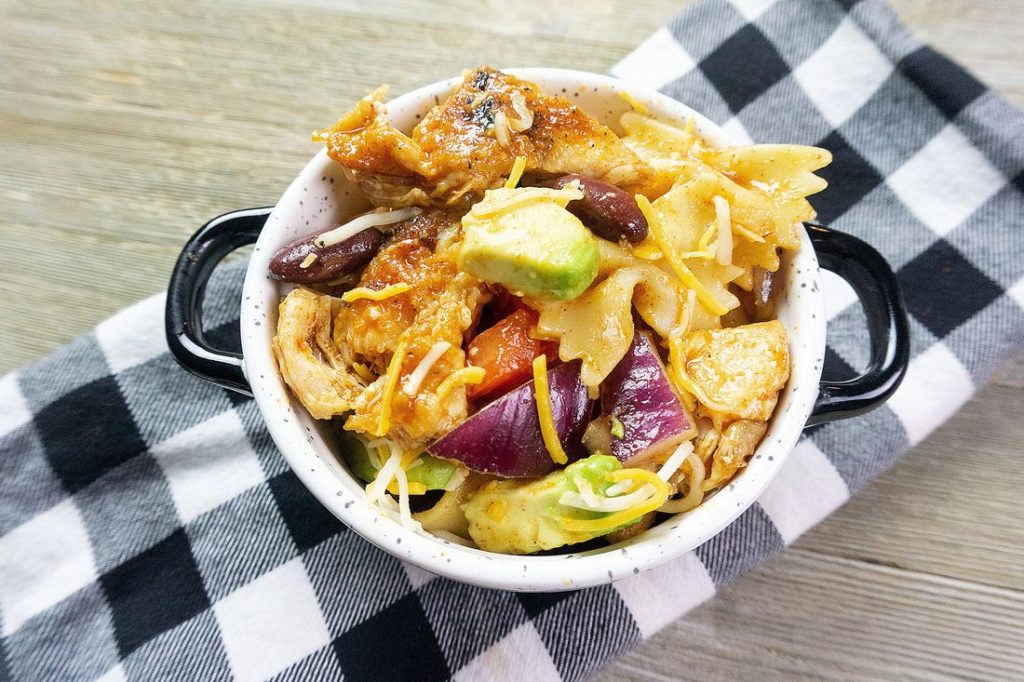 Do you have to use bowtie pasta? No, but it's one I like to use because it holds the flavor of the taco seasoning well. Additionally, when the salad is served at a potluck it really adds a nice look to the dish.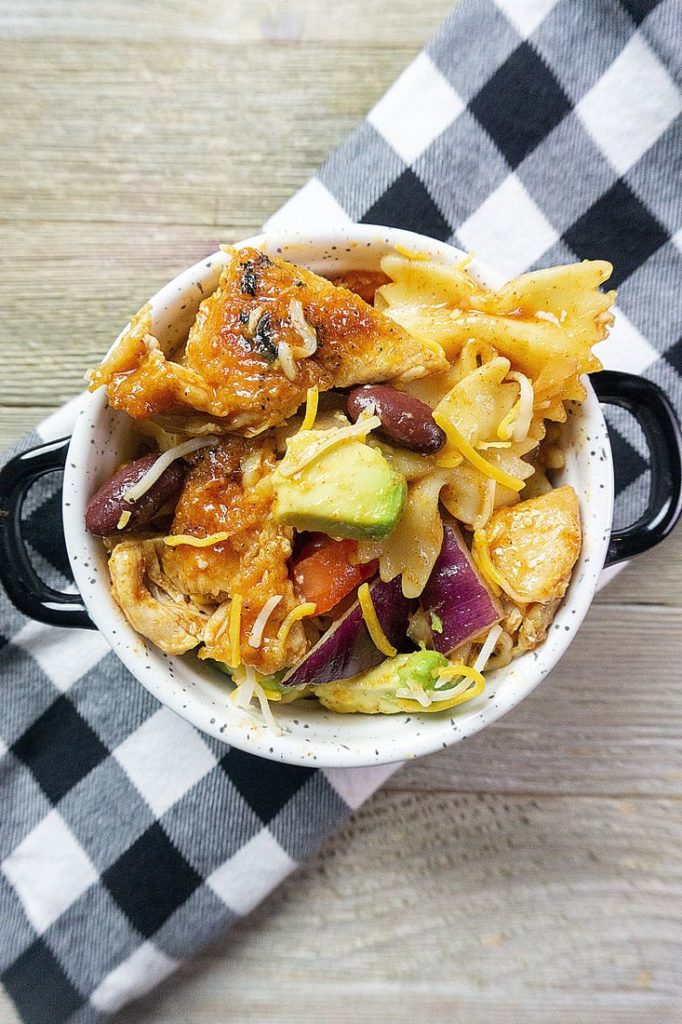 We all know fun pasta is great. Another good pasta to use in this chicken pasta dish is cavatappi. It's a curly and fun pasta that also serves up well at a potluck. Additionally, it holds the flavor of the taco seasoning as well.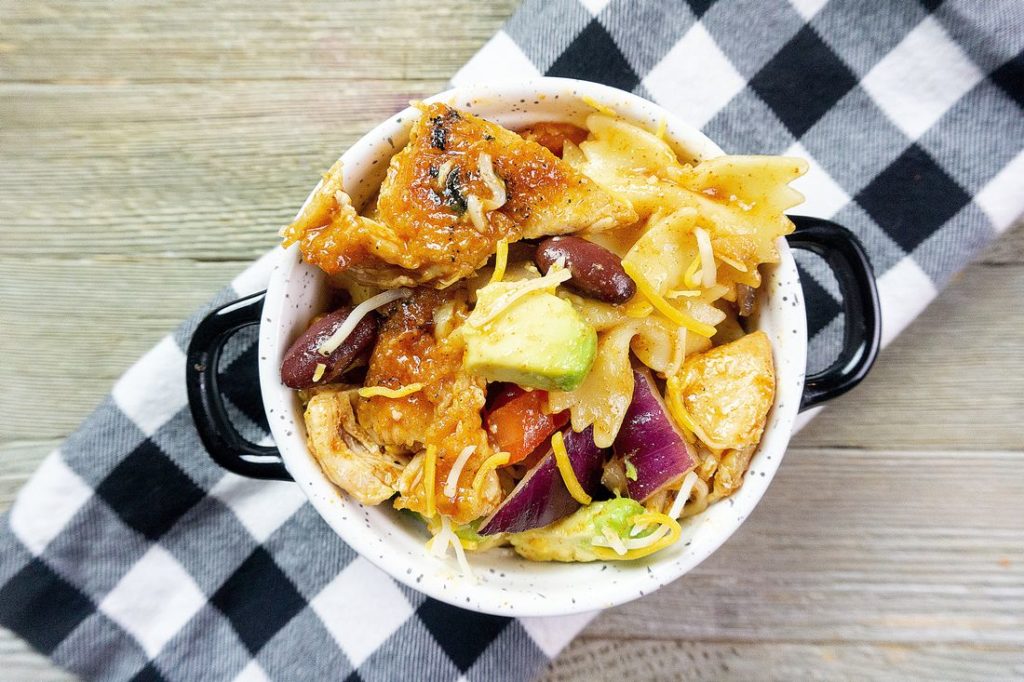 All in all, this southwestern chicken pasta is great for barbecue as well. This pasta dish can be served up hot or cold. Which makes it versatile for potlucks. Just made sure to keep cold before serving up. Make with gluten free pasta for a gluten free dinner or side dish.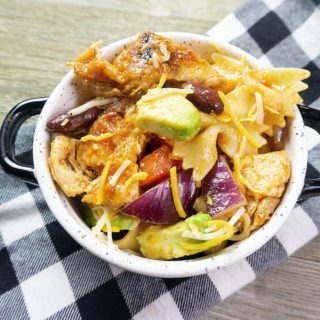 Southwestern Chicken Pasta
Bowtie pasta tossed with taco seasoning, tomatoes, and avocado. 
Ingredients
1

lb

chicken tenders; boneless skinless

16

oz

box bowtie pasta

1

package taco seasoning

1 – 15

oz

can mixed chili beans

1

tablespoon

olive oil

1

red onion; diced

2

roma tomatoes; diced

1

large avocado; diced

1 1/2

cups

shredded cheese
Instructions
In a cast iron skillet add olive oil and set to medium heat. Cook chicken tenders until done in center. Dice chicken and add to a large bowl. May replace with rotisserie chicken if you don't want to cook or grill the chicken. 

Cook pasta as directed on the box and drain. Place pasta into the bowl with the chicken. Pour in beans (do not drain beans). Add in diced onion and tomatoes. Shake the taco seasoning over the top and toss the entire mixture well. 

Add in avocado and cheese. Toss lightly. May serve hot or cold. 
Notes
Make with gluten free pasta to have it as a gluten free dish.
great Pasta Recipes:
Pin Southwestern Chicken Pasta