Slow Cooker Italian Beef Sandwiches
This post may contain affiliate links. Please read my privacy policy.
Slow cooker Italian beef sandwiches made from tender slow cooked beef bottom roast in beef broth with crushed tomatoes and pepperoncini's. Delicious beef sandwich with a spicy au jus sauce for dipping or topping.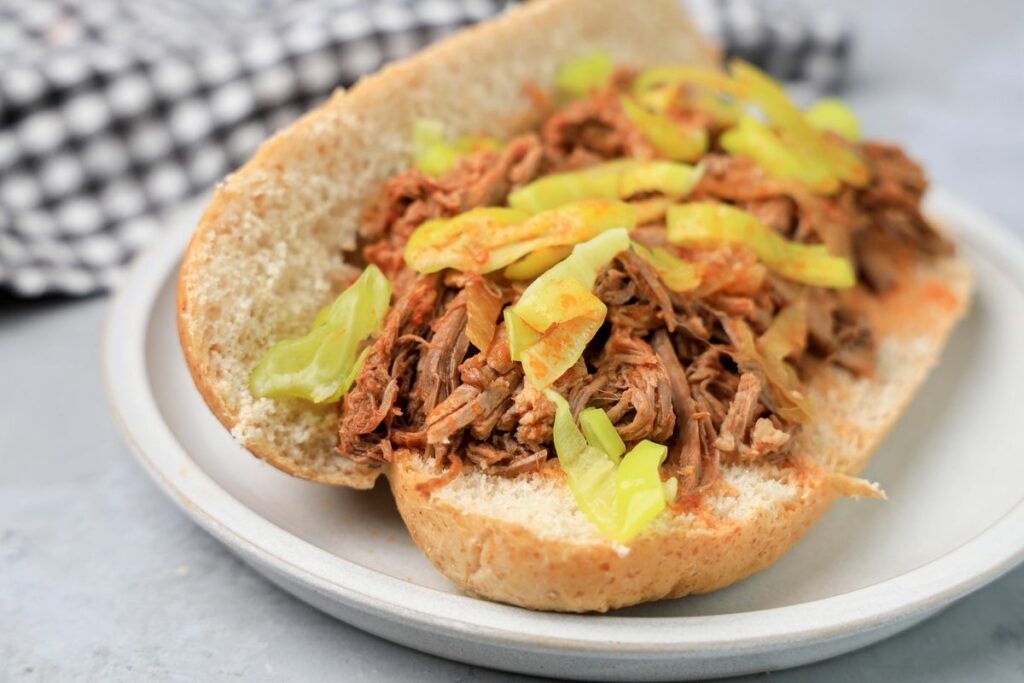 It's a beef sandwich that is easy to make with just five main ingredients not counting salt and pepper. Making this recipe an easy Italian beef recipe. Definitely similar to Chicago style Italian beef.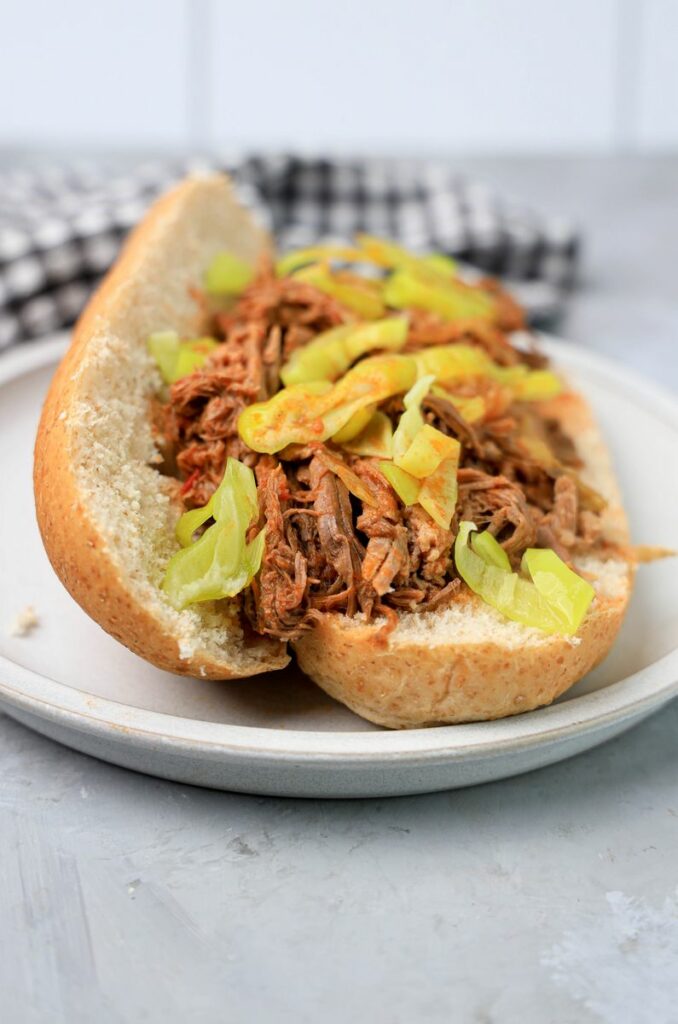 History Of The Italian Beef
Italian Beef made its first appearance during the early 1900s in Chicago. Italian immigrants slow-roasted tough cuts of meat in a spicy broth until it was tender, piling thin slices onto Italian bread.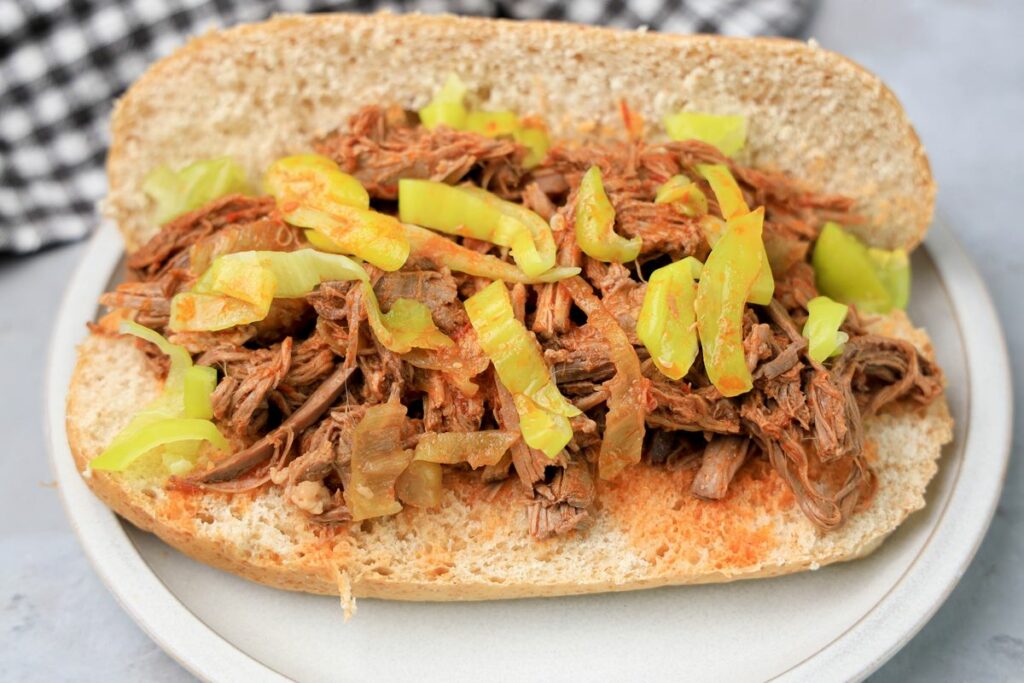 Gluten Free and Dairy Free
This recipe is easily gluten free just by replacing the hoagie with a gluten free hoagie or gluten free bread of choice. The recipe is dairy free unless cheese is added to the sandwich.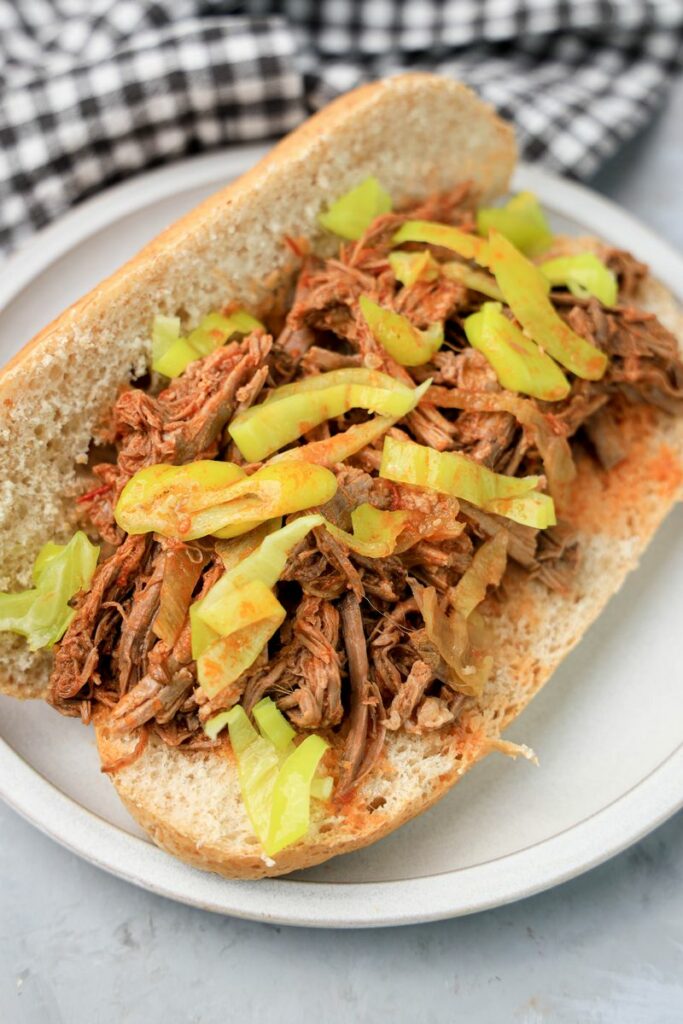 Equipment Needed
A slow cooker or crock pot will be needed to make this specific recipe. Italian beef can be made in an instant pot as well but that's a recipe for another time.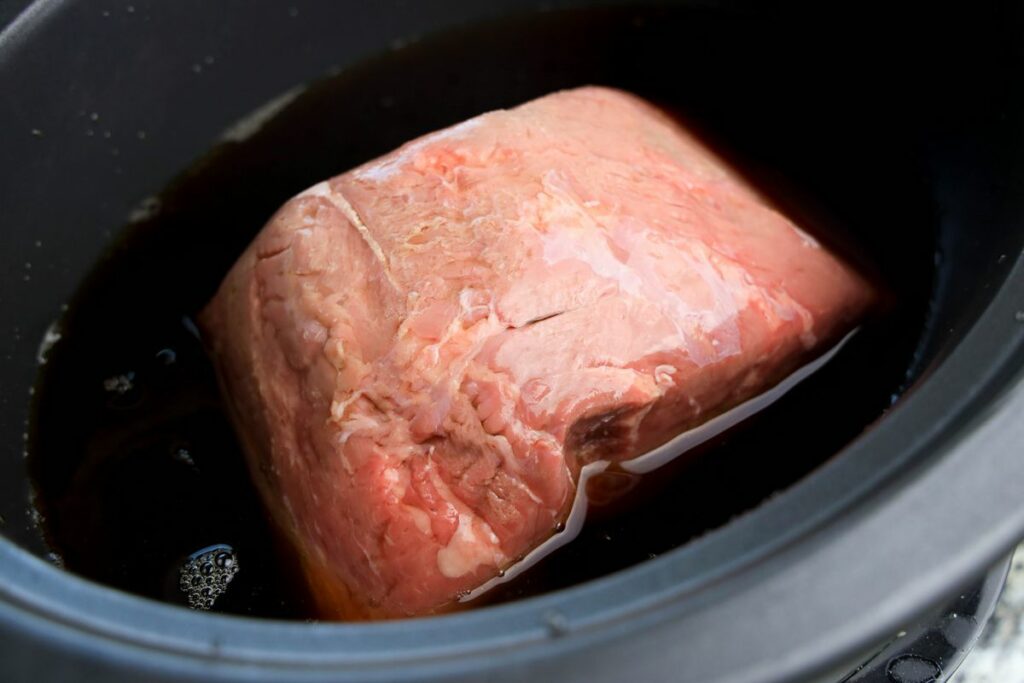 Place the roast into the slow cooker or crock pot. Add in beef broth and pepperoncini's and the pepperoncini juice. This is going to add flavor to the beef.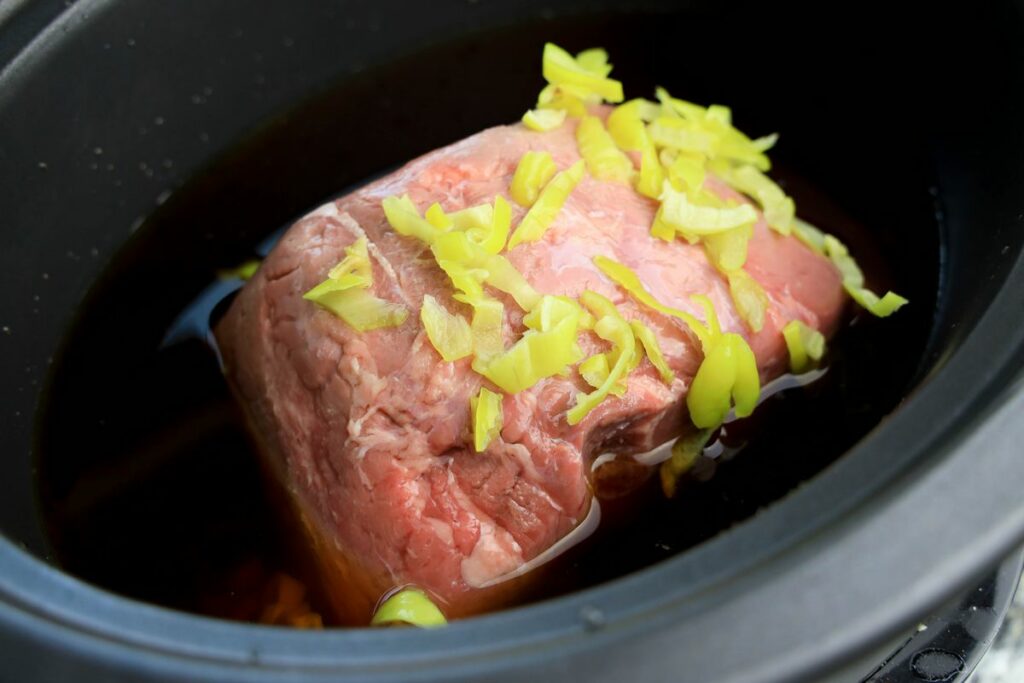 Add the crushed tomatoes to the slow cooker. This will create even more flavor in the beef bottom round roast.
Let the roast cook on high for 6 hours. At this point pull apart the meat as best you can then drop it back into the broth. Let the Italian beef cook another two hours until tender.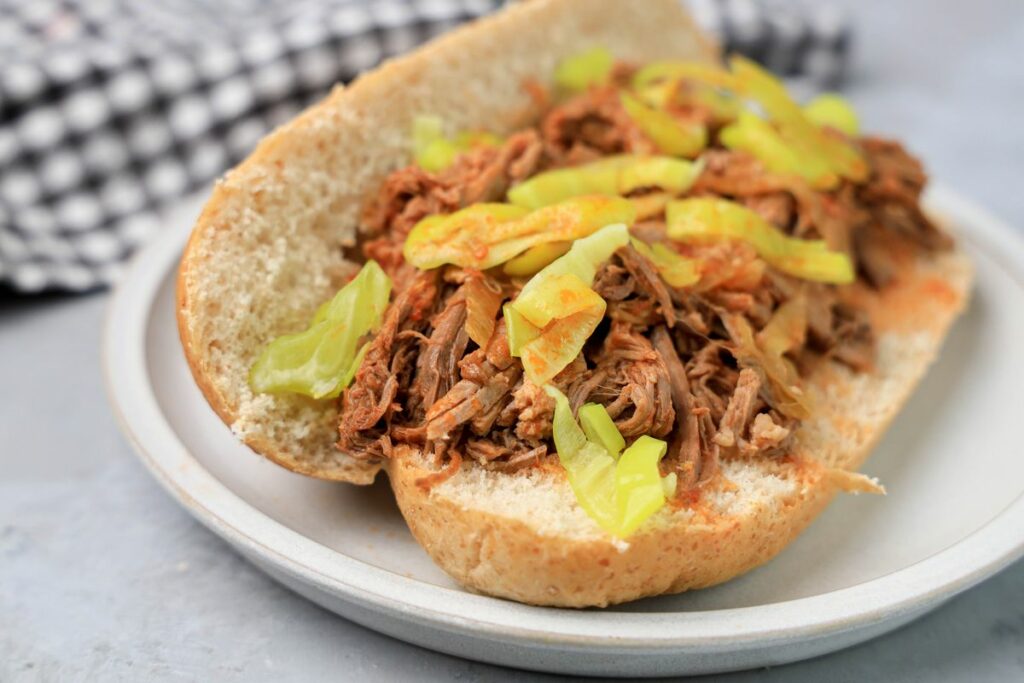 Make Ahead and Storing
Making slow cooker Italian beef sandwiches a day ahead is always great since letting the beef set in the fridge in the juice is fantastic. Freezing the meat with juice in a container can be froze for up to three months.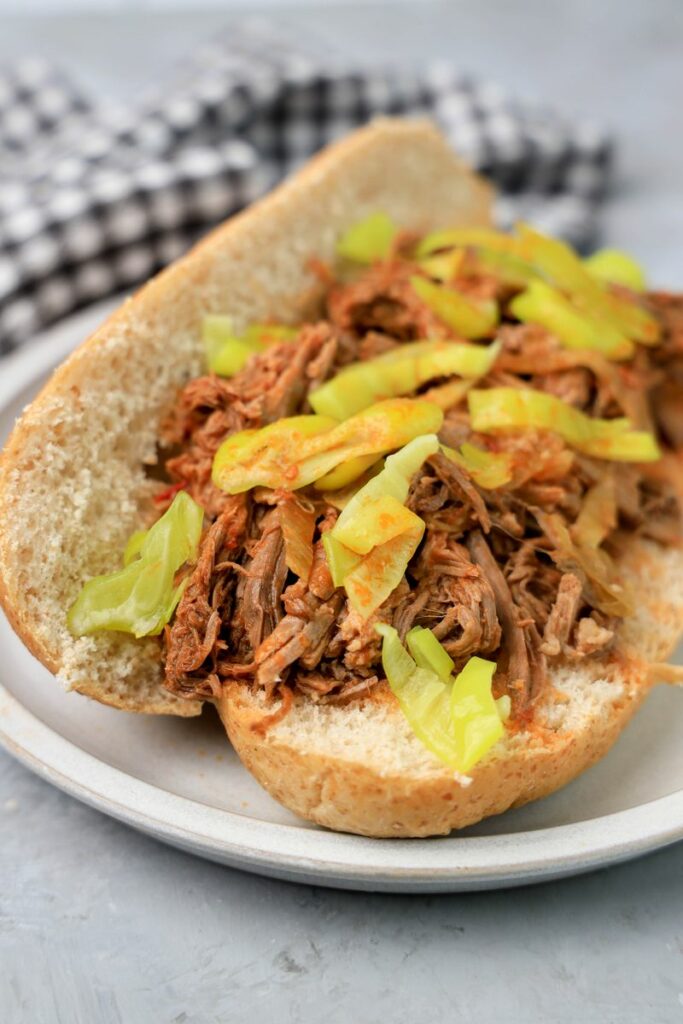 Such an easy beef dinner recipe in a slow cooker. One of my all time favorites to make and serve on hoagies or along side rice. Here is a few more slow cooker recipes to try below.
Slow Cooker Recipes: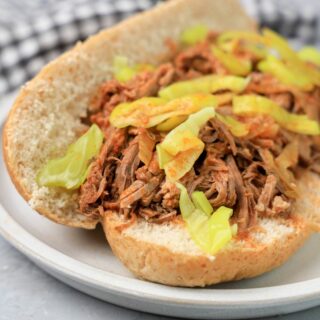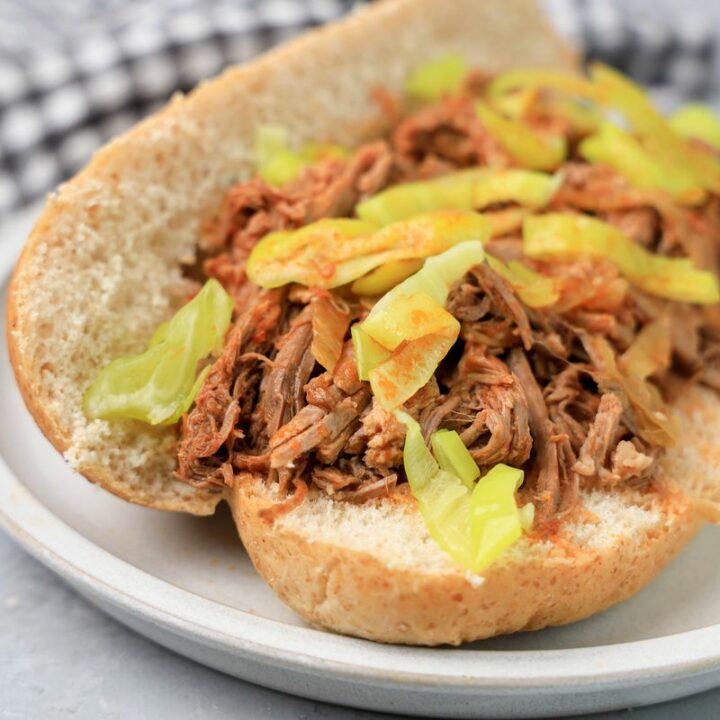 Slow Cooker Italian Beef Sandwiches
Slow cooked Italian beef on a hoagie with pepperoncini's.
Ingredients
1/2

cup

pepperoncini's

1/2

cup

pepperoncini juice

48

oz.

container of beef broth

4

lb.

beef bottom round roast

28

oz.

crushed tomatoes

1/3

teaspoon

pepper

1/3

teaspoon

salt

6

Hoagie rolls
Instructions
In a slower cooker, add beef bottom round roast and top with beef broth. Add in pepperoncini's and pepperoncini juice.

Pour in crushed tomatoes then add salt and pepper.

Set the slow cooker or crockpot to high. Slow cook for 6 hours then pull roast apart and place back into the juice. Slow cook another 2 hours until tender and full of flavor.

Place shredded beef onto a hoagie with pepperoncini's and juice from the pot either on the sandwich or on the side for dipping.
Pin slow cooker Italian Beef