This post may contain affiliate links. Please read my privacy policy.
Monster popcorn balls are so easy and fun to make for Halloween. Marshmallows, butter, and a little food gel can make the funniest of monsters. Add a little set of vampire teeth for extra spookiness.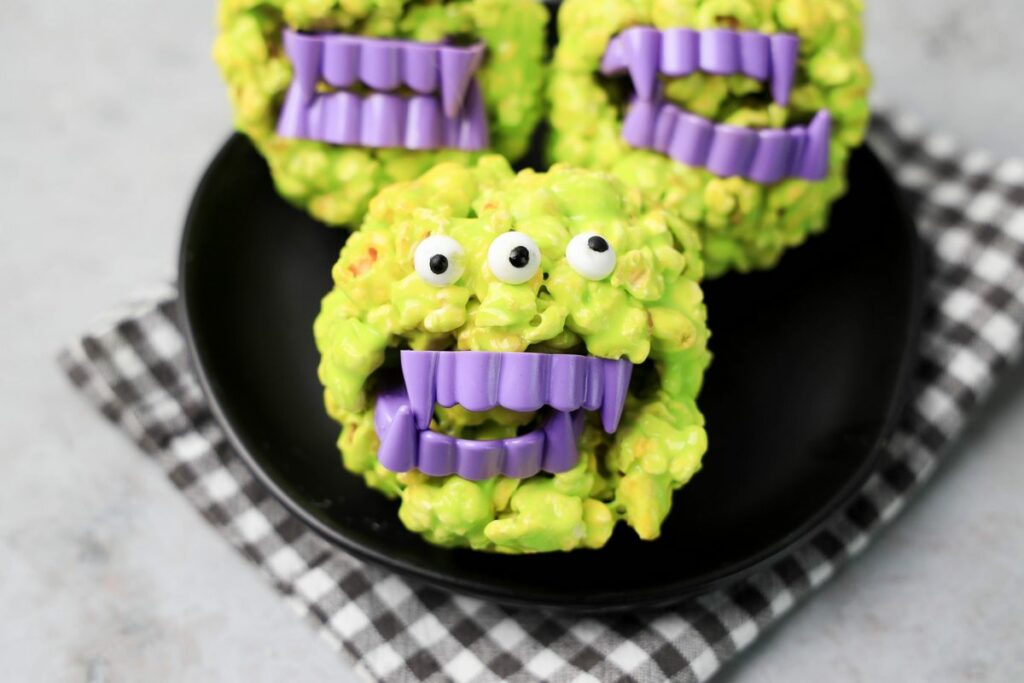 I just how adorable these monster balls are for a Halloween party. Easy to make and then place on platter. Everyone loves a vintage popcorn ball.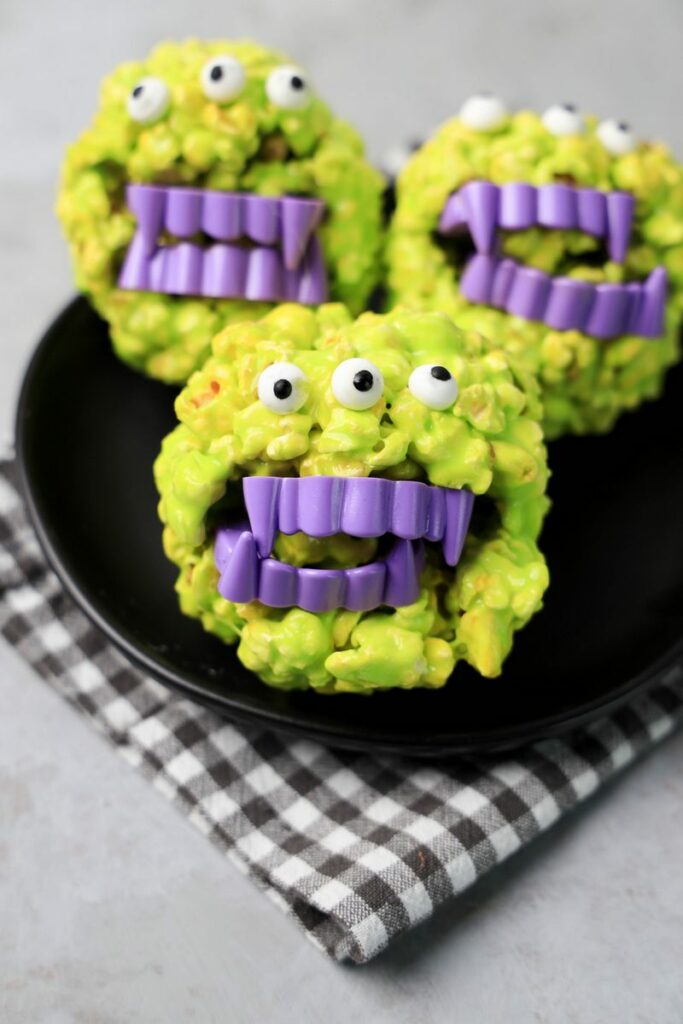 These also make fantastic for school Halloween parties, trunk or treat, or just giving them out on Halloween to friends and family.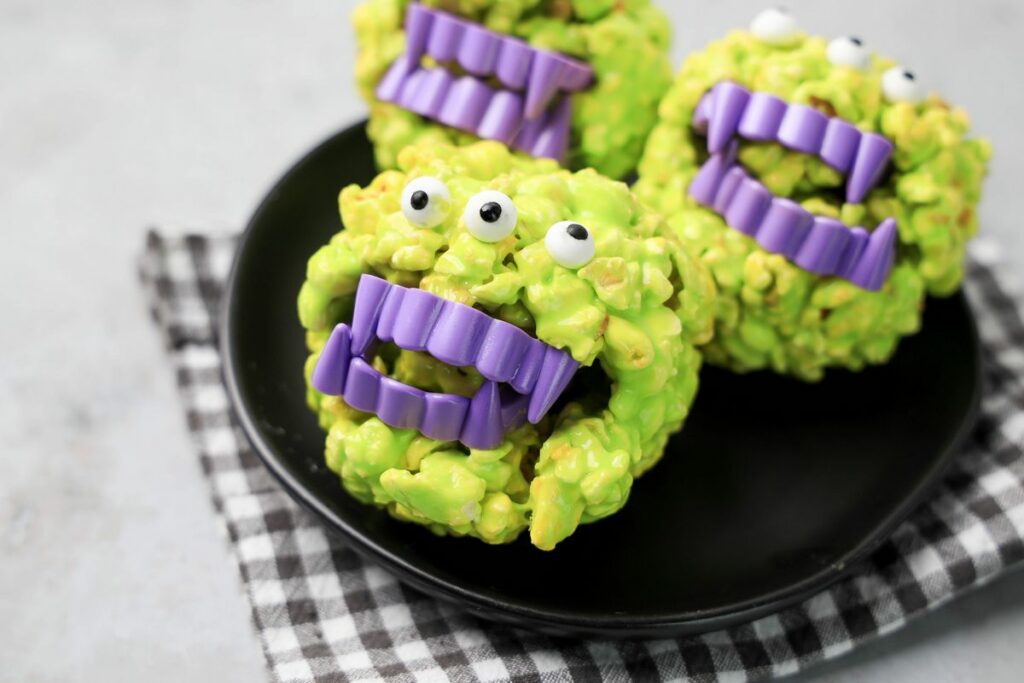 First, place all the marshmallows in to a pot with the butter. On a low heat melt down the marshmallows. Use a green food gel to get the color to the monster green. I prefer food gel over food color as it's more vibrant.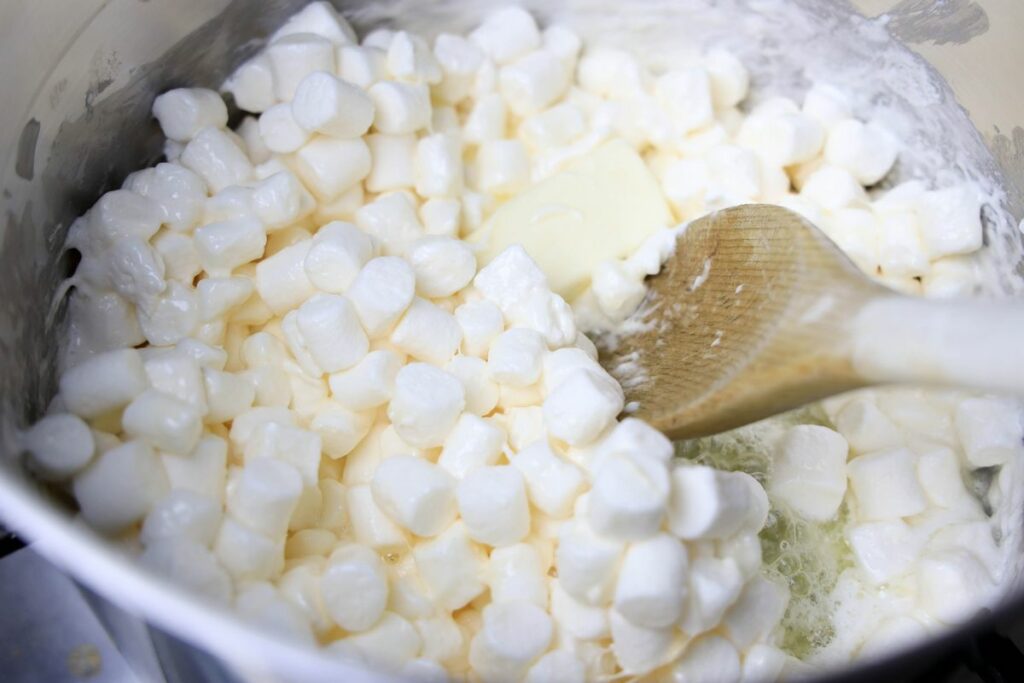 Use your largest bowl and keep turning the mixture over with a wooden spoon. You won't be able to coat every piece of popcorn with the green mixture, but give it a good effort.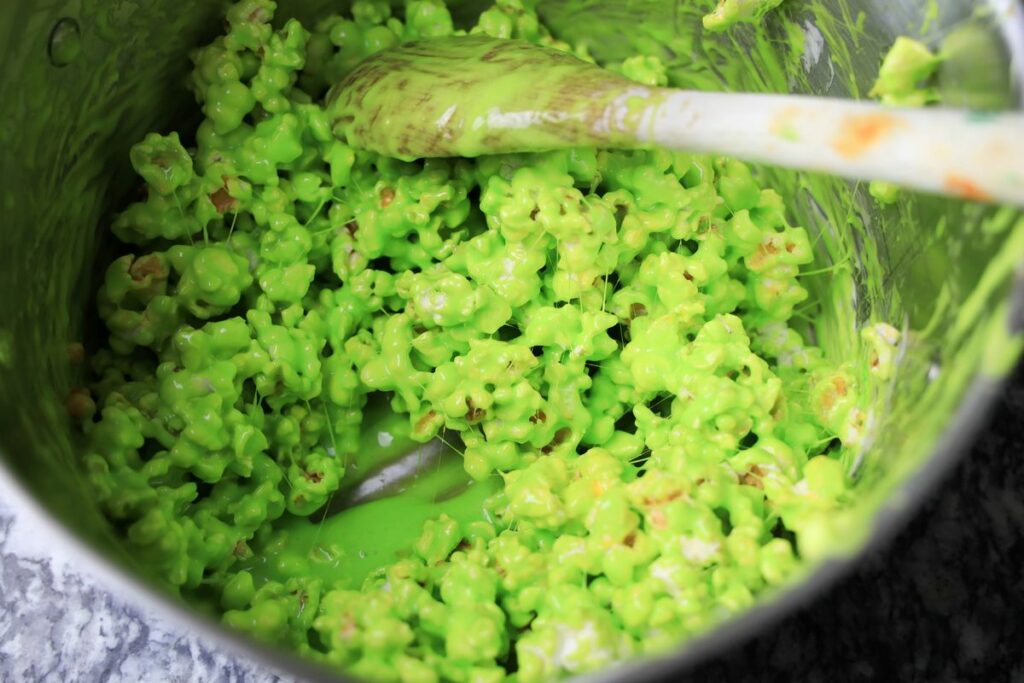 Using butter spray on your hands will make the popcorn stick less when forming the ball. Spraying the hands allows the forming of the ball so much easier. I wouldn't skip this step as you'll struggle with the stickiness.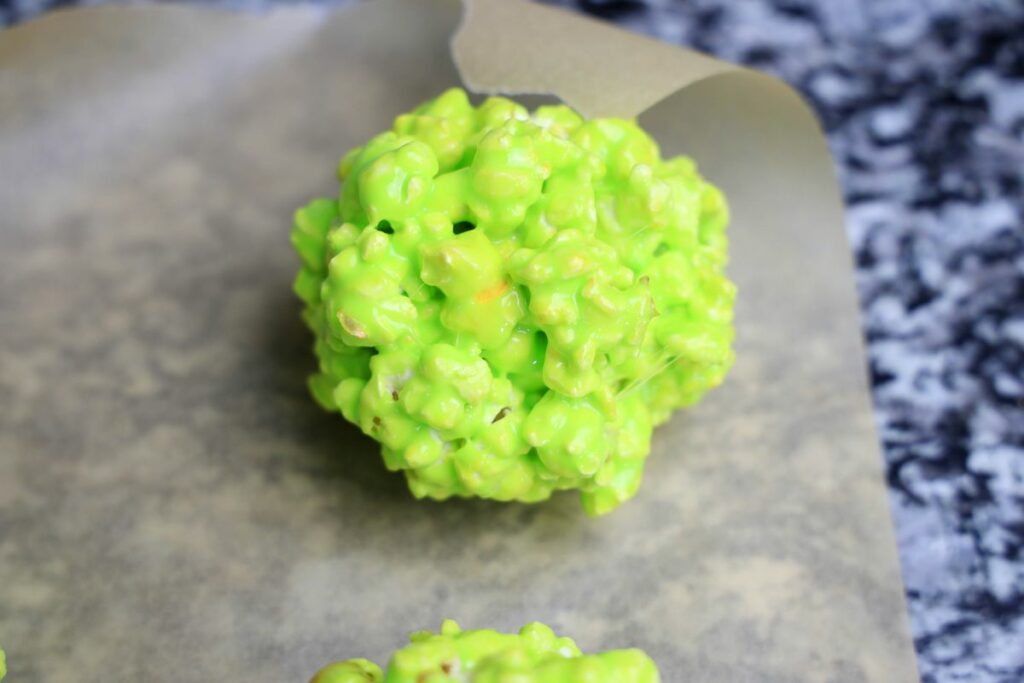 Vampire Teeth Trick
I picked up my vampire teeth at Target. They had a great multipack with different colors which make it so fun with these popcorn balls. Just pick up a pack of the teeth but the trick is to cut them in order for them to stay in the ball.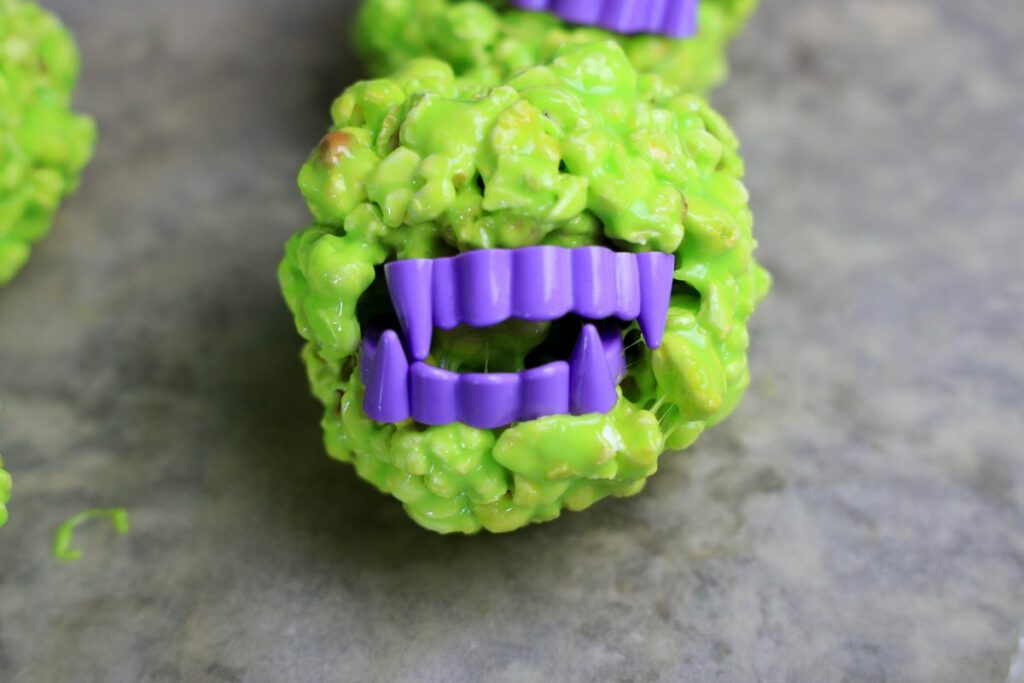 Lastly, add on the candy eye sprinkles. Just place them to the monster popcorn ball before it dries. This allows them to stick well. Do this in twos or threes that is up to you.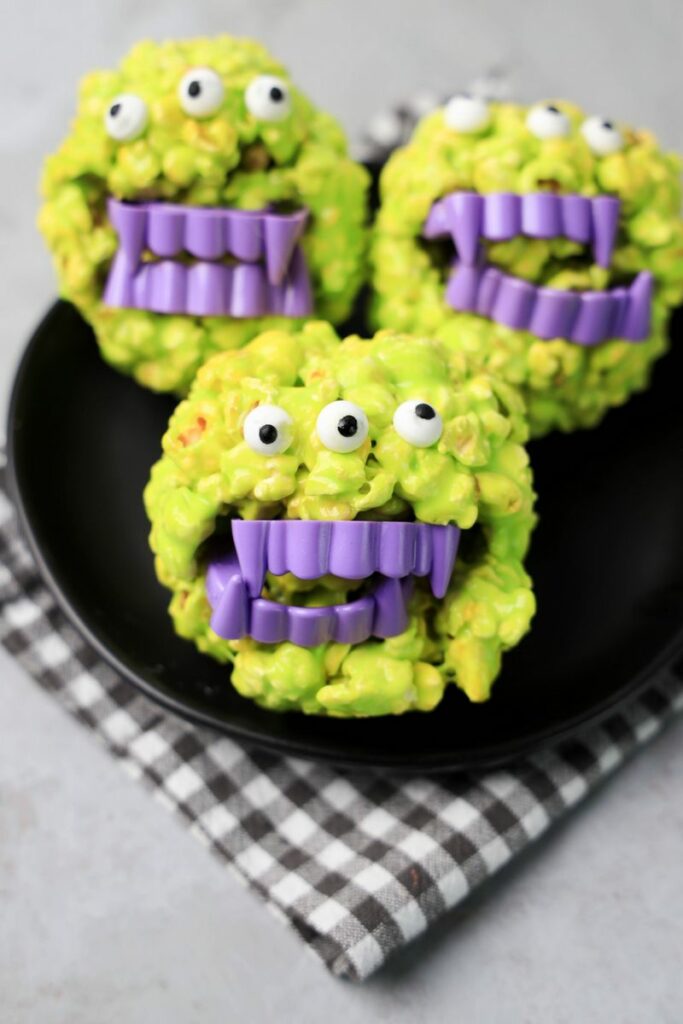 We hope you have fun making this Halloween recipe. Check out a few more great Halloween treats to serve up on a platter.
Halloween Treats: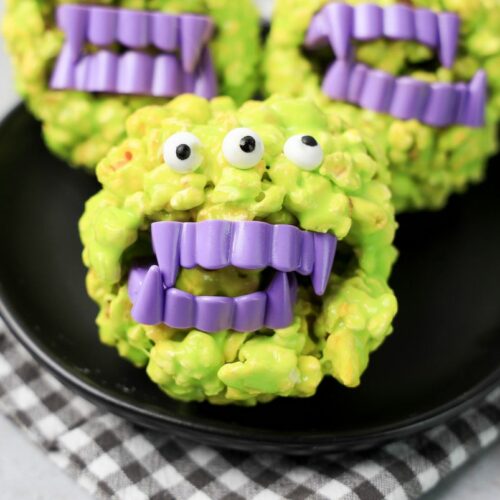 Monster Popcorn Balls
Green popcorn balls with purple vampire teeth.
Ingredients
10

oz

small marshmallows

4

tbsp

butter

3

drops

neon green food gel

1

bag

popped popcorn

4

pieces

vampire teeth

1

can

butter spray

12

pieces

candy eye sprinkles
Instructions
In a deep pan on low heat. Add in marshmallows and butter. Stir until butter is melted and marshmallows are now a thick melted texture.

Add in neon green food gel. Mix well. Add in popcorn but careful to not add any kernels. Mix well until the popcorn is coated.

Let the mix cool just slightly so you don't burn your hands rolling the balls. Lay out parchment paper. Spray hands with butter or olive oil spray to keep the balls from sticking to your hands.

Roll into balls and set on the parchment paper. Cut the vampire or monster teeth at the bend. Pull open an area in the middle of the ball. Add the teeth and form the ball.

Add on candy eye sprinkles. Place in the fridge for about 20 minutes to allow to form. Serve room temperature.
Pin Monster Popcorn Balls