Halloween Charcuterie Board
This post may contain affiliate links. Please read my privacy policy.
It's the spooky time of year where it's fun to serve a holiday board up to guests. Halloween charcuterie board is simple to make with aged meats, custom cheeses, and gummy pumpkins.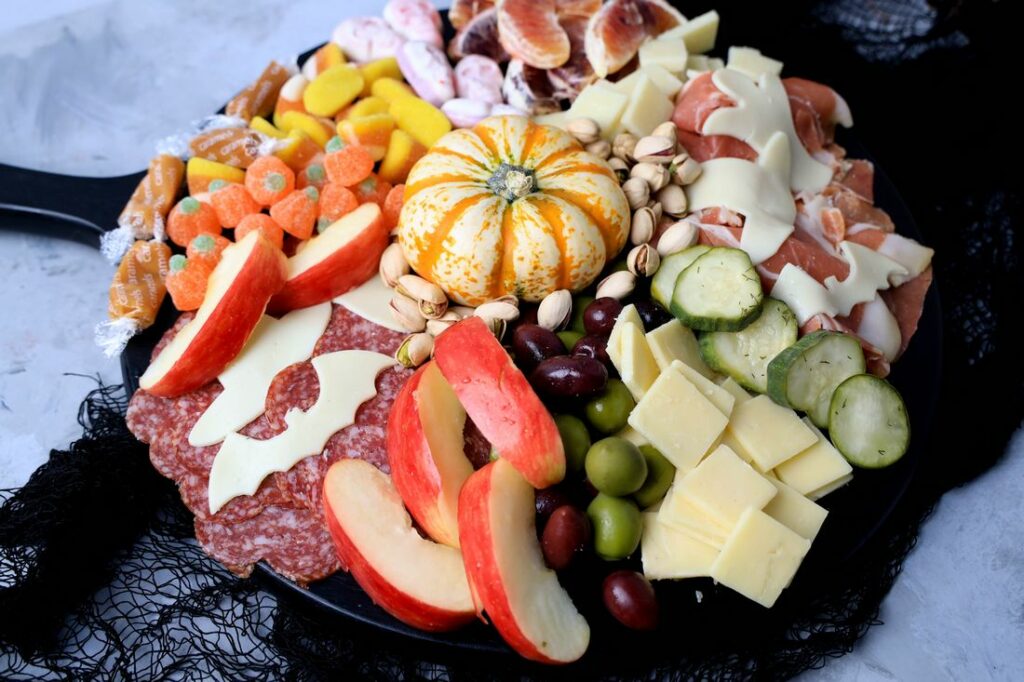 Meats On The Halloween Board
Let's start with the meats on the charcuterie board. Jamon serrano and old black forest German salami is the cuts of meat. We pair these with the right cheeses for optimal flavor.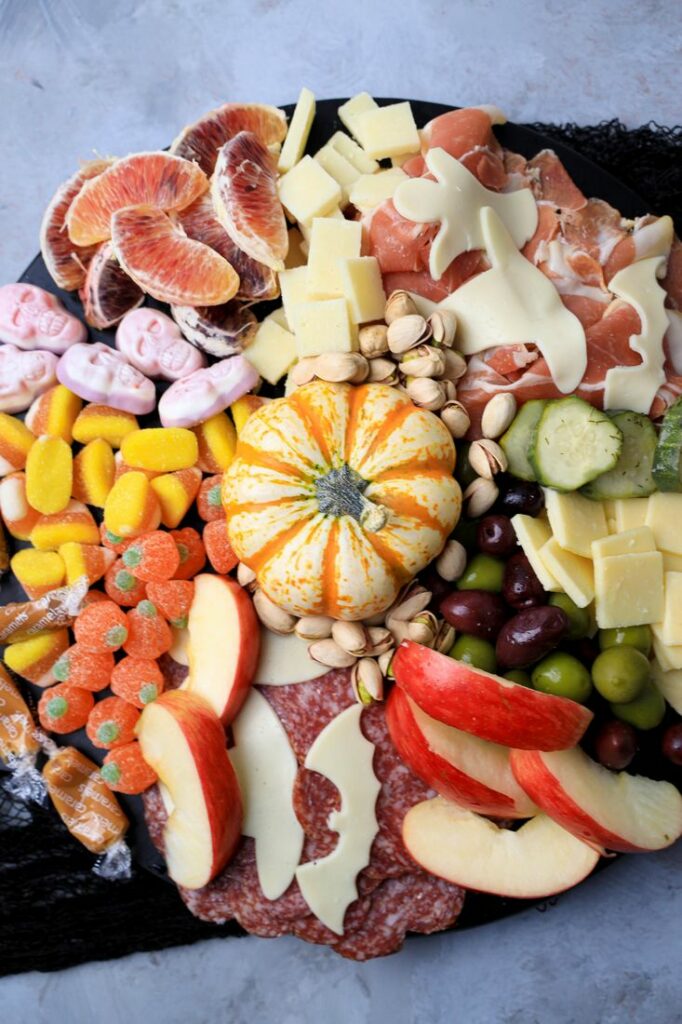 One of the world's oldest cheese's pecorino romano cheese is aged for 9 months. This cheese is called Locatelli which is from Italy. The second cheese used is a Beecher's flagship cheese which is from Seattle.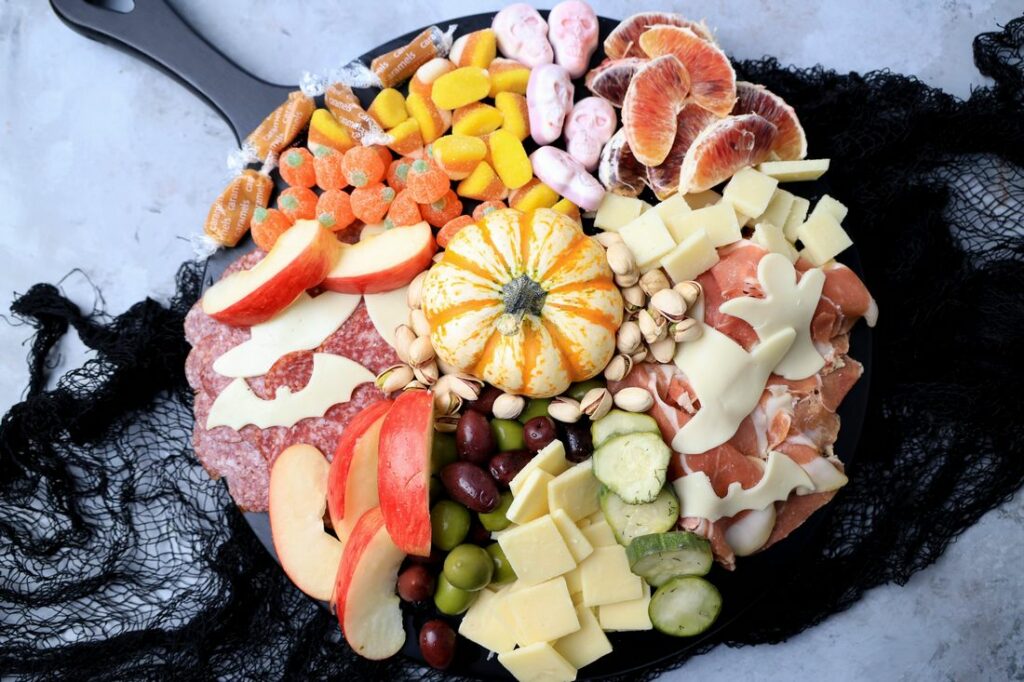 Beecher's cheese is literally one of my most favorite cheese's. My husband loves Locatelli. We usually find both at Central Market.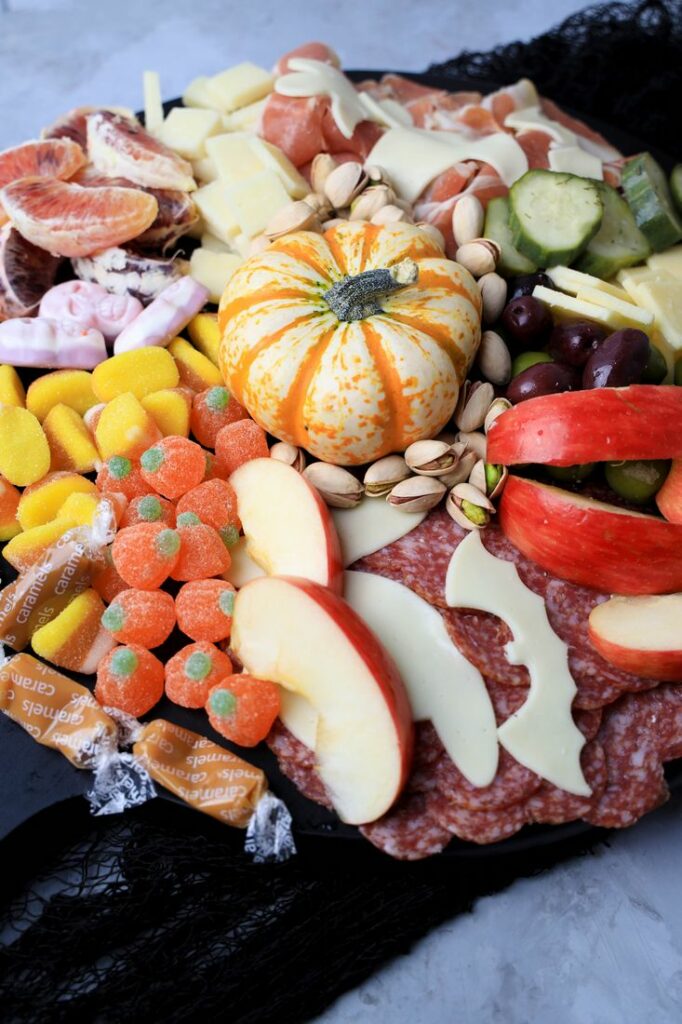 All About Olives:
The olives on the charcuterie are kalamata and castelvetrano. These olives both have distinct flavors. Castelvetrano olives have a butter taste which goes well with a strong cheese.
Kalamata olives have a strong flavor that pairs well with a mild cheese. Something like the Beecher's cheese.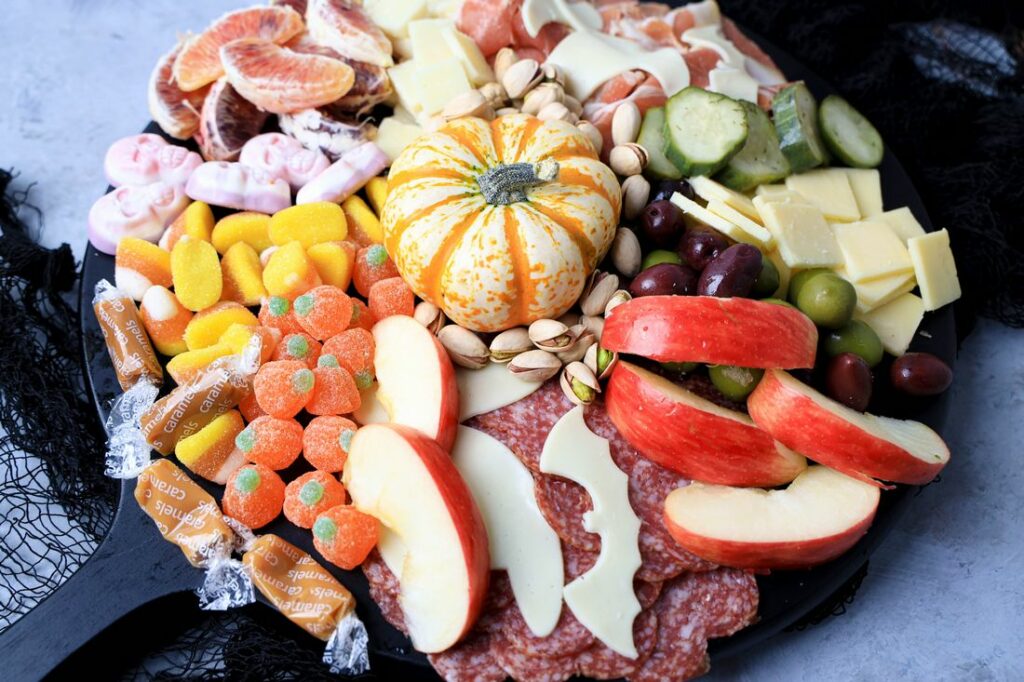 This Halloween charcuterie board uses gummy pumpkins, gummy candy corns, and gummy skeletons for those with a sweet tooth. Find the candy in the Halloween section of Target.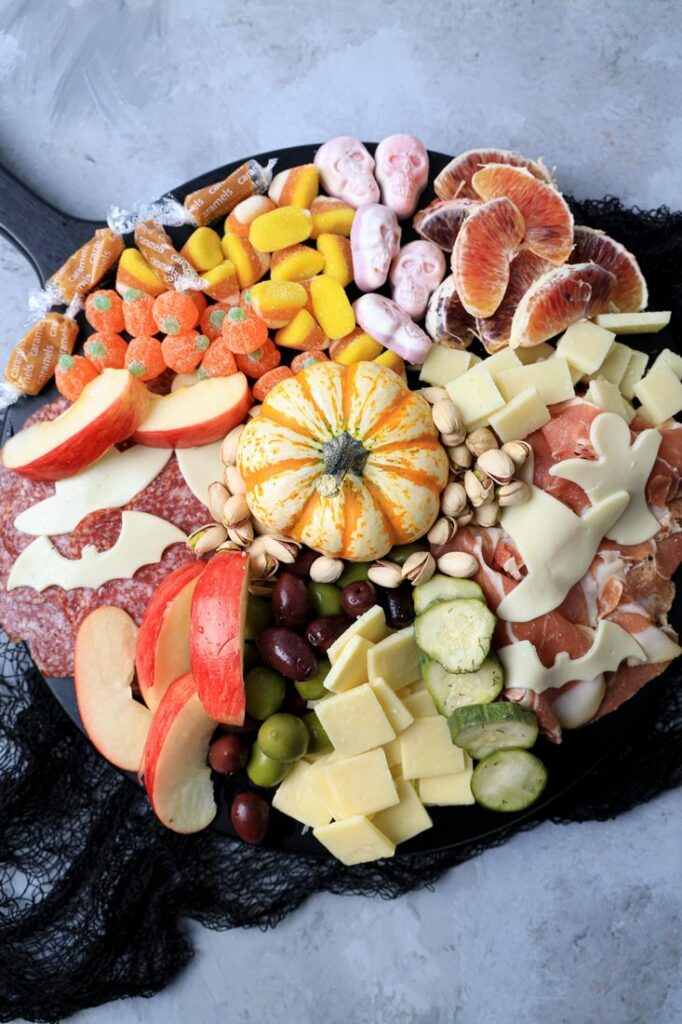 Add some honey crisp apples, blood oranges, and pistachios to fill in the empty spots. Salted caramels are a nice touch to the sweet section of the board.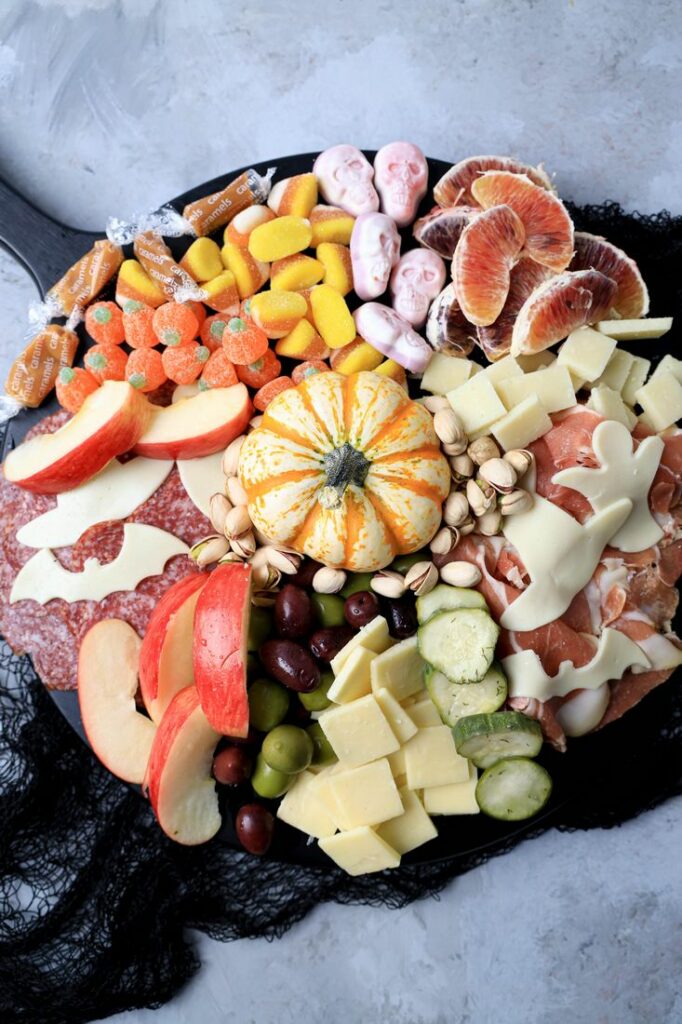 Add in a few cut pieces of mozzarella and zesty pickles to round out the board and the look. Don't forget a beautiful mini pumpkin for the middle of the Halloween charcuterie board.
Holiday Charcuterie Boards: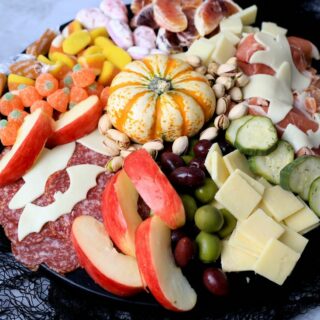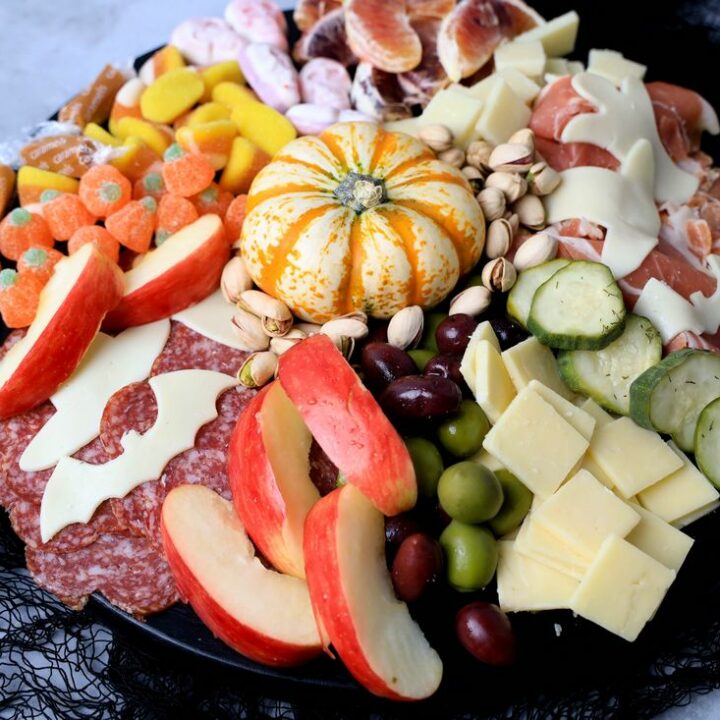 Halloween Charcuterie Board
Board decorated with meats, cheese, and pumpkins.
Ingredients
1/2

lb.

Jamon Serrano

1/2

lb.

Old Black Forest German Salami

1/2

lb.

Beecher's Cheese

1/2

lb.

Locatelli Pecorino Romano

10

Pieces

Gummy Candy Corns

10

Pieces

Gummy Pumpkins

6

Pieces

Gummy Skeletons

4

Pieces

Salted Caramels

6

Slices

Mozzarella Cheese

10

Kalamata Olives

10

Castelvetrano Olives

8

Pickles

1/2

Blood Orange

1/2

Honey Crisp Apple

20

Pistachios

1

Mini Pumpkin
Instructions
Place jamon serrano and black forest salami on different parts of the board.

Slice the Beecher's cheese and place next to the jamon serrano. Slice the Locatelli cheese and place near the salami.

Place the gummy pumpkins, skeletons, candy corn, and salted caramel in one area together.

Fill in with the olives, pickles. blood orange slices, and honey crisp apple slices.

Add the mini pumpkin and pistachios.
Pin Halloween Charcuterie Board