Disney Raya Shrimp Congee
This post may contain affiliate links. Please read my privacy policy.
That moment that Raya and Sisu hop on the boat where Boun offers them shrimp congee. Oh how I really loved his charm. This recipe for Disney Raya Shrimp congee is inspired by the films scene where shrimp congee is served.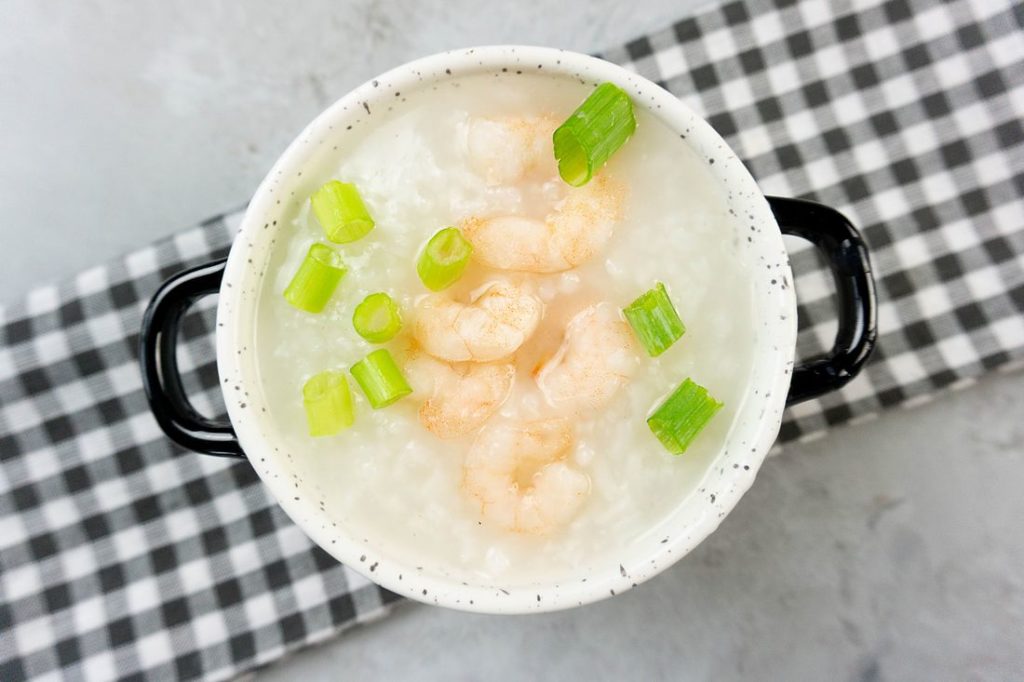 There is several scenes in the film by Disney Raya and The Last Dragon that feature food. From the kumandra soup to the jack fruit jerky to the shrimp congee. Boun offers it to Raya and Sisu and again to the Noi and the Ongis.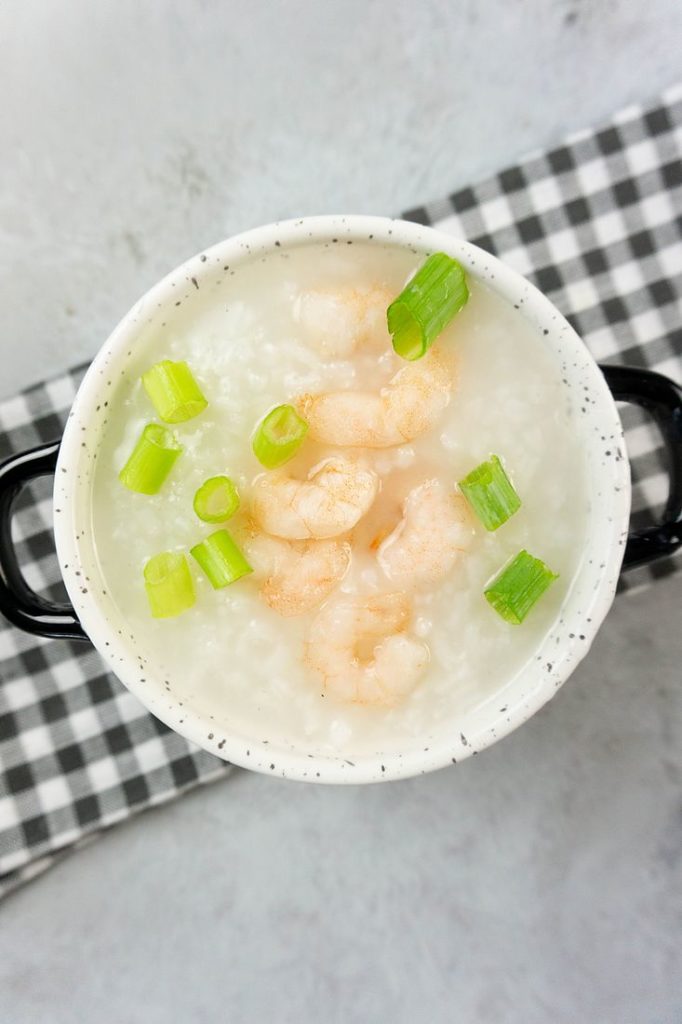 Congee is an easy rice based meal to make. I have added both chicken and shrimp when making congee. The dinner dish is a boiled white rice with water base.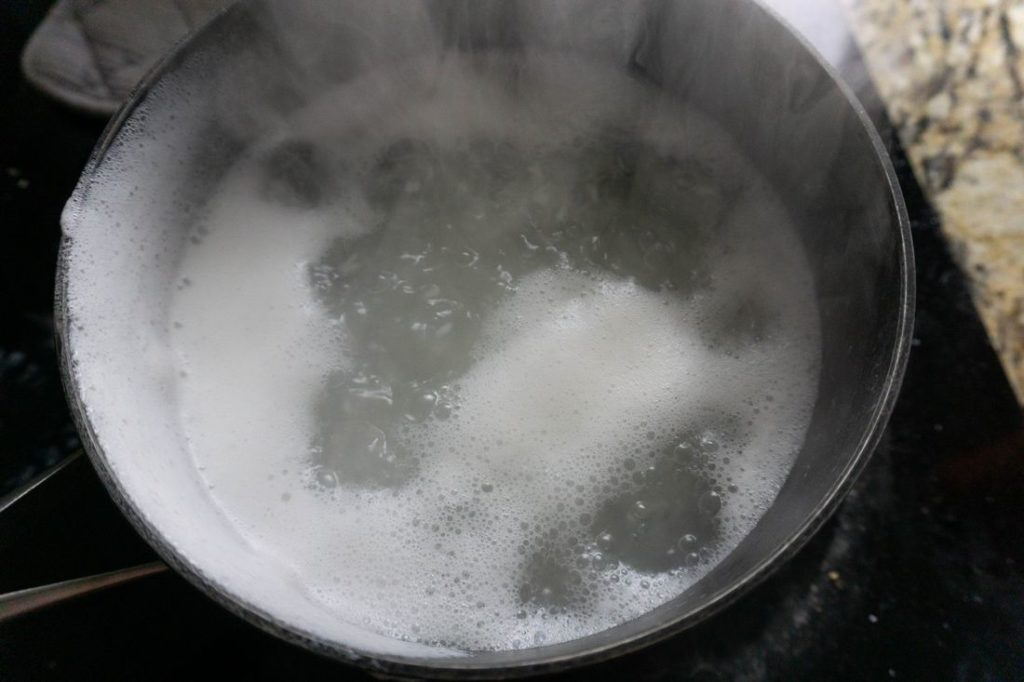 Cooking the rice low and slow makes it become a smooth and light texture. I like to add chicken or shrimp near the end of the cooking process. Some add bouillon, ginger, and spring onions at the end.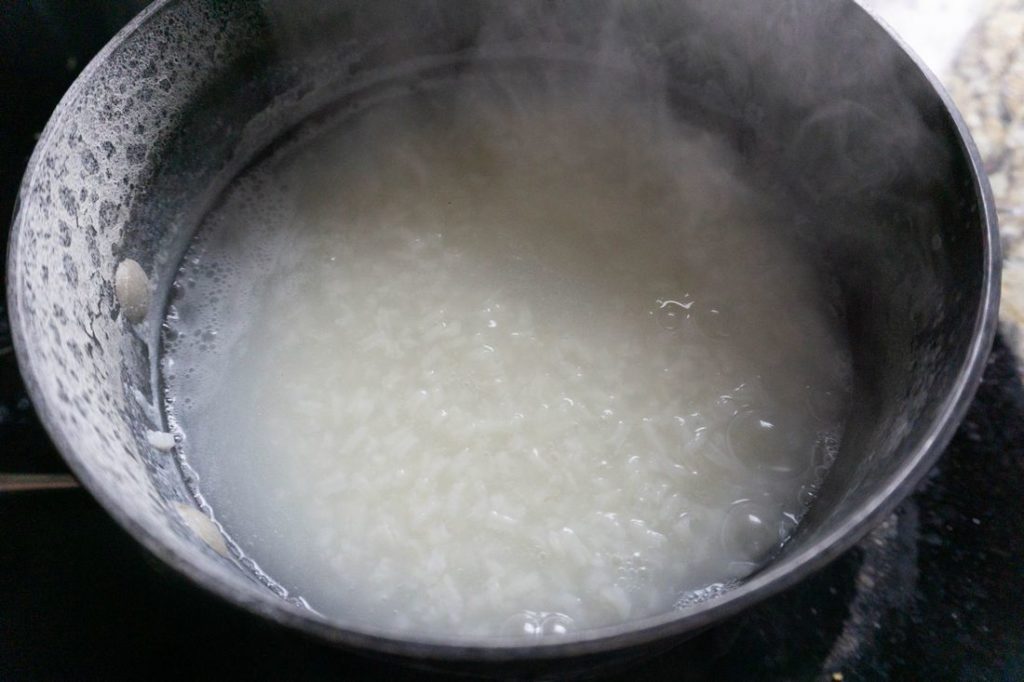 What Is Congee
Congee or conjee is a type of rice porridge or gruel eaten in Asian countries. However, depending on what you add it can be a very nice meal.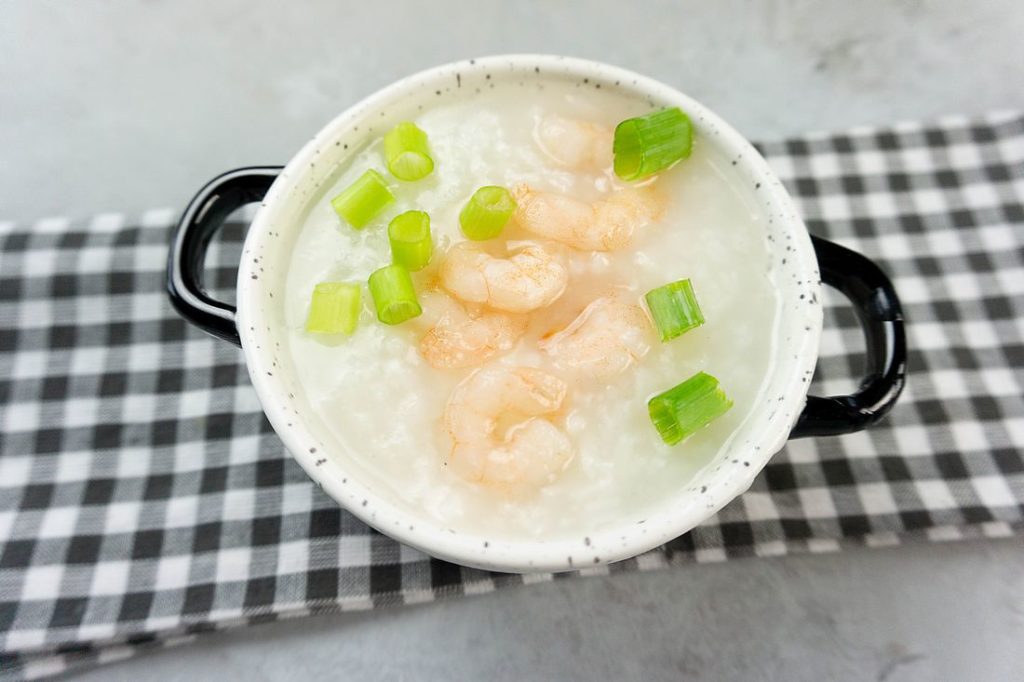 At the end of the cooking process I like to add fresh ginger to the congee pot. After I am done and plating it I add spring onions. I also add the shrimp right at the end too as I use precooked salad shrimp.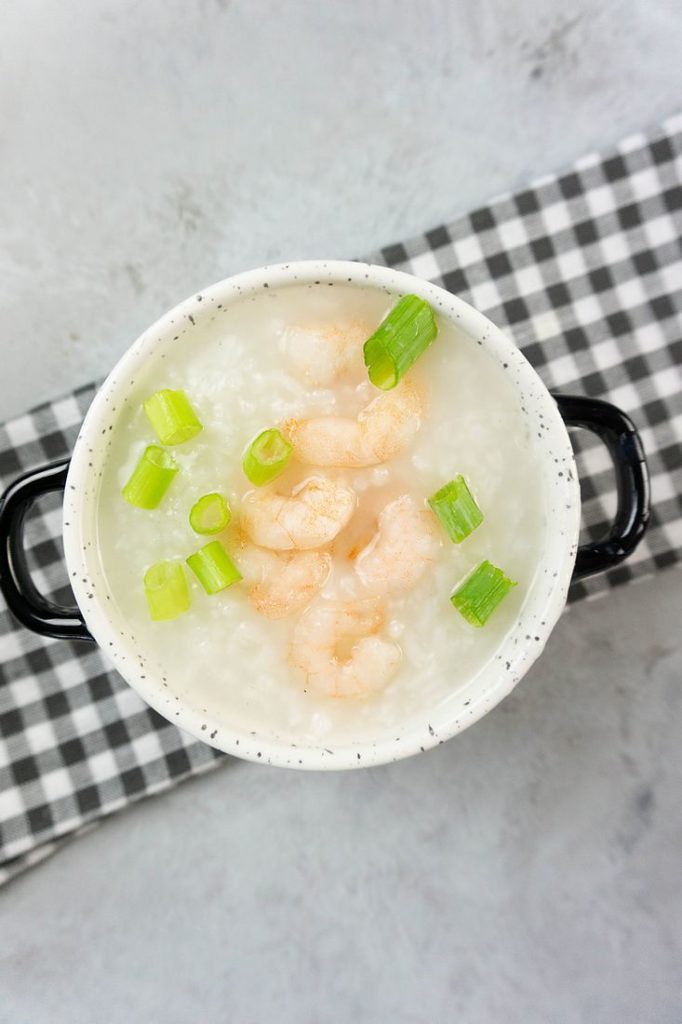 I use precooked salad shrimp in this Disney Raya Shrimp Congee for the ease. Using regular small shrimp as well is possible. Just remember to remove the shells and the veins. Therefore it's good to add the fresh shrimp in the last few minutes of cooking.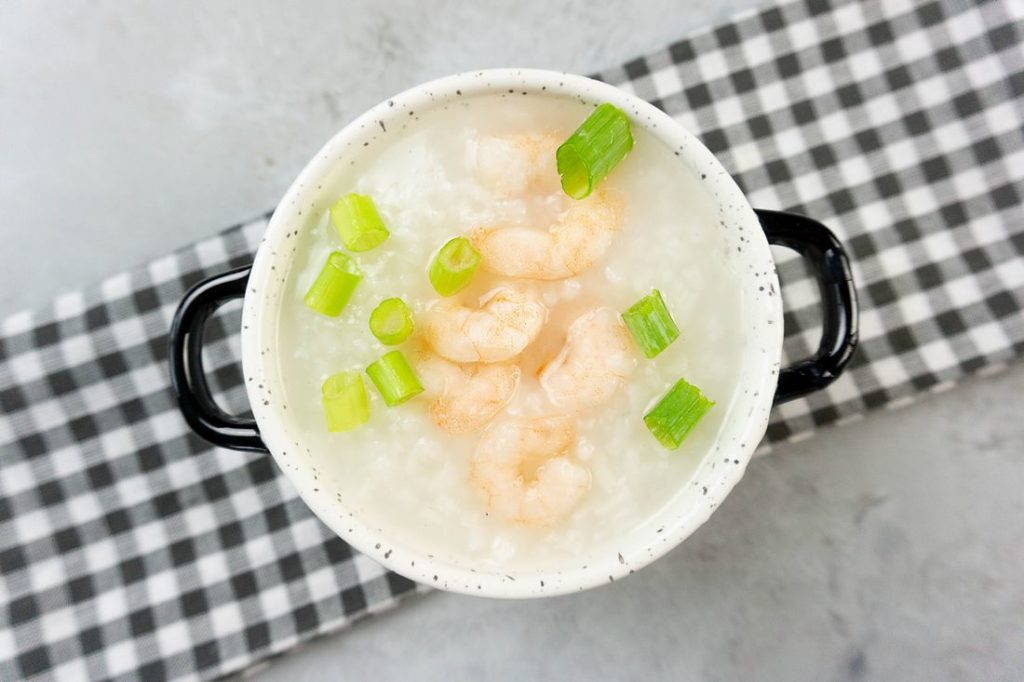 Make this meal for your family as a easy budget dinner. Great to serve up while watching the movie Raya and the Last Dragon. I like to serve up congee on a cool Autumn day outside.. Check out our list of other Disney foods.
Other Disney Foods: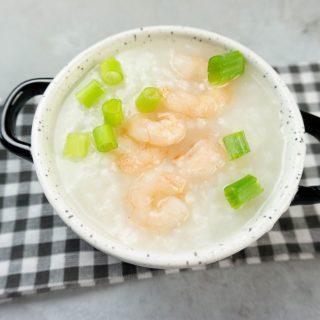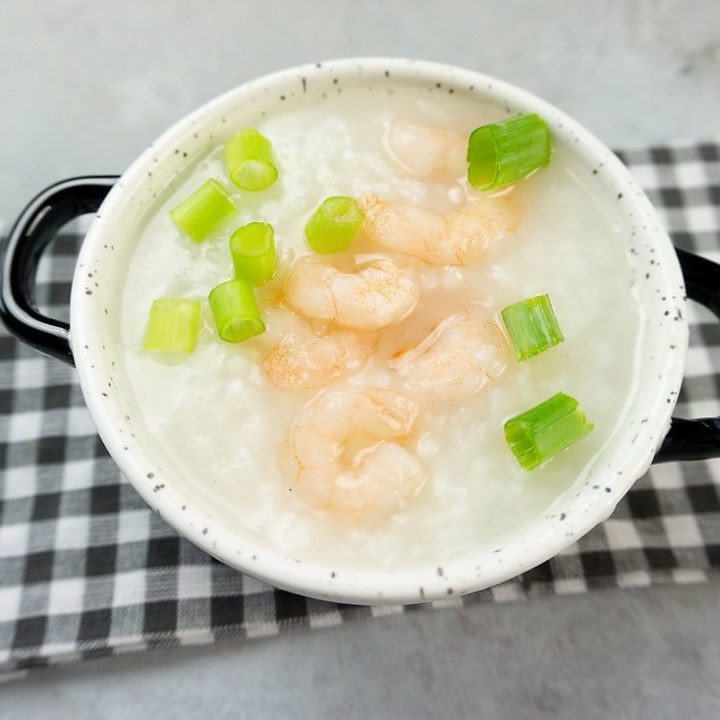 Disney Raya Shrimp Congee
Warm rice congee with shrimp, ginger, and topped with spring onions.
Ingredients
1

cup

white rice; washed

8

cups

water

1

tablespoon

fresh ginger; peeled and sliced

6

green onions; diced

1 1/2

cups

salad shrimp

1

teaspoon

salt
Instructions
Wash rice. Set aside.

Put on a pot with eight cups water and bring to a boil.

Add rice and reduce to medium heat. Stir very lightly. Do not over stir. Cook for 20 minutes.

Whisk rice in pot. This will break up the rice and thicken the congee.

Add in ginger and shrimp. Reduce heat to low and cook for 3 minutes.

Remove from heat. Stir in salt or if you choose bouillon.

Top with spring onions and serve.
Notes
There is plenty of sauces that can be added to the top for more flavor or heat. This is up to you to add what you would like. I made the kid friendly version and gluten free as well.
Pin Disney Raya Shrimp Congee