This post may contain affiliate links. Please read my privacy policy.
Bucatini All'Amatriciana is a pasta dish made with pork and San Marzano whole peeled tomatoes. Simmered with a dry white wine and fresh basil. This Italian dish is delectable to say the least.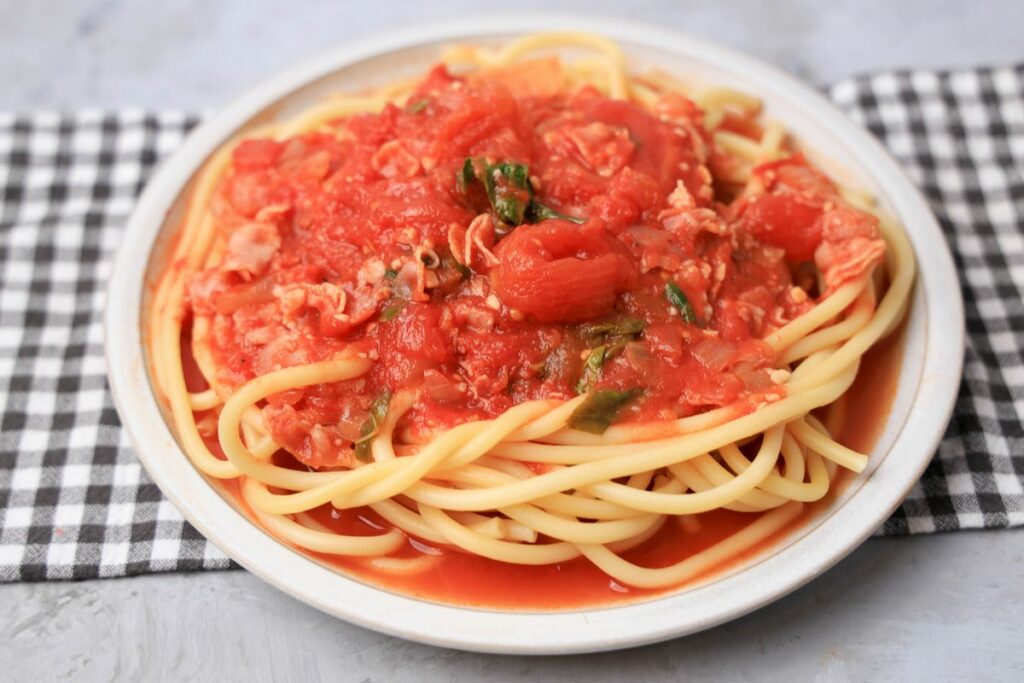 Bucatini all"Amatriciana is a dish that made it popular in Rome. This pasta is named after the tiny town of Amatrice. Shepherds love this meal to warm up from the chilly mountain air.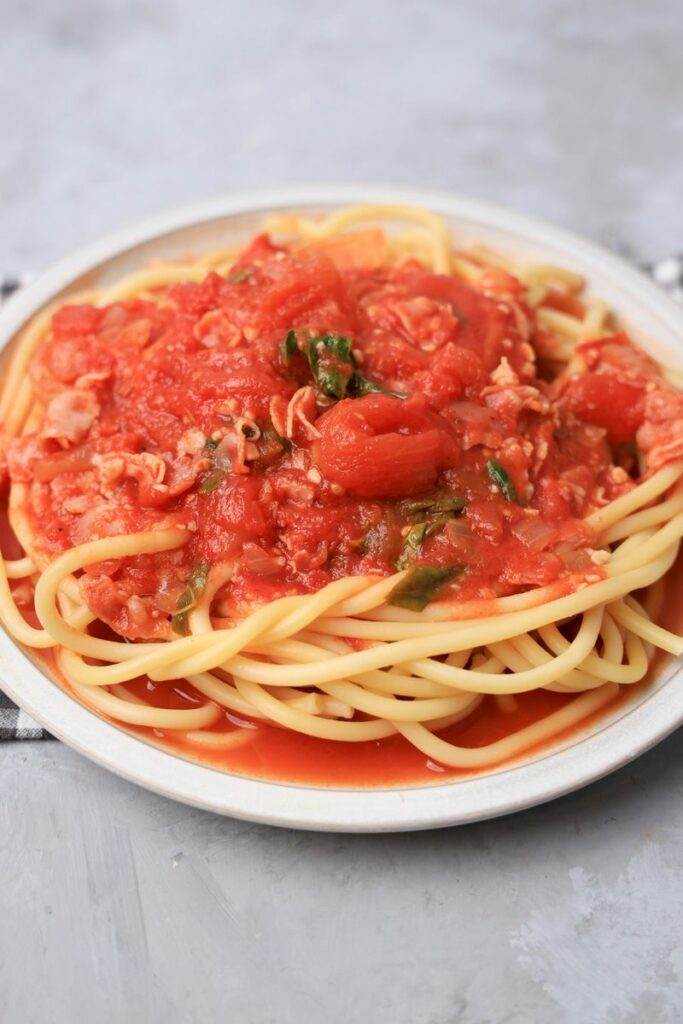 Guanciale (pork cheek) is not common in the US, which means you must replace it with the closest item, that item is pancetta. Guanciale is used in this Italian dinner pasta. If you can find it then use it.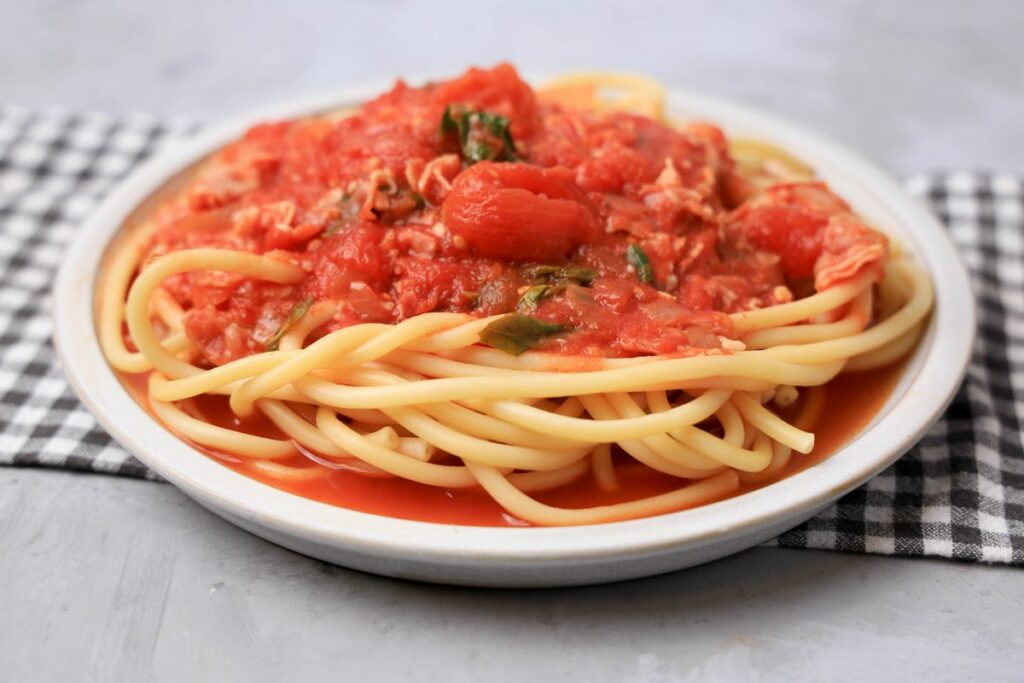 Bucatini is a No. 12 pasta that resembles spaghetti but has a elongated hole running complete through it. Bucatini is available to be purchased on Amazon.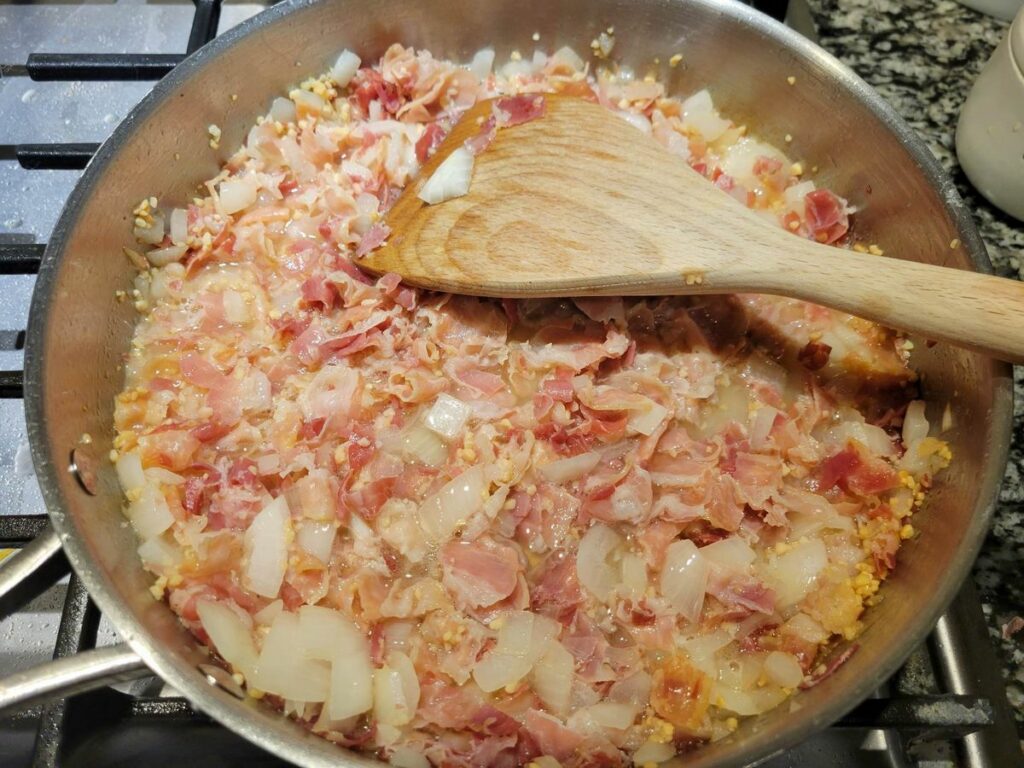 Firstly, start by making the sauce with sautéing the pancetta (or guanciale) with garlic and small diced white onion. Add in the white wine to deglaze. Add in the San Marzano peeled tomatoes.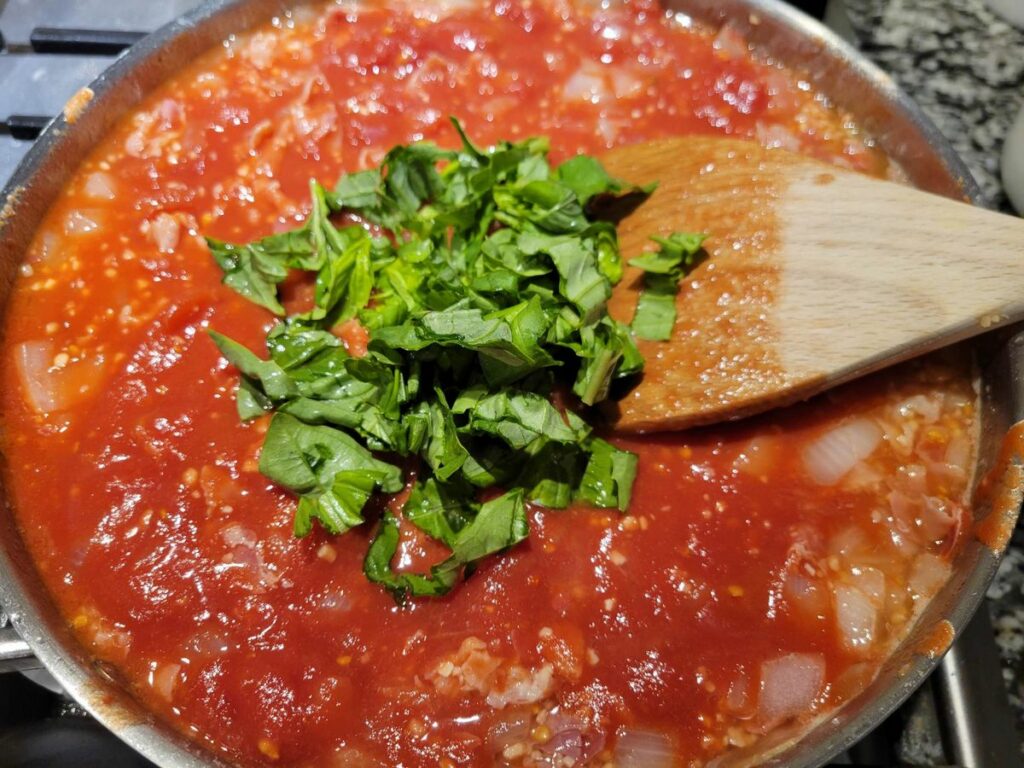 Secondly, using a spatula press the tomatoes to break them apart. Add in the fresh basil. Baby basil leaves have the most flavor so I make sure to add a bunch. Lastly, top with pepper and if you choose some parmesan cheese.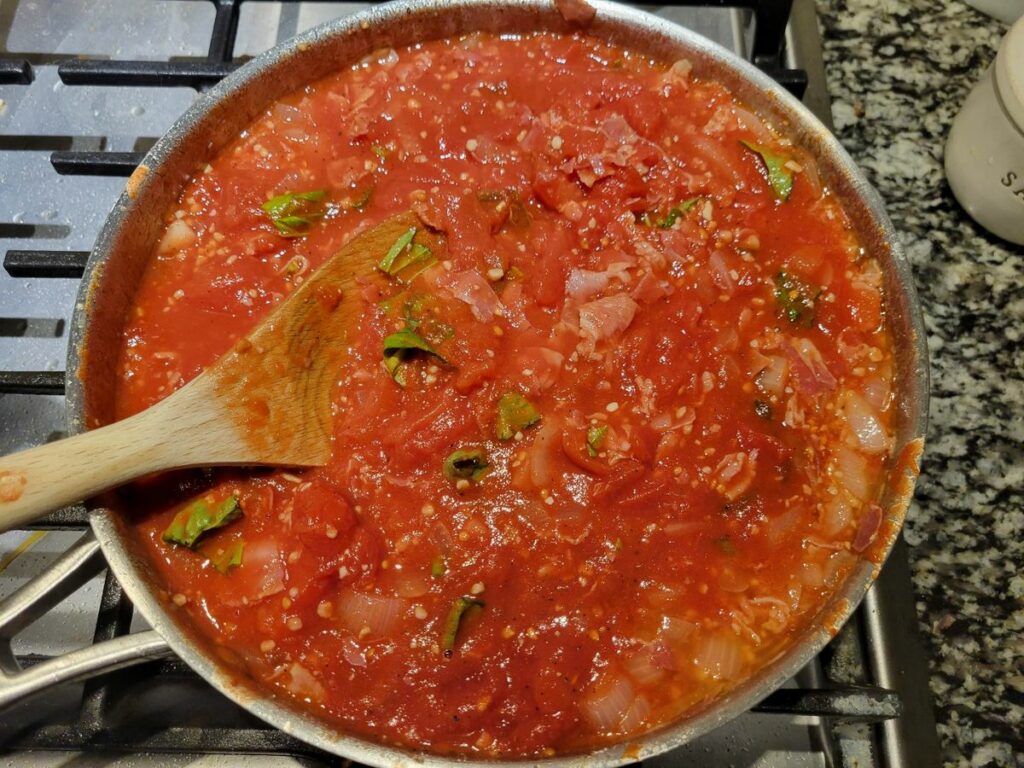 Gluten Free
The sauce to Bucatini All'Amatriciana is gluten free. Replace the bucatini pasta with a gluten free pasta. Make sure it's a pasta with curves or holes to hold the sauce. This recipe is also nut free as in the sauce.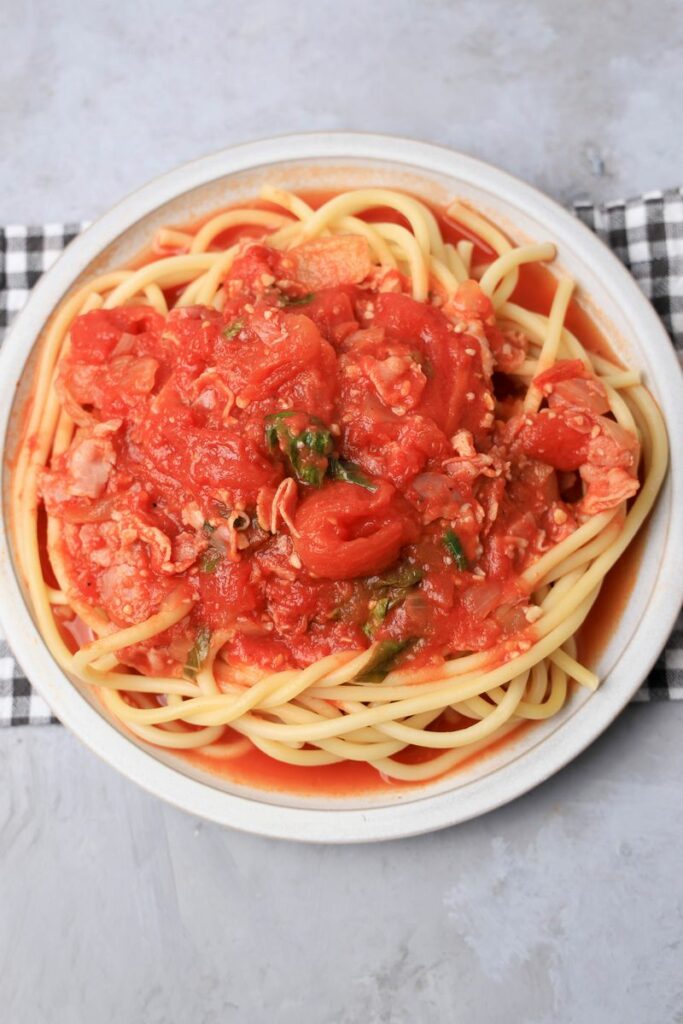 Reheat and Make Ahead
This pasta dinner is easy to make a day ahead and reheats easily on the stove. Additionally, bucatini can be microwaved as well. Therefore this pasta can be stored for up to two days in the fridge in a glass container.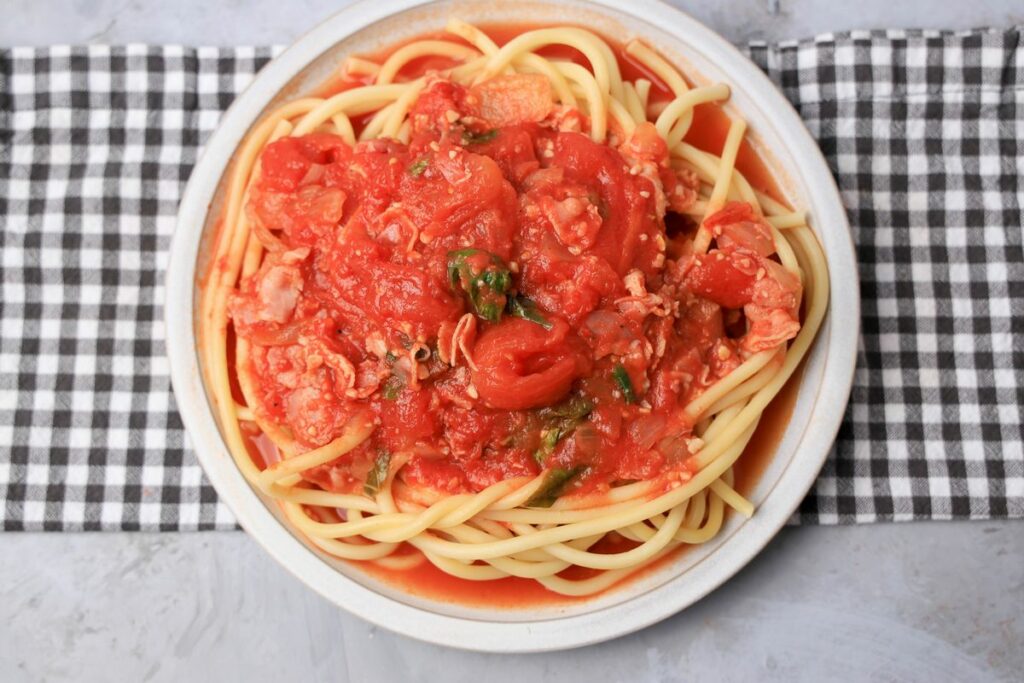 Bucatini All'Amatriciana is a one of the most amazing pasta dishes. Full of smoky and basil flavor. Although this dinner pasta is much lighter than a normal spaghetti pasta.
Italian Recipes: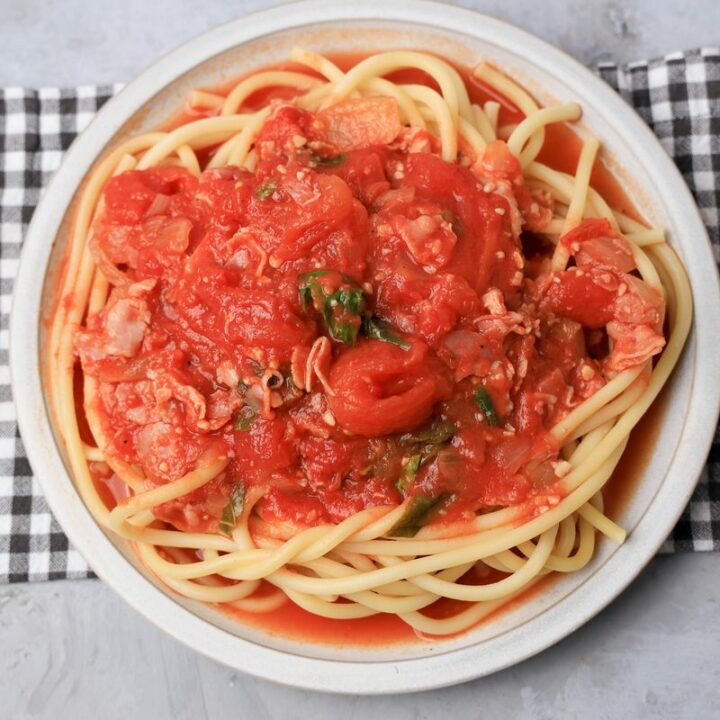 Bucatini all'Amatriciana
Pancetta and San Marzano tomatoes in a delectable red sauce.
Ingredients
1 tablespoon extra virgin olive oil
3 tablespoons garlic
1/2 lb. Pancetta; diced
1 small white onion; diced
1/4 teaspoon crushed red pepper (optional)
1/2 cup dry white wine
2 - 28 oz peeled San Marzano tomatoes canned
5 basil leaves; chopped
1 cup freshly grated Pecorino Romano cheese
1/4 teaspoon pepper
1 package bucatini pasta
Instructions
Fill a large pot with water, one tablespoon olive oil, and salt. Bring to a boil and cook pasta until done while cooking the sauce.
In a deep sauté skillet, add onions, pancetta (guanciale), garlic, and olive oil. Cook until pancetta is crispy.
Add in dried red chili pepper and sauté for about a minute. Pour in white wine and deglaze. Add in the peeled San Marzano tomatoes. Break up the tomatoes while cooking. Add in basil and stir. Cook for about ten minutes.
Add pepper. No salt is needed as the tomatoes carry enough salt.
Drain pasta. Toss pasta with sauce and plate. Top with freshly grated Pecorino Romano cheese.
Nutrition Information:
Yield:

6
Serving Size:

1
Amount Per Serving:
Calories:

405
Total Fat:

27g
Saturated Fat:

10g
Trans Fat:

0g
Unsaturated Fat:

15g
Cholesterol:

41mg
Sodium:

511mg
Carbohydrates:

26g
Fiber:

6g
Sugar:

8g
Protein:

13g
For more on our nutrition disclaimer https://mooshujenne.com/nutrition-disclaimer/
Pin Bucatini all'Amatriciana: