This post may contain affiliate links. Please read my privacy policy.
If you love Starbucks then it's likely in the heat of Summer you may have tried a Frappuccino. With Shark Week coming why not have a delicious shark attack Frappuccino! Loaded with shark ice cream and pureed strawberries this Frappuccino is caffeine free and fun for the whole family.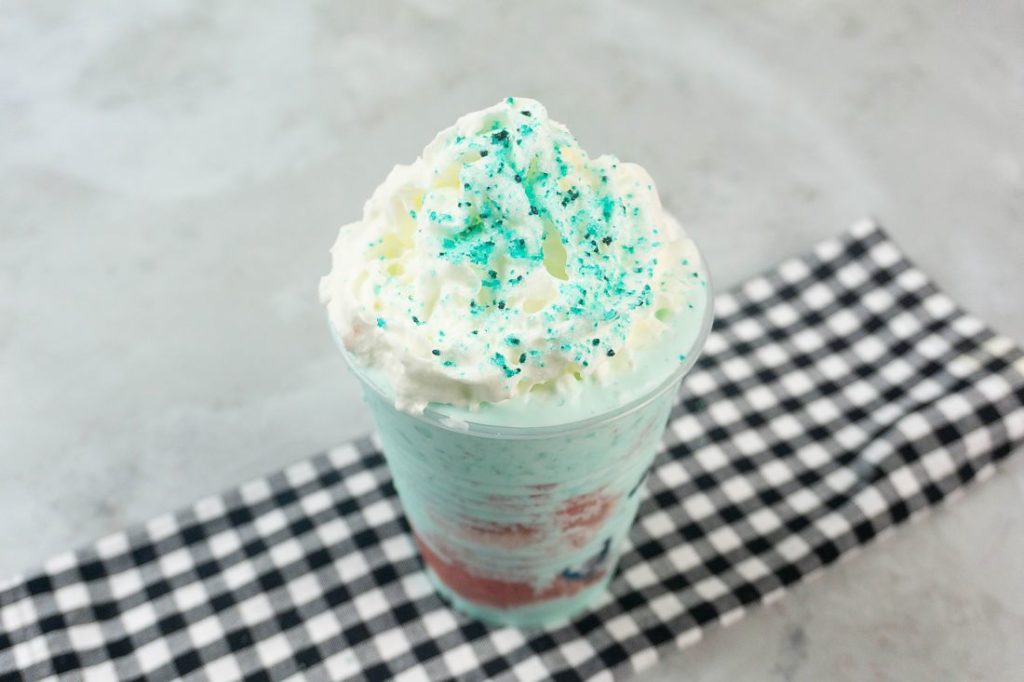 There is a few tricks to making this Frappuccino perfect. First, freeze your strawberries ahead of time. This allows the strawberries to be the same temperature as the liquid you are adding. It also allows the strawberry puree to stick better to the side of the cup.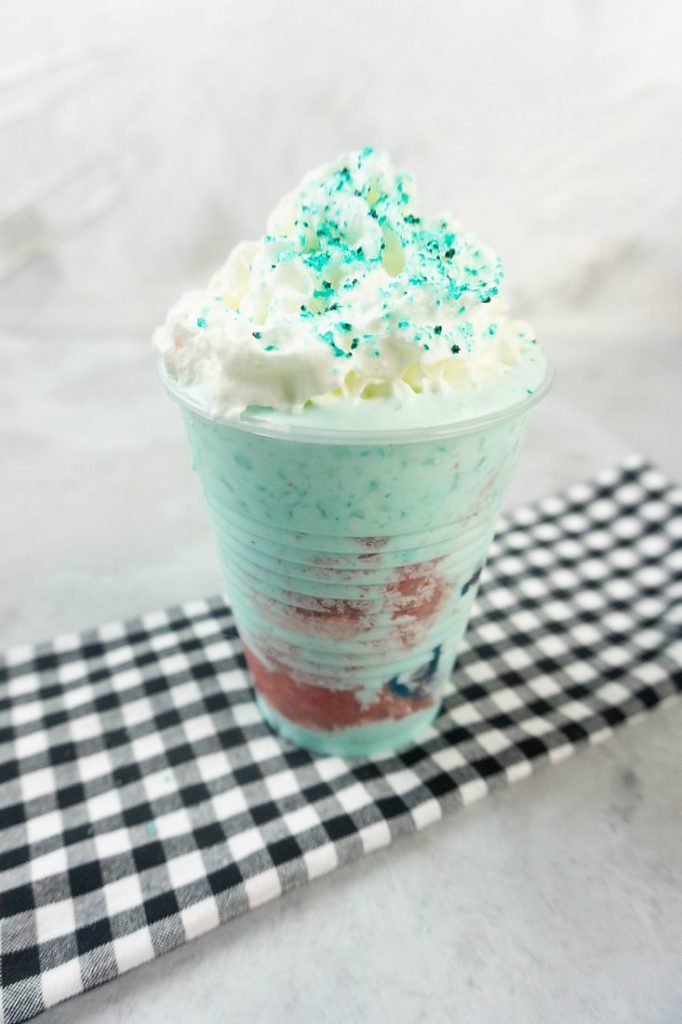 While you could replace the strawberry puree with strawberry syrup it just doesn't have the same effect that you get when you add the puree. I usually just buy frozen strawberries and blend them with a little water.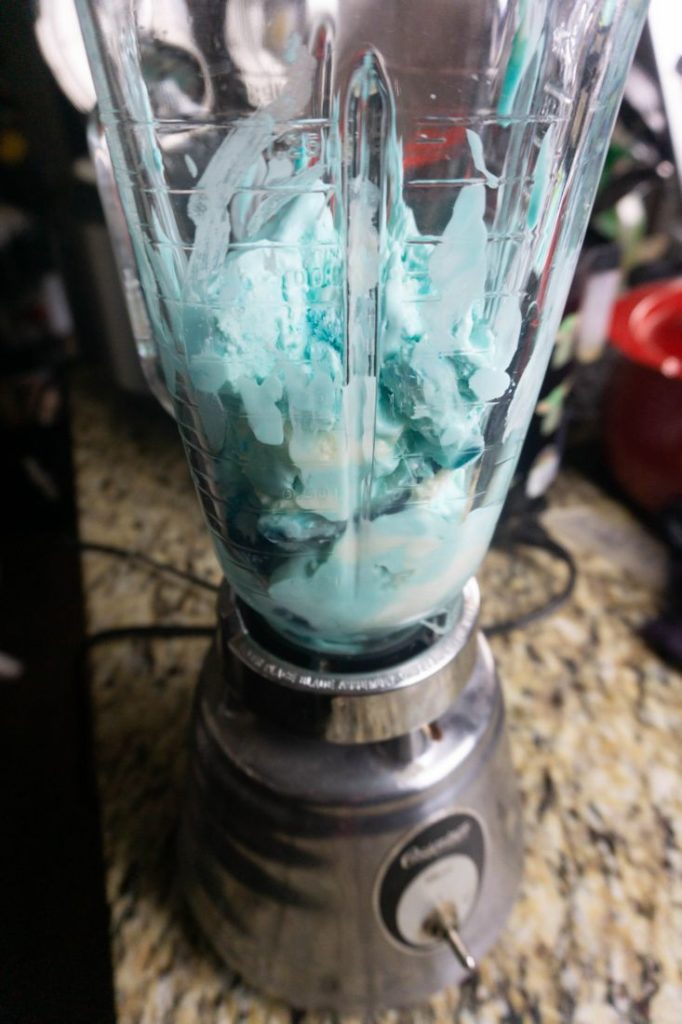 The Ice Cream
Second, this recipe starts with blue shark ice cream. We use it from another recipe here on the blog. You can however, use a blue sherbet ice cream along with vanilla ice cream. We just used our own no churn ice cream for more shark loving fun!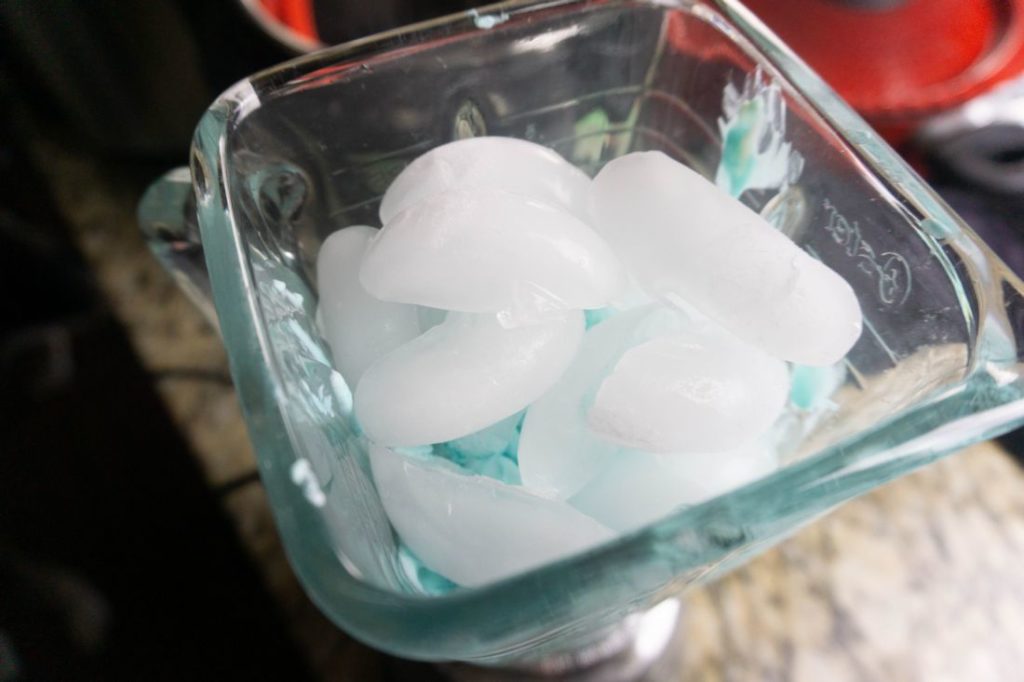 Third, have extra milk. Sometimes the ice cream can be too thick or a little too much ice is added that you need to add a little more milk to make the Frappuccino drinkable through a straw. Making a frappuccino from scratch is so much fun!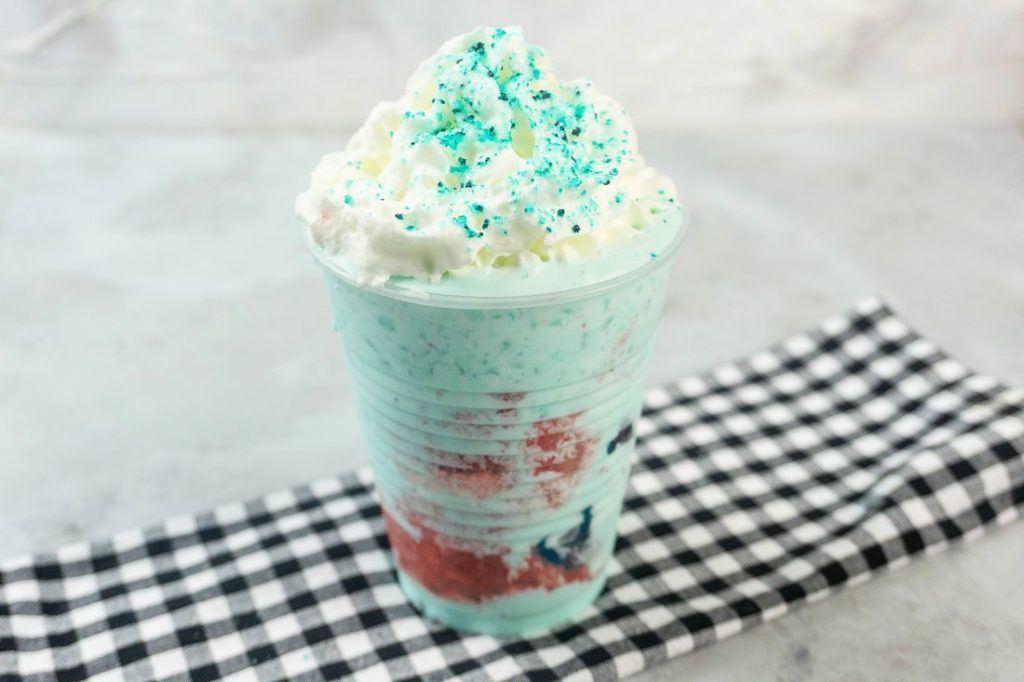 Once you make one Frappuccino from scratch you will want to make all kinds of different Frappuccino's for fun. In this shark attack Frappuccino we used blue shark gummies we bought off amazon. Sometimes the shark gummies are hard to find at local candy stores.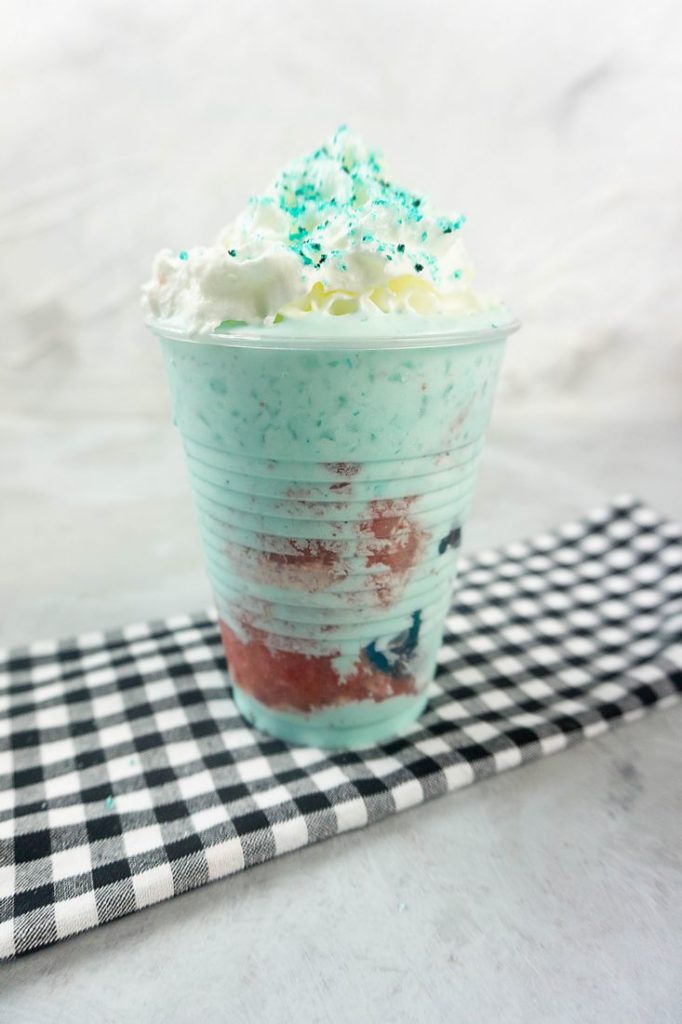 Make this shark frappe with some other shark recipes. Check out a few more shark recipes below to eat while watching Shark Week. I'd love to know below what your favorite part of Shark Week is!
Shark Recipes: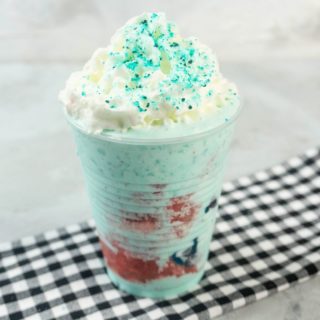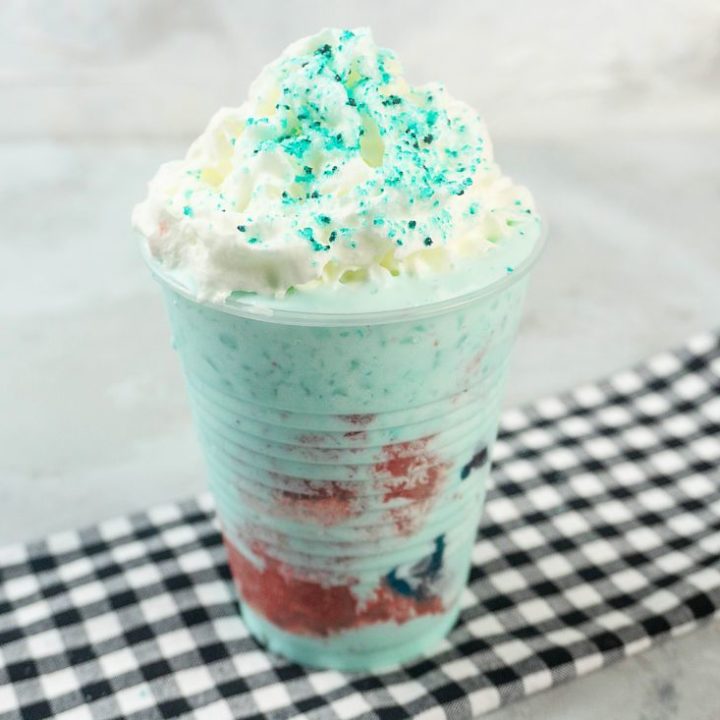 Shark Attack Frappuccino
Shark Attack Frappuccino made from shark ice cream and caffeine free.
Ingredients
4

scoops shark ice cream; see notes for other ice cream

2

drops light blue gel food coloring

1/2

cup

milk; may need more

4

tablespoons

sugar

whipped topping for topping

1

cup

frozen strawberries

1/3

cup

water

1

cup

ice
Instructions
Blend frozen strawberries with 1/3 cup of water. Use this to add a little to the sides of the cup as you pour in the Frappuccino mixture. This is for your blood in the Frappuccino.


In a blender, blend together 3 to 4 scoops of the shark ice cream, 1/2 cup milk, and 1 cup ice. If it is still too thick then add in a little more milk.


Pour some into the cup then add some strawberry puree. Then add more Frappuccino. Top with whipped topping.


Mixture together 1 drop light blue food coloring and sugar. Use this top over the whipped topping.
Notes
You may use a blue sherbert and vanilla ice cream if you do not want to make the shark ice cream from scratch. You can also top with blue food dust if you don't want to make the sugar topping.
Pin Shark Attack Frappuccino