This post may contain affiliate links. Please read my privacy policy.
Looking for that simple dinner that will wow the entire family. It's like a pie or a tart but with beautiful colors from all the vegetables in it. It can be served for breakfast, lunch, or dinner. Don't forget an Italian sausage tart can even be perfect for a Sunday brunch.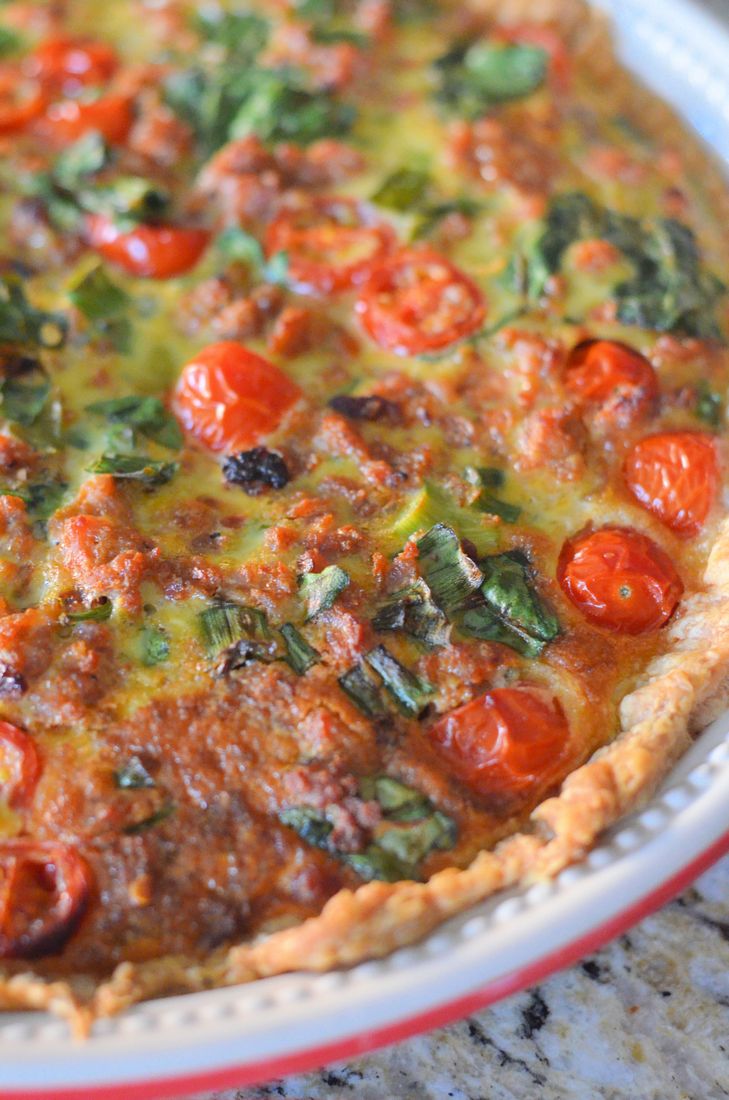 It can be prepared ahead of time to cut down on time too. Have leftover meat from another meal you can always change the meat in this dish to anything you want. From bacon to chicken to ground beef this Italian Sausage Tart can accompany any meat.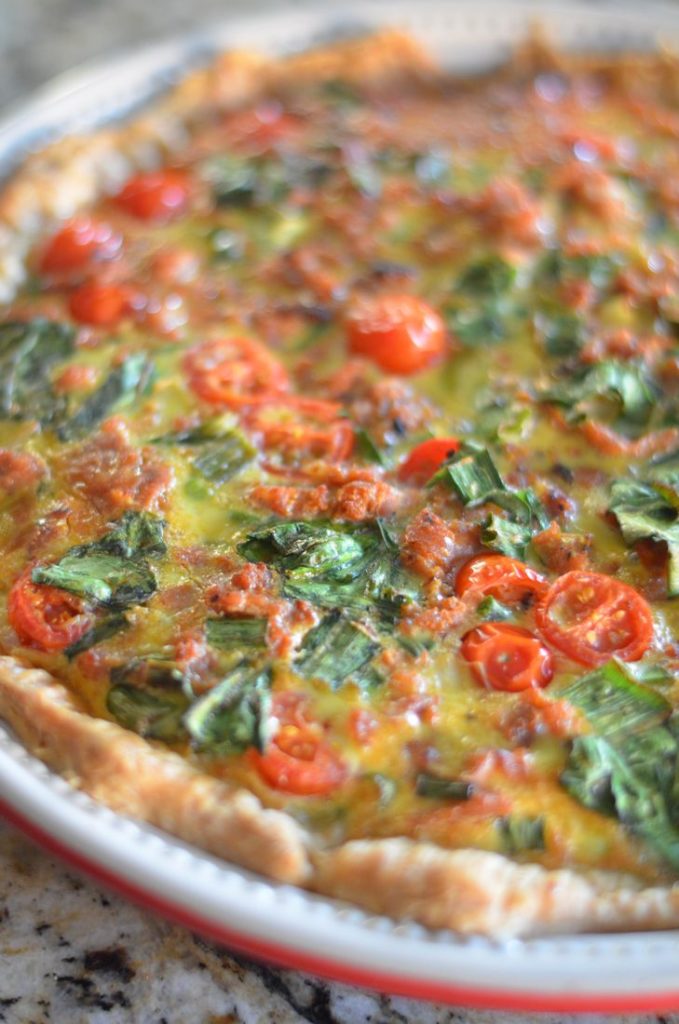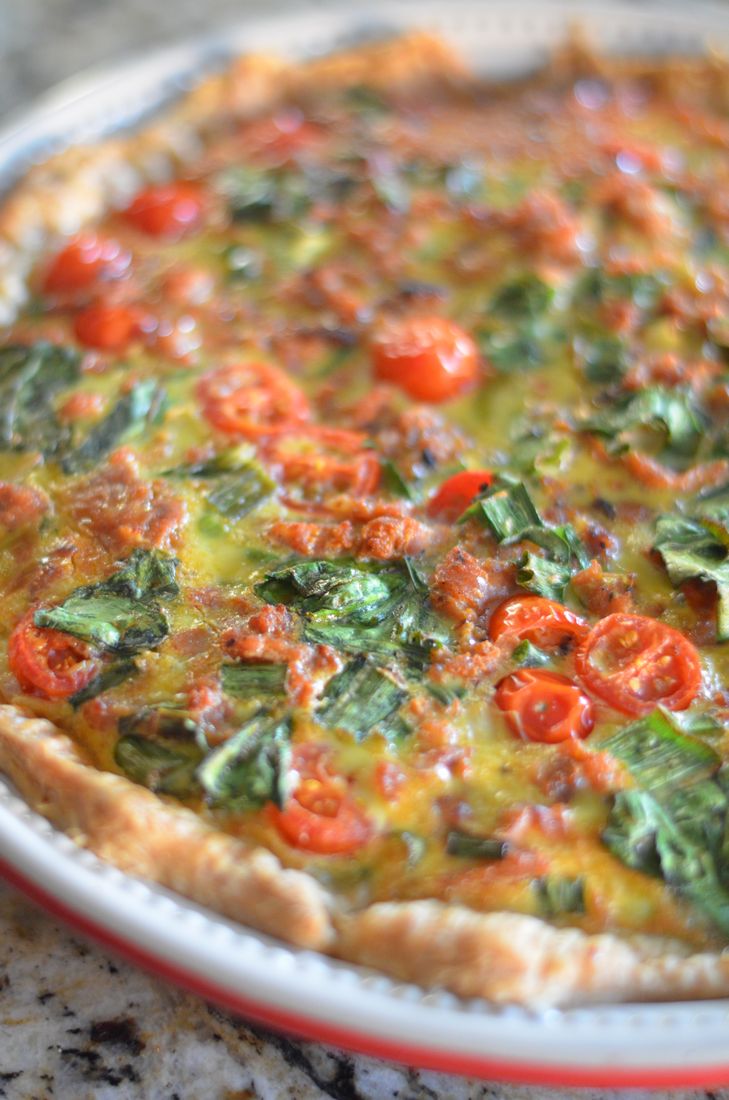 Made with a phyllo dough crust and simply topped with tomatoes, spinach, spring onions, and eggs. The meat easily mixes right in. You can also easily alter the vegetables you would like in it.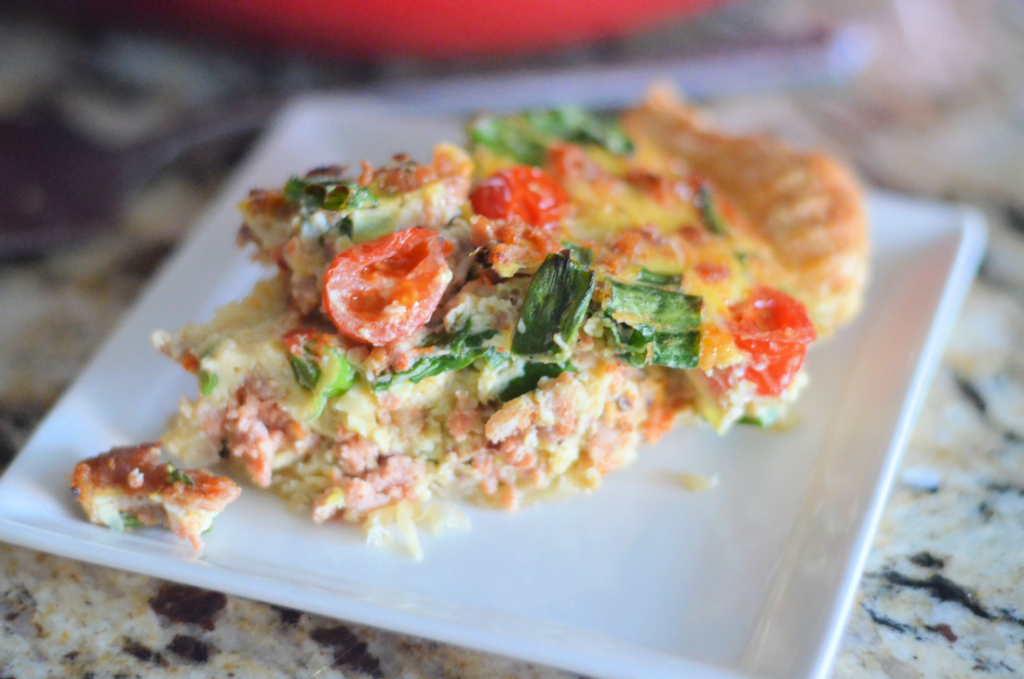 Remember if they give water when cooking to add a bit less of the egg. I like to have bacon in mine with Parmesan topping it when I pull it out of the oven.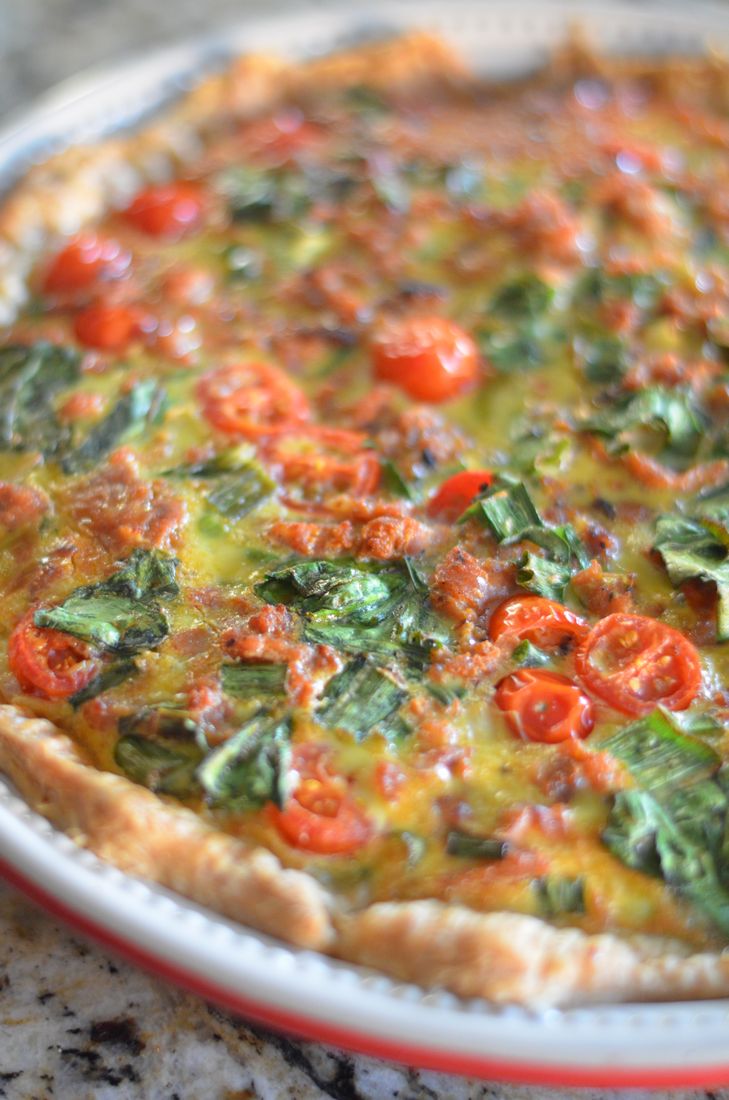 When I have people coming to visit for tea or just because, I like to make this dish. I will precook the meat and let it cool. I added it to a ziplock. That way I can simply add everything to a bowl and toss the meat in.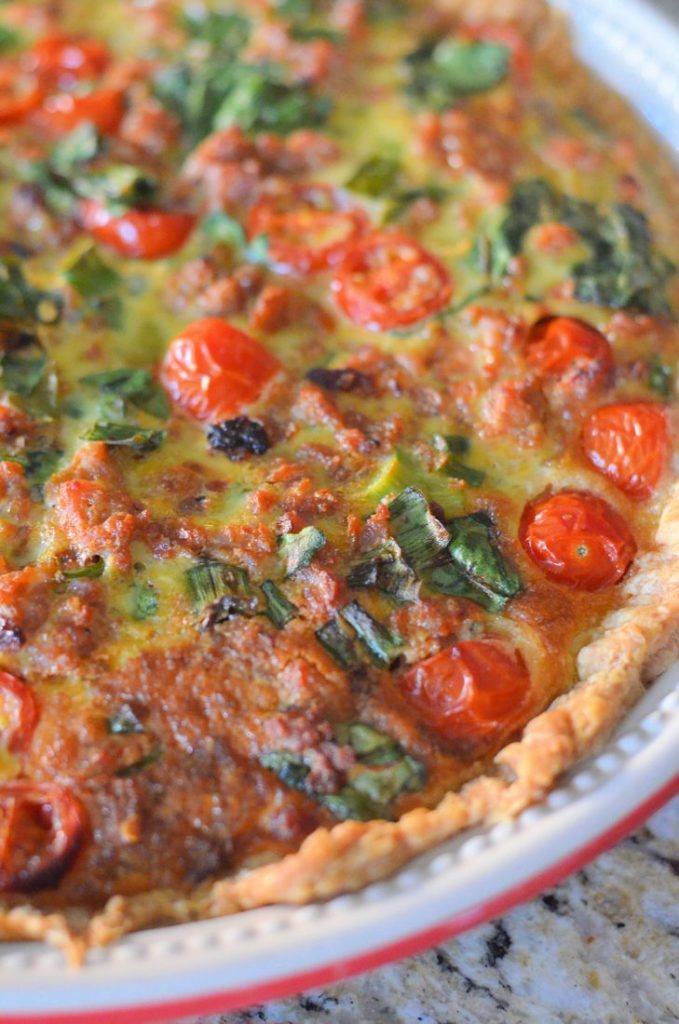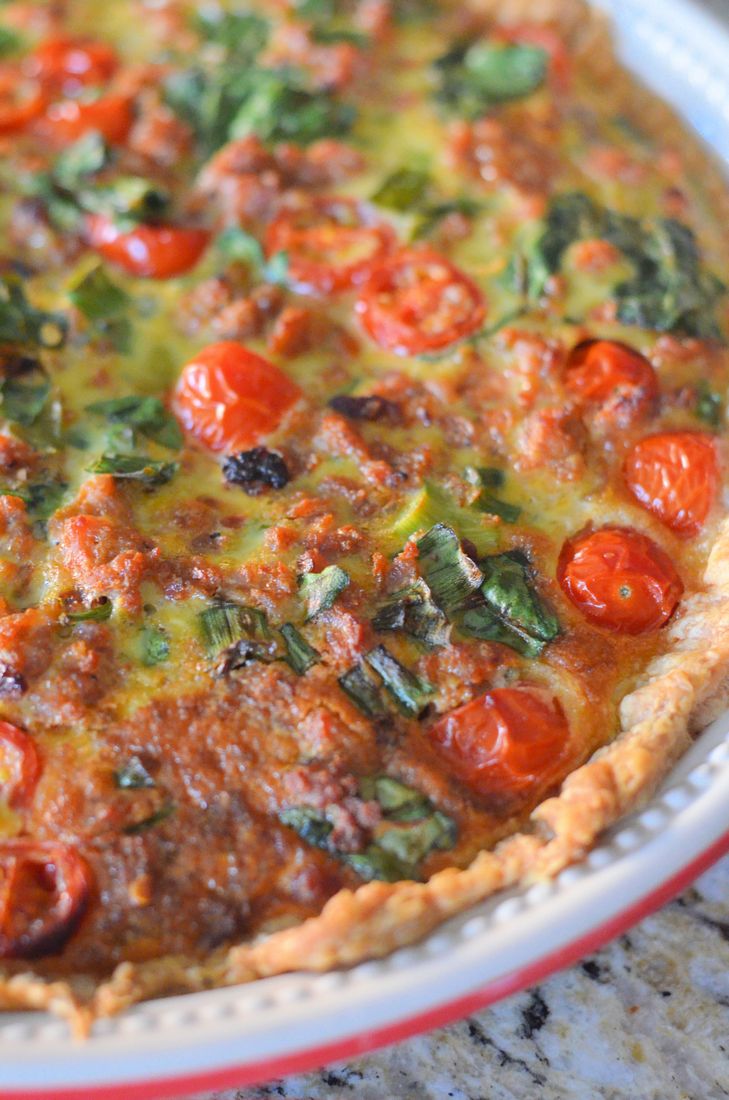 Preparation takes me about five minutes then I just pop it into the digital oven and bake for 30 minutes before my guest get here. Most people eat one to two slices.
This Italian Sausage Tart is the perfect way to get your children to eat their vegetables too. It looks so pretty and they just think it's pie or a tart. They associate it with a dessert. This dish will shock them and realize that vegetables are not that bad.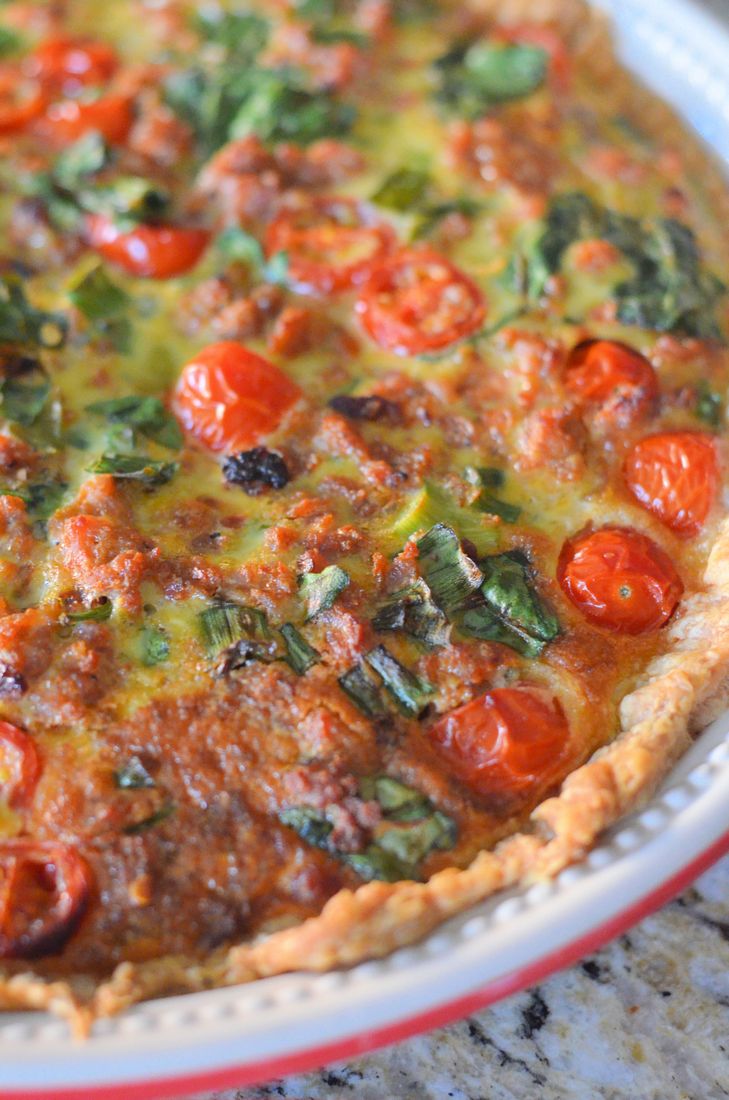 I bake this in my Le Creuset Stoneware Pie Dish
. I love that dish! Helps the display of the food look stunning and I don't have to oil down the dish. The pie lifts right on out. Hope you enjoy this Italian Sausage Tart with friends and family!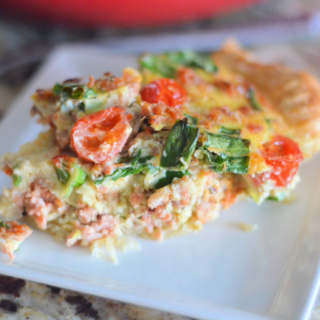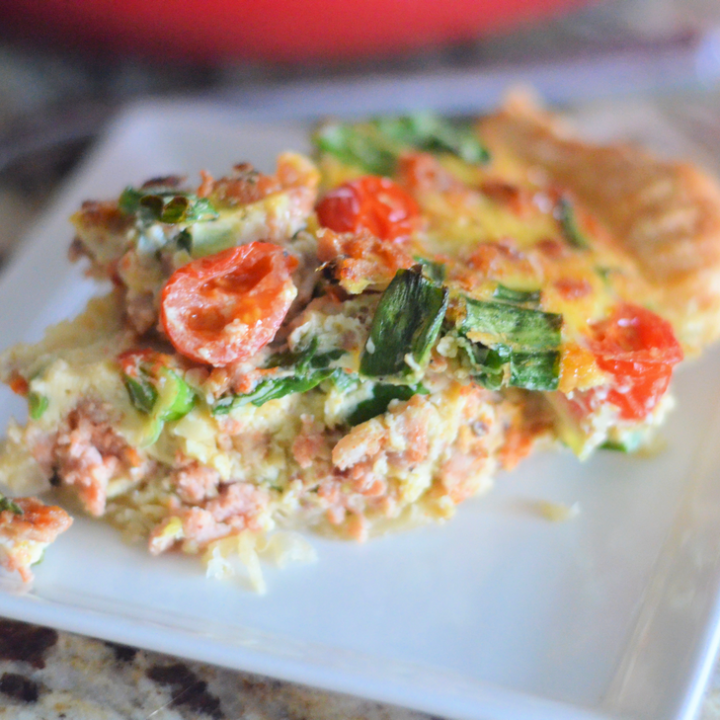 ITALIAN SAUSAGE TART
Spinach, sausage, tomato, spring onions, and egg combined over a puff pastry crust.
Ingredients
½

lb

ground Italian sausage; spicy

sweet, or mild

½

cup

chopped

fresh spinach

4

stalks of spring onions

green onions; chopped

8

eggs

½

cup

cherries tomatoes; halved

3

tablespoons

milk

1

puff pastry crust

½

teaspoon

salt

½

teaspoon

pepper
Instructions
In a skillet, fry the sausage until a light brown. Do not over cook as it will cook more in the oven. Set aside.

In a medium bowl, add in tomatoes, spring onions, and spinach. Stir well. Add in eggs and milk. Mix well. Add in salt and pepper. Mix well.

In 9 inch pie dish, roll out puff pastry and place in pie dish. Use a fork to press the edges to make a decorative edging.

Preheat oven to 350 degrees F. Add sausage to the bowl and stir well. Pour mixture into the pie dish.
Pin Italian Sausage Tart