Paprikás Csirke Nokedli – Chicken Paprika with Dumplings
This post may contain affiliate links. Please read my privacy policy.
Most of the Czech food we make usually takes quite a bit of time to cook. This is a simple dish that Czech's eat that is a Hungarian dish. Many dishes from the Czech cuisine come from Hungarian descent. Paprikás Csirke Nokedli is a simple dish of chicken made in paprika and sour cream.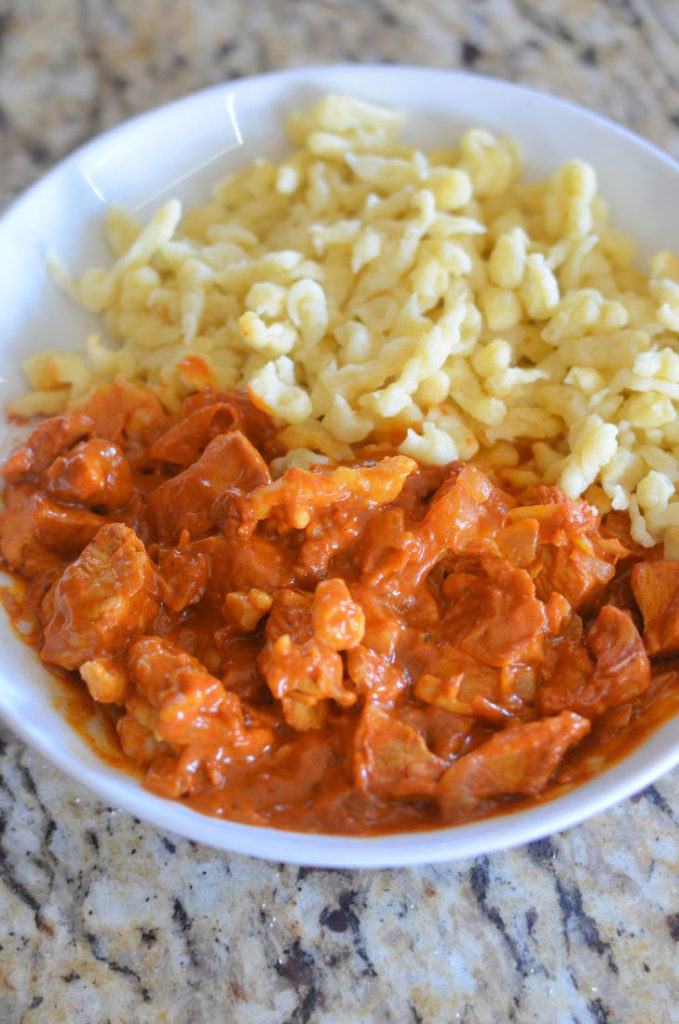 Making Nokedli
It is paired with Nokedli which is a boiled dumpling or dough. It's super cheap to make and can feed mountains of people easily. The Norpro Spaetzle Maker
is wonderful for pushing the dough through when cooking.
This is a Sunday night meal or week day meal. It doesn't take much time but usually needs two people to make it. One to do the dough while the other is making the chicken.
This is a dish that when I make it no one in the house complains.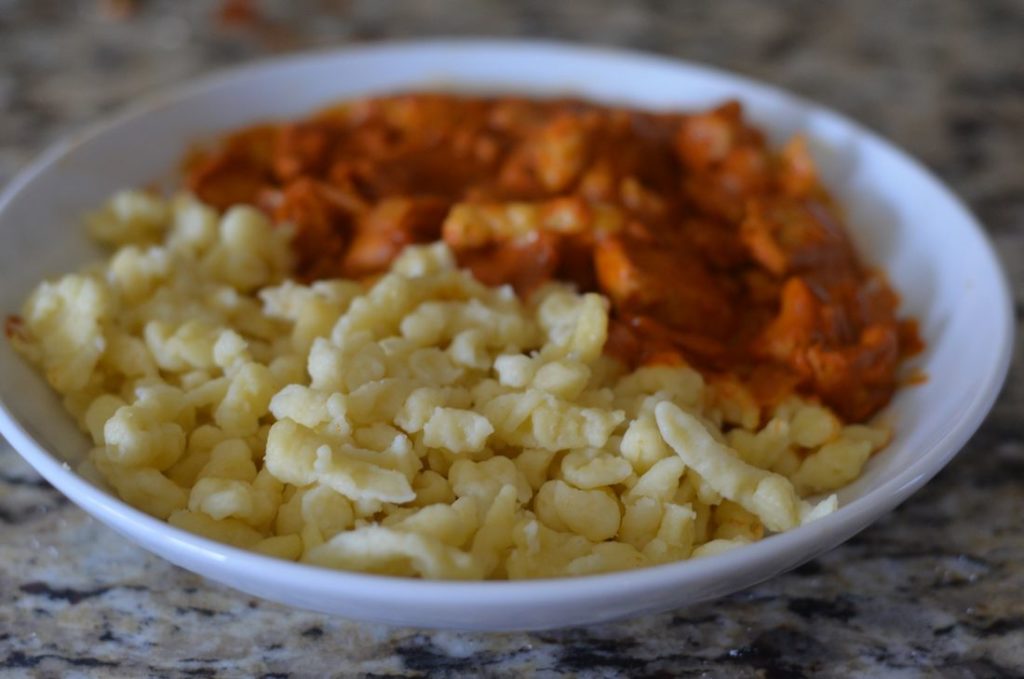 In fact, the hubby becomes this extremely sweet guy giving me tons of back rubs and kisses. He loves paprika. He is a Czech and it definitely shows when food like this is being prepared.
The dough is too simple and really comes from staples in the home. Apparently there is gluten free versions of this so I will have to try them out and then share with all the gluten free people that come to the blog.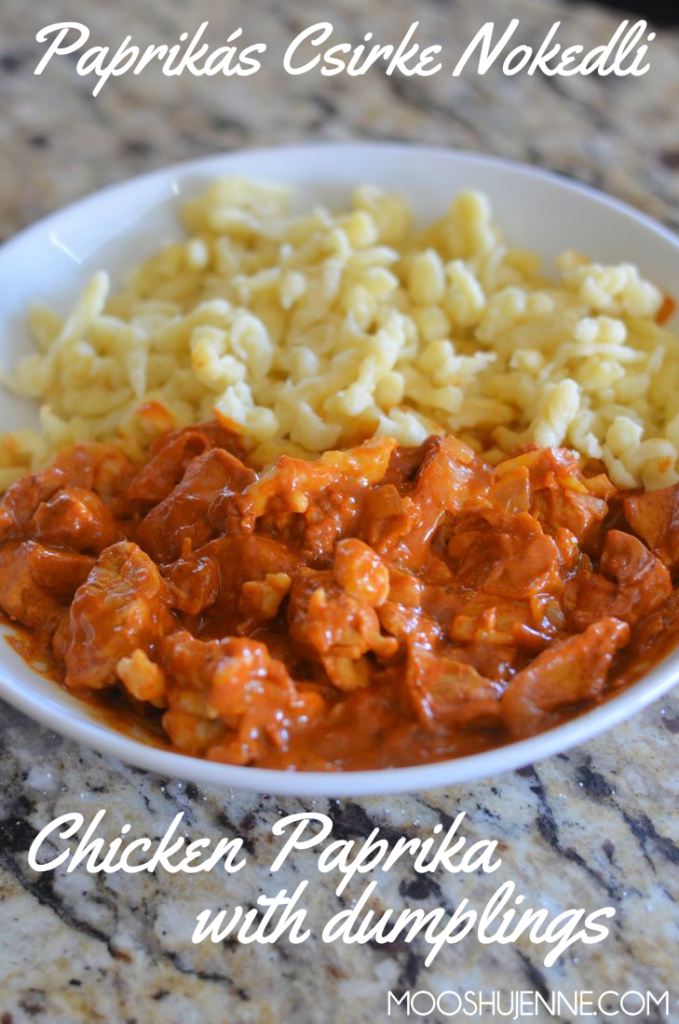 If you would like to make this meal gluten free then replace the dumplings or nokedli with rice. It's a good substitute with this meal.
I am starting a Youtube channel in order to show you the process of how I make my food along with my recipes here. Hope you take some time to subscribe to them and thumbs up the videos. Here is a playlist of three short videos showing you how to make the Paprikás Csirke Nokedli.
Let me know if you would like to see videos for anything else I have here on the blog or things you would like to see in the future. You can subscribe to my channel here!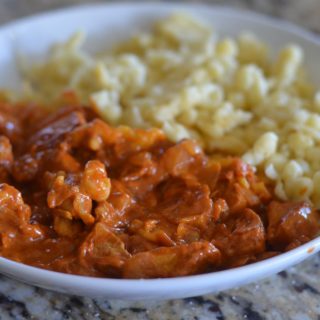 PAPRIKÁS CSIRKE NOKEDLI – CHICKEN PAPRIKA WITH DUMPLINGS
Chicken Paprika with Dumplings
Ingredients
For Paprikás Csirke
3

boneless skinless chicken breasts; diced into ½" cubes

1

tablespoon

olive oil

3

cloves

of garlic; minced

2

white onions; diced

5

tablespoons

fresh Hungarian paprika

3

tablespoons

ketchup or tomato paste

2

tablespoons

cornstarch

1

teaspoon

salt

1

teaspoon

cracked black pepper

2⅓

cups

water

1

cup

sour cream
For Nokedli
3

eggs

1

cup

milk

2 to 3

cups

flour

depends on consistency

½

teaspoon

salt
Instructions
In a deep sauce pan, add in olive oil, onions, garlic, and chicken. Turn to medium heat and cook until chicken is white on the outside.

Add in paprika and stir well to cover all of chicken. Pour in  the ketchup and stir well. Add in cornstarch. Be sure to incorporate well so there is no lumps.

Add in water, salt, and pepper. Stir well. Bring to a boil and turn heat down to low and simmer while making the nokedli.

Bring a large pot of water to a boil. Ready the spatzle maker.

In a large bowl, add in eggs and whip with whisk until foamy. Add in milk. Whisk well. Add in flour 1 cup at a time until you get a thick texture dough should resemble a muffin batter. If it is too thin add more flour. If it is too thick add a tad of milk.

Once water is boiling add the dough to the maker and roll back and forth over boiling water. Once they rise to the top strain them out with spider utensil. Place them in a strainer. Once complete wash them with a bit of cold water, strain, and serve.

When the nokedli is complete the sauce around the chicken should be thicker. Fold in one cup sour cream and cook for about 3 more minutes. Remove from heat and serve with nokedli.
Notes
For gluten free replace nokedli with rice.
Pin Paprikás Csirke Nokedli: