This post may contain affiliate links. Please read my privacy policy.
Ever crave hot wings but don't feel like driving to the local wing place to get your fix? This is the perfect solution. It can feed an entire crowd and it pretty budget friendly. You can always fry the chicken first in this dish but for those that like a healthy option I went with the non fried version. These Buffalo Chicken Bowties knock my socks off. For a bit more bite you can add some blue cheese crumbles to the top.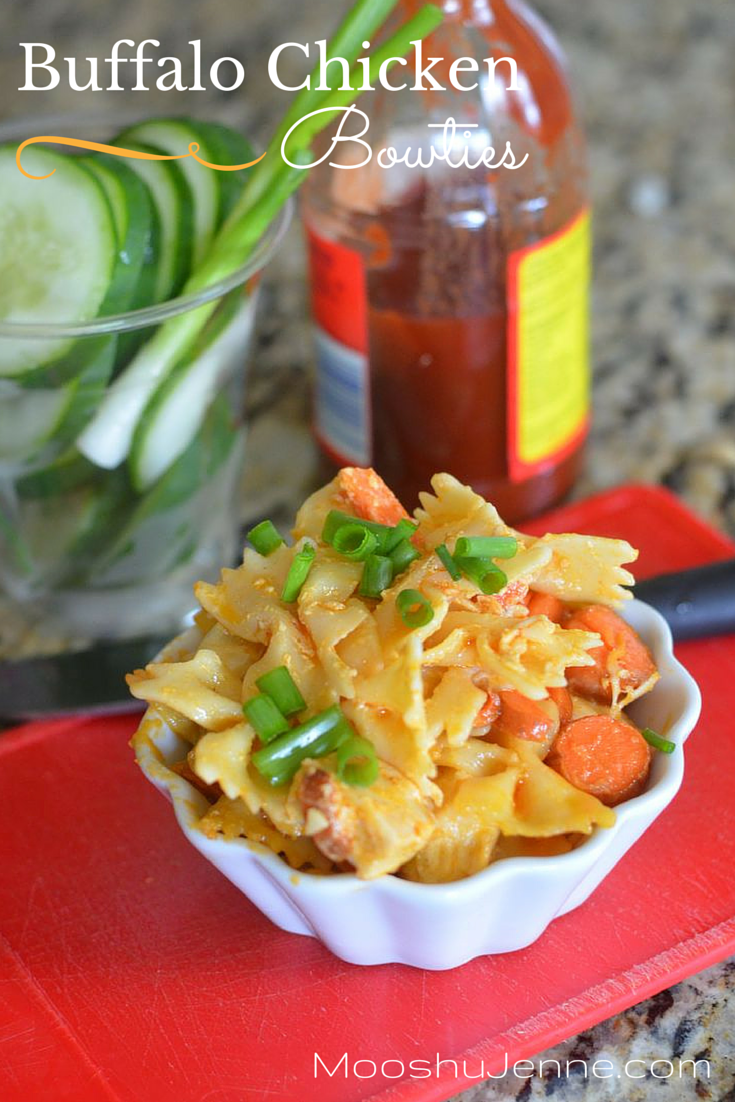 Have I ever mentioned just how much my daughter likes chicken? I swear it like some kind of obsession. She loves it and hates bacon. I don't get that because I would so pick bacon any day of the week over chicken. Her chicken obsession is so bad that after a weeks worth of chicken all I want is one HUGE burger.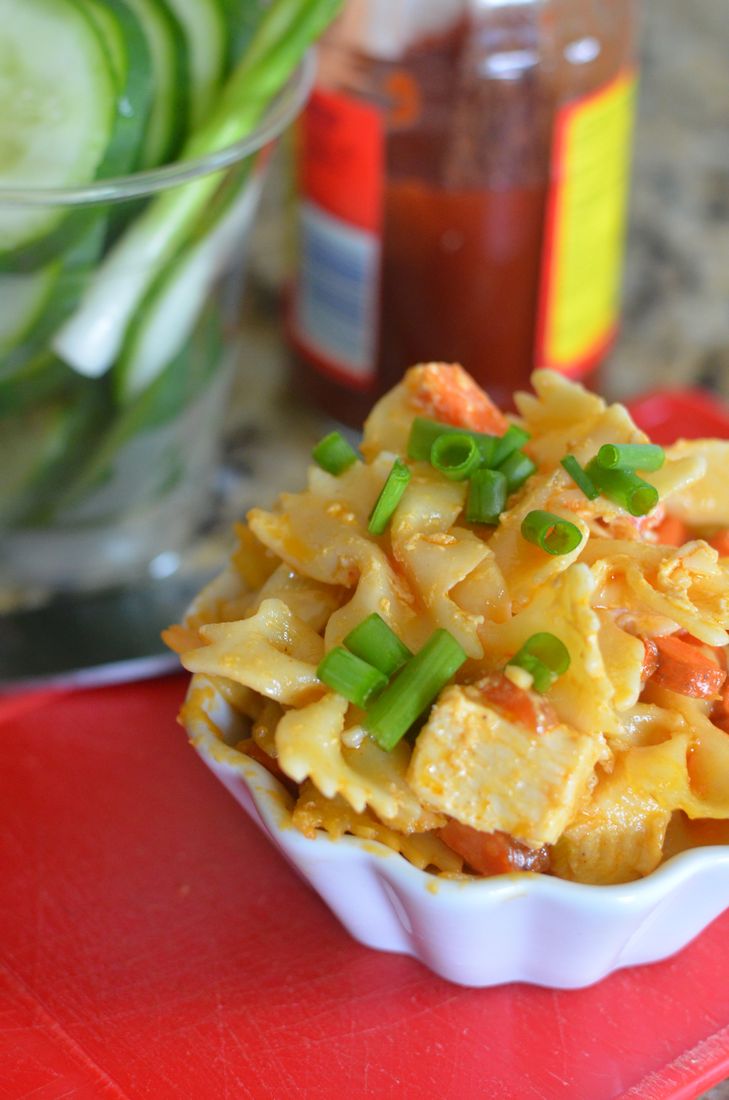 In the meantime, while I am eating chicken I like it to have a ton of flavor. Other versions of this dish exist with cream cheese as the sauce or even ranch. I've had those methods and near really screamed eat me.
So after careful deliberation I worked on several test versions until I found the perfect remedy. I found that heavy cream, butter, and hot sauce made the perfect sauce to top this Buffalo Chicken Bowties recipe.
This recipe comes together easy and the chicken can be baked, fried, or even cooked in a crock pot ahead of time along with the carrots. If you really want to cheap the recipe just buy a rotisserie chicken and use it.
The only difference if you do that will be that you will need to saute the carrots until tender. You may also change up the vegetables or add things like celery which would normally accompany your hot wings. I hope you enjoy my version of Buffalo Chicken Bowties. Stop by below and tell me what you think of the recipe!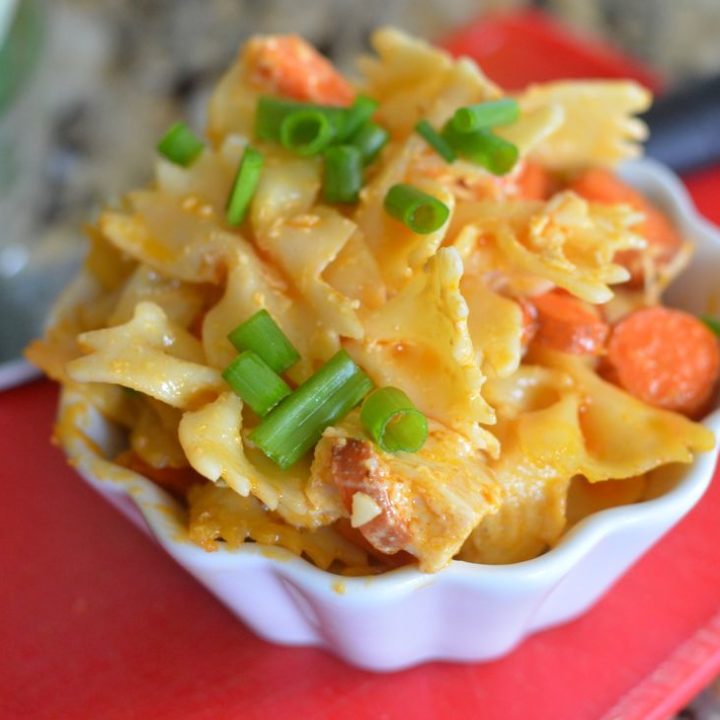 BUFFALO CHICKEN BOWTIES
Cook Time:
1 hour
20 minutes
Total Time:
1 hour
30 minutes
Buffalo Chicken Bowties is made with heavy cream, hot sauce, butter, carrots, and topped with spring onions.
Ingredients
2 boneless, skinless chicken breast; cut in ½" cubes
1 box farfalle bowtie pasta
1 bundle spring onions; diced
2 carrots; diced
1 pint small heavy whipping cream
1 tablespoon butter
6 tablespoons Louisiana hot sauce; more or less for heat
½ teaspoon salt
½ teaspoon cracked black pepper
Instructions
Preheat oven to 450 degrees F. Place chicken in a baking dish along with diced carrots. Top with 3 tablespoons Louisiana hot sauce. Bake for 45 minutes to 1 hour.
Boil pasta as recommended on the box. Drain and set aside.
Pull chicken from oven and set aside.
In a sauce pan, add in butter and melt on low heat. Add in heavy whipping cream and cook on low about 10 to 15 minutes until it starts to thicken. Once it coats the back of a wooden spoon then add in 3 tablespoons of Louisiana hot sauce. Whisk well. Taste to see if you want more spice heat. If so, add more at this time. Remove sauce from heat.
Combine chicken, carrots, and pasta into a large bowl. Fold in the sauce. Top with spring onions, salt, and pepper.
Notes
If you cannot get the heavy cream to thicken enough then add 1 tablespoon cornstarch to the mix by whisking well.
Nutrition Information:
Yield:

6
Serving Size:

1
Amount Per Serving:
Calories:

420
Total Fat:

33g
Saturated Fat:

20g
Trans Fat:

1g
Unsaturated Fat:

10g
Cholesterol:

129mg
Sodium:

256mg
Carbohydrates:

15g
Fiber:

1g
Sugar:

4g
Protein:

17g
For more on our nutrition disclaimer https://mooshujenne.com/nutrition-disclaimer/
Pin buffalo chicken bowties: