This post may contain affiliate links. Please read my privacy policy.
His is a mean one Mr. Grinch. These adorable Grinch nutter butters are perfect for any cookie platter or Christmas charcuterie board. Simple to make with just a few ingredients.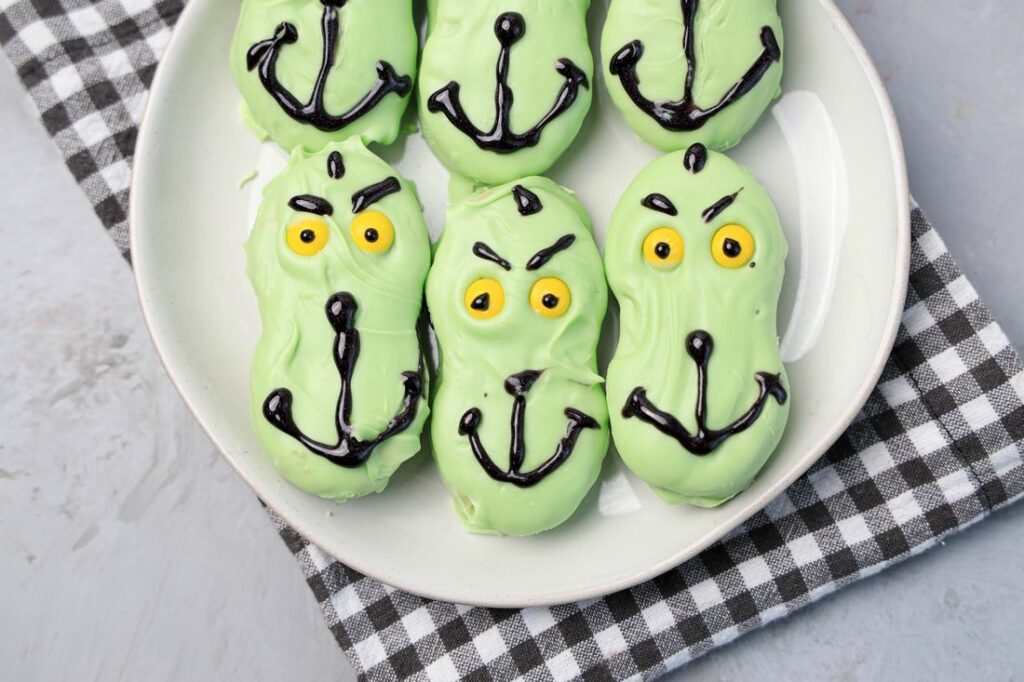 Light green candy melts, black sparkle gel, yellow mini M&M's, and nutter butters make up what's needed for these cookies. I like to use sweet tooth fairy brand for the candy melts.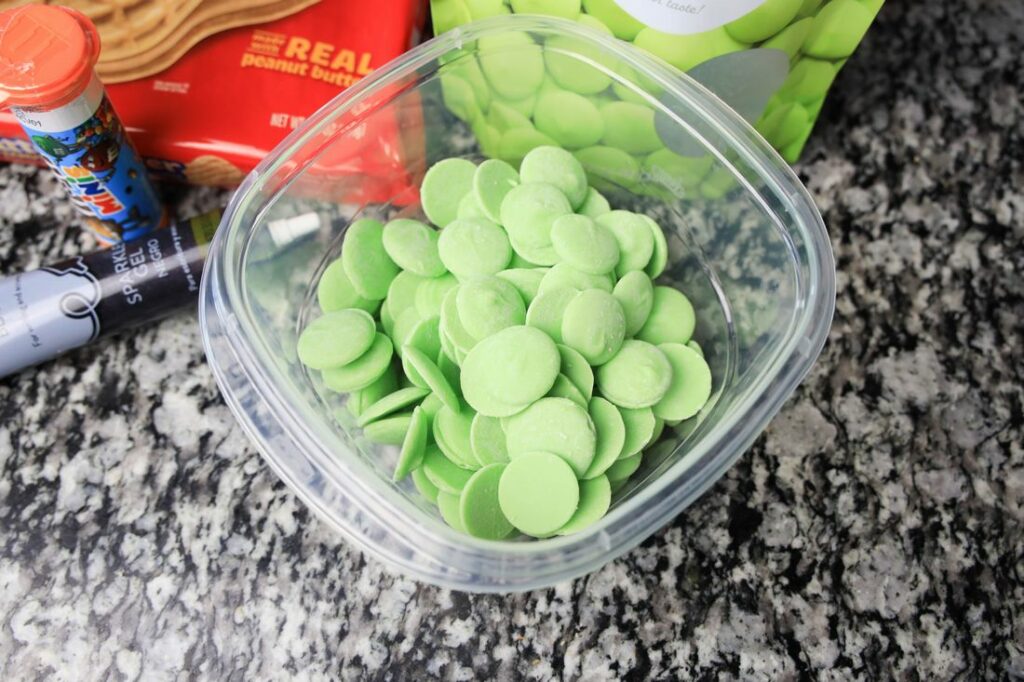 This brand melts easier for me. However, use whatever you can find locally. The black sparkle gel can be a little hard to find locally. I usually get it at Tom Thumb.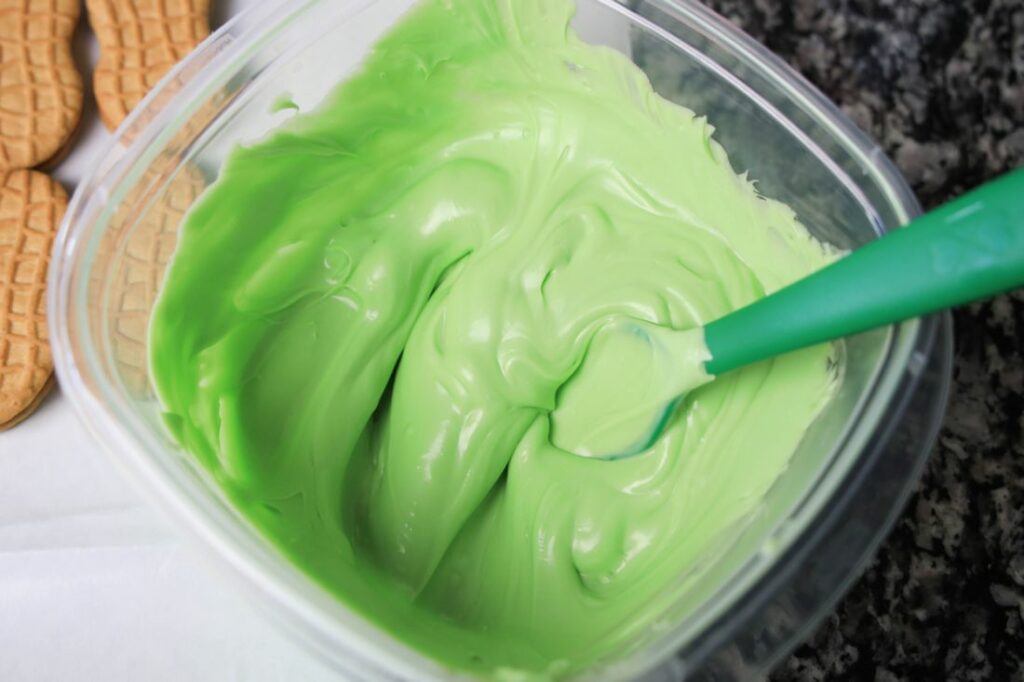 Firstly melt the candy melts in the microwave as directed. Do this per package directions as brands do vary. Once you get to know the microwave and the 50 percent power then you can wing it.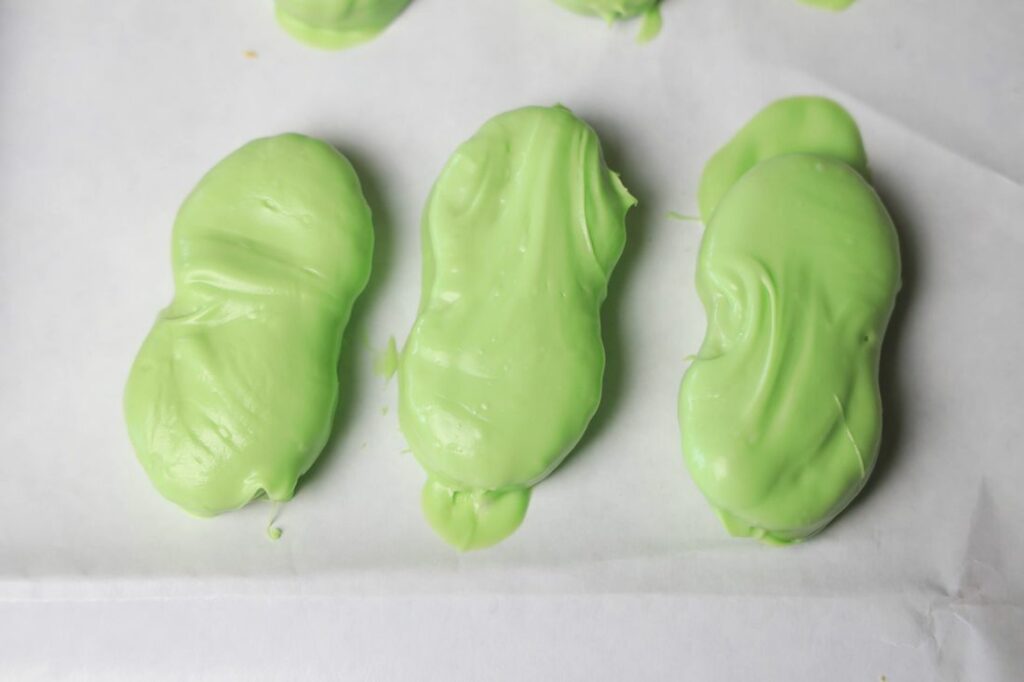 Secondly dip the nutter butters into the green candy melts. Place them on freezer paper with the shiny side up or on parchment paper. Next move quickly to set the eyes before the candy melts dry.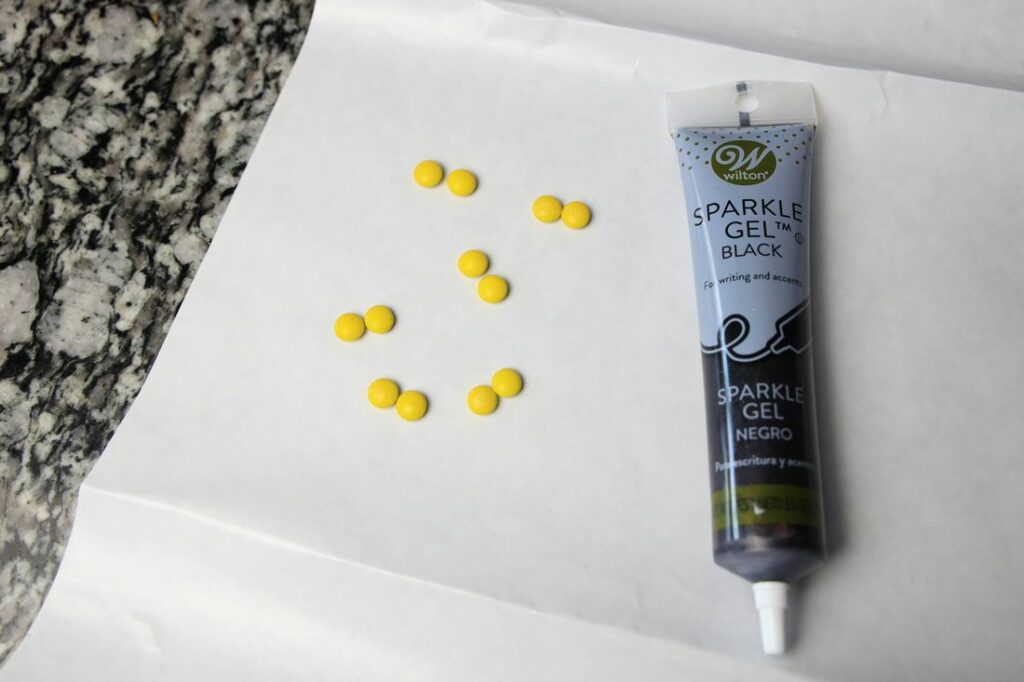 Place the mini yellow M&M's onto the cookies before the candy melts dry. Let the candy melt dry before moving to the next step. Yellow mini M&M's can be found in mini containers.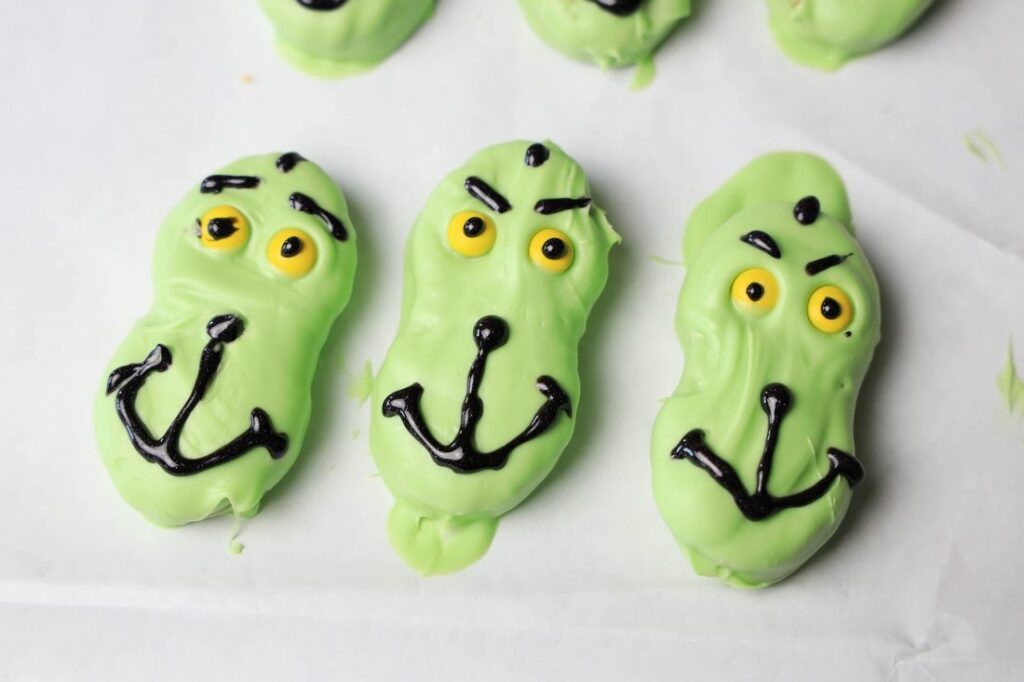 Drawing The Grinch Face
Thirdly once the candy melts have dried it's time to draw on the nose, mouth and eyebrows. Using the black sparkle gel draw a dot for the nose and line going downward. Finish the rest of the mouth.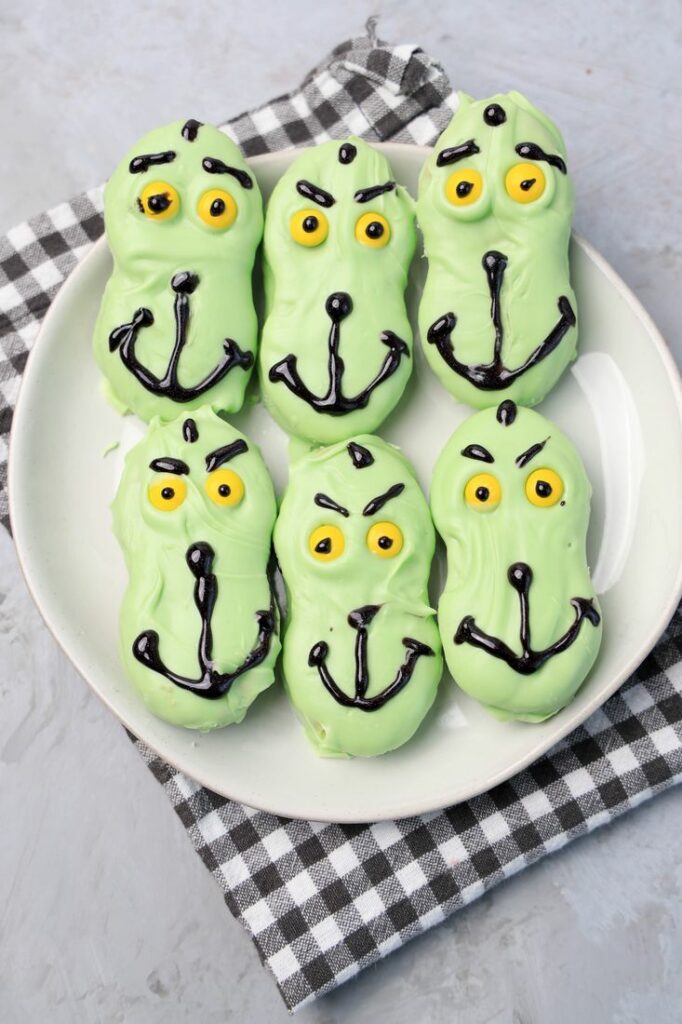 Lastly add the eyebrows. Let the Grinch nutter butters dry for a few hours before serving. The black gel will still be sticky once dry.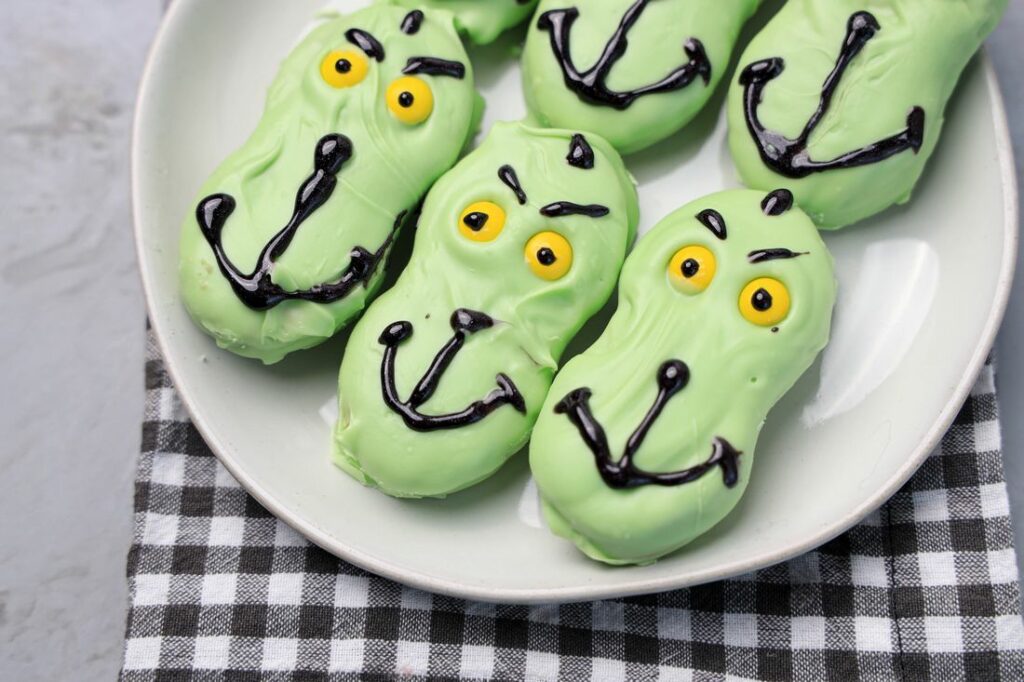 Grinch cookies are adorable to place on a Grinch themed charcuterie board. Add green and red candies with some peppermint mini candy canes for a fun display.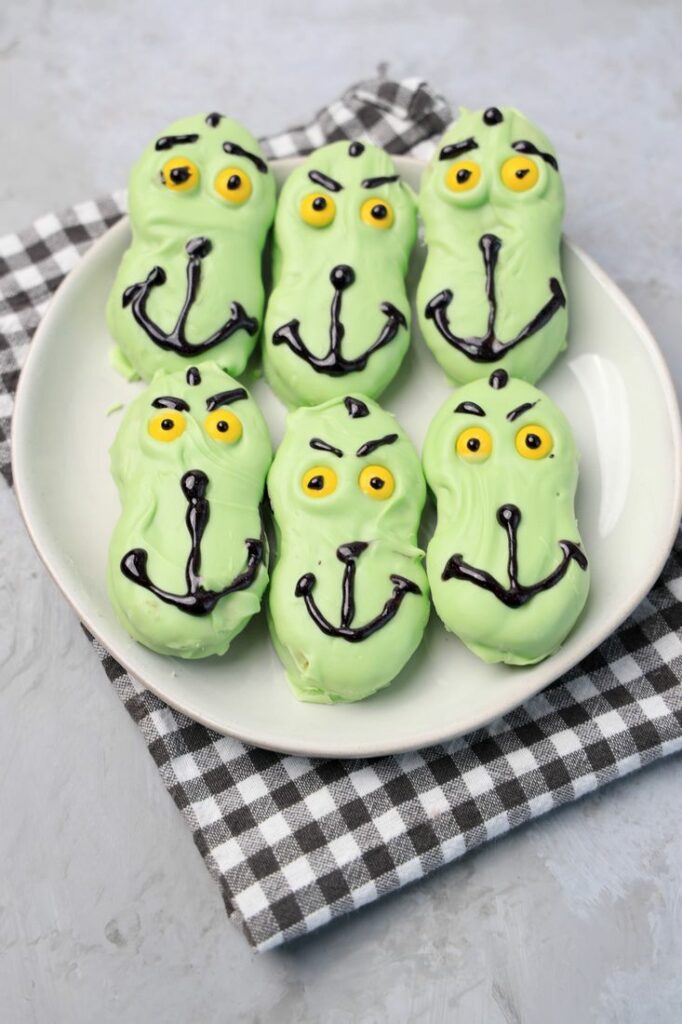 We have a few other Grinch recipes below. Check them out for a complete holiday fun surrounded by the Grinch theme. After all who doesn't love Max the dog.
Grinch Recipes: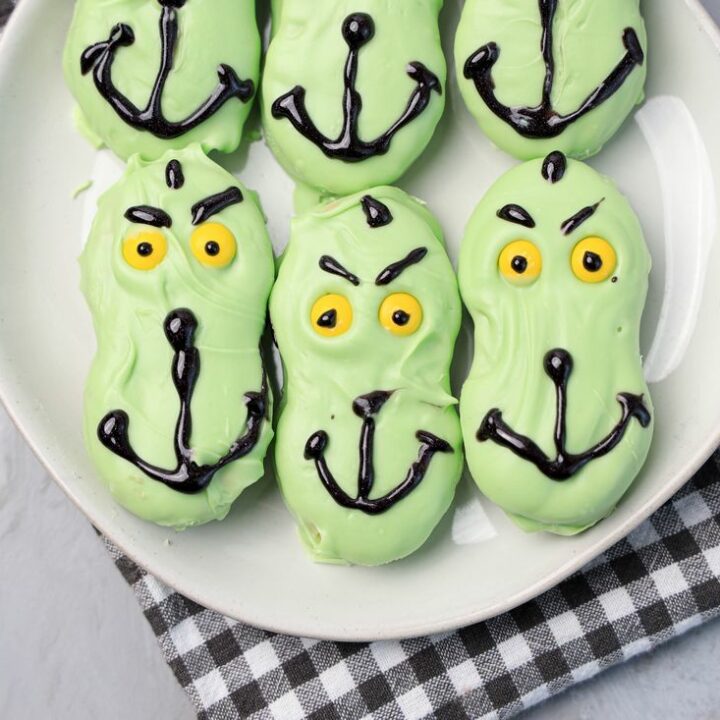 Grinch Nutter Butters
Green dipped nutter butter with a Grinch face.
Ingredients
6 nutter butter cookies
12 mini yellow M&M's
1 bag light green candy melts
1 tube black sparkle gel Wilton's
Instructions
Melt green candy melts as directed on the package. Each brand is a little different.
Dip the nutter butters in to the bowl and lift with a spoon. Tap against the edge of the bowl so excess candy melts drips off. Place on freezer paper shiny side up or parchment paper.
Place the mini yellow m&m's where the eyes go. Using the black sparkle gel place a dot for each eye on the yellow m&m's. Then draw on the eye brows and long nose/mouth. Let the gel dry and serve.
Nutrition Information:
Yield:

6
Serving Size:

1
Amount Per Serving:
Calories:

609
Total Fat:

26g
Saturated Fat:

16g
Trans Fat:

0g
Unsaturated Fat:

8g
Cholesterol:

47mg
Sodium:

139mg
Carbohydrates:

89g
Fiber:

3g
Sugar:

68g
Protein:

6g
For more on our nutrition disclaimer https://www.mooshujenne.com/nutrition-disclaimer/
Pin Grinch Nutter Butters