This post may contain affiliate links. Please read my privacy policy.
Dill pickle pasta salad is a tasty side dish to pair with Summer grilling. Easy to make with dill relish, dill weed herb, mayo, and sour cream.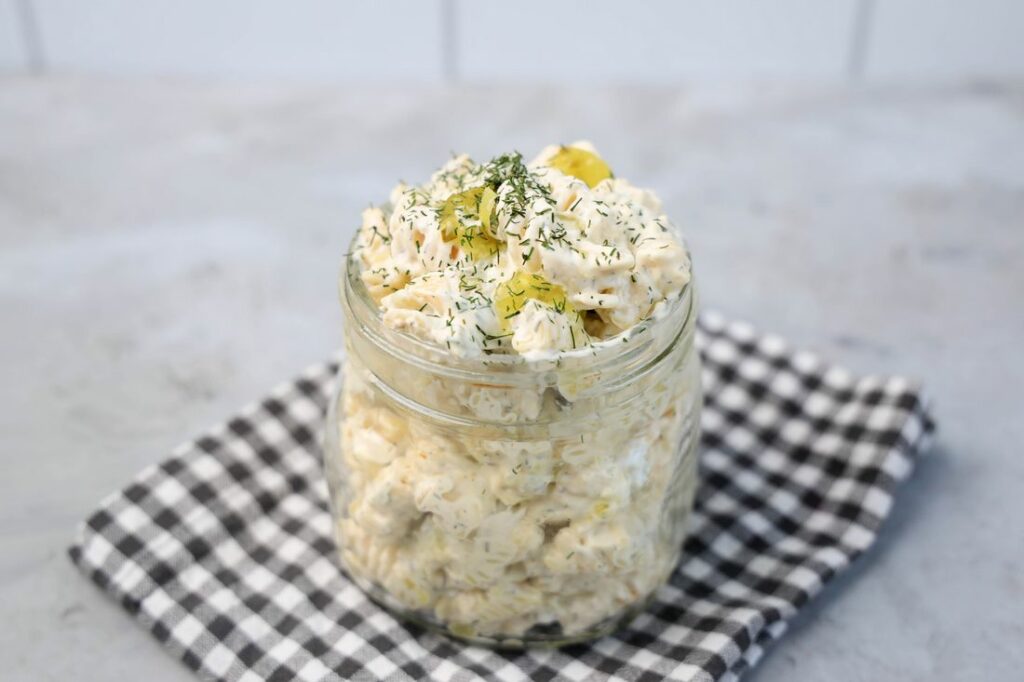 I pair this dill relish cold pasta with barbecue chicken or pulled pork. It's really a fantastic side dish to pair with anything you put on the grill.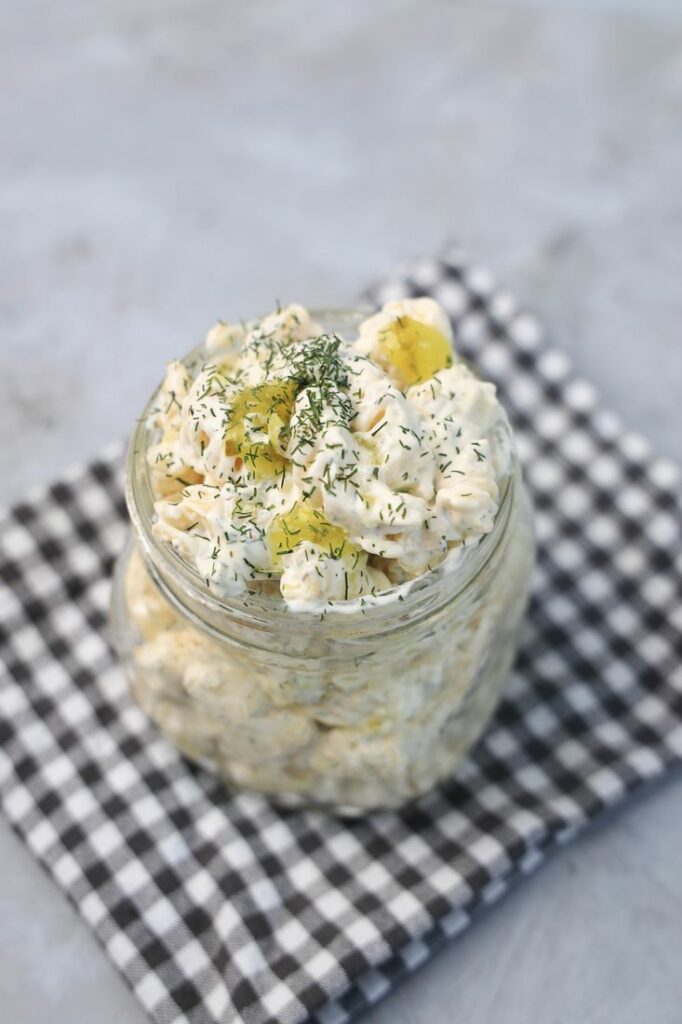 It's a nice change up from the normal ranch or Italian pasta salad that you would normally make. If your looking for something different for a potluck try this salad.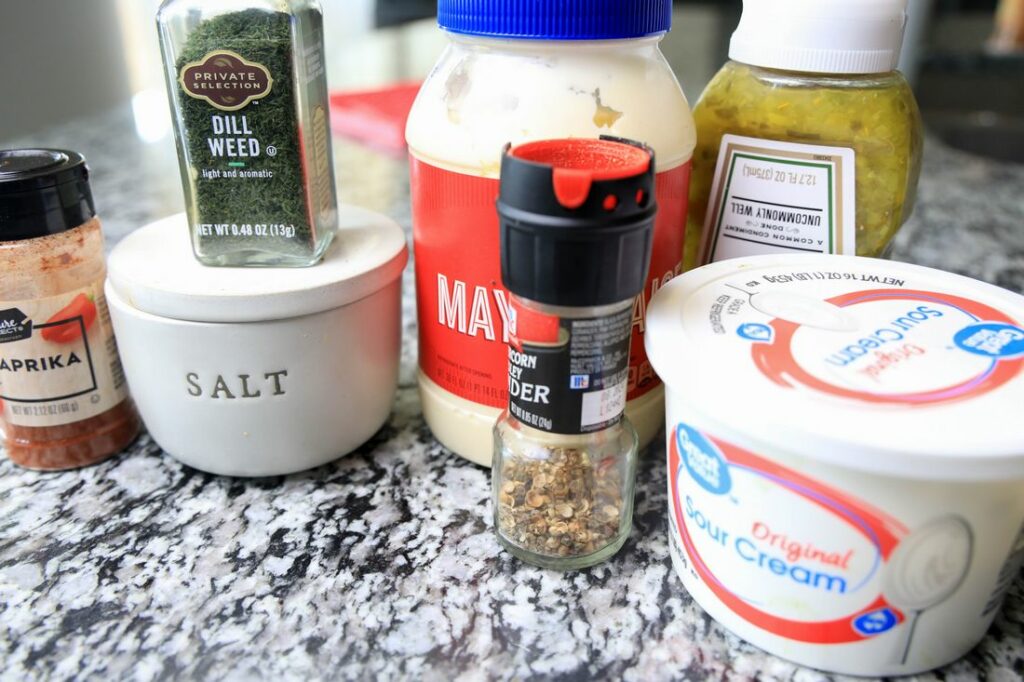 Adjusting The Pickle Taste
The mayo and sour cream are the base of this dill pasta recipe. I like to add more pickle but you can definitely add a little at a time and taste. This will allow how much pickle taste is desired.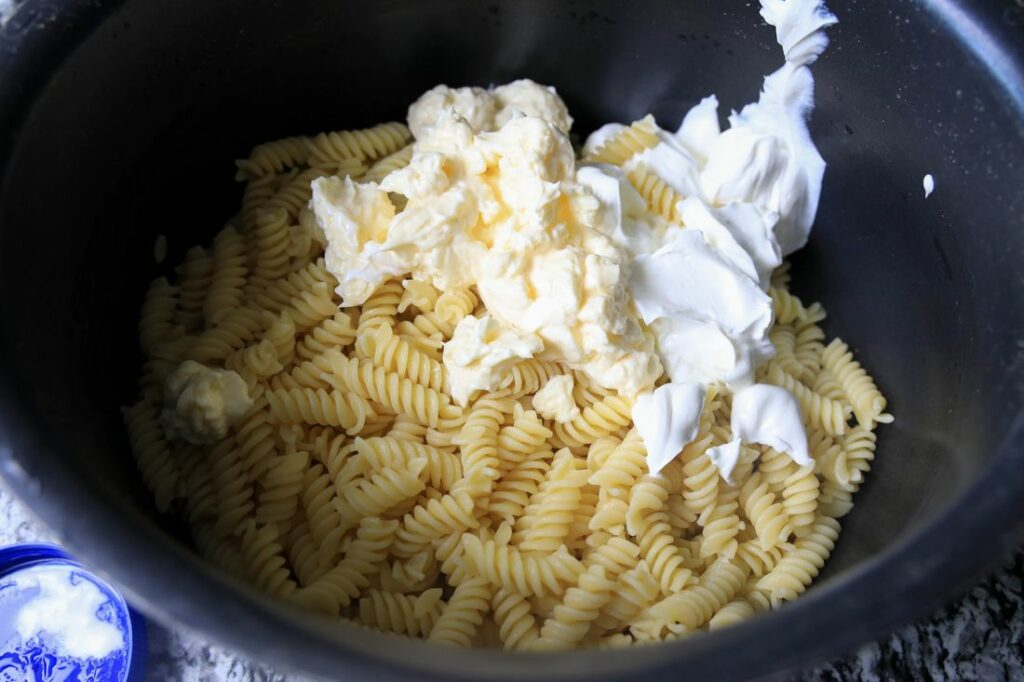 Cook the pasta and drain. I use a pasta pot for this so I can add cold water and re drain to cool the pasta faster. Add in sour cream and mayo once the pasta is cold.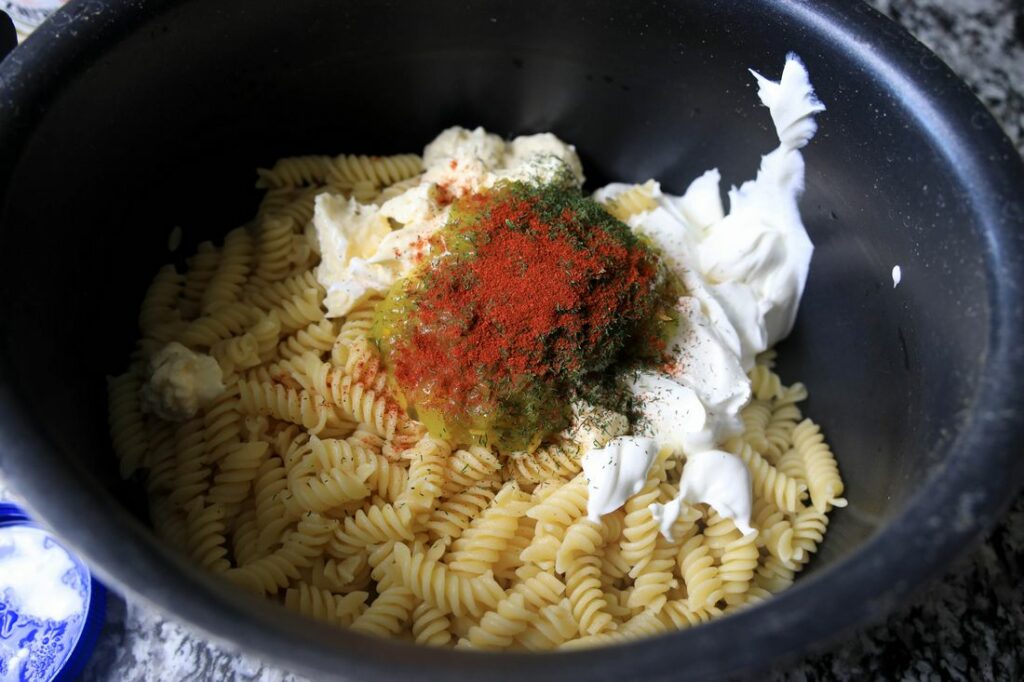 Gluten Free Pasta
Gluten free pasta can definitely be used for this recipe. In fact, that's the pasta I used here. However, traditional pasta works just as well. Make it with bowties, rotini, or other small pasta.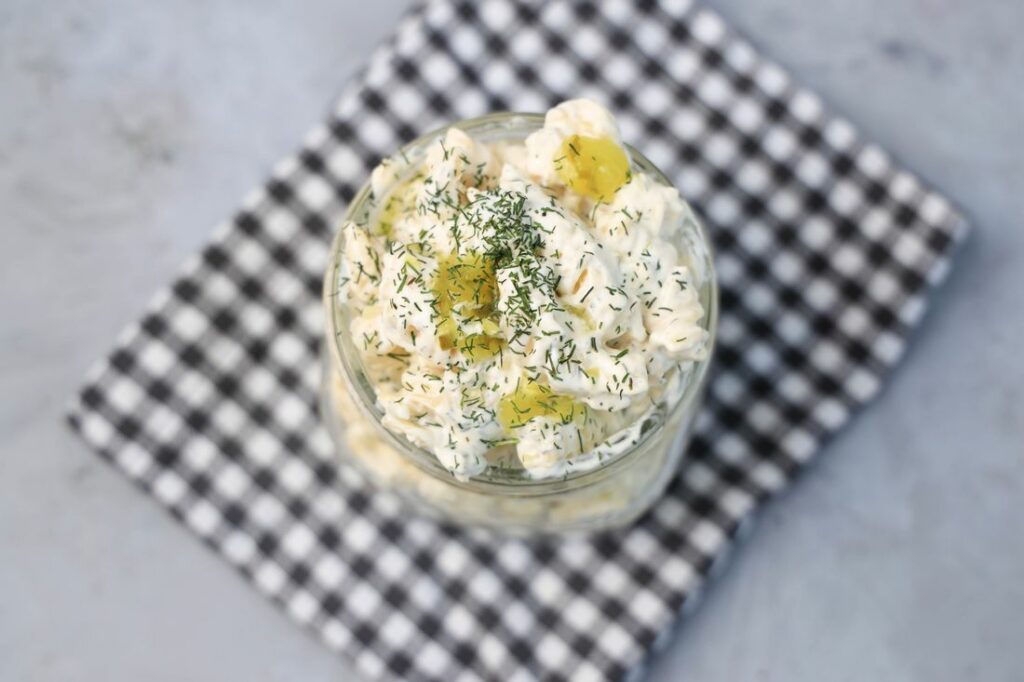 Storing The Pasta Overnight
After mixing the spices like paprika and dill; I keep it in the fridge until ready to serve. If storing overnight then the mayo and sour cream may dry out. Make sure to add a little more the next day before serving.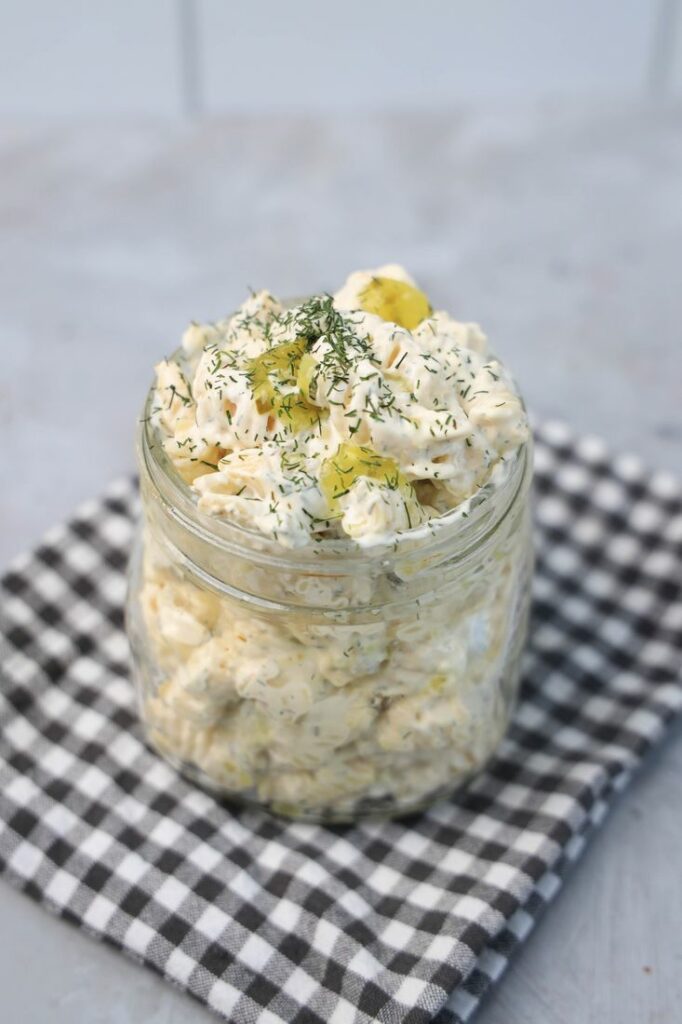 I find the best gluten free rotini at Target. I've made this for guests at Easter and no one knew it was gluten free which is awesome when taking to potlucks.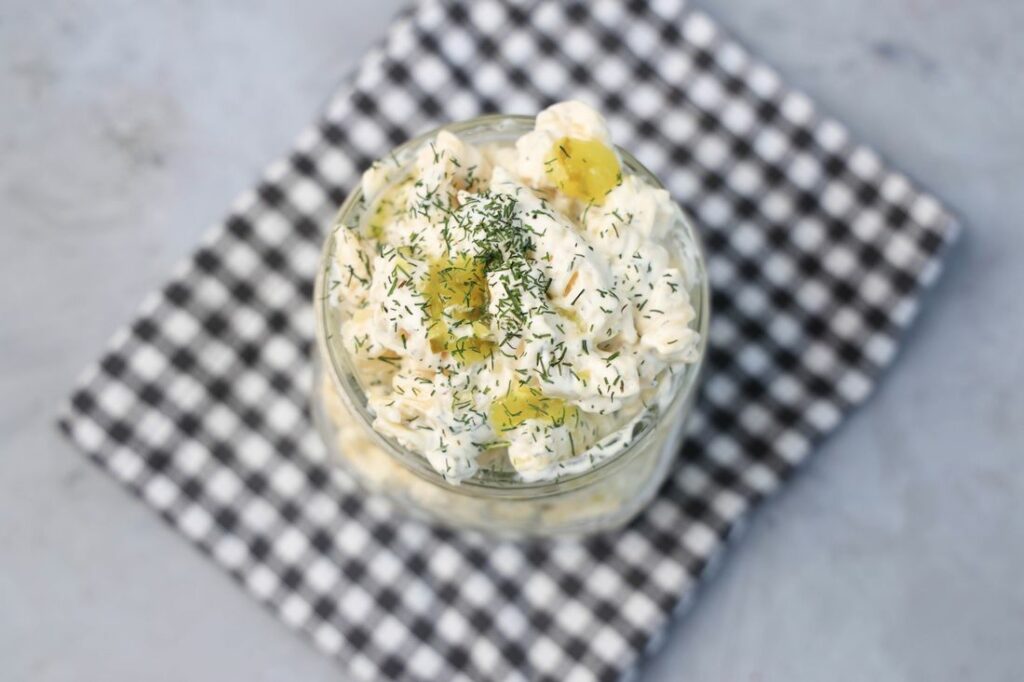 As a person who is gluten free and the only one in my household it makes a difference when I attend places that think about the gluten free options.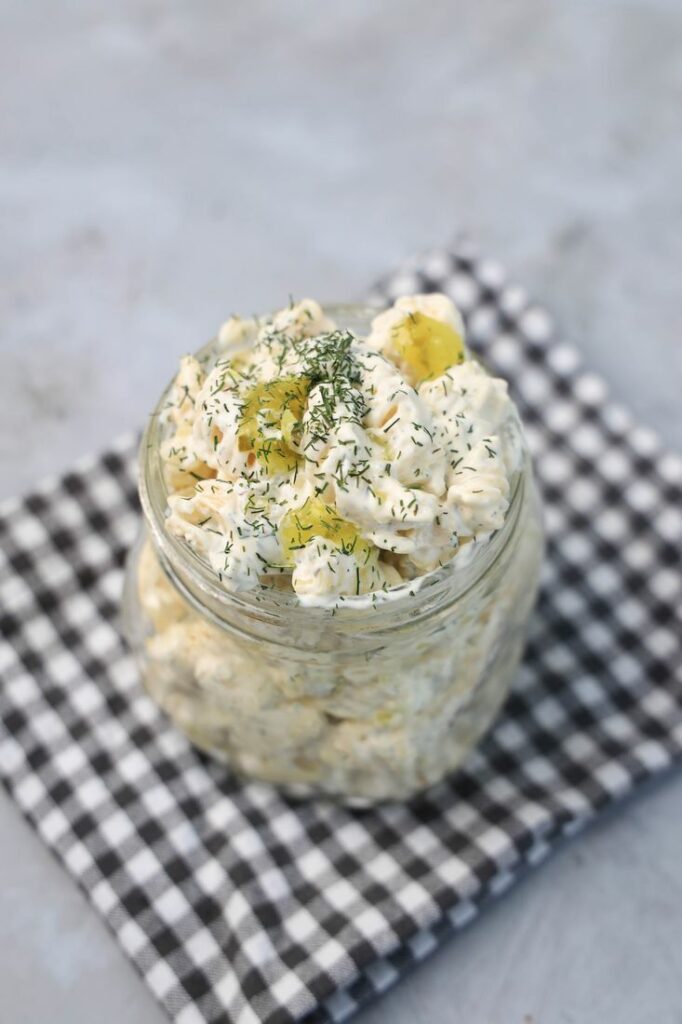 I hope you enjoy this Dill Pickle Pasta salad for the next picnic or potluck you have coming up. Such a simple side for grilling season which is here!
Potluck Pasta Salads: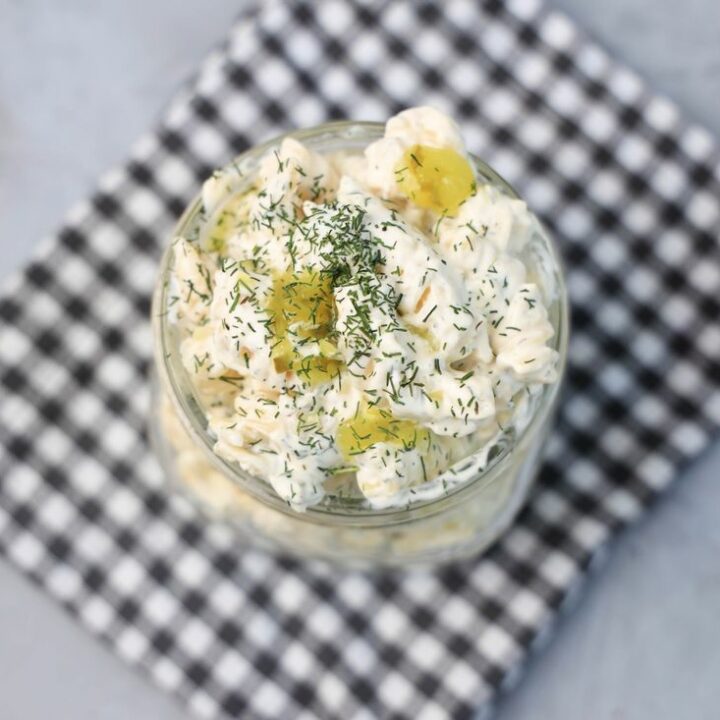 Dill Pickle Pasta Salad
Dill pickle pasta salad made with a mayo and sour cream base and topped with dill and dill relish.
Ingredients
1

lb.

16 oz. rotini pasta ( can be gluten free as well)

1 1/2

cups

mayo

1

cup

sour cream

2

tablespoons

dill weed

1

cup

dill relish

1

teaspoon

salt

1

teaspoon

pepper

1

teaspoon

paprika
Instructions
Boil pasta as directed on the package. Drain pasta. Add cold water and let sit for 3 minutes. Drain again. The pasta should be full cooled down.


Add in mayo, sour cream, dill, dill relish, salt, pepper, and paprika. Stir well.


Keep cold until ready to serve. If you store in the fridge the mayo and sour cream may dry out just add a little more.
Notes
To amp up the dill taste you may add more dill weed and dill relish.
Pin Dill Pickle Pasta Salad