Mediterranean Pasta Salad
This post may contain affiliate links. Please read my privacy policy.
My daughter had her graduation party just this last Saturday. We did all the grilling and salad except for some open faced sandwiches in which my mother in law made. This Mediterranean Pasta Salad was one of the salads we served up for the event. It features some artichokes, kalamata olives, red pepper dressing, and topped with grated parmesan cheese.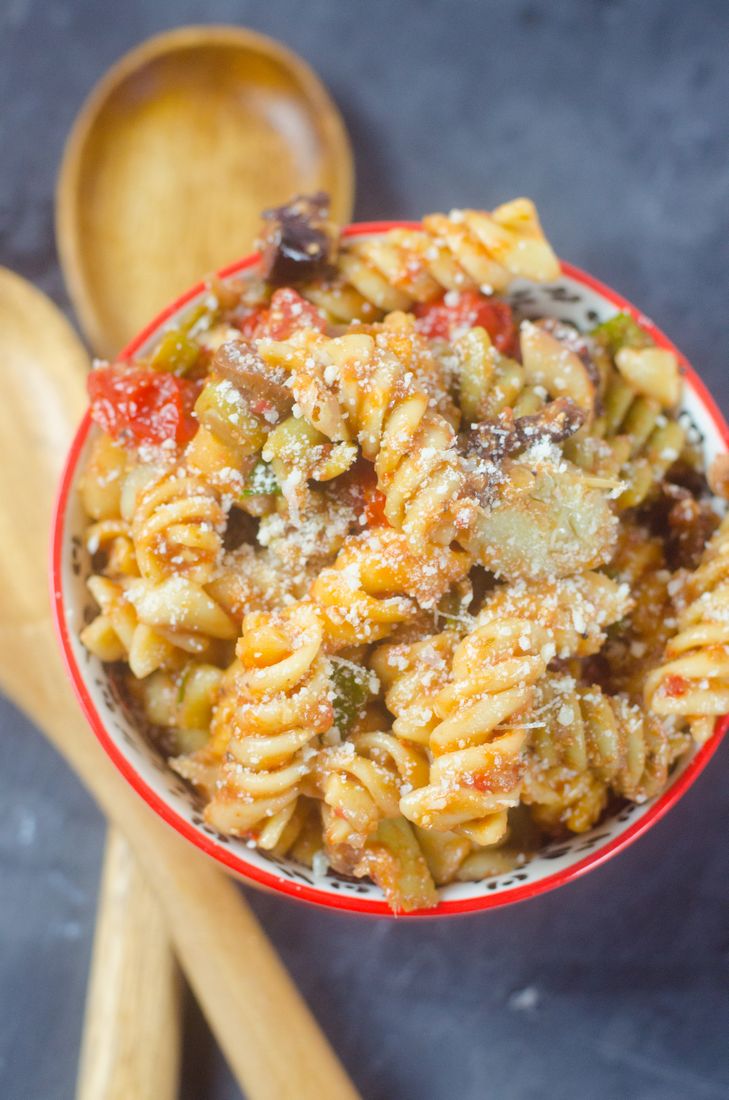 I think over the years I wore my family out on pasta salads. But when it comes to a good pasta salad I can eat on it for days. It's just really refreshing when the summer heat hits. Temperatures of anything over 90 are just killer to me. Which is why I'd love to move to Ocean front property with mild temperatures or at least water easily at your feet.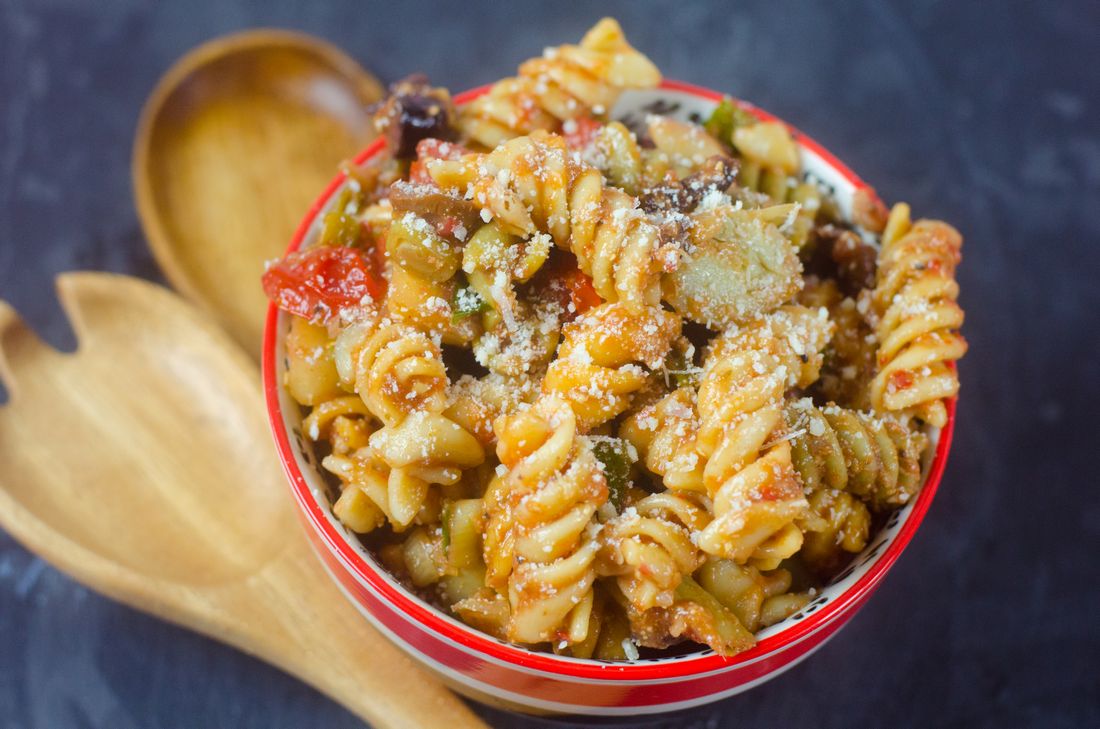 This is not your typical pasta salad. The sauce is a bit different. It's a combination of red pepper Italian dressing mixed with a can of tomato paste. This is what brightens the dish and adds so much flavor. I top it with grated Parmesan. While it's hard to see it also has green onions, chives, tomatoes, artichokes, and kalamata olives. Say you are not an olive fan you can easily leave them out.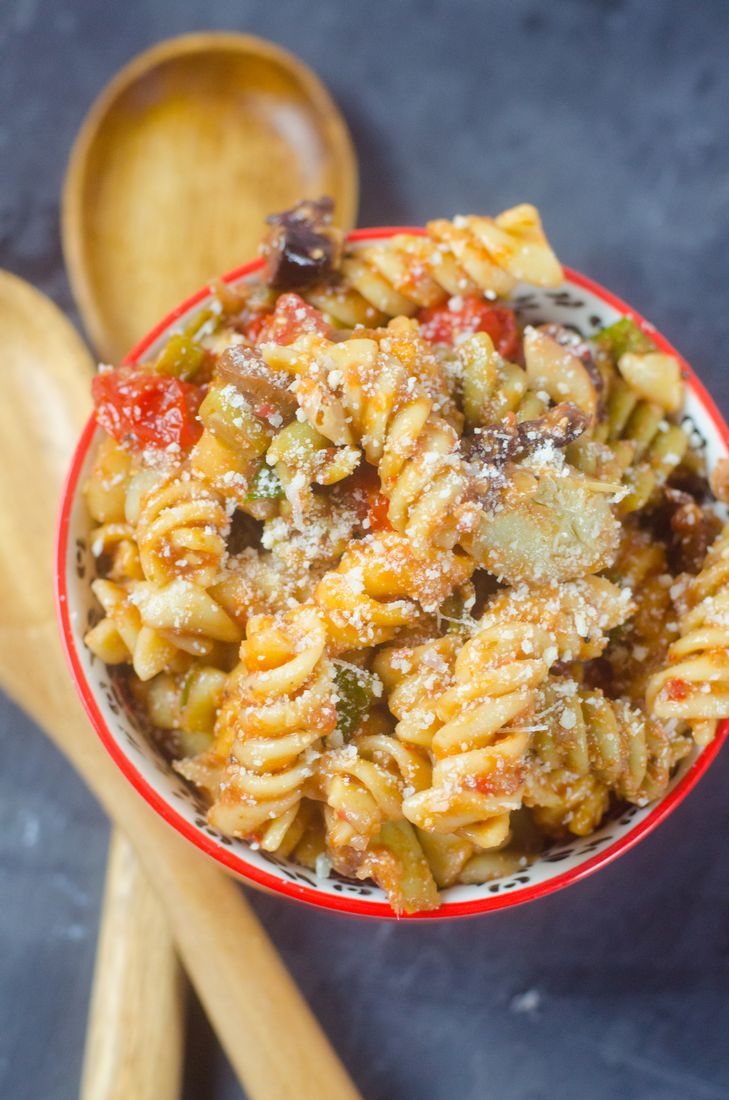 If I don't have olives hanging around I just toss some peperoncini's into the dish. If you don't have green onions you can easily replace these with diced red onion. Additionally, it doesn't have meat in it so it sits well for parties. It's best served nice and cold. We usually make it the night before and let it cool in the fridge overnight. Do you have a favorite pasta salad? Love it if you would share!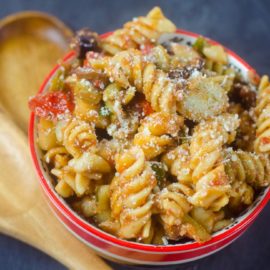 Mediterranean Pasta Salad
Ingredients
1

jar of artichokes

12

kalamata olives; chopped

1

stalk of spring onions; diced with chives

3

vine ripe tomatoes

cluster; diced

1/2

cup

parmesan cheese

16

oz

– 1 bottle of red pepper Italian dressing

5.5

oz

– 1 can of tomato paste

1

package rotini garden pasta
Instructions
Boil pasta as directed on package. Drain.

Diced tomatoes, onions, and olives. Place in large bowl with pasta. Add in artichokes and toss well.

In a medium bowl, whisk together red pepper dressing and tomato paste. Pour over pasta mixture and toss well.

Top with parmesan cheese then toss lightly.

Place in fridge to cool for an hour or overnight for best results.
Mediterranean Pasta Salad: