This post may contain affiliate links. Please read my privacy policy.
One of my favorite things about the holiday season is sharing recipes with family, friends, and all of you. Cookie exchanges are so much fun. While I know these Christmas Crunch Cookies do not look appetizing they are so good with milk at morning, noon, or night.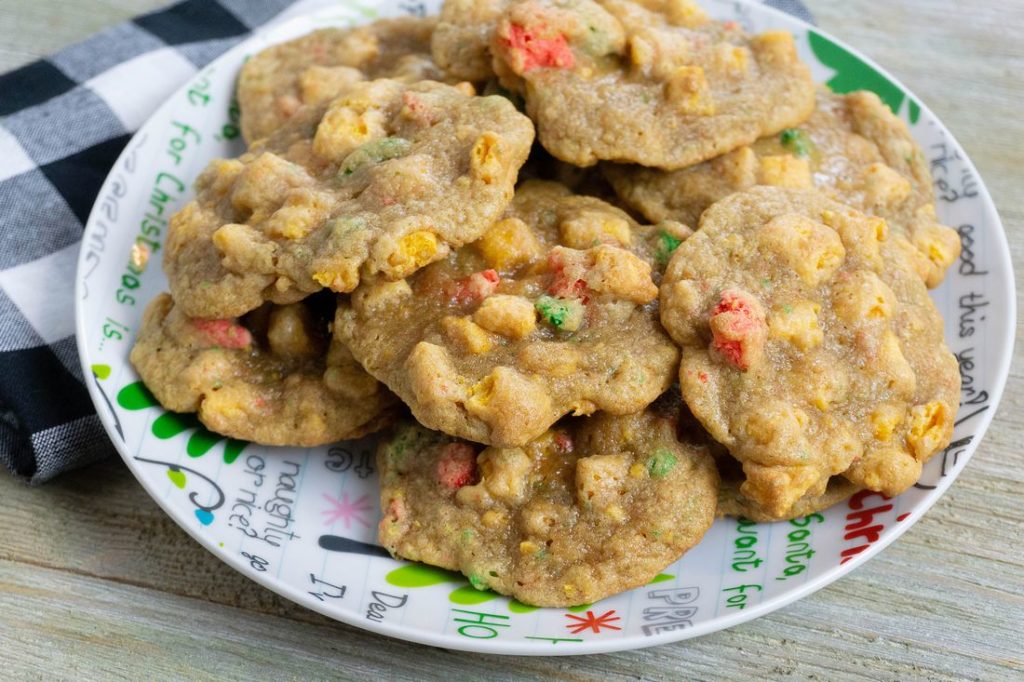 An easy cereal cookie to make that doesn't have to wait for the butter to soften. This is a recipe with melted butter. If your in warmer climates the cookies can spread so just add more cereal if this happens when baking.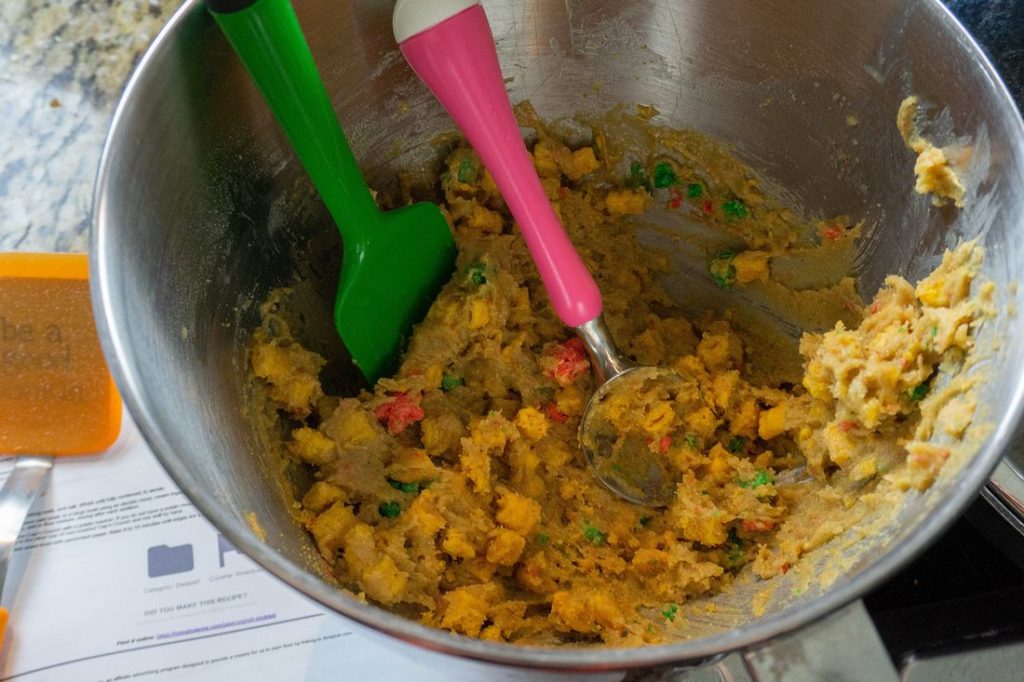 If My Cookies Are Spreading:
After years of baking in a humid heat I've learned that recipes just need to be adjusted. Right now we have a temperature of 60 degrees so I added about a 1/3 cup more cereal to the cookies. If it was cooler like in the 40's I wouldn't adjust adding any cap'n crunch cereal.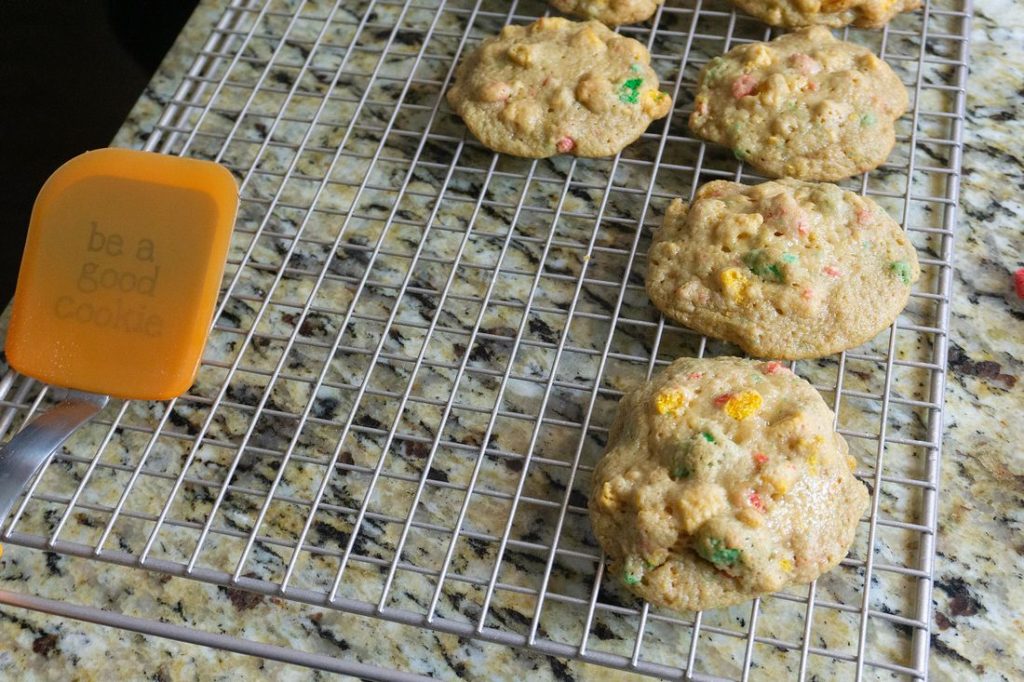 The next tip on these cookies is to bake the cookies for only 10 minutes no more. If they look under baked I promise you they are fine. Pull them and let cool on a rack like seen in the photo above and below this text. This allows the cookie to cool and still be formed.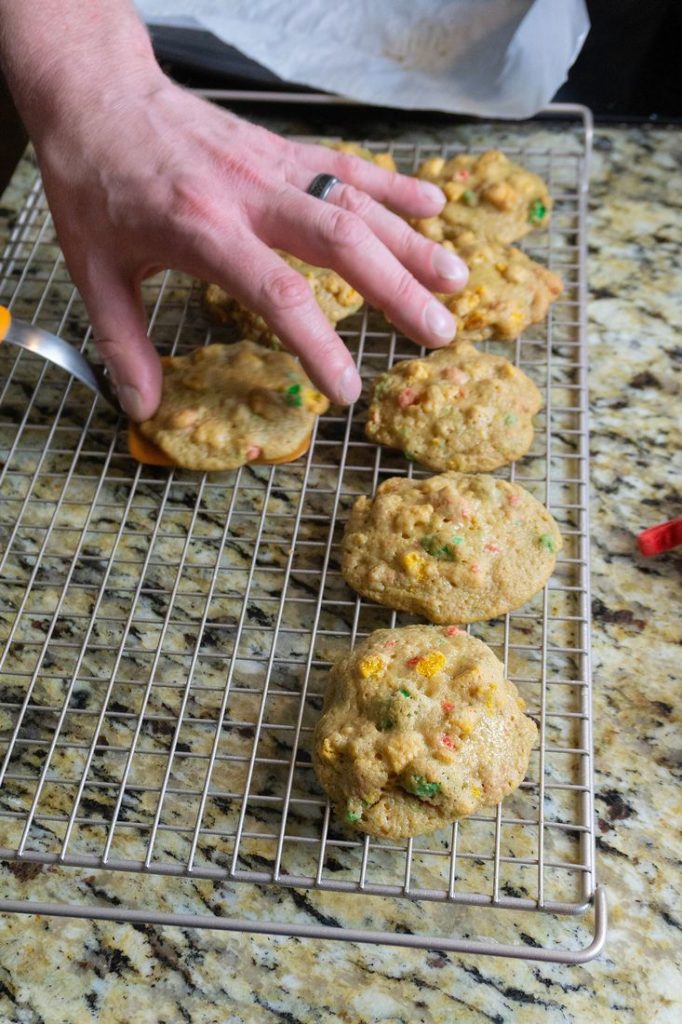 Once the Christmas crunch cookies cool down they will be formed and soft. Soft cookies are the best cookies. Nothing like biting into a chewy soft cookie. Dip it in warm milk on a cold winter night.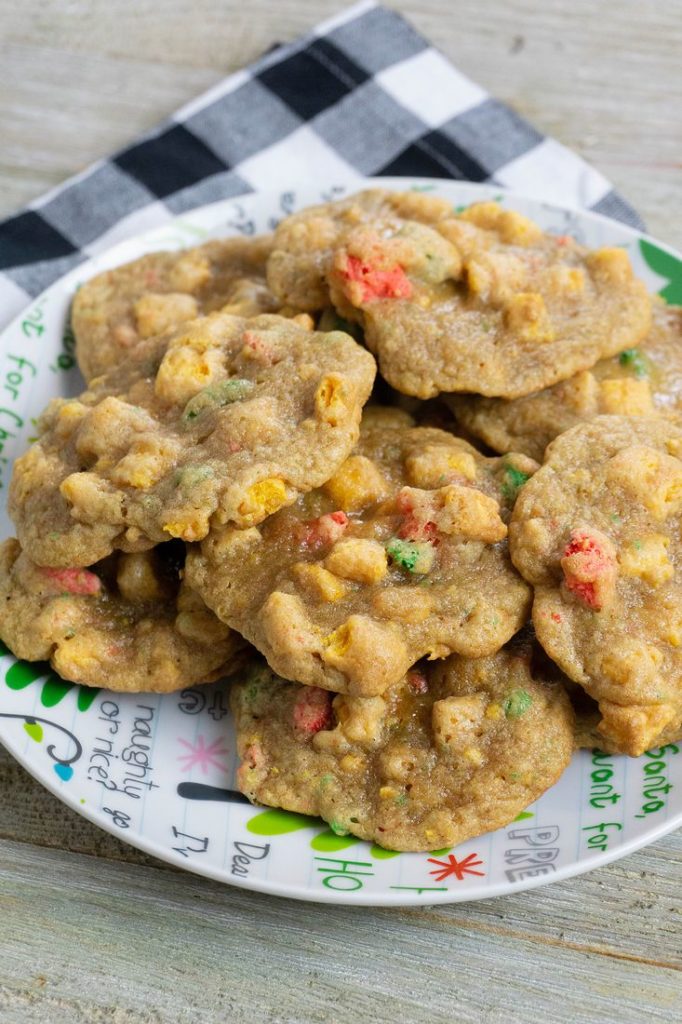 And since it's almost Christmas season how about a few more cookie recipes to try for 12 Days of Christmas Cookies! Who doesn't love cookies right!
More Cookie Recipes: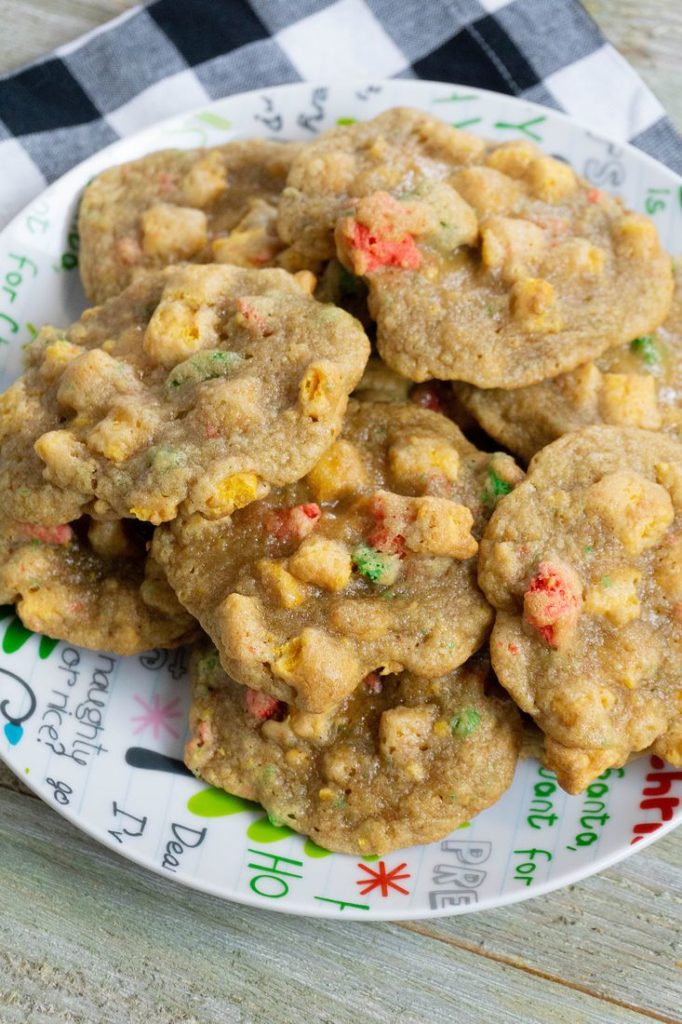 What type of cookies do you like to bake at the holiday season? Do you do cookie exchanges or just bake for family and friends? I always love to hear what people do during the holidays. All the interesting traditions! If you want to make the non Christmas version of these cookies you can find it here at capn crunch cookies.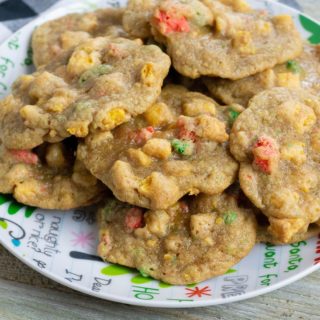 Christmas Crunch Cookies
Christmas cookies made with Christmas Crunch Cap'n Crunch cereal.
Ingredients
2

cups

all purpose flour

½

teaspoon

baking soda

½

teaspoon

salt

1

stick melted butter

1

cup

light brown sugar

½

cup

granulated sugar

2

eggs

1

cup

crushed Cap'n Christmas Crunch

1

cup

non-crushed Cap'n Christmas Crunch

parchment paper
Instructions
Preheat oven to 325F.

In a medium bowl, combine flour, baking soda, and salt. Whisk until fully combined; to aerate.

Melt butter completely in a microwave safe bowl. In a large bowl using an electric mixer, cream together the brown sugar, white sugar, and melted butter. Beat in the vanilla and eggs. Continue beating until batter is light and creamy. In increments, add in flour mixture, mixing after each addition.

In a small bowl, crush 1 cup of the Cap'n Christmas Crunch with a potato masher. If you do not have a potato masher, put the Cap'n Christmas Crunch into a small zip lock bag and smash. Add crushed Cap'n Christmas Crunch to the dough mix, stirring by hand. Then add in the other cup of non-crushed Cap'n Christmas Crunch and mix well by hand.

Place 1″ balls of dough on cookie sheet lined with parchment paper. Bake 8 to 10 minutes until edges are a light golden brown. Remove from sheet to cooling rack.
Pin Me: