This post may contain affiliate links. Please read my privacy policy.
Beef shawarma salad is a simple dinner recipe that has plenty of flavor. Try a different salad recipe for an easy weeknight dinner. Spiced with cumin, sumac, cinnamon, and plenty more spices this salad will wow anyone you have over for dinner.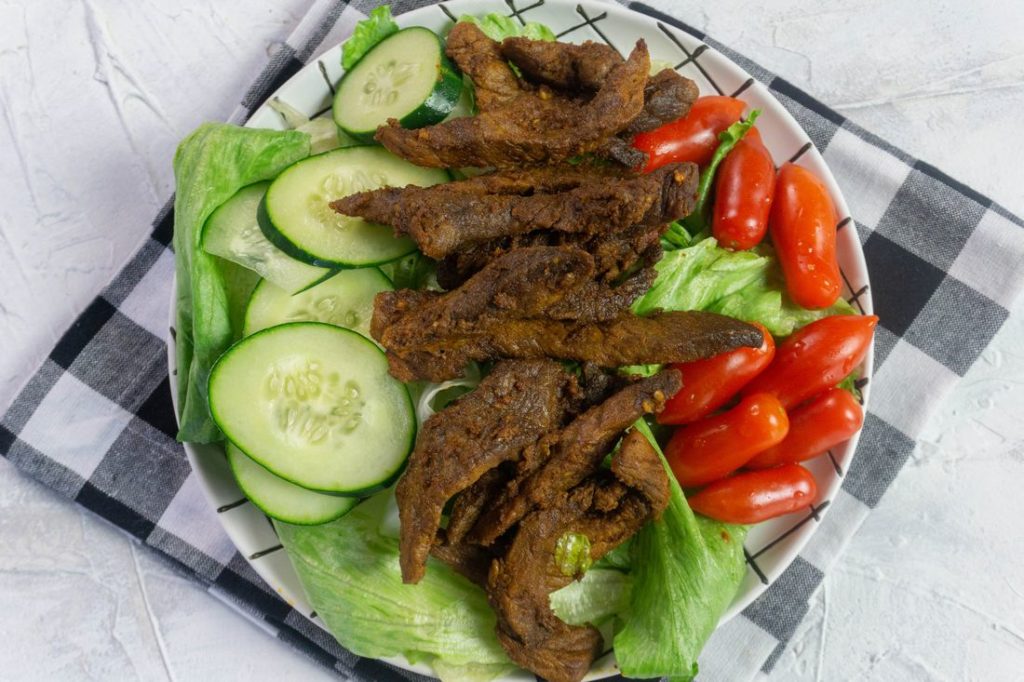 Marinating beef shawarma
When making beef shawarma the marinade is what makes the beef so tasty. We suggest marinating the beef in a bag of the spices for at least one hour or up to 12 hours. The longer the spices sit in the marinade in the fridge the better flavor the stir fry beef will have.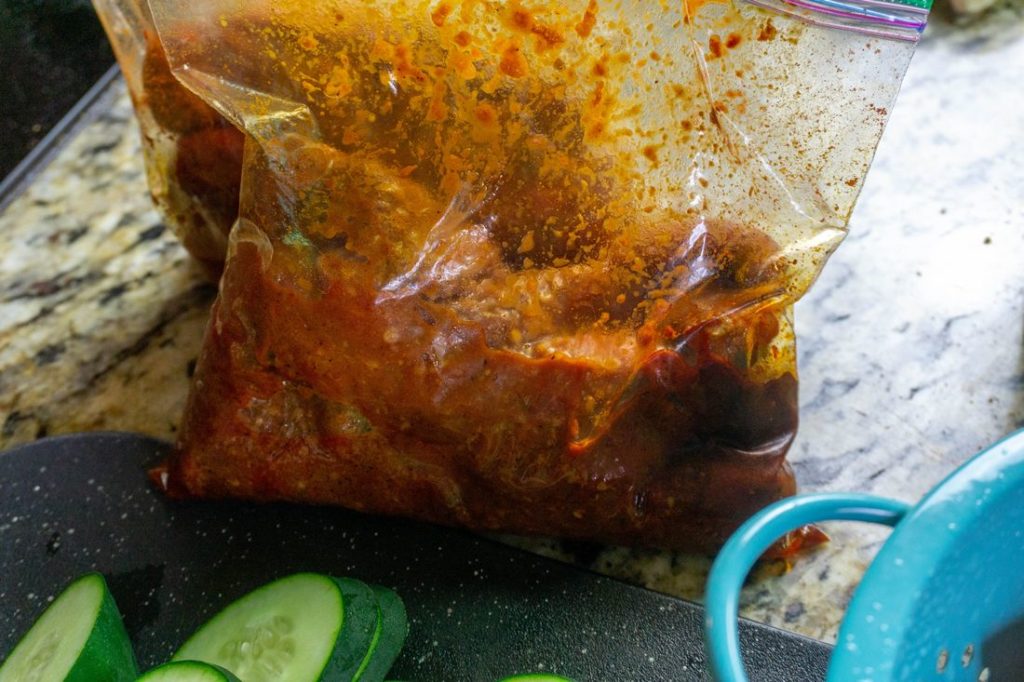 The beef we buy is from central market and is called beef stir fry meat. If the local store near you doesn't have beef labeled stir fry beef then look for bottom round or top round beef. This is usually what is used to make beef stir fry. London broil thinly sliced can also be used.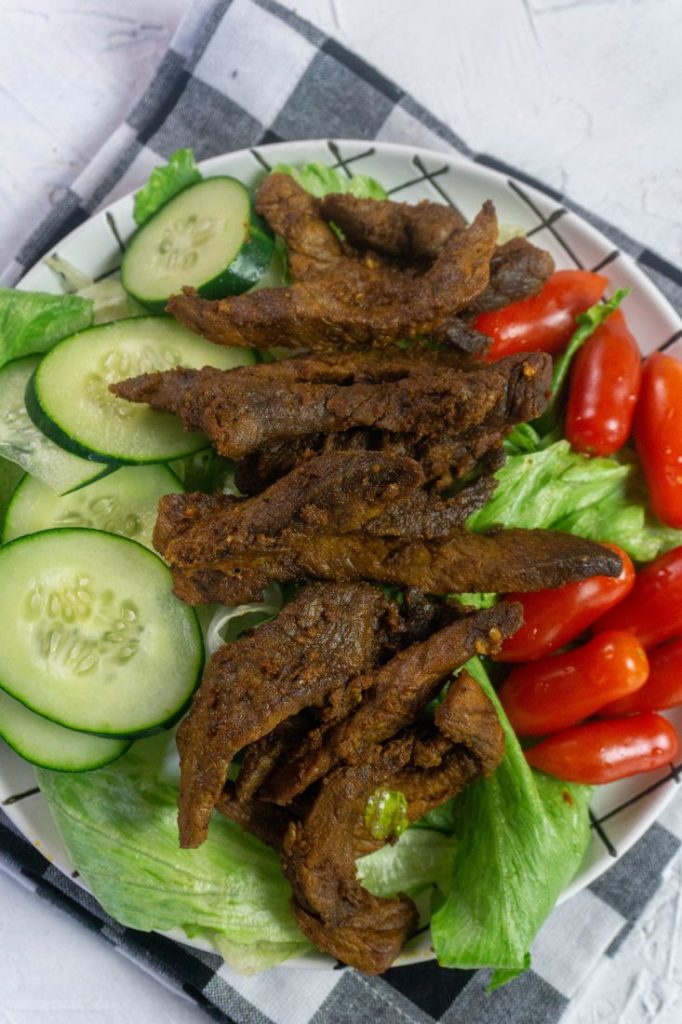 Here we marinated the beef for just little over an hour. Beef Shawarma is traditionally roasted on a spit. However, most of us don't have a spit in our kitchens or even in our backyards. The method we are using is sauteing the beef in a pan with high heat.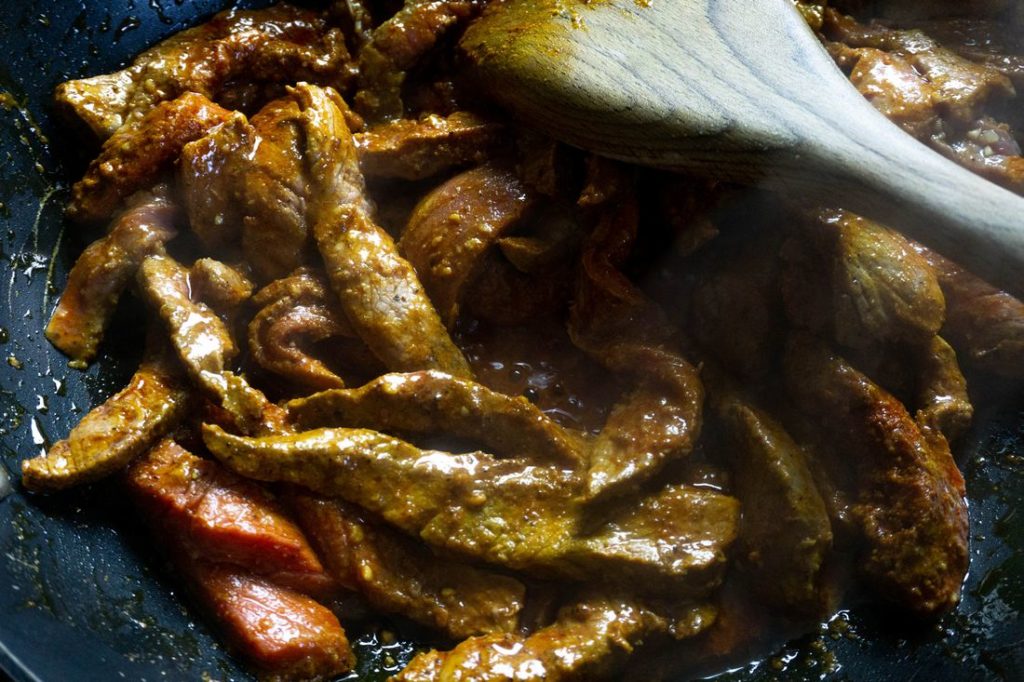 Otherwise the beef can also be slow roasted in the oven. This recipe allows you to easily replace the beef with strips of chicken if you'd like a healthier recipe for shawarma. Nothing changes but the meat. Use chicken thighs for the best overall outcome.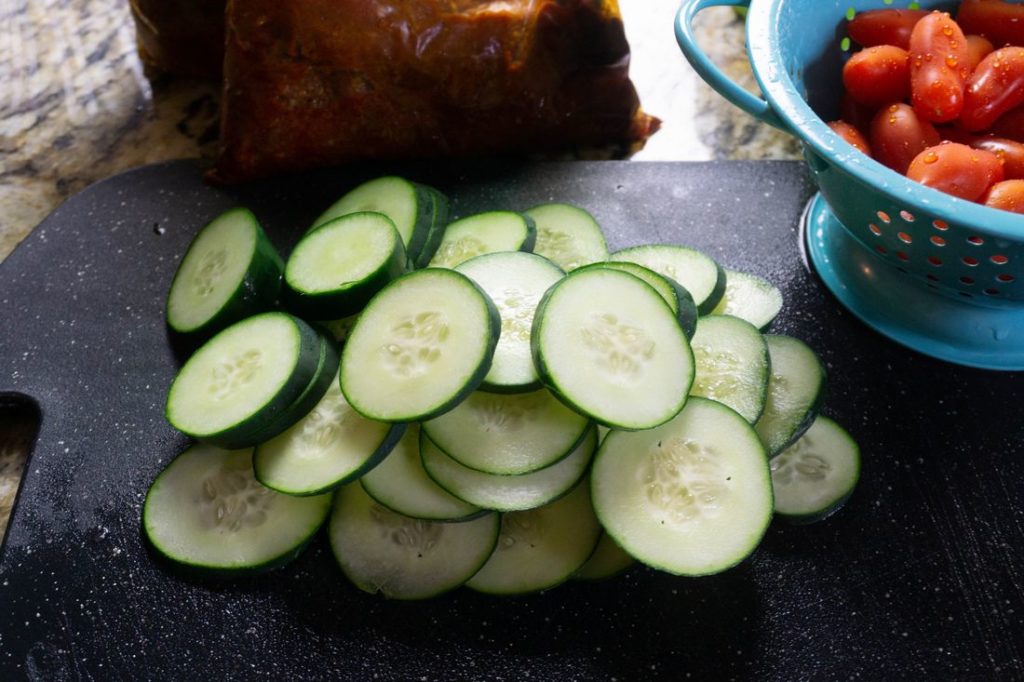 I love this recipe because it's a healthy easy dinner recipes. Whether lean beef or chicken is used. Turkey breast can also be used in this recipe. There is nothing like an easy weeknight recipe. Marinate the meat and freeze to cut out time in advance, Freezer prep is always nice in advance.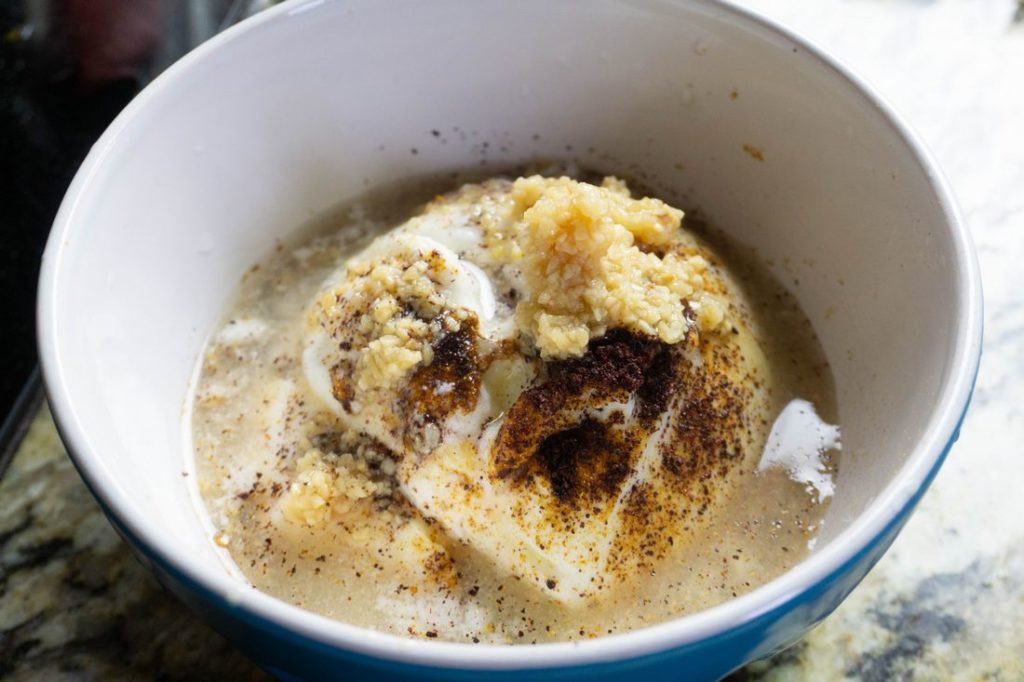 The Yogurt Sauce:
The sauce is a must! The lemon yogurt sauce spiced with sumac makes the wraps or the salad. With out this it's just not the same. Plain yogurt or Greek yogurt can be used. What I love most about this beef shawarma salad is all the flavor from the spices.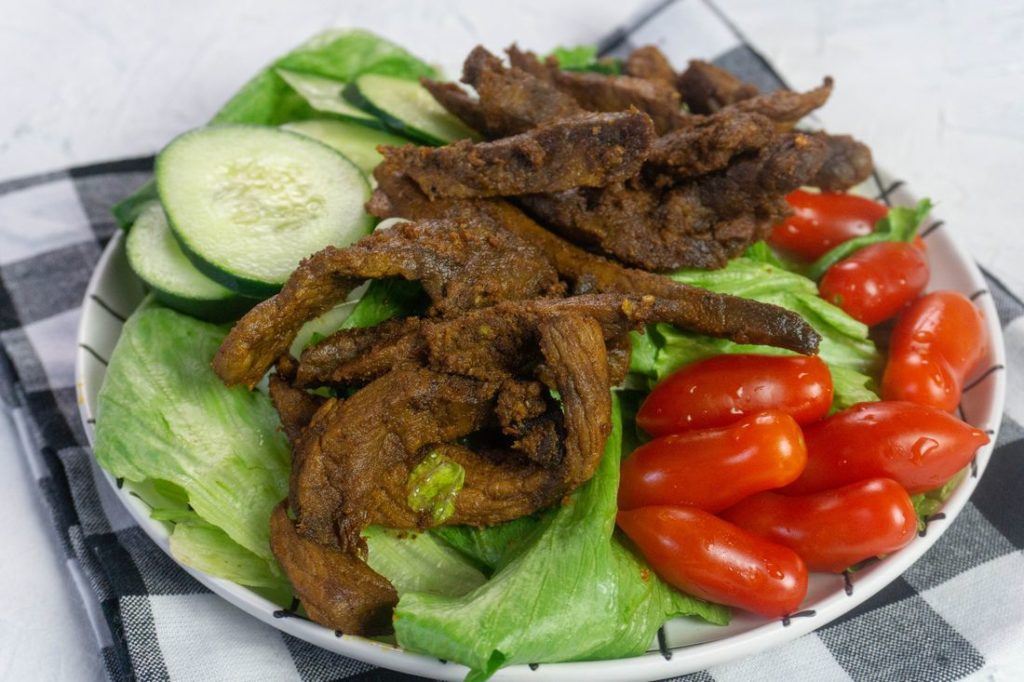 While the meal is so simple the flavors of the spices make the meal so complex. The san marzano mini tomatoes are my favorite to use over grape or cherry tomatoes. I find these at central market. They just have that good tomato taste that pairs well with the beef.
Beef shawarma salad is that weeknight beef dinner that allows me to make dinner in under 30 minutes. Just prep ahead in the morning or the night before. Light and refreshing for these hot summer days. Hope you enjoy it as much as we do!
Enjoy These Other Salad Recipes: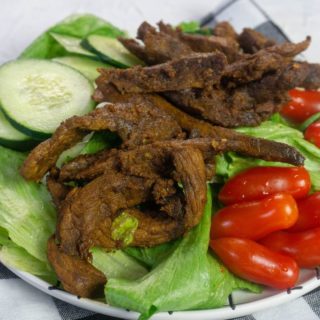 Beef Shawarma Salad
Spiced beef strips stir fried and topped over a bed of salad.
Ingredients
For Meat:
2

lbs

beef stir fry meat

2

teaspoons

cumin

2

teaspoons

paprika

1/2

teaspoon

cayenne

2

teaspoons

minced garlic

2

teaspoons

cinnamon

2

teaspoons

black pepper

2

teaspoons

turmeric

2

teaspoons

cardamon

2

teaspoons

sumac

1

teaspoon

salt

2

tablespoons

olive oil

3

tablespoons

lemon juice
For Salad:
1

head of lettuce; chopped

1

cup

small san marzano tomatoes

1

cucumber; sliced
For Sauce: 
1

cup

Greek yogurt

1

tablespoon

garlic; minced

i teaspoon sumac

1

teaspoon

pepper

1

teaspoon

salt

1/4

teaspoon

cayenne pepper

1

tablespoon

lemon juice
Instructions
For Meat:
Place stir fry meat in a ziploc bag and add in the spices from the meat list. Cumin, paprika, cayenne, garlic, cinnamon, black pepper, salt, cardamon, turmeric, and sumac. Add in olive oil and lemon juice. Mix the spices, oil, and juice well with the meat by rubbing all together inside the bag. Place in the fridge for at least one hour to marinate and no more than 12 hours. 

Most shawarma is pit roasted but not all of us have a pit. This recipe uses a stir fry method to make the meat. You can roast it up in the oven that is your choice. Place meat in deep saute pot or wok. Put to medium heat and cook till meat is browned.
For Salad:
Chop lettuce and slice the cucumbers. Set aside. Wash tomatoes. Set aside.
For Sauce:
In a small bowl add in yogurt, garlic, sumac, pepper, salt, cayenne pepper, and lemon juice. Stir well.

Serve meat topped on the salad bed with tomatoes and cucumbers. Top with sauce.
Pin Beef Shawarma Salad: