Spaghetti All'Amatriciana
This post may contain affiliate links. Please read my privacy policy.
This is one of my simplest meals I love to make for my family on a chilly Autumn evening. The crushed red pepper in this Spaghetti all' Amatriciana adds a little heat to warm the soul. The origin of the Amatriciana was a recipe named gricia. Grici were what the Romans called the sellers of bread and comestibles.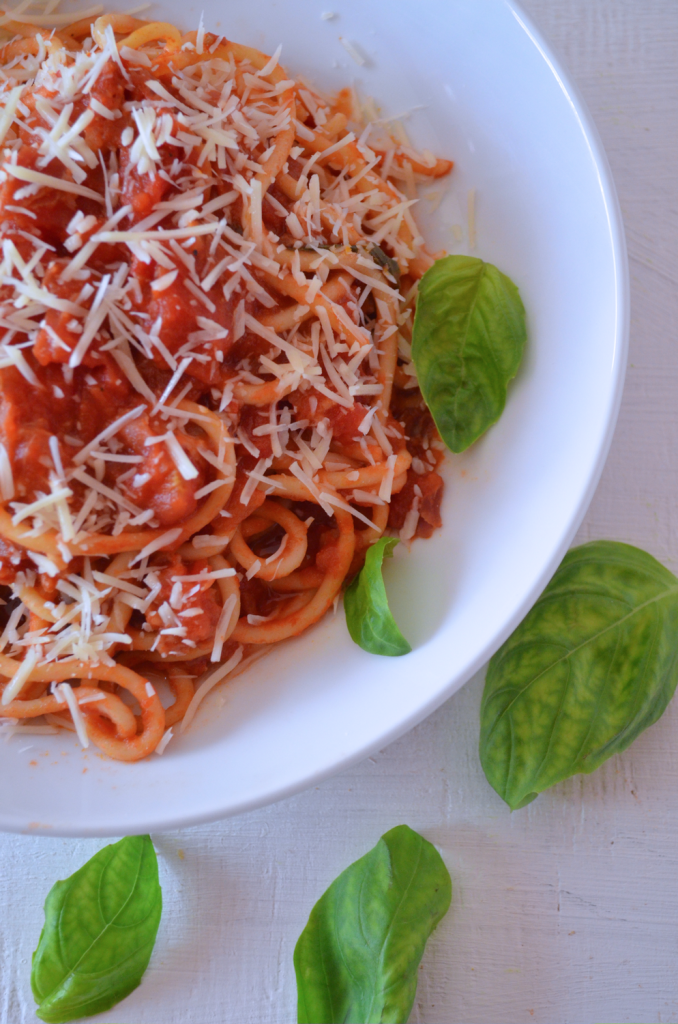 The History
According to another source, the name originates from the hamlet of Grisciano, in the comune of Accumoli, near Amatrice.
Spaghetti All'Amatriciana is generally prepared with guanciale (cured pork cheek) and grated pecorino. Guanciale is not common in the United States. You would have to check at specialty shops to find it and even then it's difficult to find.
It is possible to replace the guanciale with pancetta but you would want a thick cut pancetta if possible. Pecorino cheese can be found at specialty markets like Sprouts or Whole Foods. I use pecorino when I can find it but if not I replace it with a parmesan cheese when in a bind.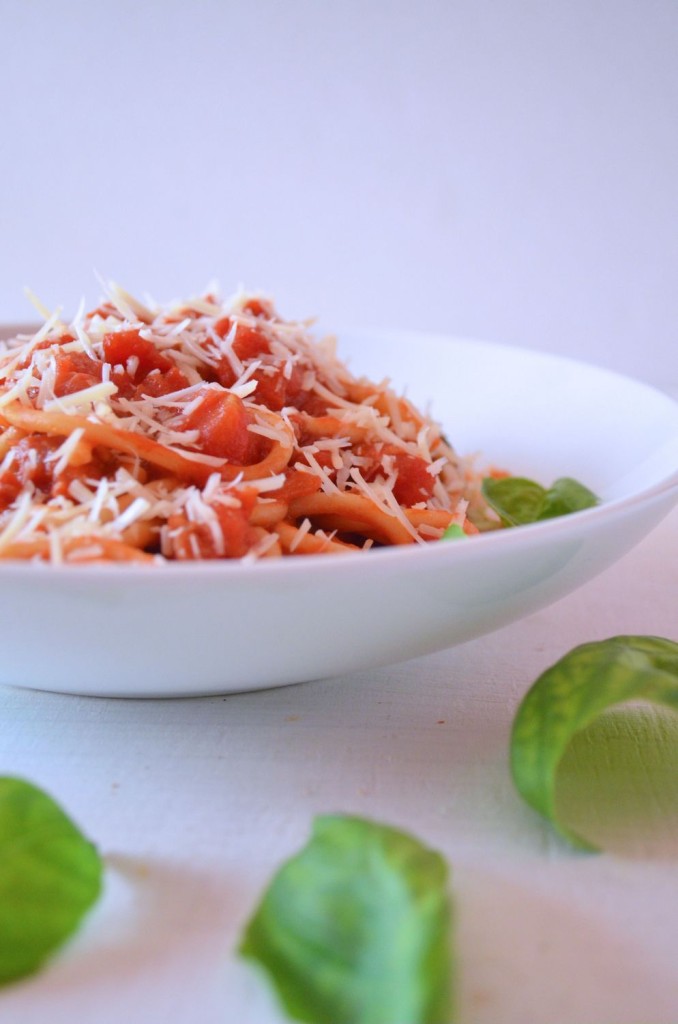 Another name for it is Sugo all'amatriciana and Bucatini all'Amatriciana which is used with a bucatini pasta that is larger then spaghetti and comes with a hole down the center. I've had luck finding this at World Market. Though, for an easier way to go you can just do the Spaghetti All'Amatriciana version.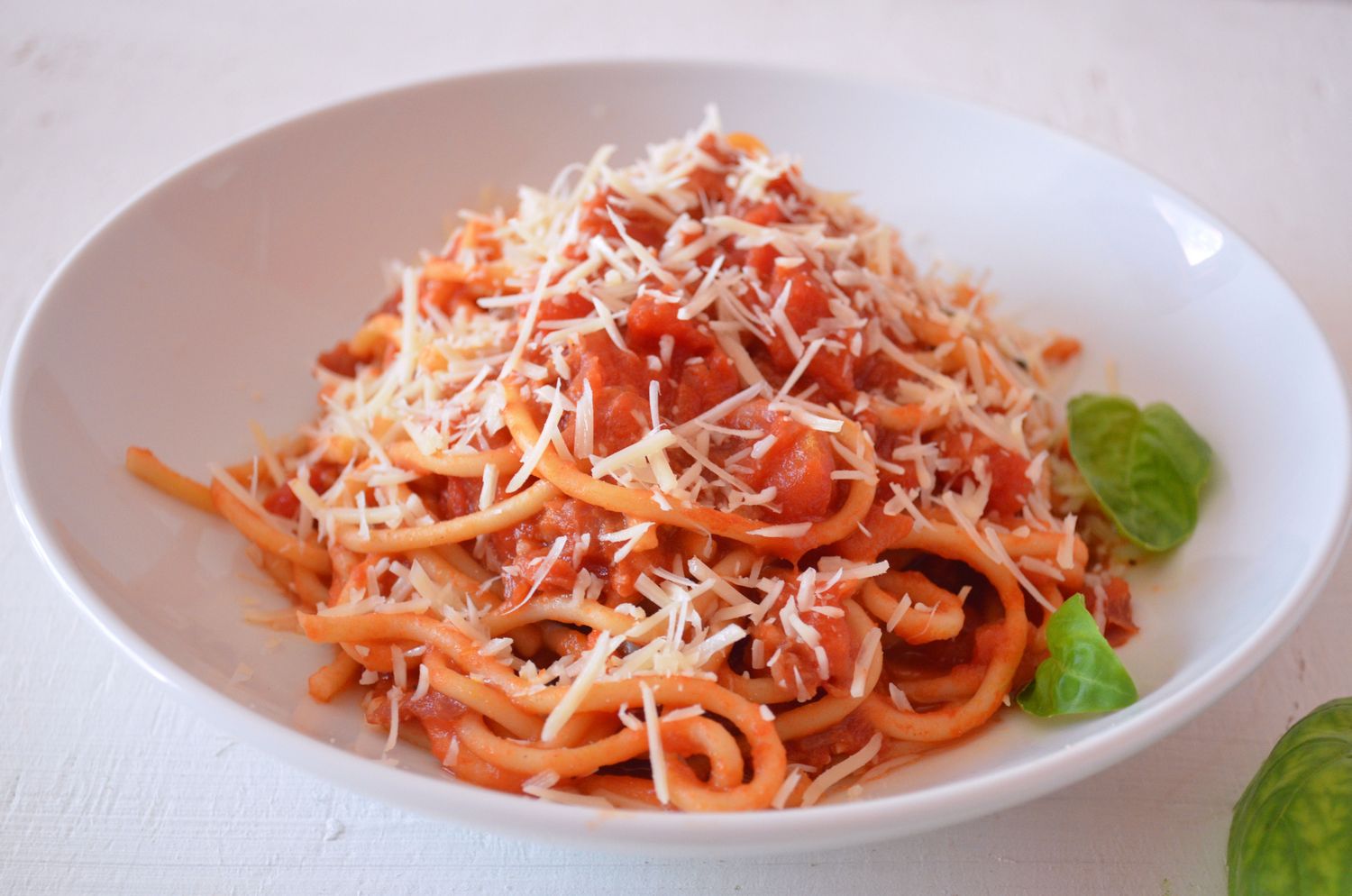 Lineage
My lineage is Italian and I was raised on pasta's like this. You can take away a lot of foods from me for diet restrictions to lose weight or what not but there is NO way your taking my pasta. I would rather be fat! I love my pasta; it's like my main diet.
Yes, it carbs but RUN it off and you will be just fine. Love my pasta and my bacon. I was vegetarian for a few years due to medical reasons and I have to say I really missed bacon!
Is there a food you could never do with out? I'd love to hear about it. Tell me in the comments below.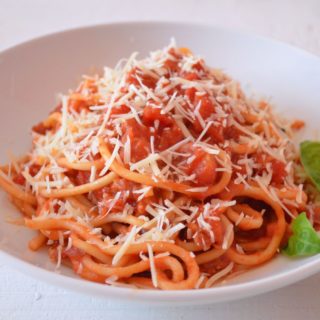 Spaghetti All'Amatriciana
Spaghetti with pasta noodles in an red sauce.
Ingredients
1

lb

16 oz spaghetti noodles

2

cloves

of garlic; minced

1

tablespoon

crushed red pepper

2

tablespoons

olive oil

1

cup

pancetta; diced

2

large cans of San Marzano tomatoes; peel whole tomatoes

4 to 6

fresh basil leaves

Salt and pepper

1 to 2

cups

Pecorino cheese
Instructions
In a sauce pan add pancetta, garlic and one tablespoon olive oil. Saute until pancetta is cooked.

Fill a large pot with water, one tablespoon olive oil, and salt. Bring to a boil and cook pasta as directed while working on the sauce.

Once pancetta is browned, add the San Marzano tomatoes by crushing them with your hands. Add sauce from can and crushed red pepper. Bring to a low boil. Add basil, salt and pepper.

Drain pasta and reserve a bit of the water with it. Add pasta to a large bowl and toss with sauce adding the sauce in parts. Top with Pecorino cheese and serve.
Pin Spaghetti All'Amatriciana: