Instant Pot Rosemary Chicken Noodle Soup
This post may contain affiliate links. Please read my privacy policy.
Everyone visiting each other through out the holidays and winter season is when the flu amps up. Flu season is definitely here. This Instant Pot Rosemary Chicken Noodle Soup has flu fighting ginger and garlic along with all the nutrients to help those that are sick feel better!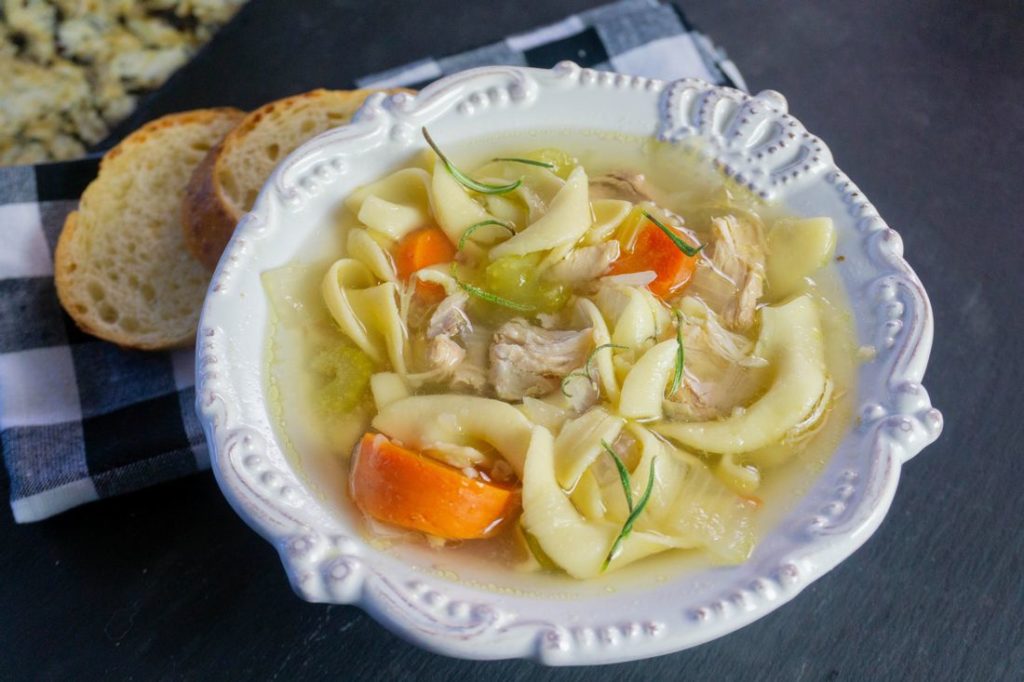 One of the reasons I love my Instant Pot Duo Plus (6 quart) is how easy it is to make soup in. I like that I can throw everything into the instant pot and step away. When your not feeling well you don't want to have to stand at the stove.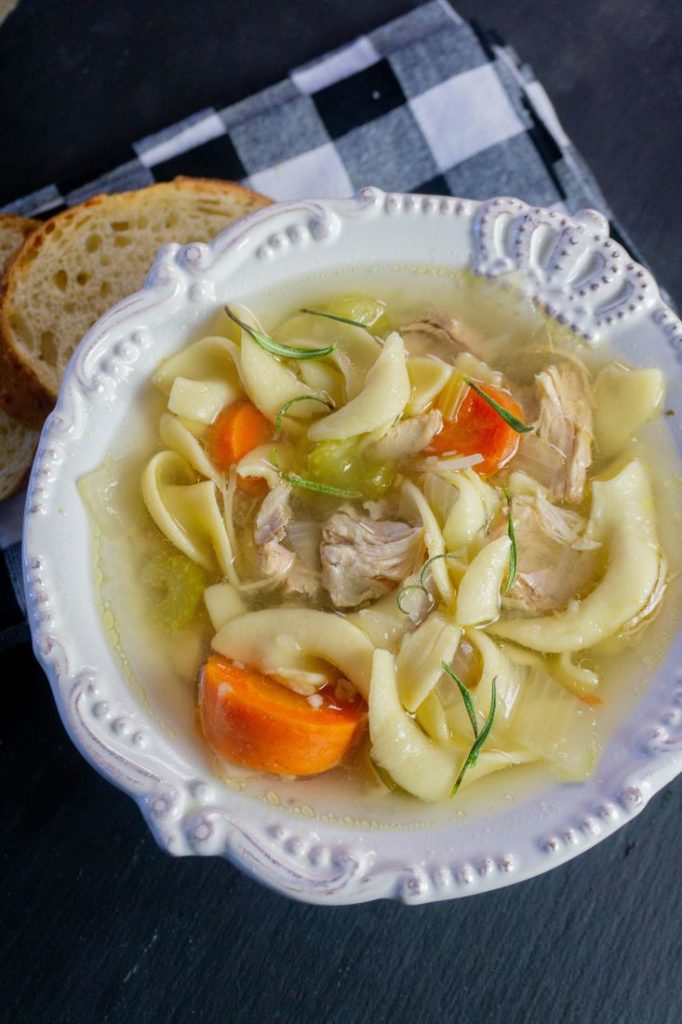 Noodles In The Pot Or Cooked Separate
When it comes to cooking the egg noodles for this Instant Pot rosemary chicken noodle soup I like to cook them separate. Egg noodles cook in very little time on the stove. I just toss them into my bialetti pasta pot and done. However, if you want to cook them in instant pot you can.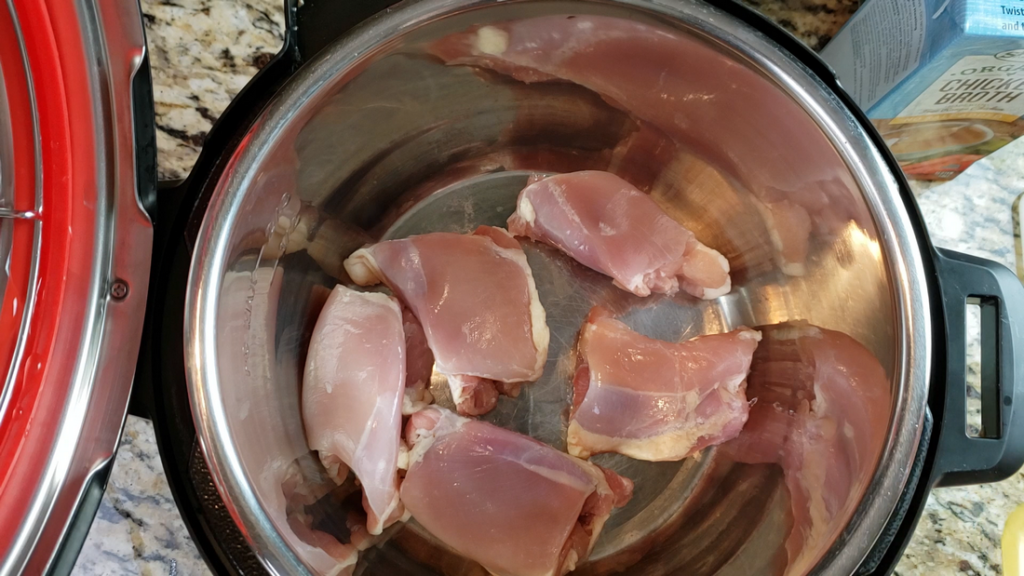 Once your finished cooking everything you can add the egg noodles to the pot and let them cook for about 7 minutes. Most people will put the pot to saute mode and let it boil the noodles. Egg noodles tossed in will cook over time.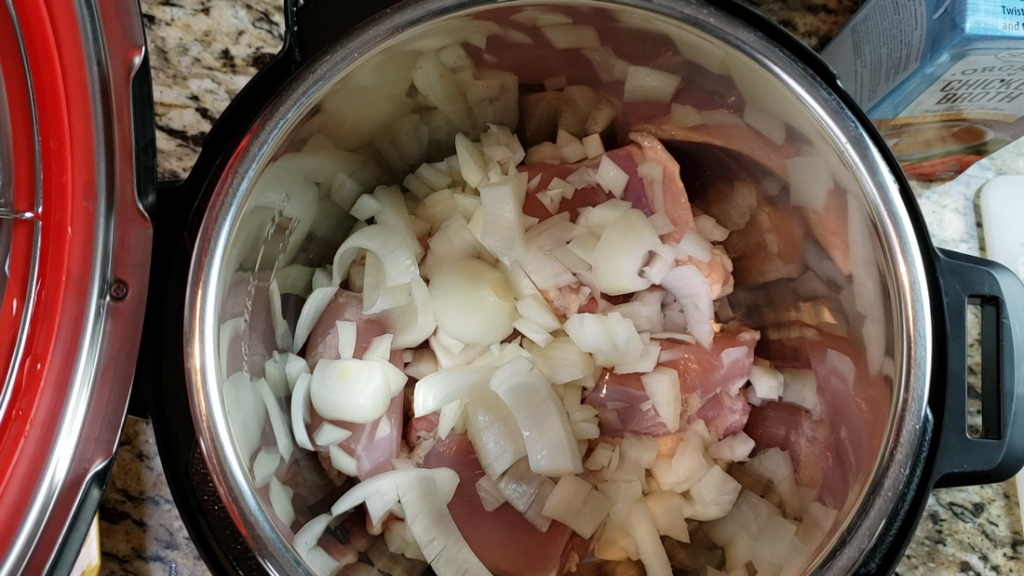 That being said I prefer to cook them separate and only add them when we are ready to eat. If we have several people eating at different times then we just have everyone add the egg noodles to their own bowls.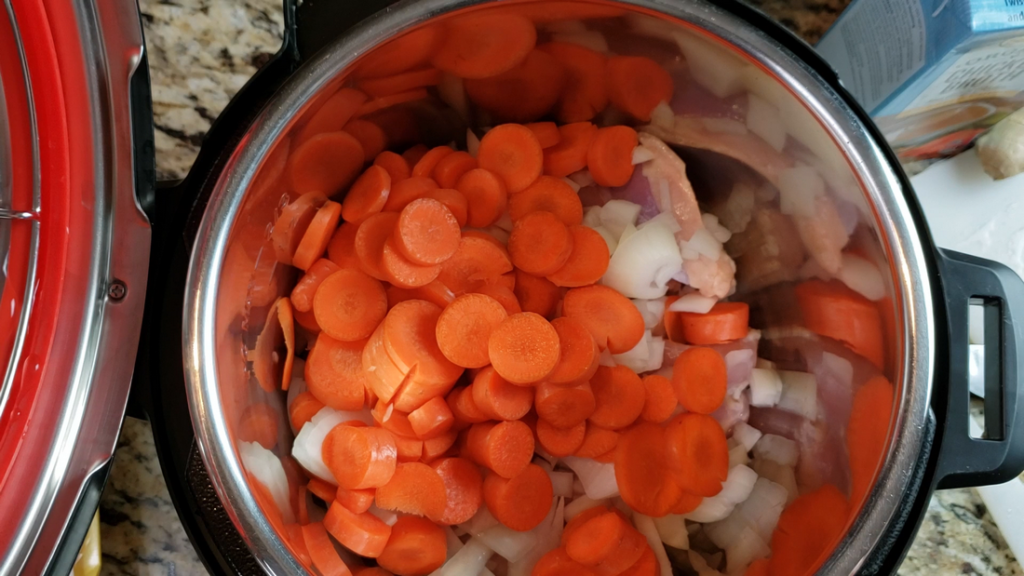 This recipe is made for a instant pot 6 quart pot. If you have a 8 quart or 3 quart instant pot you will need to adjust the cooking amounts. For an 8 quart pot add more broth. chicken, vegetables, and water.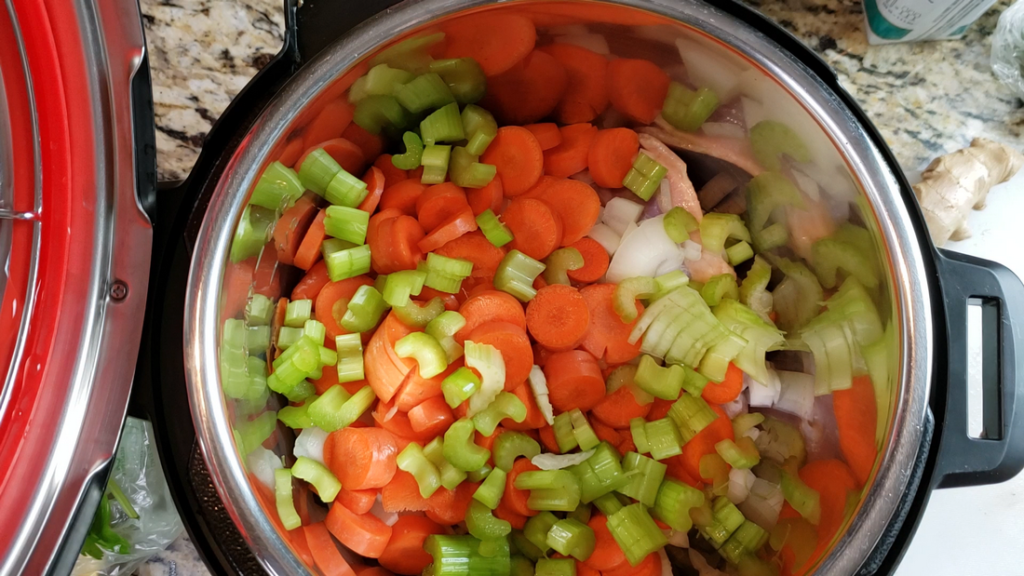 For a 3 quart pot add less of everything. Just add 1/2 of what is in the 6 quart for the 3 quart pot. The 8 quart you add about 1/3 more of everything. This will help you so that the recipe comes out correctly.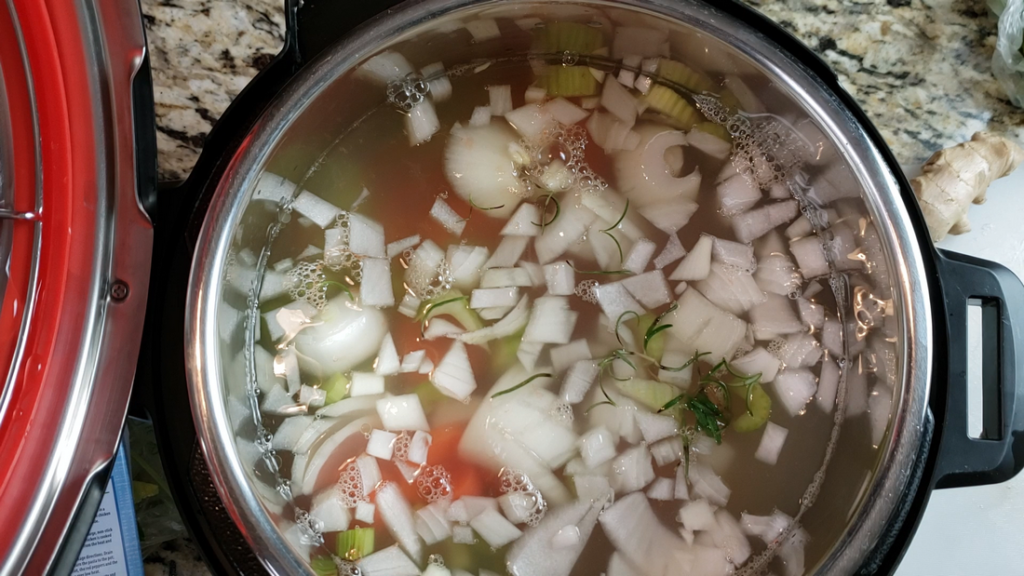 Why Wine In Instant Pot Rosemary Chicken Noodle Soup
The reason for adding white wine into the soup broth is that it adds a good flavor to the broth of the soup. Second, all the alcohol will cook off when under pressure so it's safe for everyone. If you don't want white wine just add more broth and water to compensate.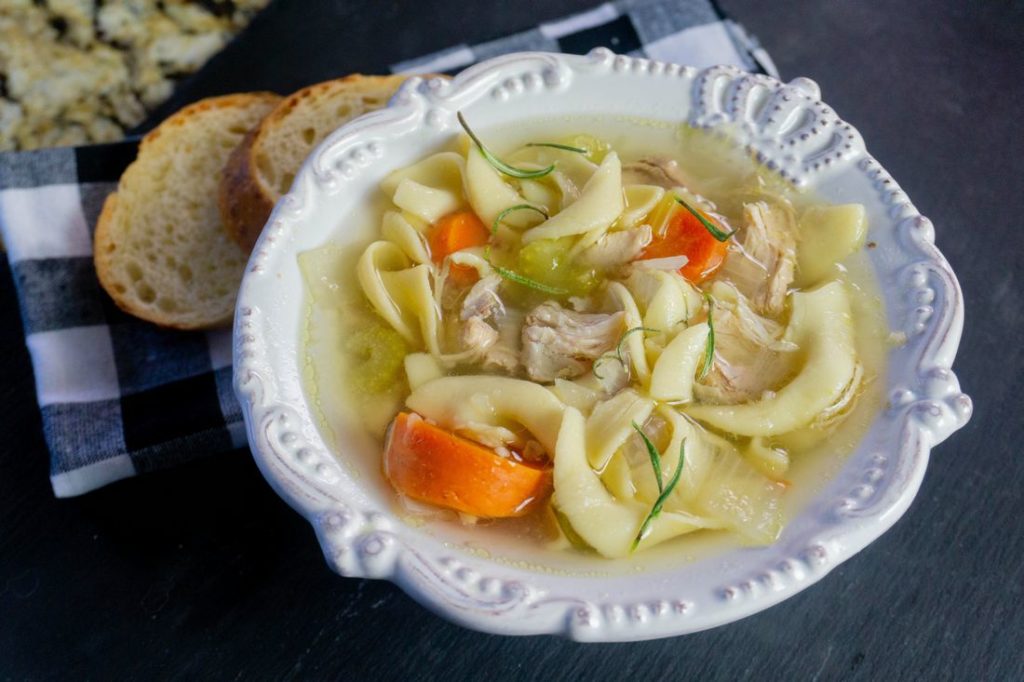 Just add equal parts broth and water to compensate for the 500ml of white wine. Any kind of white wine can be used. I prefer to use pinot grigio. My reason is it has less sweetness and it's often used in cooking.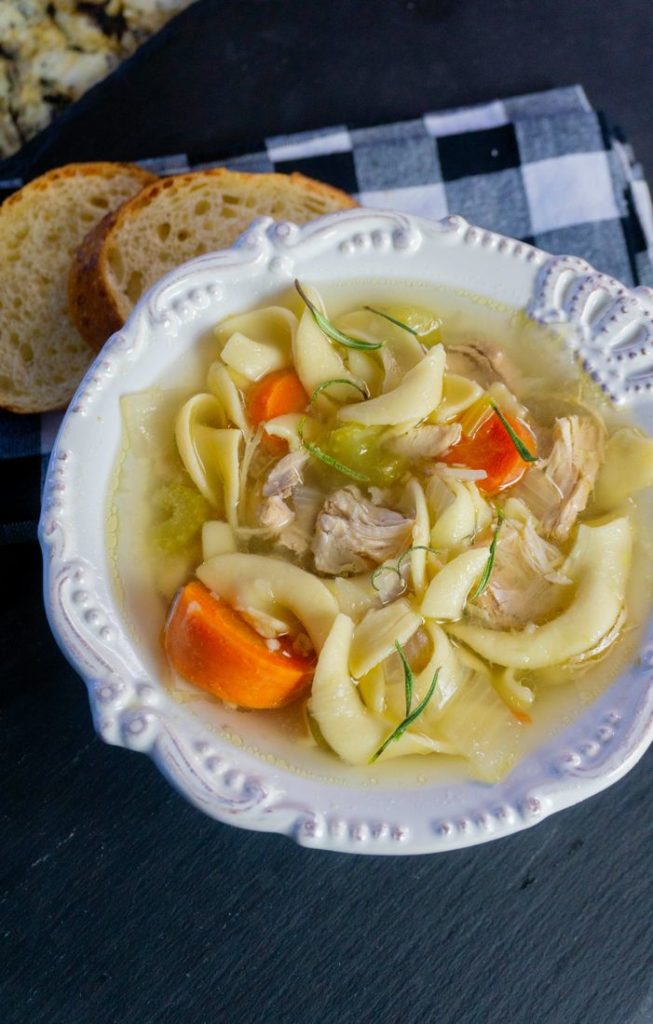 Many herbs can be added to a chicken soup. I like the aromatics of rosemary but basil, thyme, and even parsley are all fantastic for adding into a instant pot chicken soup. If your looking for a chicken soup with some spice then try our Instant pot Peruvian chicken soup.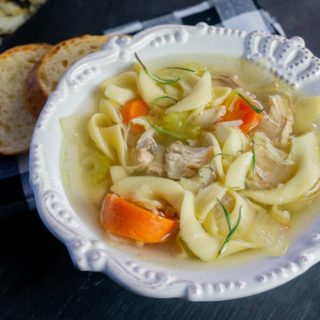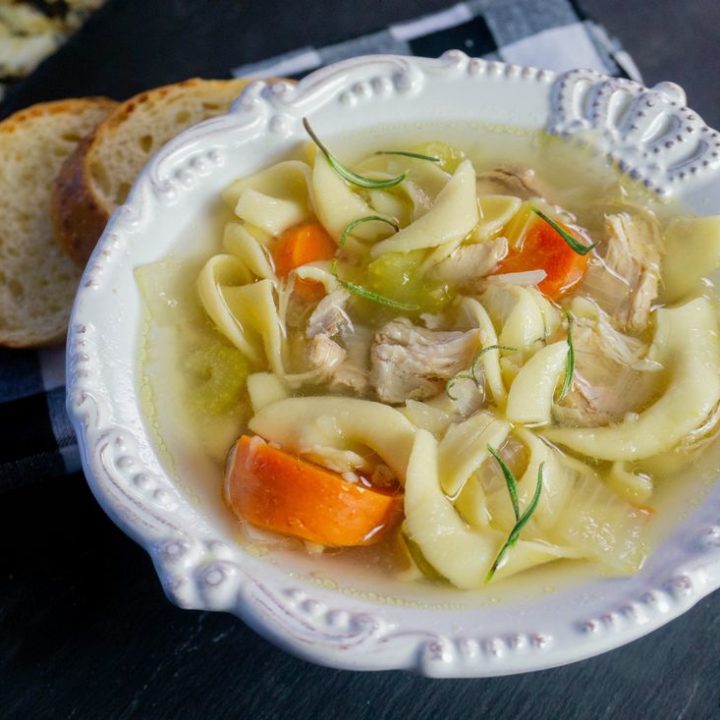 Instant Pot Rosemary Chicken Noodle Soup
Chicken soup with white wine and rosemary along with flu fighting ginger and garlic.
Ingredients
6

boneless

skinless chicken thighs

3

carrots; sliced into rounds

4

stalks of celery; chopped

1

white onion; diced

1

teaspoon

rosemary

32

oz

chicken broth; no sodium organic

500

ml

white wine; pinot grigio

1

tablespoon

grated ginger

2

tablespoons

garlic; minced

2

teaspoons

salt

2

teaspoons

black pepper

4

cups

water; for 6 quart instant pot

8

ounces

pasta; half the bag
Instructions
Add chicken thighs into the instant pot. Add onions, carrots, celery, chicken broth, and wine.

Place in the rosemary, salt, pepper, ginger, and garlic.

Pour in 4 cups water for a 6 quart instant pot. See notes above for 8 quart and 3 quart instant pots.

Set valve to sealed. Click high pressure (or manual button) and set timer to 10 minutes. Once the instant pot stops counting and beeps quick release the pressure.

Once pressure is released remove lid and pull out the chicken. Shred chicken with tongs or a fork and add back to the pot.

For the pasta. Cook on stove top as directed on package. I cook half the package then add a little as time till it's just enough. If you would like to cook the egg noodles in the instant pot. Add them to the pot after you've released the pressure. Let sit for about 10 to 12 minutes and egg noodles will cook in the broth. If you would like them to be cooked faster then set to saute mode and cook for 8 minutes. I warn that this method could result in mushy vegetables. I don't recommend cooking the noodles in the pot. Please see notes below.
Notes
When it comes to cooking the noodles we do this separate so that the noodles don't become mush in the soup. We prefer to add them to each our own bowls. That being said we cook them and toss them in a tad of olive oil.
Pin Me: