Instant Pot Peruvian Chicken Soup
This post may contain affiliate links. Please read my privacy policy.
It's seriously funny how some people are so afraid of green food. Cilantro is the ingredient that turns this soup such a wonderfully bright green color. However, some people may not find it appetizing. This Instant Pot Peruvian Chicken Soup is so delicious with little peas and carrots. The soup comes together in just minutes with rotisserie chicken.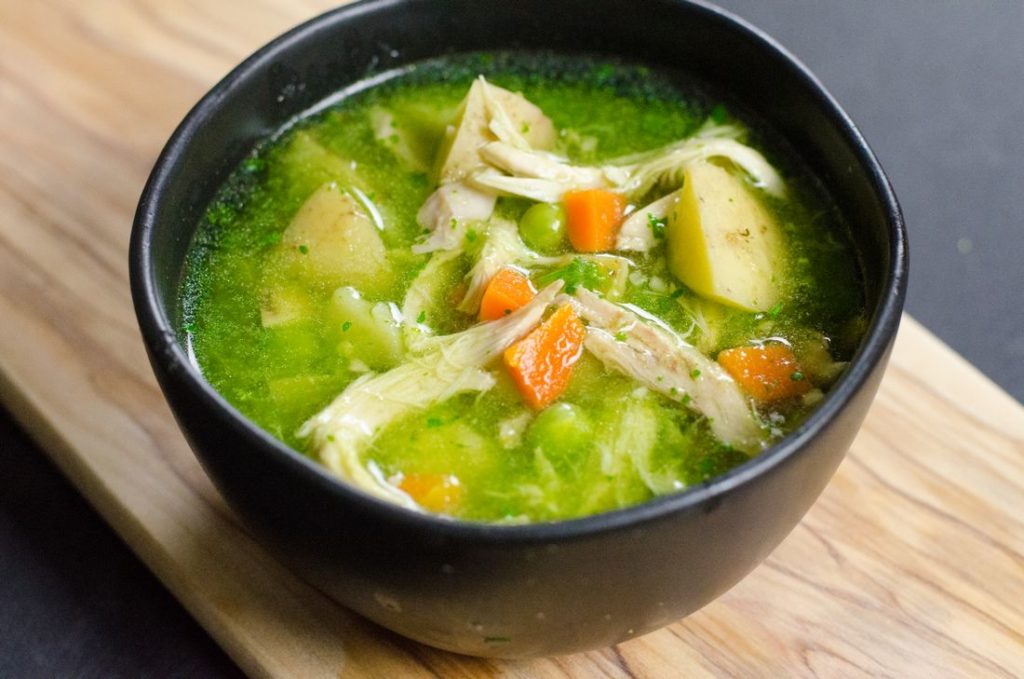 First, for this soup pick up a whole rotisserie chicken for simplicity. Chicken can be cooked in the pot. Just add and cook the boneless skinless chicken breast first. The rotisserie is just cheaper and less cook time. Second, a blender will be needed for this recipe. It's not a one pot instant pot clean up.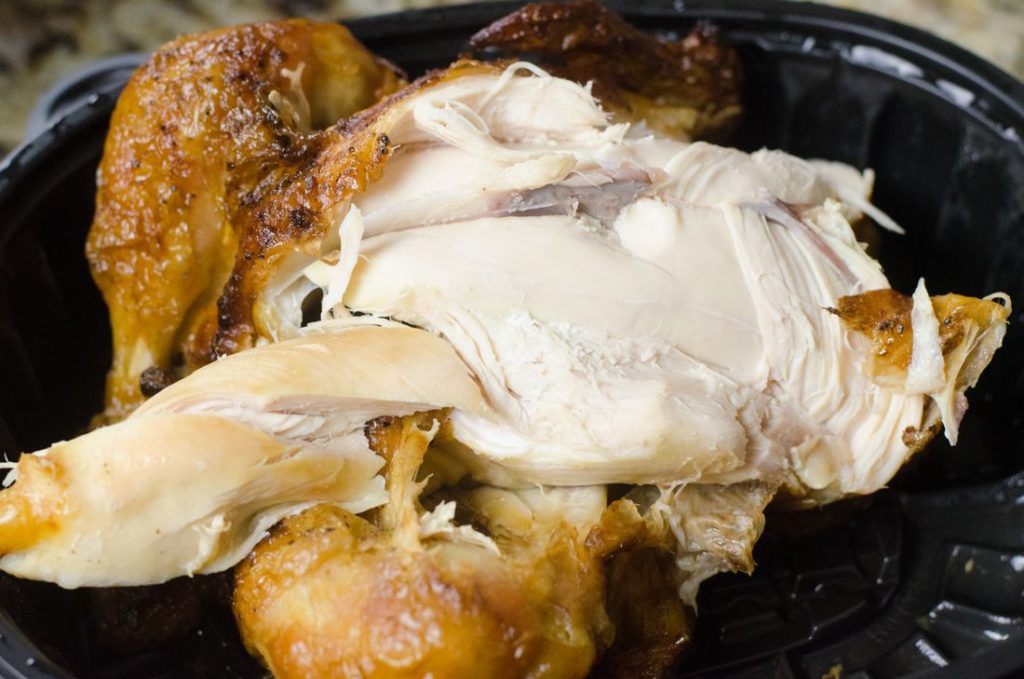 However, it is really just the blender and the instant pot that's used to make this wonderful chicken soup in the pressure cooker. Additionally, when I make this soup I do it in my instant pot duo. It's a 6 quart instant pot so if you need to adjust the recipe to the size of your instant pot or pressure cooker do so.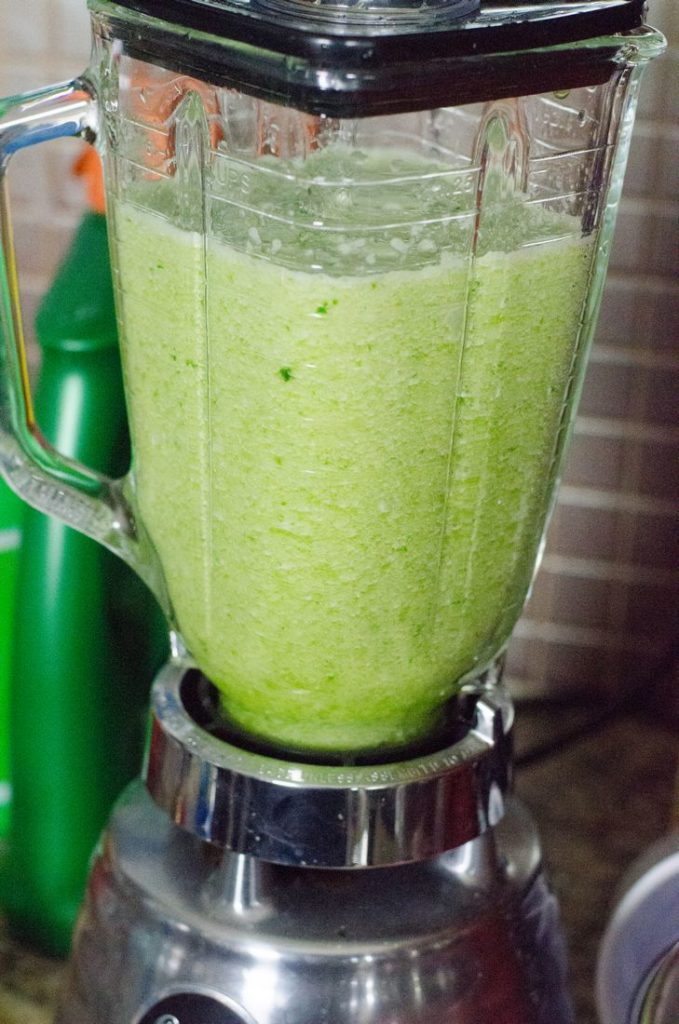 The Soup:
Third, the soup is started by blending the onion, peppers, and garlic together with broth. Hence, it's blended then poured into the instant pot. Add the chicken and potatoes then pressurize. We have this process to cook the potatoes and warm up the soup. Additionally, peas and carrots with be added along with the cilantro. Rice can be added however it's not needed.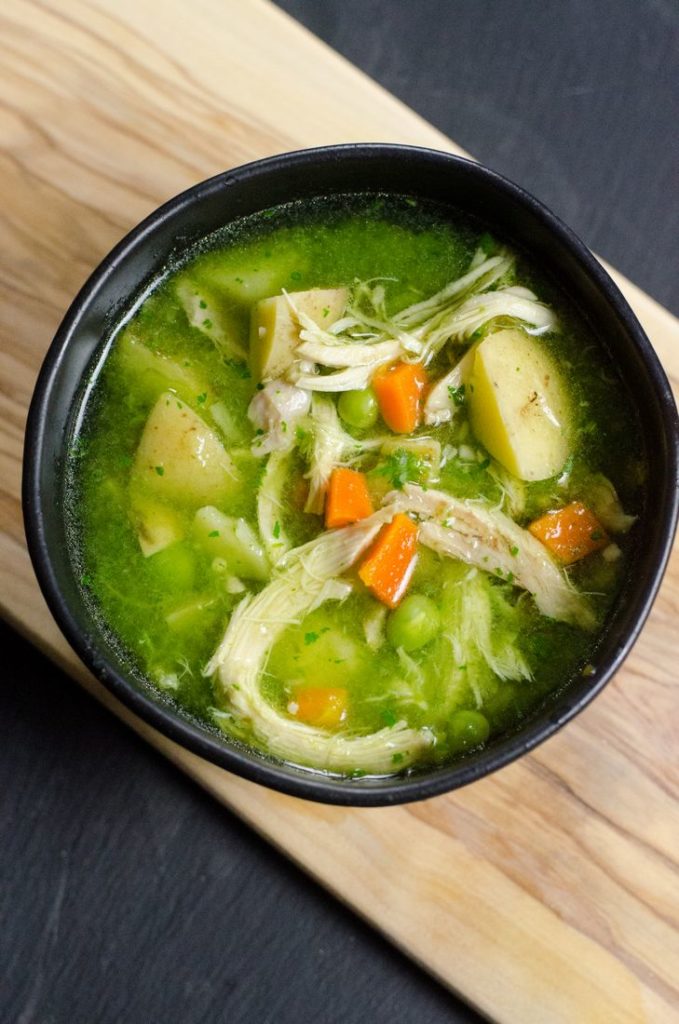 Instant Pot Peruvian Chicken Soup is a wonderful change up from traditional chicken soup. The flavors are bright and aromatic. Additionally, this instant pot soup with help clear those sinus' if your not well. Fast and easy weeknight dinner in the instant pot with other worldly flavors.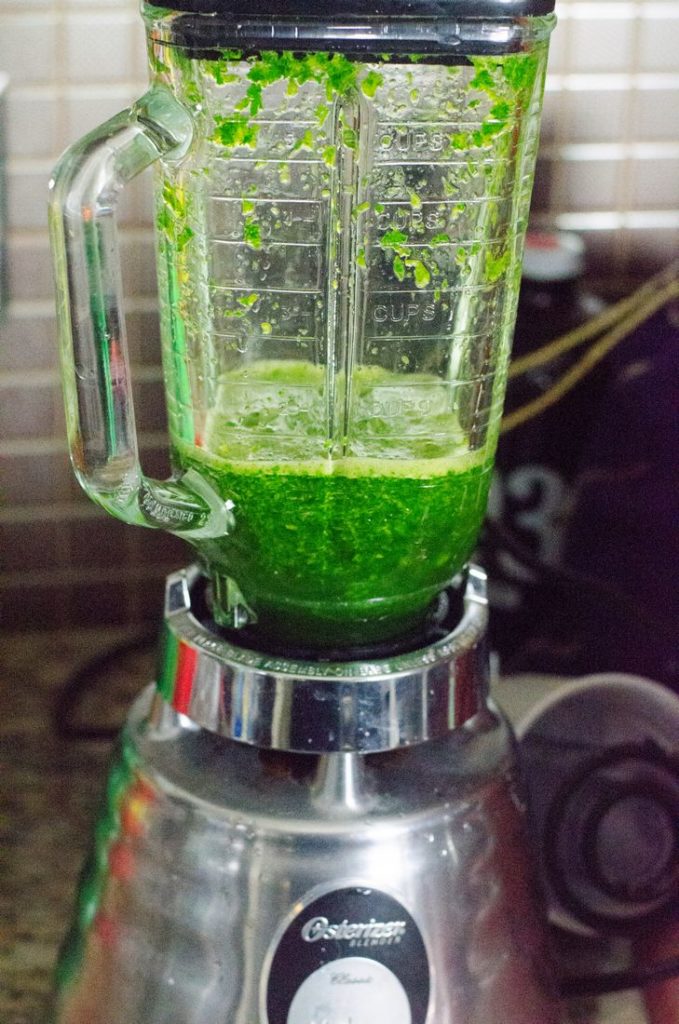 Lastly, the cilantro is added by blending it with a tad of water. Pour this into the soup once it is finished. The key here is to turn off the soup as soon as you add the cilantro. Hence, we do not want that cilantro to turn dark. Additionally, the soup can be topped off with maggi which can be found in the European section of the grocery store.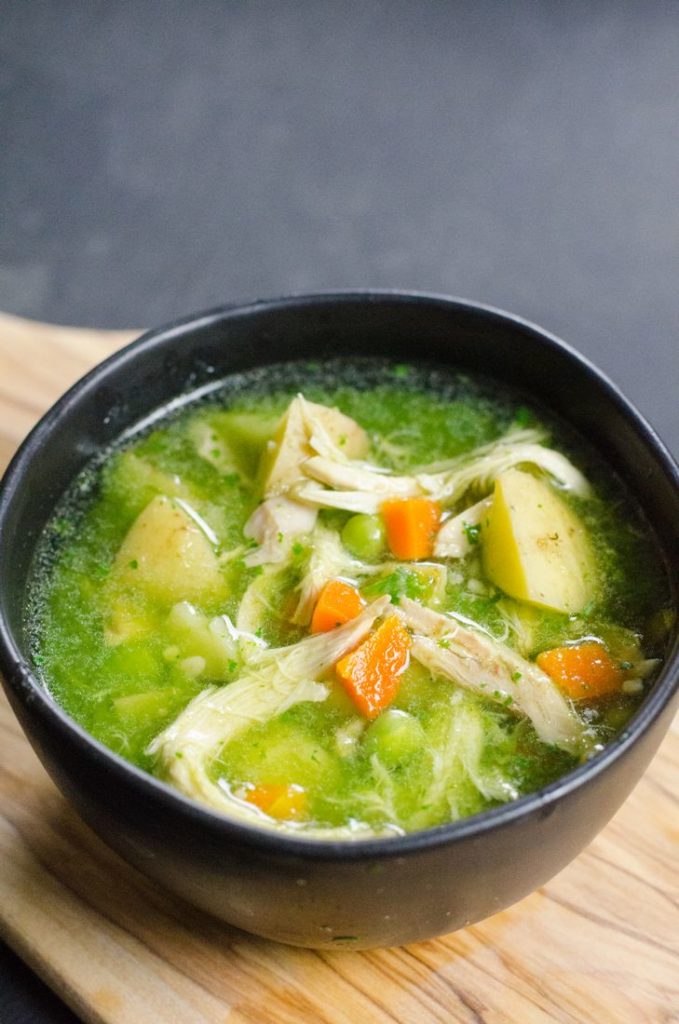 Don't you love simple meals in the instant pot? Easily with those with cheater chicken in them. The herb chicken is what is used in this recipe but chicken with out seasoning works also. Traditionally, the chicken soup does come with rice however we left it out. Just a preference thing!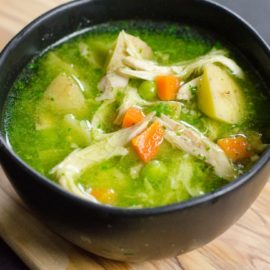 Instant Pot Peruvian Chicken Soup
Instant Pot Peruvian Chicken Soup is a wonderful change up from traditional chicken soup. 
Ingredients
1

poblano pepper; de-seeded and diced

1

white onion; diced

2

tablespoons

minced garlic

1

serrano; diced

4

cups

chicken stock

1

whole rotisserie chicken; skin removed

10

mini yellow potatoes; quartered

2

cups

frozen peas and carrots

1

bundle fresh cilantro leaves

1

lime; juiced

1

teaspoon

maggi

2

teaspoons

salt

2

teaspoons

pepper

water
Instructions
Place diced onion, poblano pepper, serrano pepper, and garlic into the blender. Add two cups chicken broth and puree. 

Pour mixture into the instant pot. Shred chicken from rotisserie removing skin and place chicken into the instant pot. Pour in the remaining chicken broth and water.

Quarter potatoes and add to the instant pot. Place lid on instant pot and set pressure valve to close. Set to high pressure for 8 minutes. Once the instant pot stops counting quick release pressure.

Turn instant pot to saute and add in peas and carrots. Cook for about 3 minutes until carrots are tender.

To the blender add a 1/3 cup water, lime juice, and cilantro bundle. Blend well. 

Pour this while stirring into the soup. Top with maggi. Add salt and pepper. Stir well and turn off saute mode. 
Pin Instant Pot Peruvian Chicken Soup: