Instant Pot Kung Pao Beef
This post may contain affiliate links. Please read my privacy policy.
Locally, we love to pick up kung pao beef for dinner. Lately though it has not been satisfying at all with the beef they serve. It's overly fatty and the texture is awful. Instead this version of kung pao beef for the instant pot is pure love in the instant pot duo 6 quart. Therefore it's easy Chinese take out at home with this Instant Pot Kung Pao Beef.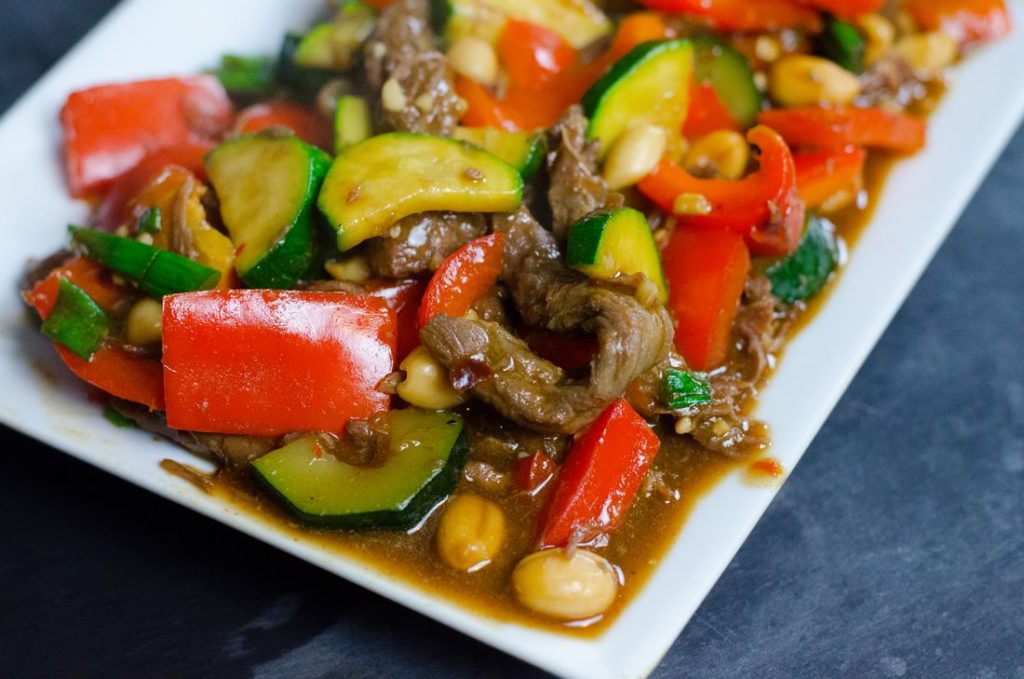 Hence, when I was a kid I grew up in a Chinese restaurant kitchen. Italian cooking is cooked in layers which is similar to Chinese cooking. Layers are very important to get the dish correct and the vegetables not over cooked.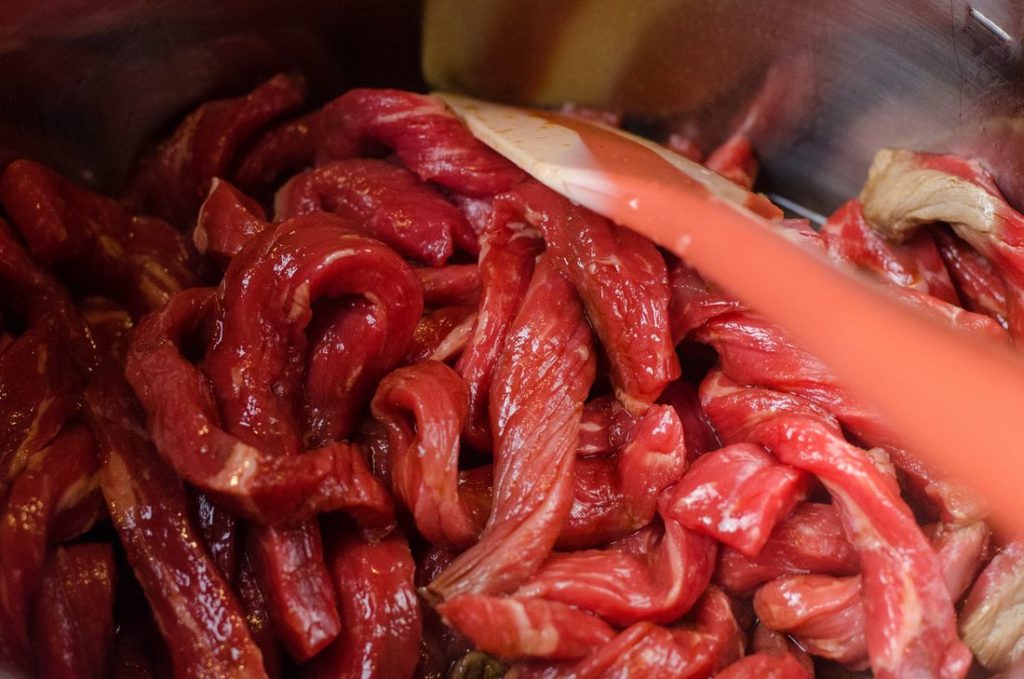 Cooking the beef strips for stir fry in the instant pot by themselves is key to the success of this dish. However, you can use different meats from flank steak to London broil. London broil is our favorite to use in Chinese take out dishes at home. Either way the instant pot 6 quart will cook this meat tender in just a matter of 20 minutes.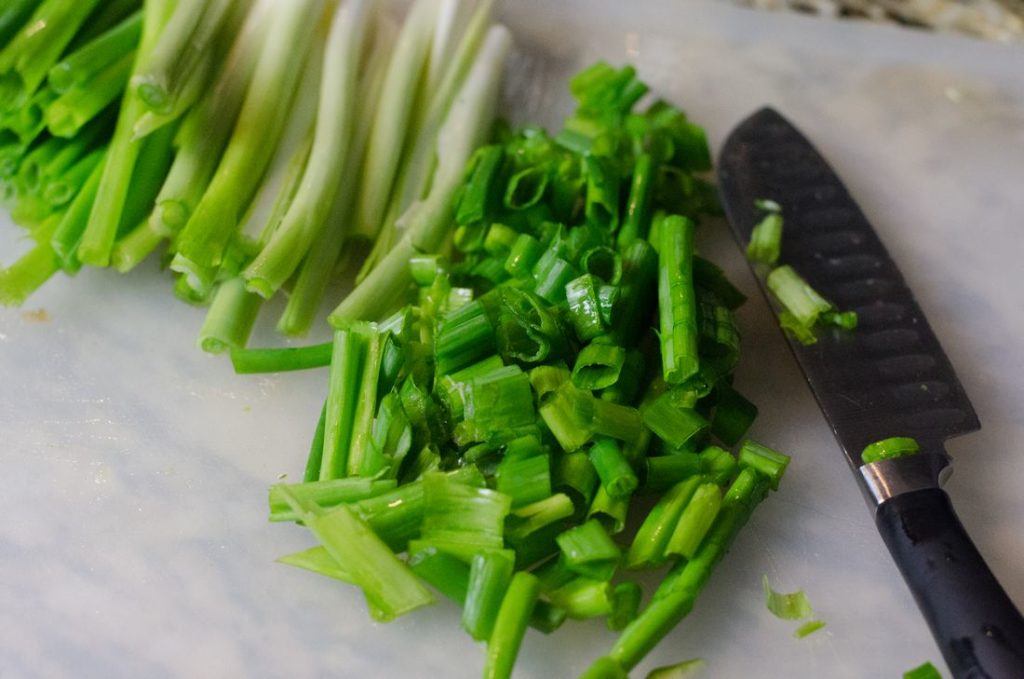 About The Meat In This Instant Pot Kung Pao Beef:
However, if not using the instant pot then only use thinly sliced London broil and cook it lightly to medium. These are easy Chinese recipes you can make at home. For example, dinner is simple and comes together in less than 30 minutes. Cut the vegetables while the meat cooks in the instant pot.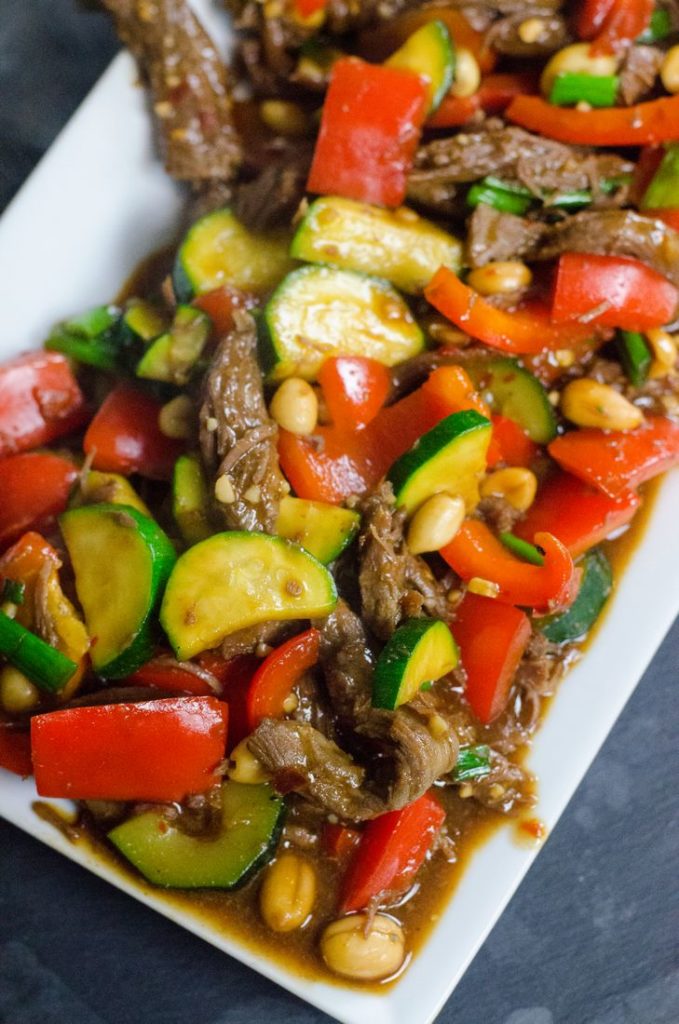 Hence, serving up chinese home cooking recipes can be fun. Furthermore, having special dishes along with chopsticks can really make it feel like your dining out. Additionally, if your take your take out fake out with you to a friends/lovers house try picking up some of these take out boxes.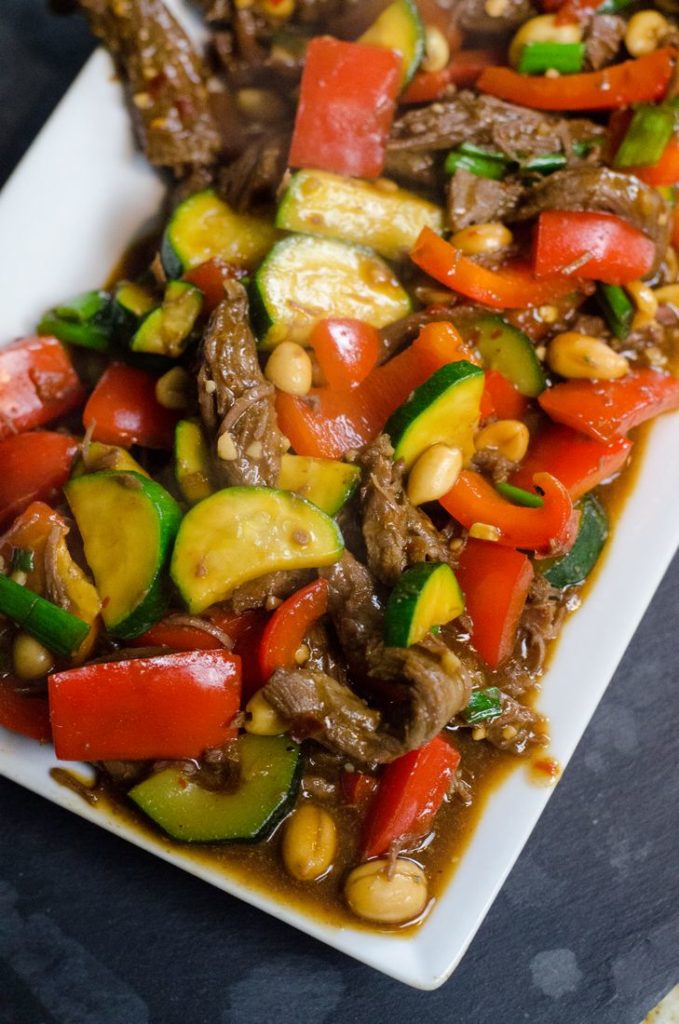 Honestly, your friends will never know it's not real take out. Kung pao beef can be served with steamed white rice. Chinese chow mein fried noodles goes with it also. In our house, we make both for those that like rice and those that like noodles. We hope to share more recipes like this Instant Pot Kung Pao Beef with you in the near future.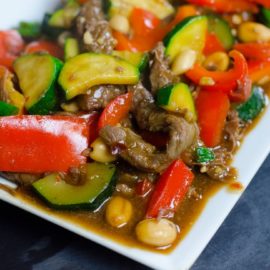 Instant Pot Kung Pao Beef
Instant Pot Kung Pao Beef with beef strips, zucchini, red peppers, and peanuts in a spicy sauce.
Ingredients
3

lbs

beef stir fry meat

(three 1lb packages)

3

zucchini; half moons

1/4

cup

peanuts; unsalted raw

3

red bell peppers; diced

1/3

cup

chives

2

tablespoons

garlic

1/3

cup

soy sauce

1

tablespoon

fresh ginger

2

tablespoons

hoisin sauce

2

tablespoons

crushed red pepper

1

tablespoon

wondra or cornstarch

2

teaspoons

cracked black pepper
Instructions
Set instant pot to saute mode. Add beef, 1/2 cup water, and 2 tablespoons soy sauce. Brown outsides of meat. Turn off saute mode. Place lid into locking mode and set level to close. Set instant pot to high pressure for 20 minutes.

Once the instant pot stop counting quick release pressure. Drain liquid from pot. 

In a large bowl, place zucchini, red bell peppers, peanuts, and crushed red pepper. Toss well. 

Set instant pot to saute mode. Add in mixture from the bowl. Set lid on top of instant pot to trap steam. Do not put into locking mode. Stir well every few minutes for up to 5 minutes just until vegetables are tender but not too soft.

In a glass liquid measuring cup add in soy sauce, hoisin sauce, garlic, ginger, black pepper, and wondra (or cornstarch). Whisk well. Pour over beef and vegetables then saute for 2 to 4 minutes until sauce thickens. Turn off saute mode.

Top with chives. Serve with steamed white rice or noodles.
Pin Me: