Hocus Pocus Halloween Wreath
This post may contain affiliate links. Please read my privacy policy.
I smell children is a canned saying from the beloved Hocus Pocus movie. This film is one of the top Halloween movies that people of all ages love. In light of that, we made a Hocus Pocus Halloween Wreath that super spooky adorable. Here we will show you how to make the same wreath for your front door or patio.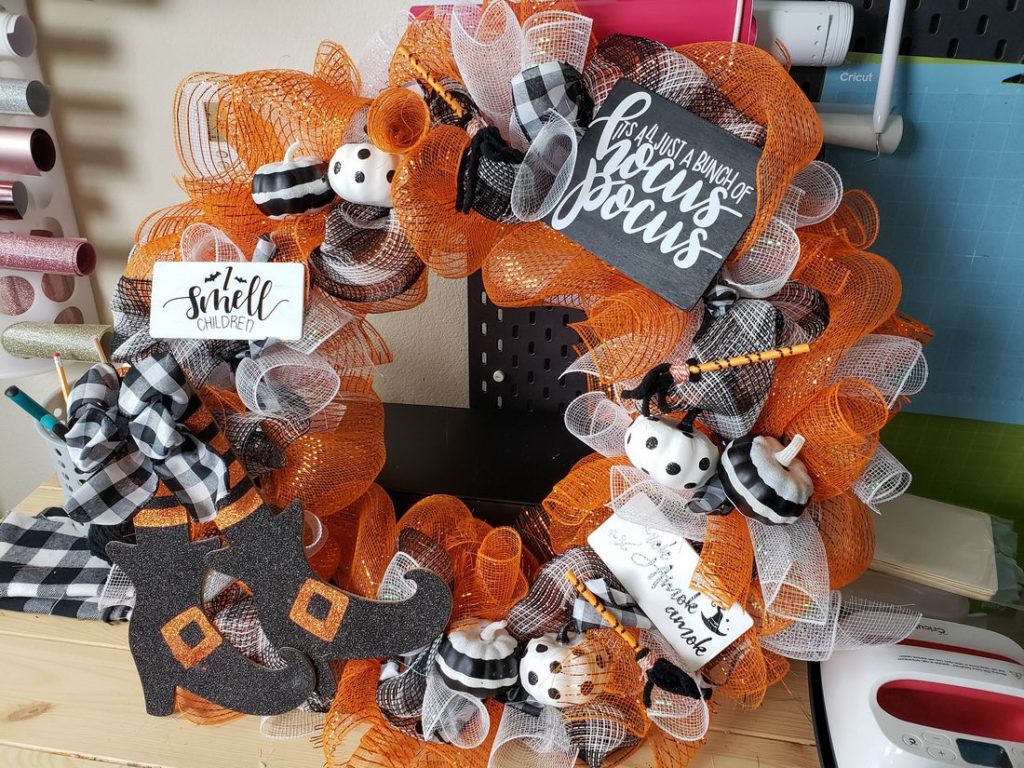 The first step is to get a blank wreath frame in the size your looking to make. I like the larger wreath frames so I can see through the peek hole on the door. After selecting the wreath frame. Pick out two or three colors of mesh.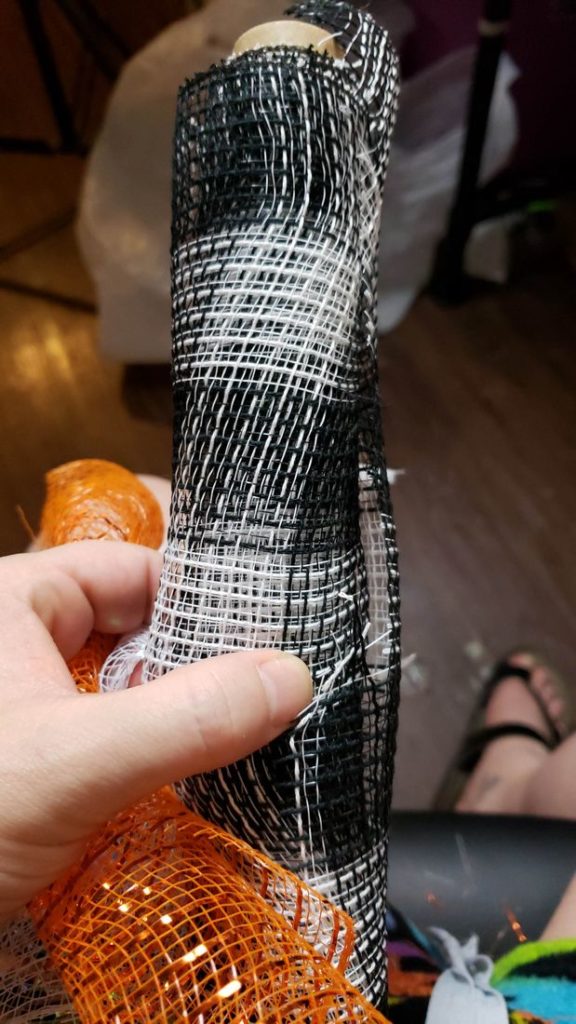 As you can see here, I picked the buffalo white and black plaid along with orange mesh. Since buffalo plaid is all the rave right now I thought it would be the perfect fit for a hocus pocus wreath. The pumpkins were bought at Hobby Lobby in the Halloween section.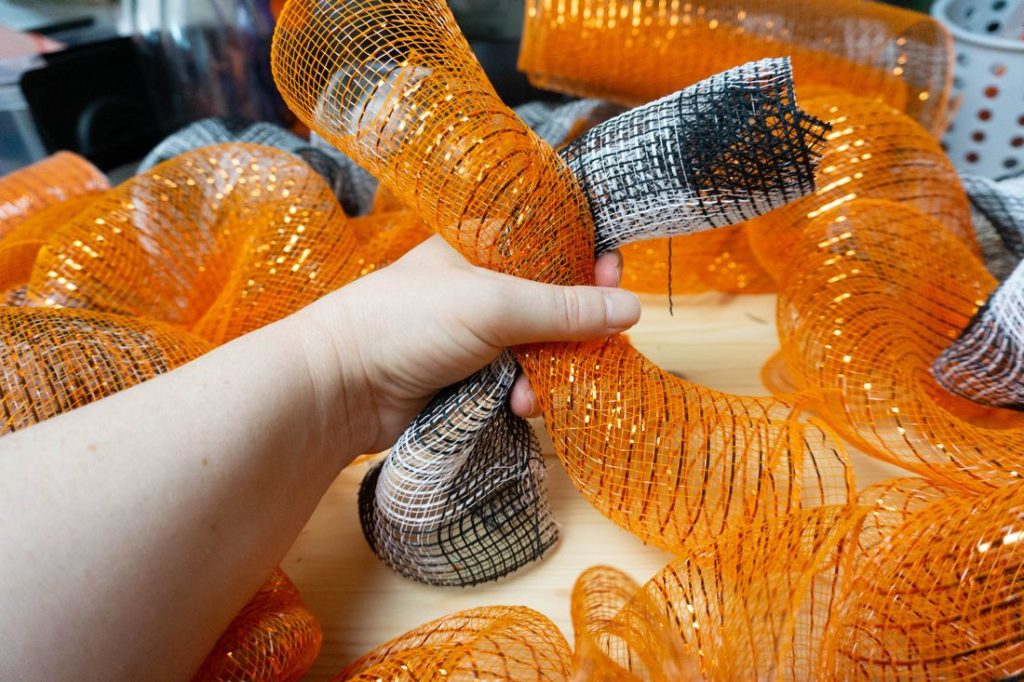 The Hocus Pocus Filler:
Pull out a small amount of mesh and let it roll. Then cut the mesh and piece together. Using a pipe cleaner cut in half attach the two pieces of mesh together with ribbon of choice. Repeat this step and set aside for filler later.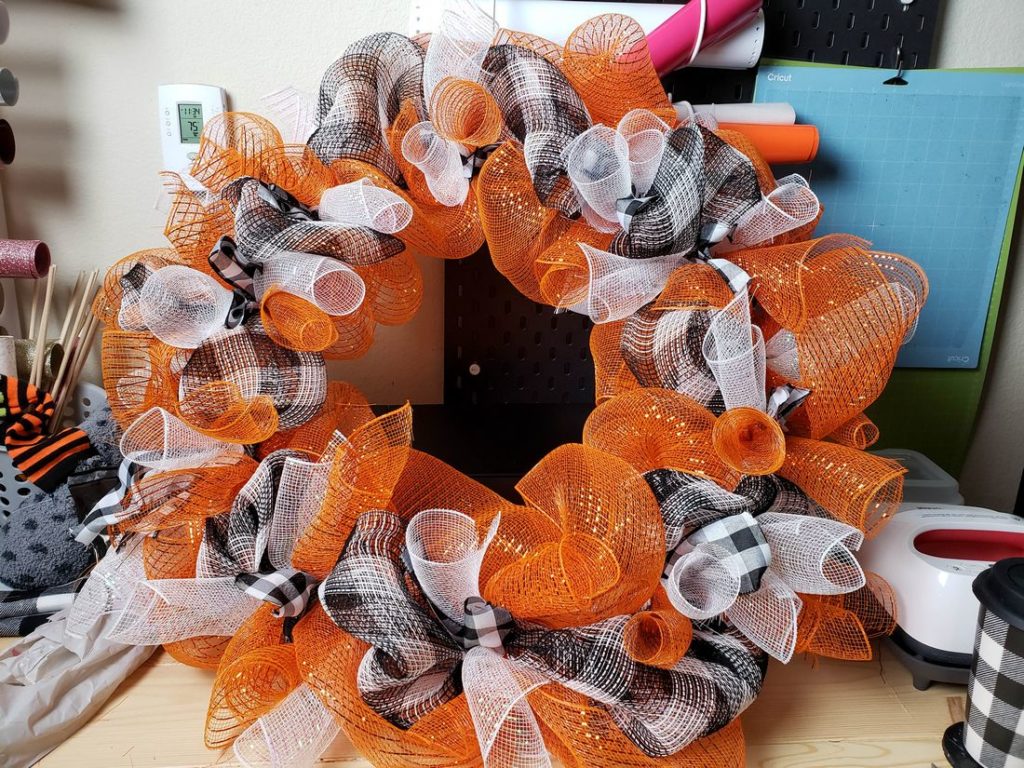 The Method:
Along the wreath attach one color of mesh on the outside and inside of the wreath. You can see the technique here. Then use the filler from above to add into the bare spaces. This will help fill up the wreath. Next, I took witch legs from the Dollar Tree and hot glued them to the bottom of the wreath.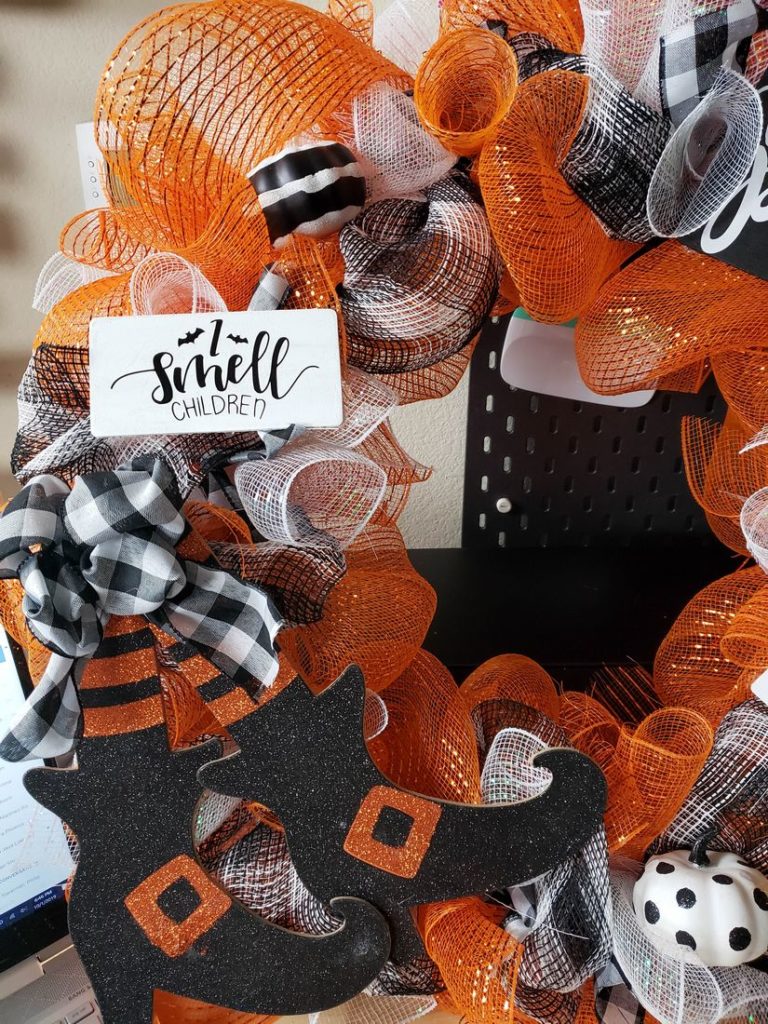 Using the cricut explore air 2 I created vinyl stickers with oracal vinyl. On white painted wood pieces we then attached the vinyl stickers to the top. You can pick up the Hocus Pocus SVG and the I Smell Children SVG from Sweet Little SVG. These wood pieces are then hot glued to the wreath in staggered places.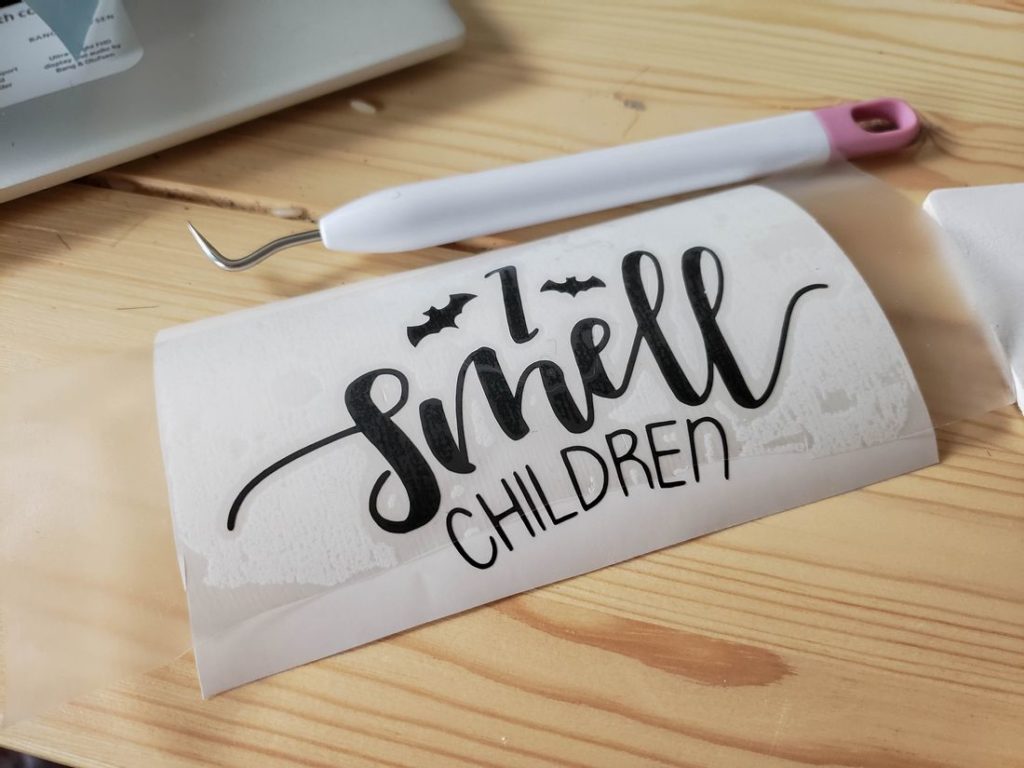 Lastly, we took some paper straws and cut them into halves. Using baking twine we attached some cut up yarn to the ends of the paper straws to make witches brooms. We hot glue the twine then hot glued them to different staggered places on the wreath.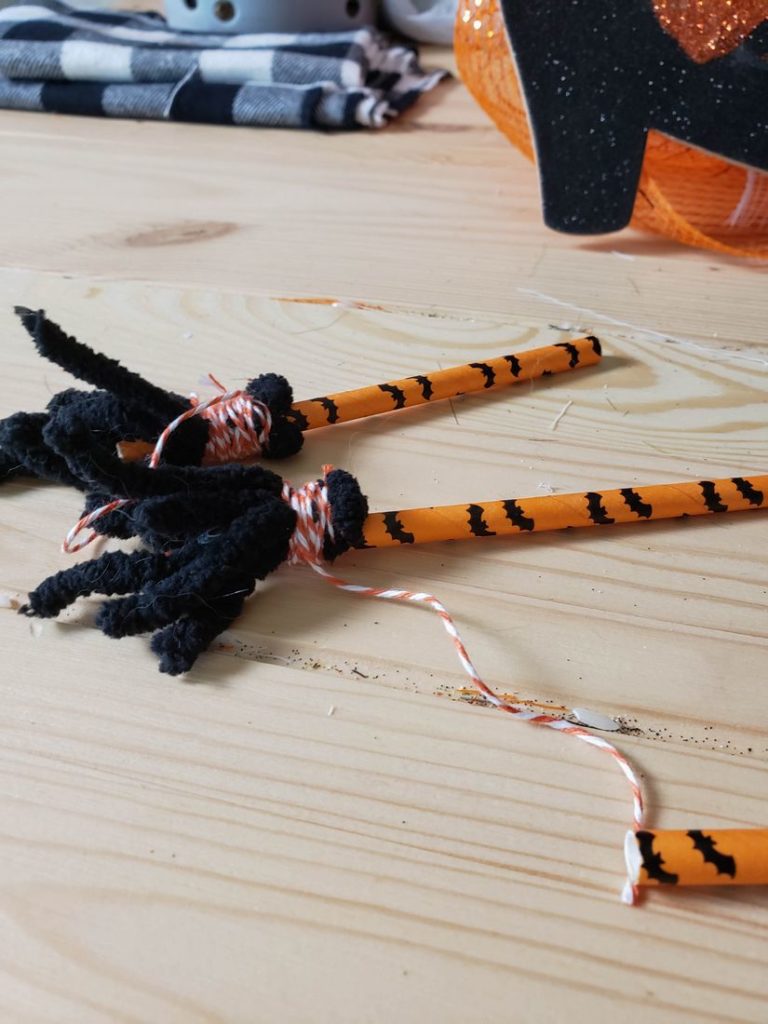 Once everything is attached to the wreath you will have a Hocus Pocus Halloween wreath everyone will be complimenting. Wicked cool with I Smell Children and Amok Amok Amok it's definitely just a bunch of hocus pocus that everyone will adore in this wreath.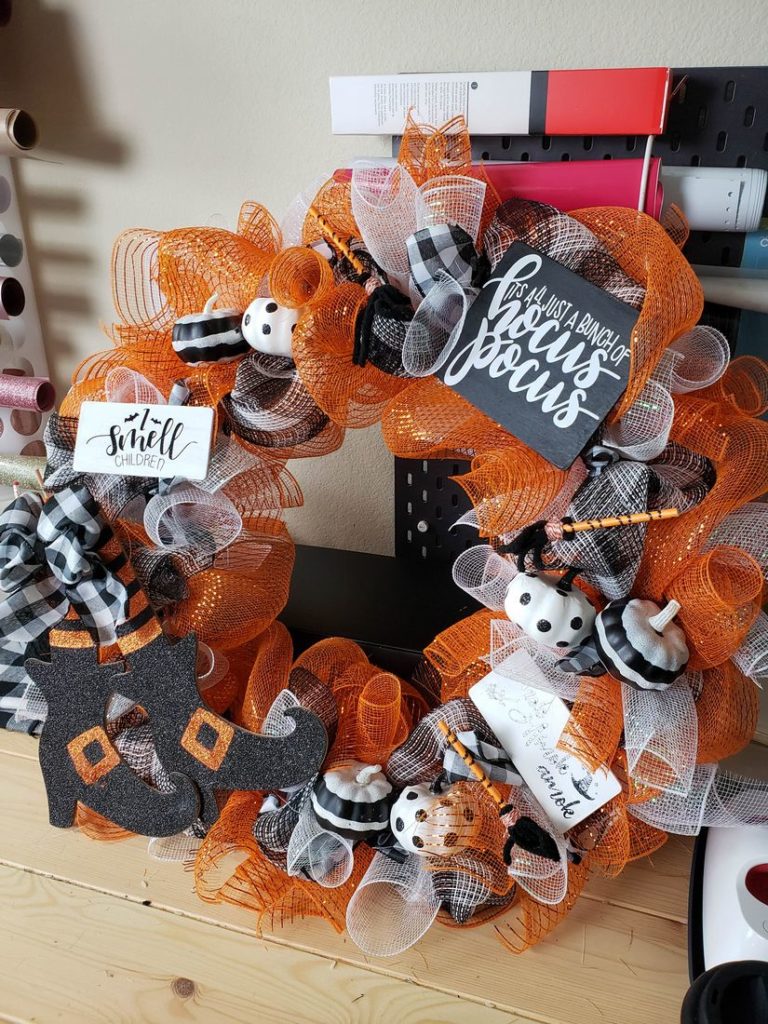 We gifted this wreath to a friend with kids that would enjoy it. That's what's so fun about making wreaths is to display them for all to enjoy. We hope you enjoy making this Hocus Pocus wreath.
Pin Me: