Citrus Herb Roasted Turkey
This post may contain affiliate links. Please read my privacy policy.
This Citrus Herb Roasted Turkey is rubbed with rosemary, thyme, and oregano along with oranges juices. We also placed rosemary and oranges in the cavity for aromas to sink into the turkey giving it an aromatic taste.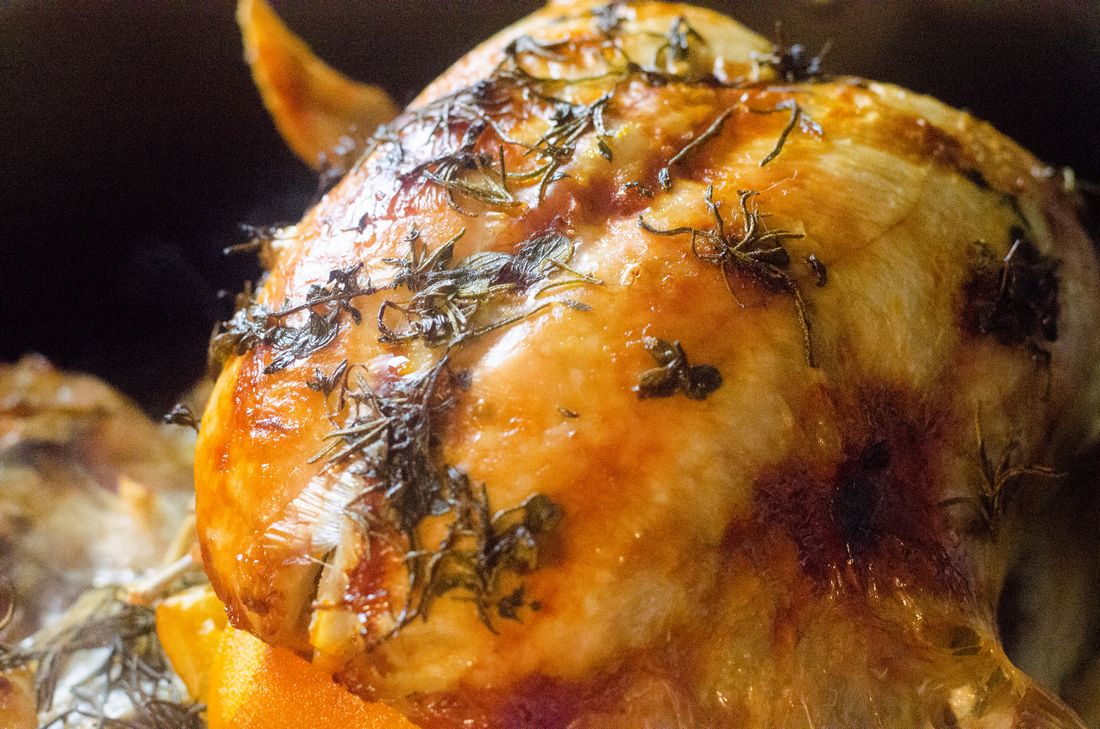 Unfortunately, this year we will not be doing a regular Thanksgiving. However, we will be having a Czechgiving as I like to call it. Hence, we decided to do a early Thanksgiving with this Citrus Herb Roasted Turkey. My eldest son challenged us to do something different with the turkey this year.
Great For Leftovers
Honestly, I can still clearly smell the turkey right now as my son continues to make turkey leftover sandwiches with the last of the turkey. He loves the dark meat of the turkey which allows me to make leftovers from the breast.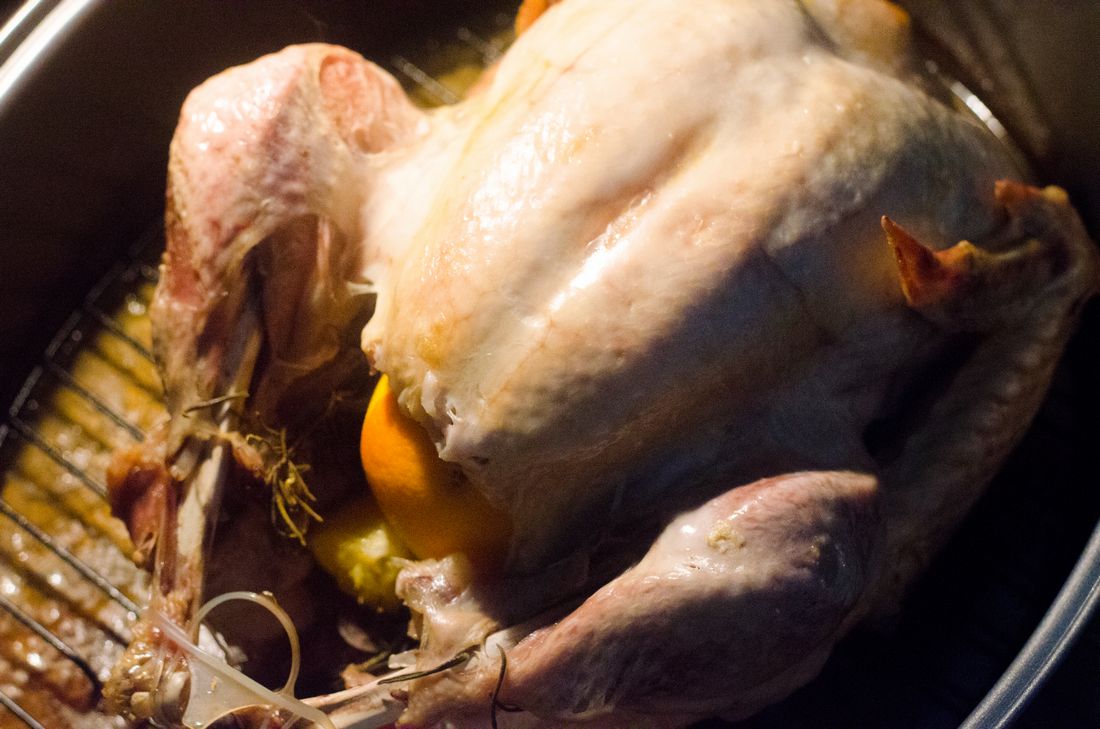 Roasting The Skin
Last night we made leftovers from the rest of this turkey into a Instant Pot Turkey Enchilada Soup which will go up on the blog soon. Additionally, you can see above where I roasted the turkey for some time before using the citrus herb butter to brush the outside of the turkey.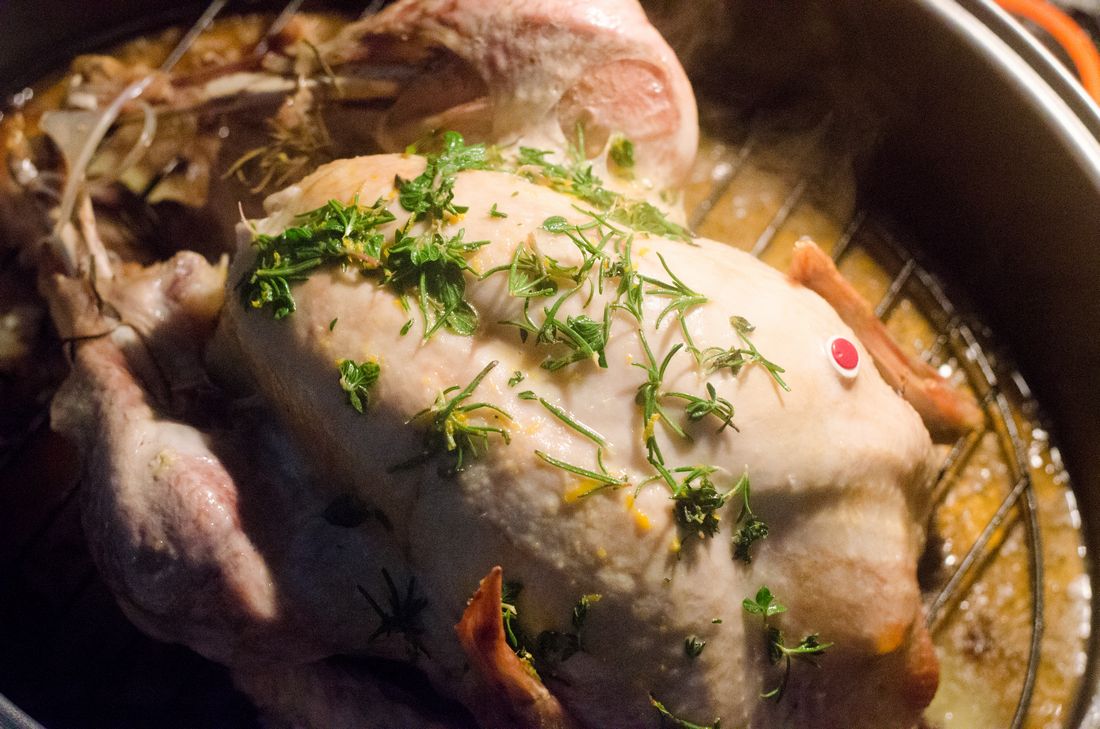 Furthermore, brushing outside helps the skin brown nicely. Therefore, the skin is browned and full of citrus herbed flavor. Additionally, you could use a citrus brine before roasting the turkey. However, I did not do that as I cooked this turkey from the frozen state.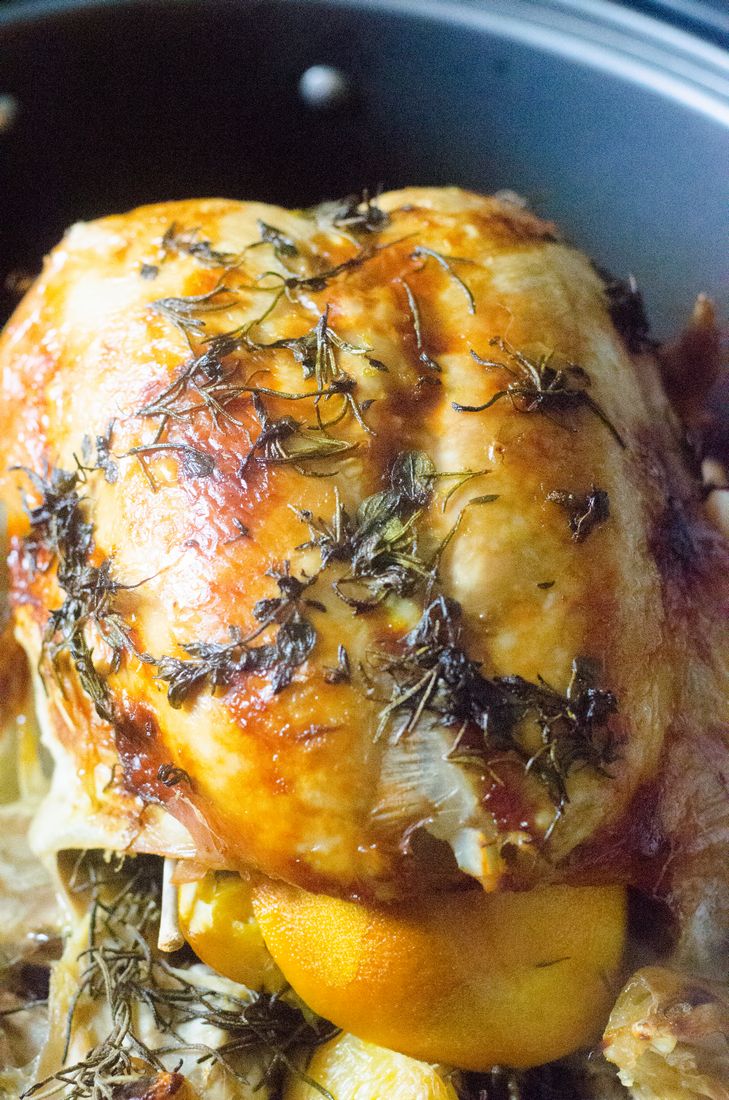 Can You Cook A Frozen Turkey?
The answer is yes as long as you remove the giblets, neck, and etcetera. First, it will take longer to cook the turkey to the correct temperatures. For examples, you can look at the turkey company website for inside temperature preferences along with using a digital thermometer to read the inside temps.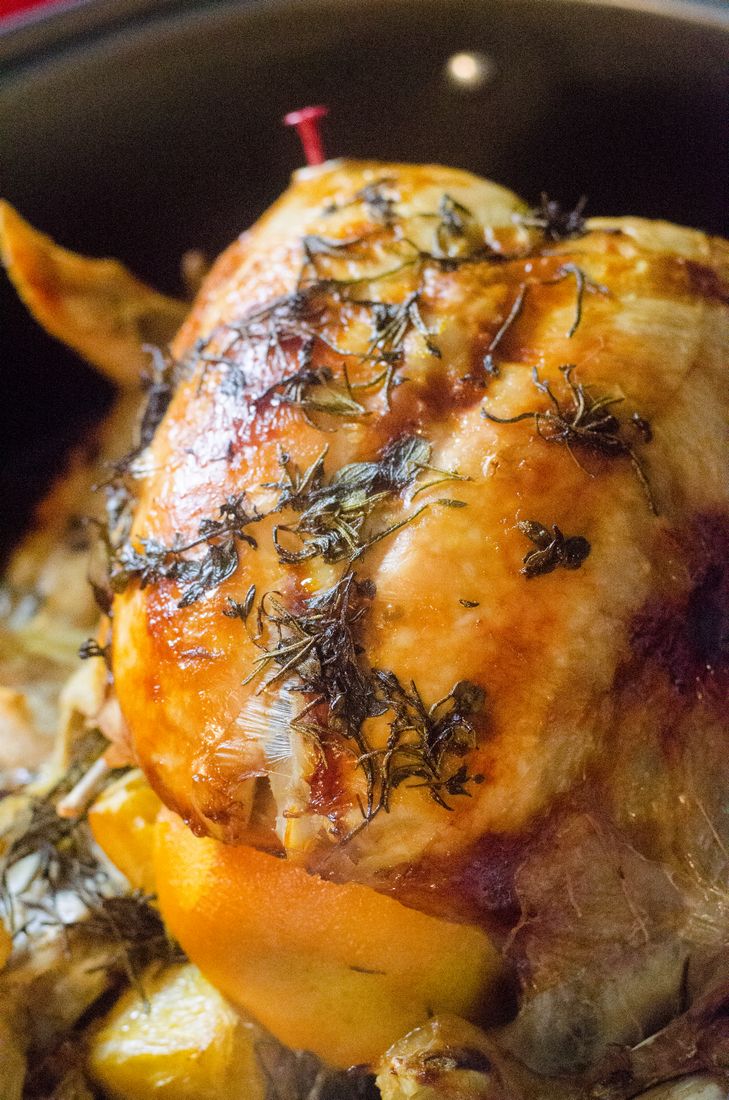 Second, you can cook the turkey with neck inside but would suggest removing as soon as it's not frozen. The bird will take a bit longer to cook and you cannot brine or stuff seasonings under the skin. Lastly, if you can it's best to thaw the turkey a few days before in the fridge per the instructions. Hence, this will allow you to brine or spice the turkey for added flavor.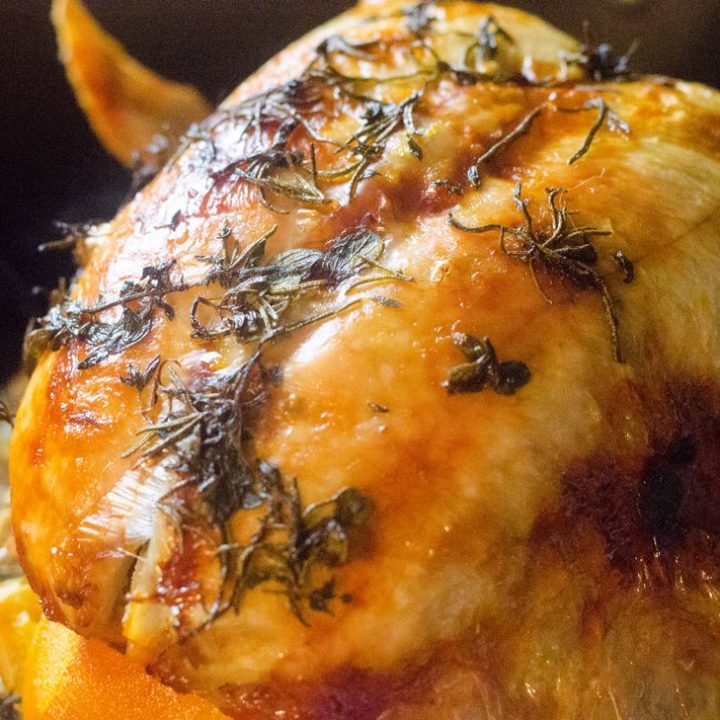 Citrus Herb Roasted Turkey
Total Time:
5 hours
10 minutes
This Citrus Herb Roasted Turkey is rubbed with rosemary, thyme, and oregano along with oranges juices.
Ingredients
13 lb Turkey
1/2 stick of butter
2 oranges
4 sprigs rosemary
3 sprigs oregano
3 sprigs thyme
1 teaspoon salt
1 teaspoon pepper
Instructions
Remove giblets, neck, and etcetera from the turkey.
Preheat oven to 325 degrees F.
Place turkey into the roasting pan. Cut one orange into quarters and place inside the cavity of the turkey. Place two sprigs of rosemary along side the oranges in the cavity.
Cover turkey and bake for 3 hours.
In a small bowl, add juice from one orange. Remove herbs from sprigs and place in bowl. Add 1/2 stick of butter and microwave for 1 minute. Melt butter by stirring.
Add salt and pepper to bowl. Stir well.
Using a brush, brush turkey with mixture. Replace cover and cook for another hour.
At this point your turkey should start to brown. You may take the temperature and make sure it matches the cooking temperatures on turkey company website or roaster pop has popped.
Leave of lid and cook until nicely browned.
Nutrition Information:
Yield:

12
Serving Size:

2 Cups
Amount Per Serving:
Calories:

977
Total Fat:

40g
Saturated Fat:

13g
Trans Fat:

1g
Unsaturated Fat:

25g
Cholesterol:

546mg
Sodium:

713mg
Carbohydrates:

4g
Fiber:

1g
Sugar:

2g
Protein:

141g
For more on our nutrition disclaimer https://mooshujenne.com/nutrition-disclaimer/
Pin Citrus Herb Roasted Turkey: