This post may contain affiliate links. Please read my privacy policy.
Those super hot summer days a beer just doesn't cut it. A mojito is really nice and refreshing. The mint leaves in a mojito have a cool effect on the body and the mind. This Blackberry Lime Mojito is a refreshing, summer cocktail that can be served up to guests at a party or summer backyard barbecue.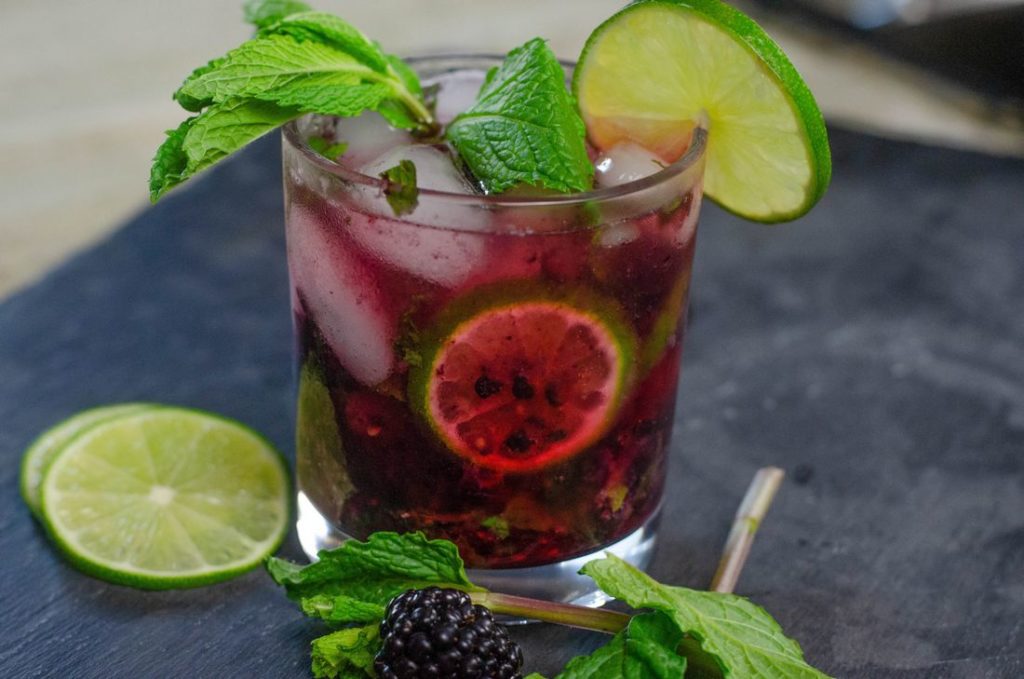 Mint:
Mojito recipes come with rum usually along with mint and a tad of sugar. It's a pretty basic cocktail recipe. For the mint the key is to slap the mint leaves to release them. They really don't have to be crushed. Additionally, you can garnish the drink with the mint leaves but what most don't know is sucking on the leaf really will help cool down the body when it's super hot out.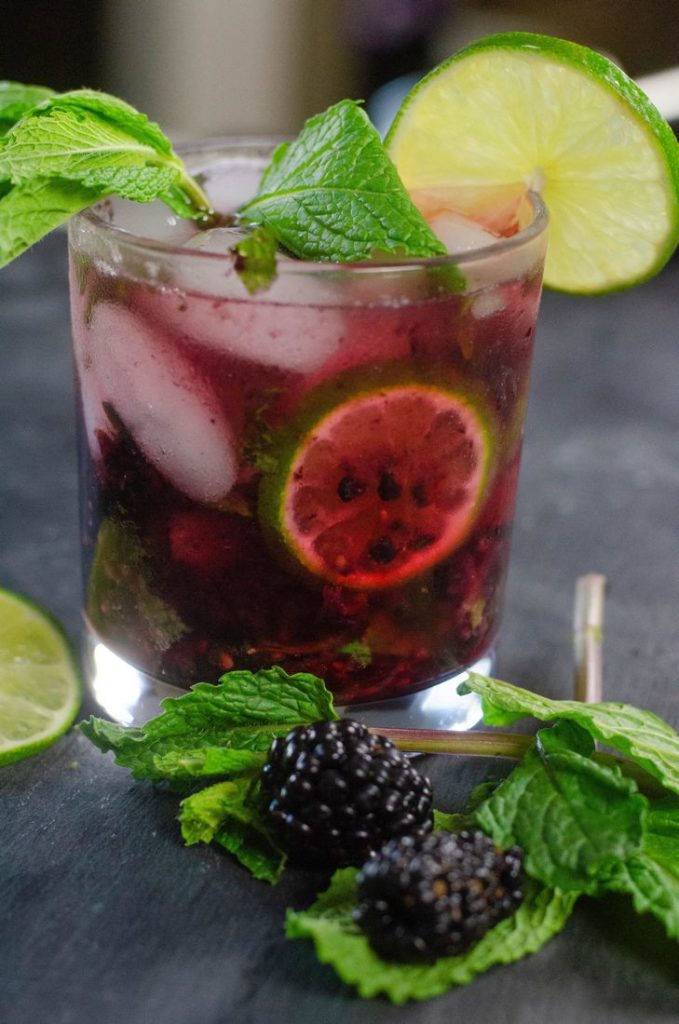 Make A Mojito A Mocktail:
Making different mojito recipes is easy. Just replace the lime for another citrus or flavor. The berries can easily be replaced with another berry and even pineapple. To make this a blackberry mojito mocktail just remove the rum. That's how to make a mojito without alcohol. If you have a friend that doesn't drink they can still enjoy a mocktail with you.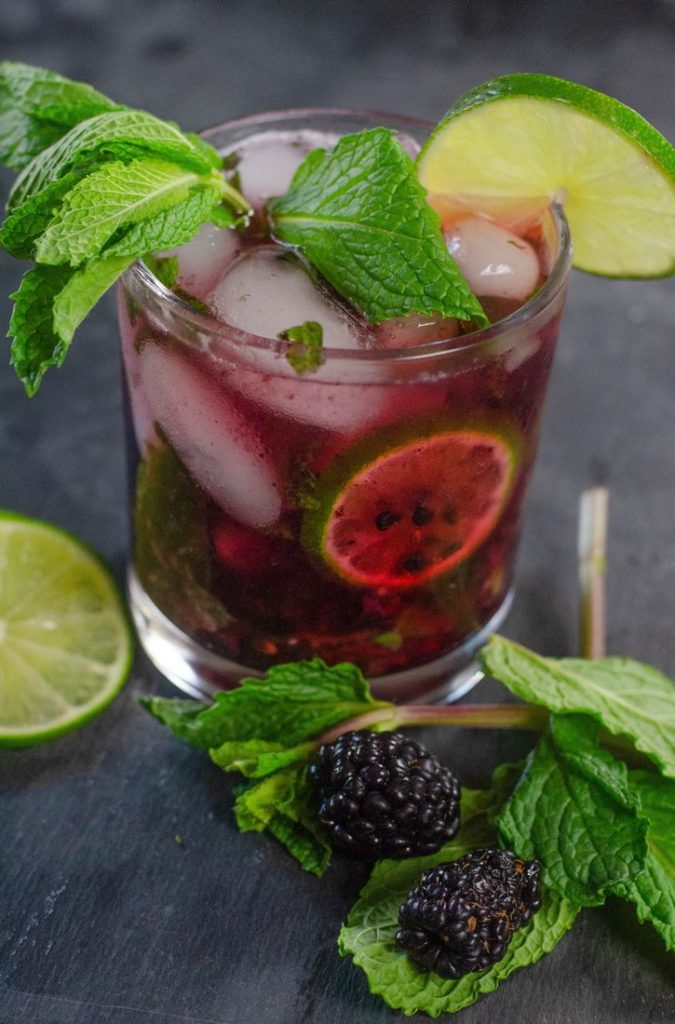 The best mojito recipes have fresh mint and fresh berries or fruit in them Besides this blackberry lime mojito making a pineapple mojito is fantastic too. Who doesn't love fresh pineapple! If your not a mojito type person you can always make this drink into a margarita instead just like this Blackberry Lime Margarita.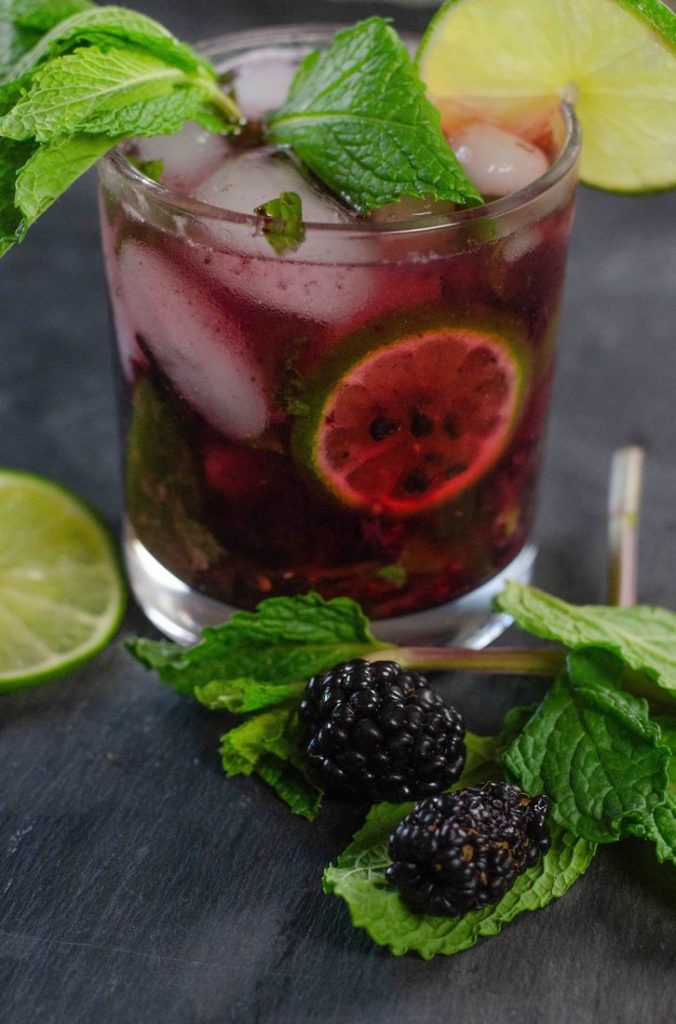 Most everyone lost to enjoy a cocktail pool side. Make up this blackberry lime mojito for friends and family at your next party or barbecue it's sure to not disappoint. Don't be afraid to try different versions at the party also. Play with flavors for mojitos is so much fun!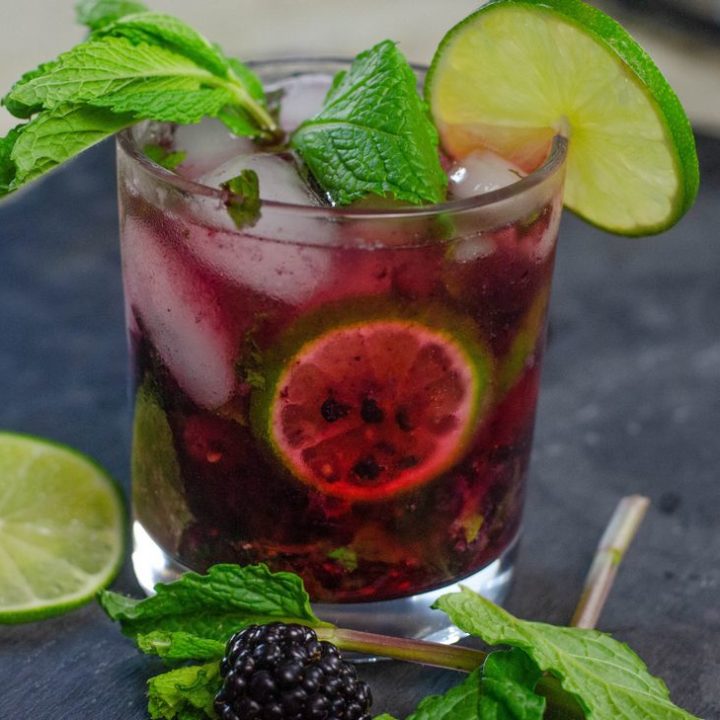 Blackberry Lime Mojito
Blackberry lime mojito with fresh blackberries, lime juice, and rum.
Ingredients
1/3 cup blackberries
4 stems fresh mint leaves
1 oz cup lime juice
1 teaspoon sugar
2 oz light rum
club soda
1 lime; sliced; for garnish
Blackberries; for garnish
Instructions
Slap mint leaves. Place mint leaves in bottom of glasses. Muddle blackberries and place into the glass.
Add rum, sugar, and lime juice and stir to combine. Top with crushed ice.
Add club soda and garnish with mint leaves, lime slices, and blackberries.
Nutrition Information:
Yield:

1
Serving Size:

1
Amount Per Serving:
Calories:

216
Total Fat:

1g
Saturated Fat:

0g
Trans Fat:

0g
Unsaturated Fat:

0g
Cholesterol:

0mg
Sodium:

19mg
Carbohydrates:

23g
Fiber:

8g
Sugar:

8g
Protein:

3g
For more on our nutrition disclaimer https://mooshujenne.com/nutrition-disclaimer/
Pin me: