Kennedy Space Center Cape Canaveral Florida
This post may contain affiliate links. Please read my privacy policy.
Thank you to Kennedy Space Center Visitors Complex for complimentary tickets. All opinions here are my own as always.
Last summer, my husband and I took a road trip to Florida. We visited St. Augustine, Daytona, Pensacola, Disney, and Kennedy Space Center in Cape Canaveral Florida. The Kennedy Space Center was the number one place on the list to take my husband. The interest when it comes to space is a huge fascination for both of us. I just knew we had to visit!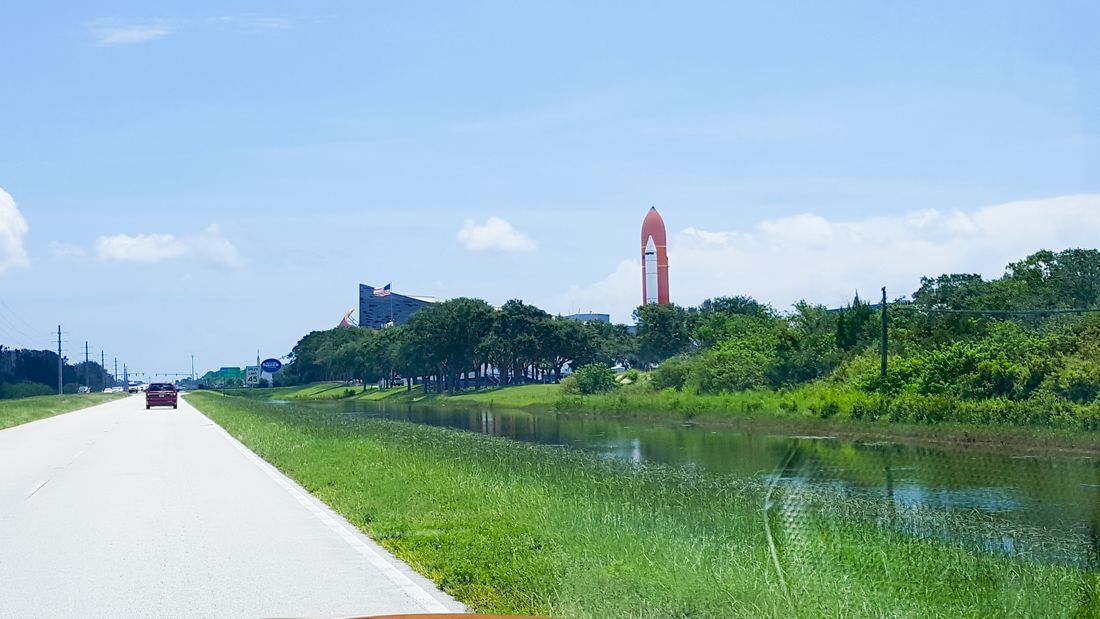 We drove from Disney to Cape Canaveral. After arriving we honestly didn't even know where to start. Right away you see space craft that you imagine to be so much smaller on TV. The parking is a bit of a walk for me since I had swollen feet on the trip (no clue why). We first visited the shops, a few virtual shows, and then the concessions. Hey! it was very humid in August and drinks were a must.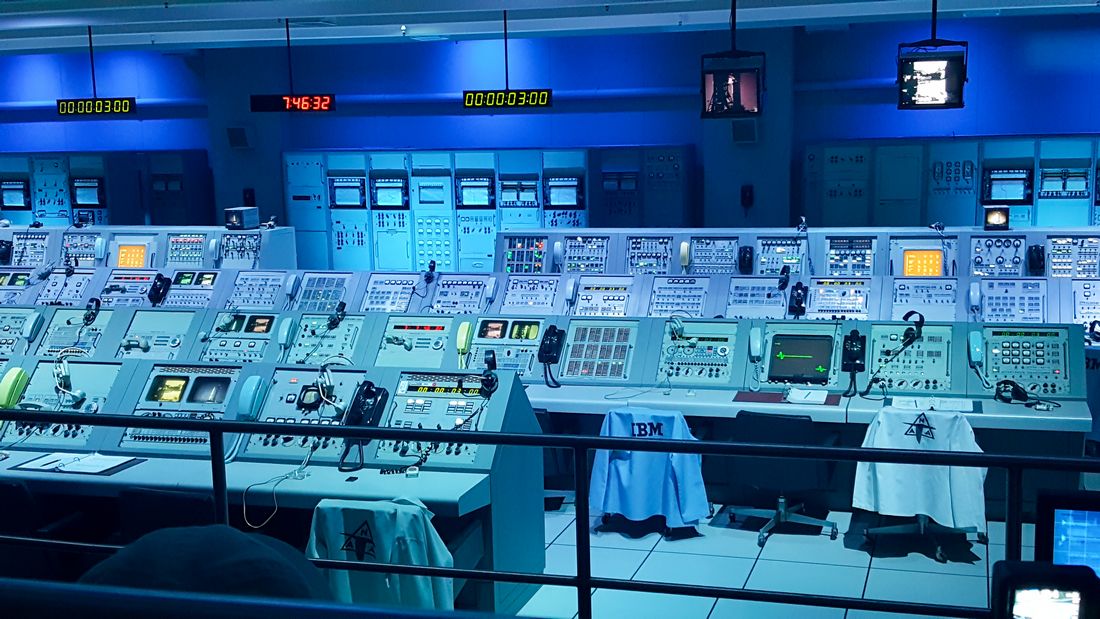 After seeing all of those exhibits we took a bus ride to the next complex. We waited in line for about 20 minutes though the line looked a heck of a lot longer. We first entered a room where they showed us a video about the space, astronauts, and the history. After that we entered the control room as you see above. It's a full scale set up of the firing room from Apollo. You will learn about the days and events leading up to the Apollo launch.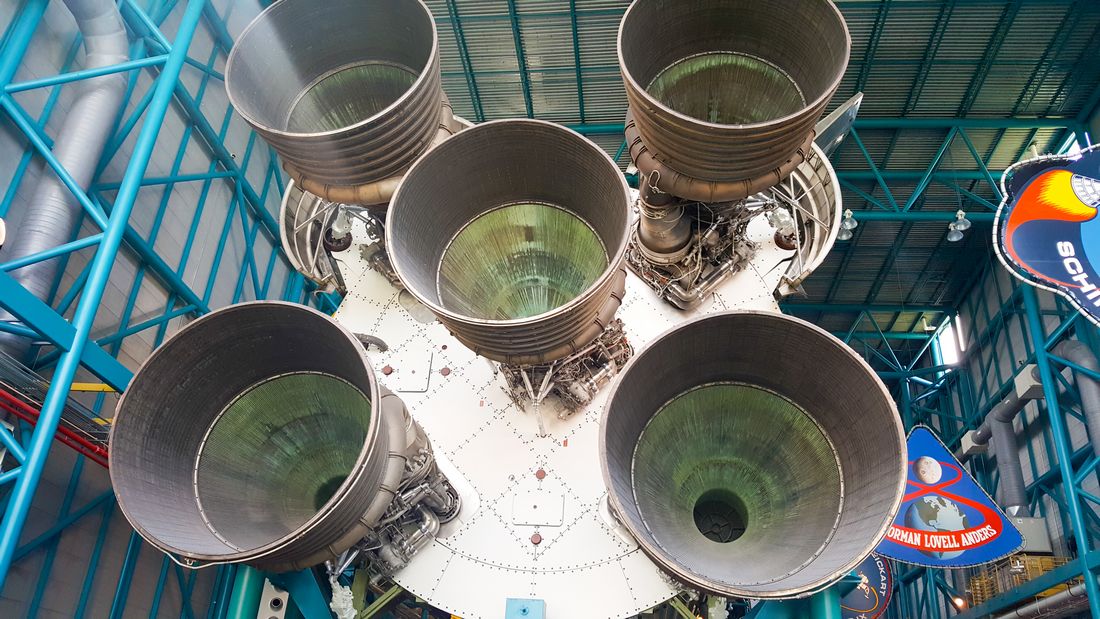 Afterwards, you will enter the Saturn exhibit where you will see and with astonishing surprise the gigantic Saturn V, the largest rocket ever flown. We stood there in amazement! This rocket is massive and the size is really surreal in person. Additionally, a car can fit in each of those chambers on the back if that gives you any idea on scale size.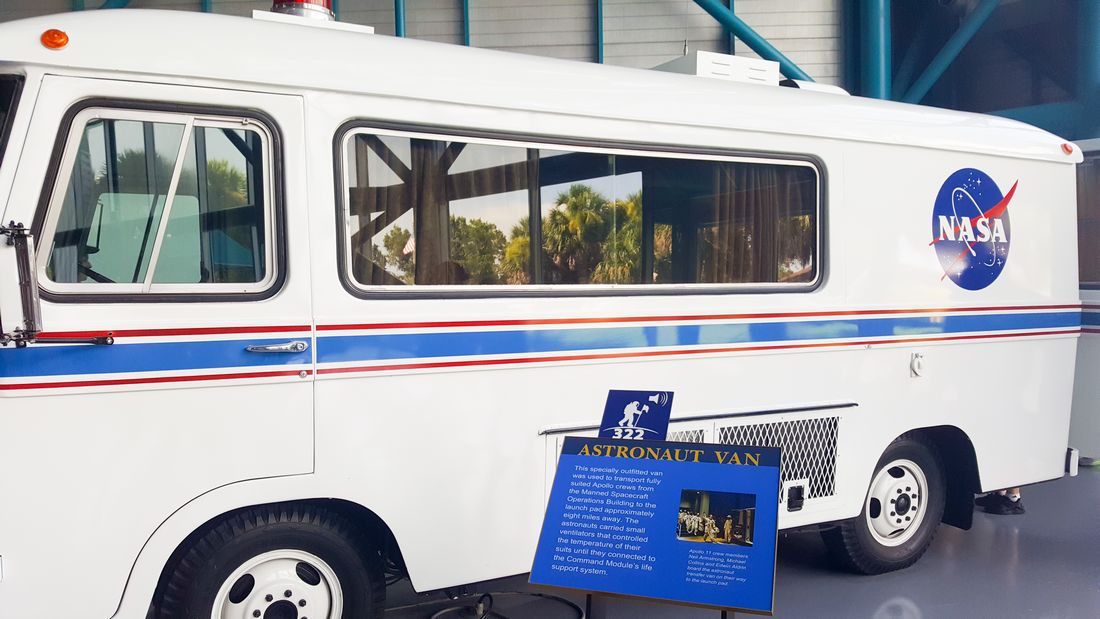 At this point you can freely move through the exhibit. We moved on to the Astronaut Van that transported the Apollo crew eight miles to the launch pad from the location we stood at. Honestly, it's really something to realize your that close to the launch pad and just how amazing these feats were for all the scientists and astronauts.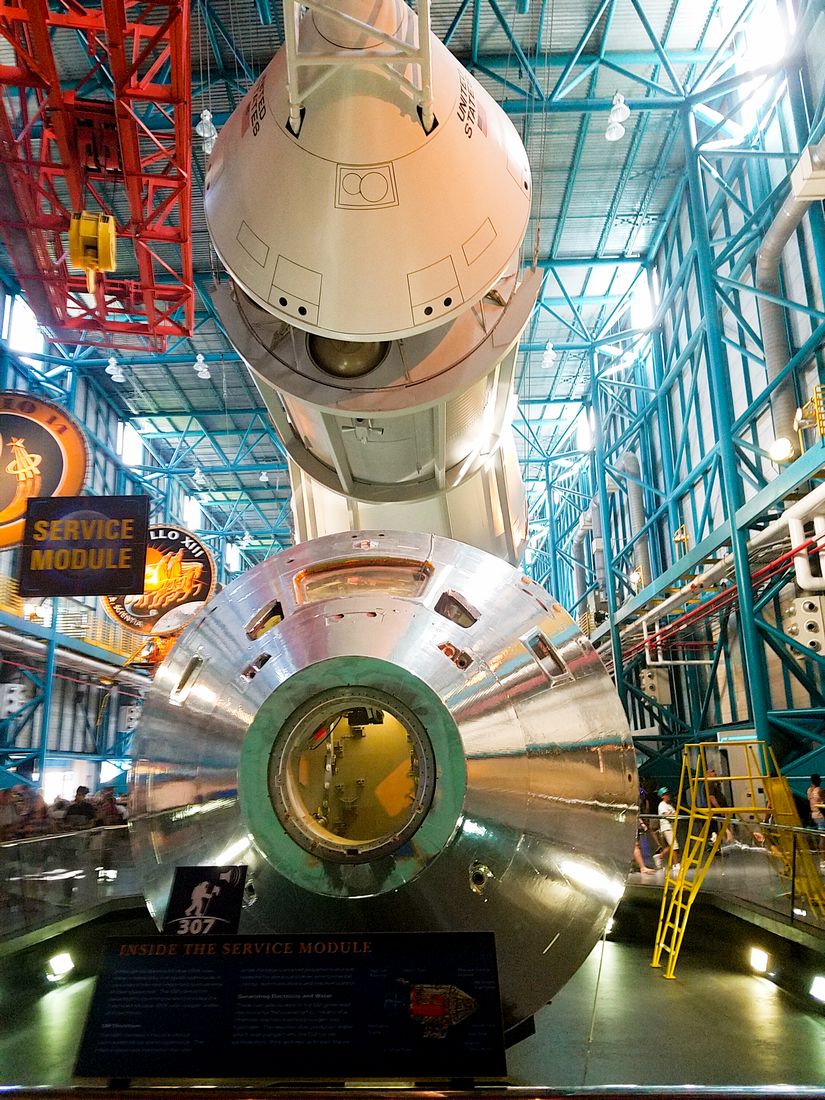 As we strolled to the far end of the exhibit you see just how long the Saturn V is. Off to the side above this and in two other rooms are additional exhibits where you can see other artifacts brought back from the moon. Furthermore, they have an exhibit of space suits and the how they evolved over time.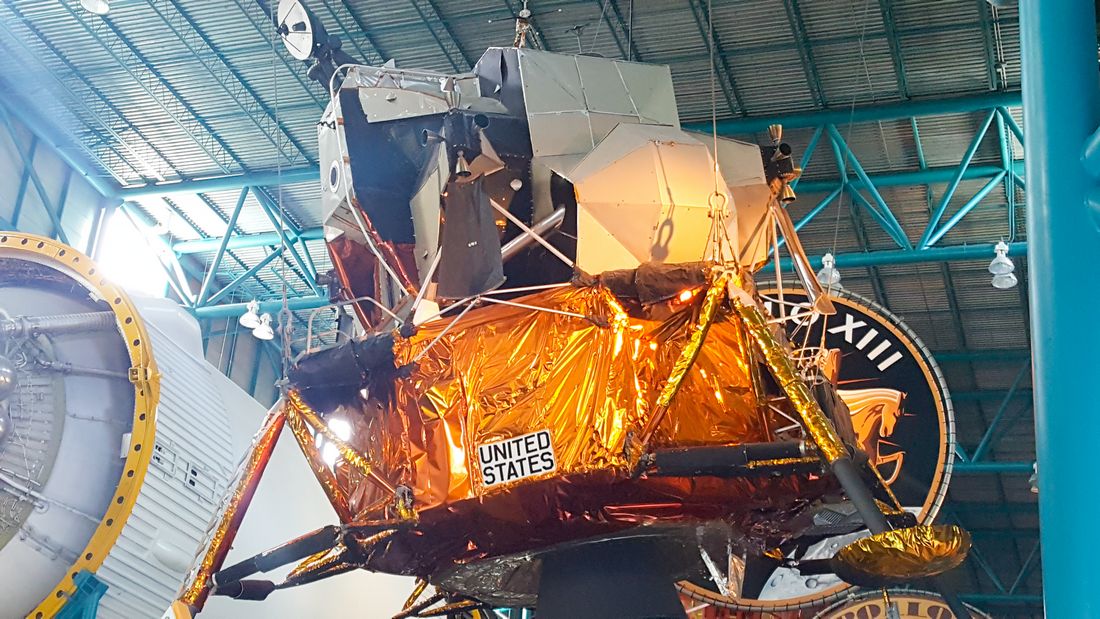 After all, it really is a sight to see and explore all the exhibits it has to offer. The piece of moon rock for me was really interesting and the insides of the craft are really spectacular. Think of each and every tiny mechanism that is involved in creating this craft and how much really could go wrong. Take a look inside below.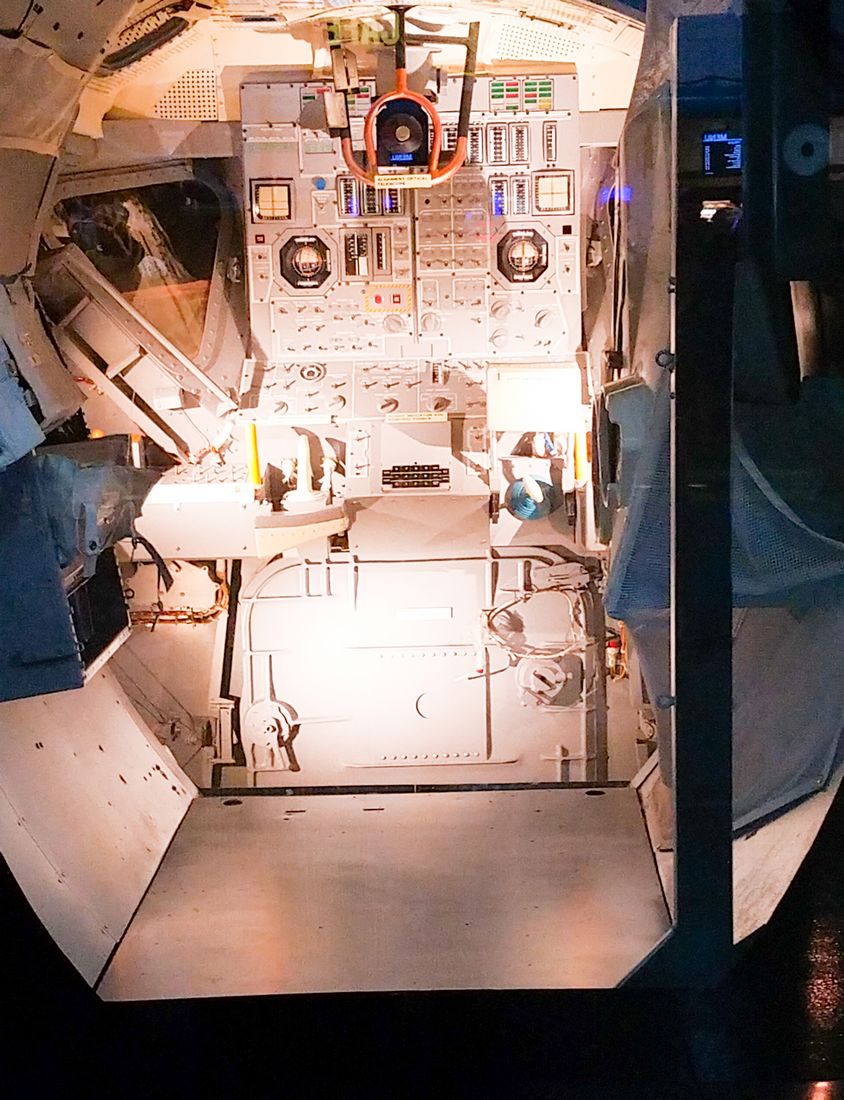 This isn't even the technology we have today! Crazy right? What's funny is I was so interested in the moon rock that I never took a picture. My husband took a moment and captured the picture when people moseyed out of our way. Hence, it does get a tad crowded in the exhibit rooms. I'd hang back and let others look first so you get a chance at good pictures for memories of your trip and to be able to read everything.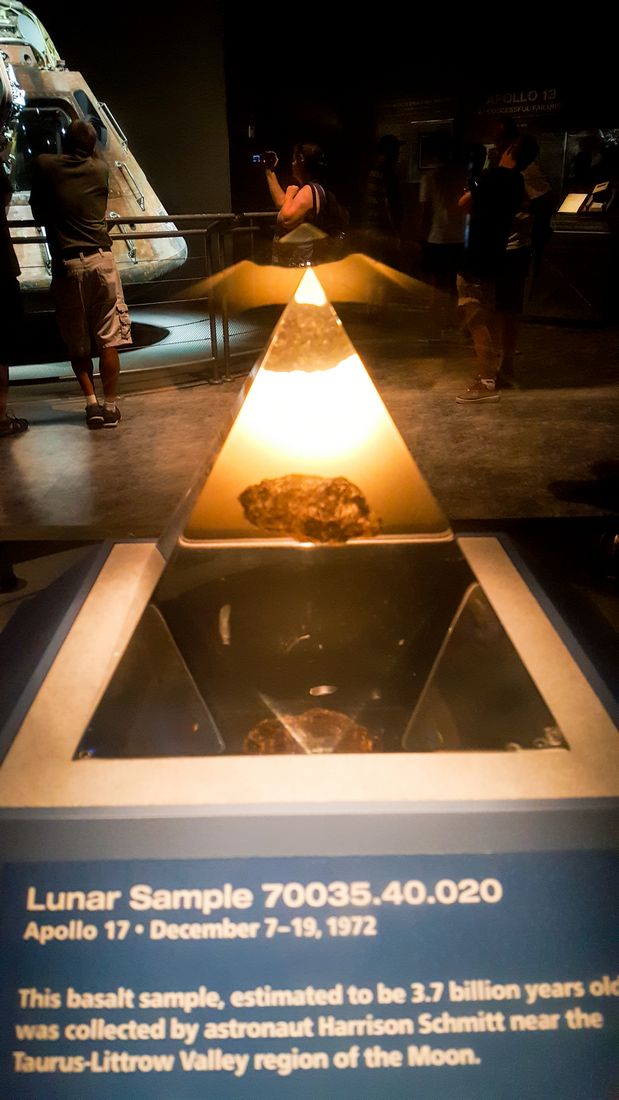 Lastly, the only exhibit we missed out on at Kennedy Space Center was the Atlantis. The line was forever long and with swollen feet it just wasn't an option. If I ever get a chance to go back that would be the first exhibit on my list. Above all, we really enjoyed our visit to the Kennedy Space Center and highly suggest a visit if your in the area.
Pin Me: