French Onion Smothered Pork Chops
This post may contain affiliate links. Please read my privacy policy.
These French Onion Smothered Pork Chops are so delicious I was eating them in the middle of the night! These french onion smothered pork chops are made in one pan, a skillet, making it a super easy one pan recipe you can make any night of the week. This pork chop recipe is the ultimate comfort food!
I know pork chops can be intimidating to cook however, I pleased to share with you a few tips and tricks. First, make sure you have a kitchen mallet. This mallet is used to tenderize your pork. Just place it on a cutting board and pound away. This will keep the pork from being tough to eat along with cooking thoroughly.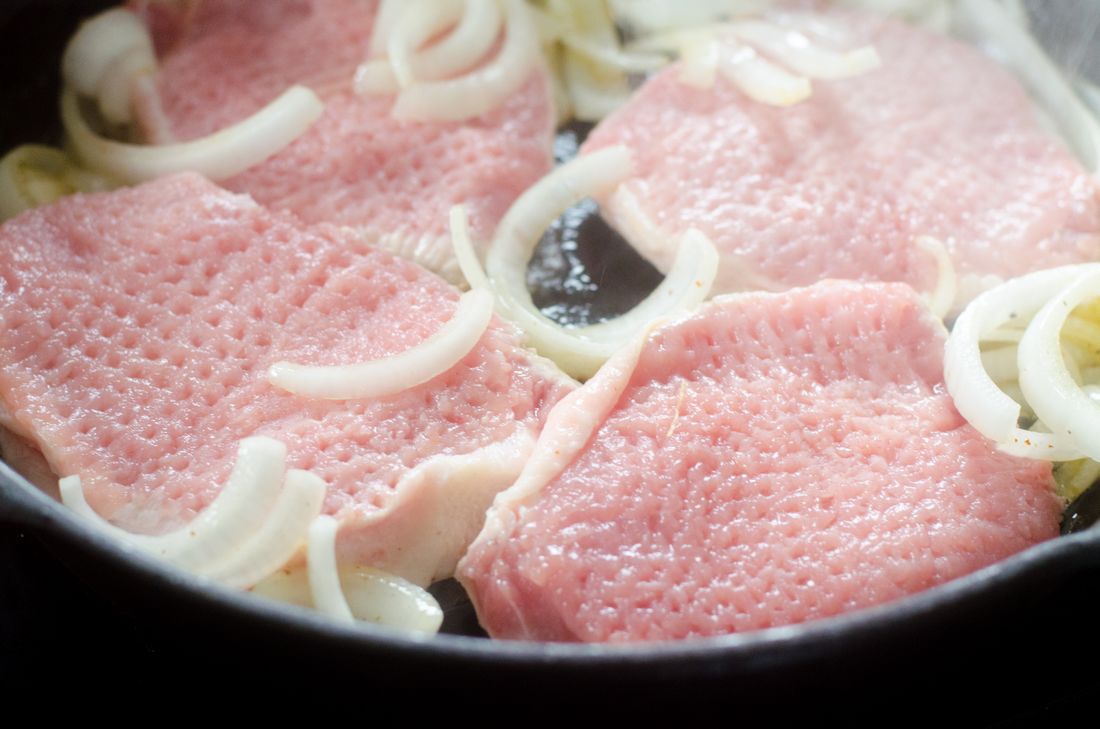 Second, always cook them in a cast iron skillet. My reason for this is the heat is more evenly distributed though you should move the chops around if you see one that is not cooking nearly as a much as another. Lastly, always cook chops like these with onion. Onion just brightens the flavor always! Unless of course your allergic then don't cook with them!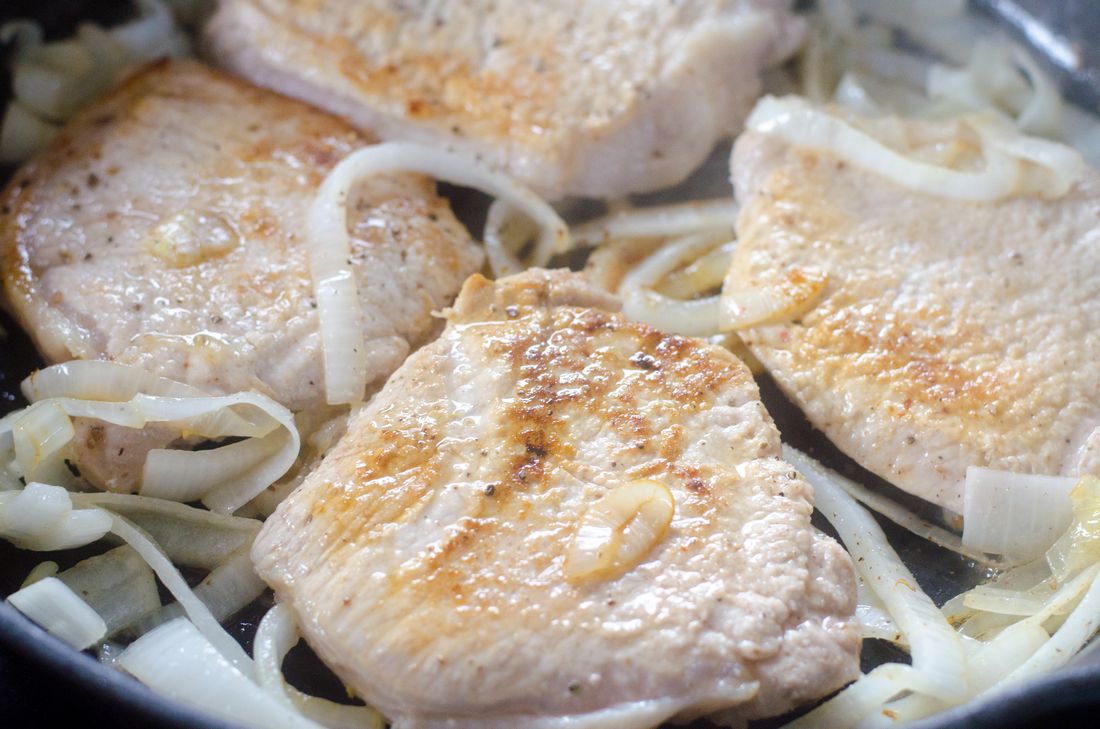 What's even better is that this is an easy one pan recipe. Less dishes, less clean up! We also added a video below so you can get a visual on how to cook these french onion smothered pork chops. Get your skillet ready and prepare yourself for an amazing and simple meal ready in under 30 minutes! We all love meals that cook in 30 minutes or less!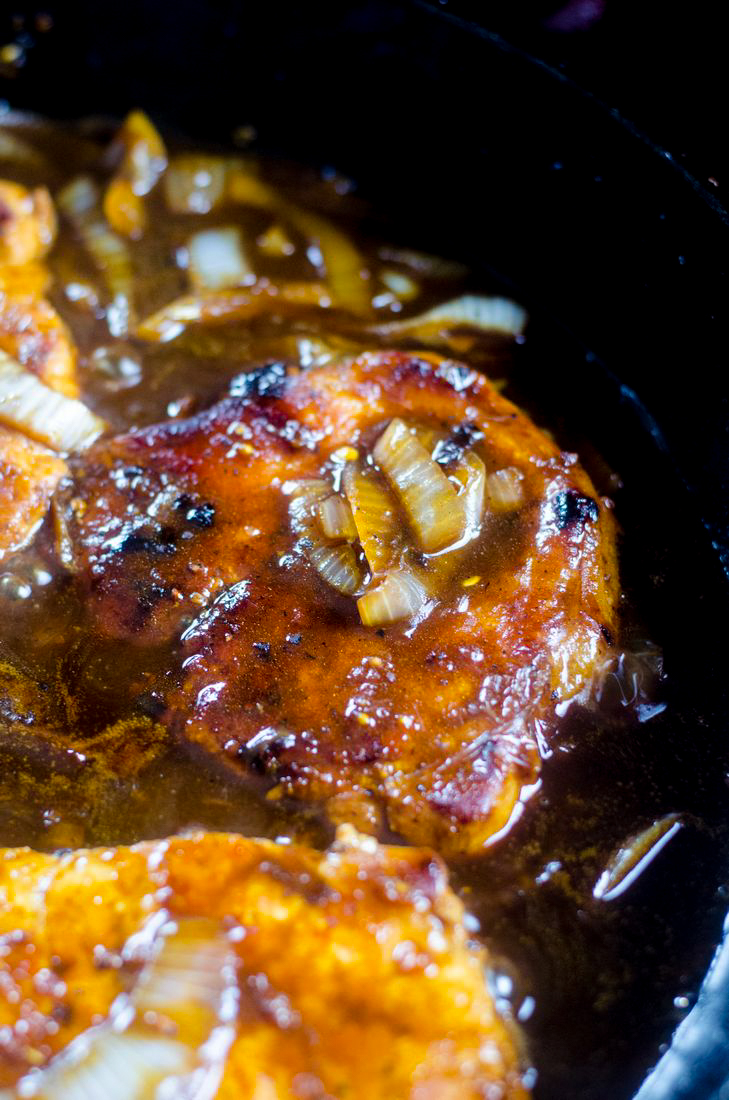 After all, anything smothered in a gravy is on my to do list! Enjoy this one pan cast iron skillet recipe and don't forget to take a moment and watch the video. It will help with cooking and gravy process. Sometimes visual really is better!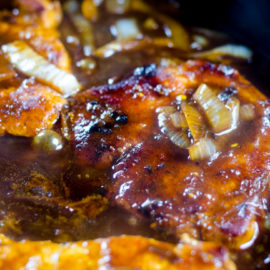 French Onion Smothered Pork Chops
French onion sauce on sauteed pork chops.
Ingredients
1

white onion; sliced

1

tablespoon

butter

4

pork chops

1

cup

vegetable broth

or beef broth

1

tablespoon

cornstarch

salt and pepper
Instructions
Using a kitchen mallet beat pork chops on both sides.

Add 1/2 tablespoon butter to warm skillet. Place the pork chops into the skillet and top with half of the onions.

Cook for 15 minutes on medium heat until browned. Then remove pork chops and set aside.

Add more butter and onions to skillet and cook for 5 minutes. Pour in broth and whisk.

Slowly add cornstarch and whisk well.

Place pork chop back into gravy. Top with salt and pepper.

For more gravy double the broth and the cornstarch.
Video
Pin Me: