This post may contain affiliate links. Please read my privacy policy.
We the first day of summer has passed and everything is in full swing here. Cleaning, organizing, and making good food. We get so tied up I don't often get to cook as much as I'd like to. Chicken Stroganoff was an easy way to feed both my husband and my daughter without complaints of what they each like.
One wanted chicken and the other want something hearty. I just wanted vegetables. The chicken stroganoff seemed like the best choice for a good meal for a week night dinner that comes together in 30 minutes.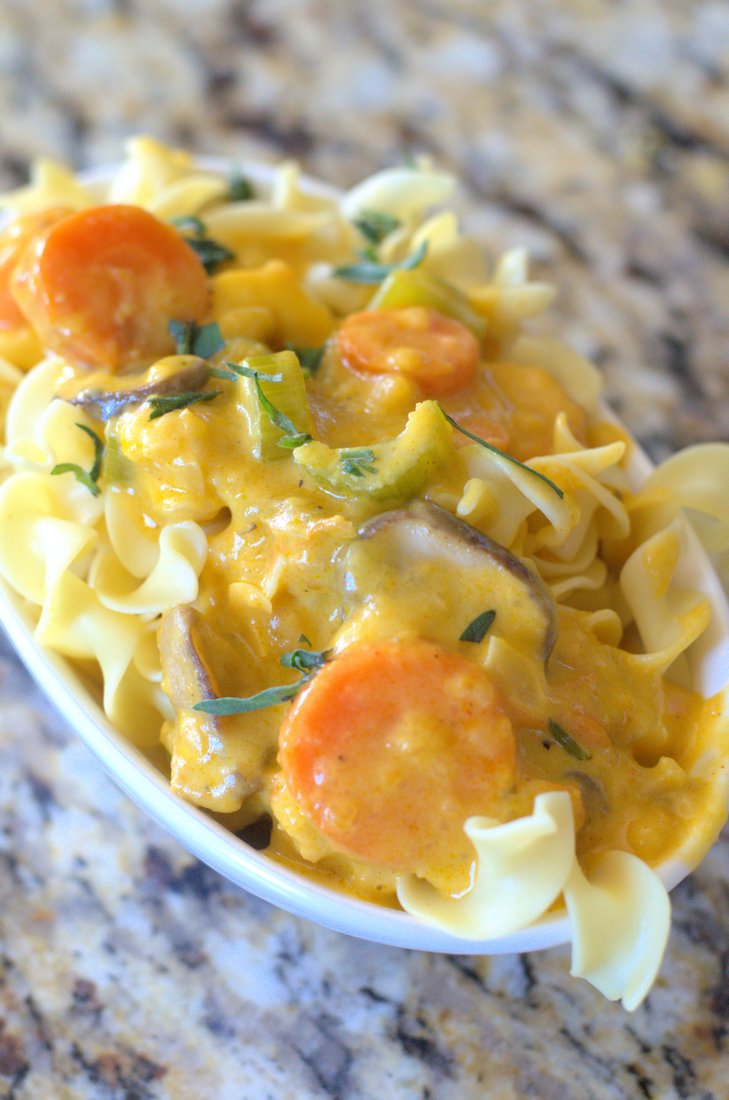 Lately, we have tried to come together on what we all like to eat to save a bit from going out to eat so much. During the school season we are so busy it makes it hard to really cook at home. While I have a few ideas to fix that for the coming up year it's mostly about getting some cooking in now for my family and for my reader's.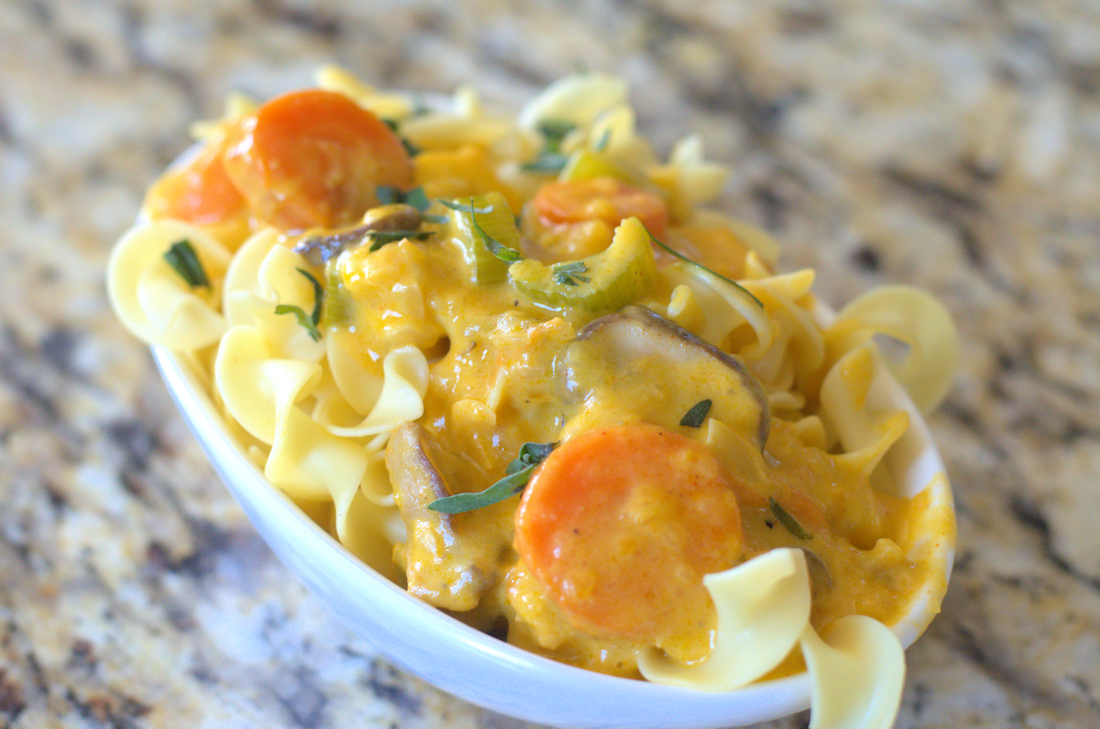 Gravy is where it's at for me. The idea of making any kind of gravy from broth to pour over vegetables or pasta is like my heaven. I could eat it all day long. The  key trick to a dish like this is to layer those flavors.
If you not layering your not going to come out with something good. Recently, I saw a video for a dish just like this but they mushrooms were not layered into the recipe. Right there is a major loss in flavor!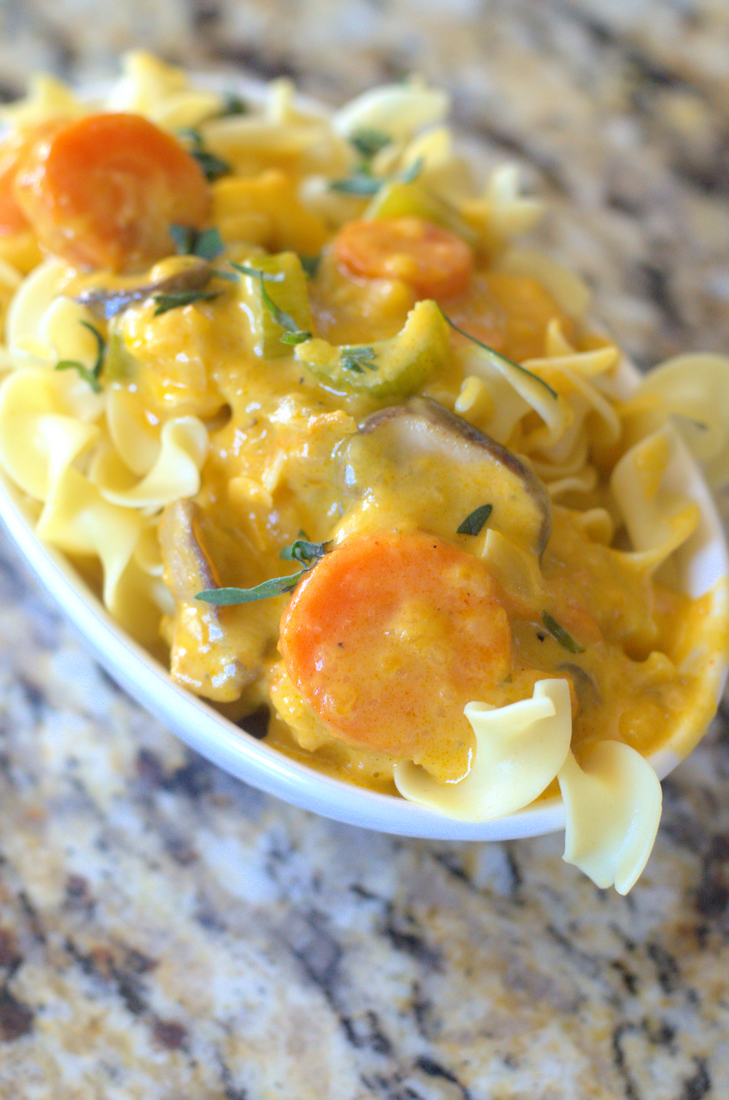 The Recipe:
Just follow the recipe below and layer those flavors. This is topped with tarragon for a extra herb flavor that pairs well with the chicken in this dish. While this is about a 30 minute dish you can always cut the time and use sour cream but it's almost too much for a chicken stroganoff.
Most would use something like smetana which is one of the names for a range of sour creams from Central and Eastern Europe. I wish we could get it here because it is not as sour as American sour cream. In place of it I just use heavy cream and if you want some sour you can use some squeezed lemon juice.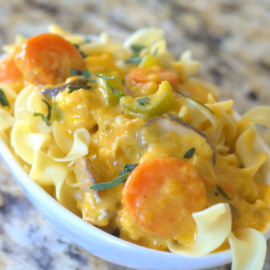 CHICKEN STROGANOFF
Savory chicken thighs in a vegetable cream stroganoff sauce.
Ingredients
1

lb

chicken thighs; diced

3

carrots; sliced into rounds

3

celery stalks; diced

6

mushrooms; sliced

½

yellow onion; diced

1

tablespoon

olive oil

3

cups

chicken broth

1

cup

heavy cream

2

tablespoons

corn starch

optional for thickening

16

oz

egg noodle pasta

1

sprig tarragon

1

tablespoon

sweet Hungarian paprika

3

garlic cloves; chopped

1

teaspoon

salt

1

teaspoon

pepper
Instructions
In a stir fry pan, add in olive oil, mushrooms, garlic, and onions. Cook on low for about 2 minutes.

Add in carrots and celery. Cook on medium for about 3 minutes. Add chicken.

Add in chicken broth and simmer for 10 minutes until vegetables are tender and chicken is cooked.

Put water on for pasta and cook as directed on package.

Add in heavy cream, salt, pepper, and paprika. Cook on low heat for about 8 to 10 minutes until thickened or add cornstarch to thicken. Using the spatula to make sure there is no lumps after adding in the cornstarch. Cook on low for about 2 minutes until thickened.

Drain pasta and serve chicken stroganoff over the noodles.
Notes
The heavy cream and cornstarch can be replaced by sour cream but realize this is more sour than traditional stroganoff. For more sour taste using heavy cream use lemon juice lightly to add more sour taste.
Pin chicken Stroganoff: