Captain America Ice Cream Cake
This post may contain affiliate links. Please read my privacy policy.
I am was so excited for the Captain America: The Winter Soldier movie to come out on the 8th! I unfortunately missed seeing it in the theaters. Did you get a chance to see? If so, you have to comment below and tell me what you thought about the movie. We are sharing with you this Captain American Ice Cream Cake perfect for Captain America parties!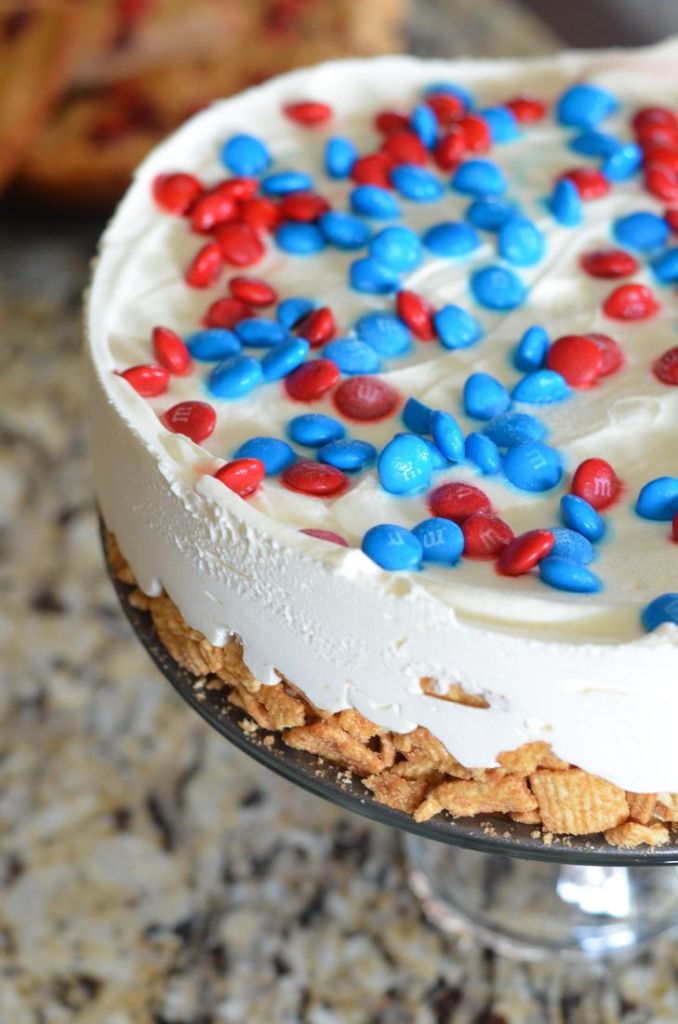 For fun, I thought it would be awesome to have a Captain America Ice Cream Cake to go along with watching the movie. Why? Well who doesn't love Superheroes?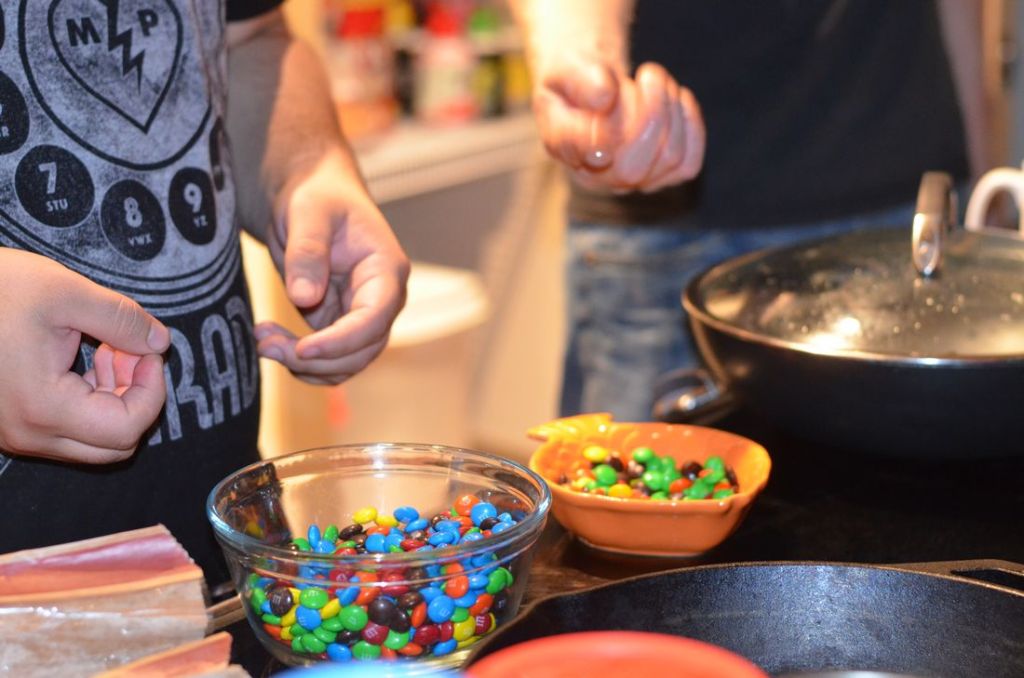 Did you know Heroes Eat M&M's? I swear they do! (shakes head yes with big eyes). I am firm believer that Captain America himself would absolutely enjoy this Captain America Ice Cream before he takes out the next bad guy! Or even makes another hero command at a god like Thor. You know that snarky Captain!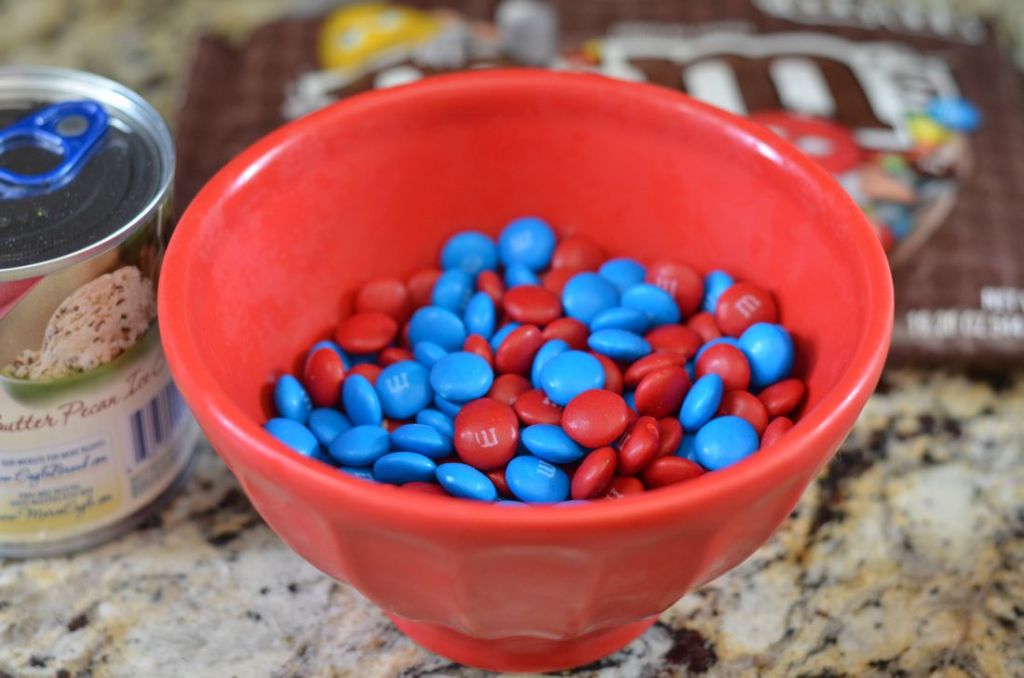 Separating The M & M's for captain america
I hopped on over to the store to pick up my M&M'S® with some heavy whipping cream and sweetened condensed milk. That's about all that goes into this cake. It takes no more than 10 minutes to make and a few hours to freeze. I had my son separate all the M&M's and I couldn't keep them out of eating them. He said it was pure torture for me to make him separate the M&M's. Hehe!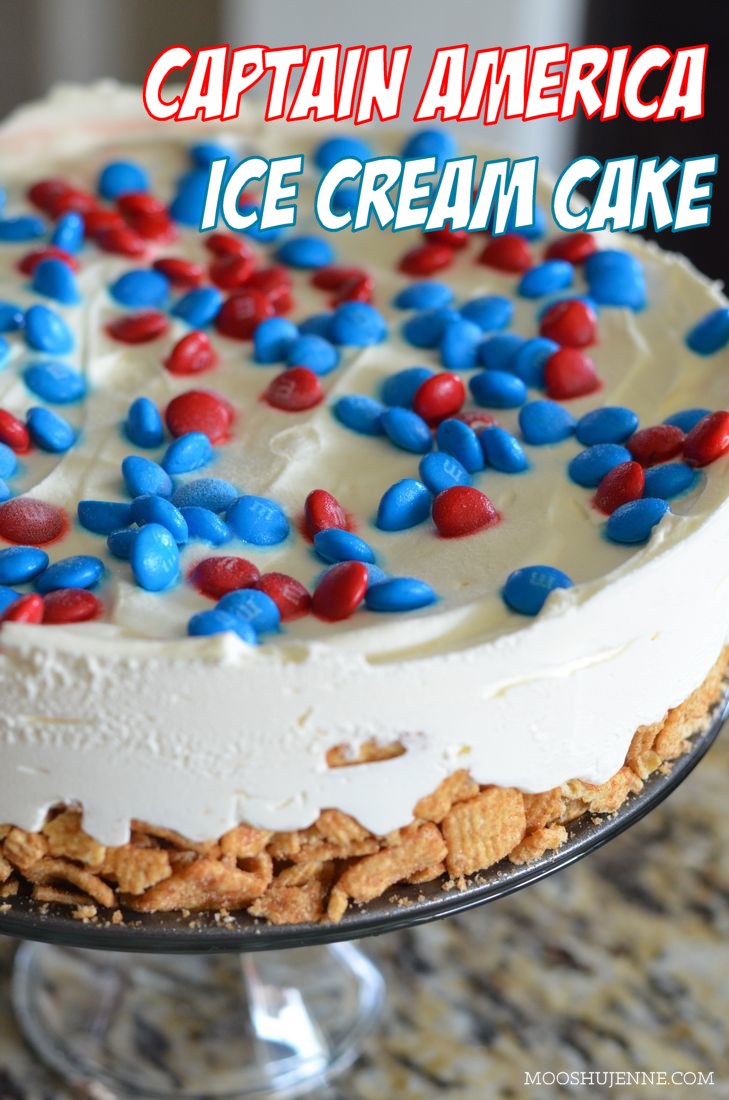 He was my hero eating M&M's and helping out his mama. Geez I cannot wait for tonight! Some chili, some Captain America Cake, and some Chris Evans in Captain America: The Winter Soldier. Now, I know you ladies have to agree went I say he is pleasing on the eyes. He's also an extremely talented actor. Can wait to see what movies he shows up in after the Avenger series is over. You got to just love the captain.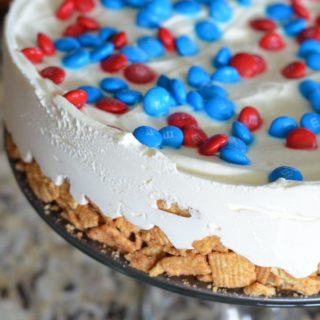 Captain America Ice Cream Cake
Cereal crust topped with no churn ice cream and red and blue M&M's
Ingredients
1 – 32

oz

heavy whipping cream

1 – 14

oz

sweetened condensed milk

2

cups

cereal or crushed graham crackers

1

bag of M&M's; separate for reds and blues
Instructions
In a stand mixer with whisk attachment fitted beat heavy cream for 4 minutes on a 2. Move it up every 2 minutes until you reach the 10. Once the heavy cream looks like whipped topping stop the mixer.

Pour in sweetened condensed milk and fold until smooth.

Put crushed cereal or graham crackers at the bottom of the springform pan. Pour in half of whipped mixture. Top with some M&M's. Pour the rest over the top of the M&M's and top the cake with more M&M's for decor.

Freeze cake for 3 hours or until firm. Lightly heat the edge of the pan with warm water being careful not to wet the cake. Pop the springform lever open and remove. Slice with a warm knife and serve.
Pin captain america ice cream cake: