This post may contain affiliate links. Please read my privacy policy.
Thanksgiving side dishes are my favorite part of Thanksgiving dinner. Why? Because Zesty Green Salad is the best ever salad to enjoy and even the next day on a sandwich with all the fixings. Do you have a favorite side dish? My other half makes some mad mashed potatoes. They are like whipped cream, you just want to pour them into your mouth!
I love to top them with gravy and dip my roles into them. It's the only dish he makes that day. The rest is my job. This year I plan to make my pies a day ahead. Is there anything you prep the day before Thanksgiving?
I used to do salads but they tend to dry out. The bird gets cooked overnight slowly and as we wake up to the Macy's Day Parade he gets turned up.  Is there anything special you watch on the Turkey Day? I bet plenty of you will say football.
We don't watch football that day. It's all about the parade and dog show. Then we either watch Christmas movies or make a special visit to the theater. This year I want to see Frozen with my daughter.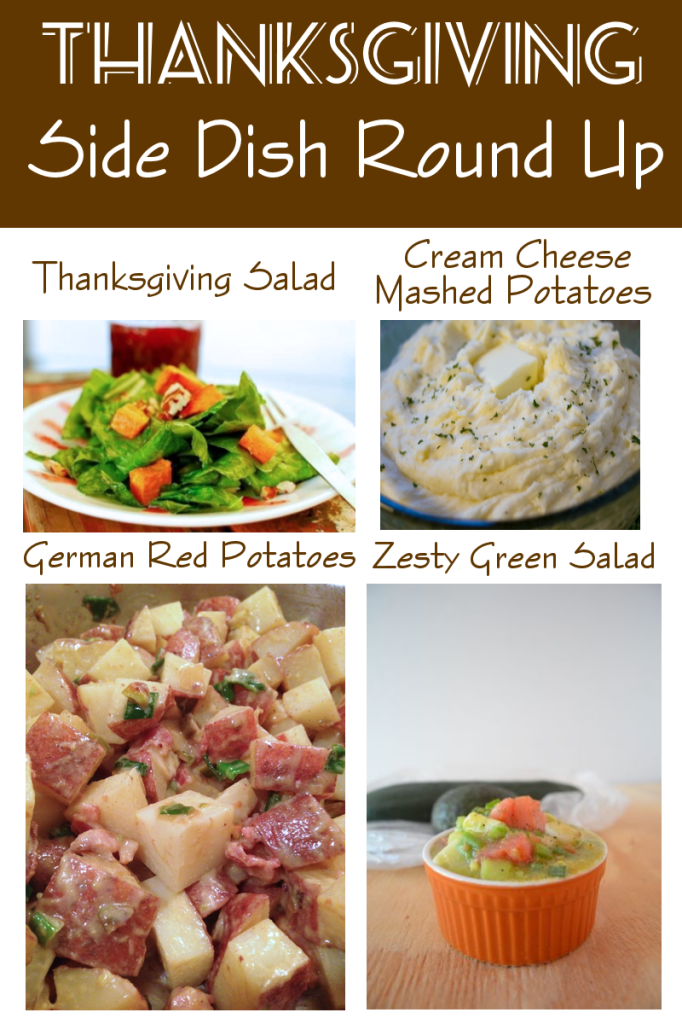 Other Side Dishes:
Don't miss out on these other great ideas for Thanksgiving side dishes:
Pary Moppins – Thanksgiving Salad – This gorgeous salad features sweet potatoes, mixed greens and a delicious cranberry and red wine vinegar dressing.

Tin Tin & Livia – German Red Potatoes – A savory and sweet German Red Potatoes dish with chives, bacon, and pistachios.

The Coers Family – Cream Cheese Mashed Potatoes – Russet potatoes whipped with butter and cream cheese are perfect to wow your friends and family
Love that morning to wake up to the Macy's Day Parade. I would love to see it in person one day. What float do you look forward to? I love to see The Peanuts characters and what new movie floats they come out with. Last year or the year before that I loved when they showed the Frankenweenie float by Tim Burton. That was super exciting! Plus, it says Christmas is on it's way with Santa!
Zesty Green Salad
Ingredients
2 bundles of spring onions; chopped
1 cucumber; skin removed and diced
2 avocados; cubed
3 Roma tomatoes; diced
½ bottle of zesty Italian dressing
Salt and cracked black pepper
Instructions
Chop green onions and place in large bowl. Peel your cucumbers and then slice lengthwise and slice lengthwise again for quartered size pieces and place in large bowl. Slice and cube your Roma tomatoes and place in the large bowl. Cut open your avocados and take off the skin. Using a avocado peeler or spoon pull out the insides and then slice on cutting board and add to the large bowl. Open bottle of zesty Italian dressing and add half the bottle. Toss well. Top with salt and pepper.
Nutrition Information:
Yield:

6
Serving Size:

1
Amount Per Serving:
Calories:

123
Total Fat:

10g
Saturated Fat:

1g
Trans Fat:

0g
Unsaturated Fat:

8g
Cholesterol:

0mg
Sodium:

117mg
Carbohydrates:

9g
Fiber:

5g
Sugar:

2g
Protein:

2g
For more on our nutrition disclaimer https://mooshujenne.com/nutrition-disclaimer/
Pin Me: