Vanilla Blood Orange Cupcakes
This post may contain affiliate links. Please read my privacy policy.
I love to make vanilla blood orange cupcakes; it's an obsession! With that being said, I used to just play with the "bang your head on the wall" icing out of a plastic container also known as store bought. This last Christmas I received a KitchenAid and the icing I make comes out so wonderful now, I would never let go of my KitchenAid.
New Camera
Any who, I decided I need to work on technique and such before my daughter's birthday and who could resist using the new Nikon D5100 for some food shots. The camera, kitchen, and myself have become one. It's scary!
Do you shoot photography? Is it for food, travel, or just fun and family? I love to see what people enjoy shooting. When I can I like to shoot food and travel.
I am sure I have a long way to go learning how to use this camera on manual mode to make my pictures better. It would be nice to show off the food as I see it in person. Especially cupcakes just like these blood orange cupcakes.
Oh! And did I mention that Blood Oranges are in season and we finally got them here. I bought two huge bags and this week and went back for more. Blood oranges are perfect for a garnish.  Ha! Ha! Be my Bloody Valentine!
Vanilla Blood Orange Cupcakes
They are best in the winter months. I mean who knew that oranges are a winter harvest. Look for them around February through the end of March. I love to make all things with blood oranges and cara cara oranges.
Here is the recipe for vanilla blood orange cupcakes. I really do hope you enjoy this cupcake recipe. If you have a cupcake you like to make I would love to hear about it below in the comment section.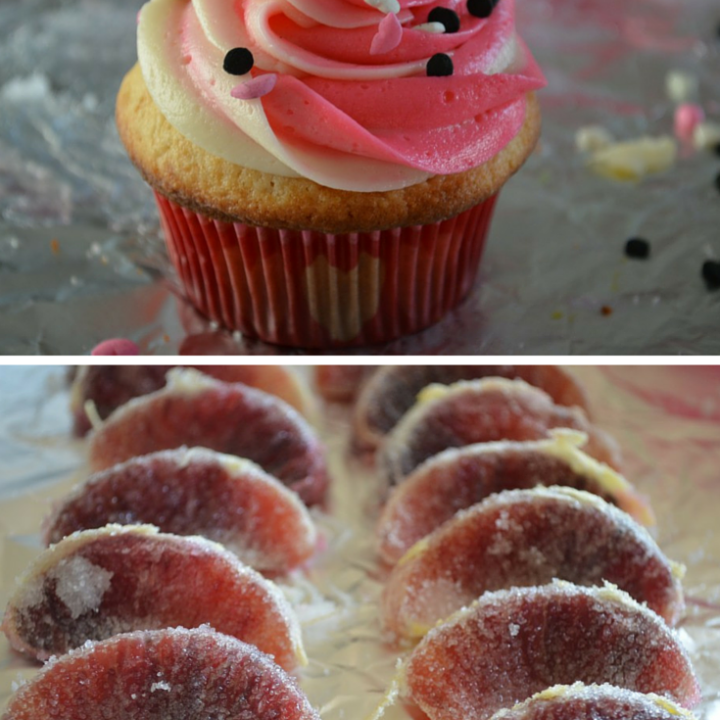 Vanilla Blood Orange Cupcakes
Ingredients
Ingredients
3 cups all-purpose flour
2 cups granulated sugar
3 teaspoons baking powder
1 teaspoon table salt
2 sticks unsalted butter , room temperature
1 cup sour cream
1 cup plain yogurt (Fage)
3 large egg , room temperature
4 large egg yolks , room temperature
3 teaspoons vanilla extract
FOR FROSTING
2 cups unsalted butter , at room temperature
5 cups powdered sugar
2 tablespoon vanilla extract
2 blood oranges , juiced
Instructions
Preheat oven to 350 degrees F. Line standard cupcake tin with paper liners.
Whisk together flour, sugar, baking powder, and salt in bowl of standing mixer fitted with paddle attachment. Add butter, sour cream, yogurt, egg, egg yolks, and vanilla; beat at medium speed until smooth for about a minute.
Divide batter evenly among cups with an ice cream scoop. Bake until cupcakes are lightly golden and toothpick inserted into center comes out clean, 20 to 22 minutes. Remove the cupcakes from tin and transfer to wire rack; cool cupcakes to room temperature before frosting.
Using the paddle attachment of your stand mixer, whip the butter on medium-high speed for 2 minutes till butter is soft and fluffy. Reduce the speed to low and gradually add the powdered sugar. Once all of the powdered sugar is incorporated, increase the speed to medium-high and add the vanilla and blood orange juice, mix well. Whip at medium-high speed until light and fluffy, about 2 minutes, scraping the bowl as needed.
To swirl the icing, simply put white icing on one side of the icing bag and pink on the other. I used a 1M tip from Wilton.
Nutrition Information:
Yield:

24
Serving Size:

1
Amount Per Serving:
Calories:

479
Total Fat:

27g
Saturated Fat:

16g
Trans Fat:

0g
Unsaturated Fat:

9g
Cholesterol:

129mg
Sodium:

187mg
Carbohydrates:

56g
Fiber:

1g
Sugar:

42g
Protein:

5g
For more on our nutrition disclaimer https://mooshujenne.com/nutrition-disclaimer/